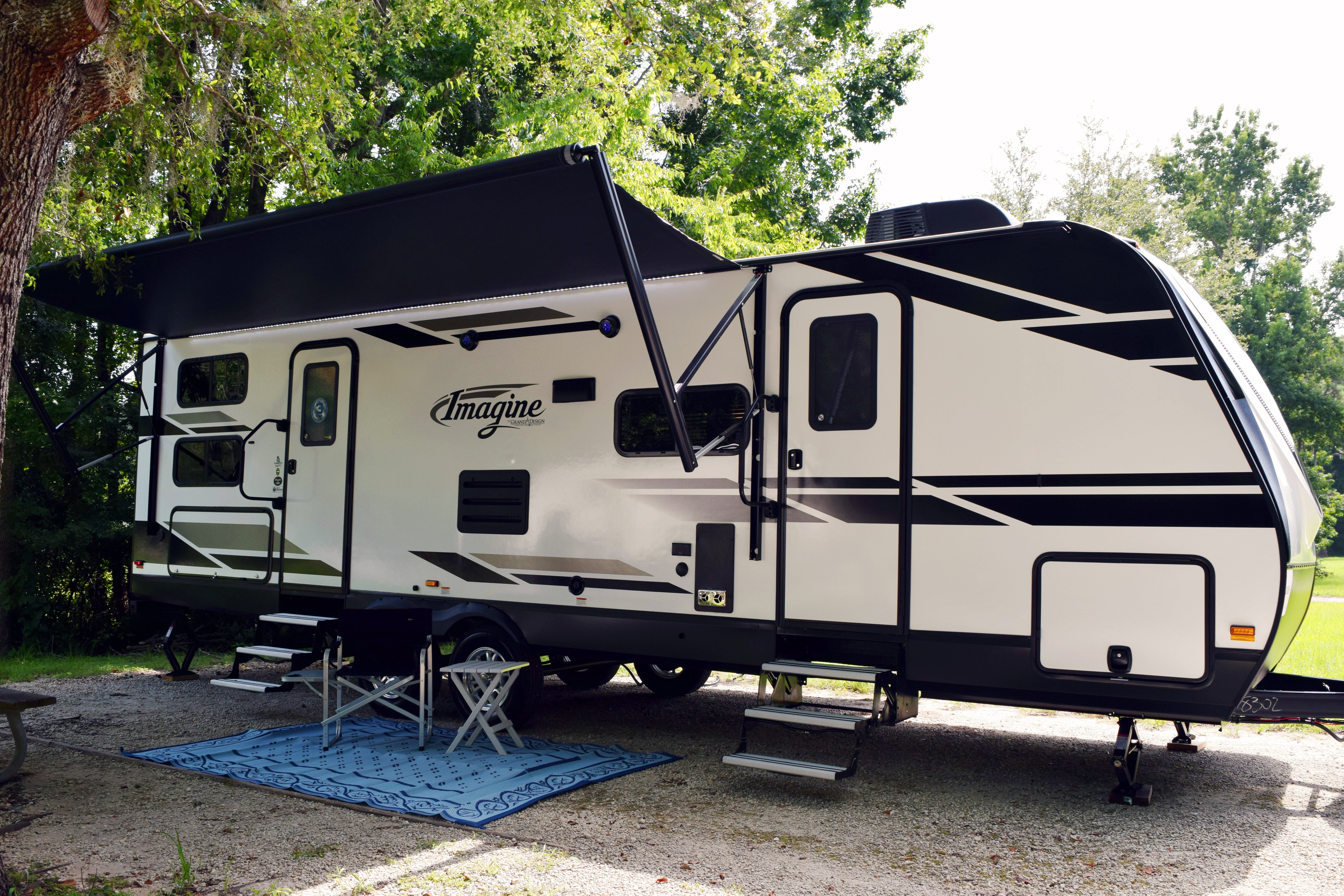 With the popularity of camping on the rise, many campgrounds are booking up quickly. It can be hard to find the right RV camping spot for the dates you want. But, even before RVing grew even more popular, there were already several different ways to snag a dream campsite for your family and RV. From wineries to farms and everything in between, there is a fun experience out there to fit most vacation types.
Finding unique campgrounds or even the typical RV campground can be easier with booking sites that feature quirky destinations. Here are a few different booking sites to find unique camping destinations.
4 Booking Sites for Unique Camping Destinations:
Harvest Hosts
RV Parky
Hipcamp
RoverPass
1. Harvest Hosts
Harvests Hosts is a membership-based booking site with two different yearly plans. The classic plan is $79 a year and the Harvest Hosts + Golf plan is $119 a year.
The classic Harvest Hosts plans feature unlimited free overnight stays and access to over 1,221 locations around North America from wineries, breweries, distilleries, farms, museums and other attractions. The Harvest Hosts + Golf plan includes everything the classic plan does as well as access to 350 golf courses and country clubs and access to spa facilities and restaurants as well. Both plans also offer a three-month 100 percent money-back guarantee if you decide that the membership is not right for you.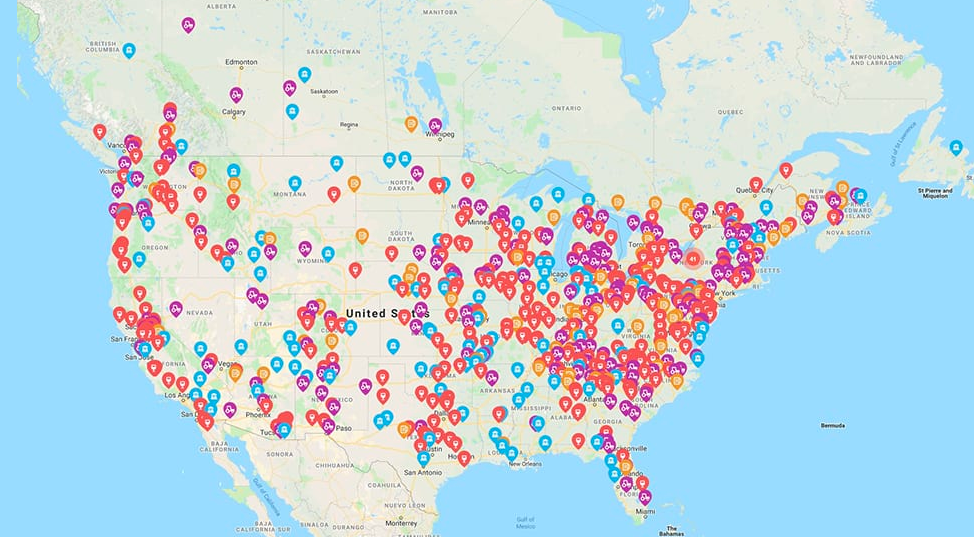 Harvest Hosts also has a free app that is available on both iPhones and Androids. The app gives members access to search campsites and hosts and read reviews, amenities, the hosts bio as well as view photos of the site directly from a phone or tablet.
The Head of Operations of Harvest Hosts, Bill Zhang, describes additional benefits to a membership with Harvest Hosts is being able to experience something they wouldn't have thought of before, such as getting to learn what it's like to run a farm, feed alpacas or harvest grapes. "What's even better is that after learning about the process, our members can purchase the products and really savor all the work that went into it's production. From wine and cheese to wool socks, our Hosts provide a huge variety of unique products for our members," says Zhang.
2. RV Parky
RV Parky is a free RV park finder that features popular campgrounds across the United States and Canada, parking lots that allow campers to stay overnight, as well as other types of campsites. It was built by a full-time RVer with help from the RV community. If you own a campground or extra space that could be a site, you can add a listing.
The website is easy to use. To find a campground, use the search bar and type in the destination. It will bring up a list of campgrounds on the sidebar as well as a map of where they are located. The sidebar has a lot of information about the campground, like the address, reviews, price range and amenities, as well as images of the campground so the user can get a better idea of what they are booking.
The sidebar also includes links to directions and the campground website, so everything a camper would need to know is readily available.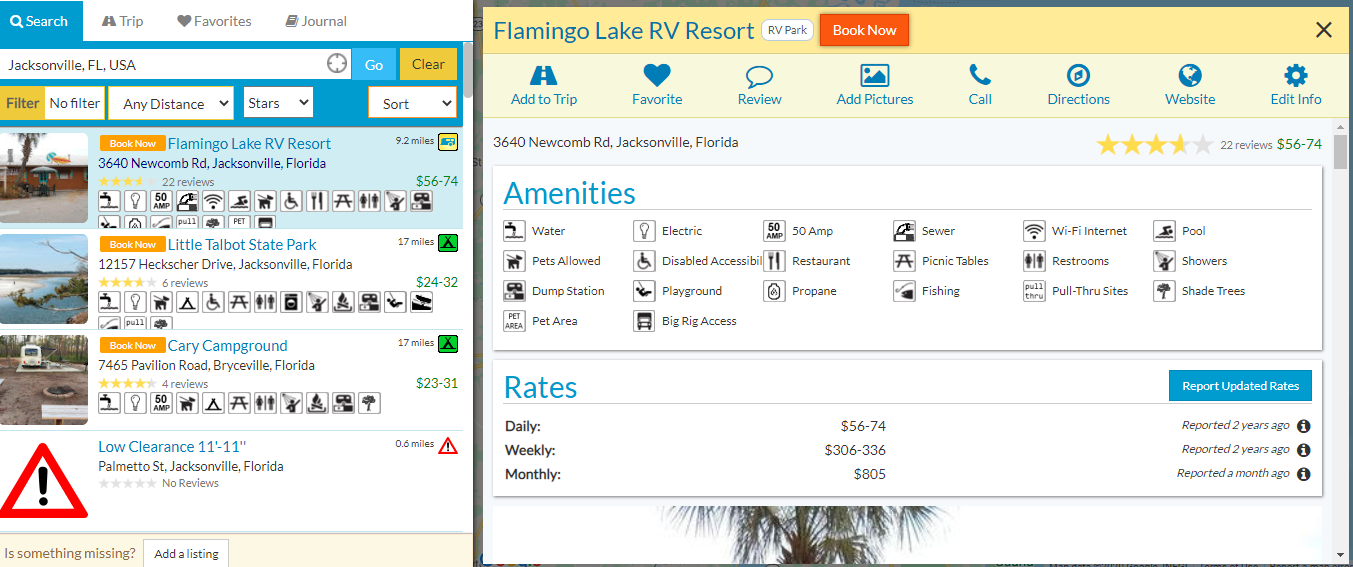 A great feature RV Parky offers is the option to easily plan or track your RV travel routes. While in the planning process, users t can plan out each spot to visit or stay during their road trip. And campers can keep track of favorite places for planning a return trip.
RV Parky is also a free app for IOS and Android. The app is an easy way to find rest areas, parks, military campgrounds and more. It makes it quick and convenient for an RVer to find an available campsite.
The app and site version even offer a journal option, so RVers can keep write down favorite memories or random thoughts, places they experienced that they enjoyed while on vacation.
When planning the next camping trip, RV Parky makes it easy to research and search through several different sites at once, so you are aware of all your options before settling on the perfect campsite.
3. Hipcamp
Discover and book unique campsites from national parks to blueberry farms as RV sites and cabins, tent sites and even treehouse stays with Hipcamp.
Hipcamp is a free service and has a user-friendly site that offers several different ways to search for the perfect campsite experience.
Users can search by experiences such as animals or tiny homes. Adventurer seekers can search by what's available tonight, this weekend, or next weekend if planning a spontaneous getaway. The search feature gives campers the option to look for glamping sites, beach camping, pet-friendly sites and even camping sites near popular attractions or national parks.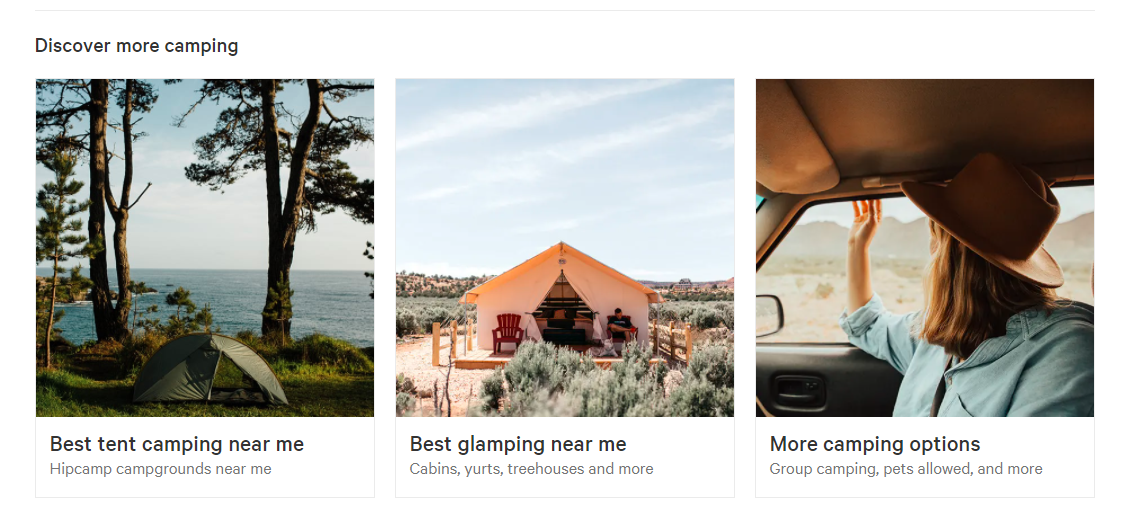 Hipcamp offers a free app available on IOS and Android products. Since they have released the app a year ago, over half of all bookings on Hipcamp have been placed through the app. It features detailed campsite information, filters for the search process and unique experience curated by local experts.
If a camper already has a specific location in mind, they can use the search bar to look up the city and dates they want. When searching, users can filter results by accessibility, pricing, group size, activities, amenities and the terrain of the park, making it simple for campers to quickly find the perfect spot for their next vacation.
4. RoverPass
RoverPass is another free campground booking site that features over 20,000 listings. When searching in a specific city, RVers can view by map to find a spot in an area they are interested in or they can view campgrounds in lists.

It also has a filter feature so users can view the exact results that fits their needs. They can view sites with certain amenities for each RV site, different activities and lifestyles, listing types (such as a public park, land share, national park, etc.), or even discount club options.
RoverPass has instant book options available when campers need to get a spot quickly. Other features to the site include saving favorite campgrounds, either camp sites users have previously stayed or campgrounds for future stays. Users are also able to organize trips to have all the key information available along with their reservations, so the entire trip plan is together in one place.
Looking outside the box and using different booking sites or looking for different types of campgrounds is a great way to book a campground sites that is off the beaten path of what is expected. From the tent camper to the glamper, there are many options and resources, when you know where to look, to find the perfect spot for your next vacation.
Looking for a more interesting campground? Read our blog here.
If you are interested in camping grounds that are open all year, check out five on the East Coast here.