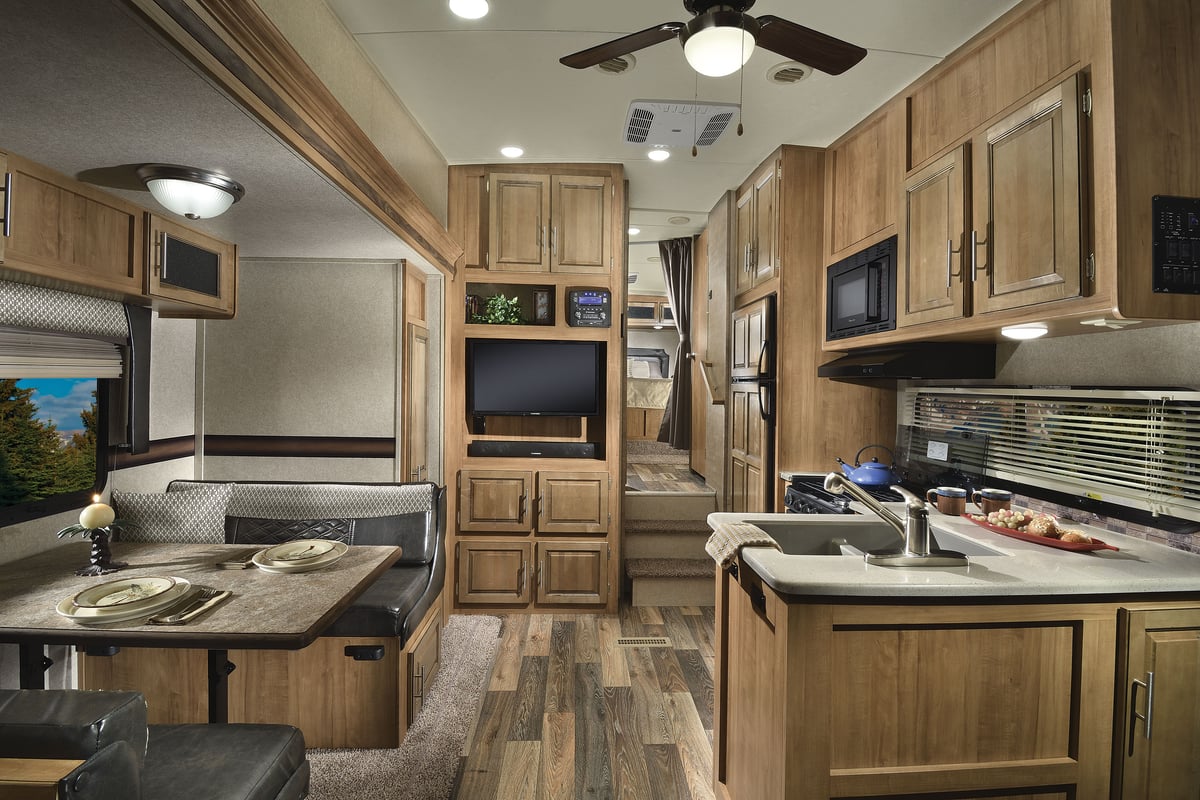 Rockwood is a division of Forest River RV and manufacturers some of America's favorite pop-ups, travel trailers, fifth wheels and hybrid towables. The brand covers a wide variety of towables for every lifestyle from lightweight travel trailers that you can tow with a fuel-efficient car or small SUV to larger family-sized options.

Originally founded in 1972 by Arthur Chapman, Rockwood offerings used to include motorhomes along with their towables until acquired by Forest River. Now they focus on offering different selection of pop-ups from tent to hard wall/A-frames, amenity-packed lightweight fifth wheels and travel trailers, so no matter what you drive, you can still enjoy the RV lifestyle.

Continue reading to learn more about Rockwood RV and the brands we carry. Find out what Rockwood brands we have in stock at a location near you!
Fifth Wheels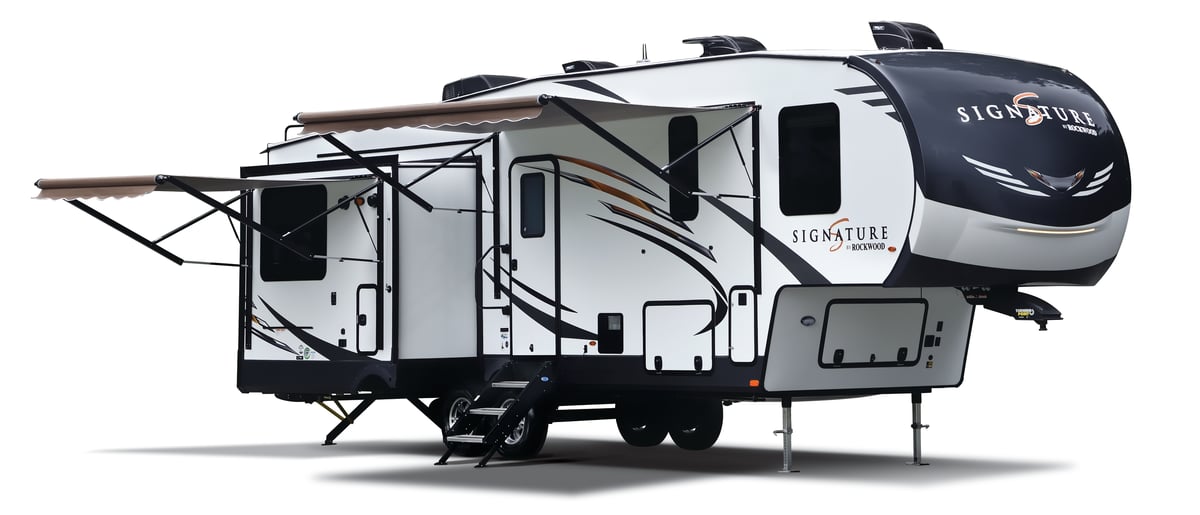 The Rockwood Signature Ultra Lite Fifth Wheel is a lightweight half-ton towable that comes in four floorplans. Features include theater seating, decorative trim and a step-mount vacuum cleaner to help keep your RV clean and protect its interior from outside debris.
Additionally, this fifth wheel has a fully aluminum frame, power stabilizer jack and fold out steps for easy access. The Signature sleeps four to six people depending on the floorplan, and has an optional king bed in all units to maximize comfort on the road.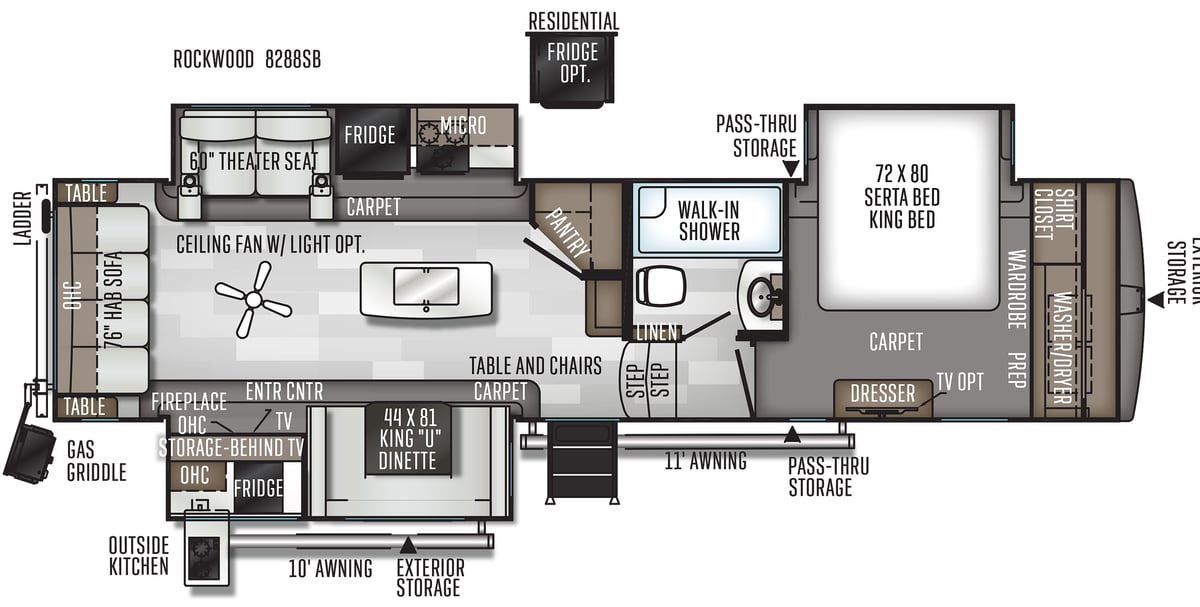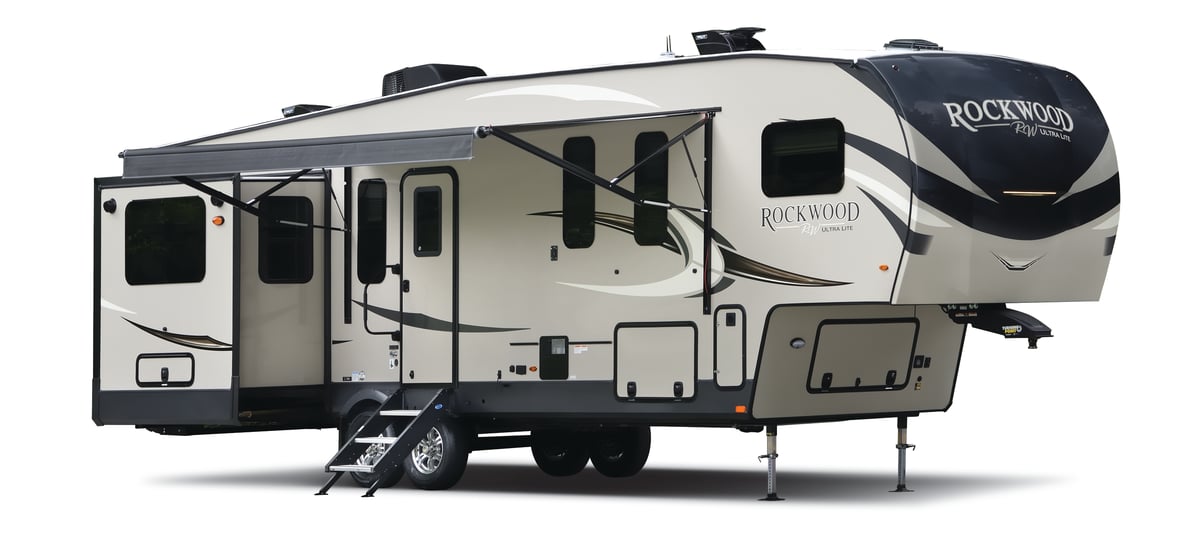 The Rockwood Ultra Lite Fifth Wheel was designed with the capabilities of being towed by a half-ton pickup truck. This fifth wheel is ideal for those who need a lightweight alternative to some of the larger fifth wheels on the market while still having all of the same amenities.
The Ultra Lite has a six-sided aluminum cage construction and heated holding tanks so you can take this fifth wheel wherever the road takes you. It also has a gas oven, residential Serta mattress and outside speakers so you can enjoy your RV whether you are inside or out.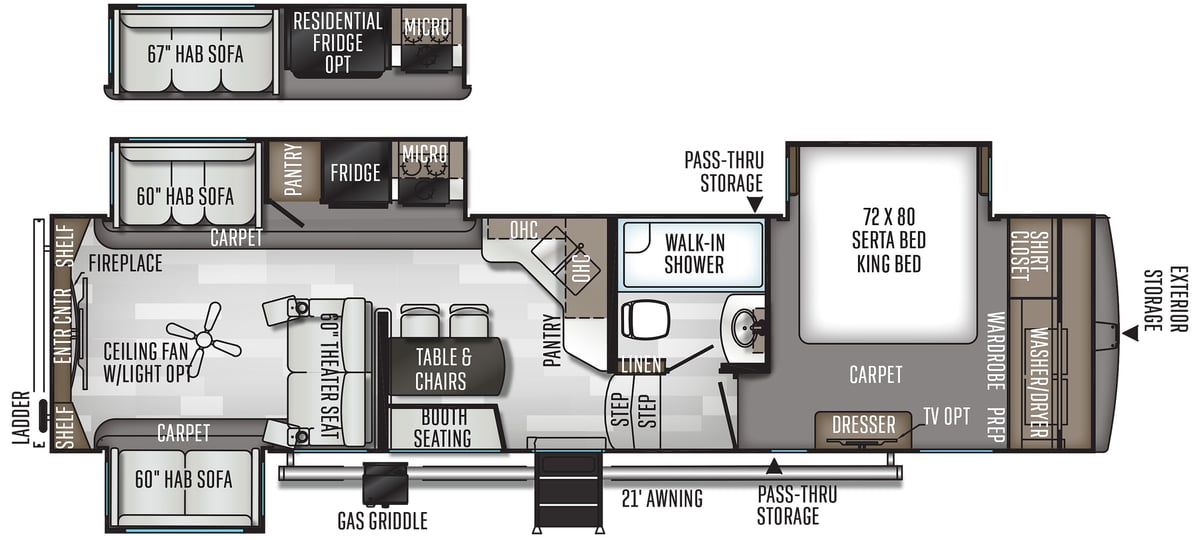 Travel Trailers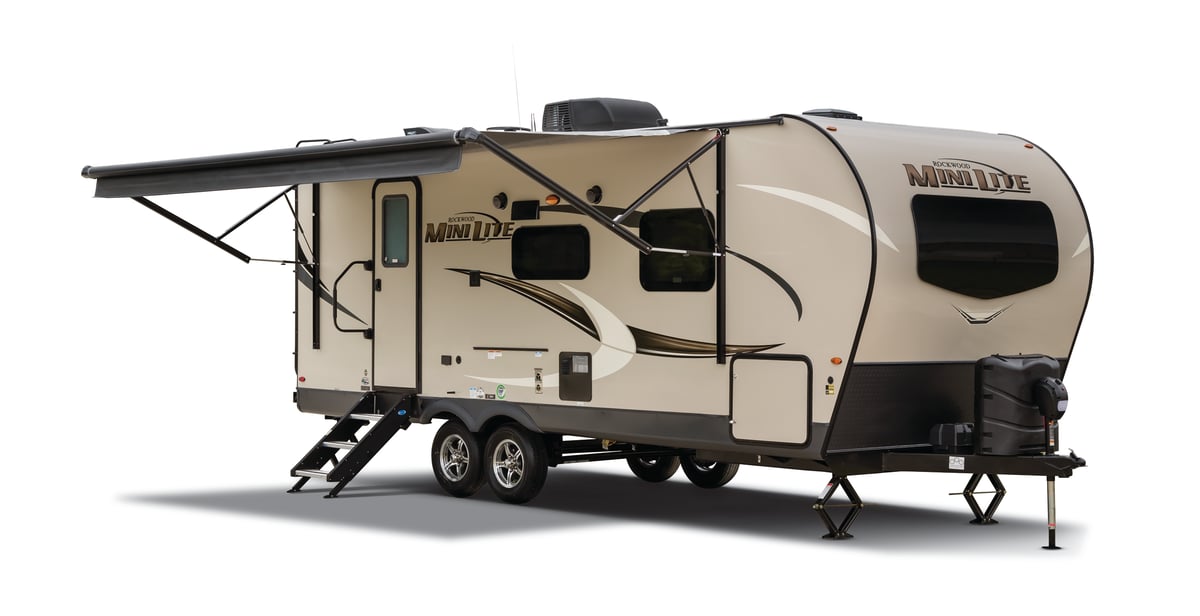 The Forest River RV Rockwood Mini Lite is a lightweight travel trailer that can be towed by many SUVs and crossover vehicles. It is designed to sleep four to seven people, depending on the floorplan.
In addition, every unit includes slatewood interior, wood cabinetry and decorative valances to make your travel trailer look and feel like home. This travel trailer includes a gas oven, family dinette and even a heated mattress for the cold winter days.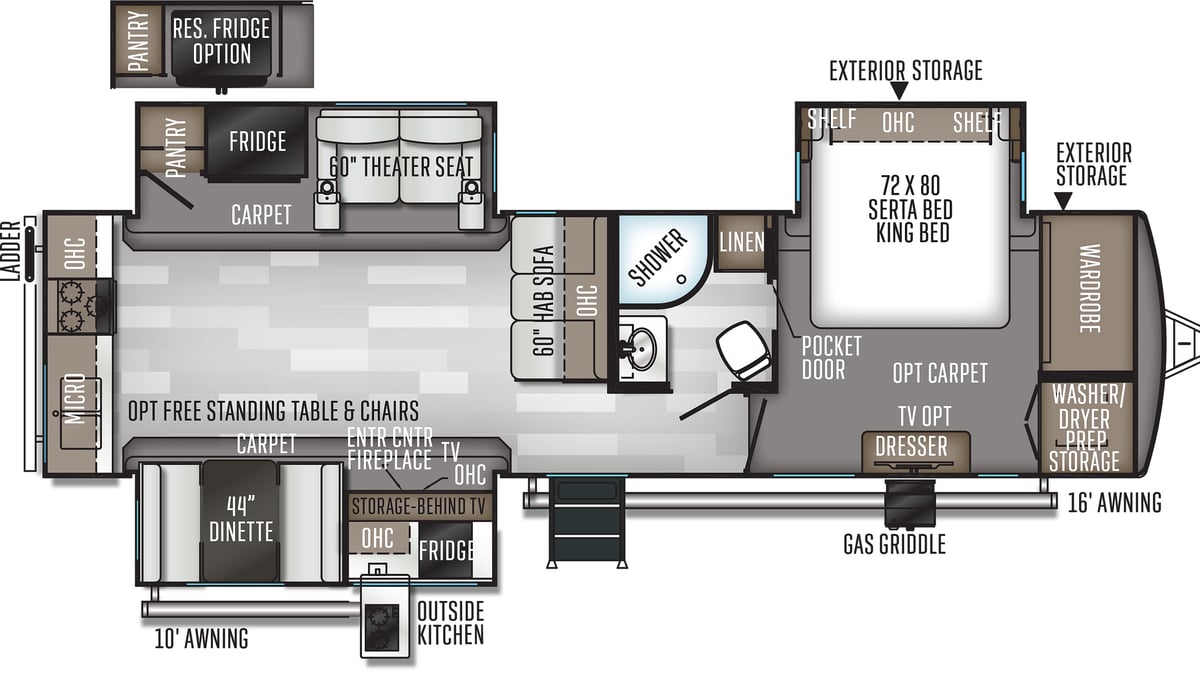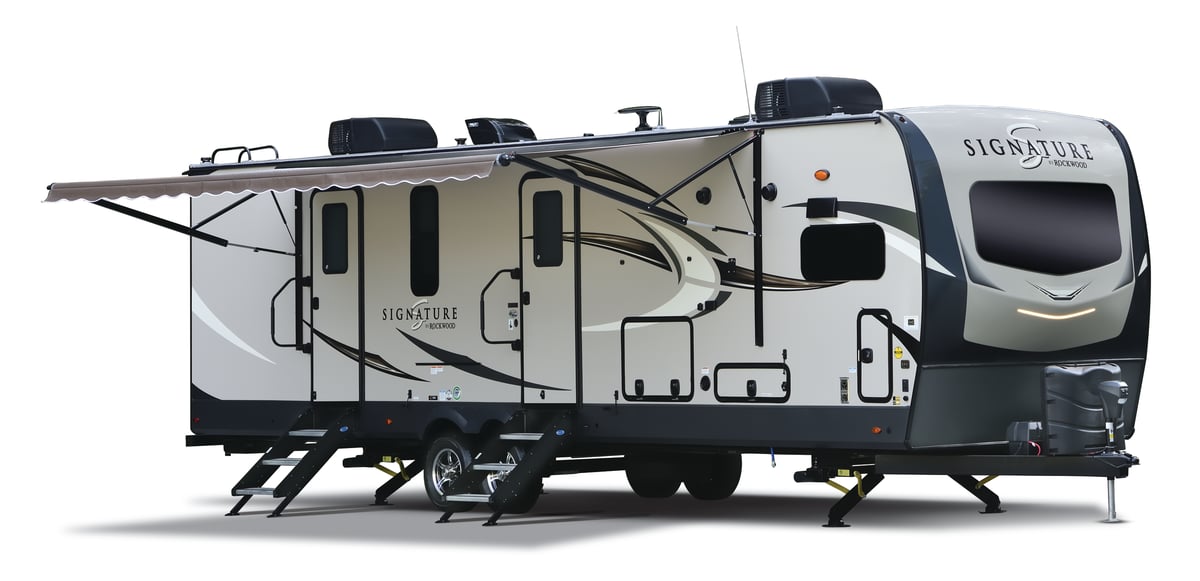 The Rockwood Signature Ultra Lite travel trailer has some of the more popular floorplans for RVers and includes a fully equipped kitchen and comfortable dinettes. The Signature Ultra has an upgraded LCD TV with soundbar system, outside griddle with gas hookup and outside speakers so you and your family can always be entertained indoor and out.
This unit sleeps between four and nine people, depending on the floorplan. The Rockwood Travel Trailer also has tons of theater seating and a king-sized bed in the master bedroom.
The Signature Ultra Lite also has a fully enclosed underbelly and 12-volt tank heaters to keep you warm anywhere your next adventure takes you.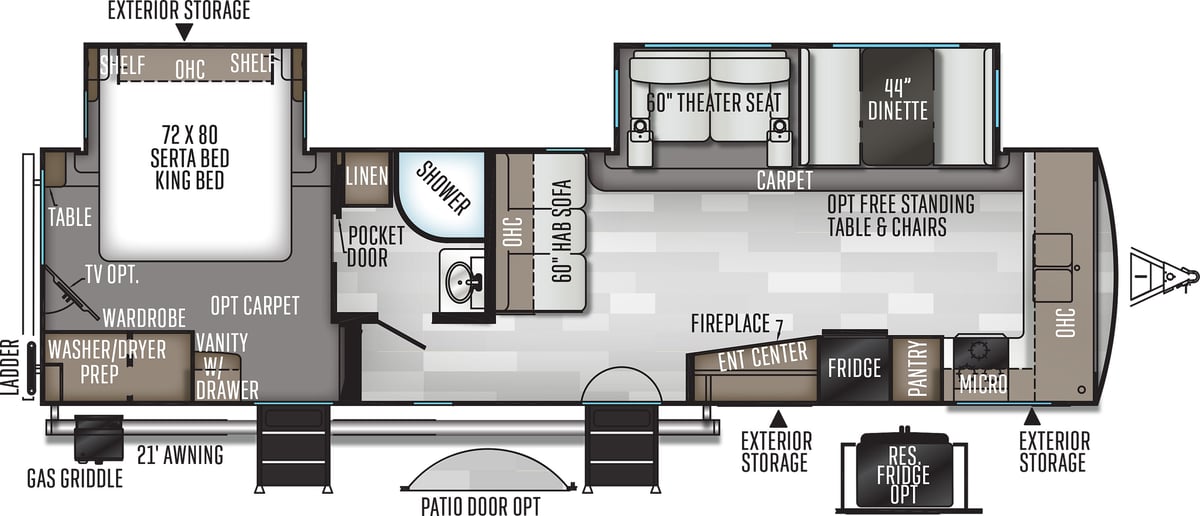 Expandables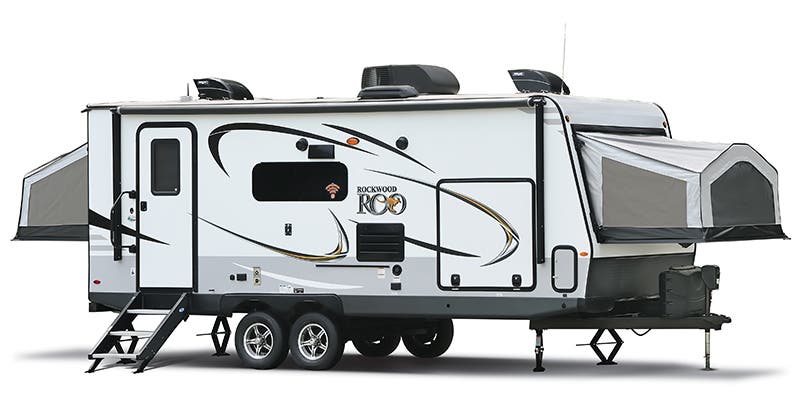 The Forest River Rockwood Roo prides itself in having a variety of floorplans in its expandable Roo series. Stabilizer jacks, six-sided aluminum cage construction and nitro filled radial tires are features that come standard.
Along with a power awning, gas/electric refrigerator and a microwave oven come standard for maximum comfort and amenities in your Roo. The Roo sleeps six to nine people so you can bring all of your friends and family on your next camping trip.
And all Roos come with a 15' power awning with rain dump abilities and LED lighting to help everyone enjoy the great outdoors.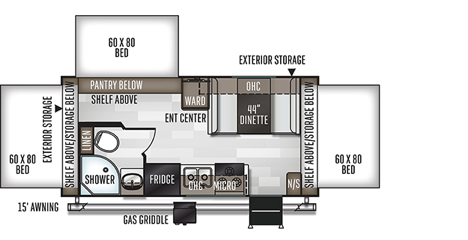 Pop-Up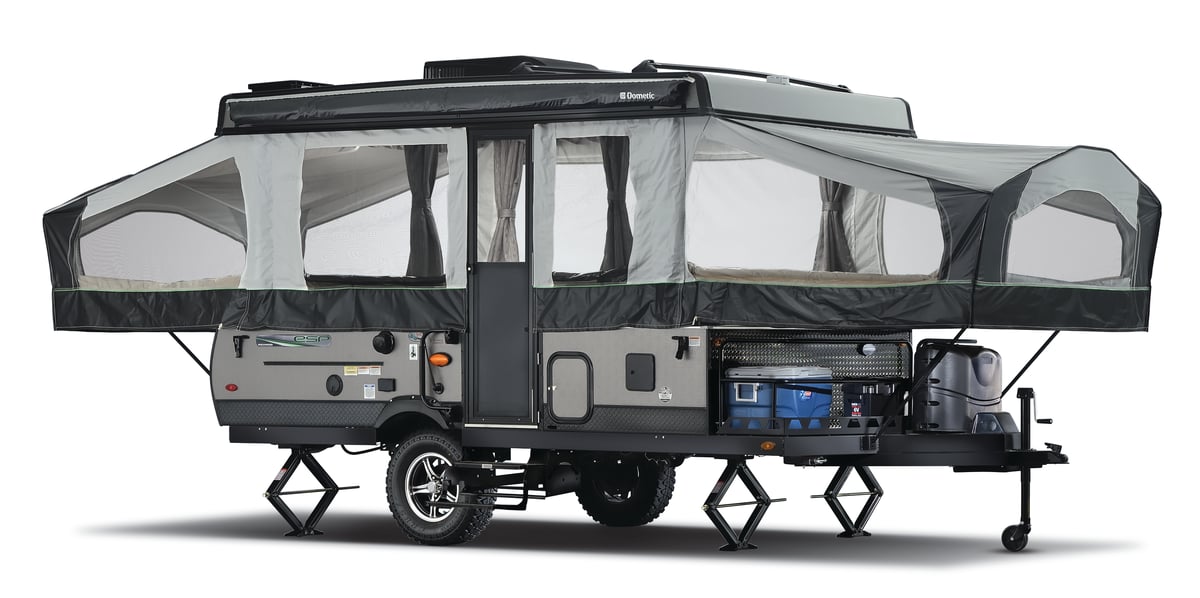 The Forest River Rockwood Extreme Sports pop-up campers are designed for twenty-first century camping. The interior features are perfect for those that live an active lifestyle and includes an MP3 player, USB ports, WI-FI booster, recharging station and a digital media receiver with Bluetooth.
This pop-up can sleep four to six people depending on the floorplan and is perfect for those who enjoy outside sports activities. It provides a load bearing surface to secure up to 150 pounds of outdoor sports equipment.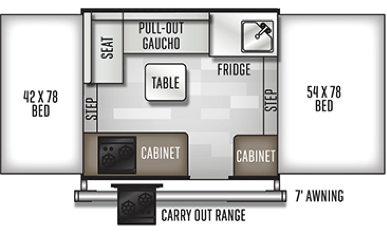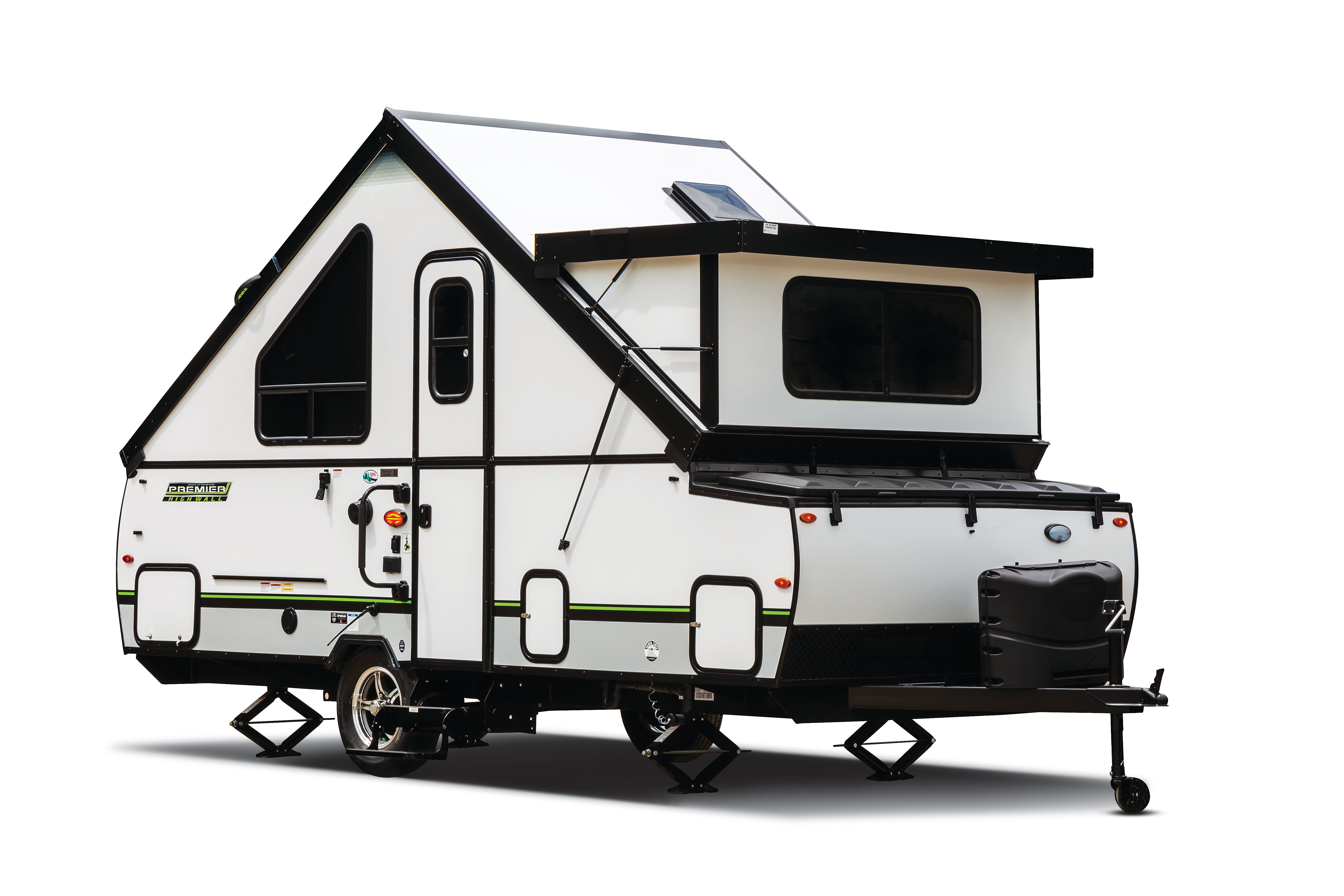 The Forest River Rockwood Hard Side High Wall Series is a folding pop-up A-frame camper that is easy to store and tow.
These RVs have a hard exterior similar to a travel trailer while still having the ability to pop up or stow away when necessary. These units come packed with amenities including stainless-steel looking appliances, microwave and USB charging ports. The Hard Side High Wall Series sleeps three people and is ideal for couples or small families looking for a weekend getaway.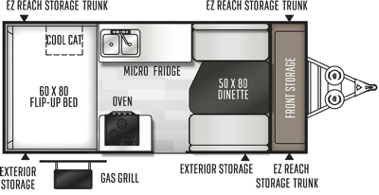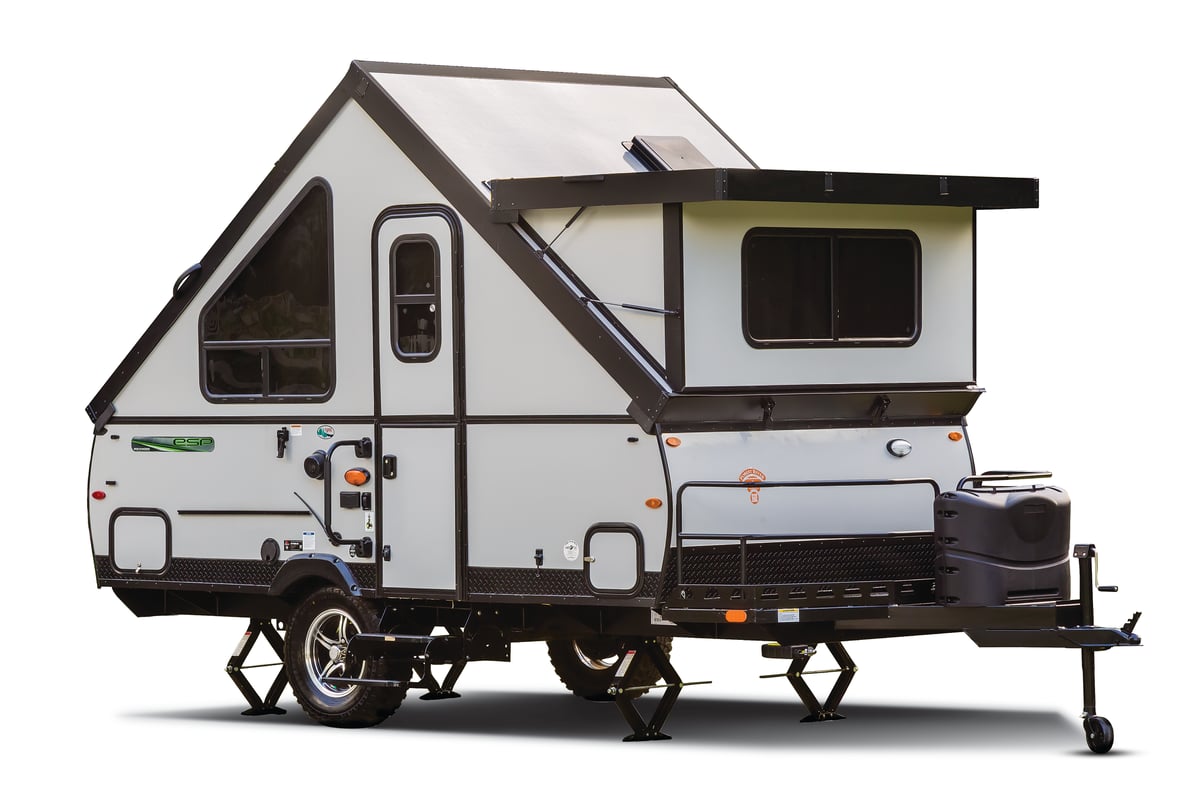 The Rockwood Hard Side Series is an A-frame pop-up camper that's collapsible with the storage space of a camper. This unit is similar to the High Wall Hard Side pop-ups, but it has a smooth fiberglass exterior with quick and easy set up while still retaining the towing ability of a tent camper.
This pop-up sleeps three people and is perfect for couples looking to get away from their busy lives. The Hard Side Series includes slatewood interior, wood-look flooring and leather-appearance seating so you can feel luxurious in a pop-up camper.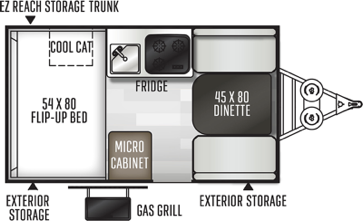 Tent Camper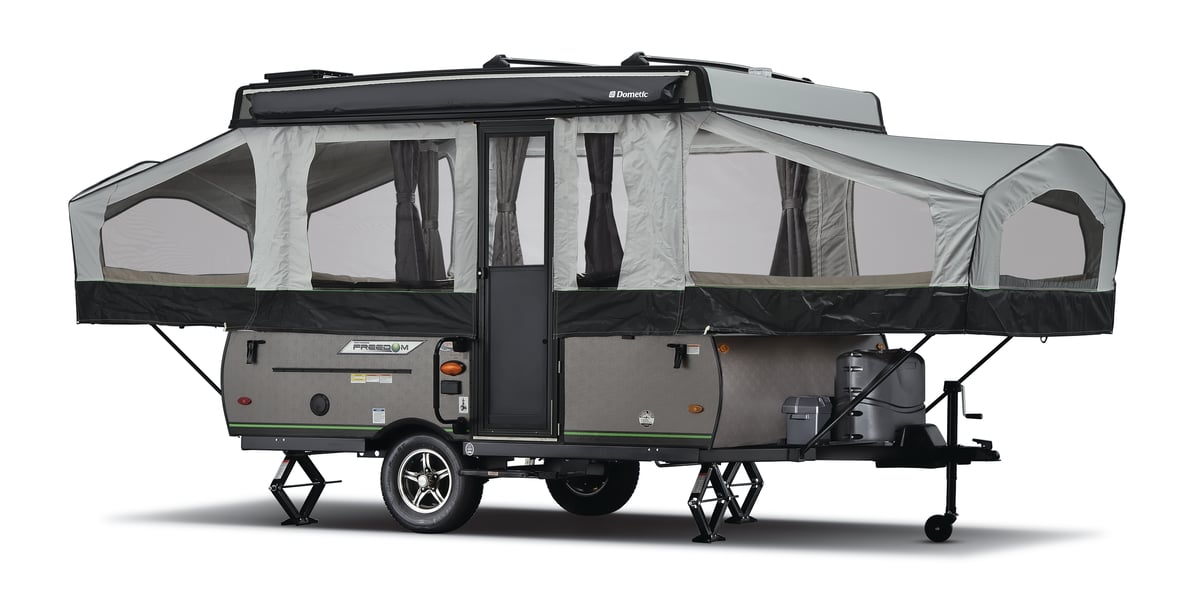 The Rockwood Freedom folding pop-up series is easy to set up so you can have more time to spend with your friends and family when camping.
The Freedom sleeps four to six people and easily folds away when it's time to haul to your next adventure. This pop-up features privacy curtains, WI-FI booster and USB charging ports for your comfort and enjoyment.
You will also find solar panel prep, EZ reach storage trunk and "add-a-room" privacy panels so you can bring along a larger party to maximize the adventure.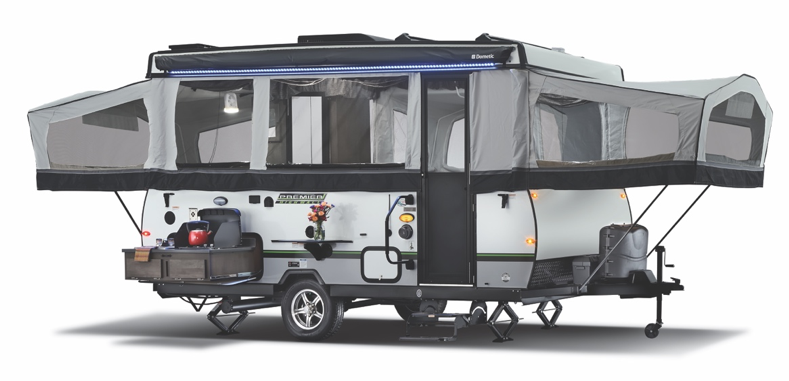 The Rockwood High Wall Series features a three-burner glass stove-top with oven, residential-style cabinet doors, and a WI-FI booster so this pop-up can truly feel like home.
This series can sleep five to six people while offering a king and queen bed with an additional sleeper couch. The High Wall Series is perfect for entertaining guests, while also being easy to transport. A hard wall shower along with a residential-style toilet come standard in all Rockwood High Wall Series.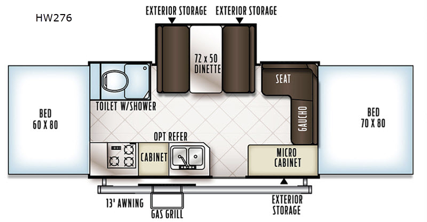 Rockwood RV has a history of providing high-quality pop-ups, fifth wheels and travel trailers. We hope this blog has helped you to find what Rockwood would fit you and your family the best. Ready to start shopping for your next Rockwood? Check out our inventory of Rockwood RVs.
Learn more about Top Places to RV this Fall or about the Top 5 Travel Trailers for the Money.