Looking to start camping in a Rockwood travel trailer, but not sure which one will best suit your lifestyle? Take a look at the 2021 Rockwood Ultra Lite 2706WS with us and experience first-hand how its features and space suits most RV lifestyles.
Click to start shopping for your perfect Rockwood Ultra Lite travel trailer here!
With great storage options, solar features and a water-saver system, any RVer from large families to extended-stay campers and boondockers, would be excited to take this RV on their next adventure.
Rockwood was founded by Arthur Chapman in 1972 and was later acquired by Forest River, one of the largest RV manufacturers in North America.
Rockwood has primarily dedicated its focus to producing a variety of pop-ups, lightweight travel trailers and fifth wheels that have tons of amenities and features that make living the rugged camping life easier.
What is an Ultra Lite Travel Trailer?
An Ultra-lite travel trailer is an RV that can be attached to a vehicle via a trailer hitch and can be towed with a medium-duty truck or a large SUV as opposed to larger travel trailers that require a heavy-duty truck. This type of RV is a great choice for those who want to bring along a vehicle with an RV because it can be detached from the RV once parked.
The option to disconnect the RV from the vehicle towing allows campers to explore with or without the RV as opposed to a Class B or C which are one whole piece that cannot be separated. Another bonus of having a travel trailer is that they are a great cost-effective option that provides more space than Class C or B motorhomes or pop-up campers.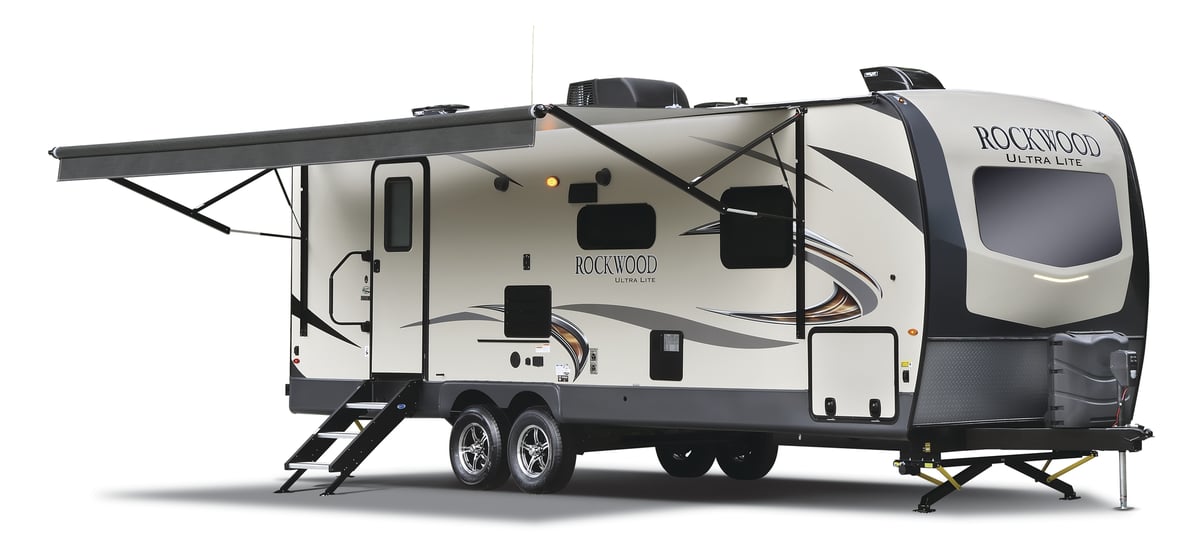 *Actual exterior of unit may differ from manufacturer photos
The 2706WS model is 32-feet, 10-inches long and has an unloaded vehicle weight of 7,310 pounds. And with three sleeping areas, this RV can comfortably house up to 10 people.
Exterior
The exterior of the Rockwood has some special features that make it shine amongst its competitors. In the front, there is a large pass-through storage area, which is great for holding large amounts of camping gear.
On the side of the unit, there is a 12-foot power awning with LED lighting and an adjustable rain dump to prevent damage if it starts to take on too much water. This RV also has tinted frameless windows for a sleek, seamless exterior and interior to help avoid any leaks. There is an outdoor kitchen with a 110-volt mini-fridge, a pull-out two-burner stovetop and a storage area.
In addition to the outdoor kitchen, there is a built-in rack for the gas griddle that is included with the RV, along with marine grade speakers and a TV bracket, so you can fully entertain outside.
In the rear of the RV, there is another pass-through storage area that can be accessed from either outside or inside underneath the bunkhouse.
This compartment is great for holding such items as kayaks, bikes or fishing gear. The last of the three pass-through storage areas is on the side of the RV and can be accessed from outside or inside the RV, under the dinette.
Interior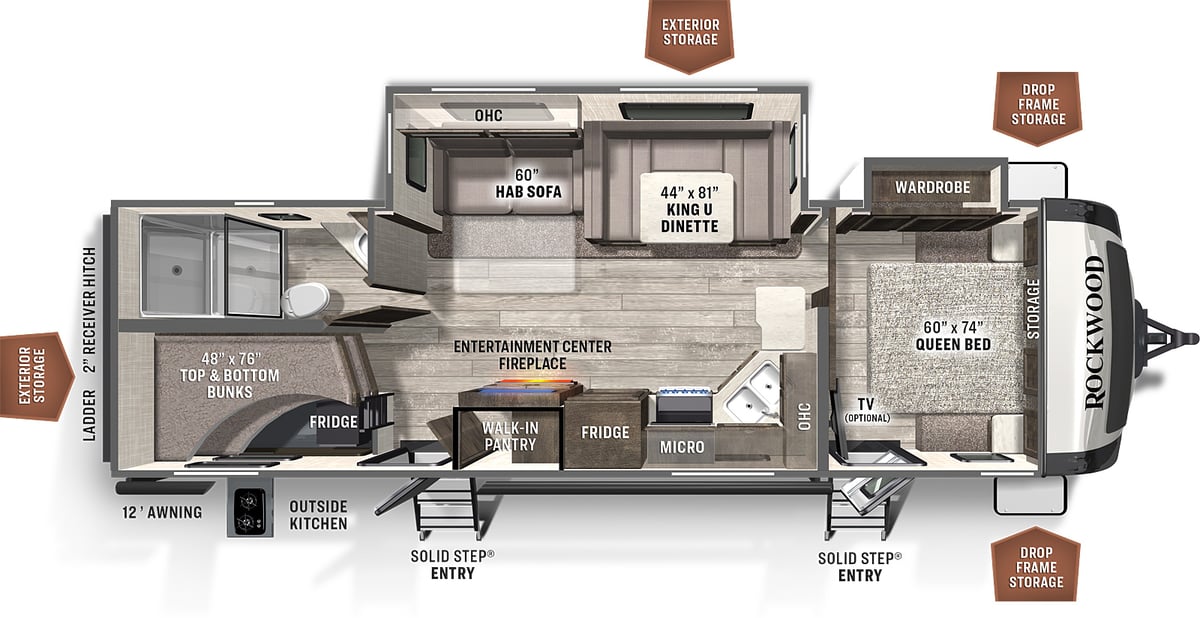 The interior of the Rockwood 2706WS is made with tongue and groove plywood flooring and solid wood cabinet doors and drawers. The appliances are black and stainless-steel. There are LED ceiling lights throughout the interior. And there are night roller shades over all the windows to provide ultimate shade during the day and privacy at night.
Bedroom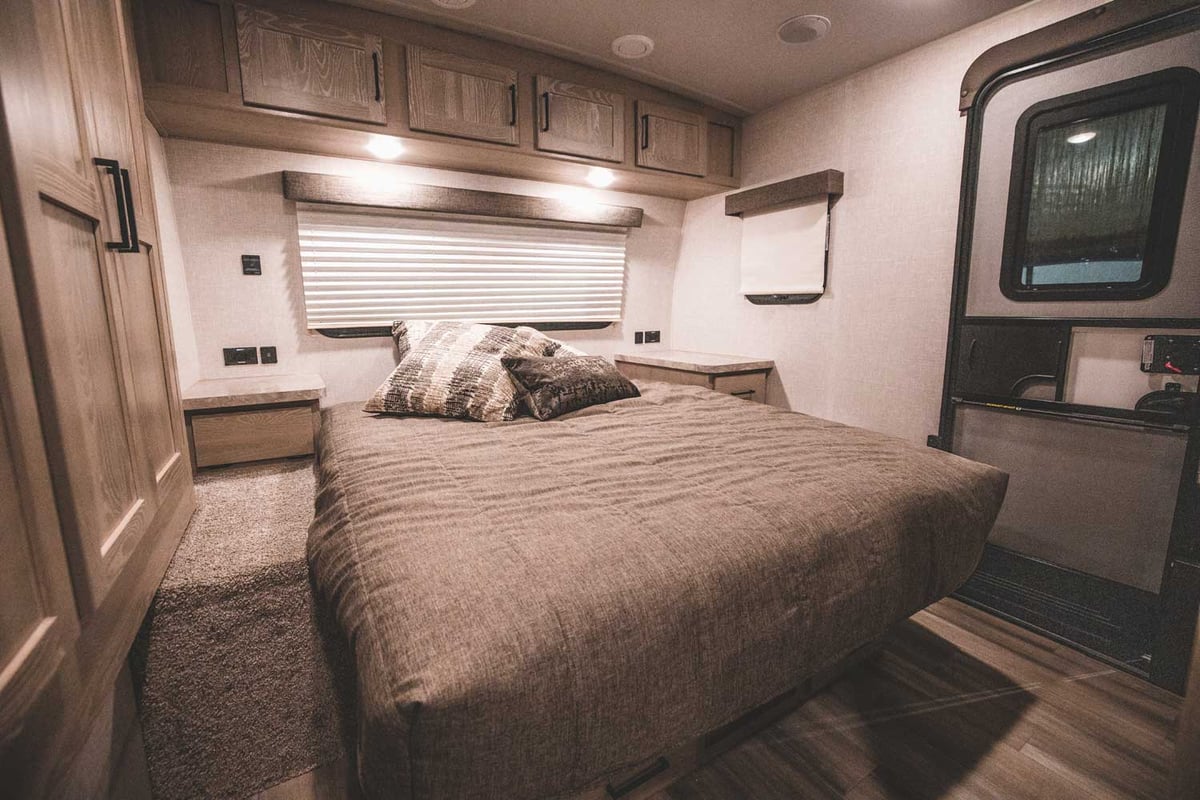 The private master bedroom offers a Queen-sized bed with under-bed storage and drawers. On each side of the bed, is a nightstand with 110V and USB outlets.
Over the bed, there are cabinets for additional storage along with integrated lighting. There is also a wardrobe slide that includes a cabinet with three shelves and a large closet.
Kitchen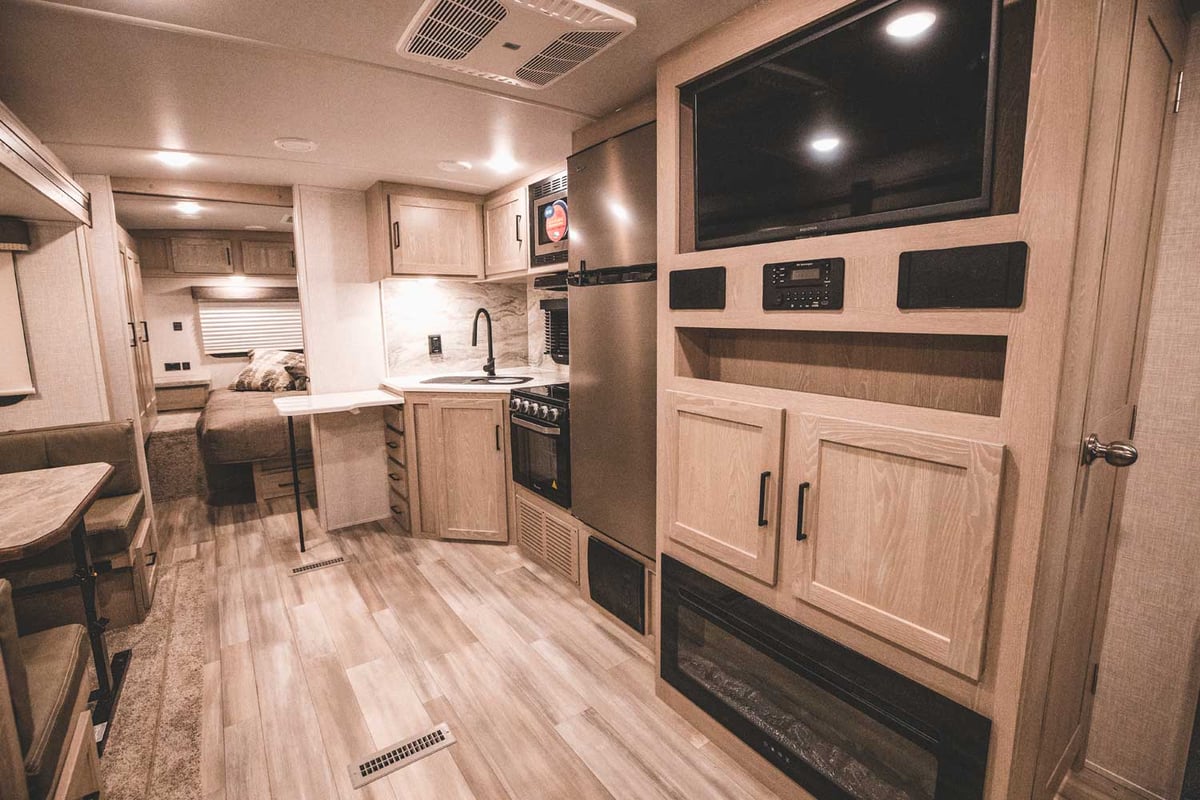 The kitchen has solid surface countertops with a stainless-steel double sink, three-burner cooktop and an oven. Above the cooking area are extra overhead storage and a 1.3 cubic-foot built-in microwave. Below the countertops are deep cabinets, great for pots and pans, cleaning supplies or any other essential items that need to be stowed away.
The refrigerator has a cabinet cover that allows it to seamlessly blend in with the cabinets for a sleek look.
Across from the kitchen is an oversized U-shaped dinette with a free-standing table that can seat six to eight people. The dinette can also be converted into a bed by lowering the table and adjusting the cushions.
An additional bonus to this dinette is that since the table is free-standing and can be moved into the kitchen for extra food prep space or outside for dining space.
Living Room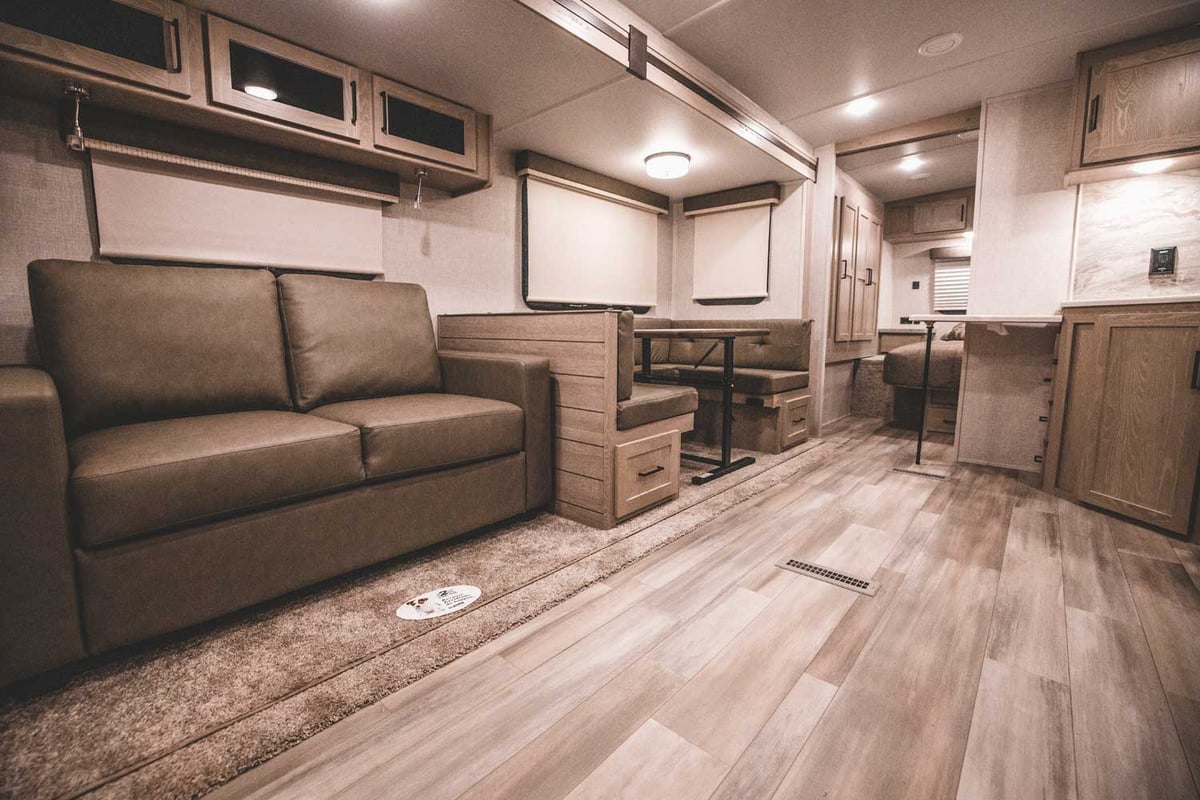 The living room of the Rockwood 2706WS has an entertainment center with Bluetooth, a pull-out TV with storage behind it and deep cabinets with glass front doors.
Directly across from the entertainment center is a 60-inch hide-a-bed sofa that can be used as extra sleeping space in addition to the master bedroom and the bunkhouse.
Above the sofa are multiple overhead cabinets for storing blankets, pillows or other must-have items for your trip. This room is also part of the open floorplan kitchen, so hosts can cook and interact with other campers at the same time.
Bathroom
The bathroom is right off of the living room in the back of the RV by the bunkhouse. It offers a vanity that has a built-in medicine cabinet with a mirror and a porcelain sink that has a shelf with an integrated toothbrush holder. The bathroom also has a porcelain foot flush toilet and shower with an Aqua View water saver feature.
Aqua View is a feature that allows the user to flip a switch while the water is heating up to make the water go back into the fresh water tank until it is warmed up, which is indicated on the showerhead with a color-changing pipe. This reduces the amount of water wasted by allowing it to stay in the freshwater tank while it warms up, instead of running down the drain and into the grey tank– where it would essentially be wasted.
Conclusion
This Rockwood ultra-lite travel trailer has a lot to offer and provides features that exceed the needs of any RV lifestyle. This spacious RV is ready to serve large families or couples who just want extra living space. With the special amenities that Rockwood supplies in this RV, it is the perfect choice for anyone looking for a comfortable travel trailer for extended camping stays or boondocking.
Is the Rockwood Ultra Lite 2706WS the RV for you? Click here to find yours today!
RV News and Resources
Looking for a travel trailer to travel in with your family? Check out our blog on the best travel trailers for families here.
Interested in a travel trailer that has a king bed? Take a look at our blog on the top five travel trailers with King beds here.