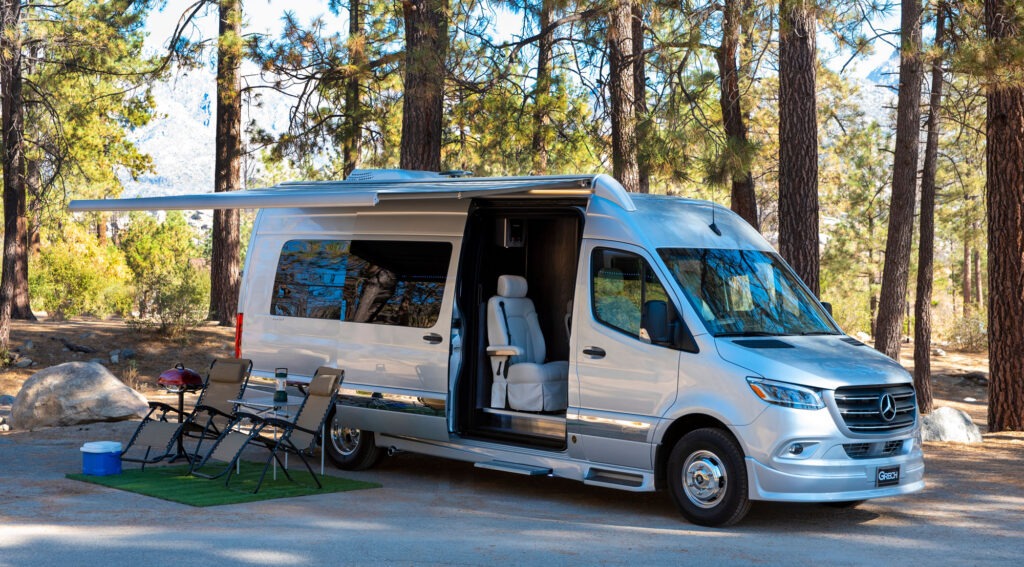 Grech Motors has been creating custom vehicles for over 35 years and now they are taking the RV world head-on with their newest addition, the Strada Class B Motorhome. This 7-speed automatic diesel engine motorhome is a great choice of RV if you are looking for an-easy-to-drive luxurious Class B motorhome.
Campers Inn RV has started carrying this new Class B RV brand at select locations and we have put together the top features in this blog for you. Read on to learn why the Grech Strada may be the perfect Class B for you.
Click to start shopping for a Grech Strada at your nearest Campers Inn RV Dealership
What is a Class B Motorhome?
Class B motorhomes are the smallest of the three motorhome classes of RVs. They are built on a van chassis from Dodge, Ford and Mercedes Benz. One of the main perks of this RV type is the ease of driving, parking and exploring off-the-beaten path locales, as it is smaller and nimbler than its motorhome counterparts. Of course, the smaller space means giving up the amenities, privacy and storage of larger RVs, but some Class Bs, such as the Grech, can offer some of the most important amenities, such as a private bathroom and shower and get creative with storage space to help eliminate concerns.
Introducing the Strada
MSRP starting at $200,490
The Strada has a gross vehicle weight rating of 11,030 pounds and is built on a Mercedes Benz Sprinter 3500 170-inch EXT chassis. It is 24-feet, 2-inches long and can sleep up to two people. The tank capacities are 26 gallons of freshwater, 27 gallons of gray and 13 gallons of black.
Floor Plans
The Grech Strada RV comes in two floorplans, the Lounge Plan and the Tour Plan. They are similar in layout with a few minor changes such as a closet and extended counter space.
Lounge Plan

Tour Plan

Exterior
The exterior of this RV offers some special features and amenities, such as a power entry step, fiberglass body kit and running boards, 110/120-volt power outlet, exterior shower and utility center with LP, cable, 3-amp outlet, water connection, and a power awning with LED lighting and wind sensors that will automatically retract on its own if it detects strong winds, so you never have to worry about it breaking. With these features and amenities, the Grech helps create a great outdoor experience for any camper.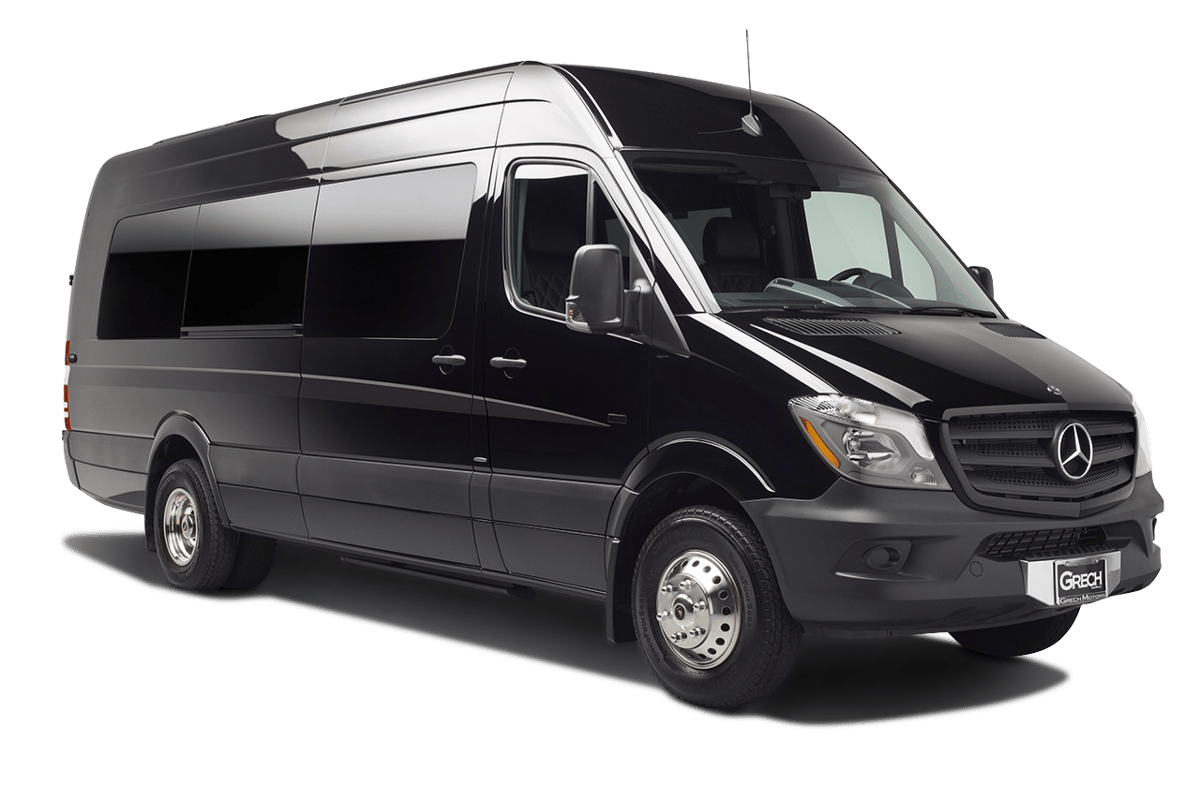 Living Area
This Class B RV offers luxurious features in the living area including ultra-leather seating, convertible power sofa/bed with memory foam cushions, a removable table mount system with swivel top that can be tucked away behind the seats to make more space when needed, soft-touch walls, soft-touch ceiling with adjustable LED accent lighting, woven flooring and automated power window shades that allow the passengers to adjust the amount of natural light coming in at the touch of a button. Also, with a separation between the dining and living area, the Strada offers some privacy between the cab and the sleeping area.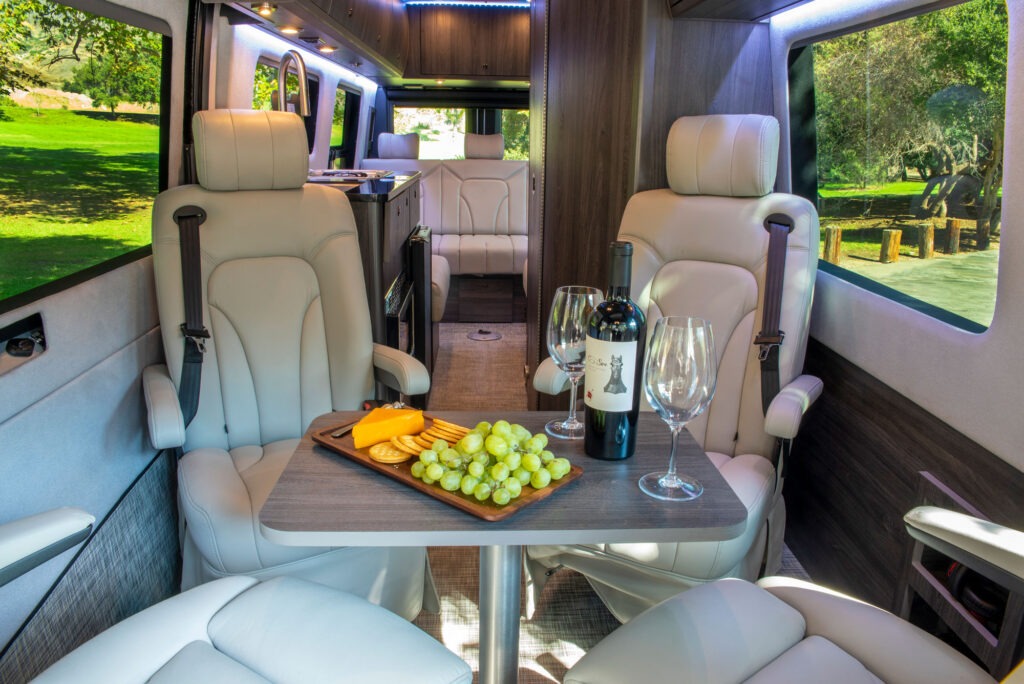 Entertainment
For entertainment, this RV has a lot to offer. With a 24-inch LED Smart TV in the front and rear of this RV, a Bose soundbar with Bluetooth, Blue-ray/DVD Player, premium sound system, cable TV outlets/hookups, prewiring for satellite TV, USB and 110V charging ports and HDMI inputs, the Grech is outfitted to entertain your passengers while traveling or spending a night at the campground. No matter where you are relaxing in this RV, entertainment is right there and readily accessible.
Kitchen
The kitchen has features such as a farmhouse-style sink with an integrated cover, 3.1-cubic-foot refrigerator/freezer and domestic two burner cooktop with integrated cover. Not only is this kitchen equipped to whip up a meal on the road, but it also looks exquisite with the Corian countertops and Italian hardwood cabinet doors with premium hardware.
Bathroom
This one-piece private enclosed wet bath has everything you need in a bathroom including a window with privacy shades so you can let natural light in, vanity with storage, medicine cabinet with mirror, handheld showerhead, shower curtain, molded sink, ceramic toilet with foot flush, towel rack and a pull-out clothesline to dry or hang clothes while traveling.
Electrical, plumbing, heating and cooling systems
The Grech Strada has Multiplex wiring, a FireFly Multiplex control system with three touch screen panels spread throughout the RV, Freedom XC 2,000-watt true sine with 80 Amp inverter charger, two 12V Lithium 100AH batteries, 2.5 kW (LPG) with auto start and ultra-quiet resonator exhaust, 300-watt solar system, gas/smoke/CO2 detector and alarm, low profile domestic 13,500 BTU air conditioning, power lift vent fan with rain sensor and an auto-ignite 16,000 BTU suburban furnace.
FireFly Multiplex Control System
The Grech Strada has a touchscreen master control system that allows you to control all electric features in your RV all in one place. It can also be accessed remotely through a smartphone or iPad and is compatible with Apple and Android. For the ease and convenience of the user there are three firefly control pads throughout the RV.
What can the Firefly control system do?
Check fresh, grey, black and LP tank levels

Turn on/off lights individually or all together

Extend/retract the awning

Check the house battery level

Turn the generator on/off

Check and change electrical settings such as power source, charger, AC controls and more

Raise or lower the automatic shades individually or all together
The Grech Strada is great option for anyone looking for a luxurious experience in a class B motorhome. Check out the ones we have in stock here and find yours today!
News and Resources
Interested in seeing some more Class B motorhomes? Check out our blog on the Winnebago Travato here.
Wondering if a Class B is right for you? Take our quiz to find out!