Take a virtual walk through the 2019 Phoenix Cruiser 2910T and check out the unique characteristics this beautiful RV has to offer. Get an inside peek of the kitchen, common area, bedroom and all the other distinctive spaces, details and features that come standard in the Phoenix Cruiser Class B-Plus motorhome.
What type of RV is the Phoenix Cruiser?
The Phoenix Cruiser might look like a Class C motorhome, but it is technically a Class B-Plus motorhome. A Class B+ is a motorhome that can fit right in between a Class B and a Class C motorhome. It is a little too big to be considered a regular Class B, but they still get better gas mileage than a typical Class C motorhome.
The manufacturers of the Phoenix Cruiser, Phoenix USA, felt there was a size for RVs that wasn't being hit, so they decided to create an RV that could meet the needs of their employees and RVers with the Phoenix Cruiser. It offers all the conveniences and mobility of a Class B motorhome, but also includes some of the luxuries that come with a Class C motorhome. It is the perfect middle ground for those who want minimalism but still need extra space.
Class B-Plus Motorhomes Vs. Class C Motorhomes
Because the Phoenix Cruiser is smaller than a typical Class C motorhome, it has the ease of driving a Class B. The smaller size also makes it much easier to control and park, as well as to fit into smaller spots at campgrounds. The main component of a Class C that the Phoenix Cruiser features is having a separate bedroom instead of just a fold down bed in the common area. Another plus about these models is unlike a Class B, the Phoenix Cruiser can fit a split bath instead of the typical camper van wet bath where the shower is over the toilet.
The Bedroom and Bathroom Areas of the Phoenix Cruiser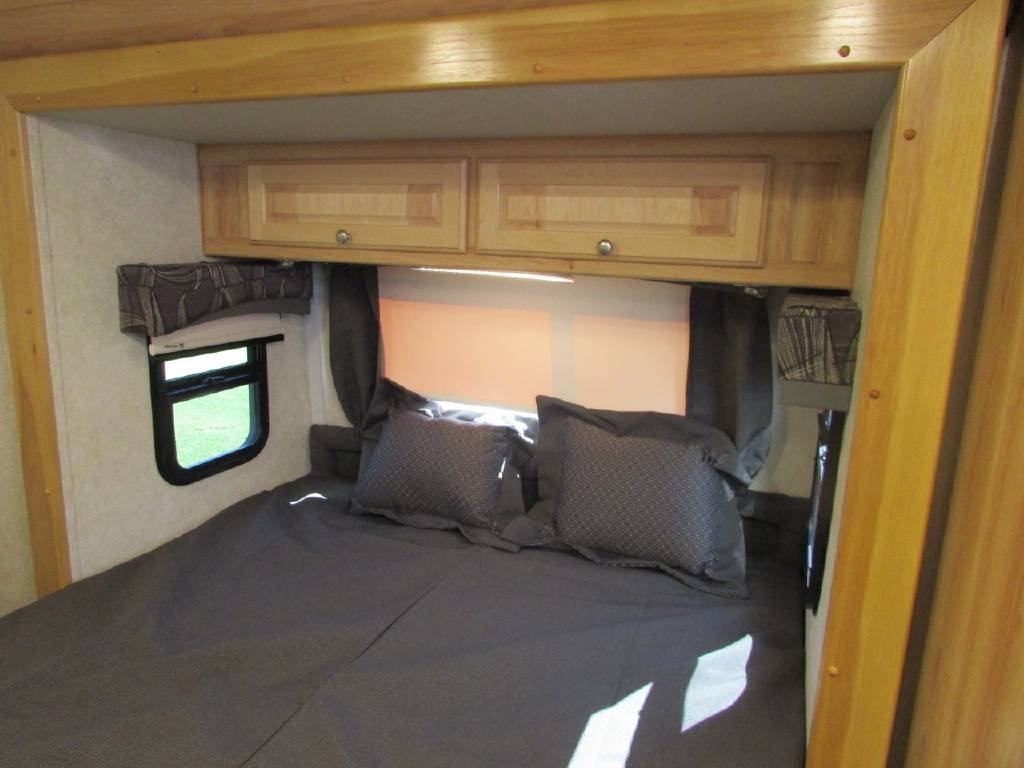 The Phoenix Cruiser's separate bedroom is the perfect place to retreat at the end of the day and have a little bit of privacy. There is a queen-size bed and lots of overhead storage perfect small and medium-sized items needed for camping trip adventures. And the split bath offers more space to move. There is a full-size sink and the shower has a removable wand for added convenience and a more comfortable shower experience.
Phoenix Cruiser Kitchen and Dining
Features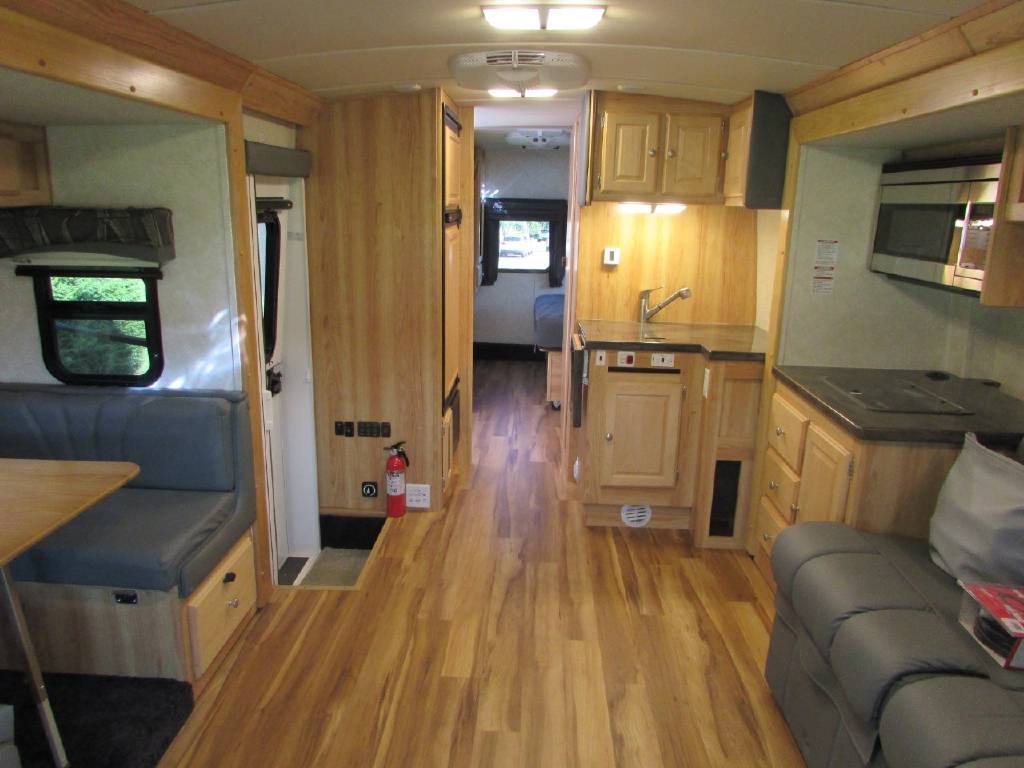 The Phoenix Cruiser has a small kitchen area, so you can still whip up all your favorite meals from your sticks-n-bricks house in the comfort of your RV. The kitchen features a double-door fridge large enough to fit all the ingredients to make delicious meals while traveling. Enjoy the large stainless-steel sink for washing all your fruits, veggies and dishes. There is also a cooktop with two burners which is great for making on the road meals for more than one person. The kitchen area also offers a stainless-steel microwave that provides extra cooking ability and versatility so making meals on the road for a family is not a struggle. There is also a mini dinette, so you and your family can sit and enjoy a tasty home-cooked meal in comfort.
Phoenix Cruiser Living Area
Campers will enjoy unwinding by the cozy fireplace in the spacious common area after a long day of driving. There is a 50" TV that recedes into the entertainment center so you don't have to feel like you downsized your entertainment center while on the road. The TV also recedes into the entertainment center providing extra counter space if needed. After a long day of playing outside, the sofa can convert into a double bed for guests or your children to sleep on.
The Phoenix Cruiser also has a small desk that is the perfect spot for keeping all your paperwork organized while on the road. The desk is also convenient for those who need to work from the road while traveling.
The cab area is sure to make those long road trips feel just a little bit shorter and a lot more comfortable. There are two large seats to keep the driver and passenger comfortable while on the road. The Phoenix Cruiser also features a six-speed transmission and cruise control.
Phoenix Cruiser Exterior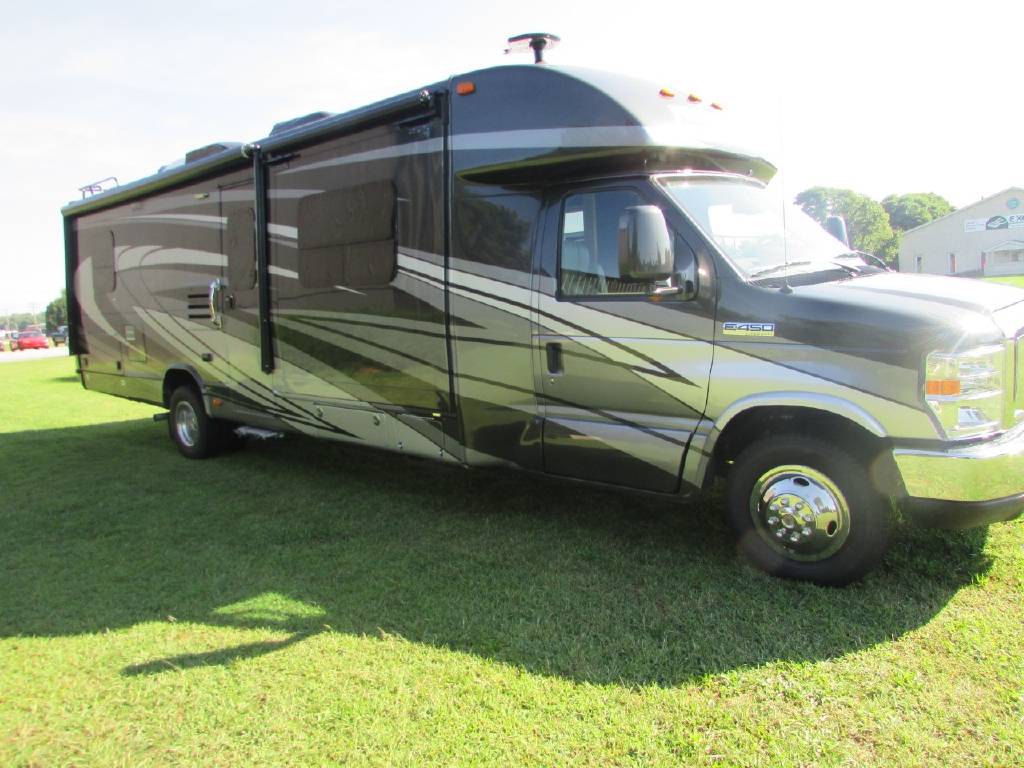 The 2019 Phoenix Cruiser 2910T clocks in at 30'10" in length and 10'1" in height for the exterior with an interior height at 6'4." It is built on a Ford Chassis van frame instead of a truck frame and has fiberglass construction and rubber mounts for a smoother ride. The gross vehicle weight for this RV is a total of 14,500 pounds with a 55-gallon gas tank and the electric hookup is 30 amp. It features multiple slideouts, giving RVers the extra room they wouldn't get with a camper van when set up at a campsite. There is also a pop-up awning and exterior LED lights, so you can enjoy the outdoors day and night. And the motorhome can sleep up to 4-6 people comfortably throughout. A new upgrade in 2019 now has the number of seatbelts to match the number of beds in the RV. Overall this motorhome provides more room to cook, play and sleep for the single traveler or a family.
If you're ready to start shopping for your Class B+ motorhome from Phoenix Cruiser, we have a large selection at several of our dealerships you can check out.
Start planning your next RV road trip with the best start park destinations and our ultimate packing checklist.