Take a peek at the 2019 Cruiser RV Embrace EL 280 and see all the wonderful qualities that make this RV special. It offers a lot of features at an affordable price compared to other travel trailers it's size. Offering stainless-steel appliances in the kitchen, an entertainment center in the common area, and a spacious master bedroom and private bunkhouse, you'll be daydreaming about all the fun memories you and your family will have in this camper.
What is a Travel Trailer?
Multiple types of RVs can fall under the travel trailer category such as pop-up campers, lightweight campers and toy haulers. All these RVs are towed the same way, which is what qualifies them as a travel trailer. They attach to the towing vehicle by a standard ball hitch. This allows trucks and even some SUVs or minivans the ability to tow travel trailers. Travel trailers offer the flexibility to unhitch the trailer from the towing vehicle whenever it is needed to run some quick errands or to go out sightseeing without worrying about finding parking spaces big enough to fit the whole rig.
What Makes the Cruiser RV Embrace Unique?
The Cruiser RV Embrace is specially made for Campers Inn RV and can only be purchased at Campers Inn.
This RV is extremely spacious as it can sleep up to nine people comfortably. There is enough room to fit your friends and family in for unforgettable camping memories.
The Embrace is 41'4" in length with a dry weight of 6,360 pounds and a cargo weight of 3,228 pounds. A freshwater capacity of 44-gallons, a grey water capacity of 30-gallons and a black water capacity of 30-gallons. The electric that is needed is 50 amp.
The Exterior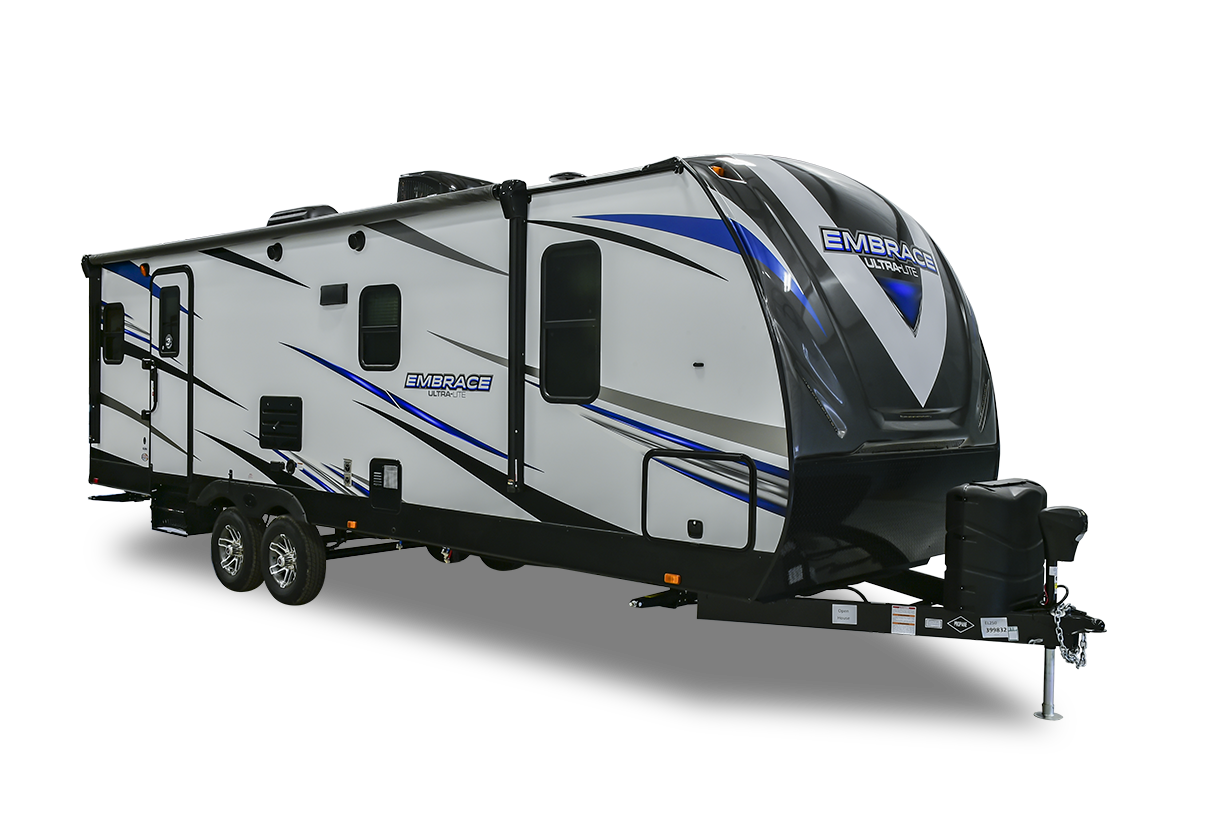 This RV has a power awning with LED lights as well as an outdoor kitchen. The outdoor kitchen comes equipped with a pull-out gas grill, small sink and a mini fridge. It also has cabinets that provide extra storage space to hold ingredients and other cooking tools, so they are right there when you need them. The outdoor kitchen has everything you need to prepare full, home-cooked meals and the power awning allows you to be outside while you eat, but you are still able to relax in the shade.
Getting in and out of this camper is safe and easy with the large assist grab handle and triple step entry. The Embrace also offers a GoPower solar prep package for those that are interested in using solar power while they camp instead of electric plug-ins.
Spacious Kitchen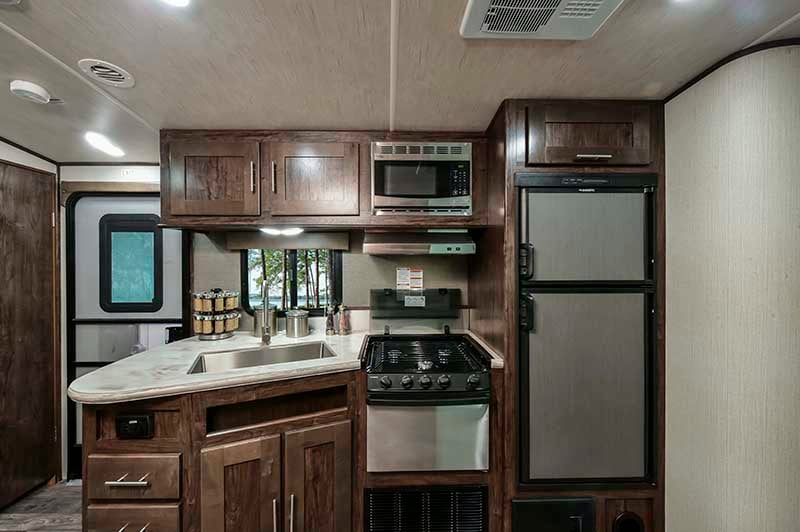 The Cruiser RV Embrace offers a sizable interior kitchen with a 6-cubic foot refrigerator, three burner glass top stove, and a stainless-steel microwave for the times when you need to heat something up for a simple and a quick meal. The counter tops are built to withstand years of wear and tear with solid surface counter tops. The kitchen sink has a high-rise faucet that makes it super easy and convenient to wash larger pots and pans.
Comfortable Common Area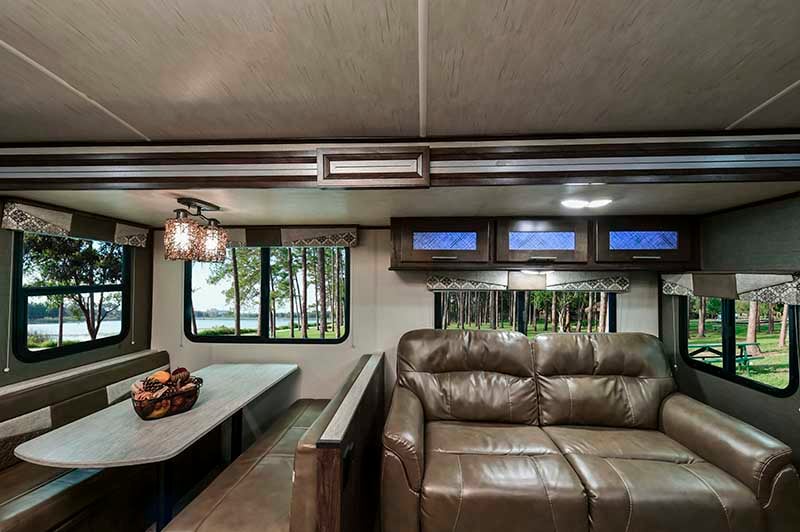 The common area in the Embrace is a great place to hang out and spend some quality time with friends and family. There is a dinette for eating all your tasty meals at, playing board games, coloring or just talking and enjoying each other's company. There is also an entertainment center with a 39" LED TV that is perfect for getting cozy and watching your favorite movies on rainy days. The common area also offers a charging station, so everyone's electronics can always be ready to use.
Relaxing Bedrooms
The private front bedroom features a walk-around king bed for easy access to either side. It also has a storage on each side of the bed, as well as overhead storage. This storage gives you space to store all the little extras that you always need while on the road. Kids and other guests will also have a private space to retreat to at the end of the night in the rear bunkhouse. There is a double bunk with a convertible mini dinette on the bottom and a top bunk with extra shelves and cabinets underneath. The private bunkhouse can be used for several different things, depending on what is needed.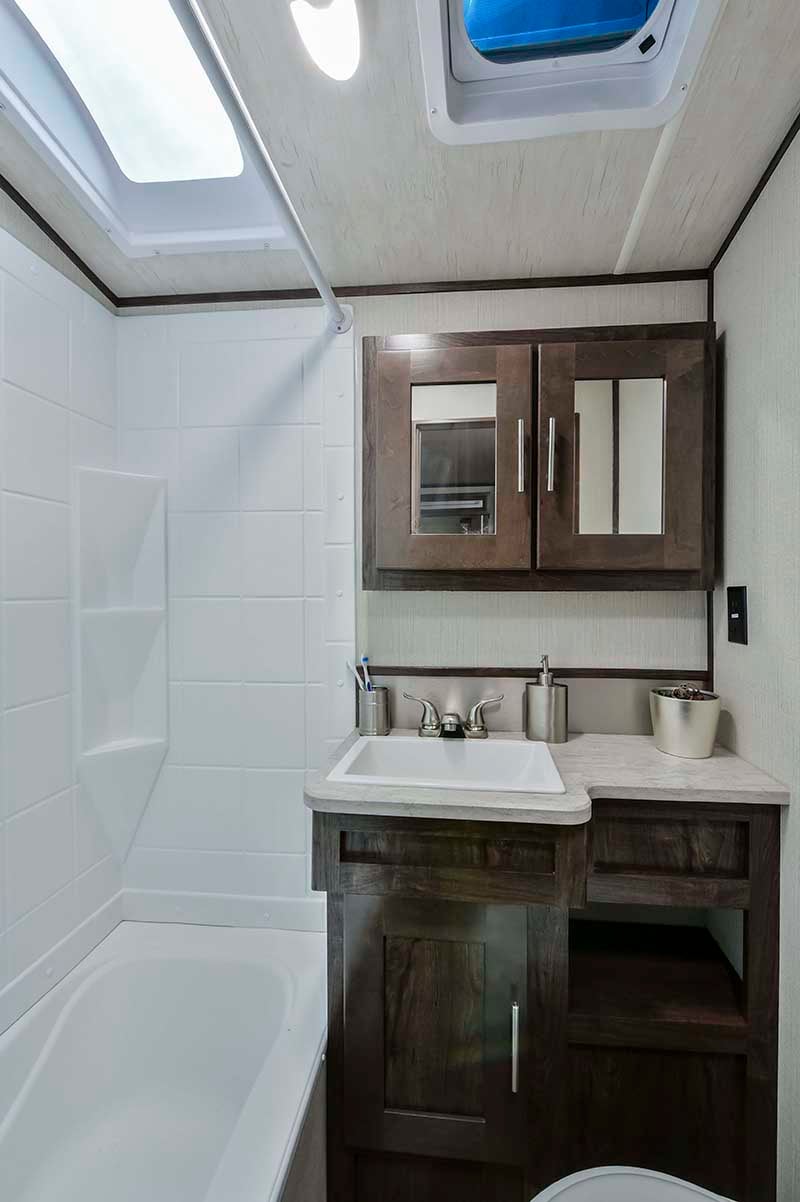 The bathroom features a full-size shower, so you don't feel so cramped. There is also a porcelain toilet with a foot flush. The sink has a vanity box mirror that is perfect for storing all your toiletries and medicine in one, convenient place.
The Cruiser RV Embrace is a great travel trailer for family camping trips and it is the perfect place to make memories. Its storage space, privacy and amenities make it a great option for a family's first travel trailer.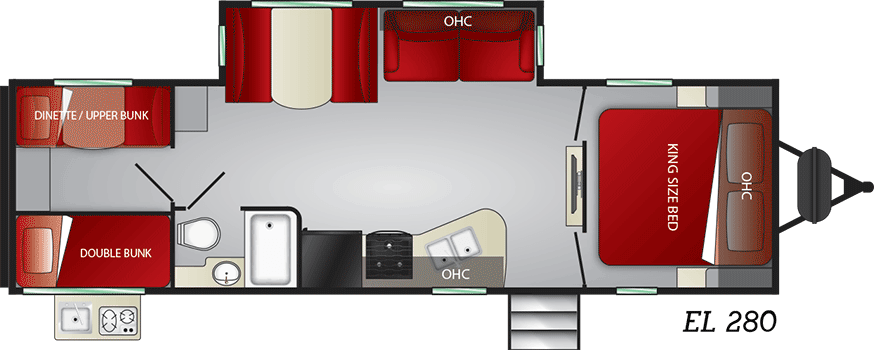 Browse through our inventory of the Cruiser RV Embrace Travel Trailer to find one near you!
Ready to take your new camper on an adventure? Check out the nine best campgrounds in the U.S. and start planning your next trip!