Take a virtual walk through of the 2019 Cruiser Stryker ST 2916 and see everything this RV has to offer. Inside, you'll find a walk-in shower, residential-style furniture in the common area and garage space for storing equipment and toys. Watch our RV Spotlight video to get an inside look at what makes this toy hauler unique.
What is a Toy Hauler RV?
A toy hauler is an RV that has added storage or garage space. This large area is ideal for holding all your favorite outdoor sports and hobby equipment. These RVs can haul outdoor items such as mountain bikes, kayaks, canoes and paddleboards. Toy haulers are even big enough to carry much larger machines such as jet skis or four-wheelers. These RVs also have a ramp that makes it quick and easy to load and unload all your gear. Not only is the ramp used to pack your gear up into the RV, but they can also be used as an outdoor patio for extra outdoor entertainment space. These RVs tend to have overhead storage that can store helmets and other smaller accessories. Many toy haulers even feature fold-down bunks in the garage area for extra sleeping space when the storage area is not being used. Toy haulers are the perfect match for RVers who love playing outside and want the convenience of having their own equipment ready for use.
And you don't have to settle for one type of RV when thinking about purchasing a toy hauler. They can be a travel trailer, fifth wheel, Class C motorhome or a Class A motorhome.
Toy haulers are more than just a place to carry all your outdoor toys, they are a home on wheels. Besides the garage space, they also include a kitchen, living area and bedrooms.
The Stryker Details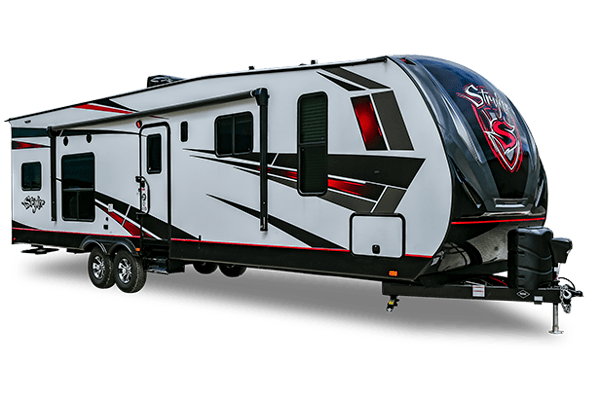 The Cruiser Stryker is 35'11" in length with a dry weight of 8,360 pounds and a cargo weight of 4,667 pounds. There is a freshwater capacity of 98-gallons, a grey water capacity of 60-gallons and a black water capacity of 30-gallons. The fuel capacity of the Stryker is 30-gallons.
This roomy RV can comfortably sleep up to seven or eight people so there is enough space for the whole family to ride along and make camping memories that will last for a lifetime.
There is a single slideout to make the RV feel much larger and comfortable. The Stryker also has two entry doors, which is more convenient and safer if there are a lot of people going in and out of the camper.
When you're outside, you can sit back and relax in the shade on those hot summer days under the 19' power awning. There are also exterior wall mount speakers for listening to the game or music while outside and LED lighting for after the sun goes down.

The Garage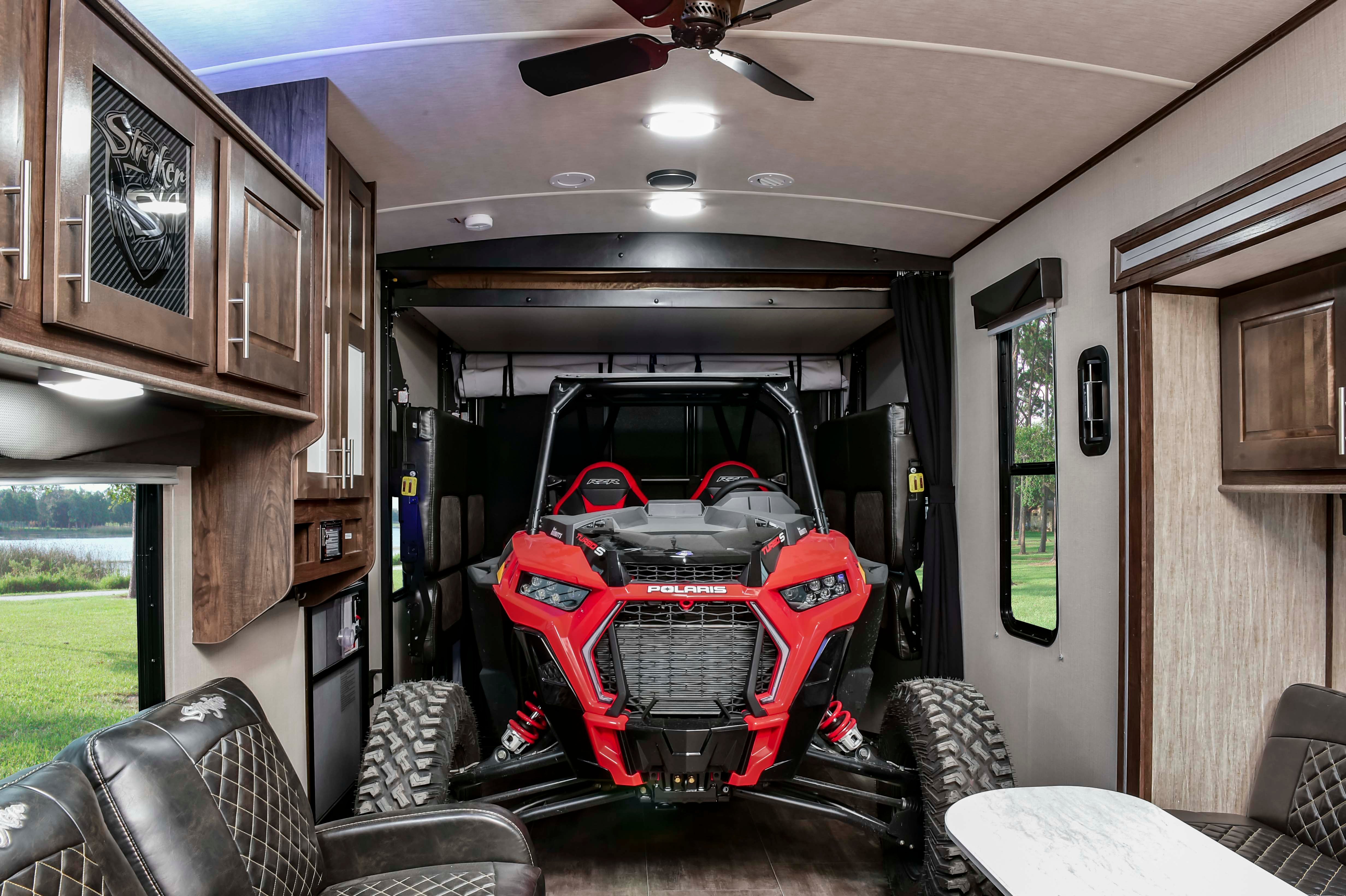 The Cruiser Stryker has a 16' garage so it's big enough to carry all your equipment. When the ramp to the garage is not in use, it can be used as an outdoor patio, which is perfect for relaxing outside, tailgating with friends or even convert into an office when you're set up at your campsite. The patio has collapsible gates, so you can enjoy the outdoors in peace without the fear of anything accidentally falling off the edge.
The garage space also has two reclining sofas that can be turned into extra bunks when the storage space isn't in use. With this fold down bunk, the garage space can be used for storage or converted to extra seating space or an extra bedroom.
Sizable Kitchen
Whip up all your favorite meals in the Stryker's large kitchen. Enjoy the stainless-steel appliances and three-burner cooktop with a traditional oven. There is also an 8-cu. ft. double-door fridge that's big enough to fit all your groceries and leftovers. There is also quite a bit of counter space and a stainless-steel sink with a high-rise faucet that makes washing larger pots and pans a breeze.
Spacious Living Area
The Cruiser Stryker features a large and comfortable living area. There is residential-style, free-standing furniture in the dining and living spaces. A convertible couch and two reclining seats can seat up to four people in this space. The common area also offers a charging station, so no one needs to worry about their electronics going dead when they are needed the most.
The Stryker has LED interior lighting throughout the whole RV for bright and efficient lighting.
Master Bedroom and Bath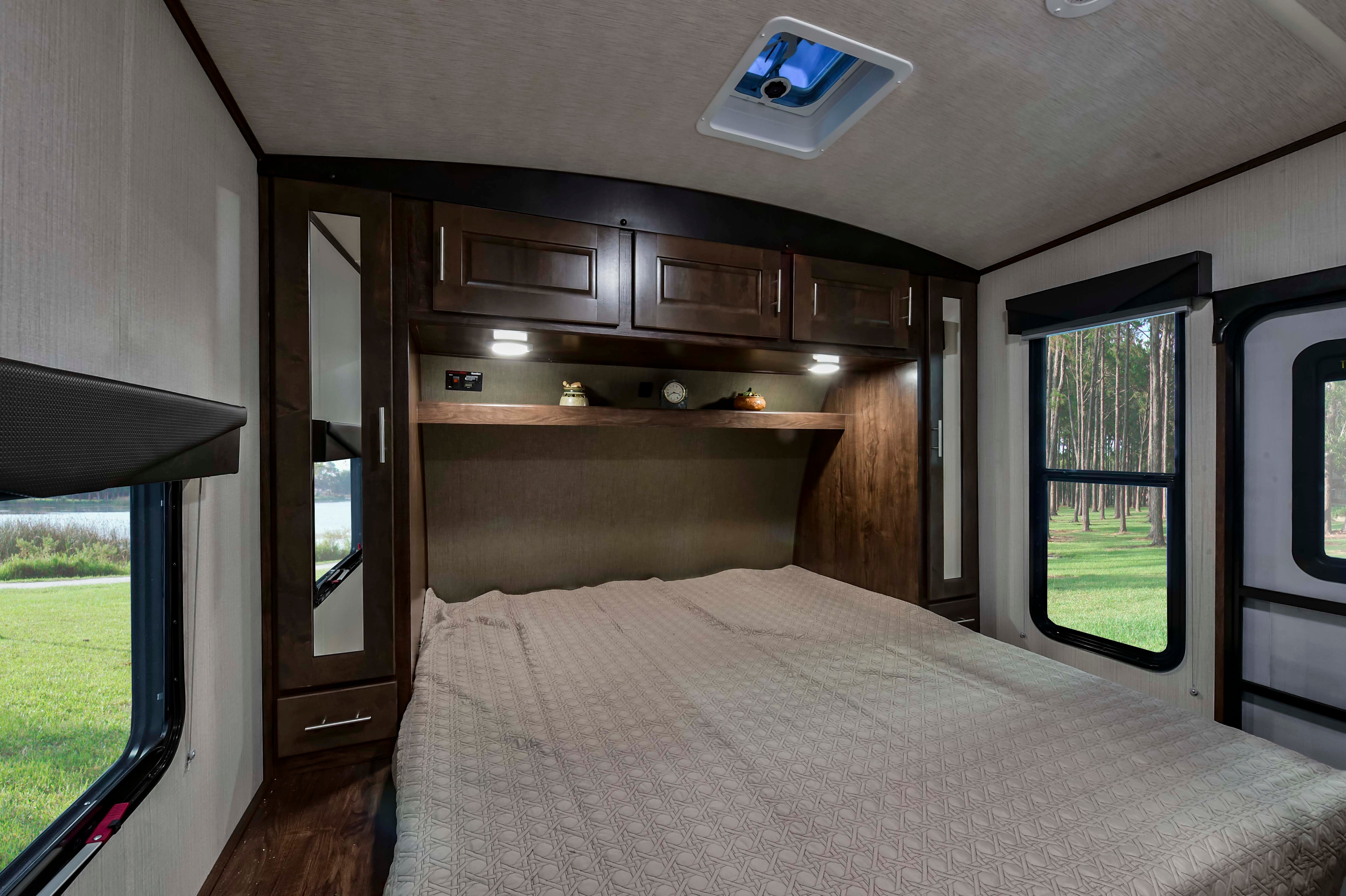 The master suite has a walk-around king-size bed, which provides added ease to getting in and out of bed. Plus, you that extra space you need to stretch out and unwind at the end of a long day enjoying the outdoors. There is additional storage on each side of the bed to store all the nighttime routine essentials.
The bathroom in the Cruiser Stryker is roomy, making it easy for all members of the family to freshen up. There is a walk-in shower for easy access and it is large enough to feel comfortable while getting clean. There is also a porcelain toilet with a foot flush as well.
Learn More
From the spacious and flexible garage space to the king-size master bed, the Cruiser Stryker is a great RV for active families who love to camp, socialize and play outside. There is plenty of room to fit the whole family, entertain guests on the patio and store all your family must-haves and equipment while on the road. If this is the perfect RV for you, start shopping here.
Interested in a toy hauler but not sure if the Cruiser Stryker is right for you? Check out our article on the best toy hauler travel trailers.
If you're ready to start planning your next camping adventure, check out the best state park destinations for your budget and your lifestyle.