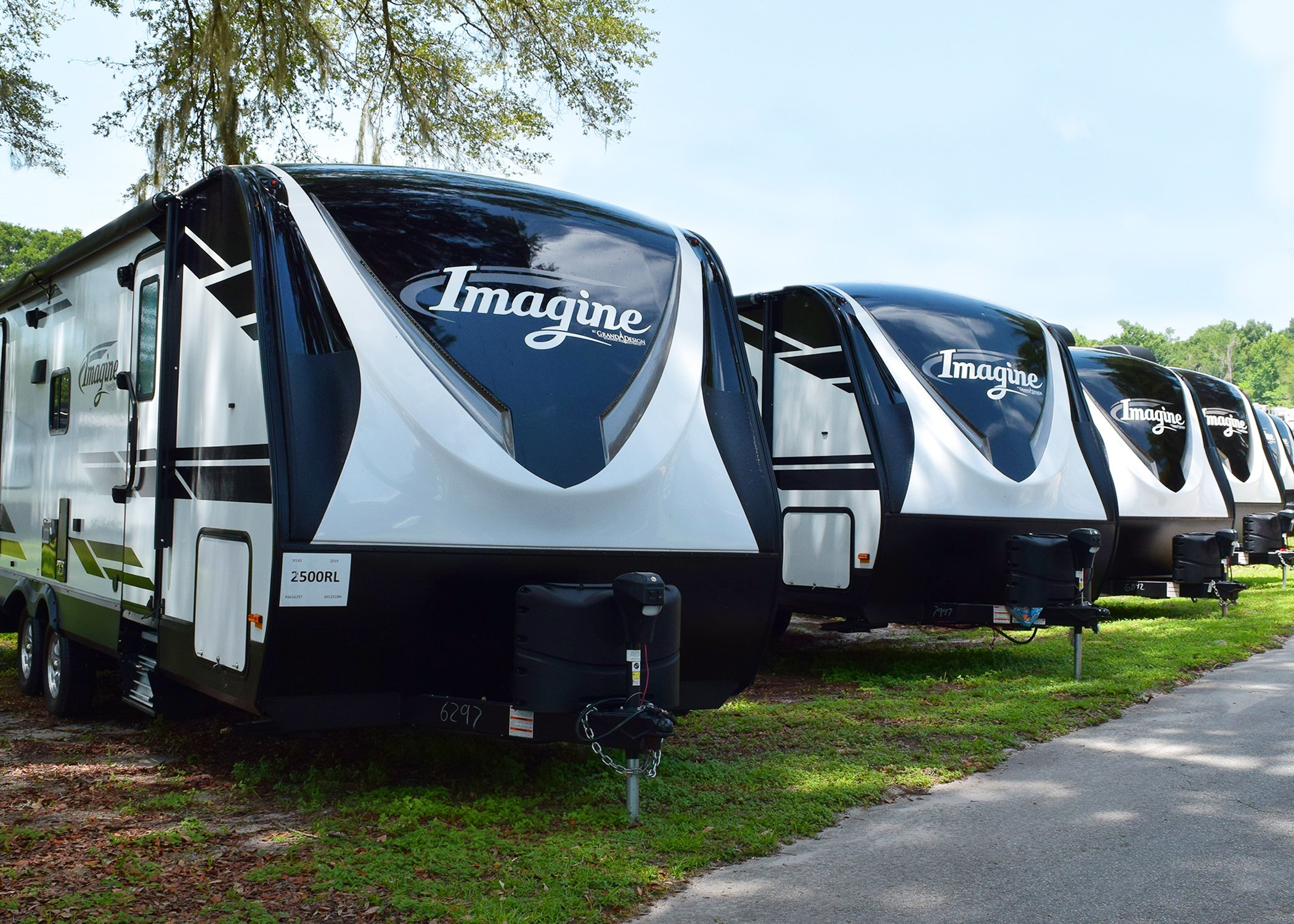 The cost of an RV depends on a handful of variations such as size, brand and features. Prices can range from just under $10,000 to well over $500,000 for luxury motorhomes from manufacturers such as Tiffin or Newmar.
However, there are more costs to an RV than just the purchase price. There are additional items you need to make your trips go smoothly, maintain your vehicle and stay safe while traveling.
RV Ownership Costs
Registration and taxes: Just like when you purchase a new vehicle, you must pay for registration and taxes when you buy an RV. These prices vary from state to state, but you can estimates online on the DMV website with their RV Calculator.
Fuel: The fuel costs are likely to be more than when you fill up your car. RVs are much bigger and have a lot of weight to carry. Many motorhomes run on diesel which can raise the cost of fuel as well.
RV insurance: RV insurance is almost like a combination of home and car insurance. Because it is a vehicle, it needs certain aspects of car insurance for accidents, but it is also a home while your camping so you would also need aspects of home insurance. Optional coverage for your RV insurance can include pet injuries, vacation liability, roadside assistance and more. The cost depends on the type of RV and if you want to cover personal belongs in your RV.
RV Hitch: Some RVs include a factory-installed hitch, so this won't necessarily always be a purchase you need, but many times you will need to upgrade the hitch depending on your truck's towing needs or for a better towing experience. Fifth wheel hitches are often much more expensive than travel trailer hitches because it is larger and mounted to the bed of the truck. Prices range in the $300s to over $1,000 depending on type as well as cost to install.
Camping: A majority of campgrounds require a nightly fee to stay on-site, much like a hotel. They can range anywhere from $10-$120 a night depending on location and amenities.
Maintenance: There is general maintenance and upkeep that is needed each year for your RV. Depending on where you live, you may need to Winterize and De-winterize your RV each fall and spring. It is hard to determine a price as it can change year-to-year or even month-to-month, but having a repair fund is always a good idea.
Storage: If you're not able to store your RV on your own property you will have to pay for storage cost when your RV is not in use.
After considering all these costs, you can now better understand what you can afford before jumping into the RV lifestyle. To help make your shopping experience easier, we gathered a list of popular RVs in different price points to help you find your dream RV that fits your budget.
Pop-Up and Hybrid Campers
Pop-up campers are an excellent place to start when getting into the RV lifestyle. They are compact and easy to tow, so trucks and most SUVs or minivans can haul these campers. Pop-ups can fold-down when not in use because of the vinyl walls and they can come with either a hardtop or tent top.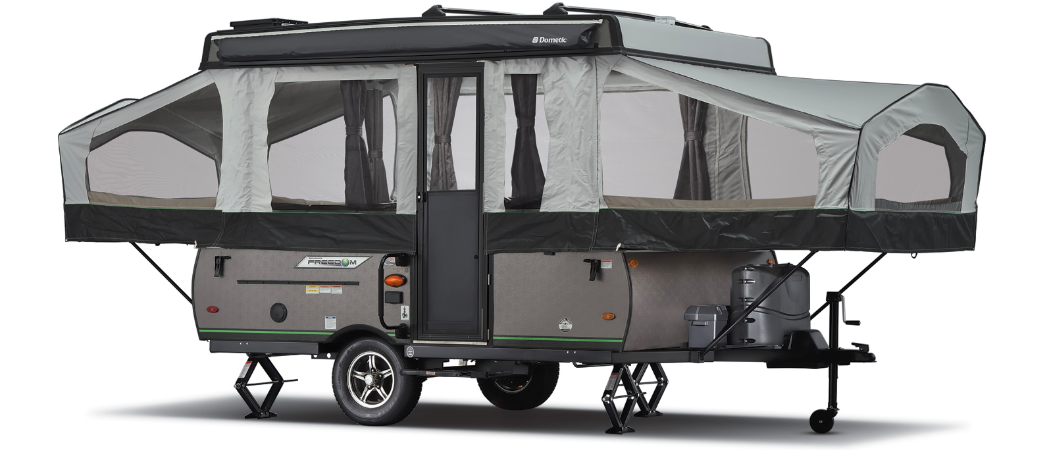 This pop-up camper is extremely budget-friendly and has everything you need for camping. The Rockwood tent camper has a two-burner free-standing range to make tasty home-cooked meals. The beds are thermostatically controlled heated mattresses to keep you warm on chilly nights. On those hot, summer days, relax in the shade under the exterior awning.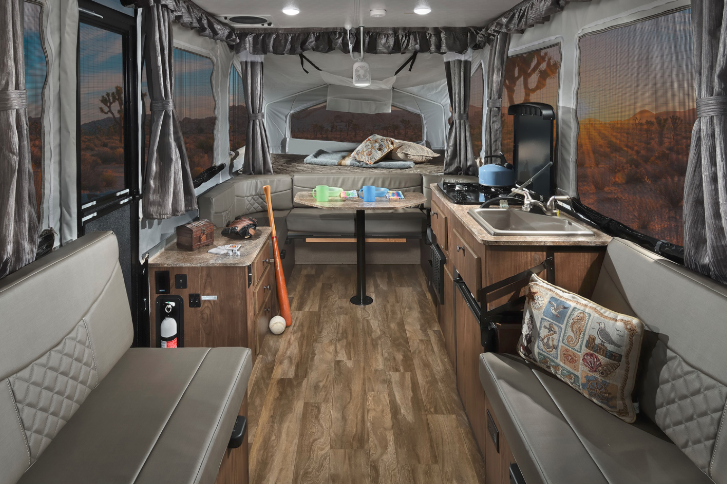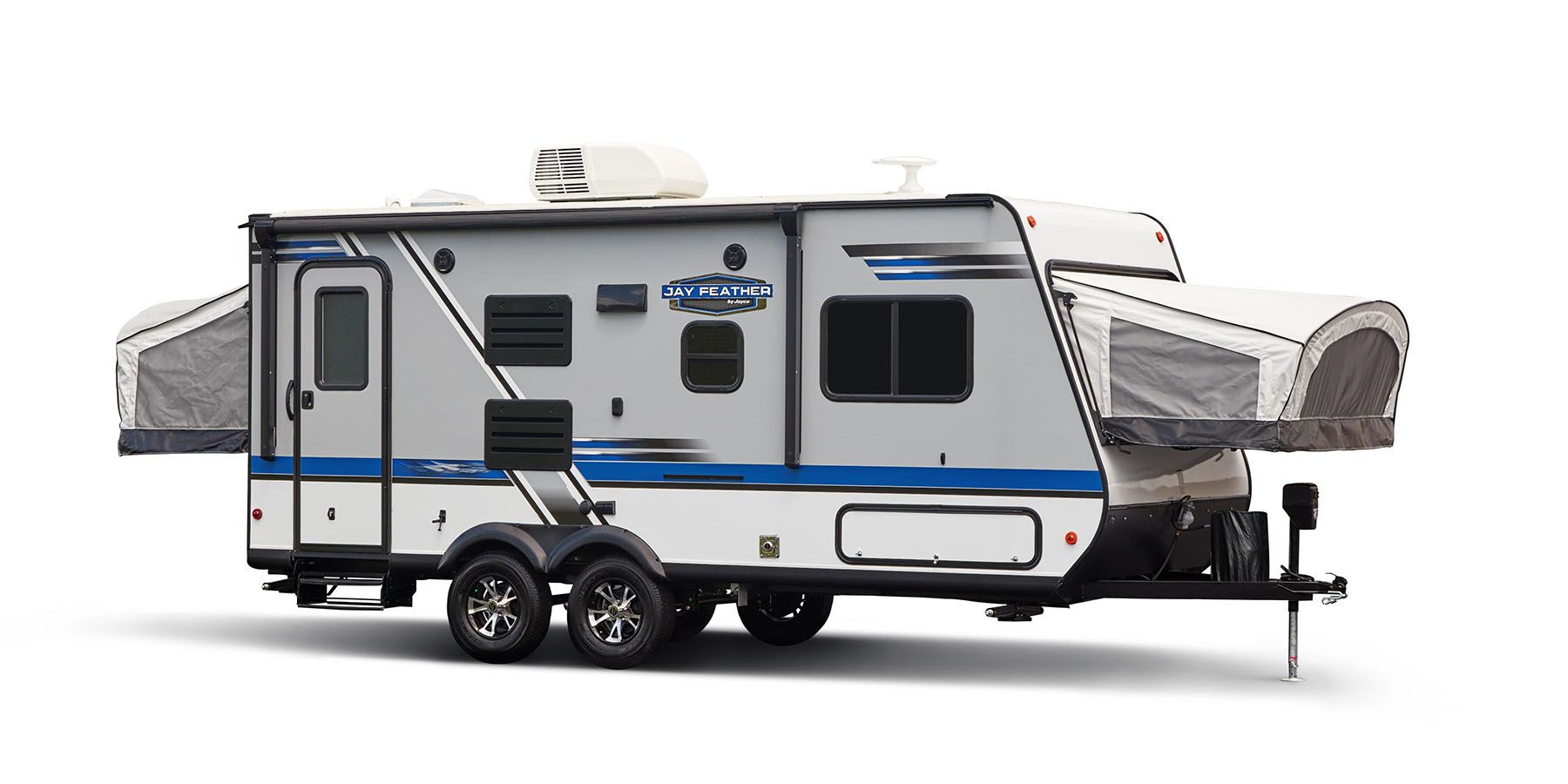 The Jay Feather is a travel trailer that has pop-up camper features. This type of camper is also known as a Hybrid. This unit features an exterior awning and a water-repellent, scratch-resistant vinyl tent material. The gross vehicle weight rating is 3,900 pounds so trucks, SUVs or even minivans can easily tow this camper. The Jay Feather features a microwave, two burner cooktop and a fridge. All models offer a plastic foot-flush toilet as well.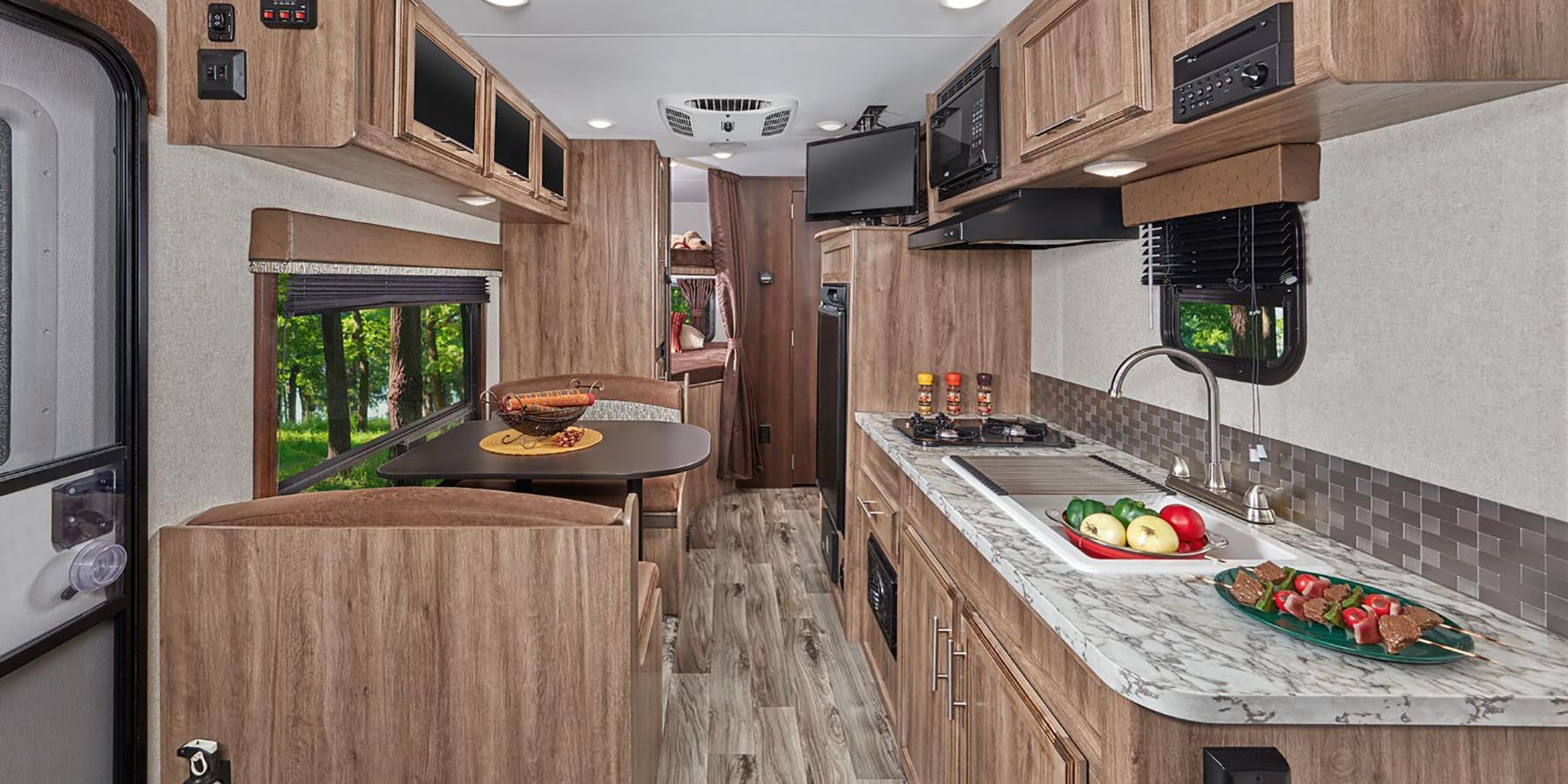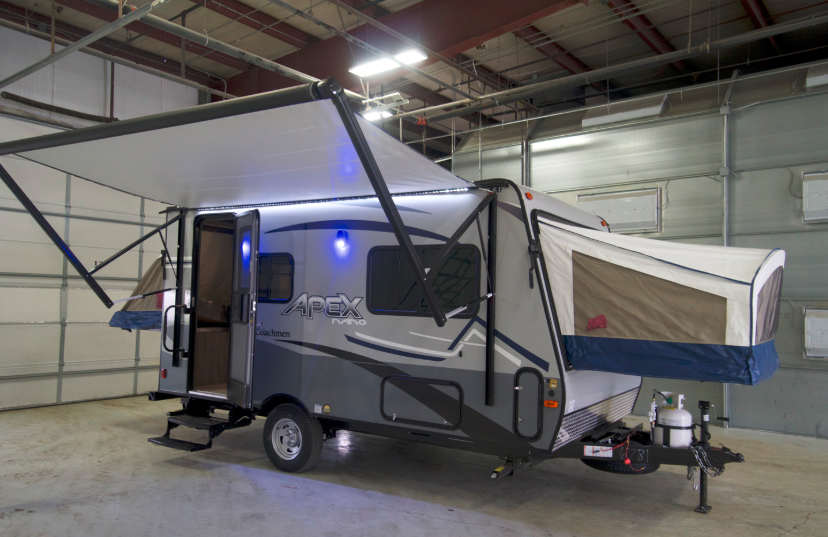 The Apex Nano is a larger hybrid camper as well with two queen beds on either side. It offers a microwave, kitchen space and LED lighting for bright and efficient lighting. This camper also features pass-through storage for extra space as well.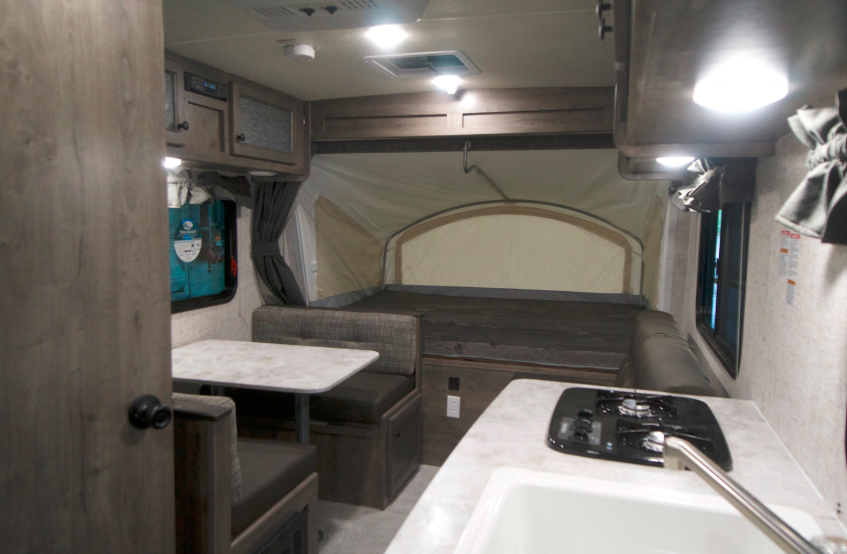 Travel Trailers
Travel trailers offer more space and options than pop-up campers. Travel trailers often offer full kitchens, bathrooms and bedrooms as well as a common area. They have the option of having extra sleep space with bunks or fold-out sofas. Travel trailers have hard-sides, so staying warm in colder months is much easier.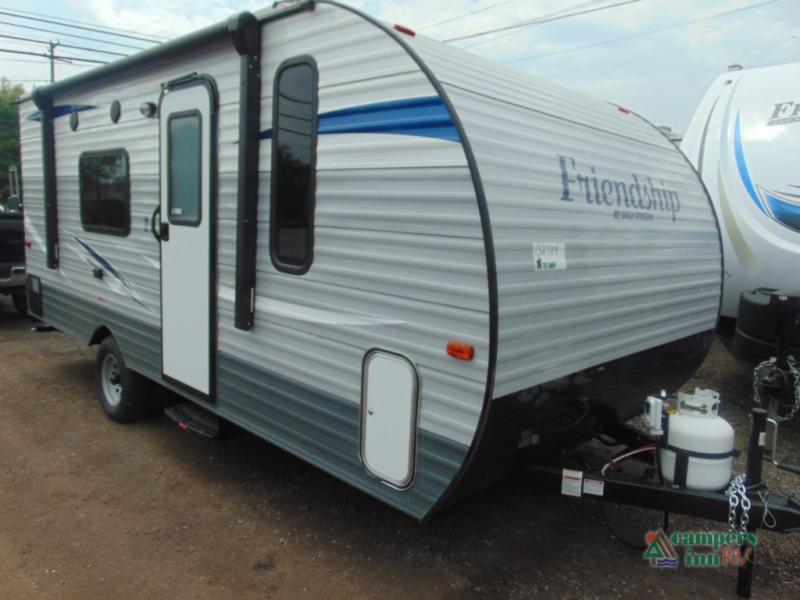 The Gulf Stream Friendship travel trailer features a full rear bathroom to freshen up in privacy. Getting rested for the next day is easy in the comfortable queen-sized bed. This RV also offers pass-through storage space to hold larger items that don't have space in the camper.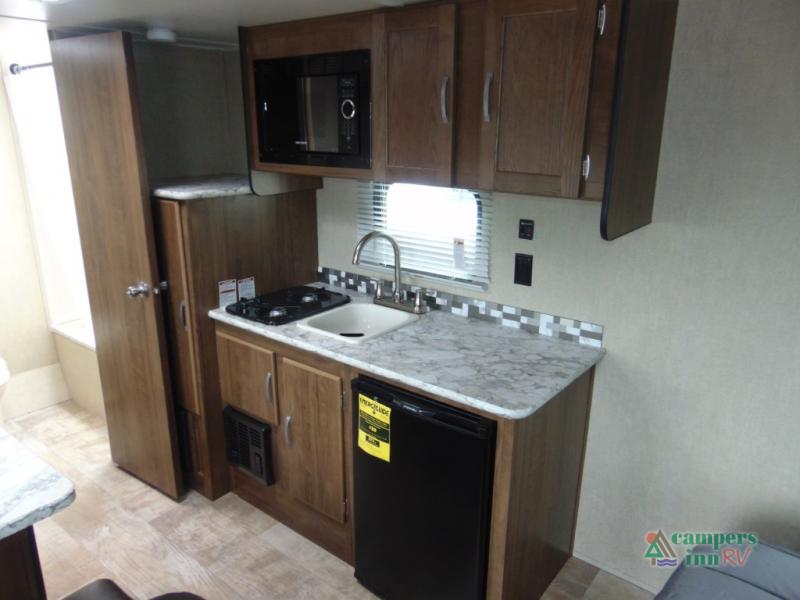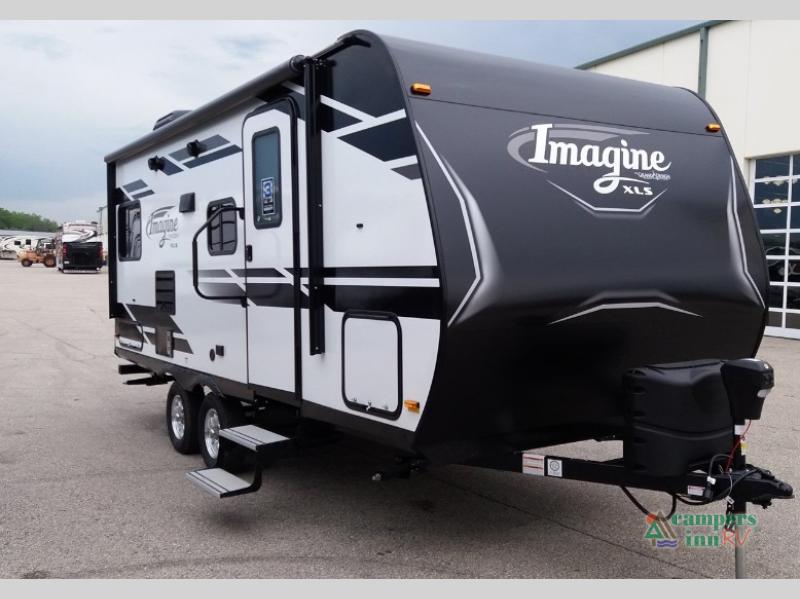 The Grand Design Imagine travel trailer offers a lot of great features to make your camping trip easy, comfortable and fun. It has a murphy bed, so it can be put away during the day and there is enough room for entertaining. The kitchen offers stainless-steel appliances and a u-shaped dinette that has enough space for the whole family to enjoy meals together.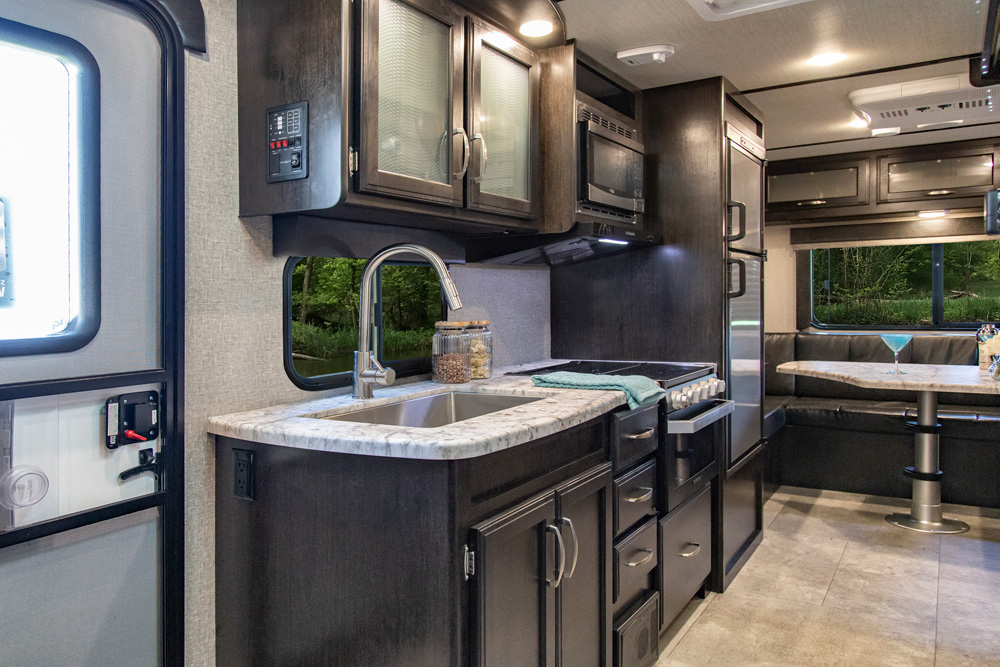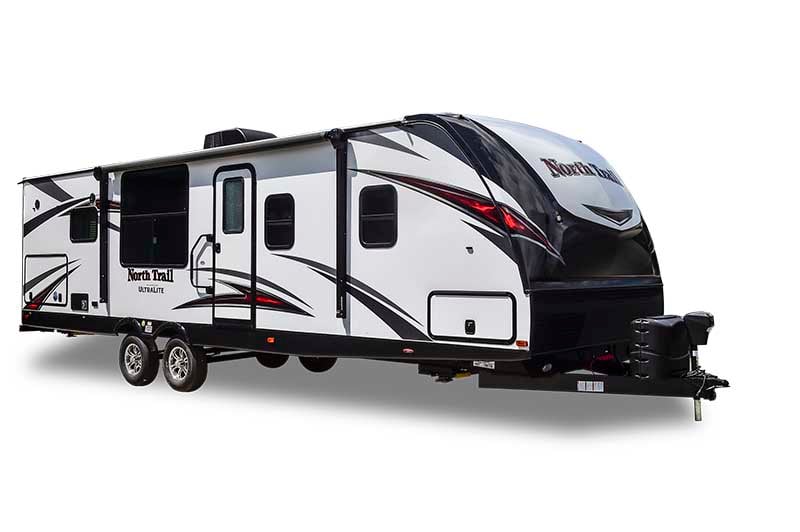 The North Trail travel trailer offers exterior speakers for campers who want to play their favorite music while enjoying the outdoors. The power awning has multi-colored LED lights to keep the party going even after the sun goes down. At the end of the day, get a great night sleep in the queen-sized, foam mattress.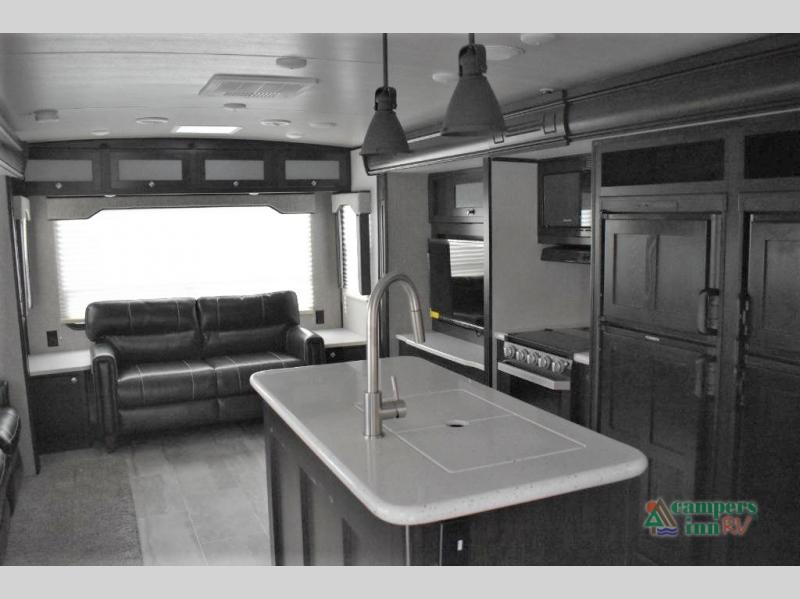 Fifth Wheels
Fifth wheels are similar to travel trailers as they are towed behind a vehicle. The way it is hitched is a little more stable than a travel trailer and has less swaying because it is towed in the bed of a truck. Although they tend to be larger than travel trailers, it is easier to drive while towing a fifth wheel.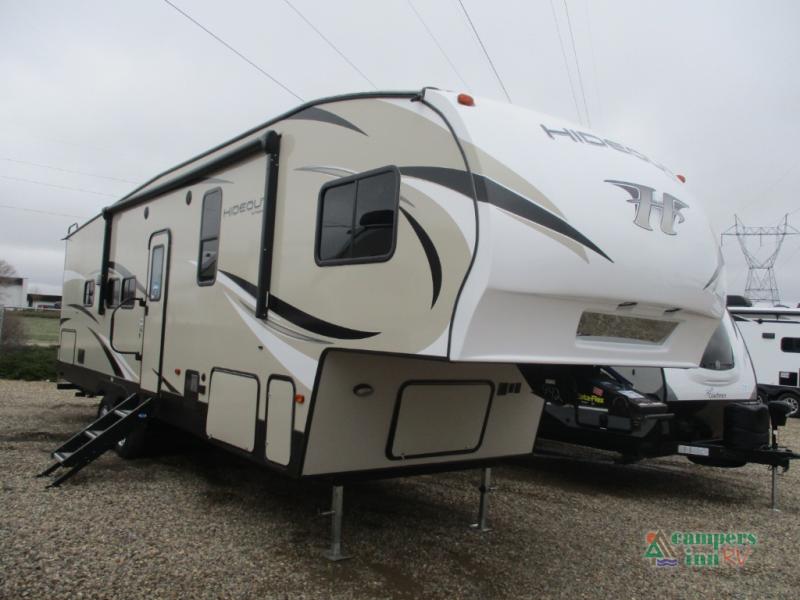 The Hideout fifth wheel has a master suite as well as double bunk beds making this the perfect RV to take the whole family camping in comfort. It also features a full and a half bath, to accommodate everyone in the family. The Hideout also features a u-shaped dinette with plenty of space for everyone to sit around the table. Step outside and enjoy the outdoor kitchen on beautiful days to keep the mess of cooking up a large meal for family and guests out of the RV.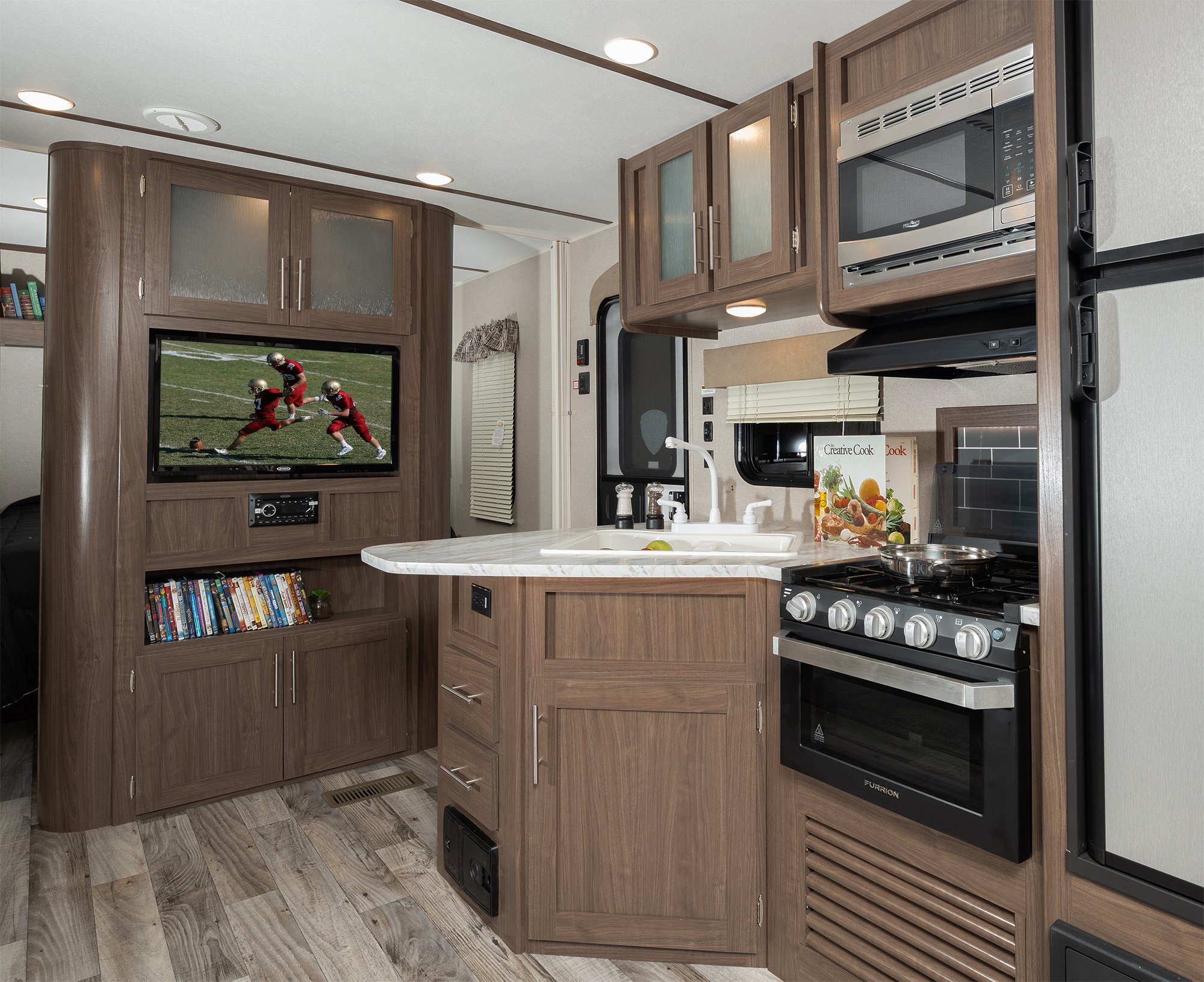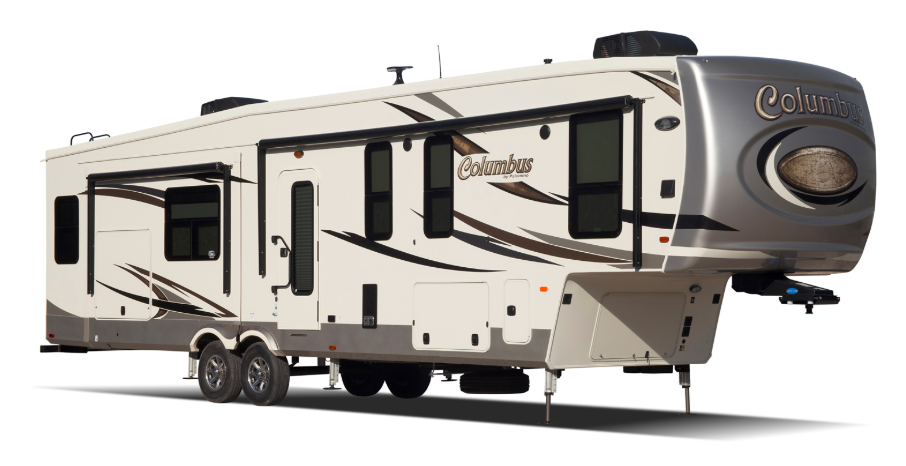 The Palomino Columbus fifth wheel features include full master bath as well as a half bath. The kitchen has an island for added counter space, walk-in pantry and a free-standing dinette. At the end of the day, unwind in comfortable theatre recliners or the three-seat, fold-out sofa by the fireplace in the living area.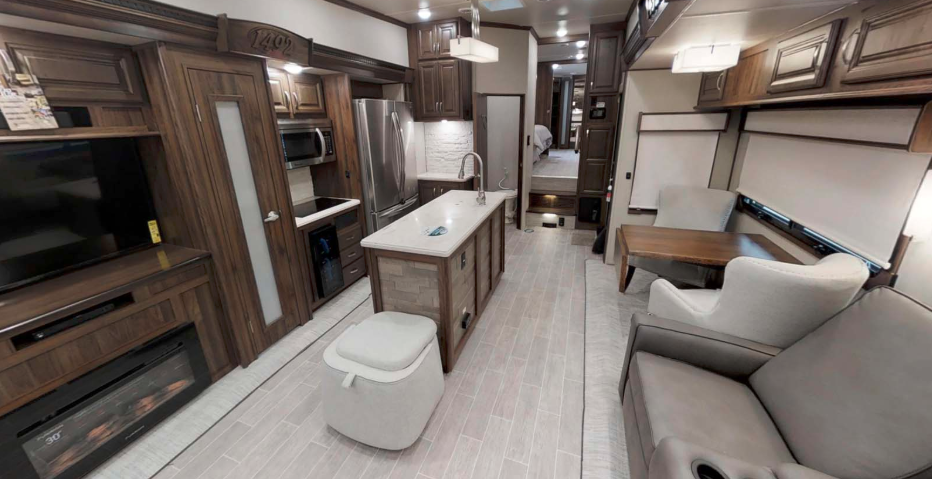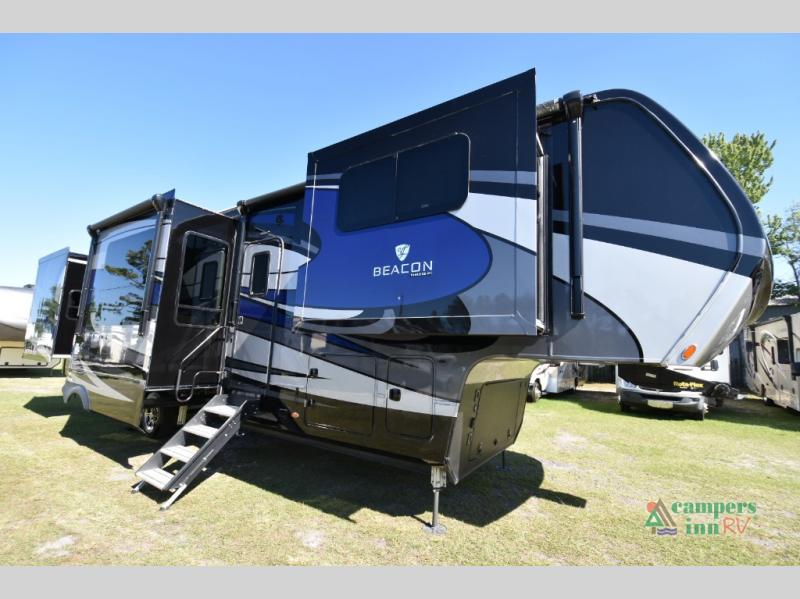 The VanLeigh Beacon fifth wheel is a luxury camper perfect for all the glampers out there. The common area features a 72" galley window that brings in a lot of natural sunlight. When it's time for dinner, enjoy the large island for prep and a French door fridge to keep your ingredients and leftovers organized. There is a king-sized bed big enough to stretch out and feel well-rested for the next day. The Beacon offers a washer/dryer prep for those longer camping trips and a 50" LED TV in the living area for even more entertainment and luxury.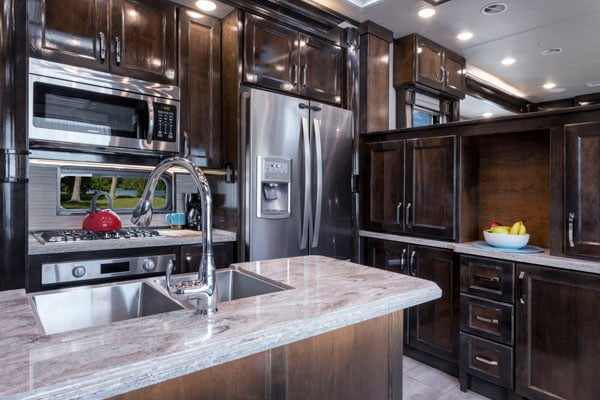 Class C Motorhomes
Class Cs are normally built on a truck or van chassis with an overhead cab area, which is used for sleeping or extra storage space. They usually fall in between a Class A and Class B with size and features.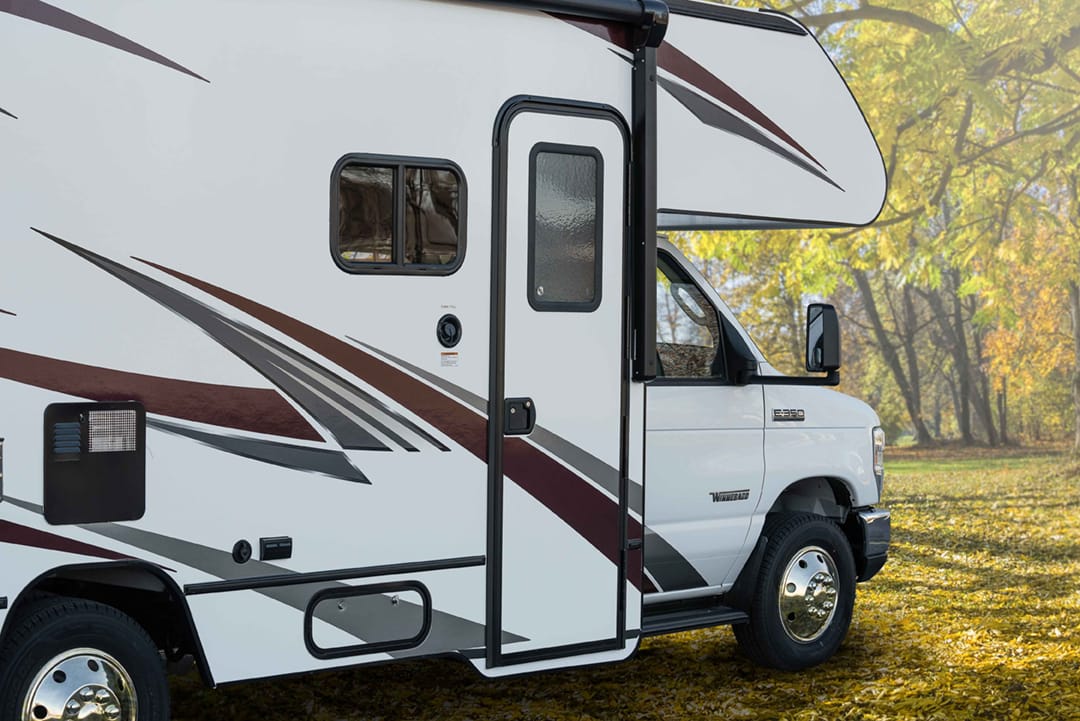 The Winnebago Outlook motorhome, built on a Ford chassis, has two slideouts and sleeps up to six people. There is an overhead bunk over the cab area and a sofa that pulls out to a bed, which, offers lots of space to entertain in the RV during the day. The kitchen has a three-burner range, so you can always have your favorite meals while on the road, plenty of storage in the kitchen and a full-size bathroom.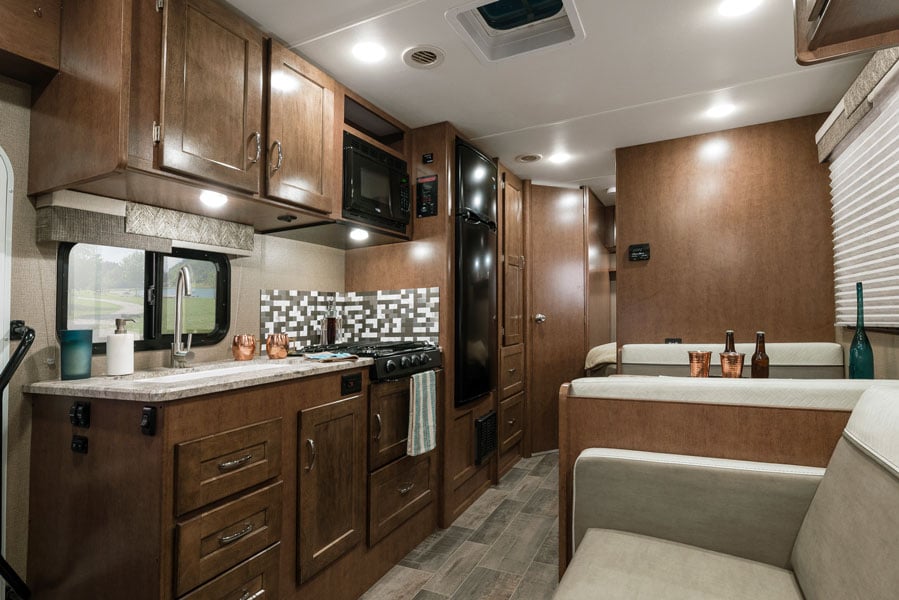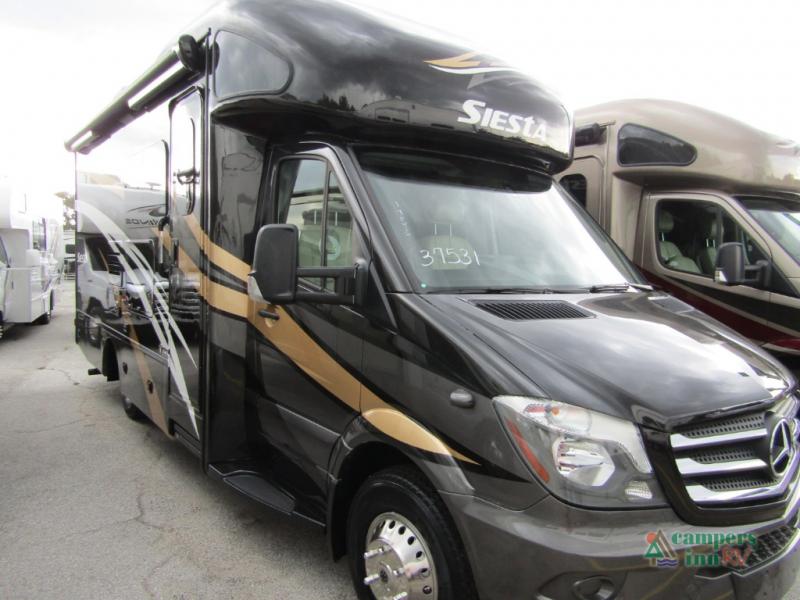 The Siesta Sprinter is a Class C motorhome built on Mercedes Benz diesel chassis. With 32 inch LED TV in the living and bedroom areas, as well asoutside, this RV is perfect for the family who loves to tailgate or keep up on their favorite shows while on the road. Outside has a power awning with integrated LED lighting perfect to relaxing all hours of the day. The kitchen features a double fridge so cooking full meals on the road for family and friends is easy. Clean up from entertaining is a breeze with the faucet with a pull-down sprayer to easily clean the dishes.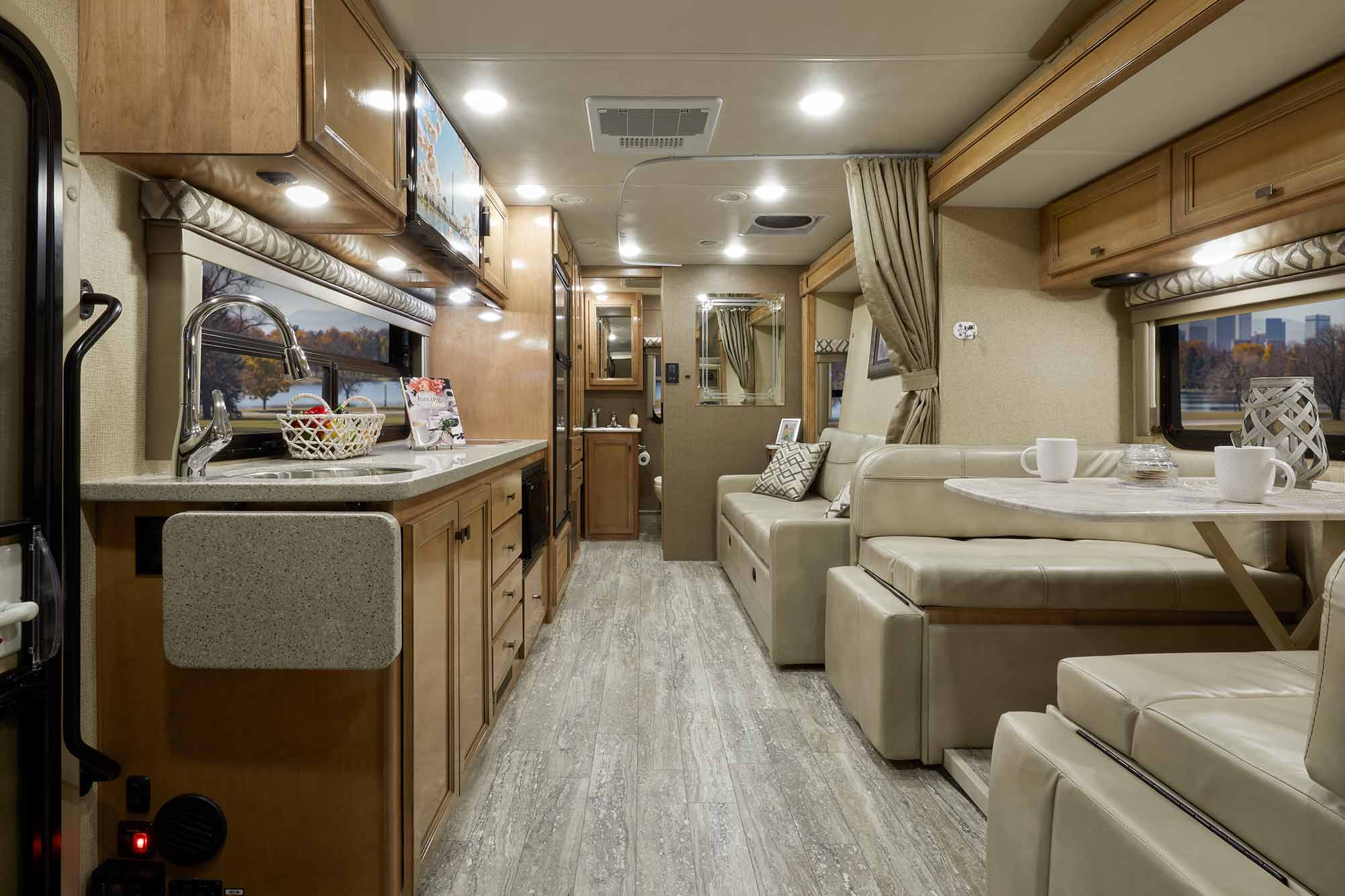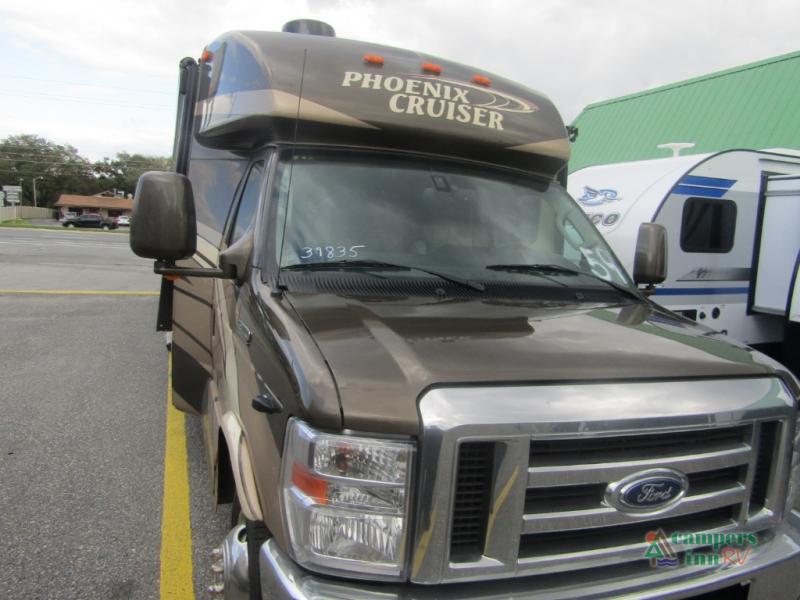 The Phoenix Cruiser is considered a Class B+ and is built on an E-450 chassis with double slide-outs. It has memory foam seating and mattresses, so no matter where you're sitting, you are always comfortable. There are full extension drawers for easy access to all your items hiding in the back. The kitchen offers a large double door fridge and the exterior features an outdoor shower as well as LED lights.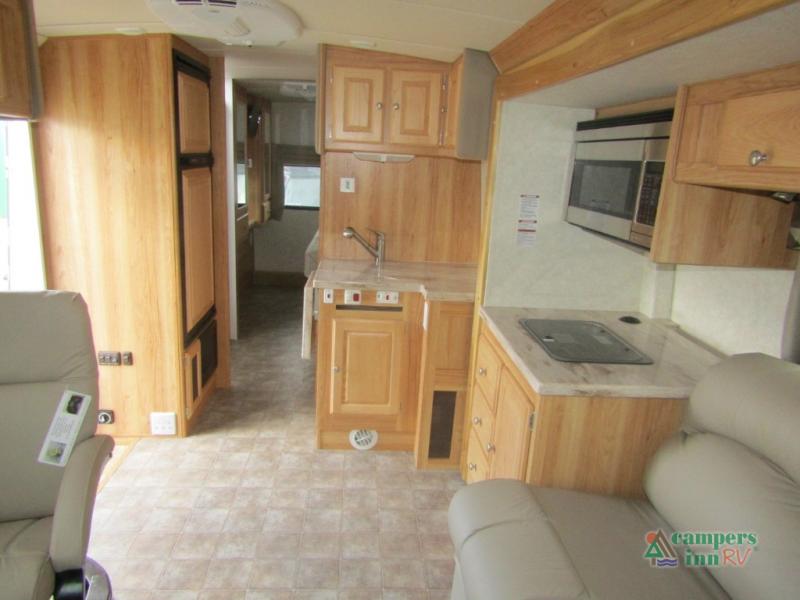 Class B Motorhomes
A Class B campervan is the smallest version of motorhomes. It is easier to drive, and park and get closeup experiences of hard-to-reach places when going off the grid. The Class B is built on van chassis from Mercedes Benz, Ford and Dodge but still has a small kitchen, sleeping space, storage and bathroom.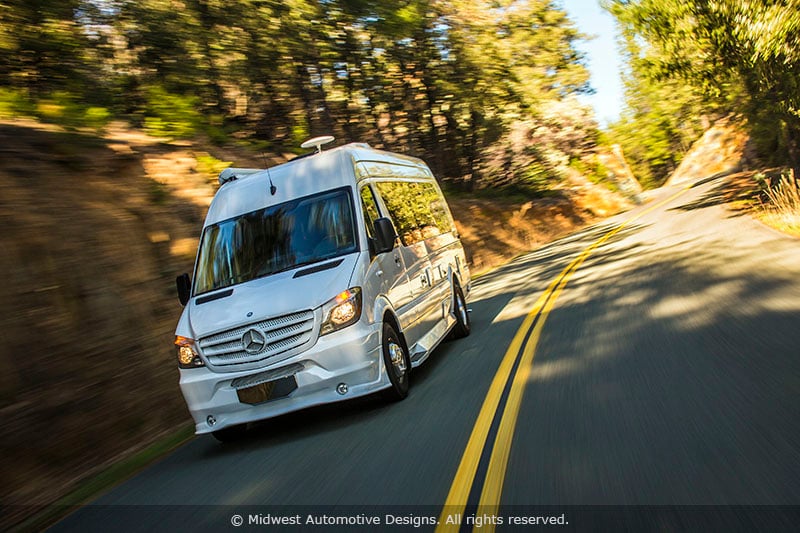 This Class B motorhome has a power folding rear sofa bed to end the day in. There is a retractable clothesline and lighted wardrobe, so you can easily find the clothes you are looking for. Overhead lighted cabinets in the body of the campervan make items easy to find at night. The Weekender also has swivel front captions chairs for extra seating space in the unit. This diesel motorhome is built on a Mercedes-Benz Sprinter chassis and comes equipped with solar panels.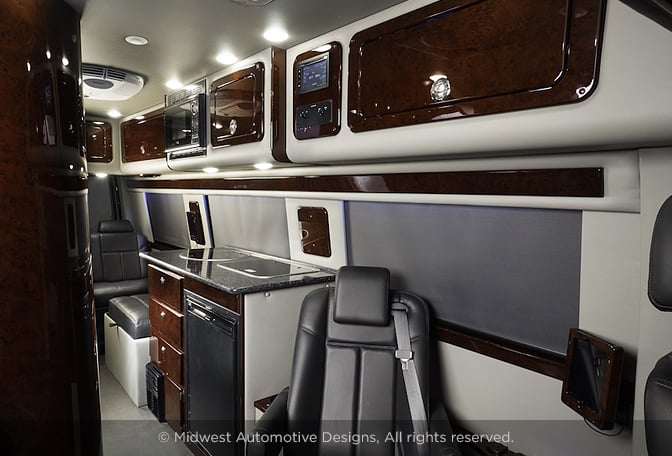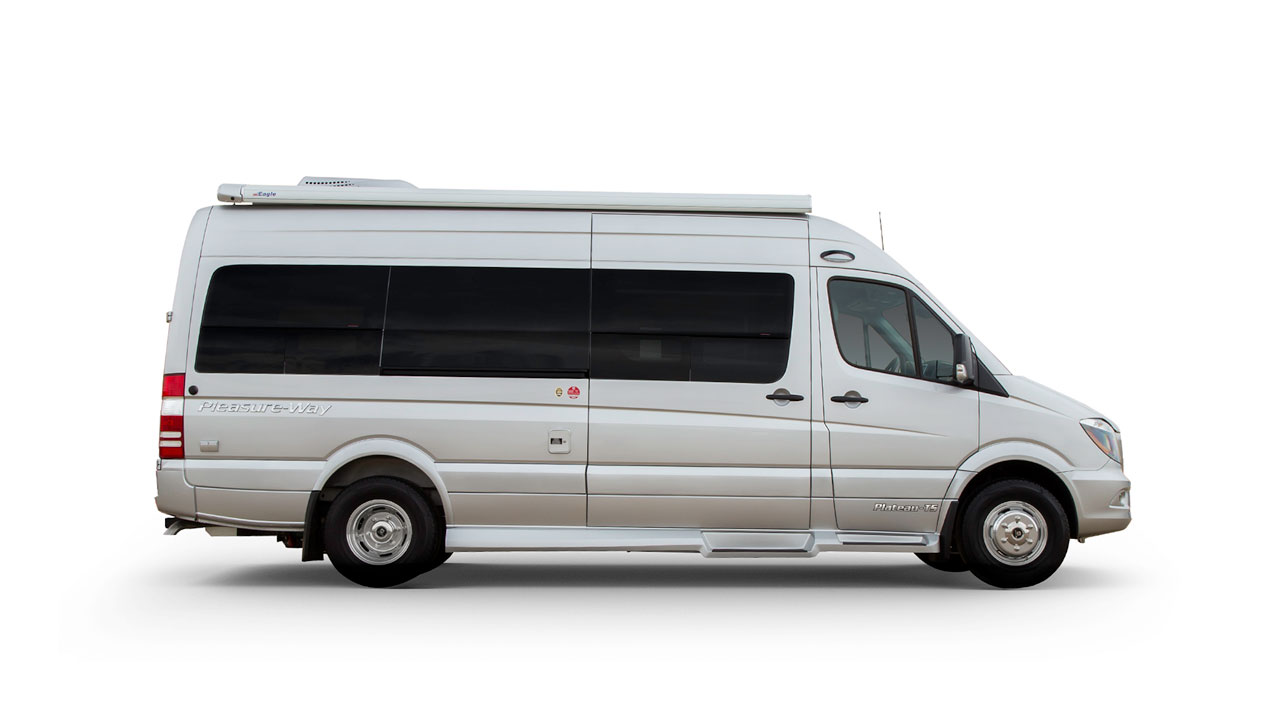 The Plateau is built on a Mercedes-Benz Sprinter 3500 Van Chassis and uses diesel fuel. This luxury Class B offers a power sofa and memory foam sofa cushions for extra comfort. It has recessed LED lighting under cabinets and along the roof and dimming LED lights. Sit back and watch your favorite movies on the 24" LED TV on a swivel mount. The shower features a handheld showerhead to make washing up a little more convenient.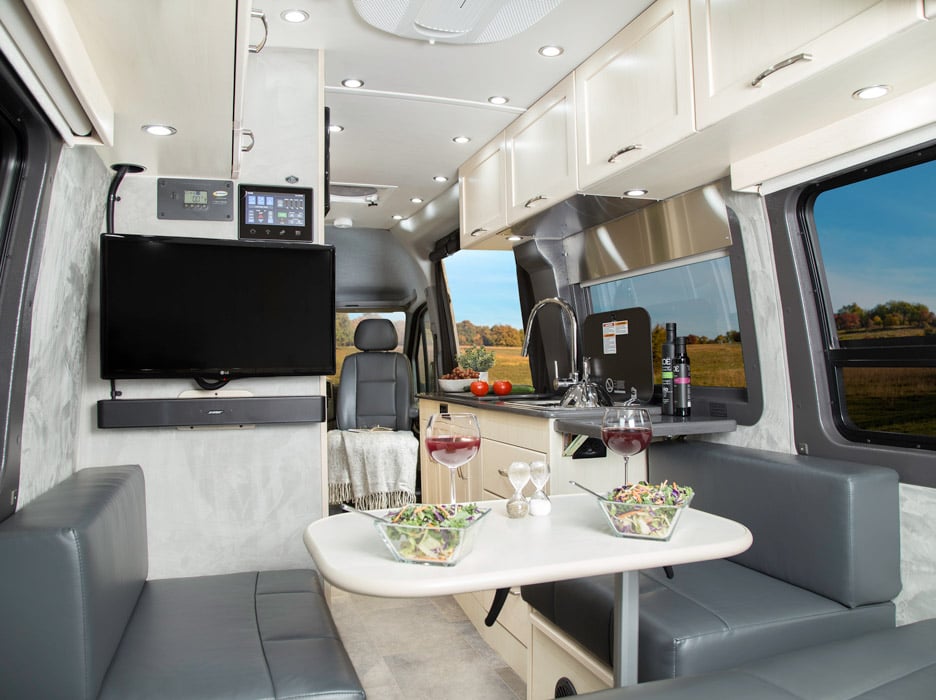 Class A Motorhomes
The Class A motorhomes offer plenty of storage space as well as a spacious interior. They are the largest of the motorhomes and usually built on a commercial bus chassis. These RVs tend to have more luxury features of home and larger bedrooms, bathrooms and kitchens.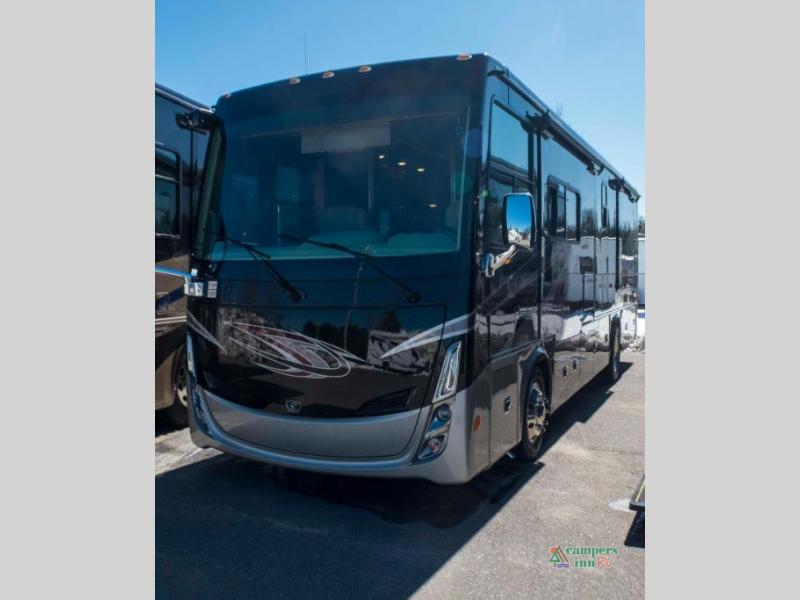 The Tiffin Allegro Breeze has three slide outs for maximum interior space. The kitchen has a two-burner range and overhead microwave. There is also plenty of food storage space with the pantry as well. The bedroom features a queen bed and nightstands with overhead storage cabinets as well. The TV in the bedroom is perfect for relaxing and watching movies in bed.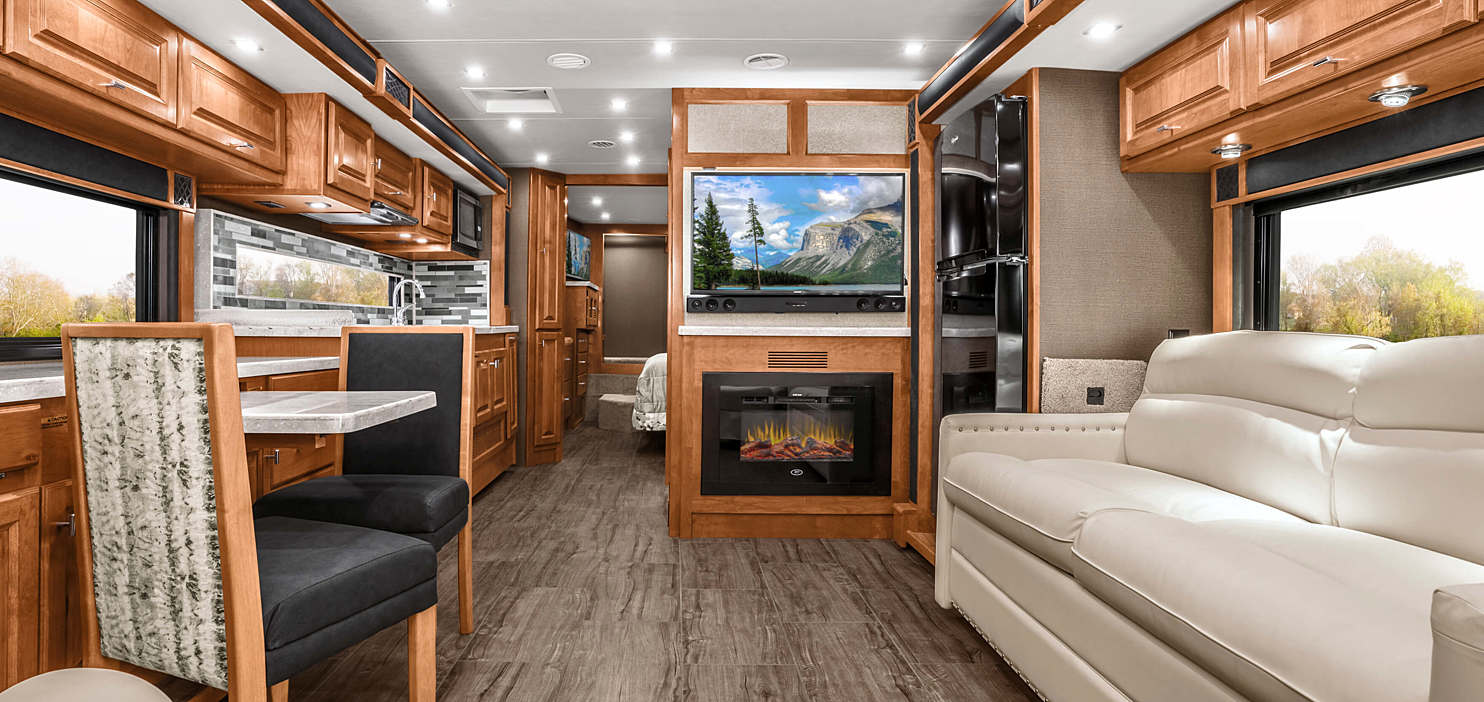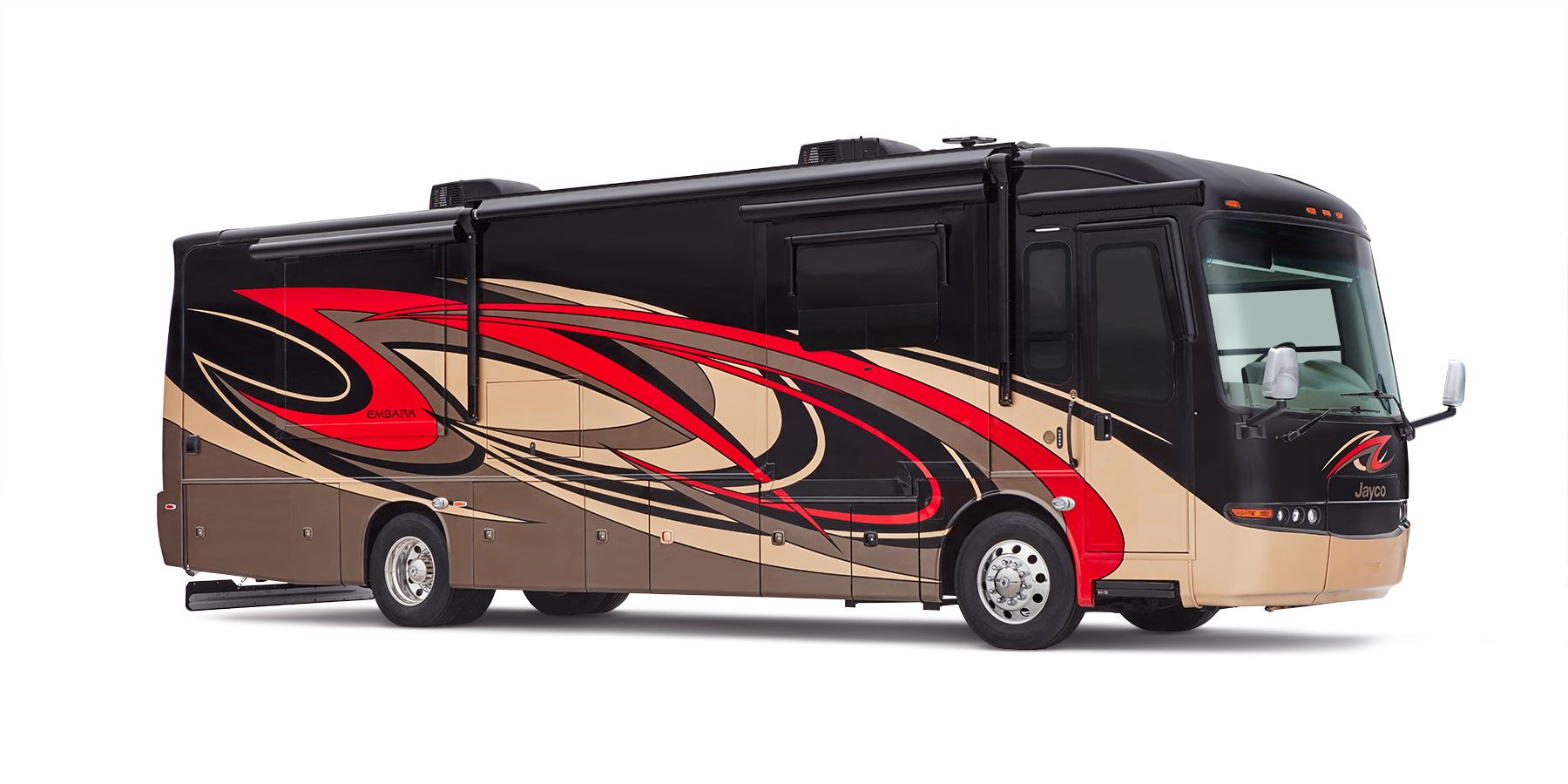 The Embark is a large Class A that can sleep up to seven people comfortably. The master suite has a king bed and there is a full and a half bath to suit the whole family. Be sure to stock up the residential sized fridge with all your favorite snacks too. At the end of a long day, unwind in the common area and catch up on your shows with the 50" LED HDTV.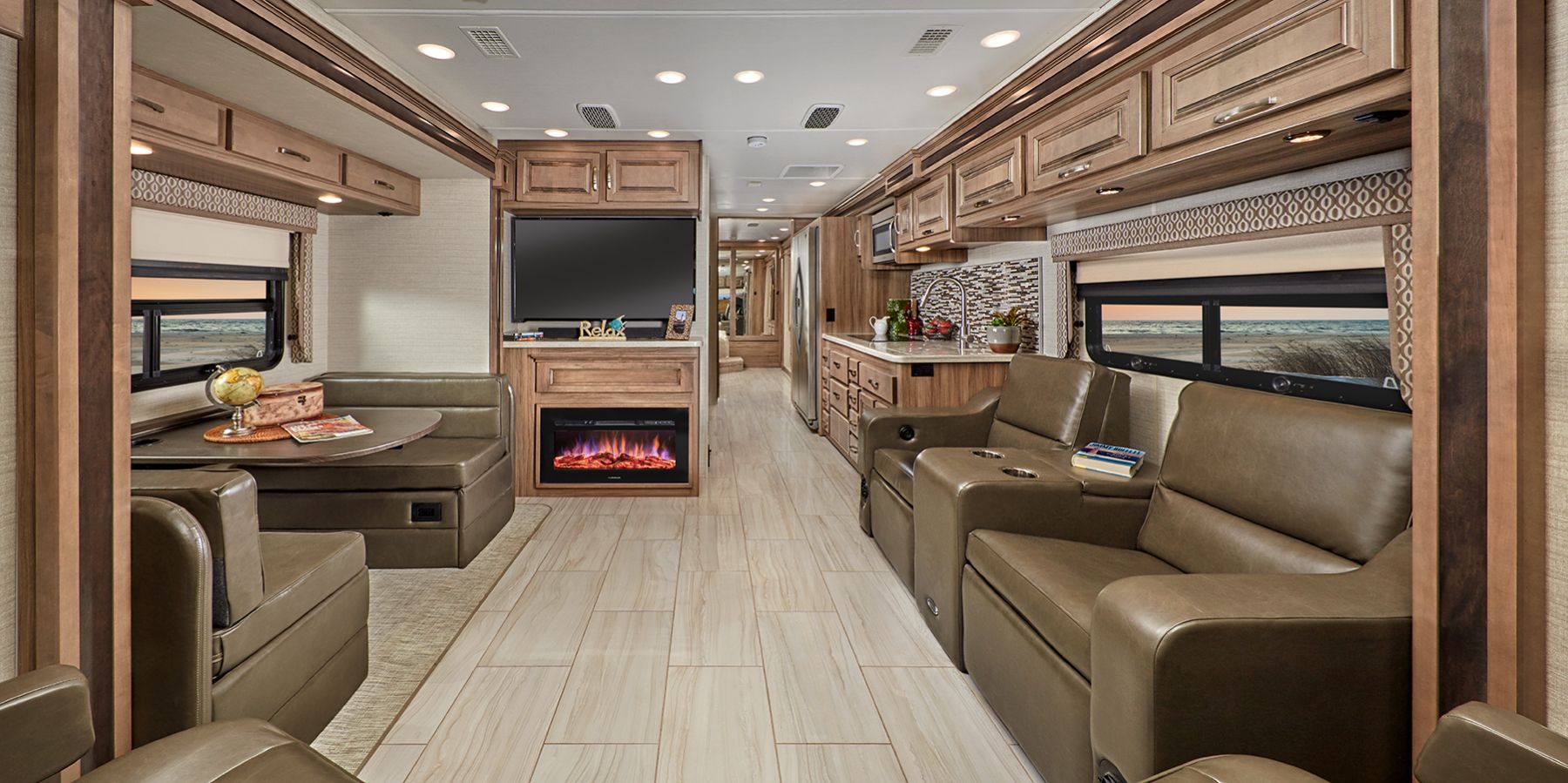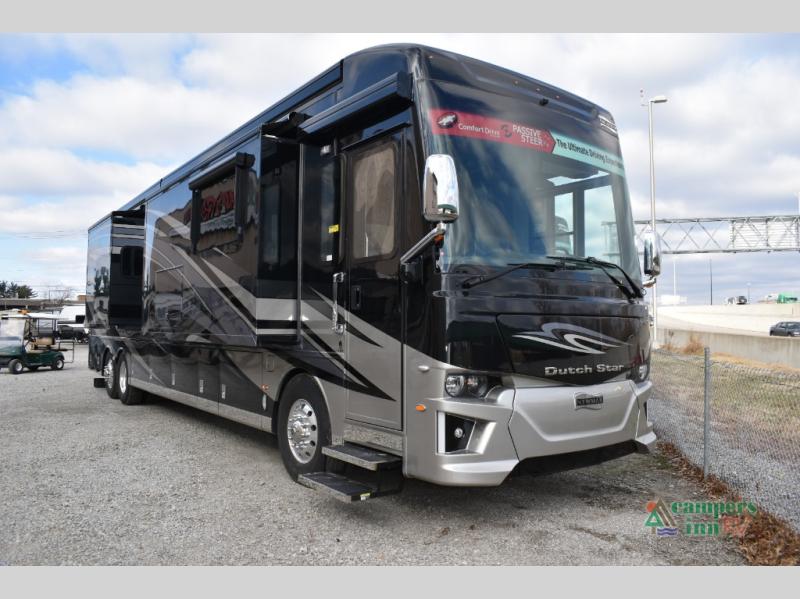 The Newmar Dutch Star is the ultimate RV when it comes to luxury and style. The passenger seat in the front has a work station so you can easily work while on the road. Catch up on your beauty sleep with the plush pillow top mattress. The Dutch Star also offers prep for two-piece washer/dryer set for your convenience. There is tile floor throughout the kitchen, bathroom, bedroom and living area. The Dutch Star comes with decorative wall art and a quilted bedspread with accent pillow so you can get save time decorating and spend more time camping.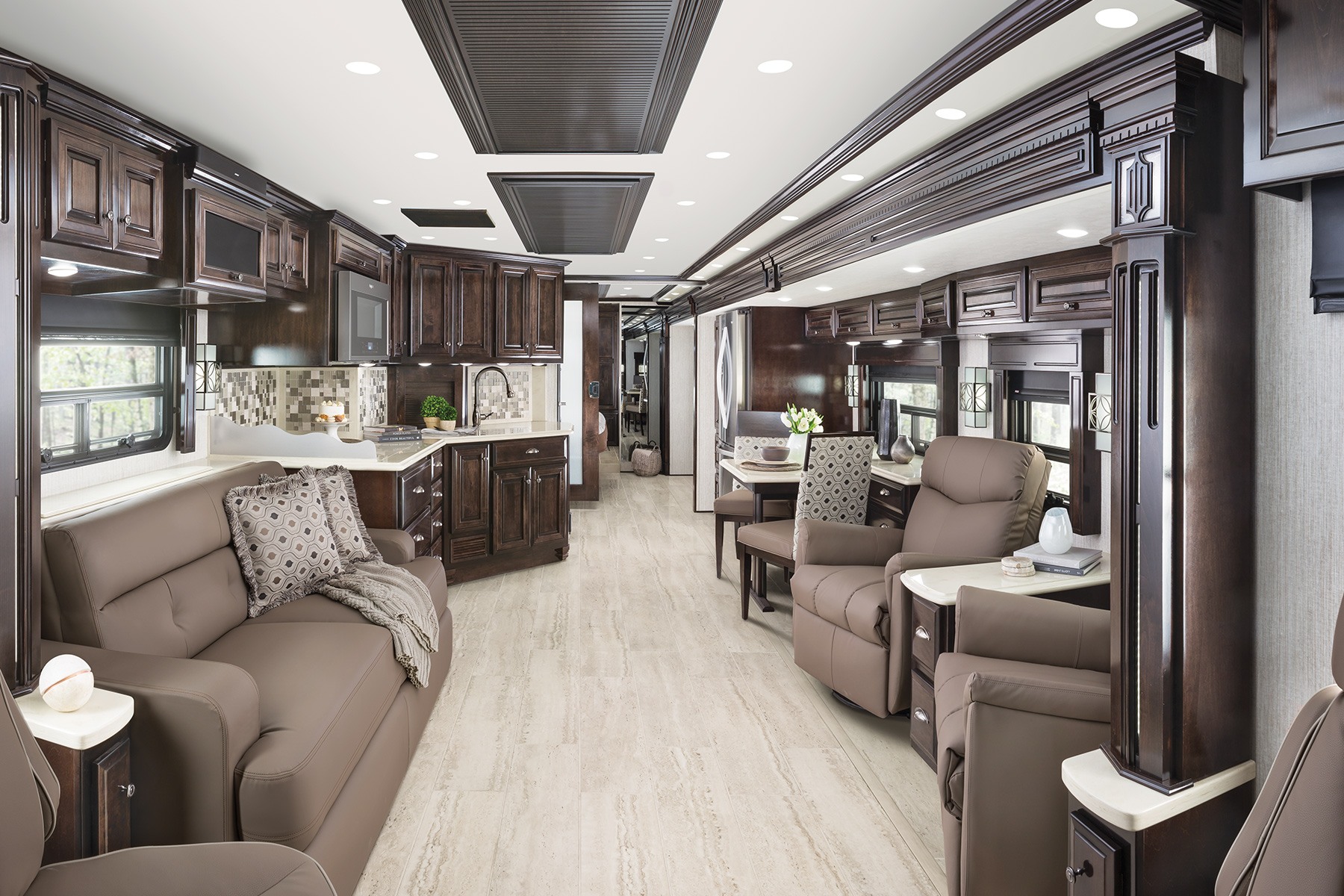 There is a perfect RV out there for everyone, you just have to find it. Now that you have a general overview of what comes with your price range you can start shopping here.
Learn more about towables and motorhomes to find the best RV for you.