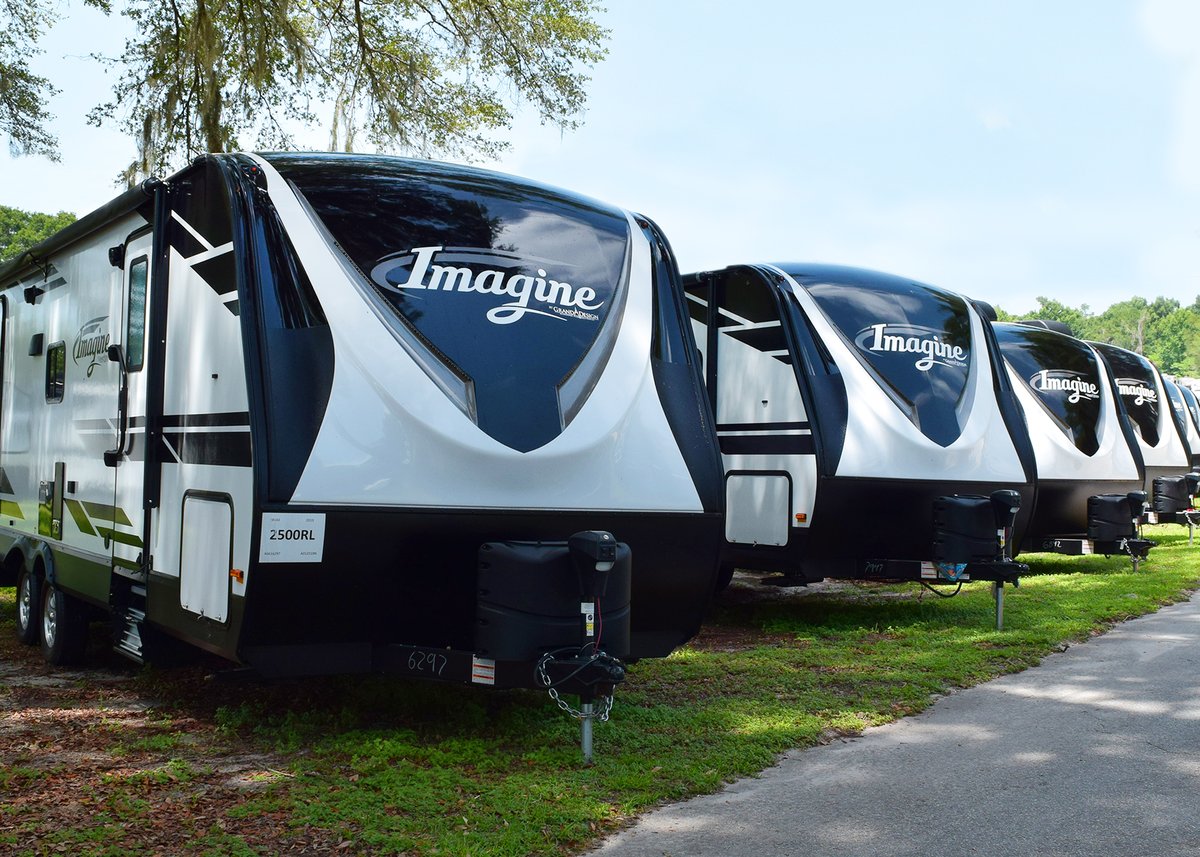 The cost of an RV depends on a handful of variations such as size, brand and features. Prices can range from just under $10,000 to well over $500,000 for luxury motorhomes from manufacturers such as Tiffin or Newmar.
However, there are more costs to an RV than just the purchase price. There are additional items you need to make your trips go smoothly, maintain your vehicle and stay safe while traveling.
RV Ownership Costs
Registration and taxes: Just like when you purchase a new vehicle, you must pay for registration and taxes when you buy an RV. These prices vary from state to state, but you can estimates online on the DMV website with their RV Calculator.
Fuel: The fuel costs are likely to be more than when you fill up your car. RVs are much bigger and have a lot of weight to carry. Many motorhomes run on diesel, which can raise the cost of fuel as well.
RV insurance: RV insurance is almost like a combination of home and car insurance. Because it is a vehicle, it needs certain aspects of car insurance for accidents, but it is also a home while your camping so you would also need aspects of home insurance. Optional coverage for your RV insurance can include pet injuries, vacation liability, roadside assistance and more. The cost depends on the type of RV and if you want to cover personal belongings in your RV.

RV hitch

: Some RVs include a factory-installed hitch, so this won't necessarily always be a purchase you need. But many times you will need to upgrade the hitch depending on your truck's towing needs or for a better towing experience. Fifth wheel hitches are often much more expensive than travel trailer hitches because they are larger and mounted to the bed of the truck. Prices range in the $300s to over $1,000 depending on the type. There is also a cost to install.
Camping: A majority of campgrounds require a nightly fee to stay on-site, much like a hotel. They can range anywhere from $10-$120 a night depending on location and amenities.
Maintenance: There is general maintenance and upkeep that is needed each year for your RV. Depending on where you live, you may need to winterize and de-winterize your RV each fall and spring. It is hard to determine a price as it can change year-to-year or even month-to-month, but having a repair fund is always a good idea.
Storage: If you're not able to store your RV on your own property, you will have to pay for storage costs when your RV is not in use.
After considering all these costs, you can now better understand what you can afford before jumping into the RV lifestyle.
To help make your shopping experience easier, we gathered a list of popular RVs at different price points to help you find your dream RV that fits your budget.
Pop-Up and Hybrid Campers
Pop-up campers are an excellent place to start when getting into the RV lifestyle. They are compact and easy to tow, so trucks and most SUVs or minivans can haul these campers. Pop-ups can fold down when not in use because of the vinyl walls. They can come with either a hardtop or tent top.
Forest River RV Rockwood Freedom Series 1640LTD - Starts at $9,228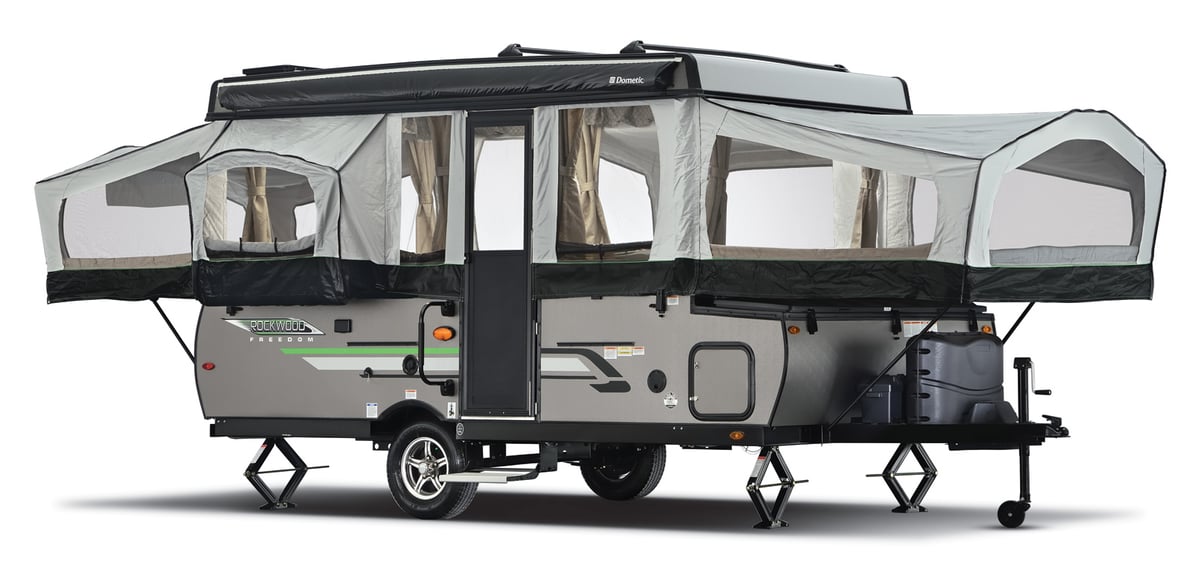 This pop-up camper is extremely budget-friendly and has everything you need for camping. The Rockwood tent camper has a two-burner free-standing range to make tasty home-cooked meals. The beds are thermostatically controlled heated mattresses to keep you warm on chilly nights.
And on those hot, summer days, you will be able to relax in the shade under the exterior awning.
Start shopping for the Rockwood Freedom Series 1640LTD here.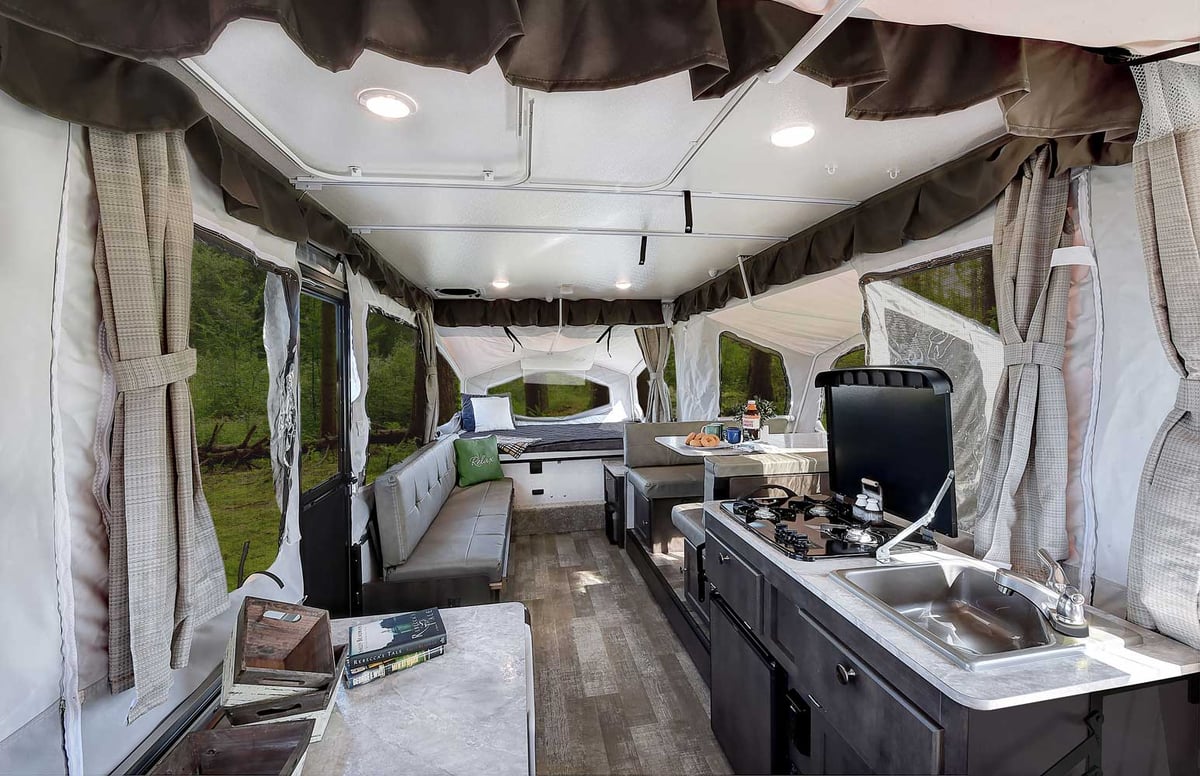 Forest River RV Flagstaff MACLTD Series 176LTD - Starts at $10,995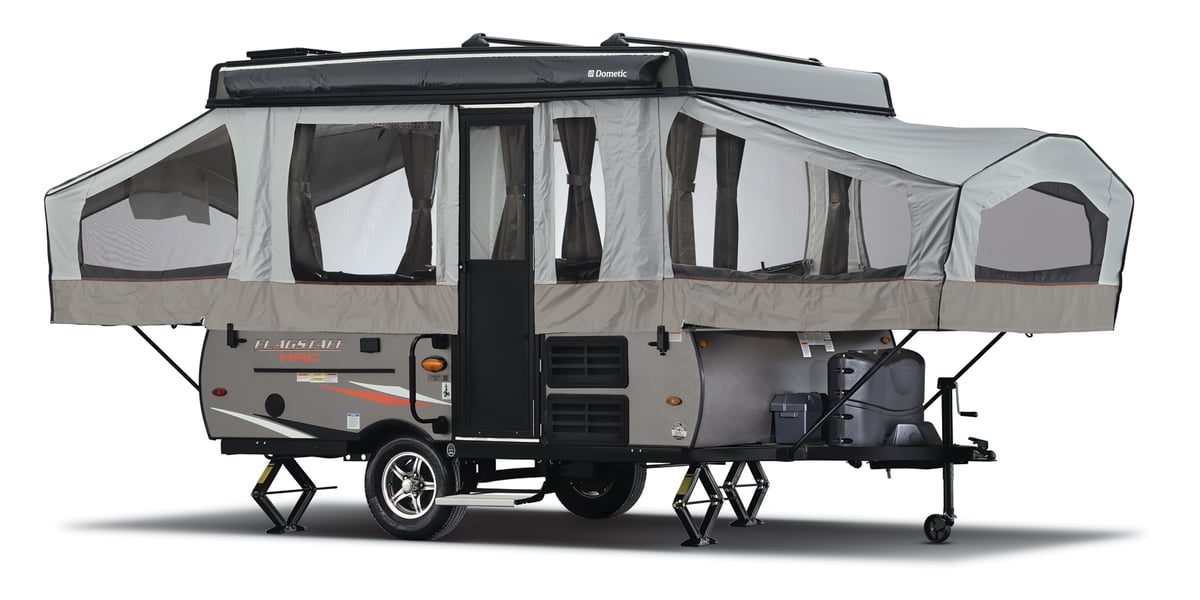 The Flagstaff pop-up camper is the perfect step up from a tent. It comes standard with a quilted-top bed heated mattress, keeping campers warm in chilly weather. It also has an inside/outdoor two-burner stove for whipping up tasty meals and a solar prep on the frame for those who prefer to camp off the grid. The Flagstaff has an electric water pump, antifreeze inlet bypass and a 25 AMP converter with a built in battery charger.
Shop the Flagstaff now.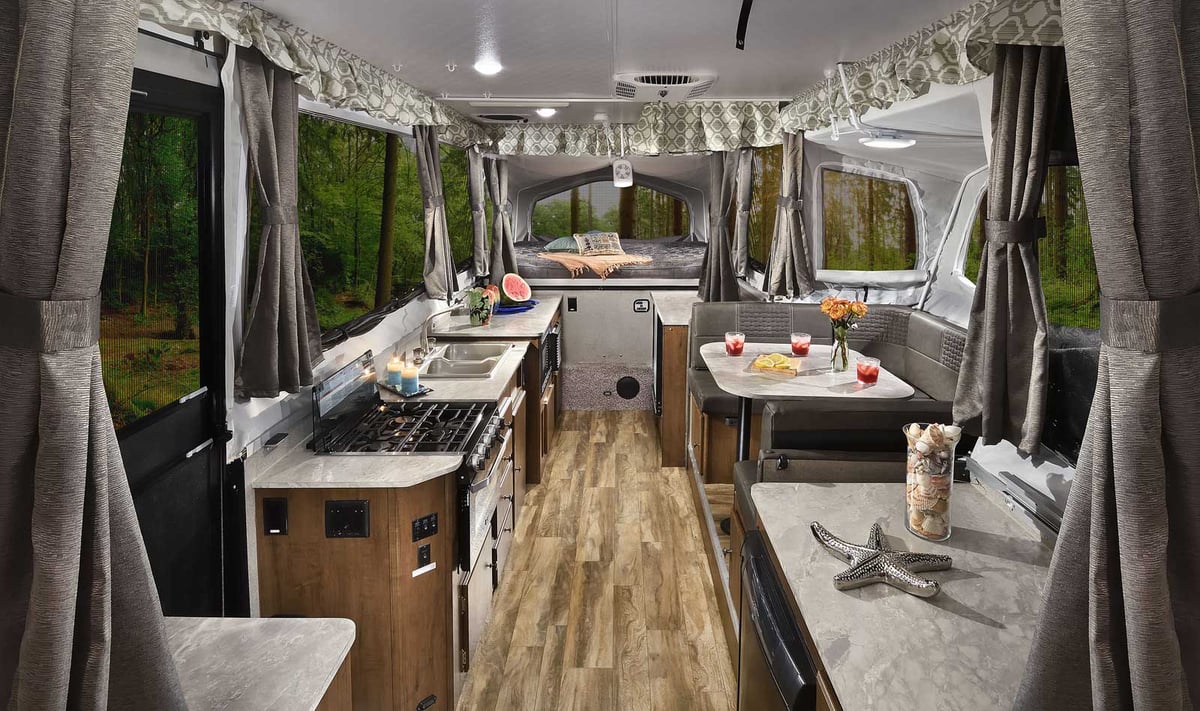 Coachmen RV Apex Nano 15X - Starts at $25,000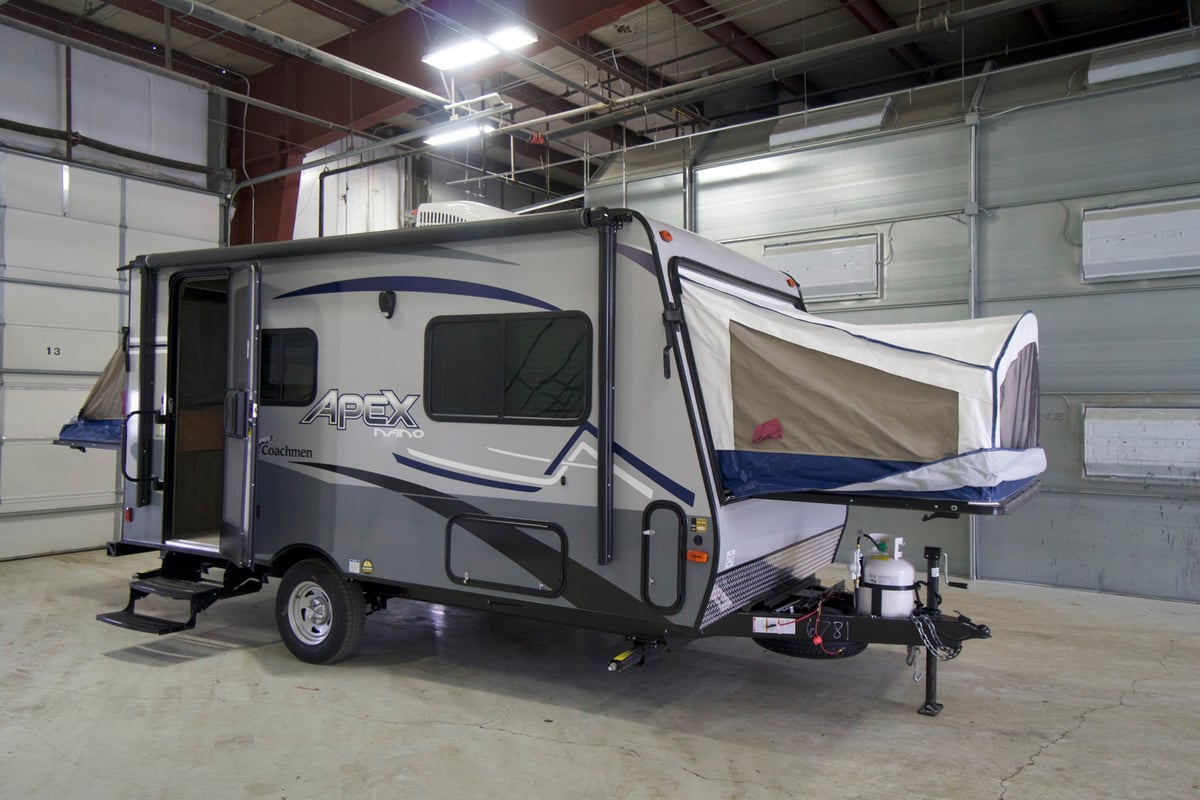 The Apex Nano is a larger hybrid camper as well with two queen beds on either side. It offers a microwave, kitchen space and LED lighting for bright and efficient lighting. This camper also features pass-through storage for extra space as well.
Browse available units here.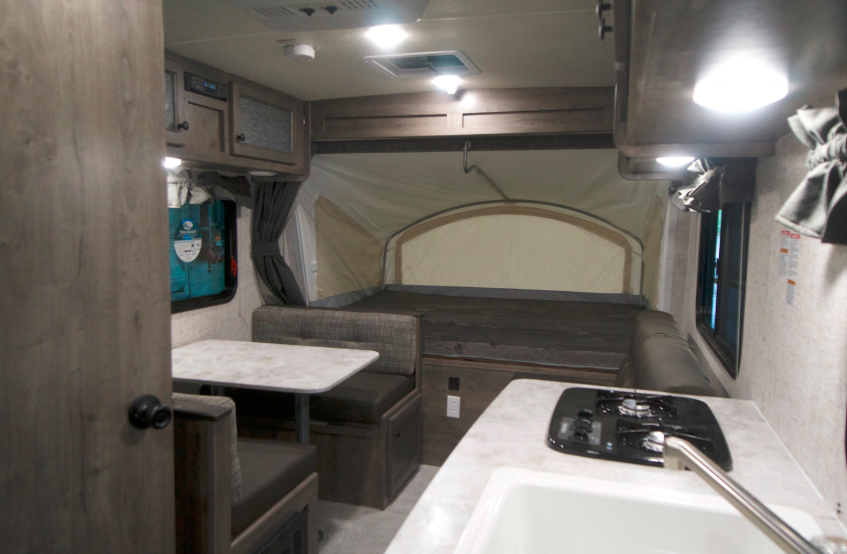 Travel Trailers
Travel trailers offer more space and options than pop-up campers. Travel trailers often offer full kitchens, bathrooms and bedrooms as well as a common area. They have the option of having extra sleep space with bunks or fold-out sofas. Travel trailers have hard-sides, so staying warm in colder months is much easier.
Forest River RV Independence Trail 172BH - Starts at $14,995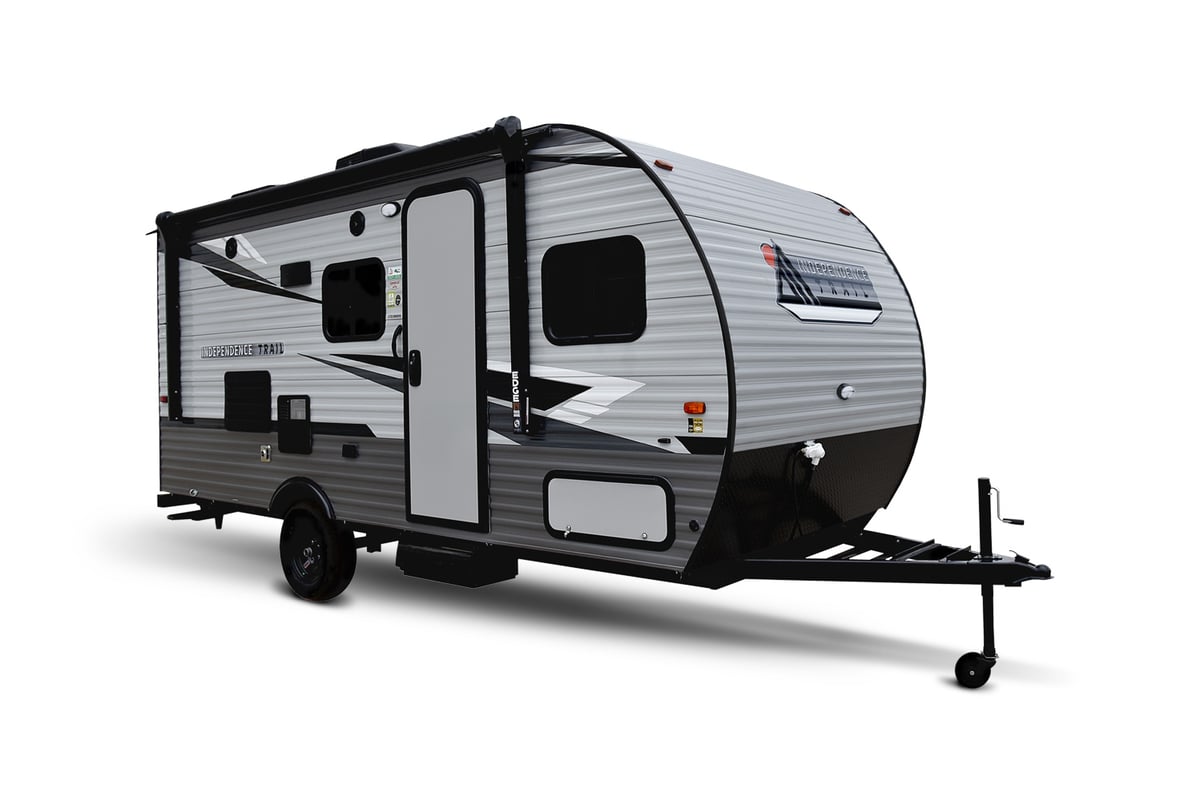 The Independence Trail travel trailer features a small rear wet bath to freshen up in privacy. This is a great small RV for families with a 54" x 74" bed and bunks in the back. It offers a booth dinette and small kitchenette as well. The Independence Trail also comes with an Omni-Directional TV antenna, AM/FM/BT stereo with four speakers and LED interior and exterior lighting.
If you are ready to start shopping, click here.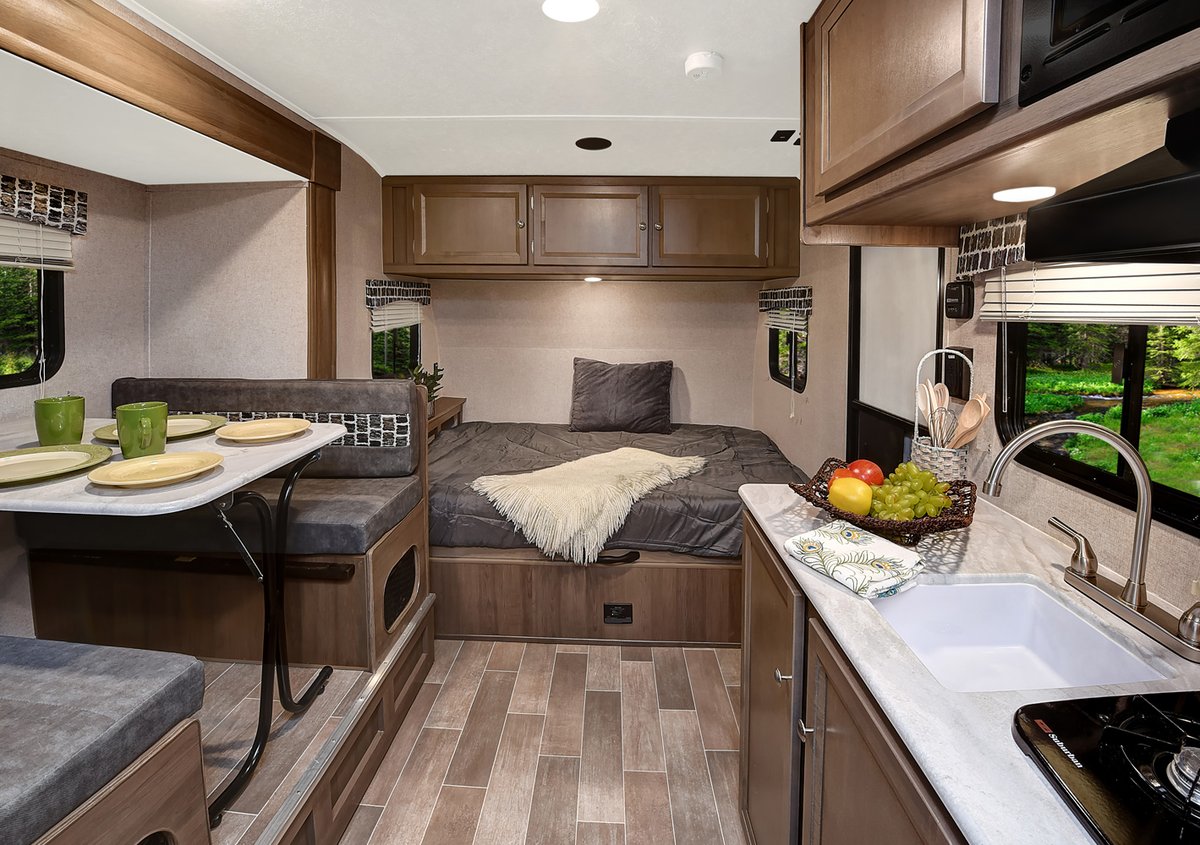 Grand Design Imagine XLS 21BHE - Starts at $29,400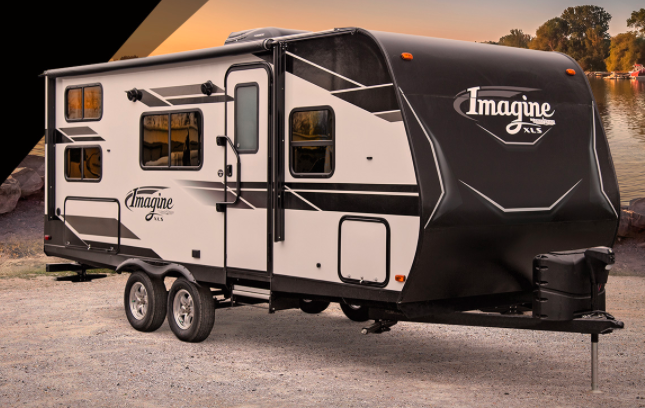 The Grand Design Imagine XLS travel trailer offers a lot of great features to make your camping trip easy, comfortable and fun. It has a queen-size murphy bed, so it can be put away during the day and there is enough room for entertaining. The back of the Imagine XLS has double over double bunks to fit more people comfortably. The kitchen offers a double door refrigerator, microwave, three-burner range with oven and a booth dinette that has enough space for the whole family to enjoy meals together.
Ready to find the Grand Design Imagine for you? Shop available units now.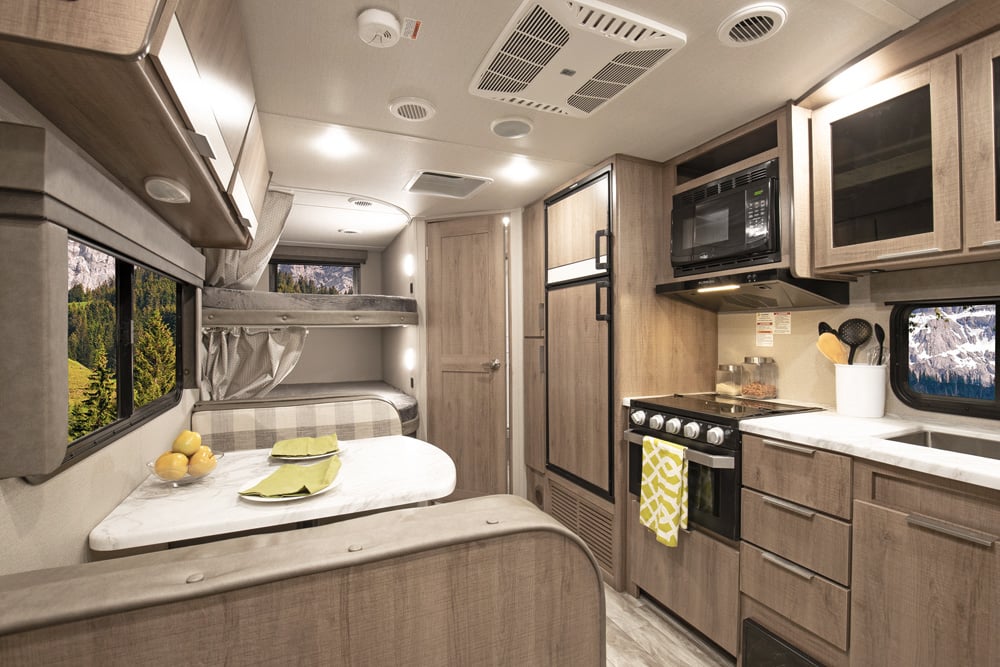 Heartland North Trail 33RETS - Starts at $51,566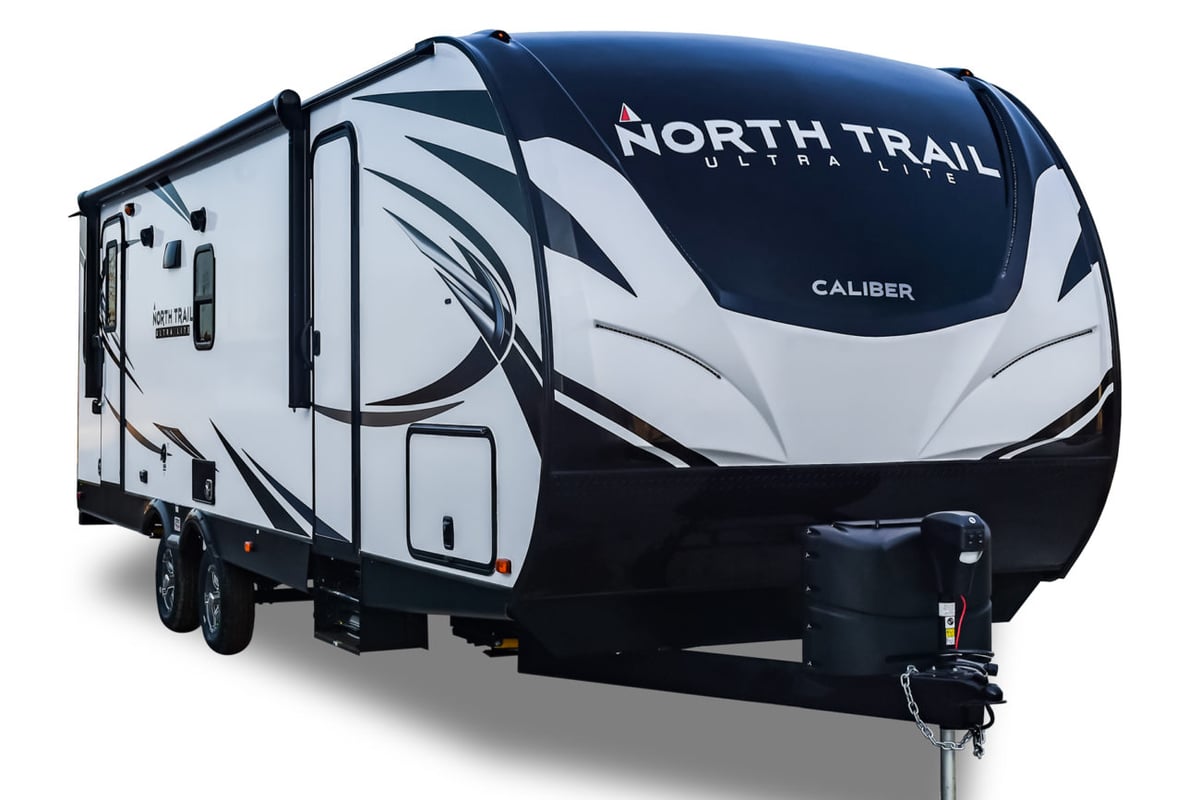 The North Trail travel trailer offers exterior speakers for campers who want to play their favorite music while enjoying the outdoors. The power awning has multi-colored LED lights to keep the party going even after the sun goes down. At the end of the day, get a great night sleep in the queen-sized, foam mattress.
Think the North Trail is right for you? Browse our available units here.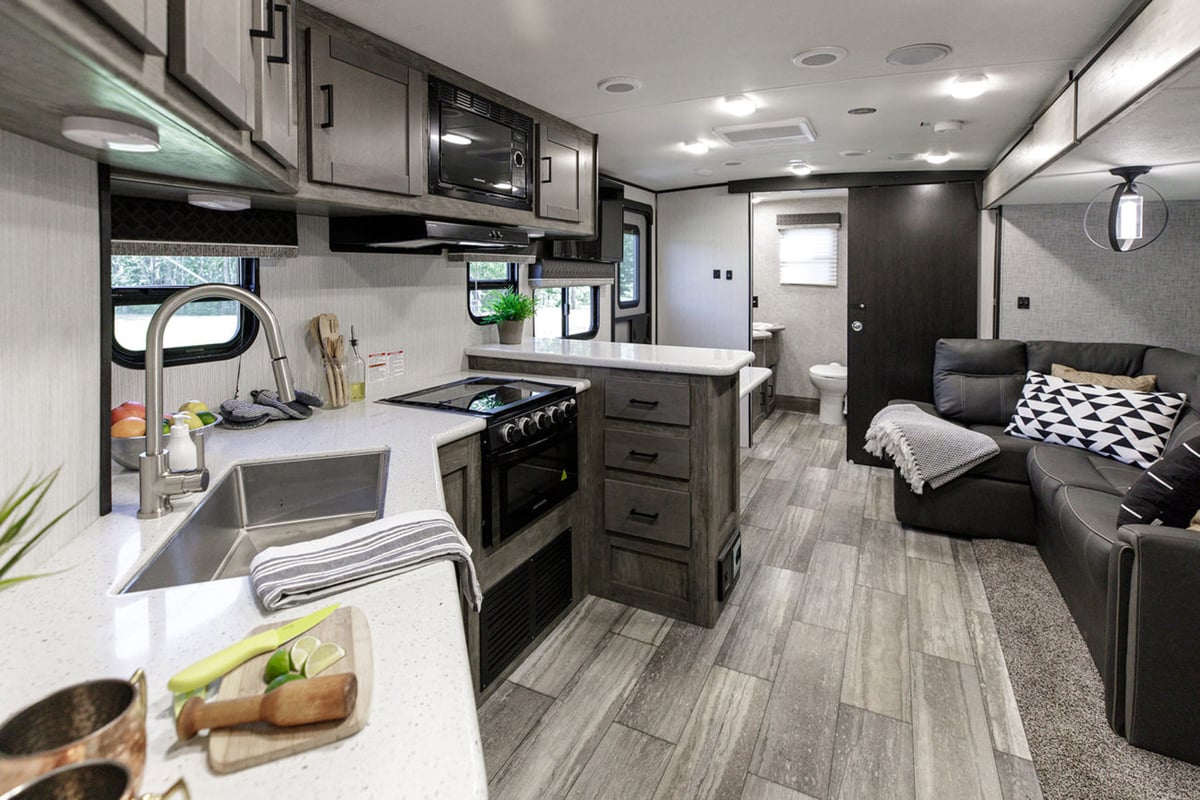 Fifth Wheels
Fifth wheels are similar to travel trailers as they are towed behind a vehicle. The way it is hitched is a little more stable than a travel trailer and has less swaying because it is towed in the bed of a truck. Although they tend to be larger than travel trailers, it is easier to drive while towing a fifth wheel.
Keystone RV Avalanche 295RK - Starts at $50,995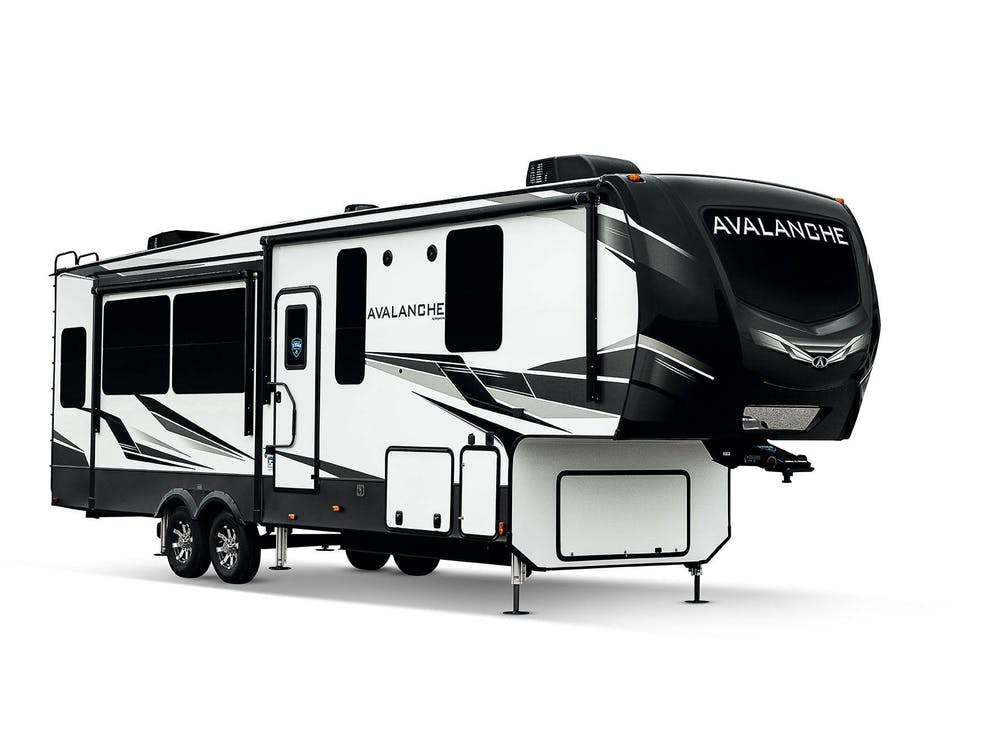 The Avalanche fifth wheel has a master suite and a full bathroom in the front of the RV. It also features a free-standing dining table, large kitchen with lots of countertop space, theater seating, fireplace and a pop-up TV. Step outside and enjoy the 17' awning to relax in the shade and protected from the elements.
Shop Avalanche fifth wheels here.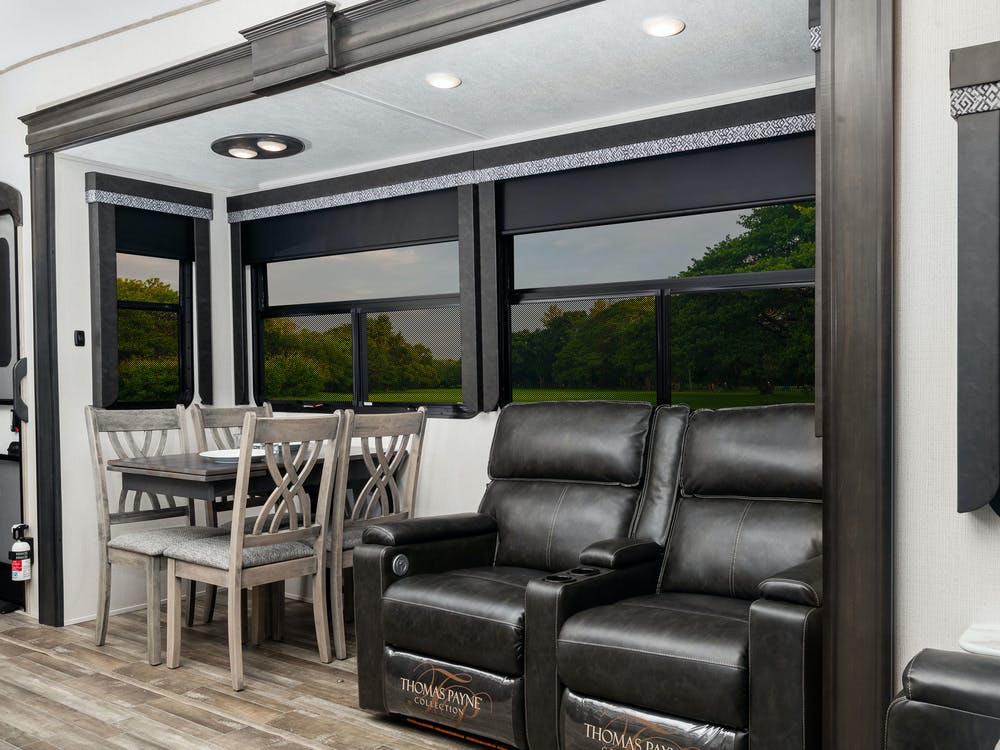 Jayco North Point 310RLTS - Starts at $89,995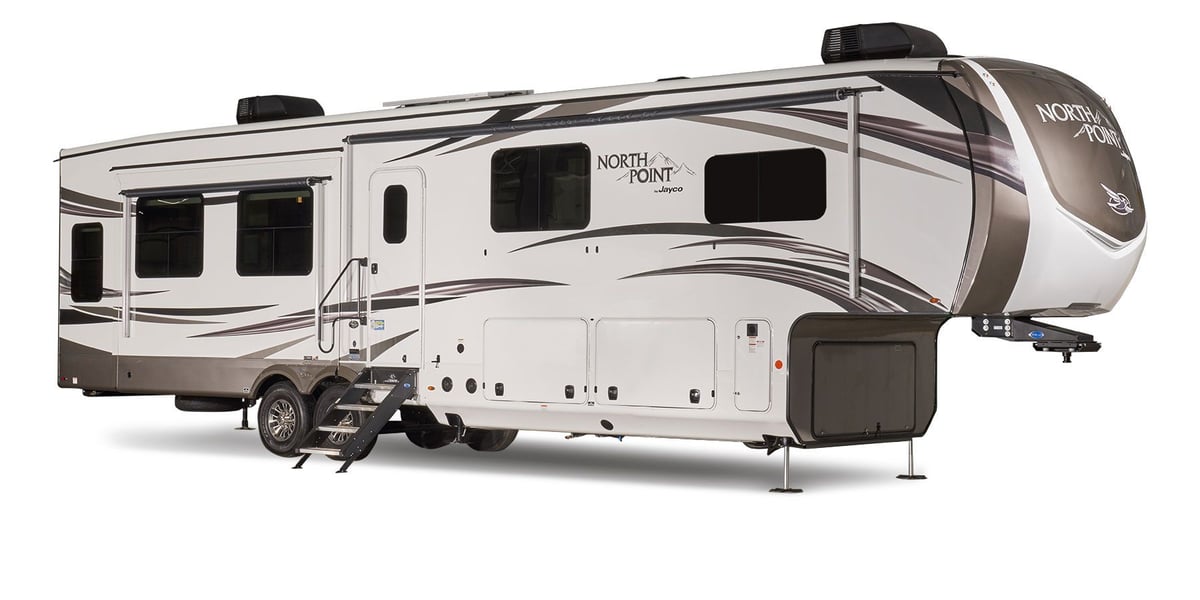 The North Point fifth wheel features include full master bath with a large linen closest and the private bedroom has a comfortable queen bed with lots of storage space with the closest and dresser. The kitchen has an island for additional counter space, pantry and a free-standing dinette. At the end of the day, unwind in comfortable theatre recliners or the three-seat, fold-out sofa by the fireplace in the living area.
Shop North Point RVs we have available here.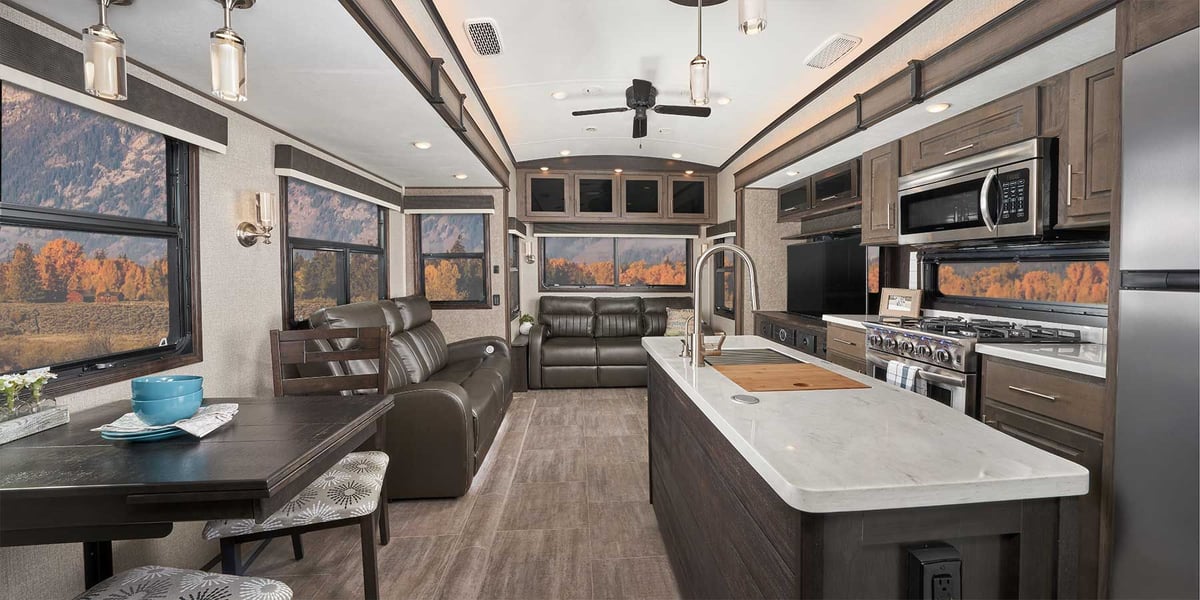 VanLeigh RV Vilano 370GB - Starts at $120,061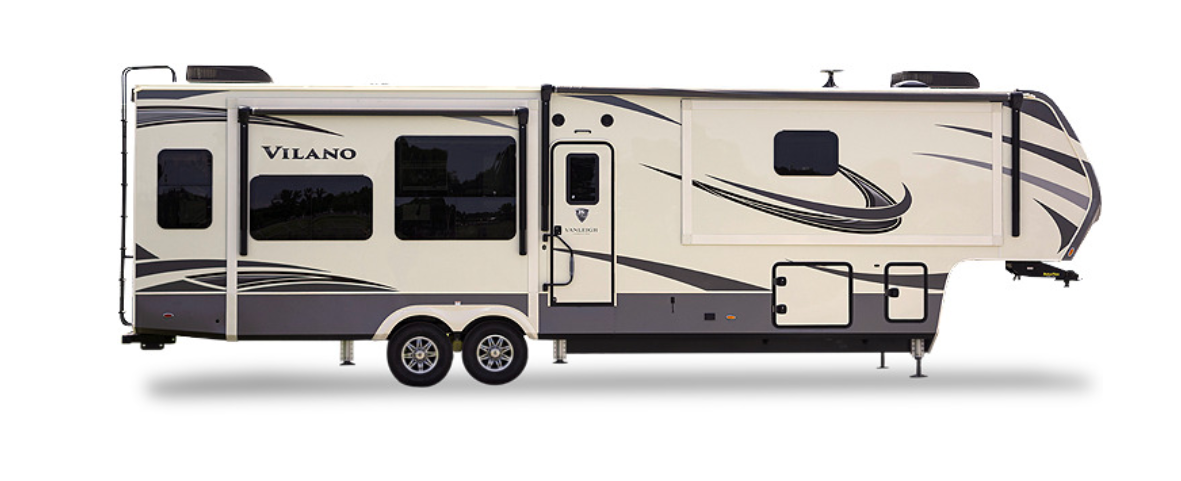 The VanLeigh Vilano is a luxury fifth wheel perfect for all the glampers out there. The common area features a sofa bed with end tables on either side and a theater sofa, great for relaxing and spending time with friends and family or used as an extra bed. When it's time for dinner, enjoy the large island for prep and a residential fridge to keep your ingredients and leftovers organized. There is a king-sized bed big enough to stretch out and feel well-rested for the next day. The Vilano offers a washer/dryer prep for those longer camping trips and a large bathroom with a stand up shower, double sinks and closest space.
Browse our available Vilano fifth wheels here.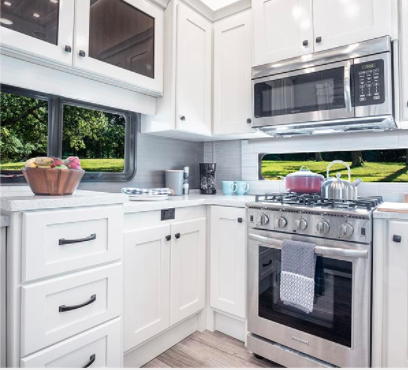 Class C Motorhomes
Class Cs are normally built on a truck or van chassis with an overhead cab area, which is used for sleeping or extra storage space. They usually fall in between a Class A and Class B with size and features.
Coachmen RV Freelander 27QB - Starts at $69,921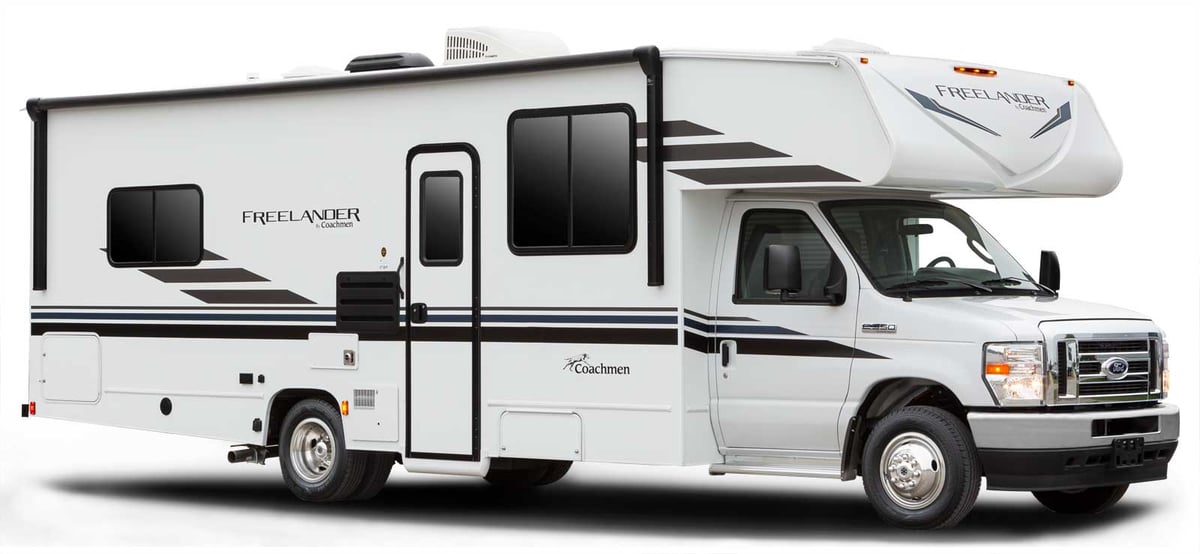 The Coachmen Freelander, built on a Ford chassis, is a Class C motorhome prefect for couples. There is a private bedroom with a queen sized bed in the rear of the RV with closest storage on either side of the bed. There is also a small kitchen, living and dining area. The kitchen has a double basin sink and a three-burner stovetop.
Interested in the Freelander? Shop here.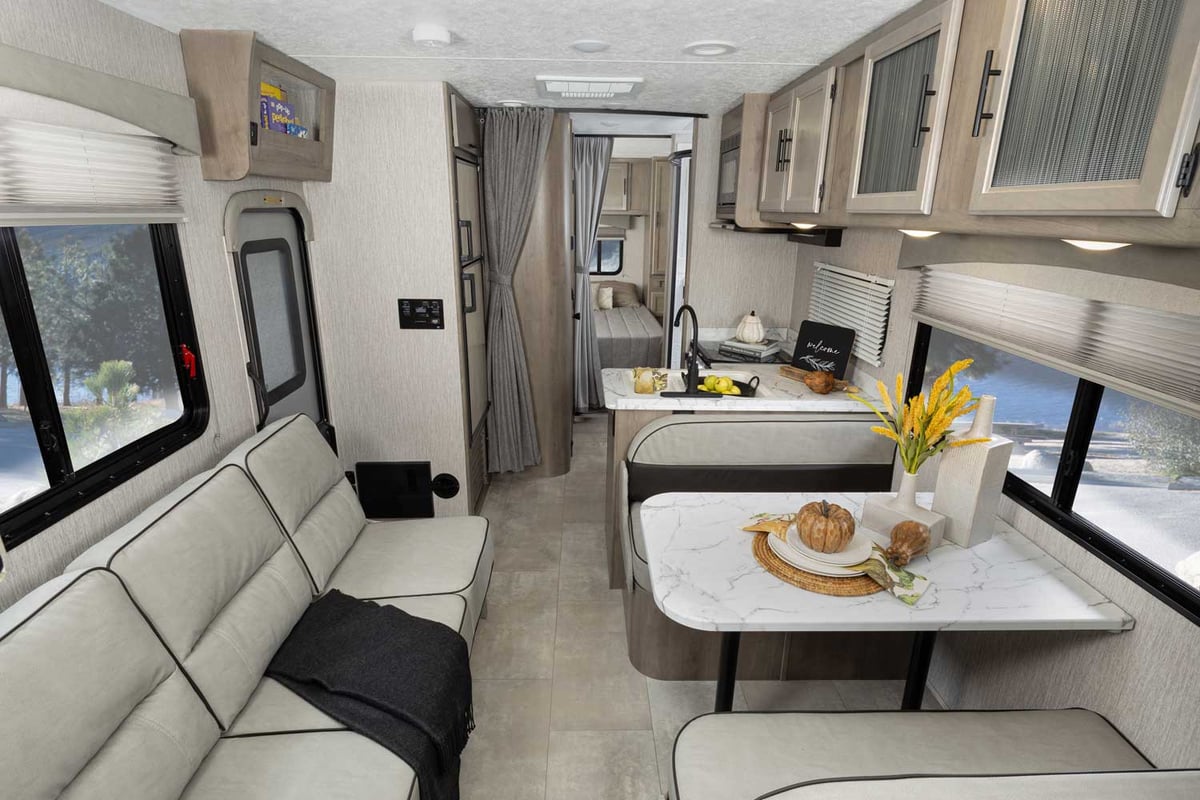 Forest River RV Sunseeker 3050S - Starts at $113,733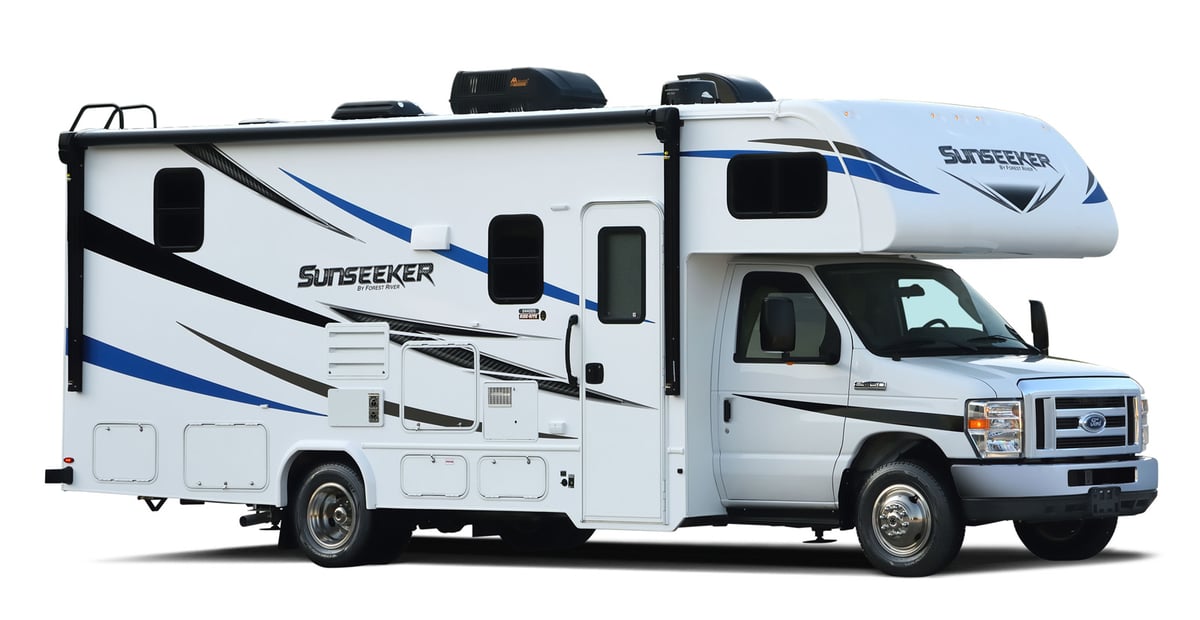 The Sunseeker is a Class C motorhome built on a Ford chassis. With LED TVs in the living and bedroom areas, as well as an optional exterior TV, this RV is perfect for the family who loves to tailgate or keep up on their favorite shows while on the road. Outside has an 18' awning that is perfect for relaxing at all hours of the day. The kitchen features a fridge, three-burner stove, double basin sink and pantry space, so cooking full meals on the road for family and friends is easy.
Does the Sunseeker seem like a great choice for you? Shop available units here.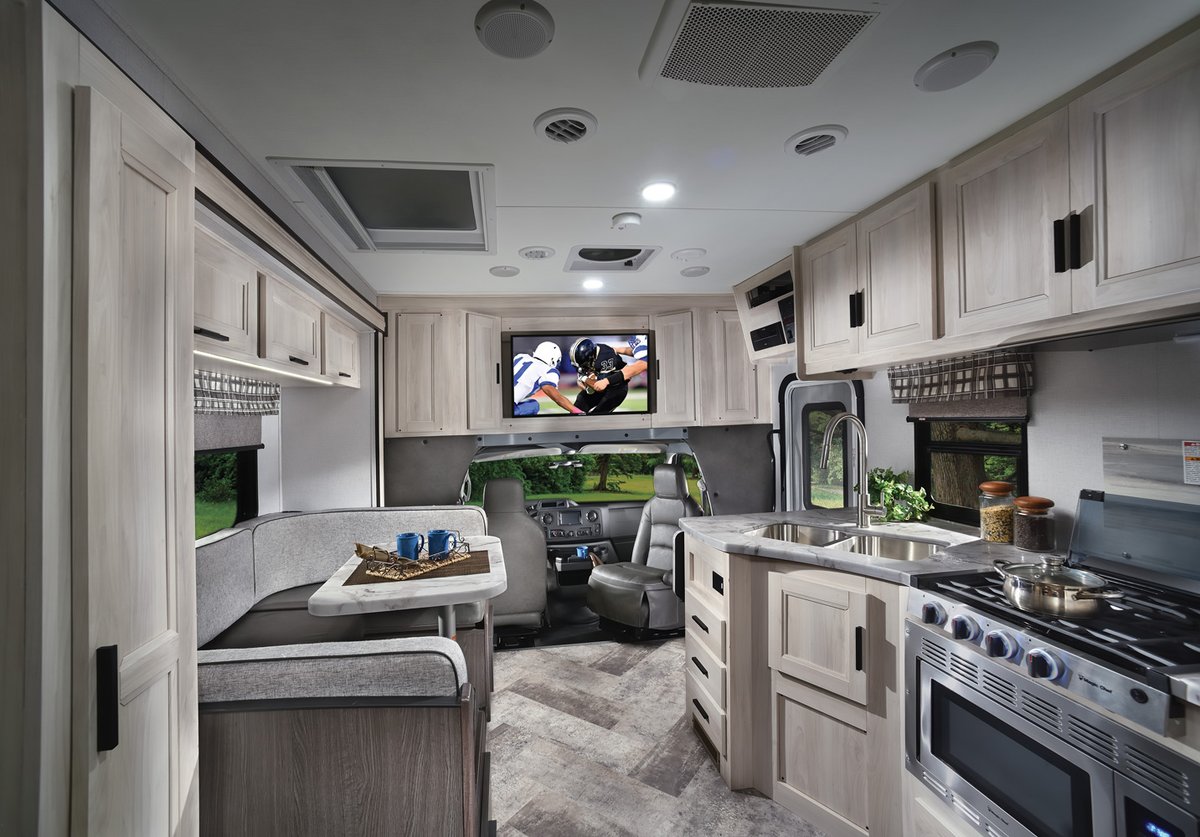 Winnebago Ekko 22a - Starts at $168,415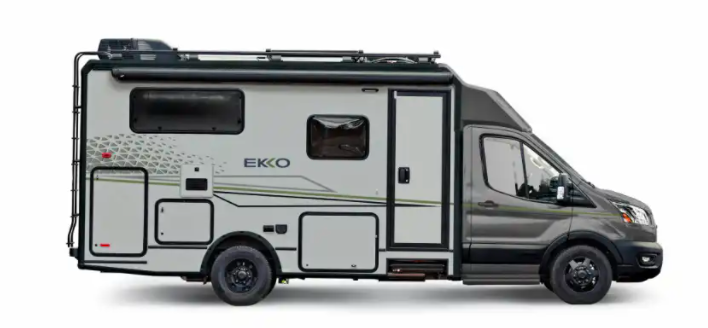 The Winnebago Ekko is luxury Class C motorhome. It has a color touchscreen systems monitor panel, satellite system ready, amplified digital HDTV antenna and more. The front cab area offers lots of convenient features like the Apple CarPlay Android Auto, Bluetooth and a rear camera display.
Shop the Winnebago Ekko.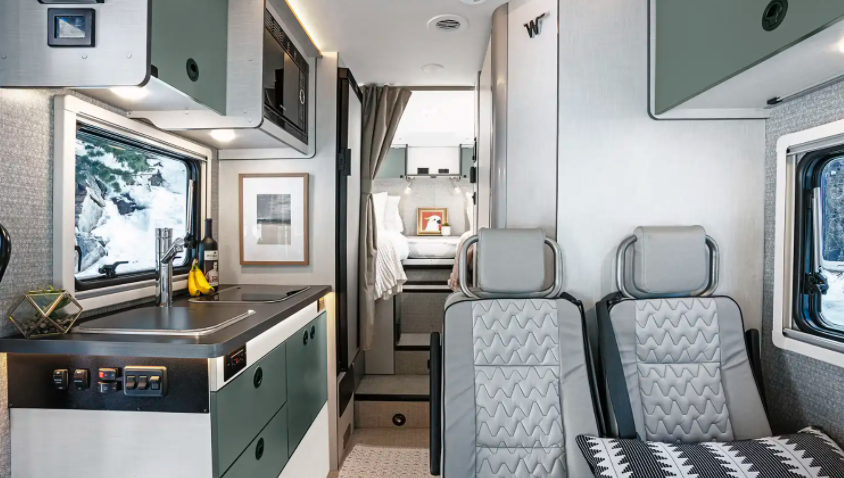 Class B Motorhomes
A Class B campervan is the smallest version of motorhomes. It is easier to drive, and park and get closeup experiences of hard-to-reach places when going off the grid. The Class B is built on van chassis from Mercedes Benz, Ford and Dodge but still has a small kitchen, sleeping space, storage and bathroom.
Winnebago Solis 59P - Starts at $107,821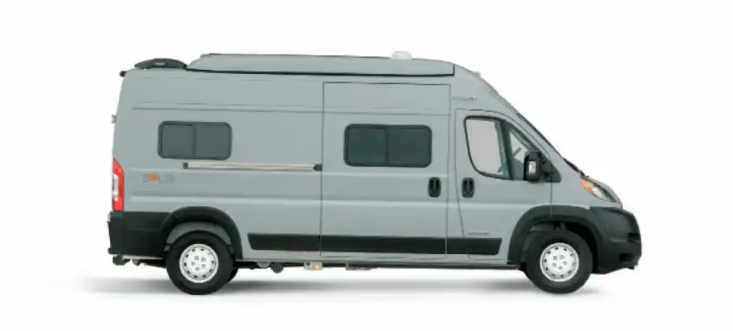 This Class B motorhome has a 59" x 71" rear sofa bed to end the day in. There is also a pop-up top that can comfortably sleep two people. The Solis has a flexible solar option with one panel with 220-watt system, allowing boondocking and camping in isolated and unique locations.
Shop the Solis here.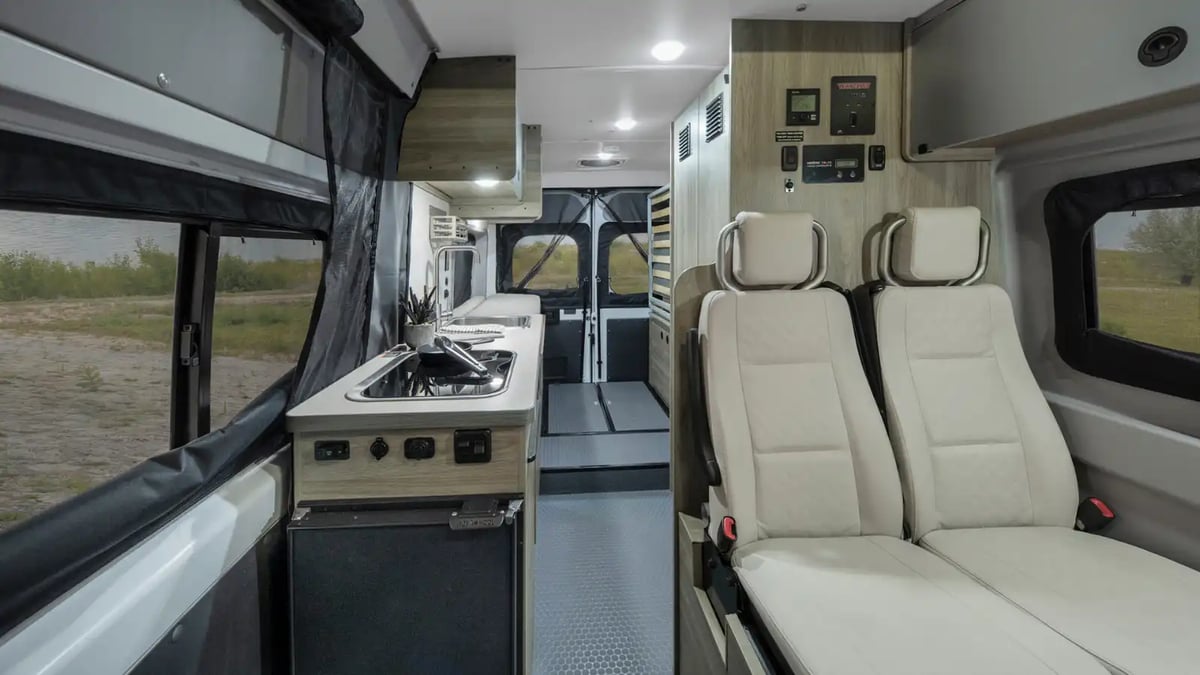 Pleasure-Way Plateau TS - Starts at $162,640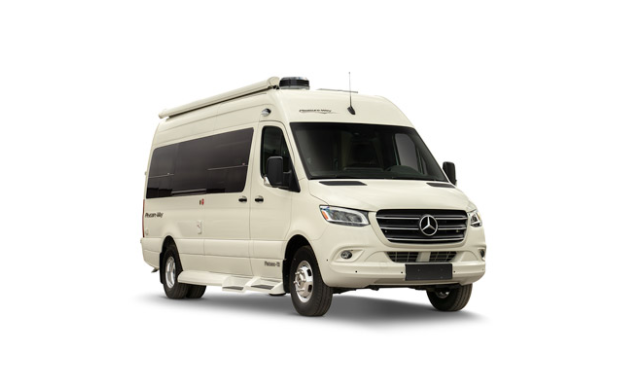 The Plateau is built on a Mercedes-Benz Sprinter 3500 Van Chassis and uses diesel fuel. This luxury Class B offers a power sofa and memory foam sofa cushions for extra comfort. It has recessed LED lighting under cabinets and along the roof and dimming LED lights. Sit back and watch your favorite movies on the 24" LED TV on a swivel mount. The shower features a handheld showerhead to make washing up a little more convenient.
Start shopping for a Pleasure-Way Plateau.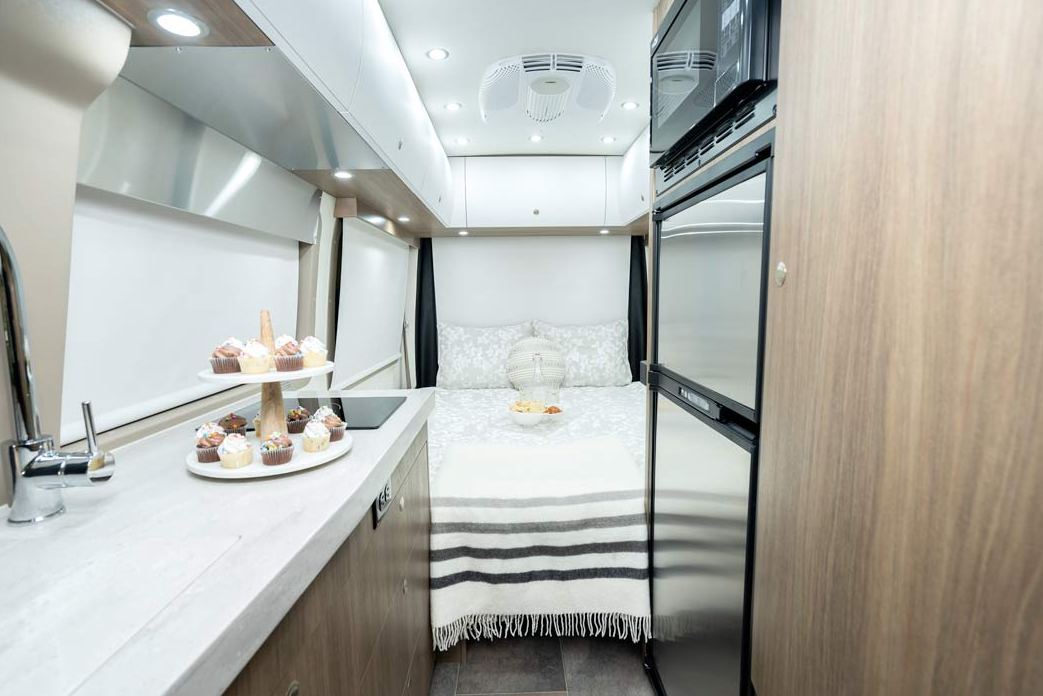 Class A Motorhomes
The Class A motorhomes offer plenty of storage space as well as a spacious interior. They are the largest of the motorhomes and usually built on a commercial bus chassis. These RVs tend to have more luxury features of home and larger bedrooms, bathrooms and kitchens.
Coachmen Sportscoach SRS 365RB- Starts at $259,505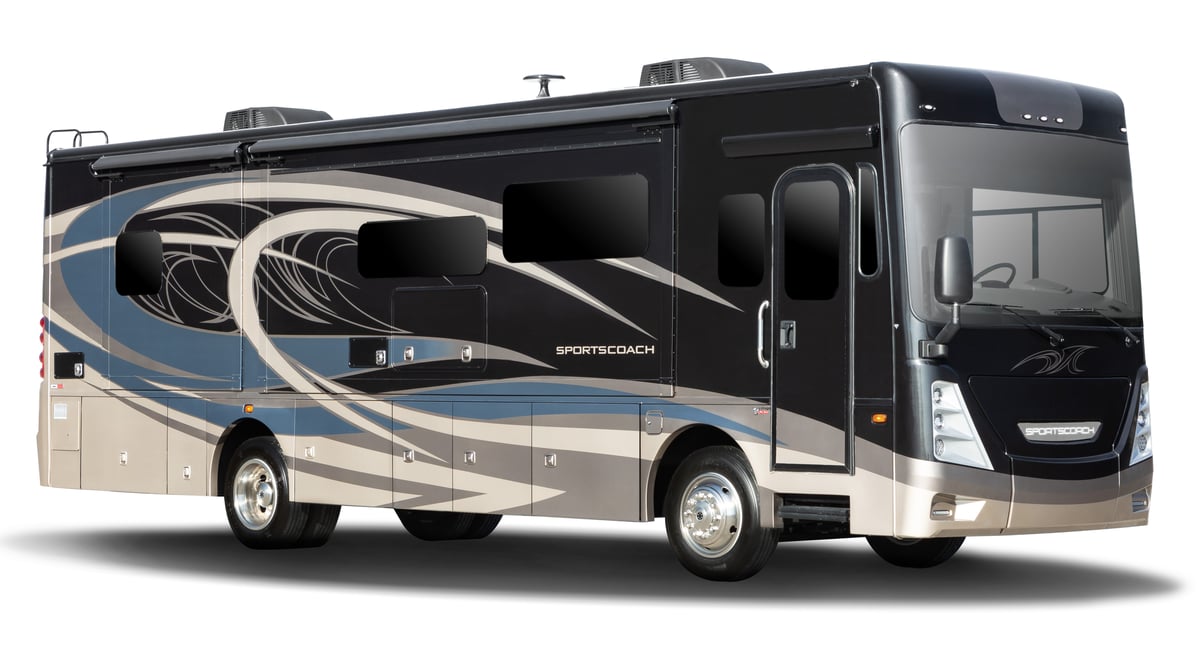 The Sportscoach SRS is a popular motorhome choice because of all the amenities offered. It has two slides for maximum interior space. The private bedroom in the rear of the RV has a king size bed, overhead cabinets, wardrobe space, washer, dryer and LED TV. The private full bathroom has a closet with hamper, stand-up shower and spacious vanity area.
Start shopping for a Coachmen Sportscoach here.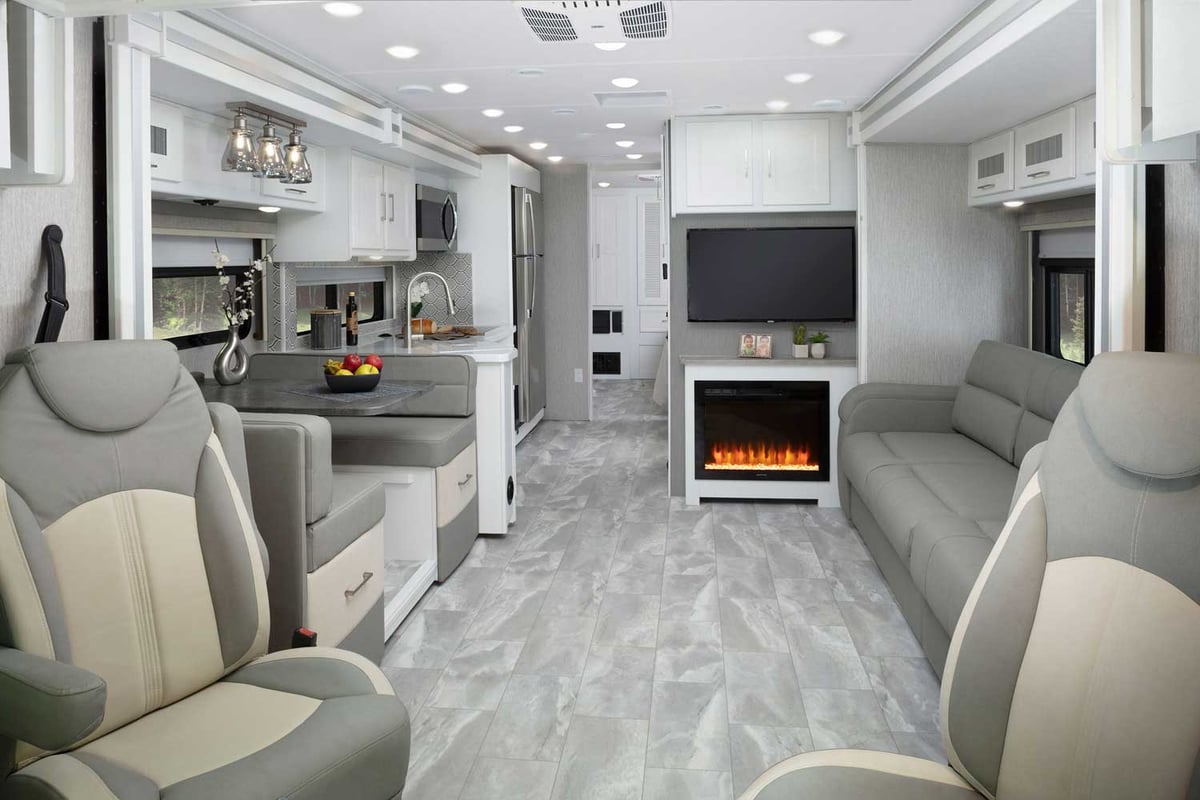 Tiffin Allegro RED 340 33 AL - Starts at $269,717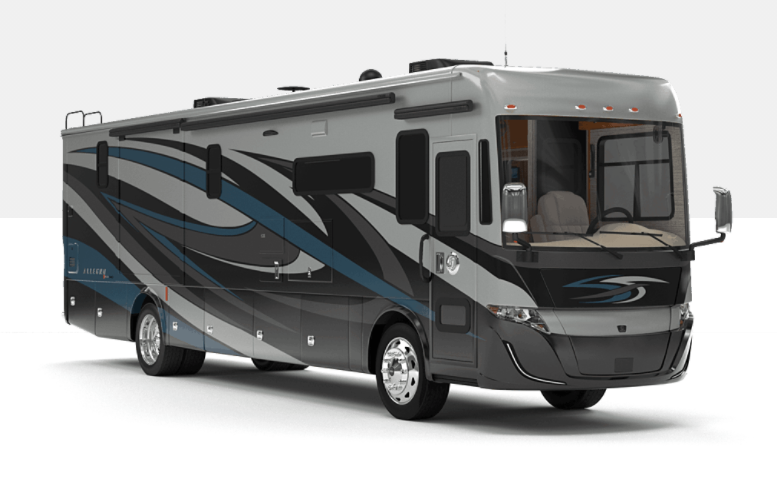 The Allegro RED 340 Class A motorhome has three large slide-outs providing a spacious interior to easily entertain and host friends and family. The living room has a large super sofa with theater seating and a flip and fold sofa bed. This provides extra sleeping space at night. The dining space has the option of either a booth dinette or a dinette with computer workspace for those who work remotely while on camping trips.
Ready to start shopping for an Allegro Red 340? Click here.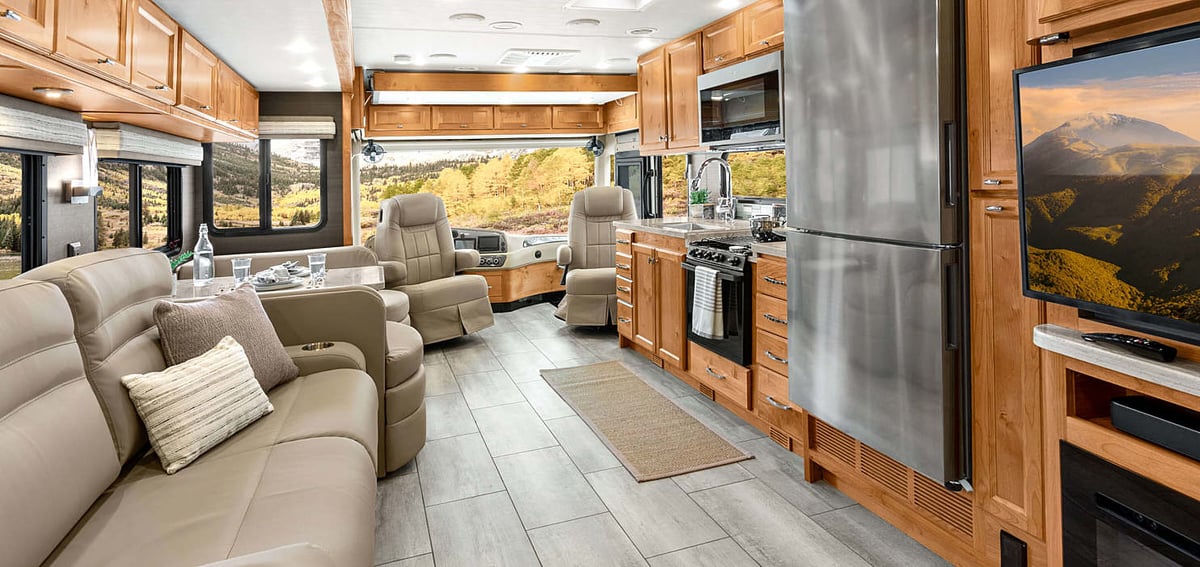 Newmar Dutch Star 4369 - Starts at $469,359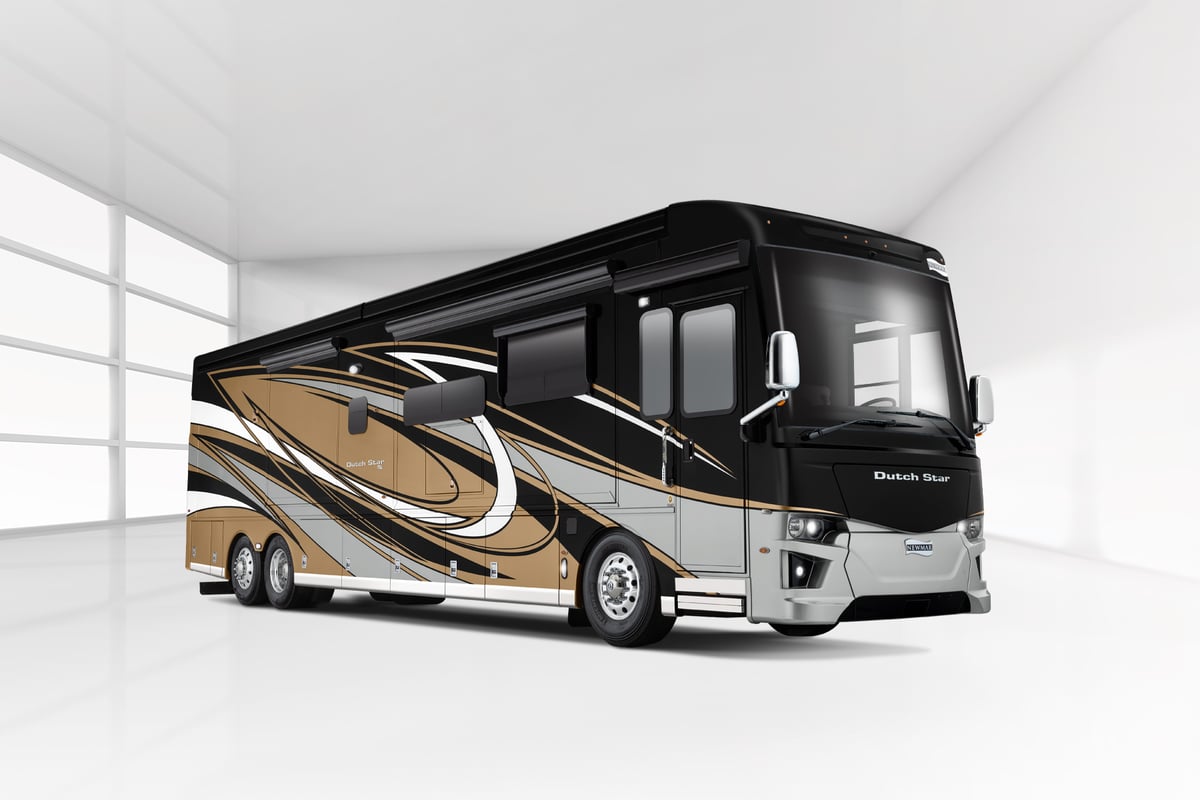 The Newmar Dutch Star is the ultimate RV when it comes to luxury and style. The passenger seat in the front has a work station so you can easily work while on the road. Catch up on your beauty sleep with the plush pillow top mattress. The Dutch Star also offers prep for two-piece washer/dryer set for your convenience. There is tile floor throughout the kitchen, bathroom, bedroom and living area. It comes with decorative wall art and a quilted bedspread with an accent pillow, so you can get save time decorating and spend more time camping.
Shop for a Newmar Dutch Star today.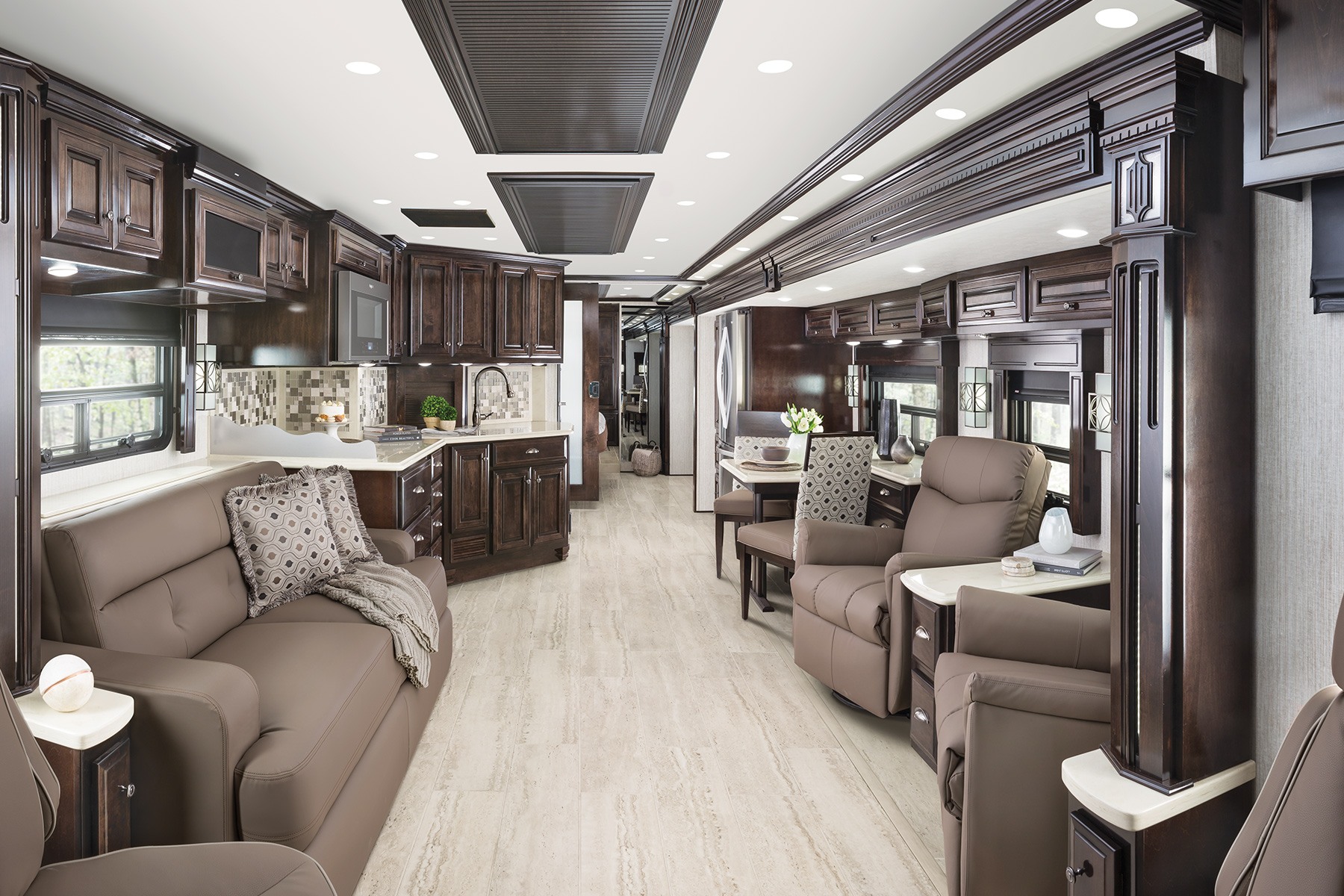 There is a perfect RV out there for everyone, you just have to find it. Now that you have a general overview of what comes with your price range you can start shopping here.
Learn more about towables and motorhomes to find the best RV for you.