Let's take a look at the VanLeigh Beacon 40FLB and delve into the features of this unique RV. Take a few minutes to see what each room of this unit has to offer and how it will take your camping life to the next level.
What type of RV is the Beacon 40FLB?
The Beacon 40FLB from VanLeigh is a fifth wheel, which is a type of RV that can be attached to a large vehicle (such as a truck) and towed behind. The fifth wheel connects to a truck by a special type of hitch. It is similar to a ball hitch, but these are heavier duty and they go into the bed of the truck. The hitch use a king pin, a downward facing pin, unlike the ball hitch which has an upward one. The king pin slides into the hitch plate on the truck and is then locked in place leaving only a pivot motion possible so the vehicle can turn. Want to learn more about what to ask when buying a hitch? Click here.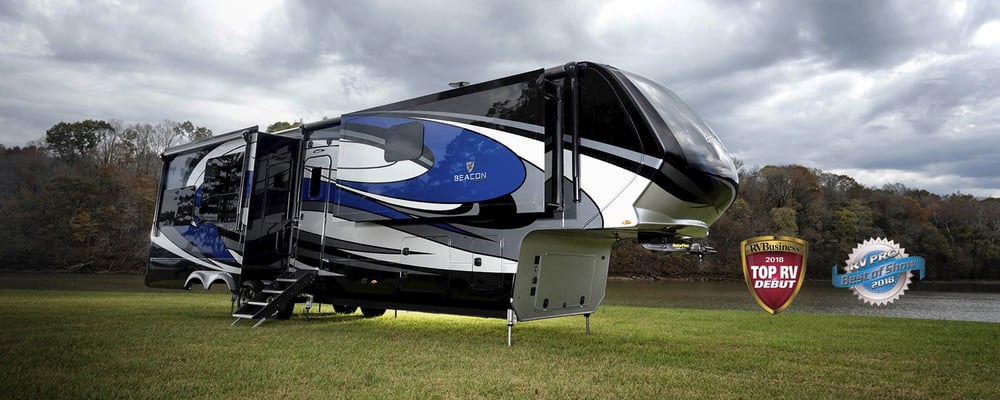 They are large like motorhomes, sometimes larger and they have the same utilities and features, so you aren't giving anything up when traveling in one of these towable RVs. The average fifth wheel is about 30-40 feet long.
Get to know VanLeigh Fifth Wheels
Bob Tiffin started the very well-known company, Tiffin Motorhomes, over 45 years ago. His son and grandson, Van and Leigh, followed in his footsteps and joined the family business. As time went on, Van came up with the idea that they should venture out to a new audience: fifth wheel owners. They knew it would be difficult to target a market that was smaller than what they had been used to, but they attempted nonetheless. Their goal was and still is to meet the needs of a market that is consistently changing and because of this they have created one of the most luxurious fifth wheels you see on the road.
The Exterior of the Beacon Fifth Wheel
Starting from the outside and working in, this luxurious RV has an exterior made of Classic Noble T 60 Fiberglass and is available in three different paint schemes. It also has five-sided, framed, insulated and laminated slide rooms, climate-controlled storage space, LED exterior lighting and two patio awnings perfect for shading your campsite on hot and sunny days.
The Size and Details
With enough room to sleep 6 people, the 40-foot, 6-inch long and 12-foot, 11-inch tall 40FLB is a spacious fifth wheel. This RV has a separate bedroom, a bathroom with a dual sink and full shower and a common area with enough room to host your friends and family. With all the provided room in this RV, it is great not only for entertaining, but for living, too. Those who are not used to driving motorhomes or trailers may be skeptical about hauling a unit this large, but the fifth wheel hitch makes it easier to drive than a motorhome those who are new to the game are equally capable of maneuvering and parking this RV. This RV has a 12-volt electric dump valve for the black tank with a manual override, 12-volt tank heaters, and R 45 insulation in the roof, floor and front cap. The gross dry weight for this RV is 15,400 pounds with a Fresh Water capacity of 54 gal., 90-gal. Grey water capacity, and black water capacity of 45 gal. This unit is rigged with a Lippert automatic 6-PT leveling system, 2- 15,000k Low Pro air conditioners, and a prewire for Traveler Satellite.

The Bedroom and Bathroom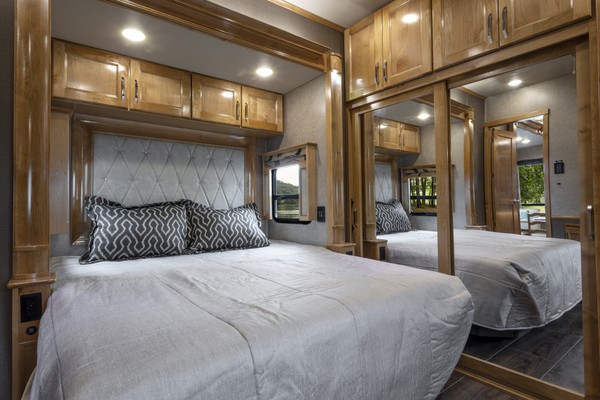 The master suite has a large walk-around bed with a 5.8-ft by 6.7-ft King Cool Memory Foam mattress. Under this bed is a full-size storage area. And while on the topic of storage, there are nightstands on both sides of the bed, an overhead storage space and cabinets and drawers lining the wall facing the bed. There is also a 32" LED TV, a backlit handrail leading to and from the room and a full-sized wardrobe with motion sensor lights enclosed in cabinet doors. The bathroom has dual sinks, a full-size shower, and a generous amount of storage space for all toiletries.
Kitchen and Common Room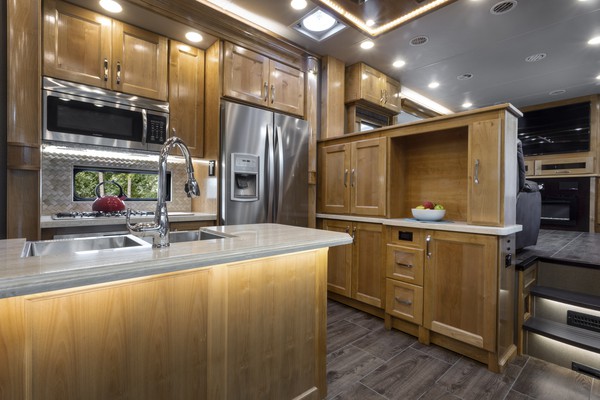 The kitchen is equipped with Hanex countertops, stainless-steel appliances, recessed LED lighting, a hand-built pantry, tile backsplashes, and a dining area with an island sink. Some of the cooking appliances include: a residential sized (20 cu. ft.), Whirlpool refrigerator, microwave, oven and a four burner Furrion cooktop. There are several cabinets and drawers in the kitchen area, so storage is not a problem. Also, there is a freestanding dinette table with four chairs which can also be used as additional seating for the common area.
Some features the 40FLB brings to the common room are Hardwood Slideout Fascia and window valences throughout, vinyl tile flooring, soft touch padded vinyl ceiling, and slow rise night/solar shades. Furnishings include two 70-inch couches that pull out into queen beds and a 60-inch loveseat, both made by Franklin Furniture. For entertainment, this RV has a 50-inch flat screen that can be easily viewed from every seat.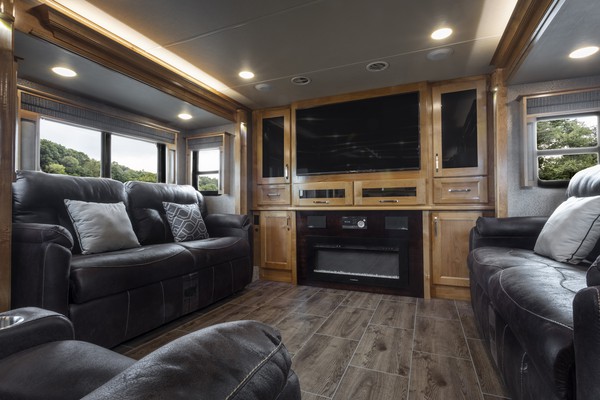 Are You Ready?
If you like camping for long periods of time the VanLeigh Beacon might be for you. With an ample kitchen, bathroom and plenty of storage space, this luxury fifth wheel does not leave its owners wanting for much.
If you're ready to start shopping for your new Beacon 40FLB, we have several dealerships that would love to assist you.
Let us help you start planning you next trip with the Best RV Park Destinations and End of Summer RV Bucket List!