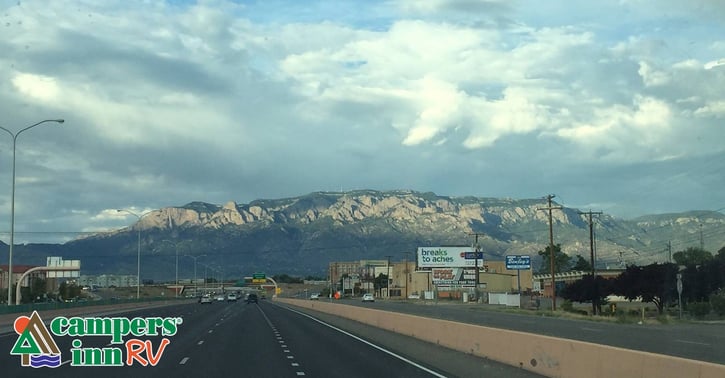 Since Jeff and his family picked up their brand-new Tiffin Phaeton motorhome, they have soared out west to the orange mountains of Albuquerque, New Mexico. And like all epic RV adventures, they have some suspenseful stories to share.
Click here to get caught up on the Hirsches' RV adventure.
Here is an update from Jeff and his family:
I'm losing track of time, but that is par for the course when you've thrown away your schedule. We had a great, extended visit with family in Alexandria, Louisiana, but when we left, I knew we needed to put in some time on the road. Except for a few hours of sleep, I drove straight to the Bernalillo KOA campground north of Albuquerque, New Mexico. I think I drove around a thousand miles—mostly at night—to make it to the campground. I love driving at night. I've always been fascinated with light, and that makes night driving particularly appealing.
The Phaeton has been flawless; however, I did have one dead battery in the Jeep because my Break Buddy was putting in work up through the mountains. I initially wasn't going to hook up a remote breaking system, but I'm glad I did. The mountains back east are hills compared to the ones out West.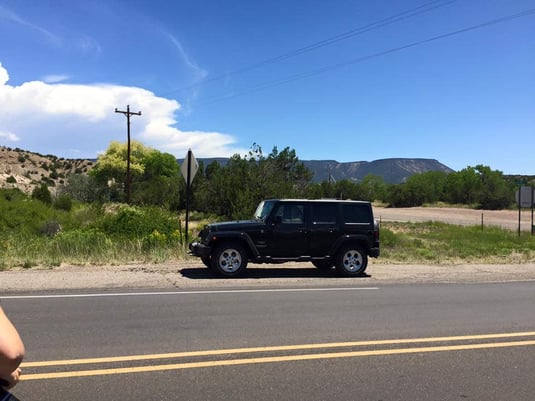 We enjoyed our time in Albuquerque, and we spent the day in Jemez Springs. We all decided the Jeep was best vehicle we could have picked for our trip. I spoke to the owner of the KOA in Bernalillo, and he suggested that we visit the Jemez loop and the mountain through which the U.S. bore two tunnels to move the first atomic bomb. This was very cool, and we saw some of the best scenes that looked out deep into the bluffs. I think we would agree it was magical.
After our way back through the tunnel, we stopped at a creek and kicked off our sneakers. We all went into the creek—except my wife, Deb, who stood on lookout for the bear she knew was going to eat her. We then continued the loop and visited the Valles Caldera National Preserve. Then, we took a long dirt road back to the highway to look for elk. This is where things got interesting. The road out to the highway was a nine mile stretch that seemed to get worse every mile or so. This road slowly became rutted and washed out with steep grades and switchbacks. This made the trip a little nerve-wracking. I had just commented that the road was finally improving, when we rounded a corner to find a shallow river in place of our only exit out… unless we wanted to backtrack.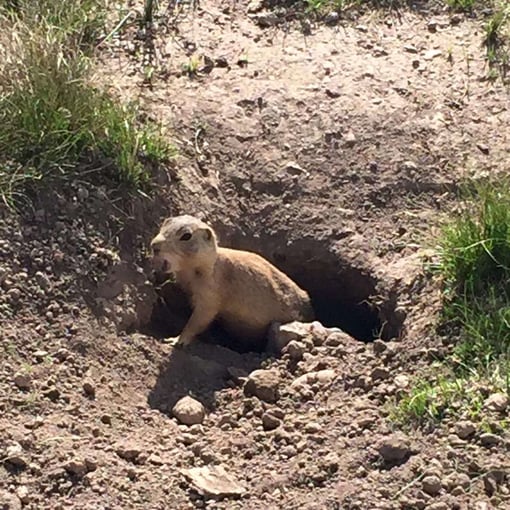 I wasn't in favor of making the return trip, as it was getting late in the day, and we only had another hour or so of sunlight. Dusk was against us. So, I hopped out of the Jeep and followed the river for a couple hundred yards to find our exit out. My daughter, Baleigh, followed me and asked what I was planning to do. With confidence I said, "We're going for it." Man, did I hope that was the right decision!
When we got back to the Jeep, I let Deb and my other daughter, Mackenzie, know our plan. I think we were all excited and scared. I know I was. As we crossed the first bad section, we had to go up a little hill and navigate through a very narrow area with rapids, boulders and very uneven terrain. On my first attempt, I had one tire come completely off the ground, so I decided to back up and reassess the situation. In order for me to make a flatter approach, I needed to clear three boulders. Once they were out of the way, we were able to clear that stretch and get to the other side. Unfortunately, we saw no elk on this journey.
The next day, we headed up to Sedona, Arizona and relaxed at a lovely campsite near a creek. This is where we are right now. Sedona is clearly a beautiful place. The girls love it and tomorrow we play tourist. I won't be surprised if we settle down for a couple of days here, which is fine with me. It has been a great trip so far, and it's time for me to say goodnight.
P.S. A special thanks to all the Campers Inn RV family who give me the time to do something special for me and the girls.
Aaron we miss you.
Photo gallery:
If you know of any great spots for the Hirsches to explore, let us know in the comments!