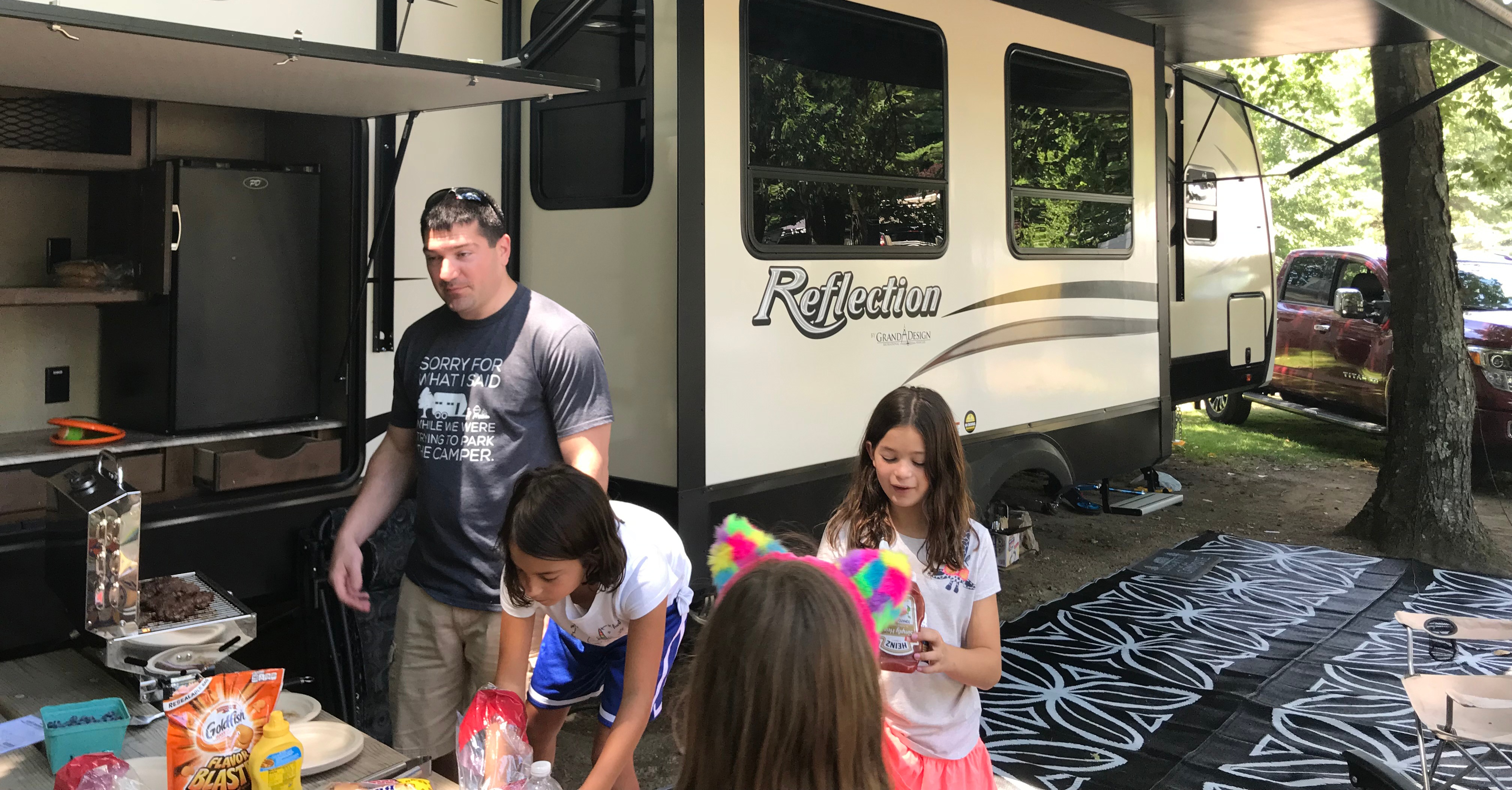 Ben Hirsch, Chief Operations Officer, and Laurie Hirsch, Human Resource Manager, the husband and wife team from Campers Inn RV, are on a four-week road trip in a Grand Design Reflection Travel Trailer. Along for the adventure are their three children: Avery (10), Ellie (8) and Nick (6). Their goal is to visit 17 of the 19 Campers Inn RV locations.
In their last post, we learned about their trip to our stores in Pittsburg and Connecticut. This week, the Hirsch family settles into New Hampshire for a couple weeks of working and camping with friends and family.
Campers Inn RV of New England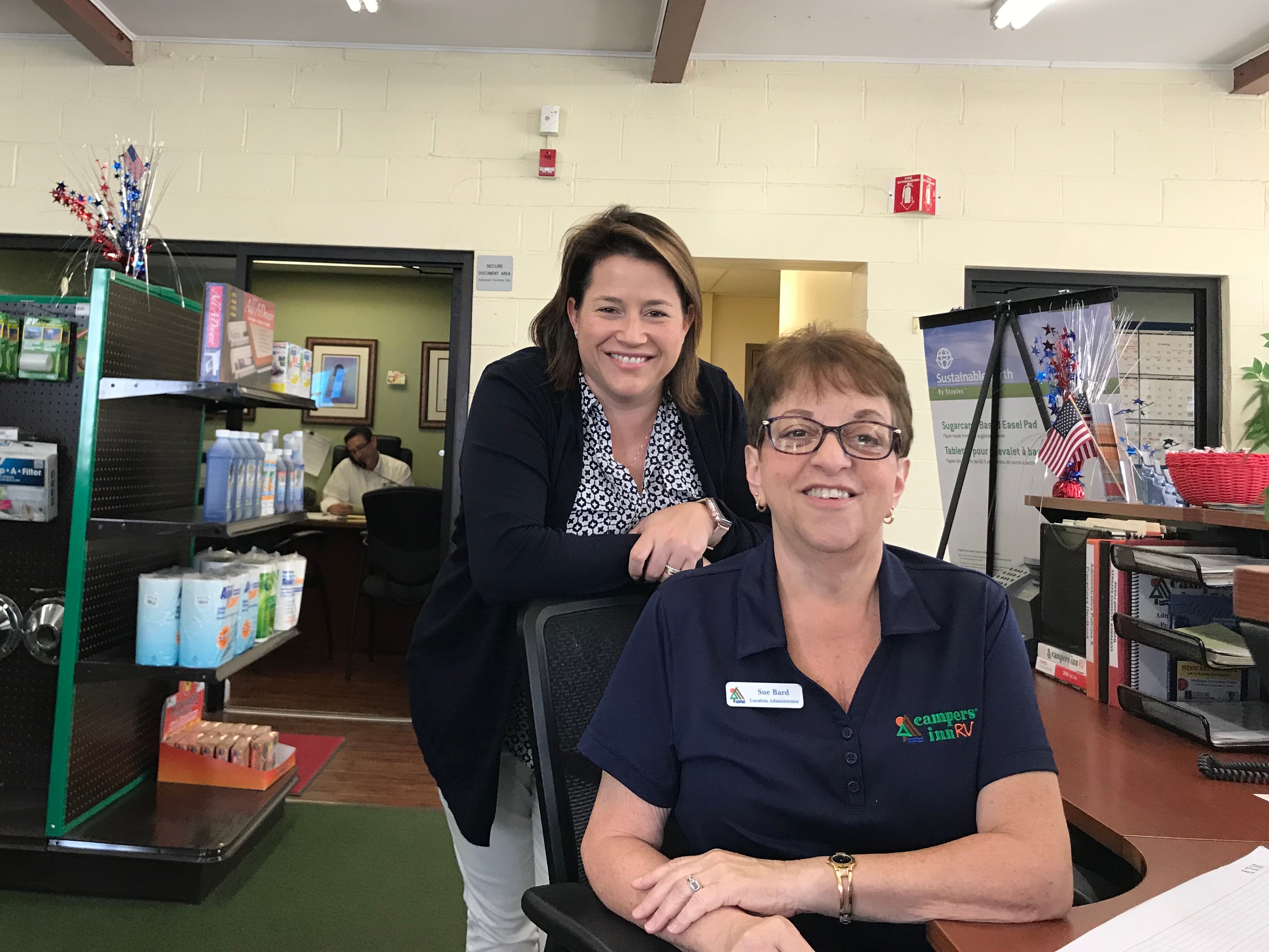 Ben:
We spent the next two weeks camping at Tuxbury Pond RV Resort while we worked out of our dealerships in Kingston, N.H., Merrimack, N.H., and Raynham, Mass., during the day. We lived in New Hampshire before moving to Florida, and we were excited to check in with all the people who have worked at our stores for years. Their attitude was great and everyone was working hard to take care of our customers.
Laurie:
Since this was a "workcation," we tried to pack in as much as we could: working during the day and visiting with friends and family at night. We didn't waste a minute and loved being back home.
I have been helping renovate our Raynham dealership remotely and I was thrilled to see how far it has come. It is freshly painted and the sales floor has new cubicles and flooring. The store is now upgrading the parts and service area, and I know it will look fantastic when they are finished.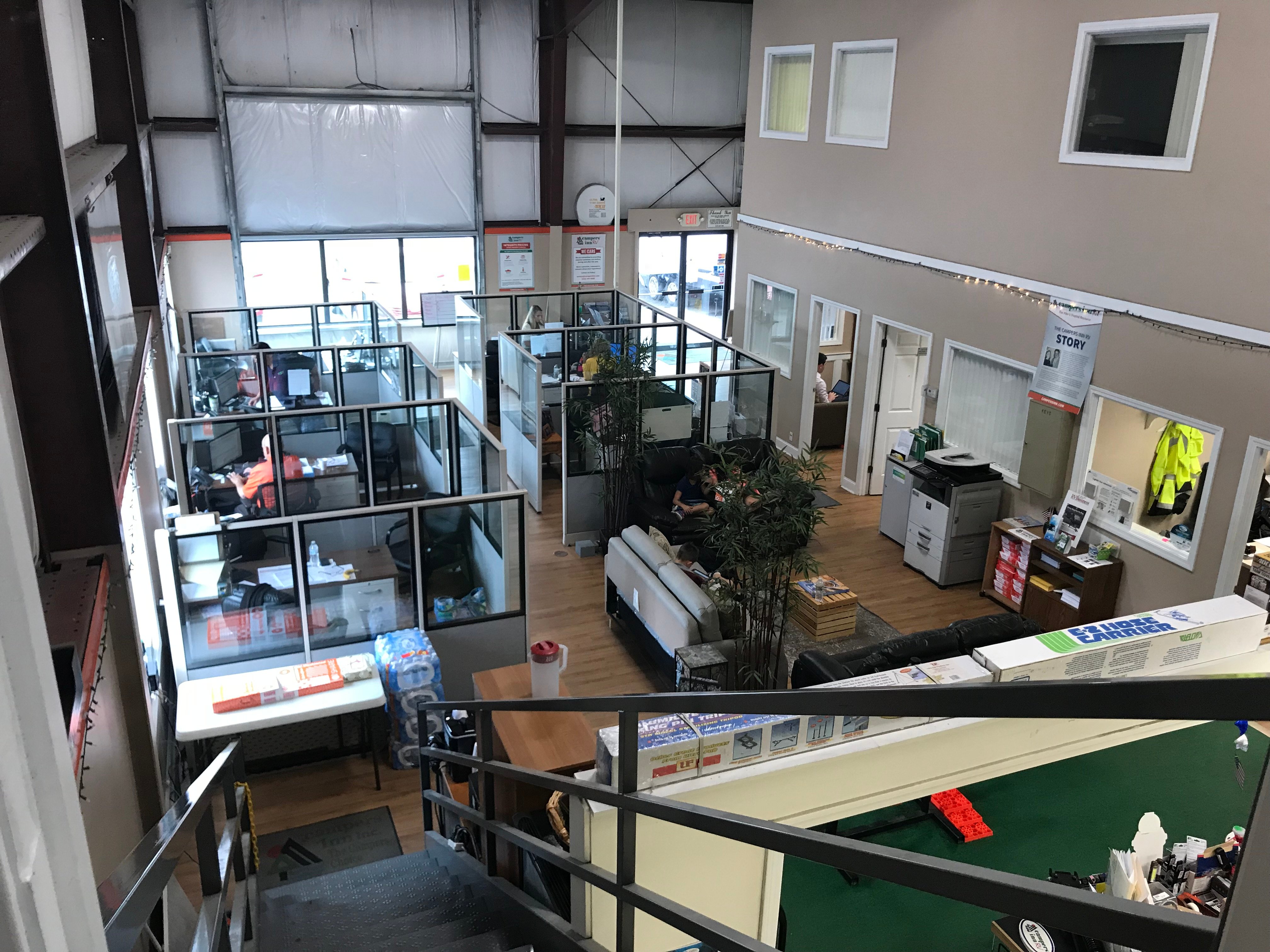 The Kingston store is home to me, as it was the first headquarters. It was fun to be back in the hustle and bustle. This dealership has made improvements, too, including painting the showroom floor, renovating the bathrooms and upgrading the parts and service area. We stocked up on parts while there, and the parts manager, Dean, made sure we got everything we needed quickly.
Ben:
Kingston's part store is one of my favorites. It's not the biggest, but it has an excellent selection. While there, we ordered a new mattress from Denver Mattress and got it the next day from the warehouse. I still have some back problems from my military service, so a good mattress is key. We also picked up some Faulkner folding chairs and extendable marshmallow sticks. When we had friends over to the campsite, they thought the chairs were some of the most comfortable folding chairs they've sat in.
Tuxbury Pond RV Resort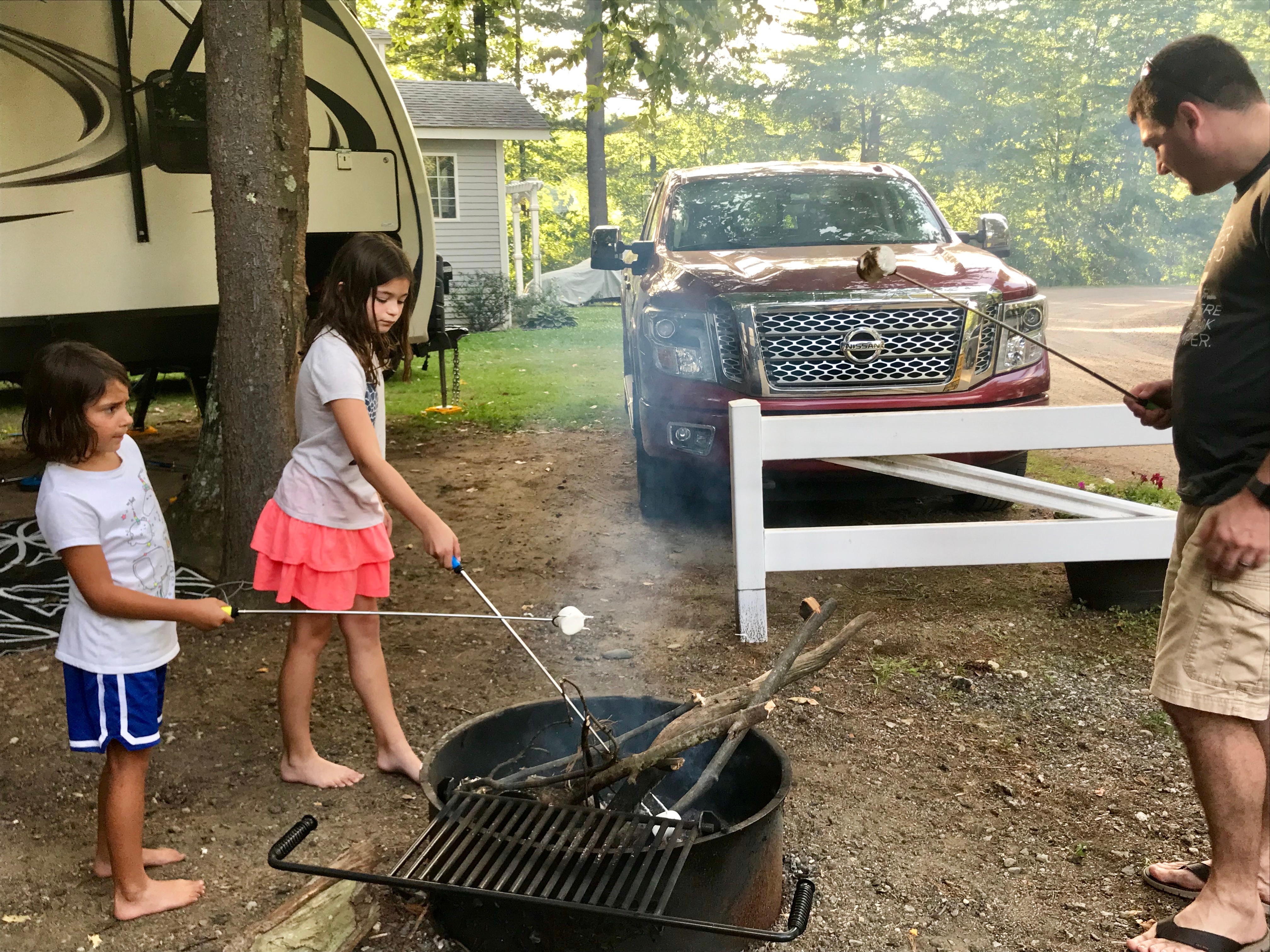 Ben:
Tuxbury Pond RV Resort is one of our Thousand Trails partner campgrounds. It was a great place to stay. With their large pool, Christmas in July event and free margaritas on Jimmy Buffett Weekend, we were able to keep both our kids and our adult guests entertained the entire time. The campground is close to several farms, which let you pick your own blueberries, as well as downtown Amesbury, Mass., which has a lot of great restaurants.
Over the weekend, we hosted our first large campout with friends. Our Reflection 312 has an outdoor kitchen with a cooktop, but it doesn't have a grill, so we brought to Olympian 5500 outdoor grill. It's small enough to store in an RV and is capable of quickly cooking the hot dogs and hamburgers we needed for our 12 guests.
We had a great time eating and sitting around the campfire with our friends. That evening, we had three adults and seven children sleeping in the RV and two adults and two dogs sleeping in a tent. We fit even more than the listed sleeping capacity of nine!
Evenings like this are a huge part of what makes camping so special.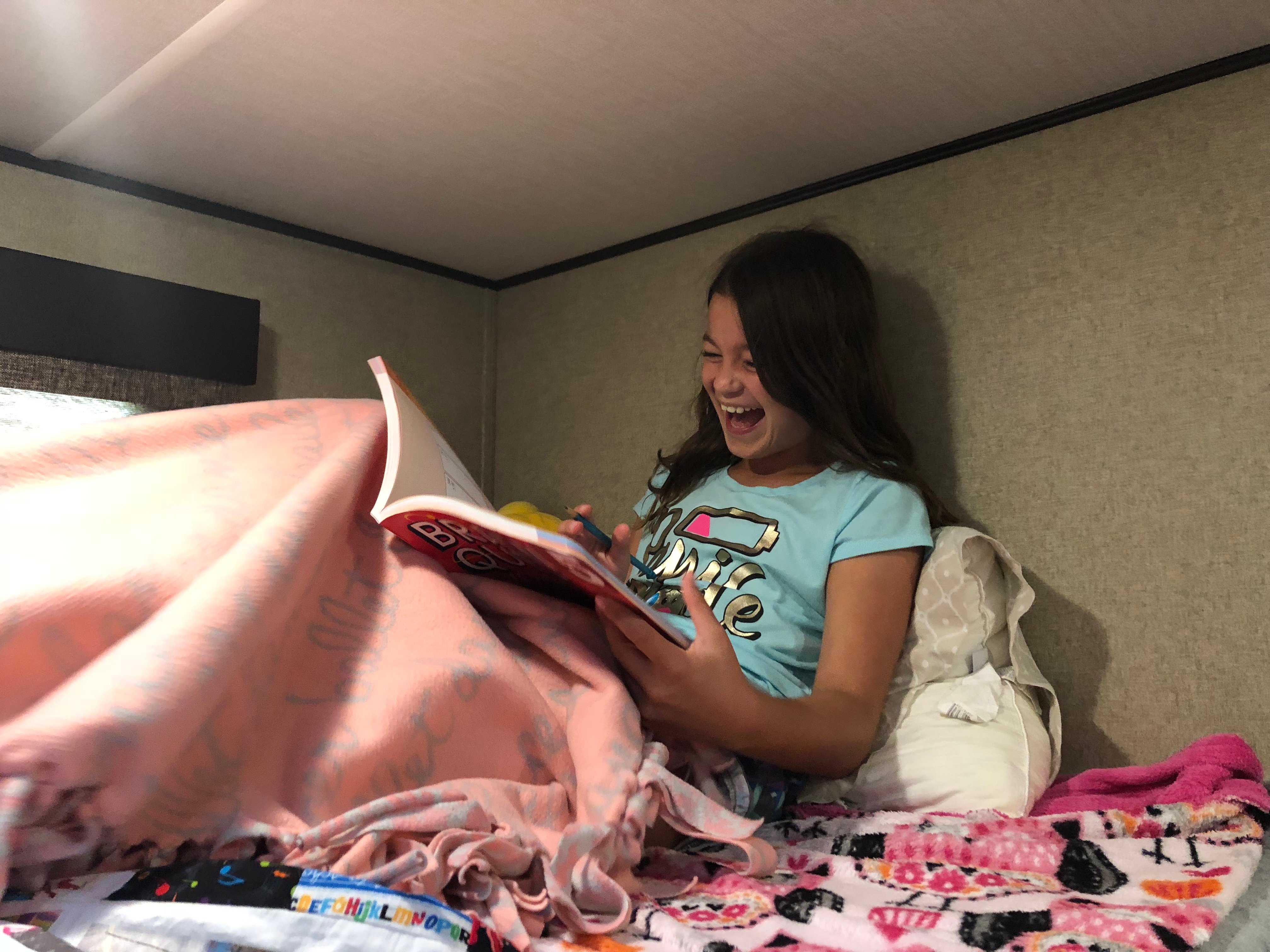 Laurie:
Since Ben is a veteran, we have made friends all over the world, including the Schusters. We met them in South Korea during Ben's tour of duty. They recently settled in Connecticut and were ready for a camping adventure. Mike brought his Boy Scout skills to start the fire, and we brought the marshmallows to roast.
Cooking is one of my favorite hobbies. I inherited that from my mother. Before our trip, I was nervous I wouldn't get to cook much in our RV. I was happy to learn I was wrong. I made fresh guacamole, pancakes, salmon, ribs, eggs, pasta with shrimp and so much more. The farms in New Hampshire are one of my favorite things about the state, and we were able to feast every day on fresh produce, maple syrup and blueberries.
The camper's fridge was the perfect size, and the cabinets held more food than we could eat. We have so much counter space I might try to make pasta with my stand mixer on our next trip.
Ben:
Overall, our stay was productive and fun. We took day trips on the weekends and spent time with our Campers Inn RV teammates during the weekdays. This was our last spot on our northern leg. Next, we are heading south towards Virginia and the Carolinas.
Learn more about Campers Inn RV: