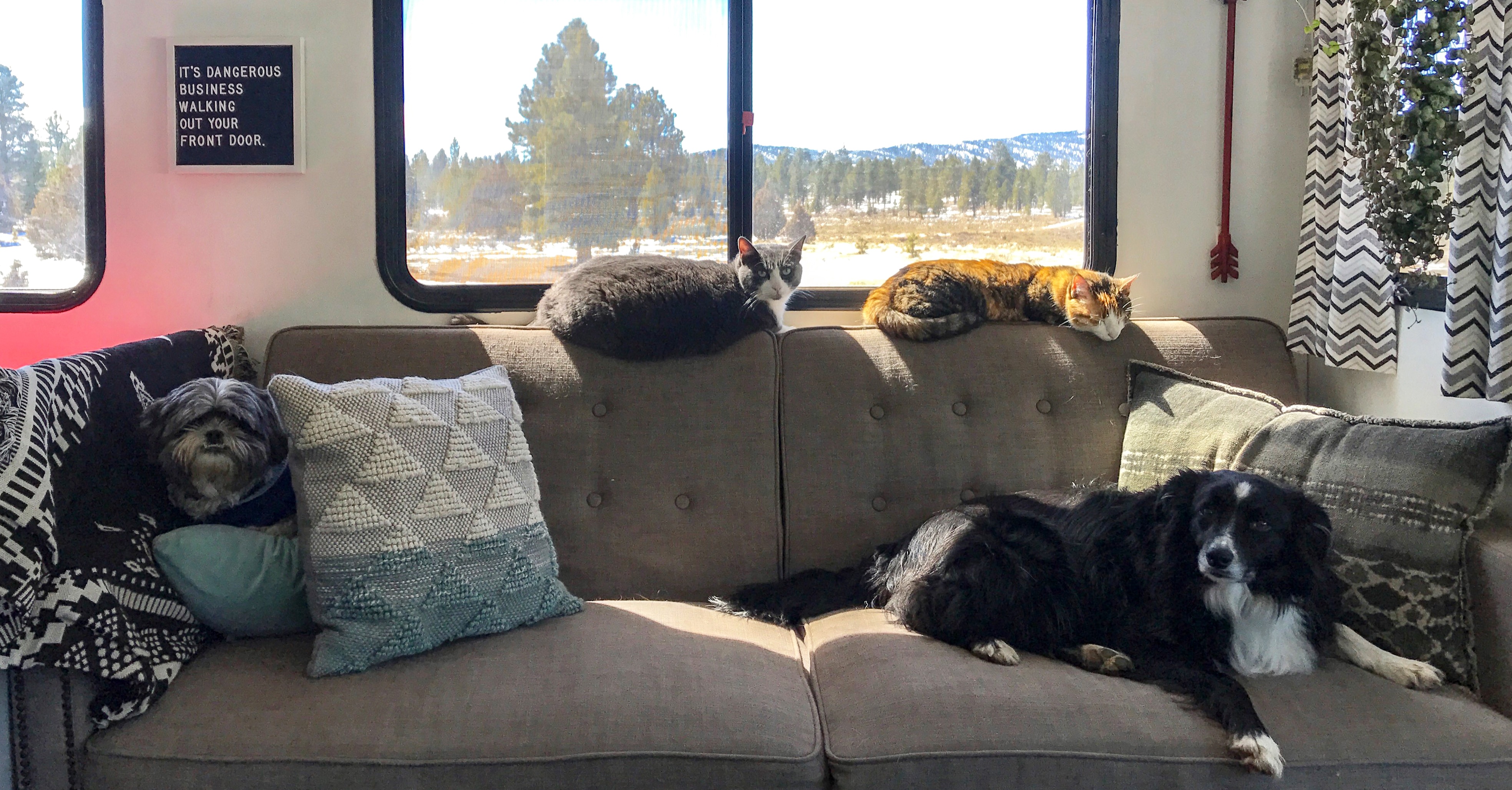 Brendan and I tossed around so many different ideas when we first thought about traveling full-time. We could backpack in Europe and stay in hostels, trek across the US in a train, drive in a van or even bounce between rental houses across the world.
But, our pets made all of these options seem impossible. We adopted three dogs and two cats when we lived in our four-bedroom house. No matter what changes we made, we would always need to include them in how we traveled.
We had previously seen other RVers bring pets along for adventures, so we figured that we could make it work for us, too. If you are considering full-timing RVing with your pets, here are 7 tips you should consider before hitting the road.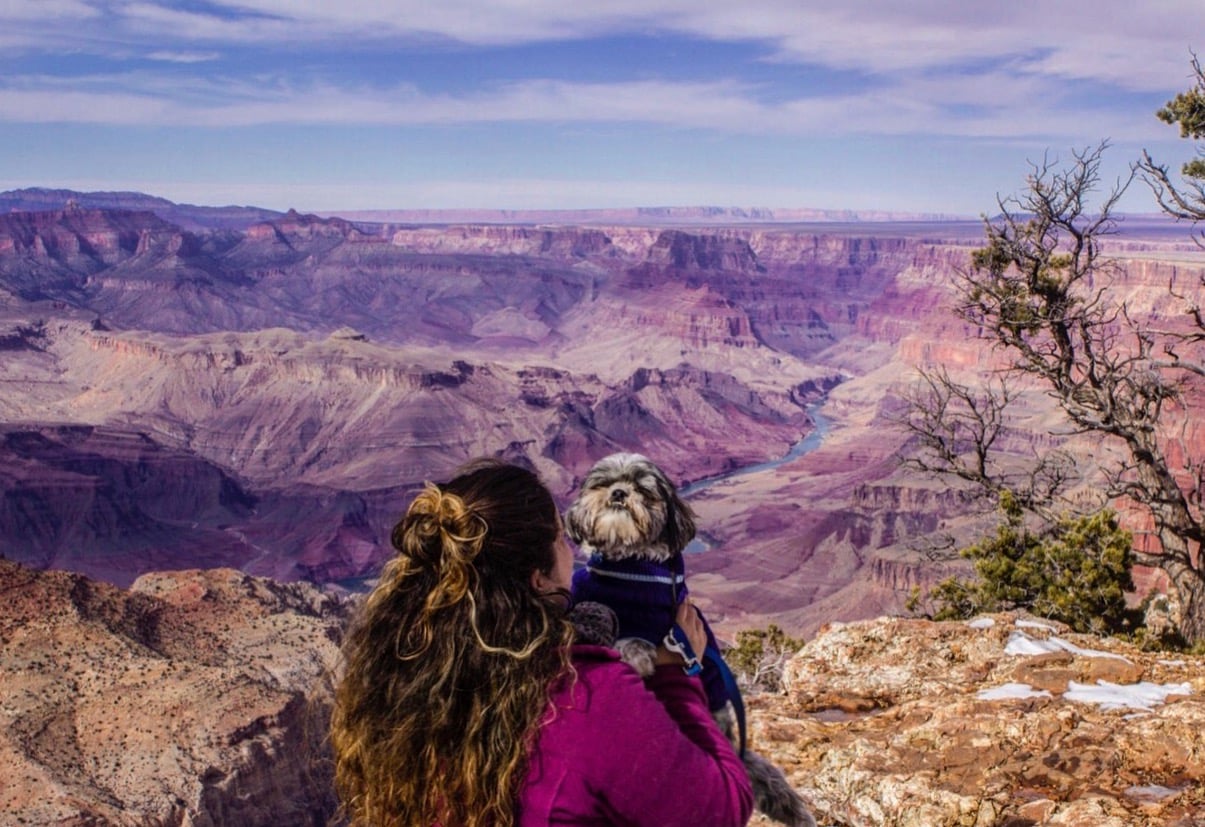 1. Where will your pets ride when you travel?
Your pets need to be comfortable when you are driving. We chose a motorhome so our pets could ride wherever they felt most at ease. They can even access their food, water and litter boxes while we roll down the road. Our dogs like to relax on the couch, and our cats typically stay in their bed under the passenger chair.
Your pets can still ride comfortably if you choose a fifth wheel or travel trailer. While it's not safe for anyone to ride in a trailer when it's being towed, you can clear enough space for your pets to ride in your truck's cab. Kitties tend to do best in carriers, but for most dogs, it's just like any other fun car ride.
2. Will you have enough space for your pets?
Since we have quite a few pets, we needed a larger home on wheels. We chose a 36-foot Class A motorhome with two slides which gives us 300 square feet of living area. It features an open floorplan that optimizes our space, so we can provide our pets with many places to sit, lie down and play. This space is especially important for our indoors-only cats.
3. What happens when you do something that is not pet-friendly?
Our RV is our pets' home, even though it may be smaller than our previous homes. When we lived in a house and we had to leave for a few hours, we simply left our pets inside. It's no different in our RV.
However, we do take a few important steps to ensure they are comfortable. We draw the shades to block out the sun and keep our dogs from barking. We play music to drown out nearby sounds. We leave plenty of food and water, and we put their favorite toys out so they can play. We also have a small dashboard security camera that links to our phones, so we can easily check in on them. Although we have never had an issue, the camera gives us peace of mind.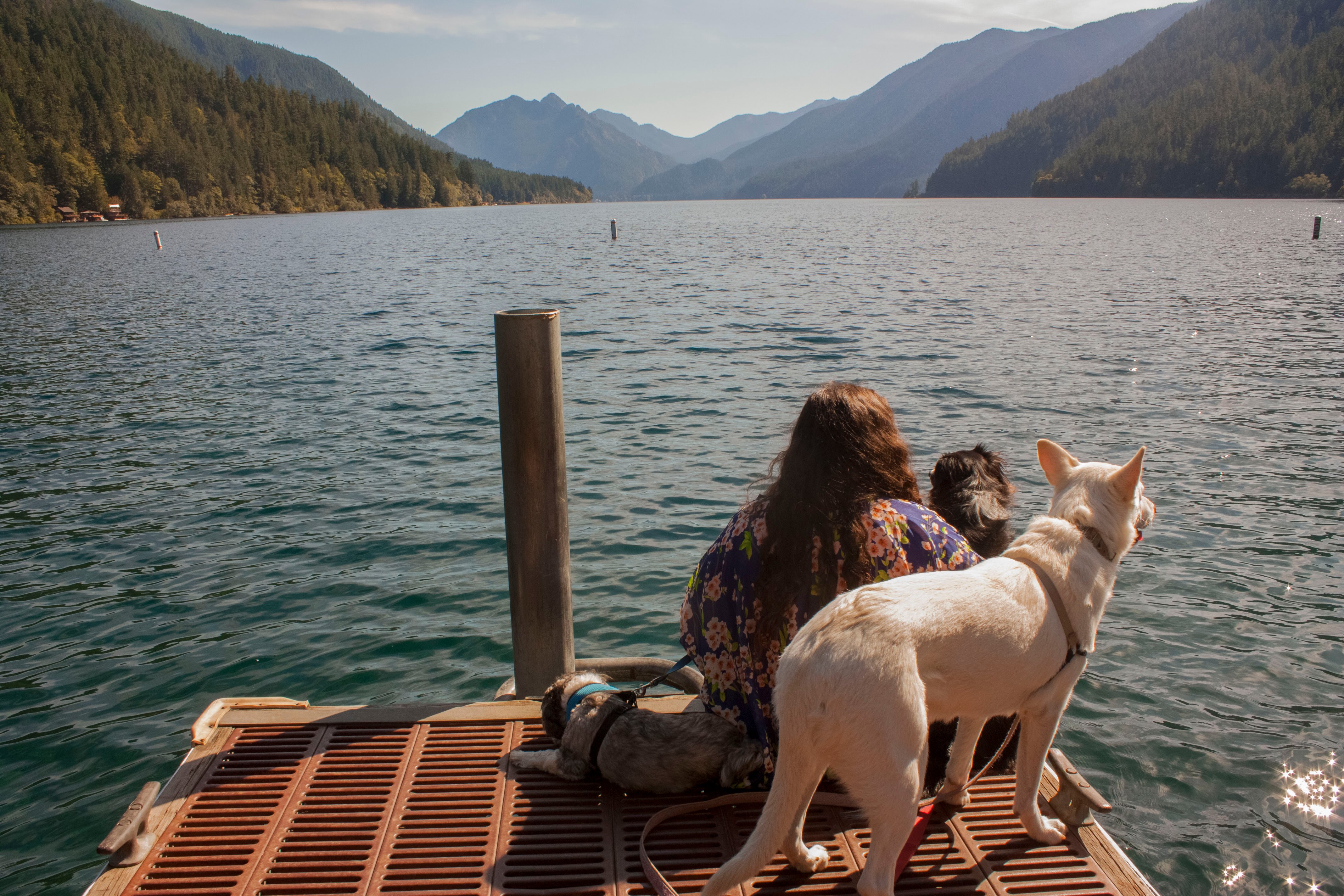 4. How will you manage hot/cold temperatures with your pet?
To avoid uncomfortable temperatures, we tend to travel with the seasons. We head north in the summer and south in the winter. Because of this, we do not typically encounter temperatures above 85 degrees or below 40 degrees.
Still, we have been camping in the 90-degree heat a few times. Since we like to live unplugged and off-the-grid, we try not to run our AC. To beat the heat, we keep our shades drawn, deploy our awning to block out the sun, open our windows and run our three fans. We do not leave our pets alone if it gets really warm. If the weather becomes too uncomfortable, we can always go to a campground and run our AC to cool off.
5. Where will you purchase and store your pet's food?
RVs have an incredible amount of storage, so we have never lacked space for pet food. Buying the food is a different story. We recommend choosing brands you can find in almost any big box store. That way, you have a good chance of finding their food anywhere you travel.
We also like to buy much more food than we need so we don't run out when we are far from town. This requires some planning ahead. In a pinch, we have ordered food online and had it shipped to a nearby post office or campground.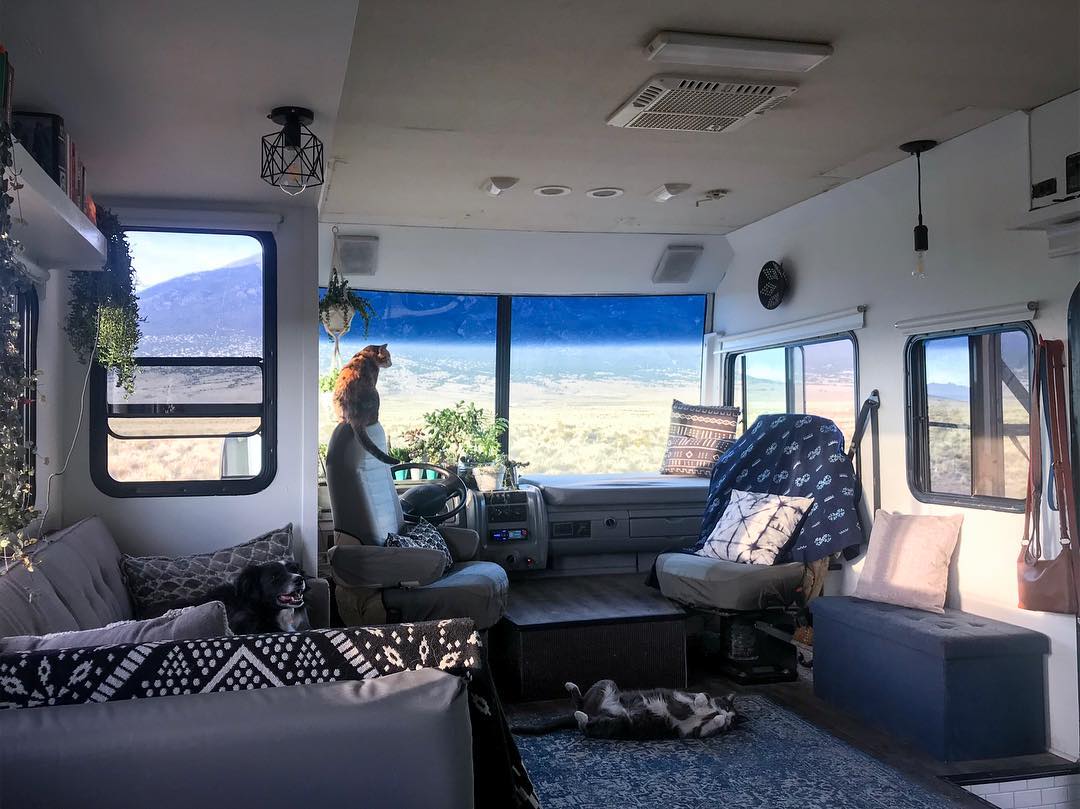 6. How will you ensure that your pets receive adequate exercise and playtime?
Exercise for your pets is important, especially when they live in a small space. It helps them be more relaxed, happier and better behaved when they are inside.
Because we work from home, our pets actually get more exercise than they did living in our house. When we are boondocking, we play fetch and frisbee with our dogs several times a day. We also take them running and hiking with us. When we stay in campgrounds, we take them to local dog parks.
While it's not true for every cat, our cats don't seem to need much exercise. We keep plenty of toys around for them, and we built a big scratching post. They most enjoy watching wildlife roam about outside of our RV. We set up a suction cup bird feeder to our window, which offers our cats hours of enrichment and keeps us entertained as well.
7. How will you handle veterinary care on the road?
I have a background in veterinary medicine, so pet healthcare is important to me.
Since our pets do not have a regular vet, I signed them up for a health plan with a national veterinary chain. Our provider has locations in almost every city and well-populated area, and we can bring them into any one. Because we don't have a home veterinarian, we have to keep our own records to know when our pets are due for vaccinations and check-ups.
If you don't want a health plan for your pets, you should be able to visit any nearby vet when you need to. They will likely need to see proof of the last date of vaccination, so be sure to be diligent about record-keeping.
We buy flea and tick collars at a national pet store chain. They are effective, and they last for eight months. We also buy a year's supply of heartworm meds to avoid the need for regular purchases.
Finally, we try to be aware of local threats like wildlife and poisonous plants. Luckily, we have had very few issues since we have been traveling. I keep the number for a local emergency veterinarian handy in case the worst should happen.
Although it may sound tricky, we have found it fairly easy to care for our pets on the road with some practice. For us, the joys outweigh the inconveniences. We find it much more thrilling to experience new and exciting places with our furry friends by our side, and they seem to enjoy traveling as well. They get to swim in lakes, hike trails, meet other pets, visit restaurants and breweries and so much more. Their lives are enriched and fulfilling. With some careful planning, your pets can love life on the road just as much as ours have.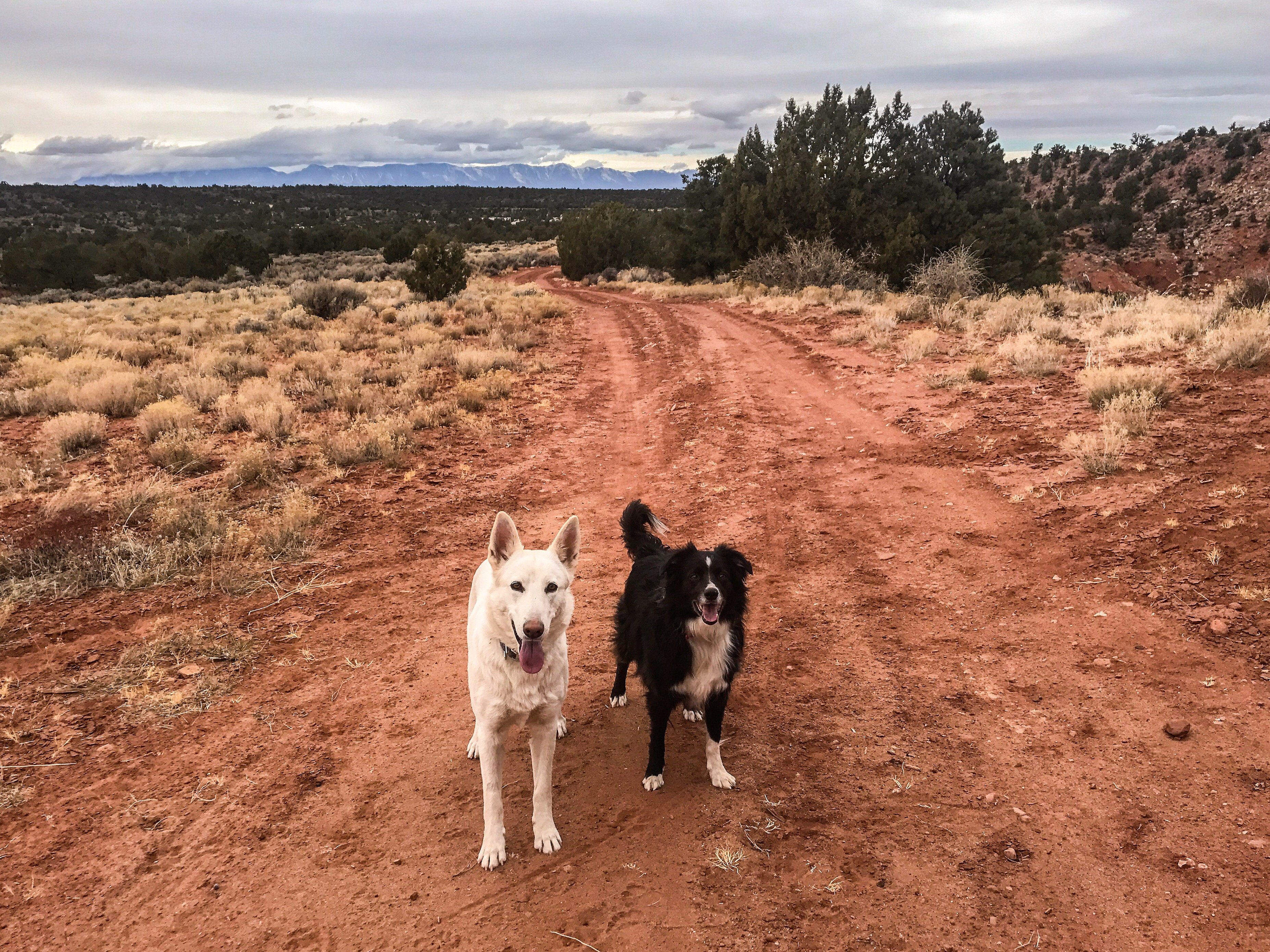 Are you getting your RV ready for the winter? Download our free RV Winterization Guide!