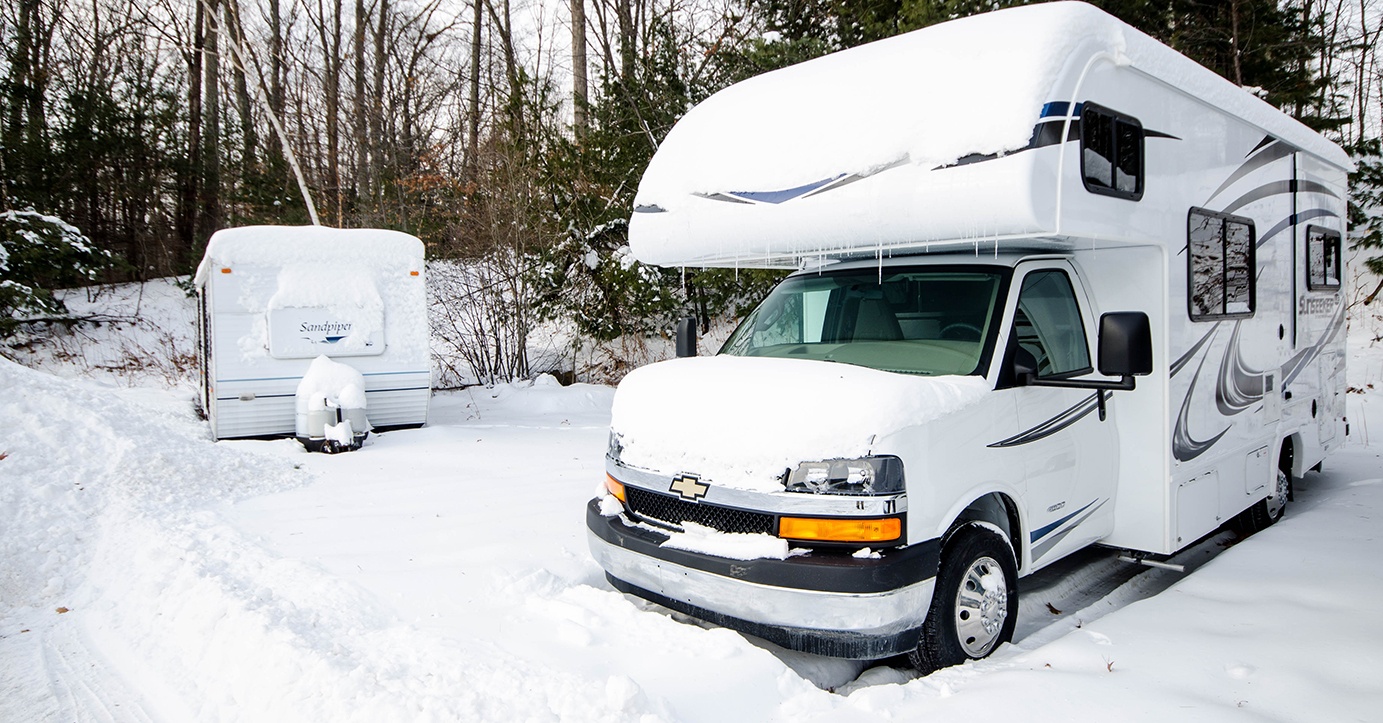 After you got your RV water system ready for the off season, it's time to begin the process of preparing the interior and exterior for winter.
To start, thoroughly wash and inspect the exterior of the coach using the appropriate cleaners. Rubber roofs require a non-petroleum based cleaner. There are rubber roof cleaners and treatments manufactured specifically for rubber roofs. Black streak remover is another product that is commonly used to pre-treat the roof run off that leaves residue on the sidewall. Cleaning your unit will reveal items you may need to address immediately.
Winter exposure can be tough on RV surfaces.A few things to look for are: roof seams and seals, vertical seam seals, vent covers, exterior window seals, exterior lighting seals and slide out room seals. Any cracks, tears, or damage should be repaired now before the winter causes further damage.
If you choose to cover your entire rig, be sure that the fabrics are non-abrasive and breathable so they do not aid in the collection of interior moisture (i.e.: avoid vinyl tarps). RV covers are available in various sizes for class A, class C, travel trailer, fifth-wheel, toy haulers and pop up campers.
If covering your unit is not an option, try to block the suns rays from harming all interior fabrics including curtains, mini blind strings, day night shades, furniture coverings and carpets. Block windows from the inside using a cut-to-fit product. This will allow you to use the same covers year after year. Be sure to cover your air conditioner with an Adco air conditioner cover to prevent Mother Nature from filling it up with pine needles, acorns and leaves. It will also help prevent sun deterioration from occurring to the hard, plastic shroud.

UV rays can rapidly accelerate protectant bleed off and the deterioration of tires while causing sidewalls to crack or craze. Inflate tires to their recommended pressures levels as stated by the coach manufacturer. Cover tires with vinyl tire guards by Adco to prevent UV damage. If possible, it is best to drive or tow your unit to keep the natural carbon black in the rubber moving to lubricate your tires. Spray treatments are not recommended by tire manufacturers, so use caution.
Dri-Z-air, No Damp and Damp Rid are all products that use calcium chloride, which by nature is a dehumidifier. Placing containers of this product inside your unit will prevent moisture from building up and leaving your unit smelling musty and moldy. Vent Mate and Maxx Air covers allow you to keep air circulating in your unit, both products have been proven to prevent interior moisture problems as well.
Insect and rodent abatement is also a serious concern. Paradichlorobenzine (moth balls) in containers around the exterior of the coach will deter rodents. Dryer sheets or cedar chips inside may also help. Remove all food items from your unit and clean thoroughly under all furniture and inside all cabinets and drawers. Then, inspect entire rig for possible entry points, the smallest orifice should get your attention and don't forget the underbelly. Plug holes using metal covers or use a non-rusting metal dish scrub pad because mice are notorious chewers. Do not overlook exterior storage compartments.
Also, think twice about rodent baits such as poison, these items give a delayed reaction. Dying rodents have been known to work their way into places we cannot find where they decay and reek for a long time.
Protecting the exterior and interior of your RV is a very important step when prepping your rig for the the off-season. It is to make sure your camper stays in tip-top shape during the winter, so it is ready to use when camping season rolls around again!
If you're winterizing your RV yourself, make your shopping list with the essential RV winterization shopping list and 11 products you will need.