Check out the new 2022 Storyteller Overland Classic MODE 4x4 with this virtual walkthrough. This is a great RV for solo or couple campers because of the size and amenities. Although it is smaller than the larger motorhome classes, it still has tons of unique and innovative features.
Get to Know Storyteller Overland
Storyteller Overland was created by adventurers for adventurers. They want RVers and outdoor enthusiasts from all walks of life to have access to resources, gear and a community to connect with.
Storyteller Overland has four different models offering features and amenities that appeal to any camper, on any budget. Everyone can find their dream RV and start living the van life.
Want to learn more about Storyteller Overland? Check out their website.
What is a Campervan?
A campervan, or Class B motorhome, is the smallest of the motorhome types as it is built on a van chassis. As they are smaller motorhomes, they offer fewer features as well as interior living and storage space. But that doesn't mean they aren't extremely popular RVs.
Campers love living the van life because there is better gas mileage and they are easy to drive. Campervans still offer everything RVers need to camp at a campground or boondock at a National Park.
Quick Facts about the Storyteller Overland Classic MODE 4x4
The Classic MODE 4x4 is 20-feet long with a gross vehicle weight rating of 9,050 pounds. It is built on a Mercedes Benz sprinter van chassis.
The freshwater tank capacity is 21 gallons while the grey tank capacity is 24 gallons. It has a large 10-foot-long awning that extends out 7 feet, making for a large, shaded area to relax in.
Stylish Exterior
The exterior of this RV is unique because of the stripped paint around it. Not only does it look nice, but it also includes great features. There is a powered awning with dimmable LED lights to choose the exact amount of lighting you want.
There is also a roof rack with a wind deflector, side mount ladder and a lower solar port. The exterior also comes with four 110V outlets.
Cab Conveniences
The cab area of the Classic MODE 4x4 has heated, swiveling driver and passenger seat. These seats are comfortable for traveling and they can also be used to socialize while set up at the campsite. There is an MBUX multimedia system with a 10.25-inch touchscreen and satellite radio.
It comes standard with intelligent navigation to get you to your next adventure easily. The parking package has 360-degree cameras to make parking and maneuvering effortless.
There are more convenient features in the cab area like smartphone wireless charging, brake, lane-keeping, traffic sign assistant and more.
Galley Kitchen
Home chefs can make great use out of the Classic MODE 4x4 galley kitchen. There is a stainless-steel sink with folding faucet, dual voltage refrigerator, stainless steel microwave and a portable induction cooktop. Although the space might be small, it is fully functional to make amazing home-cooked meals.
Luxury Living Space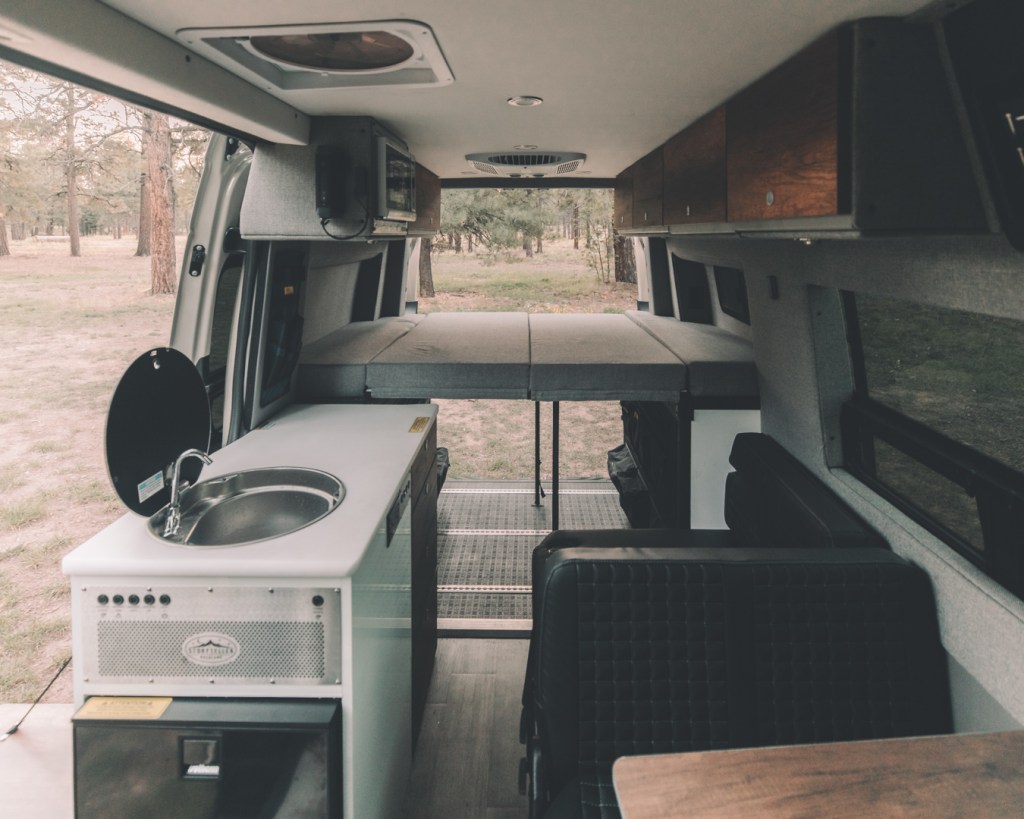 The interior of the Classic MODE 4x4 has two different convertible bed systems. One can be folded up and used as a work surface for those who need to work remotely. The other can be used as a sofa or folded out as extra sleeping space.
There are dimmable LED lights, removable upper cabinetry, garage cargo area and an 11-inch full-color touchscreen control system. There is also a portable Bluetooth speaker that can be used inside or out.
Innovative Bathroom
The Classic MODE 4x4 has a hidden bathroom system. There is a portable toilet and a halo interior shower system.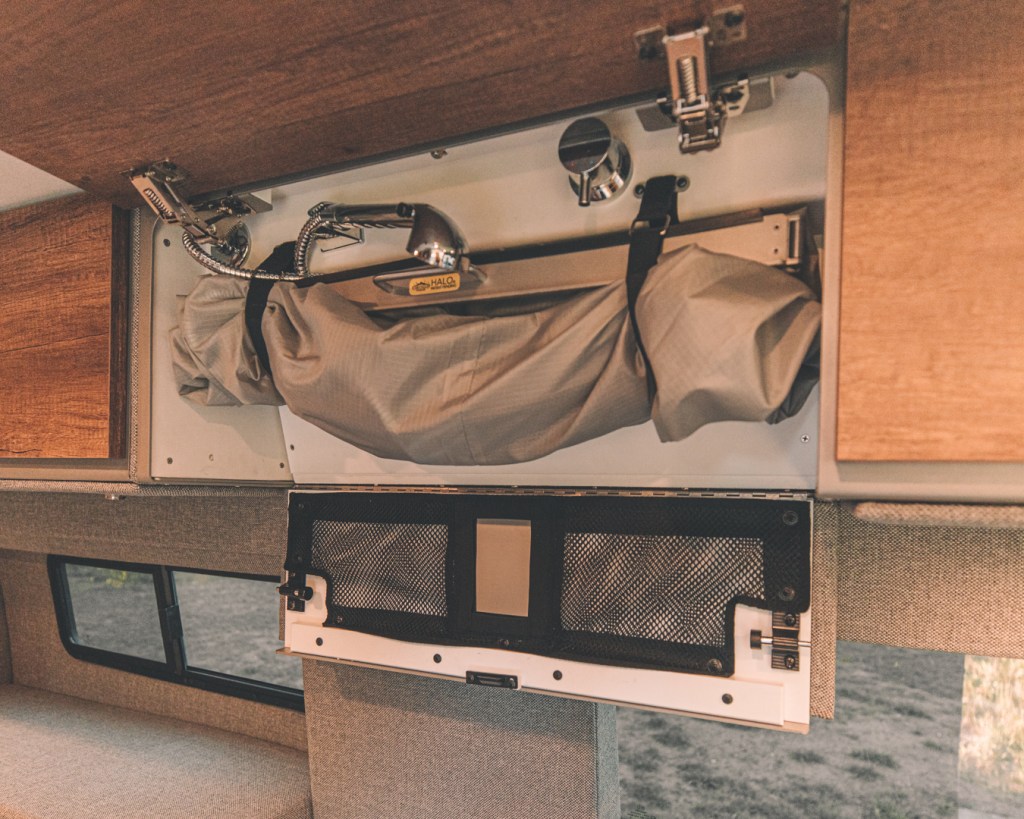 There is a shower basin that doubles as storage when not in use. There is a cabinet above the shower basin that stores the showerhead and fold out curtain. It can easily be hidden away when it is not needed. There is a hot water recirculation system, so campers don't need to cut the showers short.
Conclusion
The Storyteller Overland Classic MODE 4x4 is an excellent choice for campers who crave adventure. It has everything they need to set up camp and the freedom to roam anywhere.
Ready to start your next road trip in a Storyteller Overland? Start shopping here.
Additional RV Resources:
Learn more about the Winnebago Travato Class B motorhome.
Learn more about the Best Class B RVs.