All Things RV is a new podcast from Campers Inn RV. Each week, on Thursday, All Things RV brings you information about the RV industry, campgrounds and lifestyle hacks through interviews with RV industry veterans, RVers, manufacturers and more.
All Things RV is available on Spotify, Stitcher and SoundCloud. You can listen to this episode in the player above or read along to learn more.
On this episode of the All Things RV podcast, they talk about the Mirada, an affordable and featured-packed Class A motorhome from Coachmen RV with Greg Sirpilla from the Coachmen RV motorhome division and take a deep dive into the unique details of the Coachmen Mirada 35ES (3:22).
Later on in the episode (26:23), the hosts speak to Shannon Boudreaux from Coach-Net, an RV emergency roadside assistance company helping keep RVers safe on the road.
Coachmen Mirada 35ES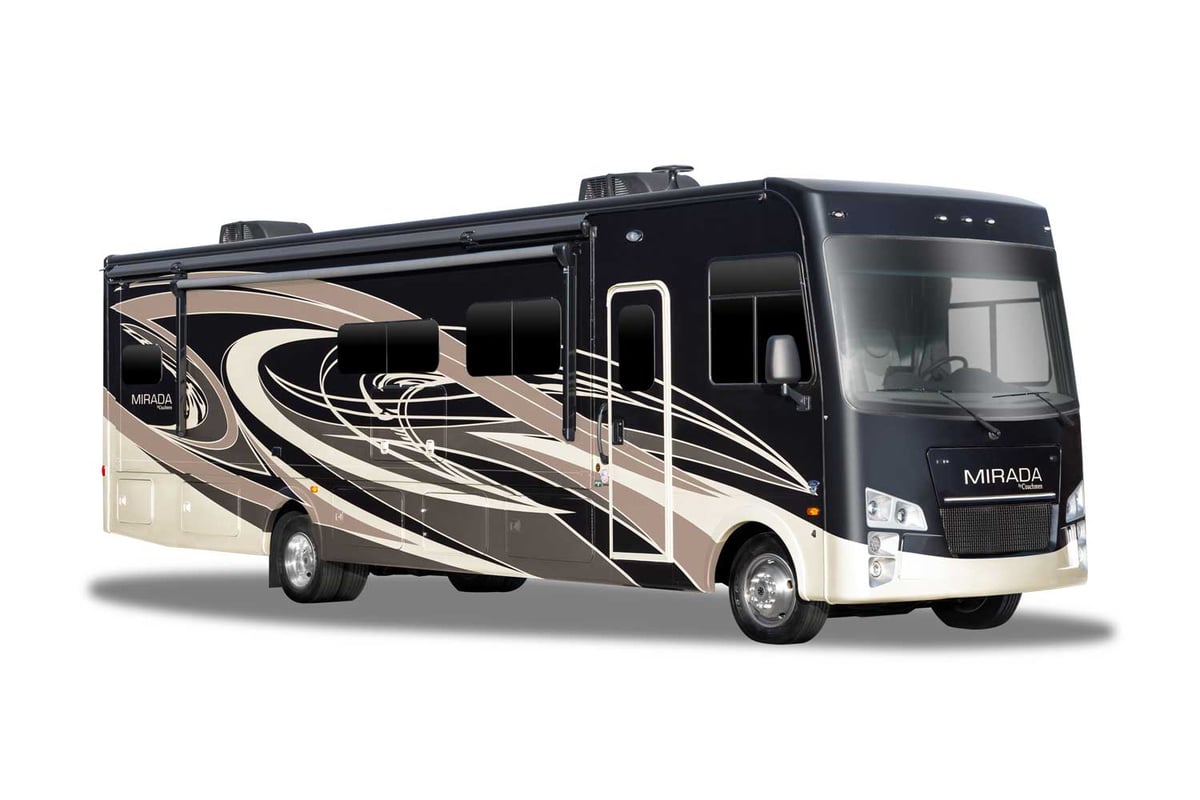 The Coachmen Mirada 35ES is a Class A motorhome built on a Ford F53 chassis 7.3L V8. The new V8 engine has more horsepower than the older V10 engine. The 35ES is 36'10" in length and has a gross vehicle weight rating of 22,000 pounds.
Several features stand out to RVers in the 35ES including the king bed, one and a half bathrooms, bunks that can be used as mobile office space and an over-cab bunk for even more sleeping space.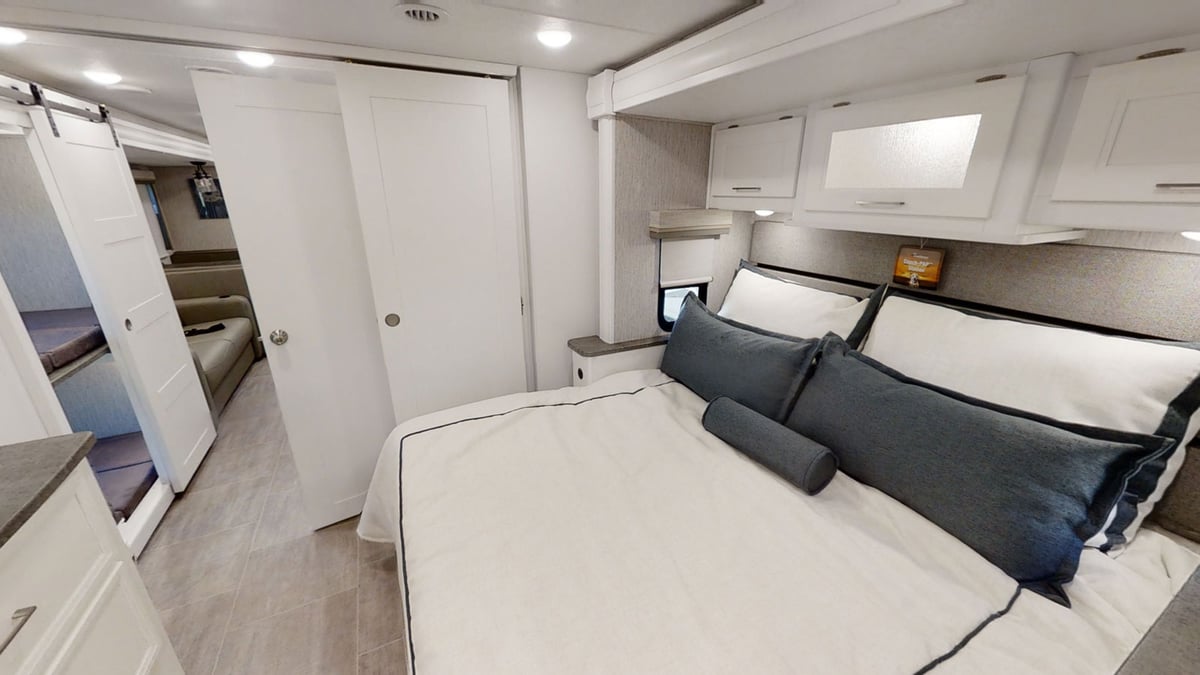 The bunk beds have USB plugs so campers can use their electronics as they are charging. If the bunk beds are not needed, it can easily be converted to a mobile office. This is great for full-time RVers who continue to work while traveling.
The common space features a booth dinette, sofa bed, or optional power theater seating, galley kitchen and an LED TV and fireplace. The interior of the Coachmen Mirada is a spacious area that feels like home.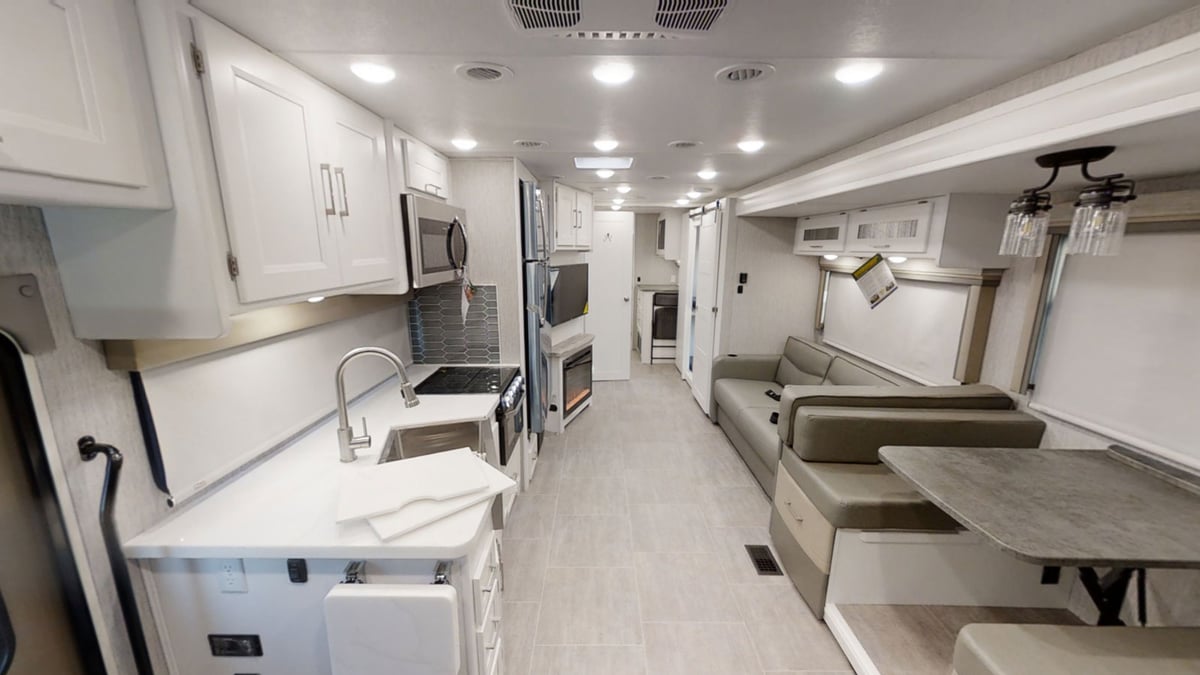 The exterior even features an outdoor LED TV and kitchen for those who like to enjoy the outdoors and is perfect for tailgating or hosting people at the campground.
If this sounds like the perfect RV for you, shop our available Mirada's here.

Coach-Net
Shannon Boudreaux from Coach-Net joins the show to discuss the RV roadside assistance brand, Coach-Net. Coach-Net is a useful resource for new RVers and experience campers as it is there for you when something goes wrong, any time of day.
Memberships include 24/7 RV technical and roadside assistance, hazard protection, RV protection, finish protection and asset protection. If a camper is new to the RV world and they need help setting up their RV at the campsite, they can make the call to Coach-net and they will walk through the steps to set up the RV.
Besides typical set-up and maintenance questions, Coach-Net is also an emergency roadside assistant. If something with the tires or anything else goes wrong while on the road, Coach-Net can help with either a phone call walkthrough, or if needed, they can send someone out to assist as well.
Coach-Net offers peace of mind to campers as it is a reliable resource they can count on at any time and any day of the week. It is better to know you are protected and have access to help.
If you are interested in a membership or want to learn more about Coach-Net, click here.
All Things RV is a podcast by experienced RVers and RV enthusiasts discussing the RV lifestyle. From different RV types and models to campgrounds and more, the podcast is the go-to for All Things RV.
Follow All Things RV on Soundcloud and don't miss an episode!
Coachmen RV builds more than just motorhomes, they also have popular fifth wheels and travel trailers. Get to know more about Coachmen RV.