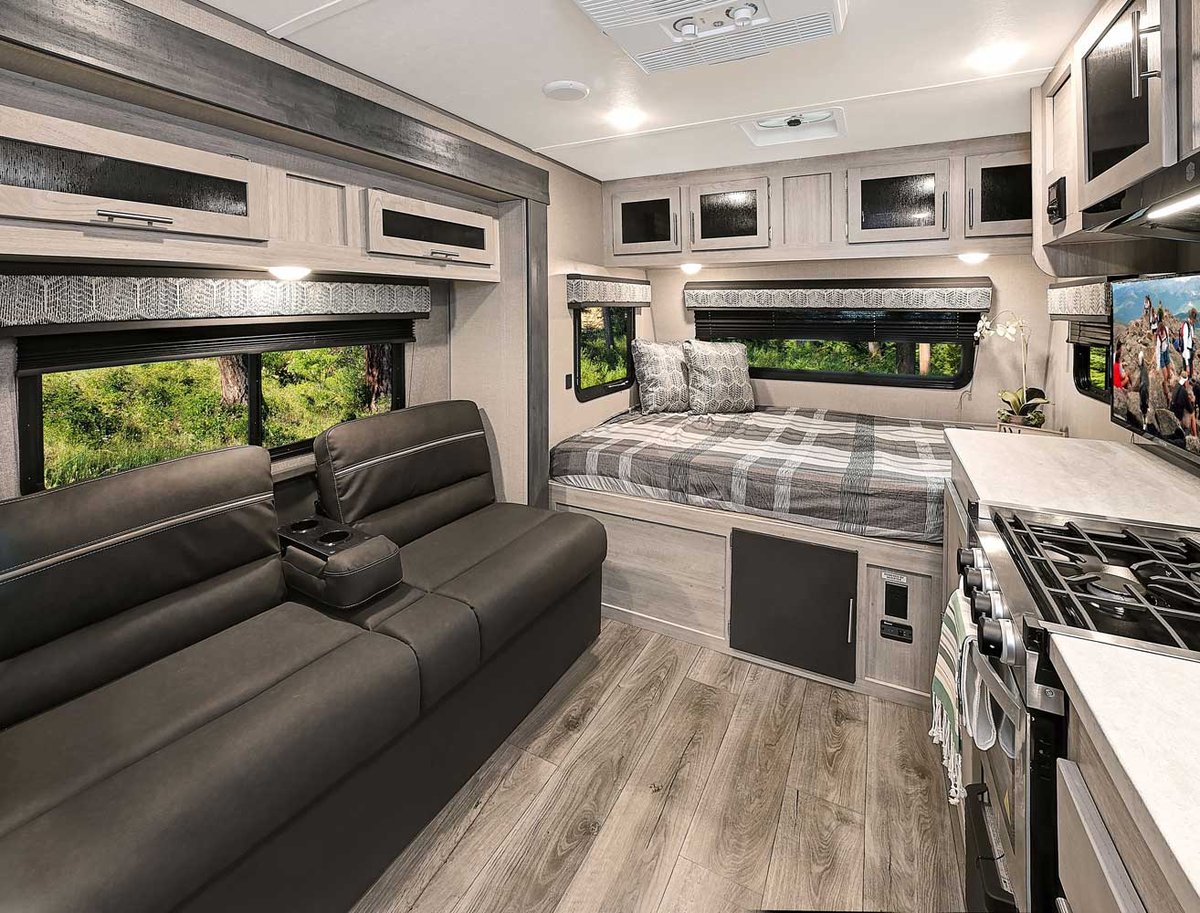 The Coachmen Catalina is known as a versatile and family-friendly travel trailer. There are four different types of the Catalina, each with several different floor plans to choose from. Because of all the different versions of a Coachmen Catalina travel trailer, there is a perfect unit for every family based on their lifestyle, budget, camping style, wants and needs.
This travel trailer is packed full of different amenities and features that are standard in every unit while maintaining a budget-friendly option.
What is a Travel Trailer?
A travel trailer is a type of RV that is towed on the back of a truck or SUV. Depending on the size of the trailer, smaller SUVs and vans can have the ability to pull, but typically it needs to be attached to a large truck or SUV as its tow vehicle.
Travel trailers are RVs that can be unattached from the tow vehicle when it is parked and set up at the campsite. This makes it easier for campers to explore the area during the day and come back to their RV in the evenings.
More About Coachmen RV
Coachmen RV was founded in 1964, and since then, has become a well-known brand, building and selling over 600,000 RVs. They made their brand on the principle "dedicated to the enrichment of your life." Today, Coachmen RV relies on the relationships created and maintained throughout its time in the business with its customers and dealers.
They value creating simple and functional RVs that can be enjoyed by campers from all walks of life and within any budget. To learn more about Coachmen RV, click here.
Coachmen Catalina Travel Trailers
Catalina Expedition
Catalina Summit Series 7
Catalina Summit Series 8
Catalina Legacy Edition
Catalina Expedition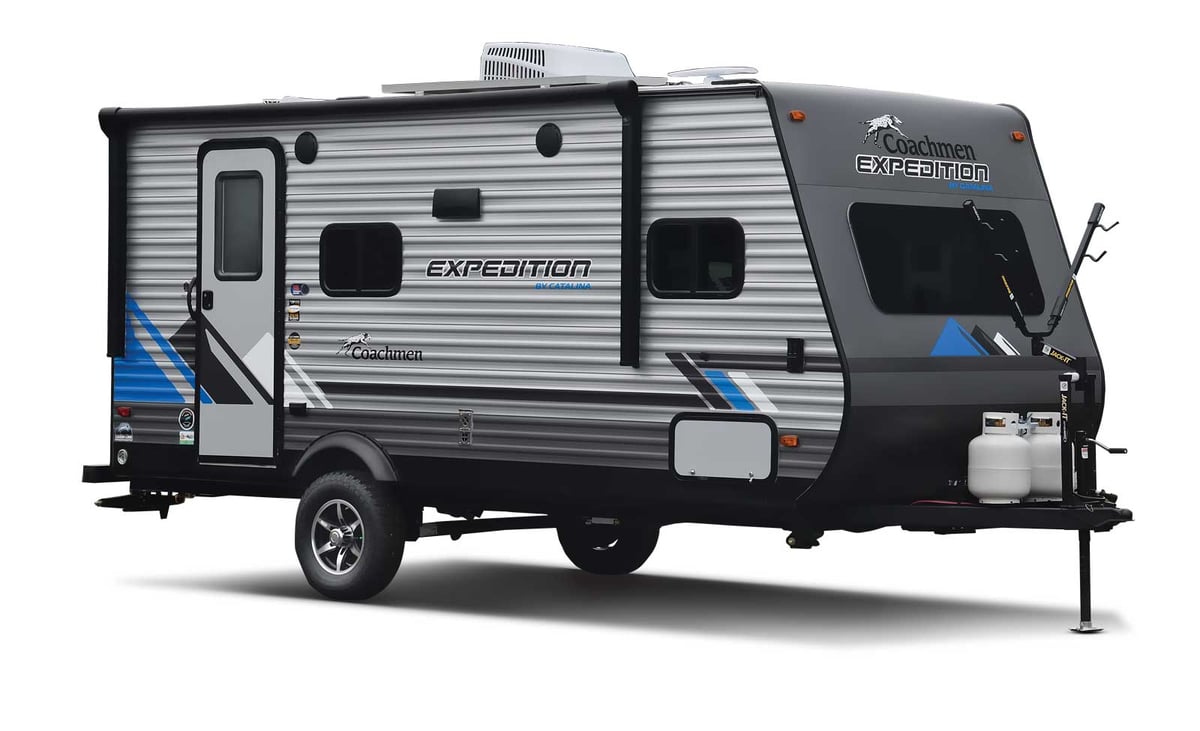 MSRP starts at $38,568
The Catalina Expedition is a lightweight travel trailer perfect for campers who love adventure. It is 21'8" long and has a gross vehicle weight rating of 5,040 pounds and a 13' exterior awning. The exterior has a lot of features for those adventurous campers such as the bike rack on the front of the RV and an optional kayak carrier on the roof. The exterior also features another fold-down rack and generator prep. The interior features a queen bed, galley kitchen, sofa with table, wardrobe, and TV entertainment center, and a 32" x 32" shower in the bathroom.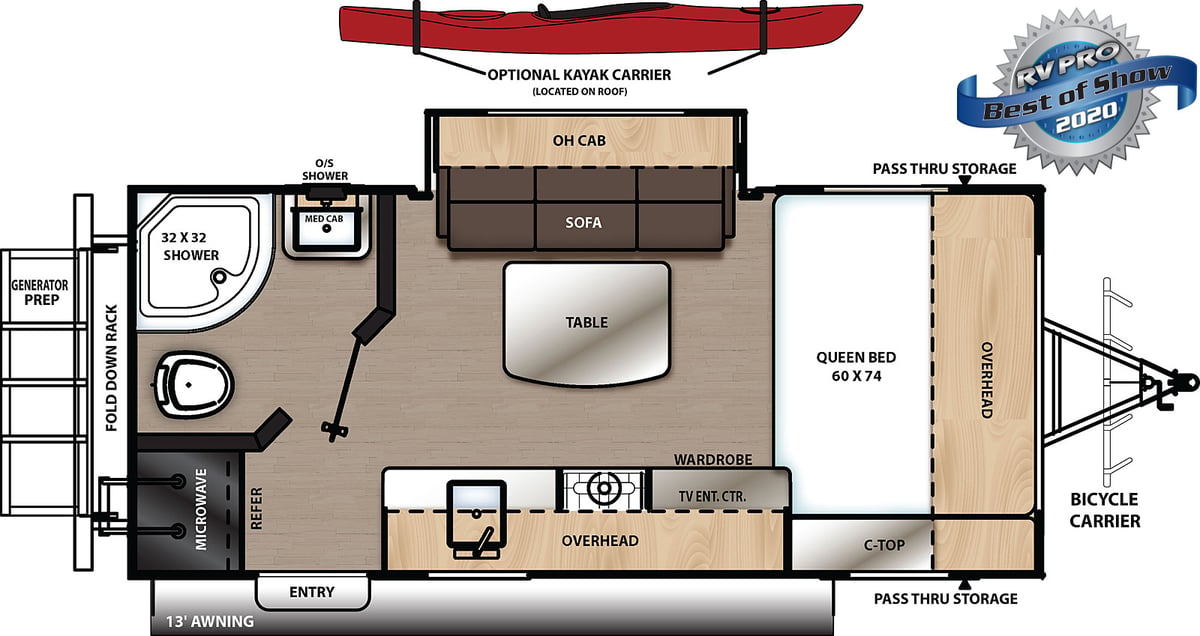 >> Shop the Catalina Expedition now.
Catalina Summit Series 7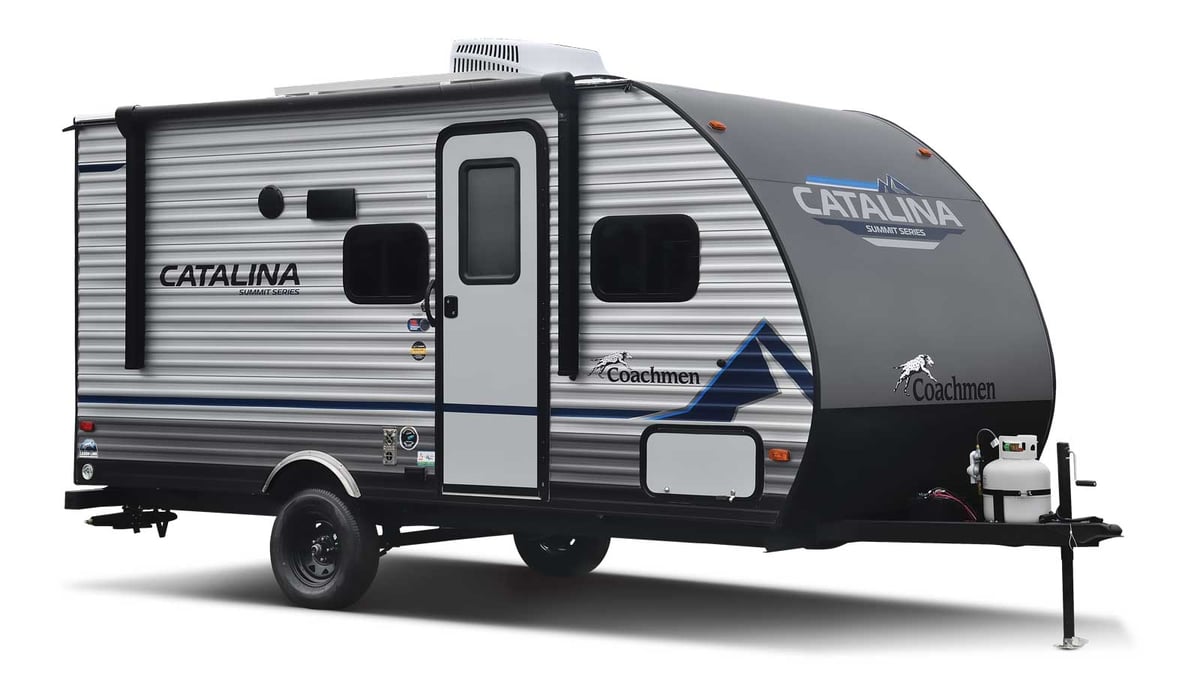 MSRP starts at $35,715
The Catalina Summit Series 7 is one of the newest models in the Coachmen Catalina line. It comes in four different floor plans so every camper can find their perfect fit. The length ranges from 19'6" to 23'1" and the gross vehicle weight rating is between 4,386 and 5,500 pounds. The Summit Series 7 has floor plan options with and without a bunkhouse, depending on how many people you camp with. The exterior features a stabilizer jack, a leash link for pets, JBL elite exterior speaker, and more.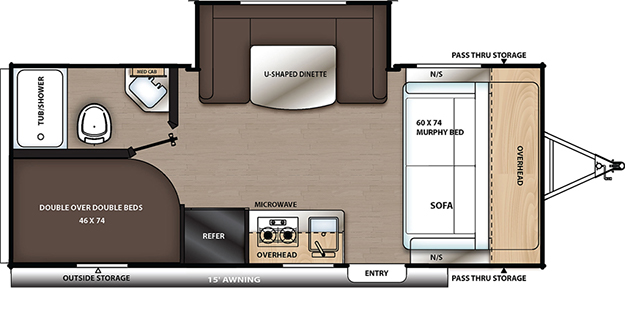 >> Find your dream Catalina Summit Series 7 here.
Catalina Summit Series 8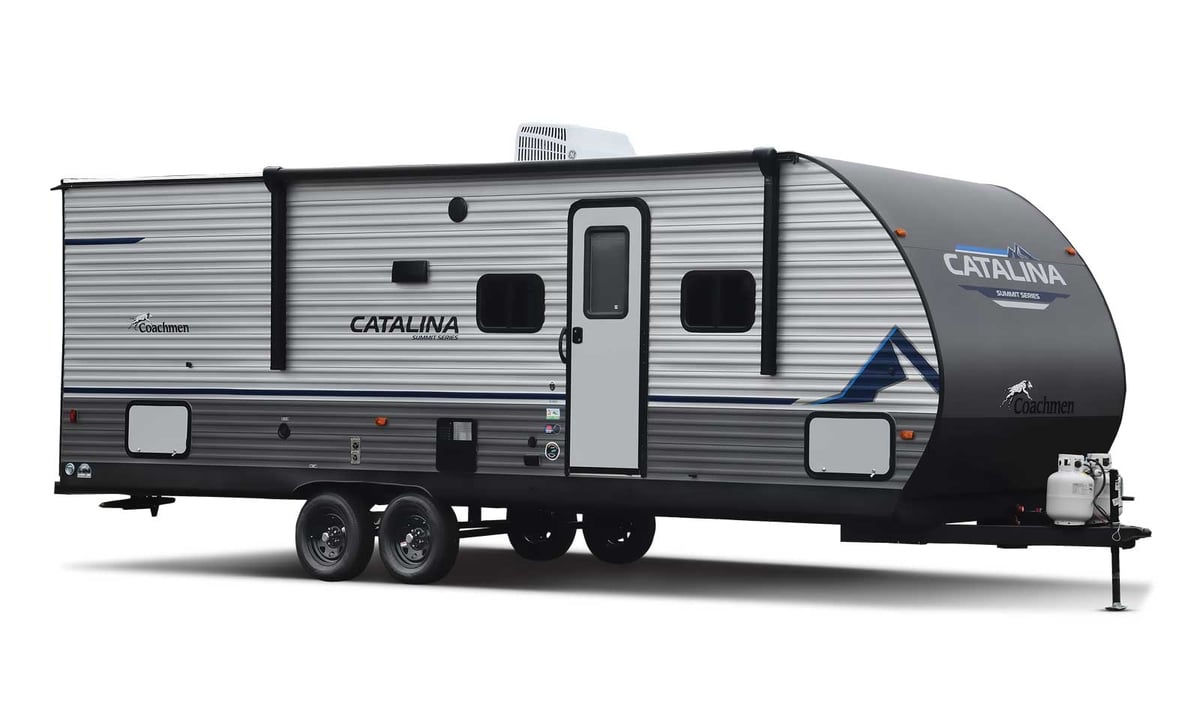 MSRP starts at $39,317
The Catalina Summit Series 8 is the larger travel trailer in the Catalina Summit Series. There are three available models for this RV, ranging from 28'2" to 30'5" and a gross vehicle weight rating between 4,822 and 5,441 pounds. This camper is a great choice for camping families because of the size and additional sleeping space such as the double over double bunk bed in the 261BH model. It also has a lot of built-in storage space like the under-bench dinette storage, under-bed storage, and overhead cabinets throughout.

>> Start looking for a Catalina Summit Series 8.
Catalina Legacy Edition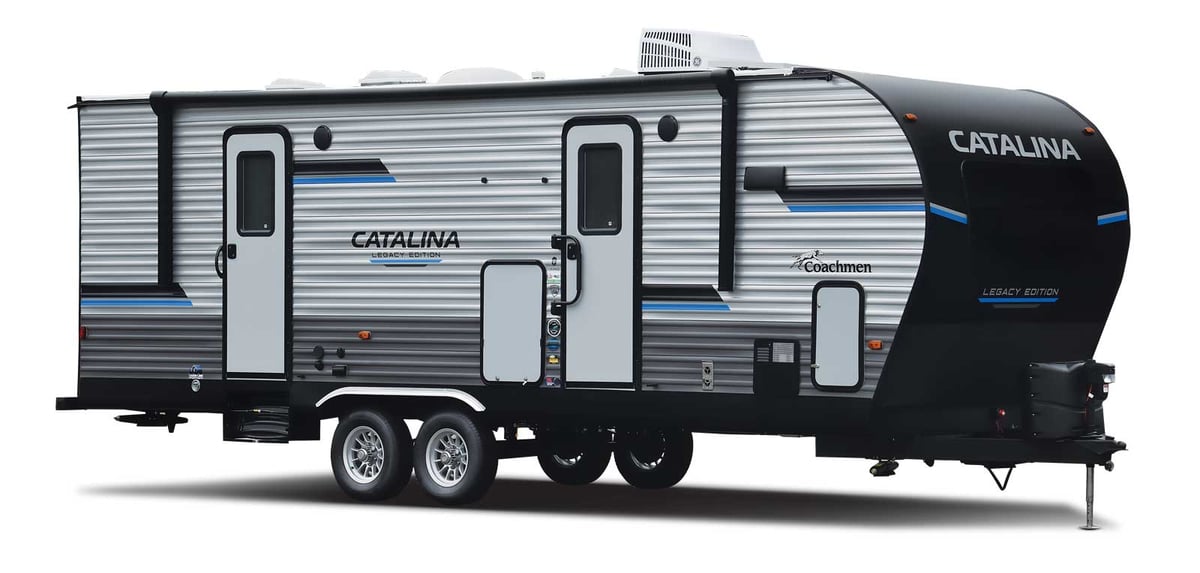 MSRP starts at $51,224
The Catalina Legacy Edition is the perfect choice for campers who want a spacious home on wheels. Depending on the model, it is up to 38'6" in length and 11,290 pounds for the gross vehicle weight rating. There are over 11 different floor plans to choose from, giving RVers the choice of a larger and more upscale camper. The 323QBTSCK model has a roomy interior with two private bedrooms, a galley kitchen, and living space. The bedroom in the front features a queen bed with lots of storage and the bedroom in the back has a flip-up bunk bed and sofa, flip-up table with an entertainment center, and a loft bed and bottom flip-up bunk. The back room can double as a kid's bedroom and playroom.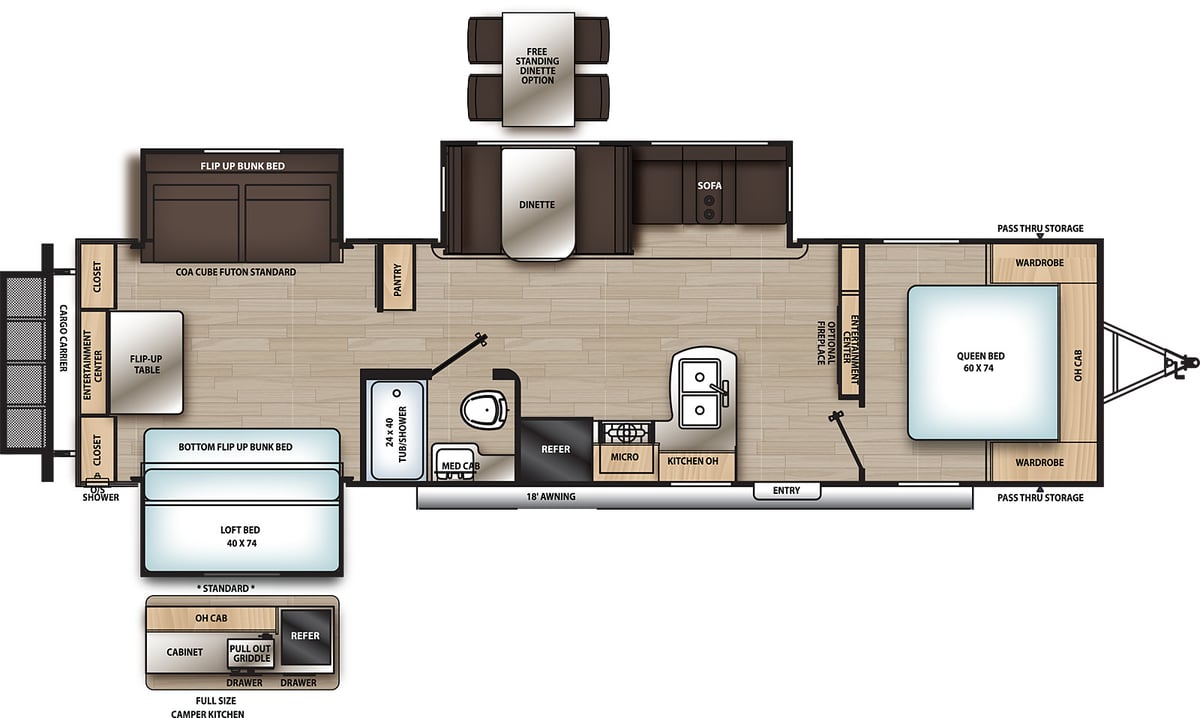 >> Find available Legacy Edition models.
These four different Coachmen Catalina travel trailers come in various floor plans, providing the perfect way to escape for every type of camper, from weekend warriors to full-time RVers. These RVs are budget friendly and come with many different features, it's the perfect home away from home.
Additional Resources:
Learn more about the Best Travel Trailer RVs.