Travel trailer RVs are popular styles of campers because they offer so much versatility in style, budget, size and features. There is always a perfect match for every camper from new campers wanting to join the RV lifestyle to veteran RVers.
Before making any decision it's best to research to find out what floor plan styles, features and budget are best for you and what brands carry that type of travel trailer you are looking for.
What is a travel trailer?
A travel trailer are a popular type of RV because of how versatile they are. They are an RV that is towed from the back of a truck or SUV. They can range greatly in size, weight and features. Travel trailers come with a kitchen, living room and most offer a private bedroom. The larger travel trailers can include a bunkhouse and more interior living and storage space.
In this blog, we discuss the best travel trailer brands in the RV industry for 2021 as well as a few models they offer to help narrow down the search for your next recreational vehicle.
Best 2021 Travel Trailer Brands
Coachmen Apex Ultra-Lite
Coachmen Catalina Legacy Edition
Winnebago Hike
Winnebago Micro Minnie
Jayco Jay Feather
Jayco White Hawk
Grand Design Imagine
Grand Design Transcend Xplor
Cruiser RV Embrace
Rockwood GEO Pro
Rockwood Ultra-Lite
Coachmen Apex Ultra-Lite – Starts at $37,392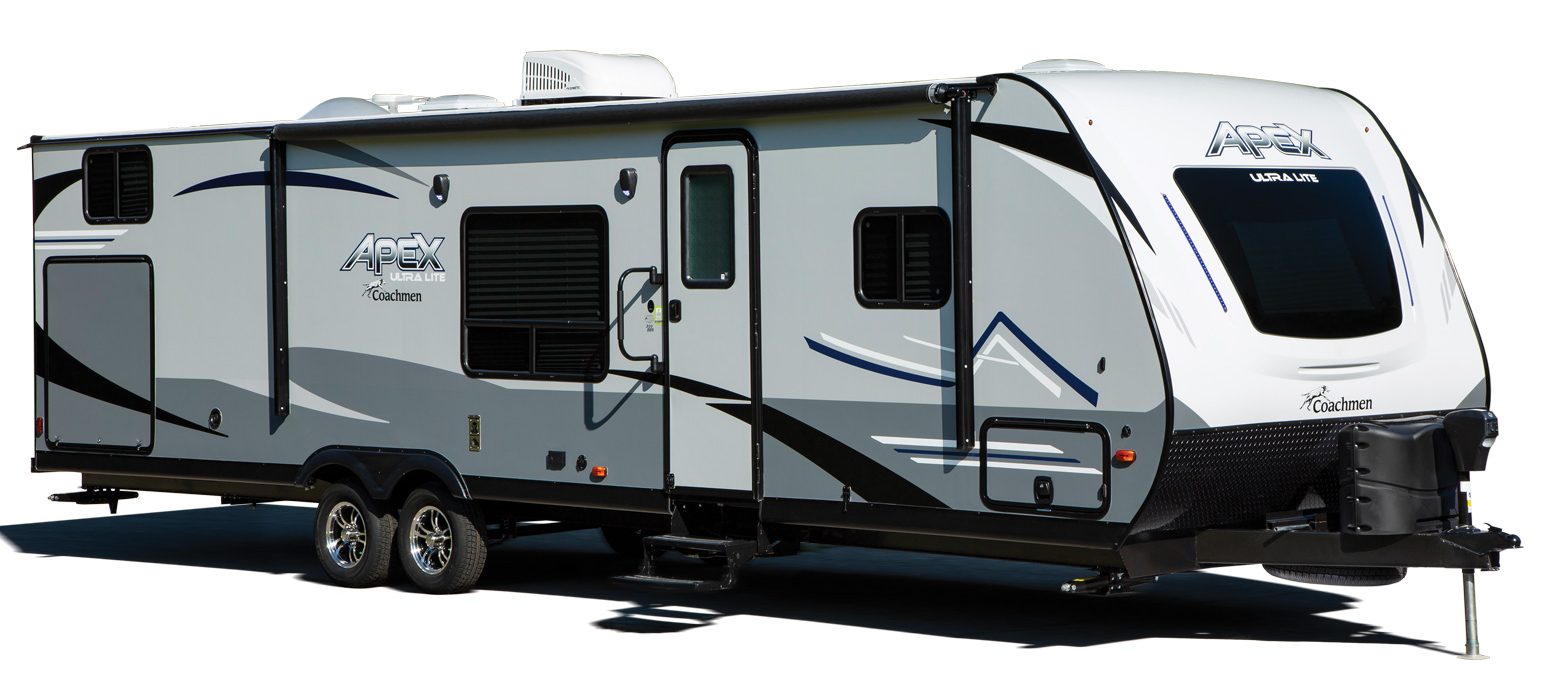 The Coachmen Apex Ultra-Lite travel trailer is a lightweight, innovative and eco-friendly RV. It can range in length from 25'4" to 34'3" and the gross vehicle weight rating can range from 6,500 pounds to 7,800 pounds, depending on the model.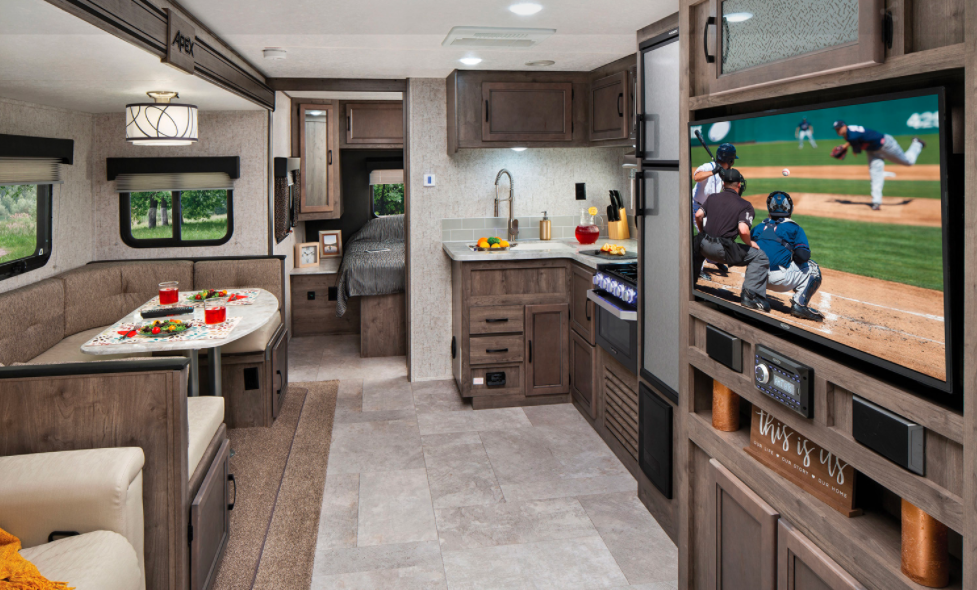 The Apex Ultra-Lite comes with a 55-amp power center and has a heated and enclosed underbelly with forced air. It was built with an aluma-cage construction. Some of the features inside include a large oversized booth or u-shaped dinette with sliding door storage, a double door fridge in the kitchen and some floor plans include double bunk beds or a bunkhouse.
This model is a great starter RV for young families because of the bunk sleeping space and queen bed in the private bedroom.
Coachmen Catalina Legacy Edition – Starts at $35,059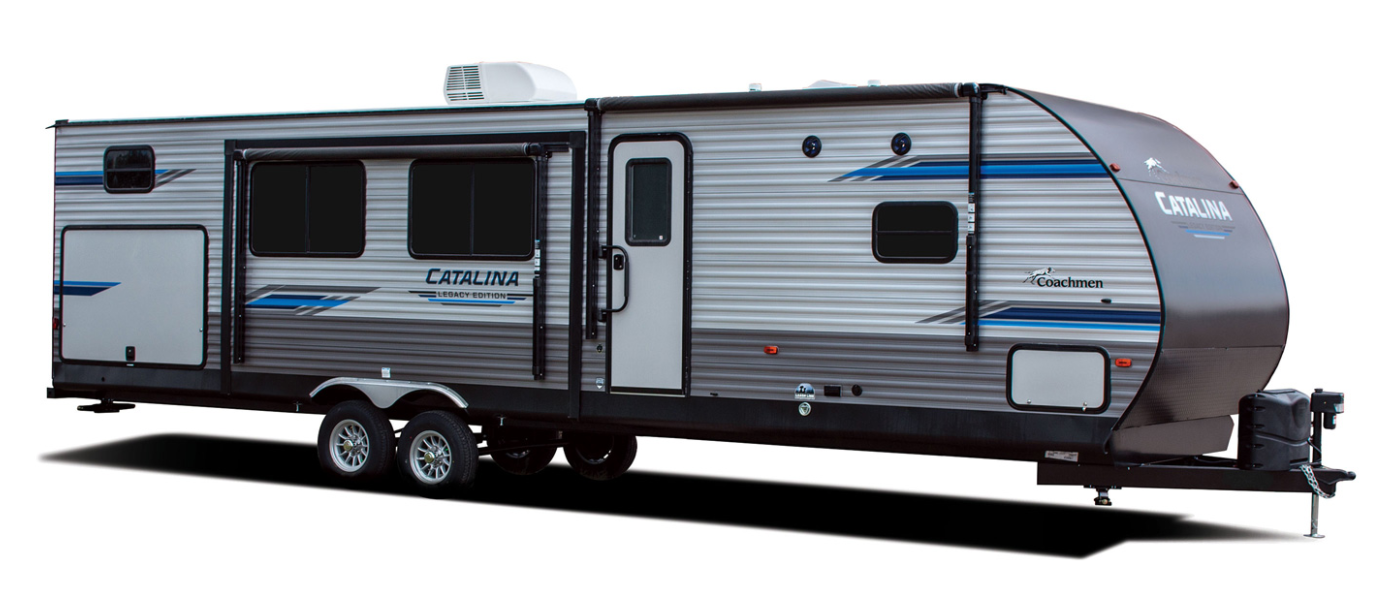 The Coachmen Catalina Legacy Edition offers RVers several floor plan options to find one to fit your needs. It has R7 fiberglass insulation throughout the RV and is built with a cambered structural steel I-beam frame and a seamless alpha roof membrane with an 18-year warranty. When you go inside, you are greeted with beautiful salvaged light oak cabinets and a master bedroom with overhead storage cabinets.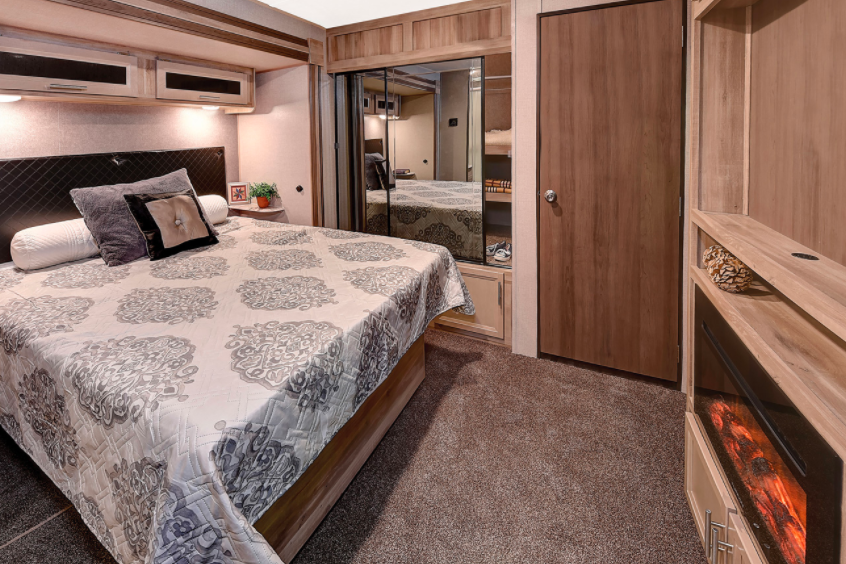 The weight can range from 7,600 pounds to 10,800 pounds and the length of the RV can vary from 27'11" and 37'9" as well. The Catalina Legacy Edition is a popular model because of everything it has to offer campers.
Winnebago Hike - Starts at $35,628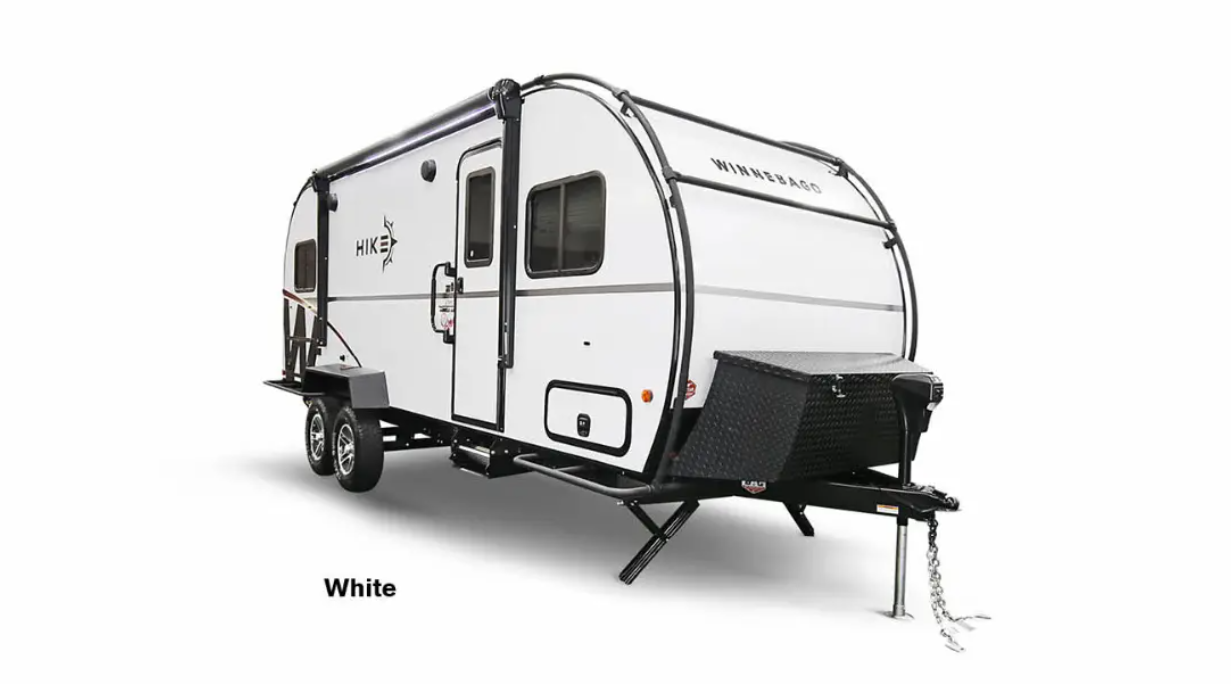 The Winnebago Hike is a small travel trailer for those who prefer a lighter tow weight or don't require as much space. Depending on the model, the size can range from 20' to 25' in length and has a gross vehicle weight rating of 4,200 pounds to 6,000 pounds. These campers typically sleep three to four people comfortably.
It has a six-gallon gas/electric/DSI water heater, enclosed tanks and two 20-pound LP tanks. The Hike comes with roof-mounted solar prep for campers who are interested in boondocking or using solar power to run their RV.
The kitchen comes standard with a convection microwave, refrigerator and either a 2 or three-burner cooktop. The Winnebago hike is a lovely upgraded travel trailer with many features to make every camping experience more comfortable.
Winnebago Micro Minnie - Starts at $33,606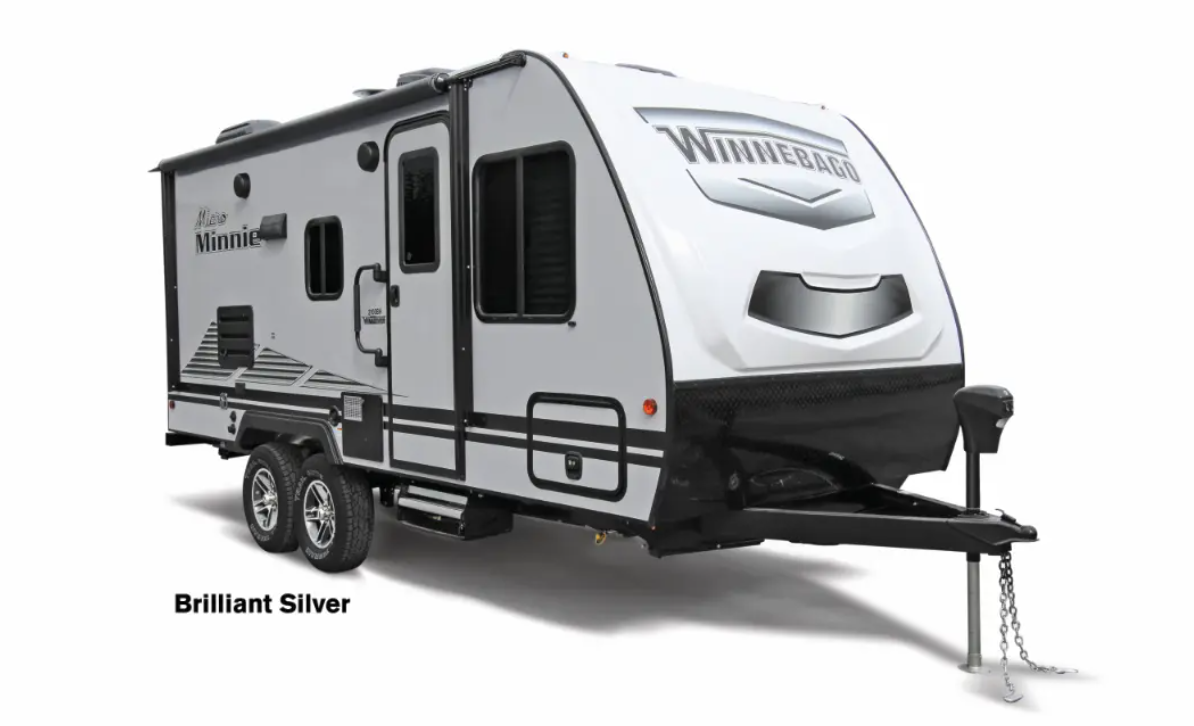 The Winnebago Micro Minnie includes a lot of features that RVers look for when shopping for a new camper. It has an AV system, LED TV, WiFi prep, USB charge ports and a wireless phone charger so campers have the option of surfing the web or working while on the road. The exterior also has more great features from LED lights to exterior speakers.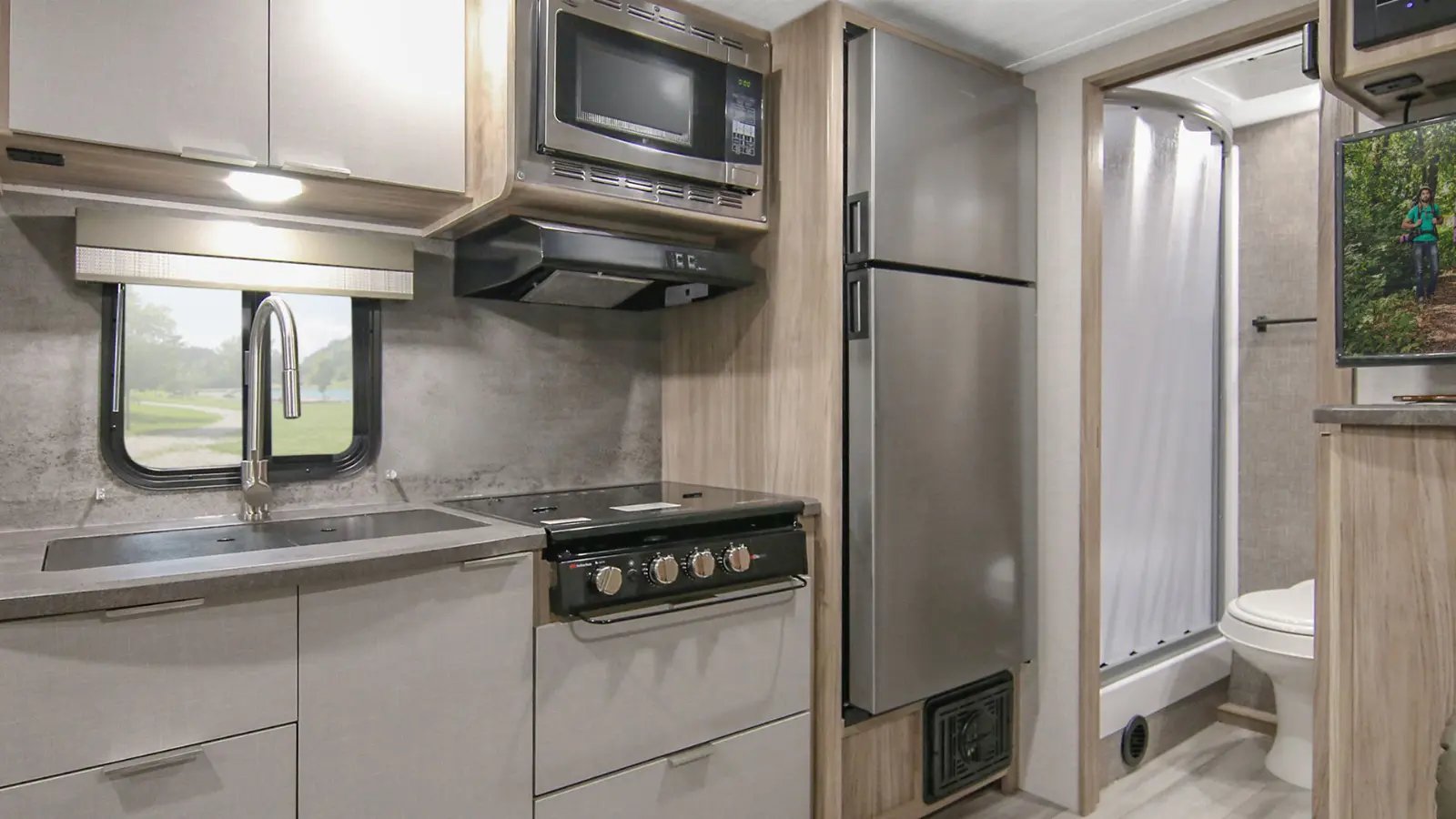 The Micro Minnie is another small travel trailer with the smallest model being 19'4.5" long and the largest model being 25'8" long. The gross vehicle weight rating ranges from 4,200 to 6,000 pounds so smaller trucks can also tow these RVs.
The Winnebago Micro Minnie combines a variety of luxury features in a compact space for easy travel.
Jayco Jay Feather – Starts at $38,100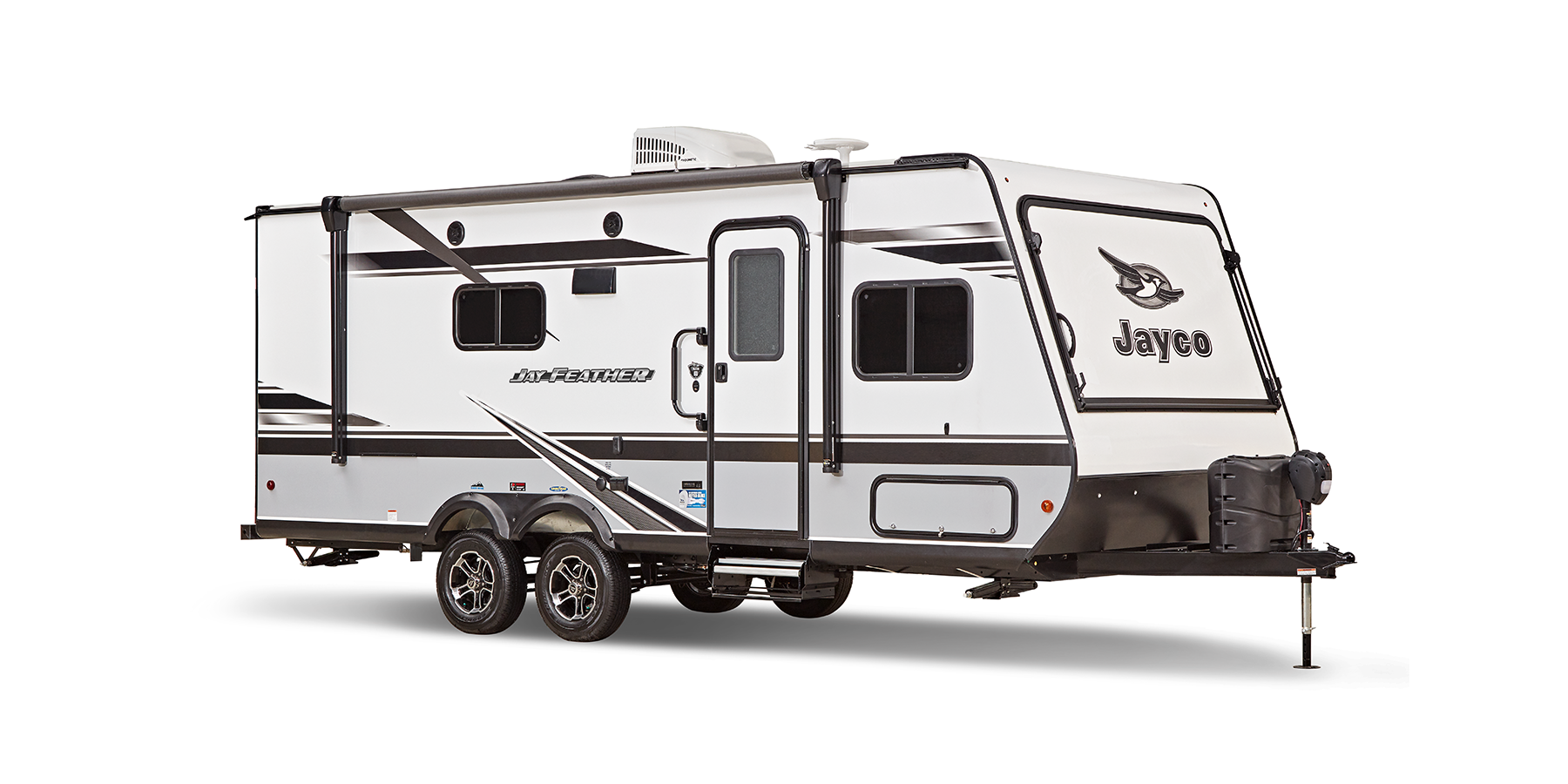 The Jayco Jay Feather is a lightweight and easy to tow travel trailer at a moderate price with a gross vehicle weight rating of 6,000 to 8,500 pounds. The total exterior length is from 22'4" to 37'.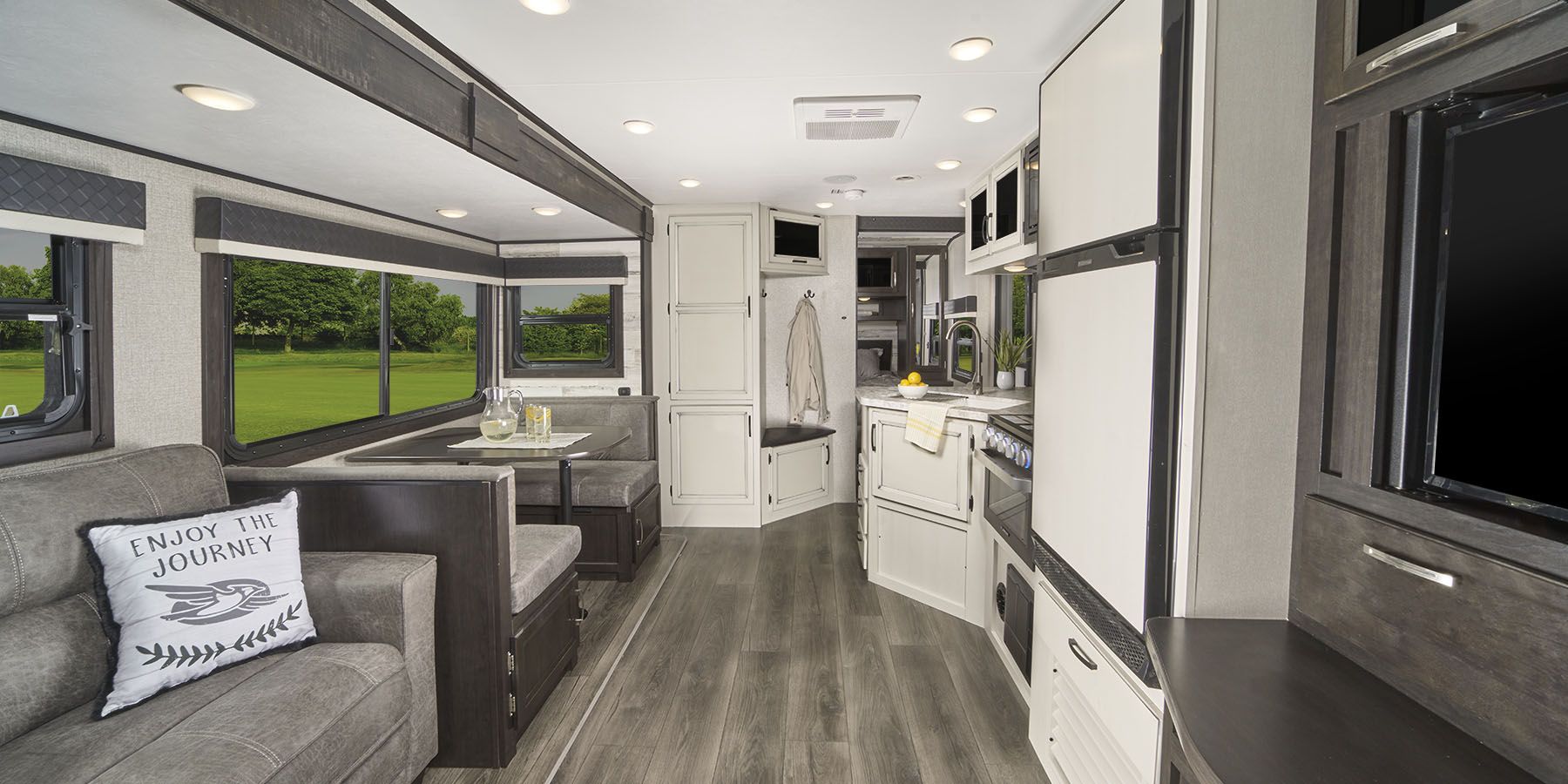 There are a few different floor plan options for the Jay Feather travel trailer featuring different things. The largest one, the Jay Feather 30QB, features a private master bedroom with a walk around queen bed and a bunkhouse with a small wardrobe and entertainment center.
The smallest Jay Feather travel trailer has a queen bed in an alcove with a small kitchen and living room space. These are great for solo or couples traveling together.
Jayco White Hawk – Starts at $48,402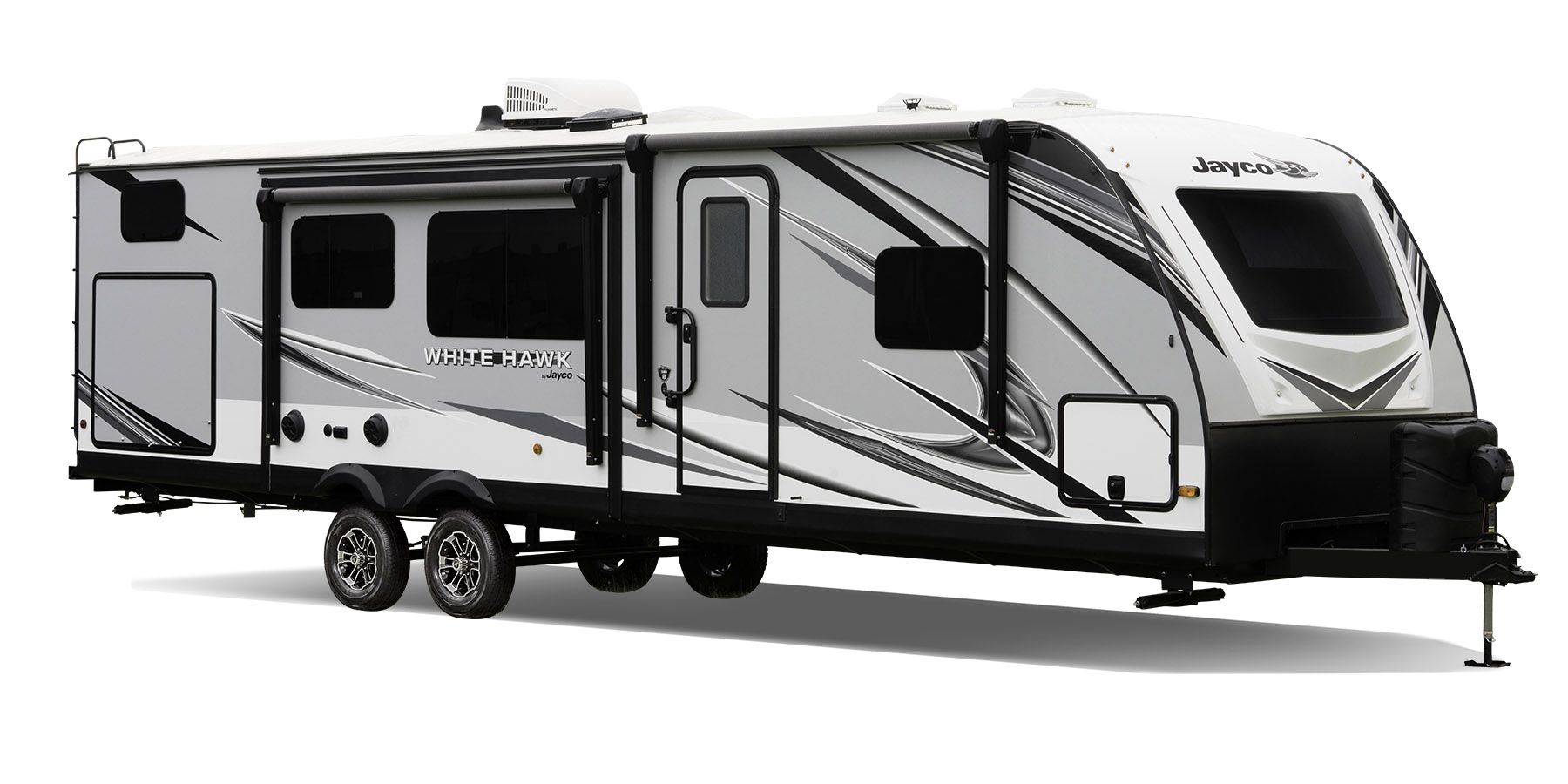 The Jayco White Hawk travel trailer is a great option for beginner campers and more experienced RVers as well. The private bedroom features a queen bed and some models even have a king bed. Certain floor plans have bunks for kids or extra guests to sleep, while others have a tri-fold sofa that doubles as a bed to save space.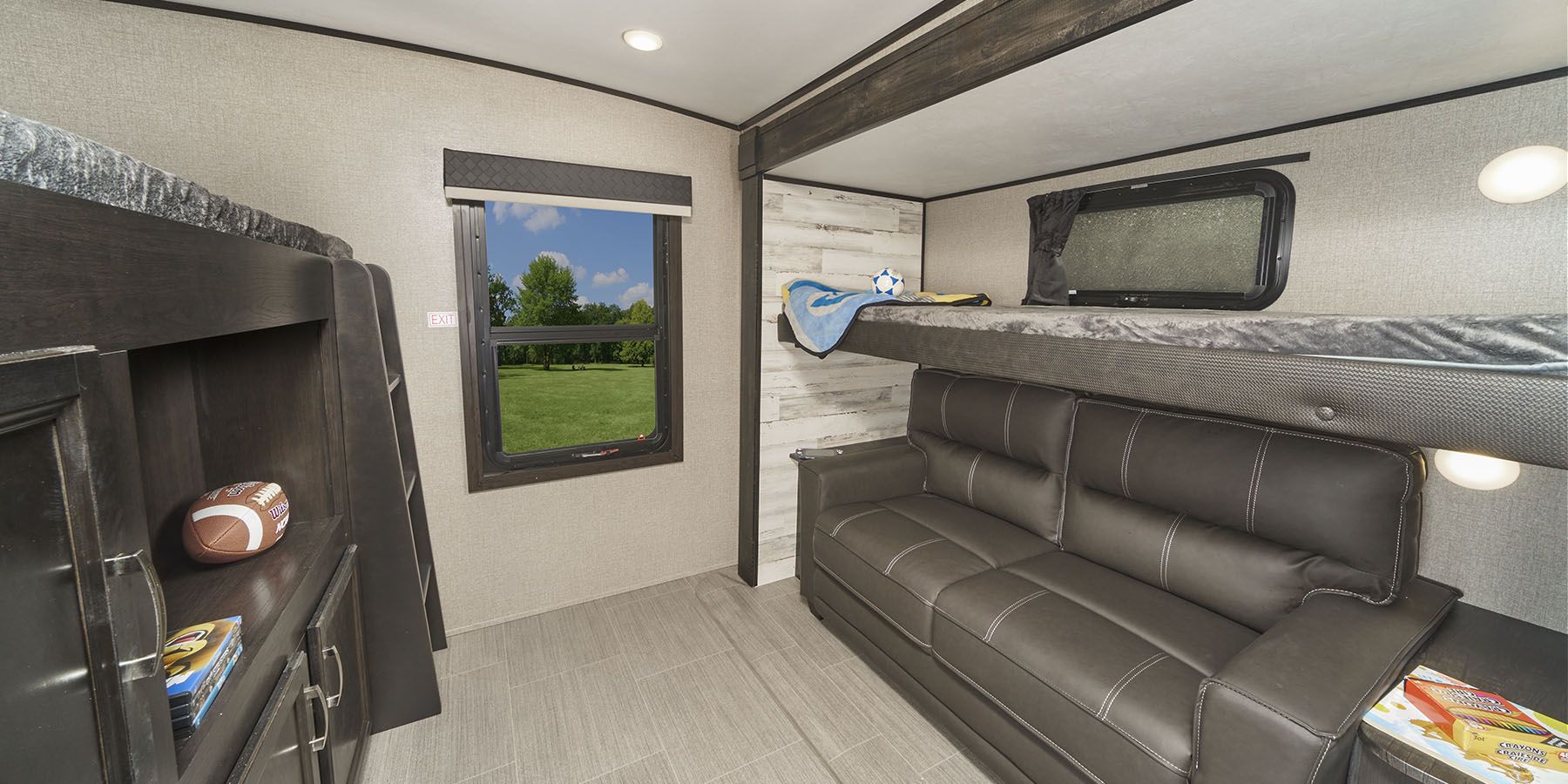 The weight and size can vary from each model. The gross vehicle weight rating can range from 7,750 to 9,950 pounds and the total exterior length can be from 32'6" to 38'. The Jayco White Hawk also has features like an electric fireplace, residential vinyl flooring with cold crack resistance and LED lighting throughout.
Grand Design Imagine – Starts at $38,006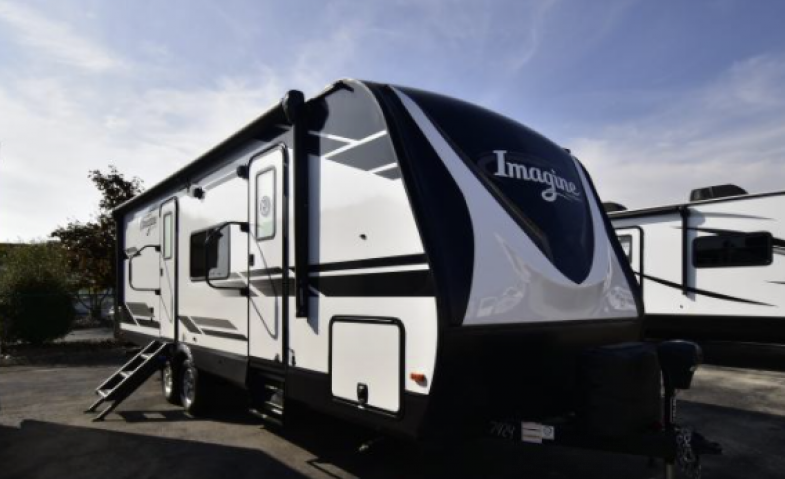 The Grand Design Imagine brings amazing and memorable family vacations to life, from long road trips to short weekend getaways. Varying in size from 27'11" to 36'11" with a max gross vehicle weight rating of 10,195, the Imagine travel trailer has a floor plan that everyone can appreciate.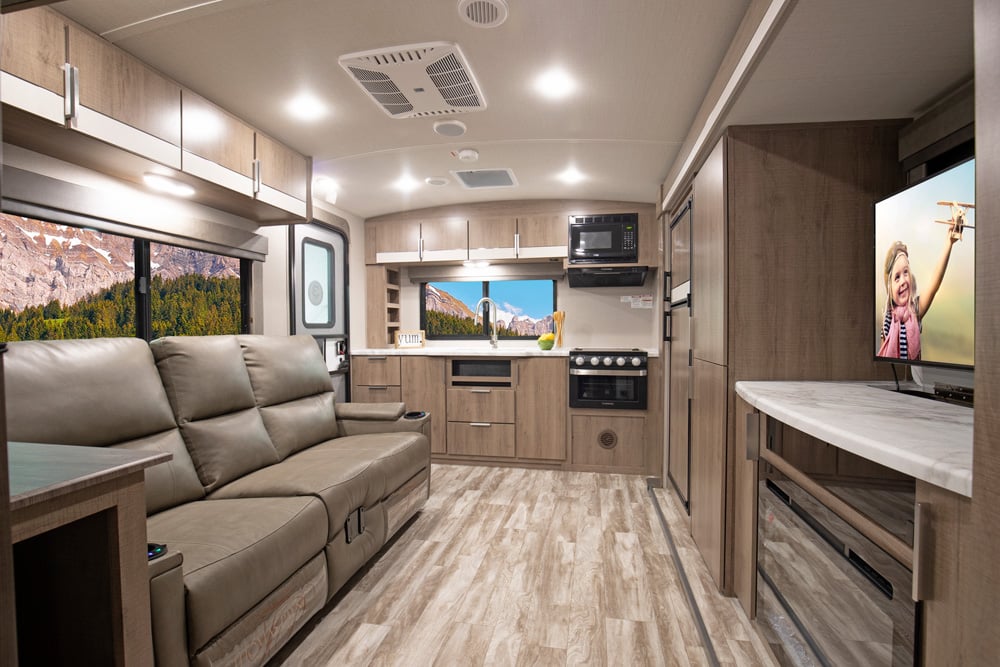 All models feature a queen bed in a private bedroom with the larger units including a bunkhouse for extra sleeping space. The Imagine was built with laminated aluminum framed rear and sidewalls, roof and end walls in slide rooms and the main floor as well. The private bedroom comes with oversized under bed storage with a sliding cargo tray and a built-in wardrobe cubby storage space so there is not a shortage of storage space.
Grand Design Transcend Xplor – Starts at $27,315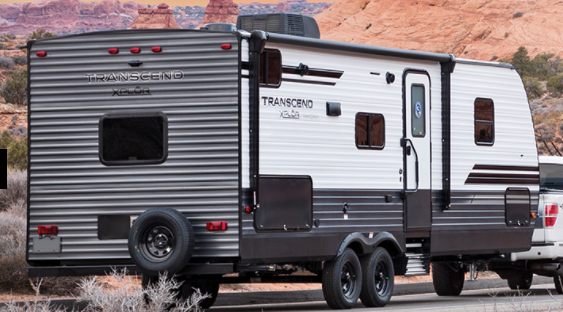 Get ready to explore with the Grand Design Transcend Xplor. This customer-focused RV features oversized tank capacities, a walk-on roof for easy maintenance and care, and a battery kill switch. The interior was built to last with solid core cabinet stiles, solid hardwood drawer fronts and residential countertops.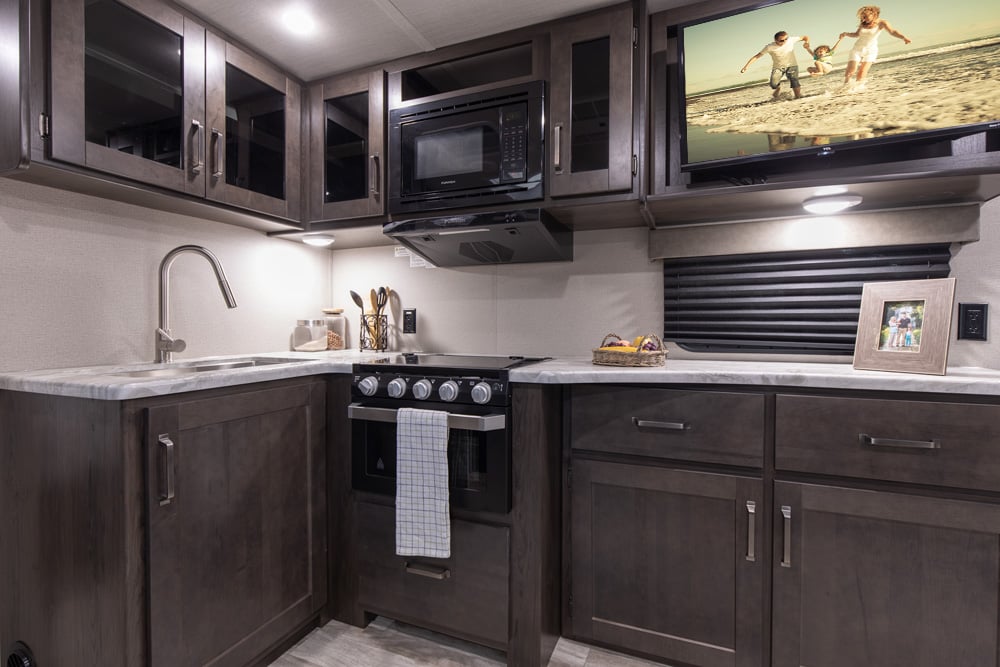 The Transcend Xlpor comes in many different sizes from 24'11" to 36'11" there is a wide range of floor plan options for campers to choose from. The gross vehicle weight rating also varies as the smallest is 6,995 and the largest is at 9,295 pounds. the length and tow weight of an RV is an important factor to consider when searching for your dream RV.
Cruiser RV Embrace – Starts at $37,784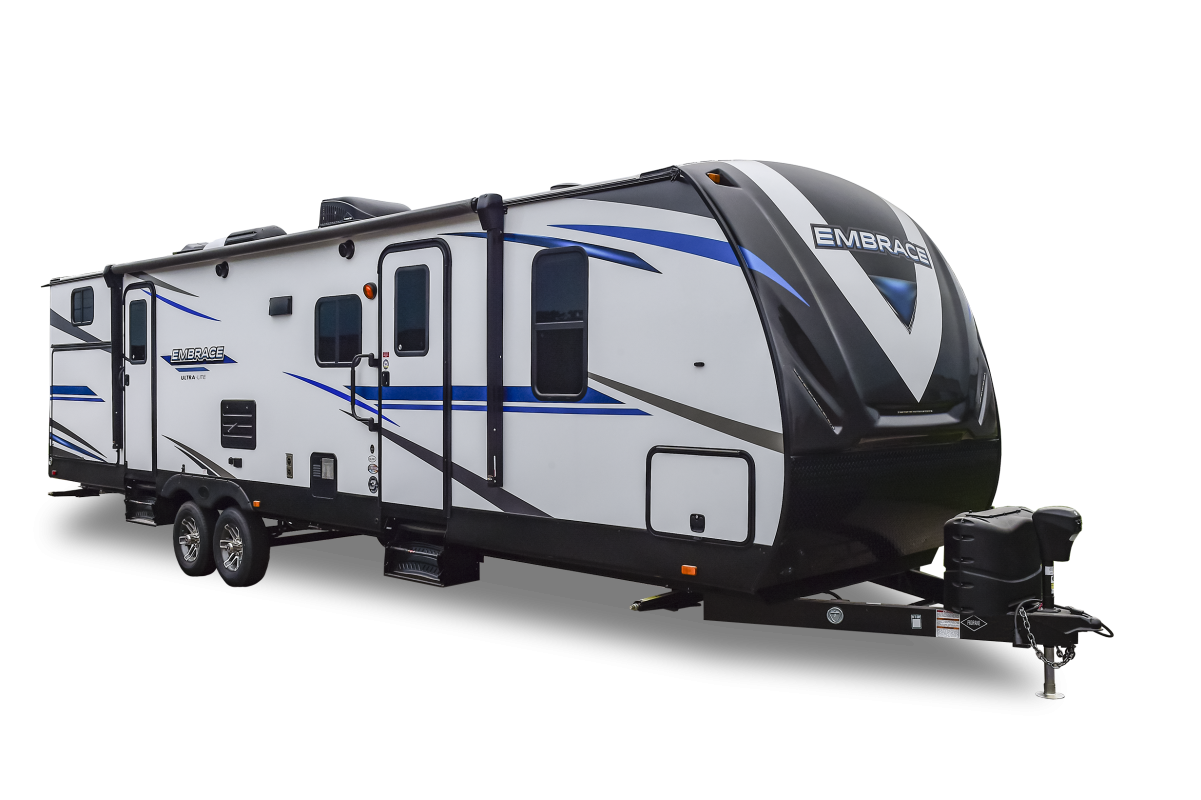 The Cruiser RV Embrace is a large travel trailer from 29'11" to 36'5" long and a dry weight of 5,904 pounds to 7,200 pounds. There are five different floor plans to choose from each offering a variety of features.
The 50-amp service, 15,000 BTU A/C, and heated and enclosed underbelly all come standard and every model of the Embrace. The exterior also includes marine grade exterior speakers and a power awning with LED lights for simple set up.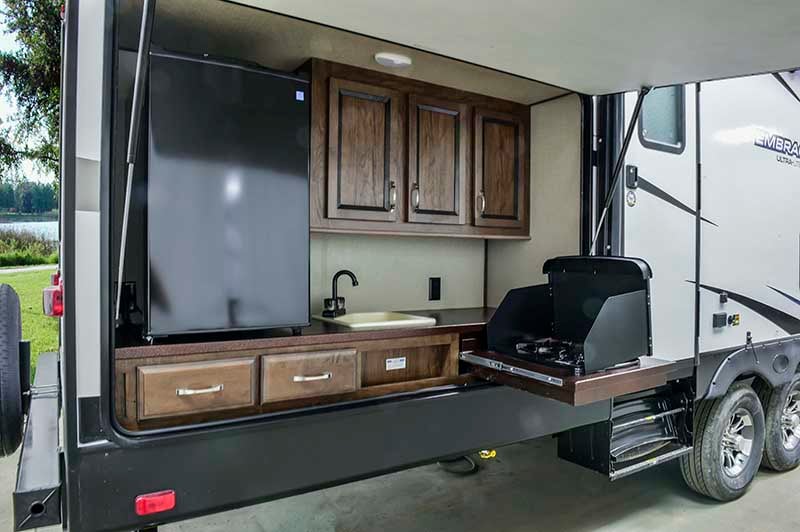 The interior comes with a large king-sized bed, tri-fold sofa, and 6'11" vaulted ceilings. The Embrace is a great travel trailer for those who want luxury features at a reasonable price.
Rockwood GEO Pro - Starts at $25,634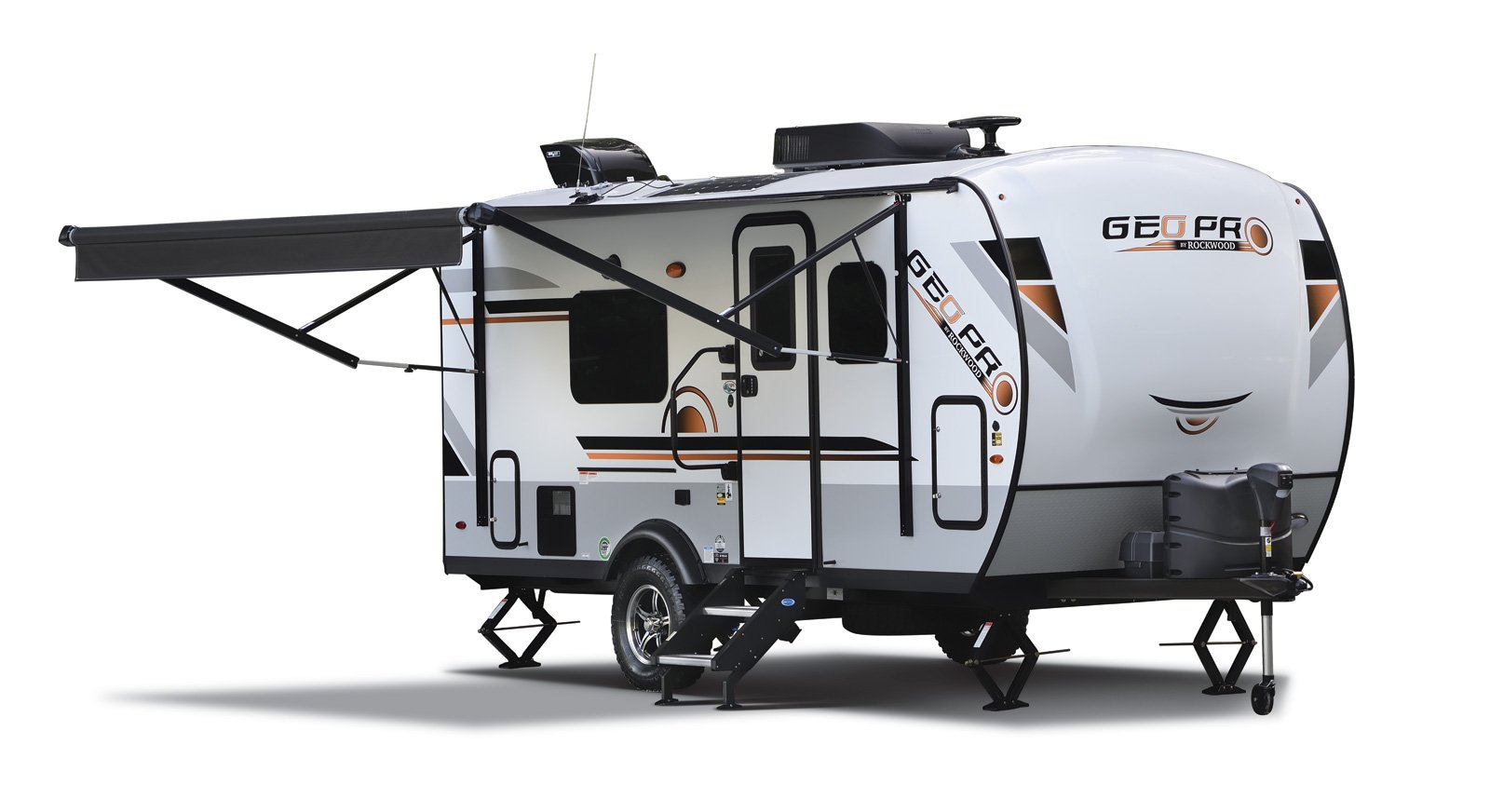 The Rockwood GEO Pro is a small camper that can be towed by smaller tow vehicles. It's a lightweight travel trailer with an unloaded vehicle weight from 1,252 to 3,513 pounds. The smallest model is 11'3" in length while the largest of the geo pro units is 21'2".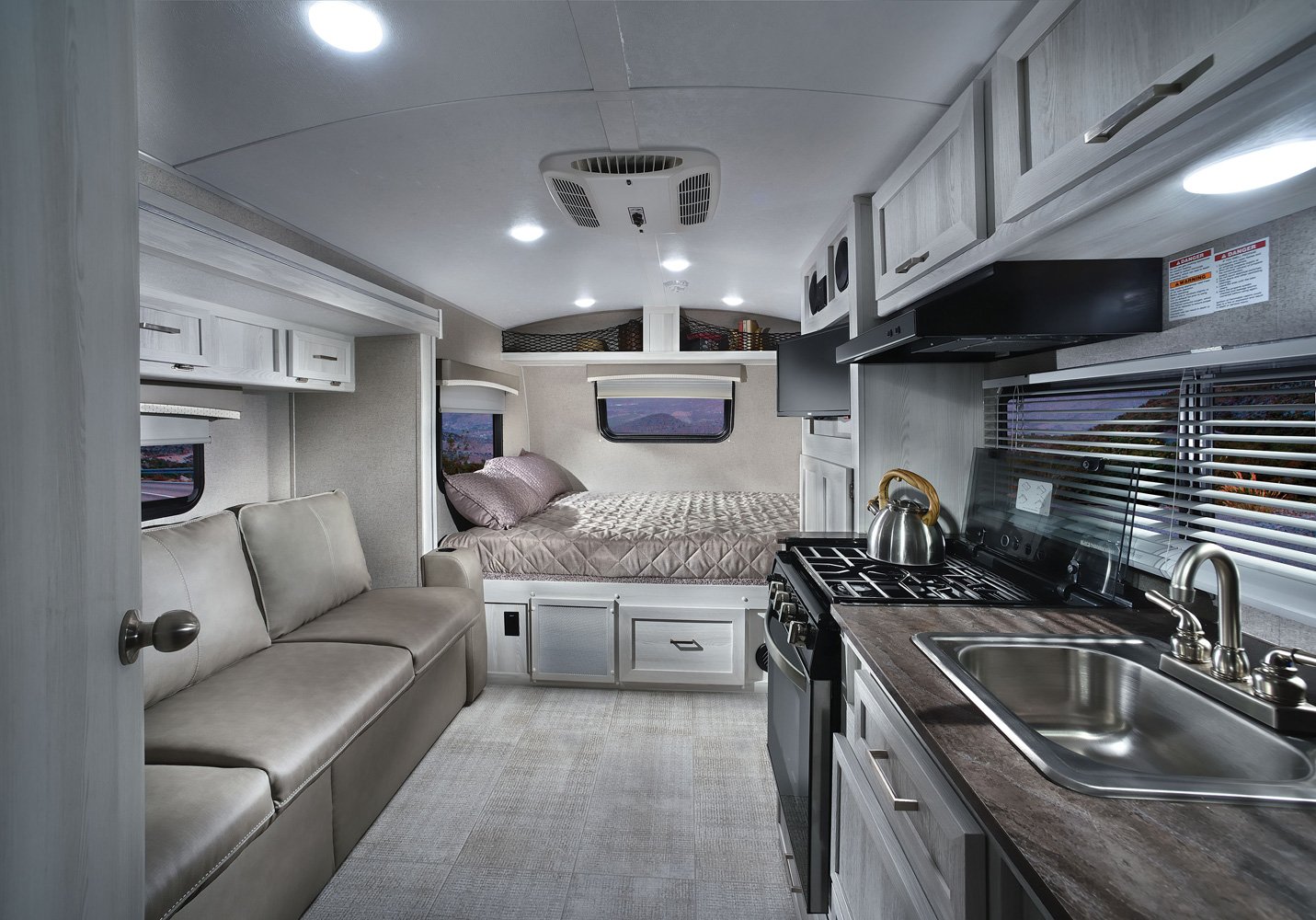 Standard features include six-sided aluminum cage construction, vacuum laminated roof and walls, and a torsion axle, rubber-Ryde suspension. It even has a WiFi Ranger Sky 4 WiFi booster that is LTE ready, making work on the go easy and efficient.
The Rockwood GEO Pro is the perfect small camper for RVers who prefer a low weight and something easy to tow.
Rockwood Ultra-Lite - Starts at $40,069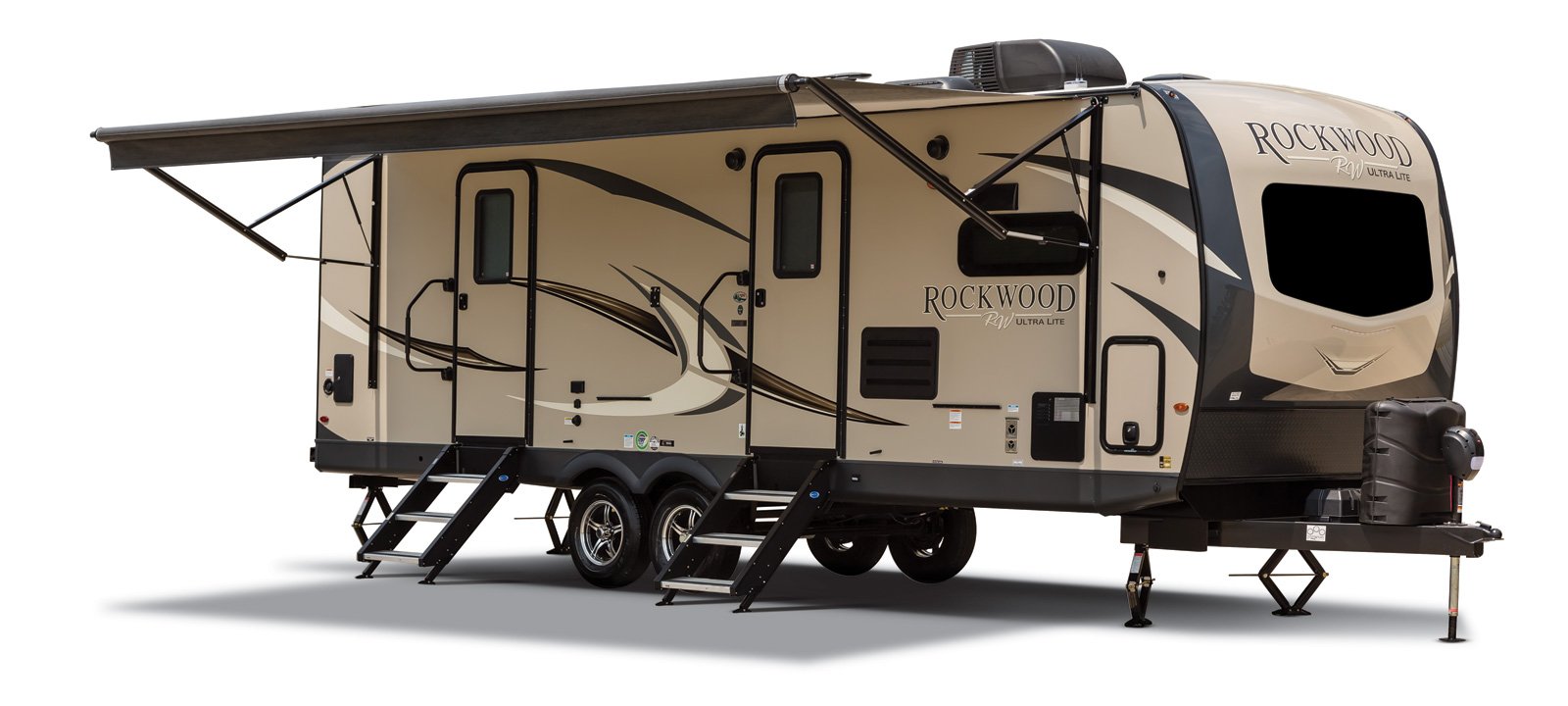 The Rockwood Ultra-Lite has plenty of high-quality features to make every camping trip a comfortable one. It offers an LED TV with a multi-directional antenna, exterior speakers and a multi-zone stereo with Bluetooth control. It allows families to have all the comforts from home on every trip.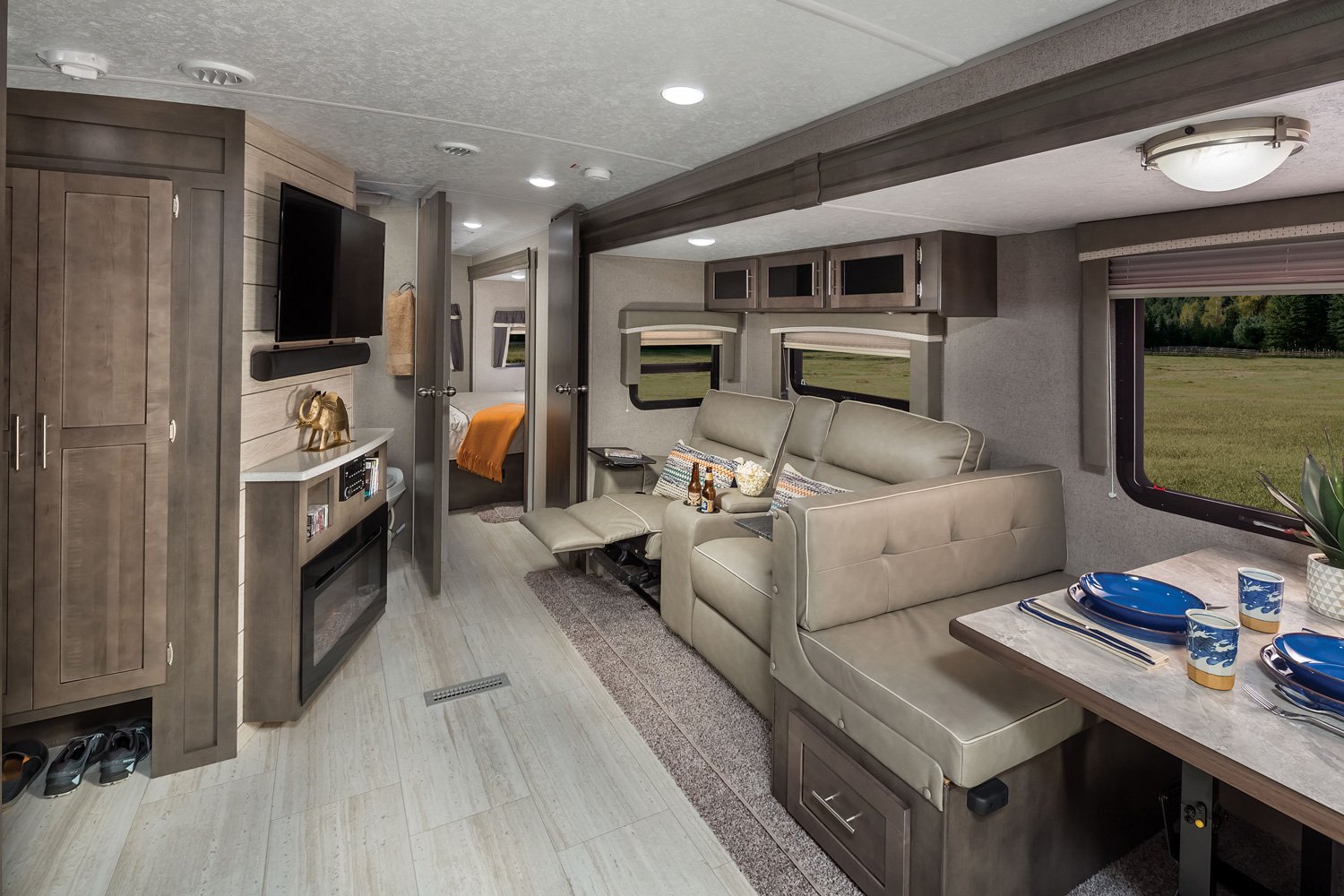 The Ultra-Lite is another small and lightweight travel trailer from 6,158 to 10,434 pounds and the length is between 28'11" and 36'6". The Rockwood Ultra-Lite offers amazing features packed into one lightweight RV that can fit many different lifestyles.
Travel trailers appeal to campers from all walks of life because of the wide range of options to choose from. There is the perfect travel trailer for everybody that will fit their lifestyle and budget. After researching and purchasing your dream RV, the best part is getting to enjoy it at all your old favorite spots and exciting new places.
If you are interested in something smaller, check out the Best Pop-Up Campers for 2021.
Get inspired for new trip ideas, RV décor and more by following these RV Adventurers online.