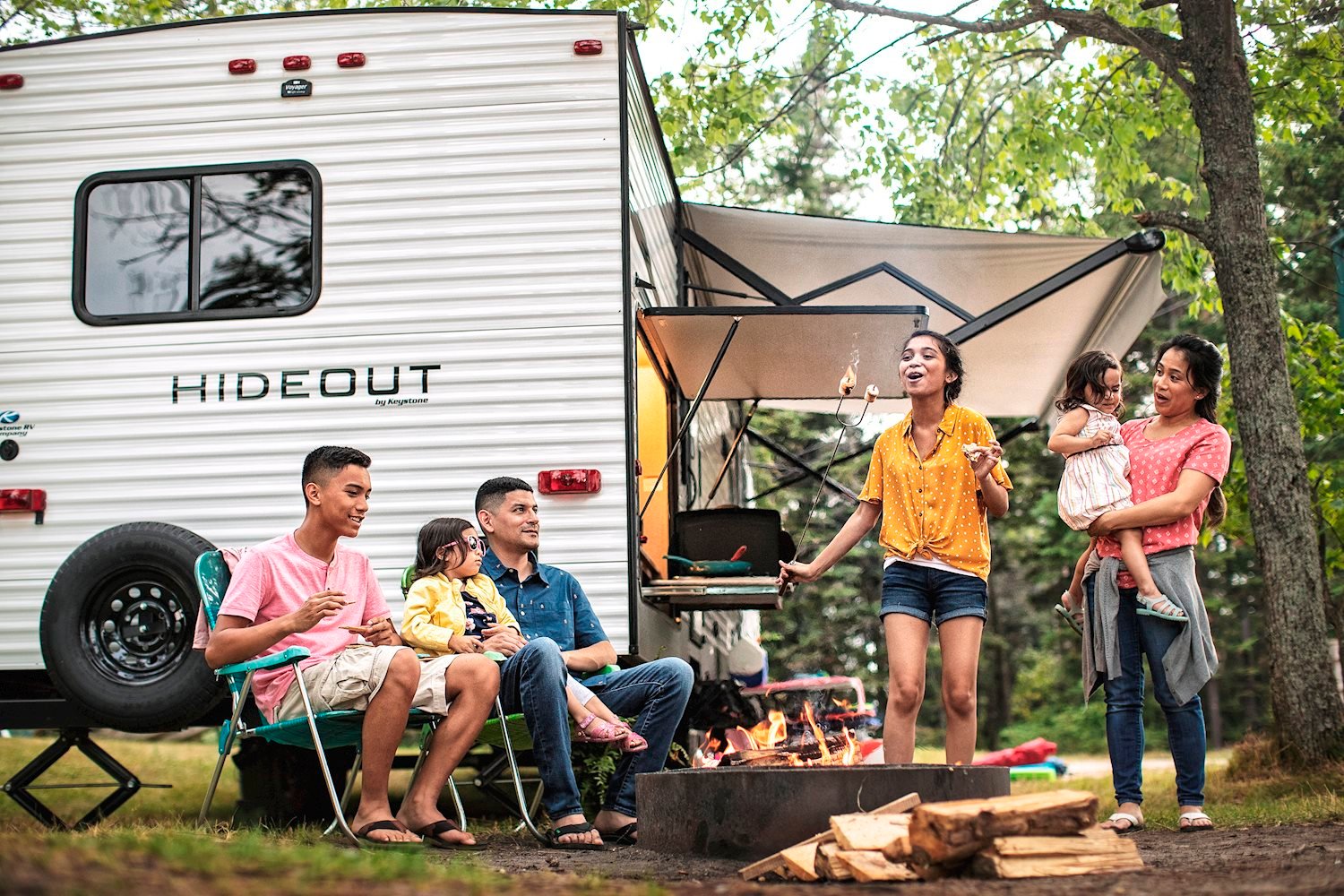 The RV lifestyle appeals to people of all ages, and lifestyles like families or couples. Everyone can make an RV vacation a way of traveling that satisfies their needs and wants when exploring new places. It's fun to follow RV adventurers that have the same travel ambitions as yourself to get new ideas and inspiration for future camping trips, activities and even RV décor.
In this blog, we discuss many different types of RVers from full-time families to solo travelers, and how they do it.
Full-Time Families
Millennial RVers
Empty Nesters
RV Renovators
Solo Travelers
Van Life Campers
Full-Time Families
A Team Family Adventures
The Andersons are an adventuring family of five living in their fifth wheel RV and traveling the country. In mid-2019, they started to minimize their life by getting rid of their possessions and in the process discovered they wanted more adventure and a simple lifestyle. They started working remotely, renting out their house and homeschooling their kids to make unforgettable memories all over the country.
The Andersons use Instagram and have a blog to document all the places that have been to.
Roaming Nomads
The Roaming Nomads include Willi, Julia, their two kids and dog. They have covered over 105,000 miles in six years of full-time RVing. They started their journey in Maine and traveled down the east coast to Florida and then across the country to California and up the west coast and parts of the Midwest.
They move at their own pace while traveling, so sometimes that means staying in one place for just a day or two and sometimes they like to stay awhile to really get to know the place and what it has to offer.
They have a blog to journal the big stuff that happens throughout their adventure and the places that have visited, and they also post more regularly on Instagram with the day-to-day things that happen.
Millennial RVers
Watsons Wander
Tim and Amanda Watson joined the full-time RV lifestyle in the summer of 2012. They loved traveling and the memories they made which inspired them to live out this dream.
They set up a five-year plan to sell their house, minimize their possessions and start traveling, living and working in an RV. They wanted a lifestyle change that allowed them to explore mountains, different beaches and everything in between.
Their journey has taken them to 45 states over the last eight years, staying in all kinds of different types of campsites from national and state parks to parking lots. Follow the Watsons' journey on their blog and follow Tim and Amanda on Instagram so see more from their travels.
Four Life Adventures
Nate and Jamie were ready to ditch the norm and live their life on the road with their two dogs, Blue and Ruby. They have a passion for travel and chose to fulfill their lives with new experiences and opportunities. They have put over 5,000 miles into their journey visiting nine different states. They have explored places from Arizona to Florida.
Follow their travels on their blog and Instagram to see where they are off to next.
Empty Nesters
Fifty and Fifth Wheeling
Kelley and Renee have been living in their fifth wheel RV full-time for almost two years. When Kelley's job relocated them to Atlanta, Georgia from Texas, they realized they could save time and money by living out of their RV. They now spend their weekends getting to know local areas near their home base in Georgia and soon want to start exploring further out places. Kelley and Renee love the freedom that living in their fifth wheel provides them.
They run in Instagram to log their everyday life in the RV as well as a YouTube channel.
Stairs Up, Handle In
Jen, Eric and their dog, Pita, are empty nesters and are currently stationary in central Florida but have big plans coming for 2021. Eric grew up playing outside and camping and has also had a love for it, Jen recently got on board with the idea of the RV lifestyle. Living in their RV has changed their lives by how they decorate, working remotely, storage and cooking.
Jen and Eric share their adventures and RV living tips on Instagram and their blog.
RV Renovators
Renovating Rutters
Candace and Lee Rutter are a married couple who have teamed up to renovate RVs into something beautiful as well as functional. They renovate and sell RVs as well as renovating an RV to fit a customer's unique style and taste. They work on different kinds of fifth wheel and travel trailer RVs with different floorplans and features. Lee and candace enjoy this creative outlet for designing a space.
They have a website to view past projects and inquire about a new project as well as post updates of their current renovations on Instagram.
Marsh and Sea:
Weston and Karlee Marsh fell in love with design and tiny living in 2018 when they were building their first travel trailer. Since then they have completed 12 RV renovations. They offer three different services like RV renovation, renovation coaching and remote RV design. They work with their customers to help them learn everything learned during renovations and making the updates others make feel like home.
They have a website, Instagram and YouTube channel they document renovations and tours of renovated RVs.
Solo Travelers
Geogypsy
Gaelyn has been traveling solo for over 40 years. She loves connecting with nature when she travels and take amazing photos of her experiences. She first started exploring US National Parks in 1977 and later became a park ranger and has worked in different national parks.
Gaelyn has lived in an RV for almost 30 years. She has a passion for writing and journaling, hiking and exploring new places. She loves to share her stories of her experiences.
She blogs about her adventures on her website.
Van Life Campers
Parks and Wils
Jessica and Parker are two travelers who live the van life. They have known each other since they were kids but were reconnected after college. In January 2019, they bought a RAM Promaster Van and made it their home on wheels by having it built to fit their needs. They have driven over 3,000 miles visiting 19 states with trips to several National Parks and different ski resorts.
Jessica and Parker journal their travels on their website and use Instagram to post regular updates on the van life.
Steph Off the Grid
Steph and Alejo and their two dogs are dedicated to the van life traveling throughout the US in a Ford Transit 250 Van. They first discovered this lifestyle after renting one for Steph's birthday. They kept dreaming of the experience they had, and Steph knew that the 9-5 corporate world was not what she wanted. They knew buying the van would give them the adventure, freedom and movement they wanted in life.
You can follow Steph and Alejo on their personal Instagram profiles and a shared Instagram page. They also have a blog filled with information about the van life and building their perfect campervan.
These RVers share their journeys online to keep a journal of the places they have been, how they felt and little things that happen during their adventures. They also inspire future RVers about a different way of life they could live by living and traveling full time in an RV.
Additional Resources:
Learn more about full-time RVing with toddlers from The Boundless Bakers.
Found out if full-time RVing is for you with this quiz.