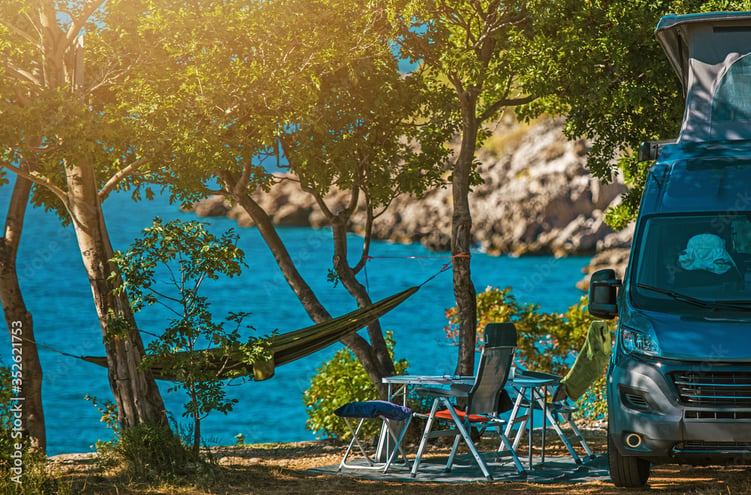 Off-grid camping, whether it's boondocking in a secluded forest or setting up camp on the gorgeous coast, comes with its own set of unique challenges and pleasures. Here are some aspects to consider when it comes to the pleasantries of off-grid camping. Being off the grid means limited or no access to electronic devices. The break from constant connectivity allows campers to be fully present in their surroundings, fostering a deeper connection with nature. It allows for a slower pace, enabling campers to fully relax and appreciate the simple joys of life, like reading a book, listening to the sounds of nature, or taking a leisurely hike. The beauty of untouched wilderness, clear night skies, and the sounds of nature enhance the overall camping experience.
What is Boondocking?
Boondocking, often referred to as "dry camping" or "wild camping," is a practice of camping in remote or off-grid areas without the reliance on traditional campground amenities such as electrical hookups, water supplies, or designated campsites. Unlike conventional camping in established campgrounds, boondocking allows outdoor enthusiasts to immerse themselves in nature, often in more secluded and less developed locations. This style of camping appeals to those who enjoy a greater sense of solitude and a closer connection to nature. It requires a certain level of preparedness, as boondockers must be equipped to handle their waste responsibly and be mindful of their environmental impact. The experience of boondocking often fosters a deeper appreciation for the natural surroundings and a sense of independence in the great outdoors.
What is a Class B RV?
A Class B RV, also known as a camper van or a van camper, is a compact motorhome that is built on a van chassis. Unlike larger Class A or Class C motorhomes, which are typically built on custom chassis or truck platforms, Class B RVs are more akin to converted vans. They offer a balance between the convenience of a motorhome and the maneuverability of a standard van. Class B RVs are a popular choice for solo travelers, couples, or small families seeking a more nimble and efficient way to explore the open road while still enjoying the comforts of a home on wheels. While not as self-contained as larger RVs, some Class B models are equipped for off-grid living. This duality makes them popular among individuals or couples who seek a more agile and flexible travel option. They may include solar panels, generators, and water storage to enhance the ability to camp in more remote locations without traditional hookups.
2024 Dave & Matt Vans LV Series
A great all-around affordable Class B to consider is the Dave & Matt Van LV Series. With any LV Series Class B gas motorhome by Dave & Matt Vans you can tour the country off-grid, enjoy weekend excursions, or go full-time if you wish! Each model includes added safety and security features, such as an in-dash rearview monitor to make navigating the wilderness and dirt road easy for all, and the front and rear suspension will provide a smooth drive wherever you decide to roam. Each van sits on a Ram ProMaster chassis that is ultra durable, and the Uconnect infotainment system with a 7" screen will make it easier than ever to navigate the road. An electrical system also comes standard that includes a 3,000 inverter, an integrated battery monitor, 30 amp shore power hookup plus an AC/DC converter, and more power features to keep you going. The power system of our vans have been carefully engineered to keep you powered up on the road. All vans come with 160 watt Solar panels as well. A larger 7-gallon water tank and sewer system takes a lot of the stress off those serious boondockers.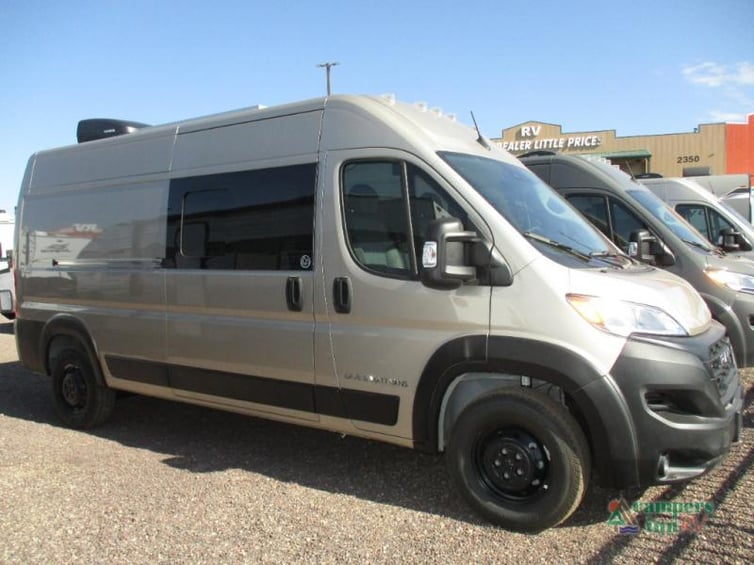 2024 Grech Strada-ion Tour
The Strada-ion Tour Class B RVs include Grech RV's commitment to excellence through uncompromising efforts to build a beautiful and reliable coach with luxury amenities and the highest level of standard equipment. The cook can make meals using the galley kitchen with a farmhouse style sink, combo microwave/convection/air fryer and a two-burner propane cooktop. Some of these features include an in-dash navigation, a rear back-up camera, air suspension which provides the smoothest and most luxurious ride possible, a custom fiberglass body kit, and a concealed stainless steel utility center. The diesel-powered Timberline system that offers a tankless hot water heater, furnace and heating will keep you warm when those boondocking adventures run into some chilly weather. Probably the most enticing feature found on the Strada-ion for those who want to leap into the off-grid life is the Lithium-ion Power Package. This package comes with Lithionics lithium batteries (12V), an integrated battery management system, an auxiliary 280 AMP alternator with wake speed regulator, and a 3,000W Xantrex inverter. All of this provides your coach with clean and quiet energy in the place of a standard generator which keeps the serenity of your wilderness surrounding.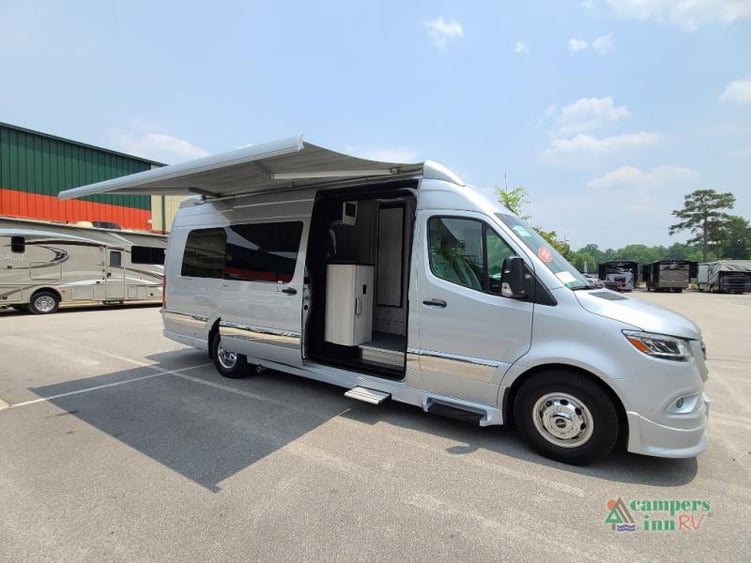 2024 Airstream RV Rangeline
Designed for small active families, vacationing couples, and solo travelers alike, the Airstream Rangeline Touring Coach opens a world of infinite possibilities for a new generation of diverse, yet demanding RVers. Whether you're hitting the road on an epic road trip, boondocking, or simply heading across town to grab groceries, Rangeline is ready for any size adventure. Rangeline is designed with a simplified power system and versatile comfort systems that enable extended journeys. An intuitive multiplex system makes it easier than ever to monitor and manage resources making sure you never have to go without. The Ram ProMaster 3500 chassis offers front-wheel drive and 276 horsepower, with an efficient gas-powered heat and hot water system. Rear storage includes MOLLE panels on the rear doors to hang all your gear, and space under the bed for even more cargo. The optional pop-top roof has three screen windows and another bed, expanding sleeping capacity to four people.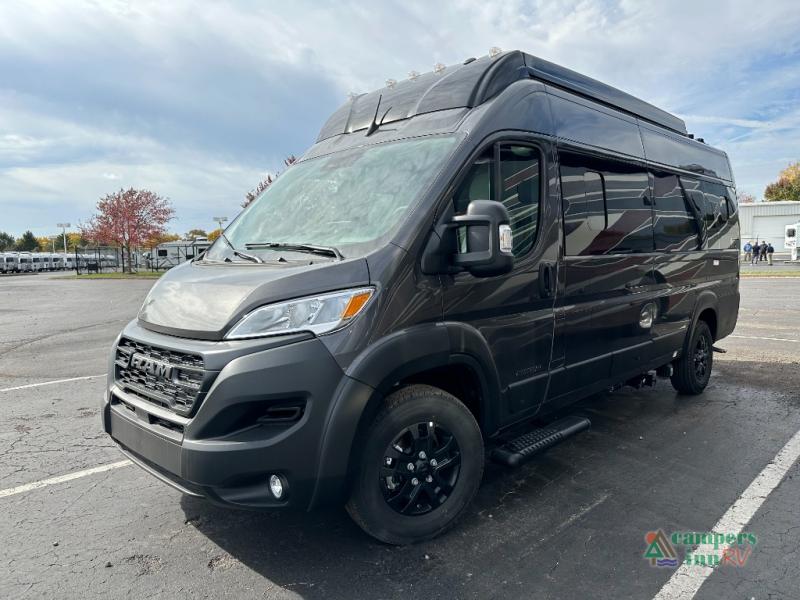 Shop available Airstream RV Rangeline units here.
2023 Storyteller Overland MODE LT
Last but definitely not least, it's time to enjoy urban adventures, state park campouts, and trails in this Storyteller Overland MODE LT with a Ford® Transit 3.5L V6 PFDI Engine. The portable induction cooktop and the exterior fold-down table provide the flexibility to make meals wherever you would like. The 12kWh M-Power Energy Storage System gives you the power to go off-grid and still enjoy the "glamping" amenities. You can travel with complete peace of mind knowing that each van meets all of the qualifications for the various and rigorous safety tests, so it is safe to enjoy the boondocking life. But the Storyteller Overland is also fun and rugged with its tubular side-mount ladder, rugged roof rack with sonic wedge deflector, powered awning with dimmable LED lights, portable toilet, outside shower, and portable Bluetooth speaker. All these bonuses make off-grid life seem like a breeze!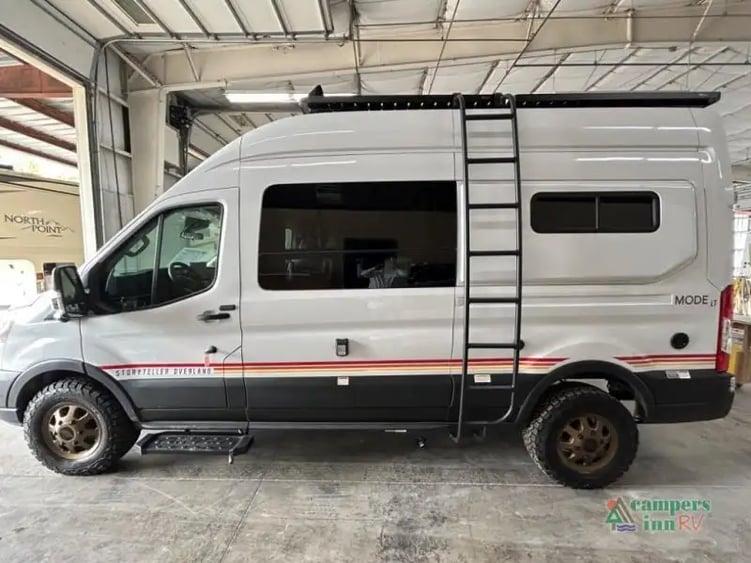 Why a Class B RV for Off-Grid Camping?
Off-grid camping, better known as boondocking, in a Class B RV offers a unique and flexible way to explore the outdoors. The combination of maneuverability, off-grid capabilities, and a cozy living space makes Class B RVs an attractive choice for those who seek a more adventurous and independent camping experience. This class of RVs are well-suited for boondocking in remote or off-grid locations. Their smaller size allows for greater flexibility in choosing camping spots, whether it's a secluded forest, a picturesque lakeside, or a quiet desert location. They are also designed amenities like solar panels, generators, and water storage. This allows boondockers to operate independently of traditional campground hookups, making them suitable for extended stays in remote areas.
Additional Resources
Not sure you are ready for off-grid camping just yet, but interested in learning about other traveling and camping options? Need help making sure you are protected from the rough winter elements? Check out these articles:
Top Five Travel Trailers Under $30,000