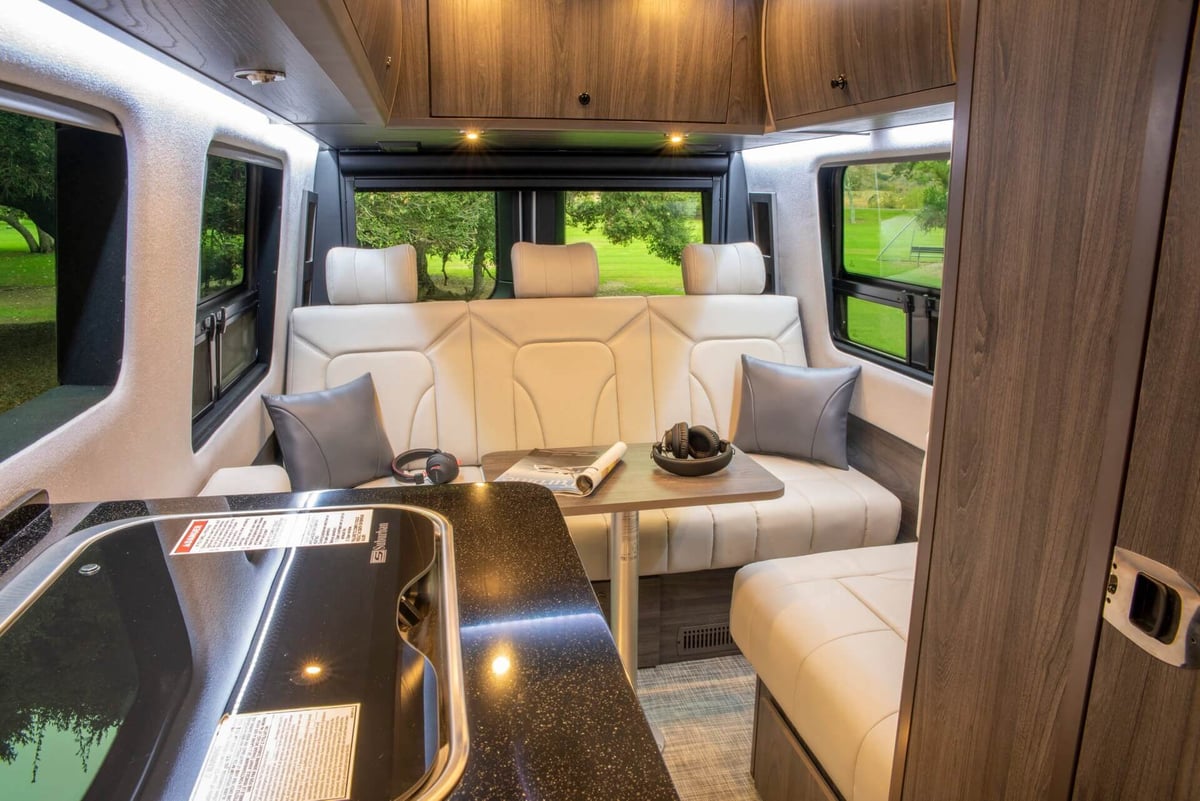 Luxury Class B RVs are a great choice for outdoor enthusiasts who love the glamping experience or taking road trips with family and friends for special events or sporting tournaments.
A class b motorhome is the perfect blend of camping and a five-star stay. These sprinter vans provide campers the opportunity to stay at campgrounds and National Parks to explore everything nature has to offer and at the end of the day, the ability to retreat to a comfortable and luxurious home on wheels and enjoy maneuverability, fuel efficiency and the ability to park easily in most places.
What is a Luxury Class B RV?
A luxury Class B RV is a high-end campervan built on a Mercedes Benz chassis and equipped with state-of-the-art features and technology that one would expect in a luxury vehicle. It also includes such amenities as upgraded leather furniture, unique and high-end finishes for cabinets and countertops, and additional amenities and touches that generally do not come in a standard RV.
Who is Grech RV?
Grech RV is a class B motorhome manufacturer that builds exclusively on Mercedes Benz chassis. They are a family-owned company that has been in the industry for nearly 40 years, offering campers luxury experiences with their motorhomes.
Grech RV develops a variety of different models so there is a price and floorplan for most types of campers. And their motorhomes offer some of the highest levels of standard features and sleek design for the price point. Learn more about the motorhome manufacturer here at Grech RV.
Benefits of a Mercedes Benz Chassis
The Mercedes Benz chassis is a sprinter van chassis that comes in three different lengths and standard cab or crew cab option. Depending on the size, these models can sleep three to seven people. Anything built on a Mercedes Benz chassis will take diesel fuel.
These chassis come with intelligent control and display systems and plenty of storage compartments. The 360-degree camera and digital inside rearview mirror are two new features included on the Mercedes Benz chassis, which makes merging, switching lanes, parking and going in reverse easier and safer.
How Much Do Luxury Class B Cost?
The cost of a luxury Class B motorhome varies depending on model, included features, floorplan, engine type and more. Grech RV campervans start at $209,900 and go up to $235,900.
The more expensive Grech RVs are the Strada, Strada-ion and Terreno-ion. These models provide more interior space and features than the Terreno-ion and the Turismo-ion.
Luxury Grech Class B RVs
Strada

Terreno

Strada-ion

Terreno-ion

Turismo-ion
Strada
MSRP start at $217,900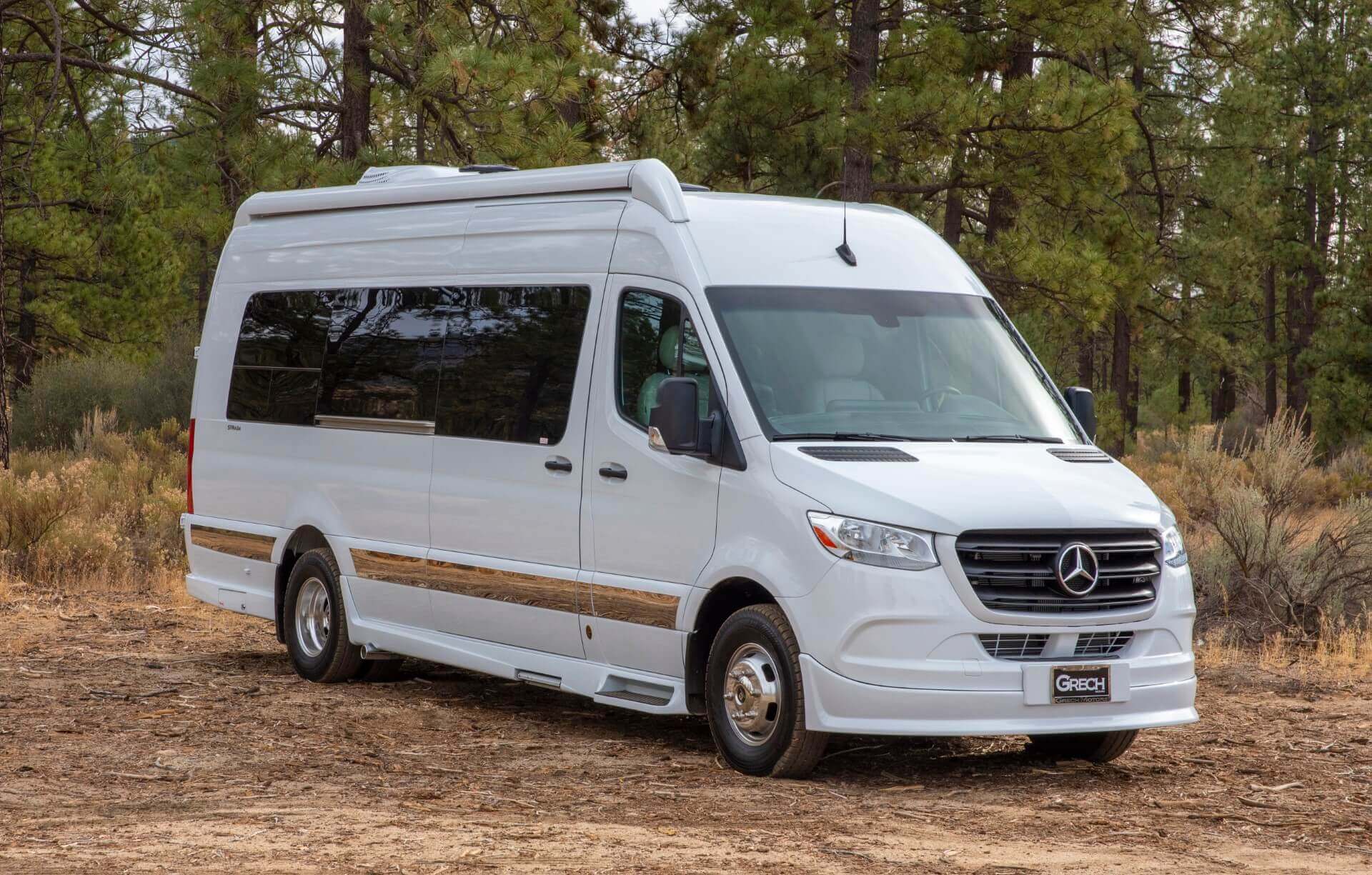 The Grech Strada is the brand's flagship model. It is 24' in length, sleeps two people and has two floorplan options, the Lounge Plan, which includes four captain chairs in the front with a removable table, or the Tour Plan, which has more storage upfront and two large lounge chairs in the back along with the sofa and a removable table.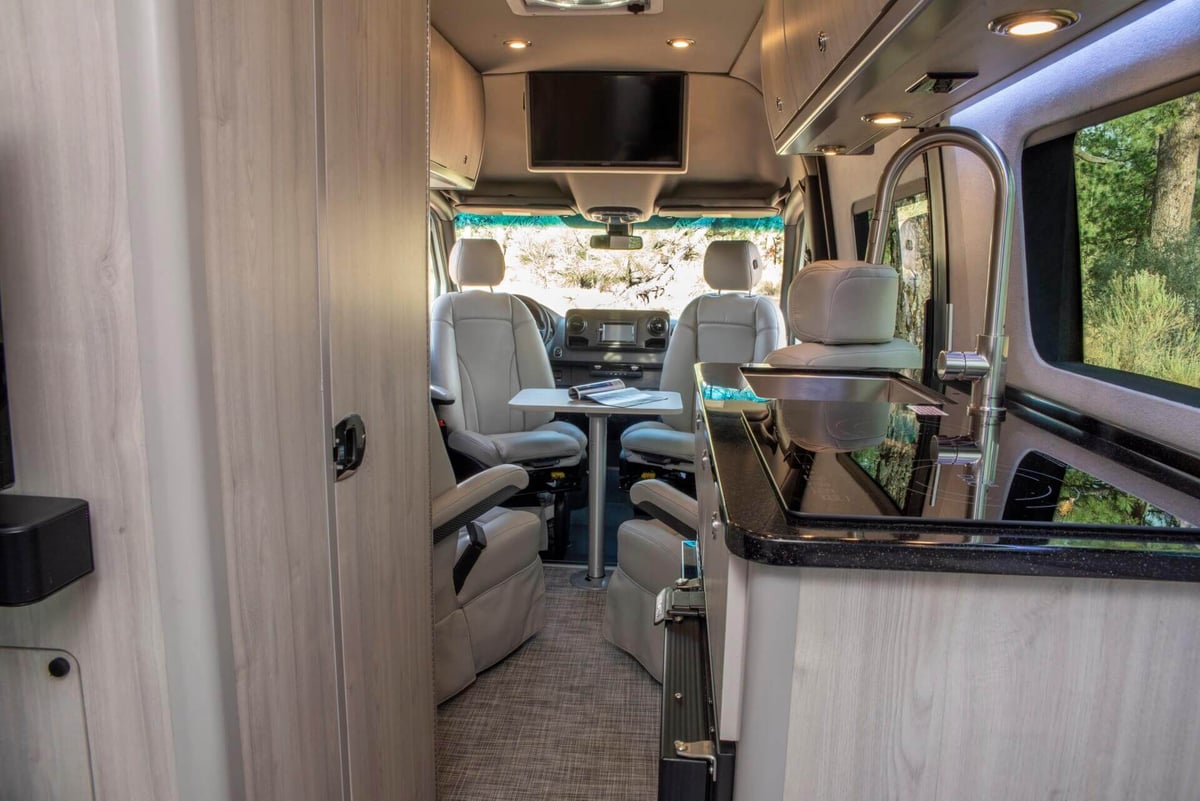 It is a fully insulated RV with an integrated power management system, dual burner propane cooktop and LED lighting throughout the interior. The exterior is built with a custom fiberglass body kit, power entry step and more.
With all the features and finishes of the Grech Strada, this RV provides campers with an upscale home away from home.
>> Shop for a Strada here.
Terreno
MSRP starts at $215,900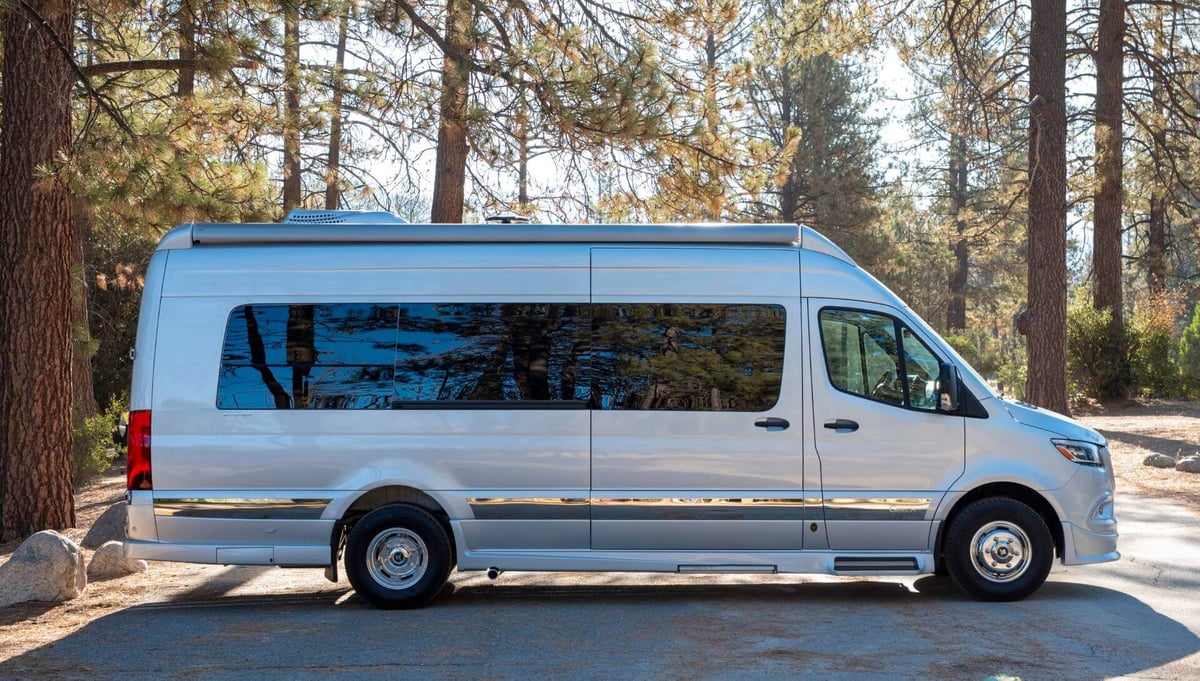 The Grech Terreno is 22' in length with two floorplan options, the Lounge and Tour. Both floorplans can sleep two people comfortably.
Some of its standout features include, UltraLeather seating surfaces, LED TV with DVD/BluRay player and a 2,000-watt Xantrax inverter.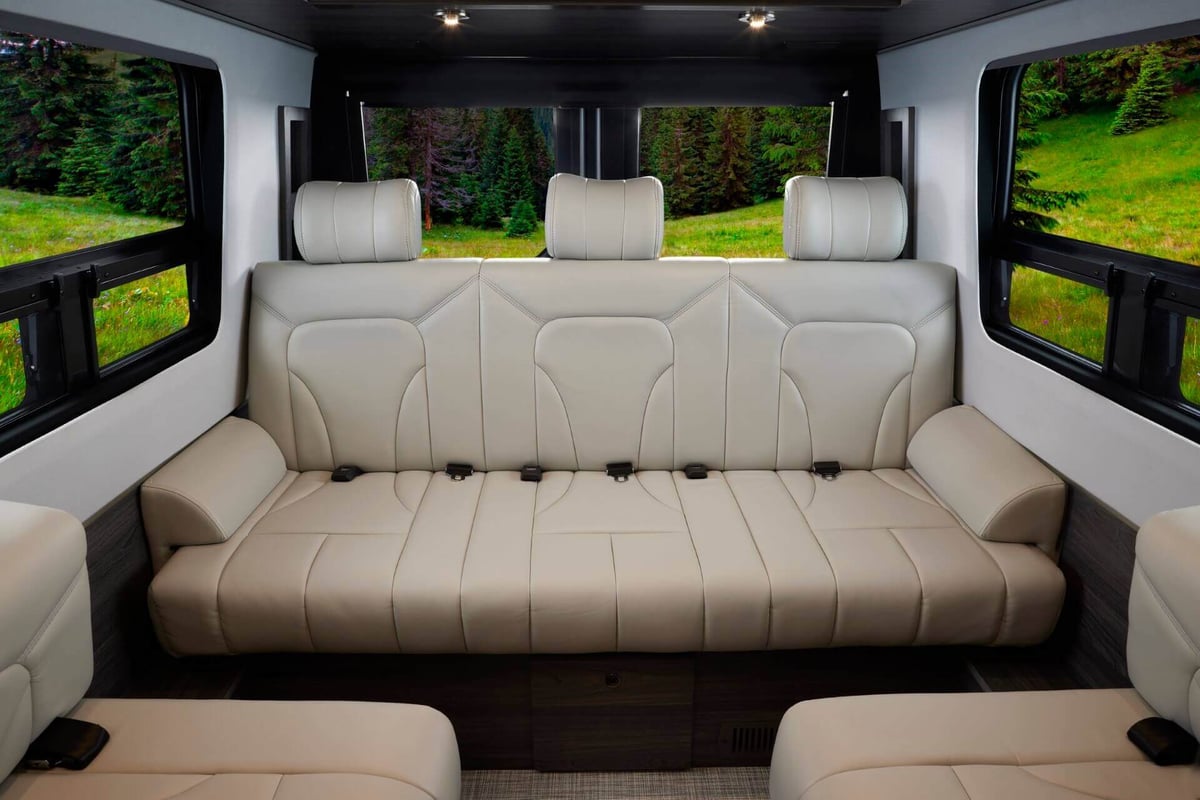 The exterior features concealed stainless steel utility center, power awning with wind sensor and a shower with a handheld wand.
>> Find your dream Terreno here.
Strada-ion
MSRP starts at $235,900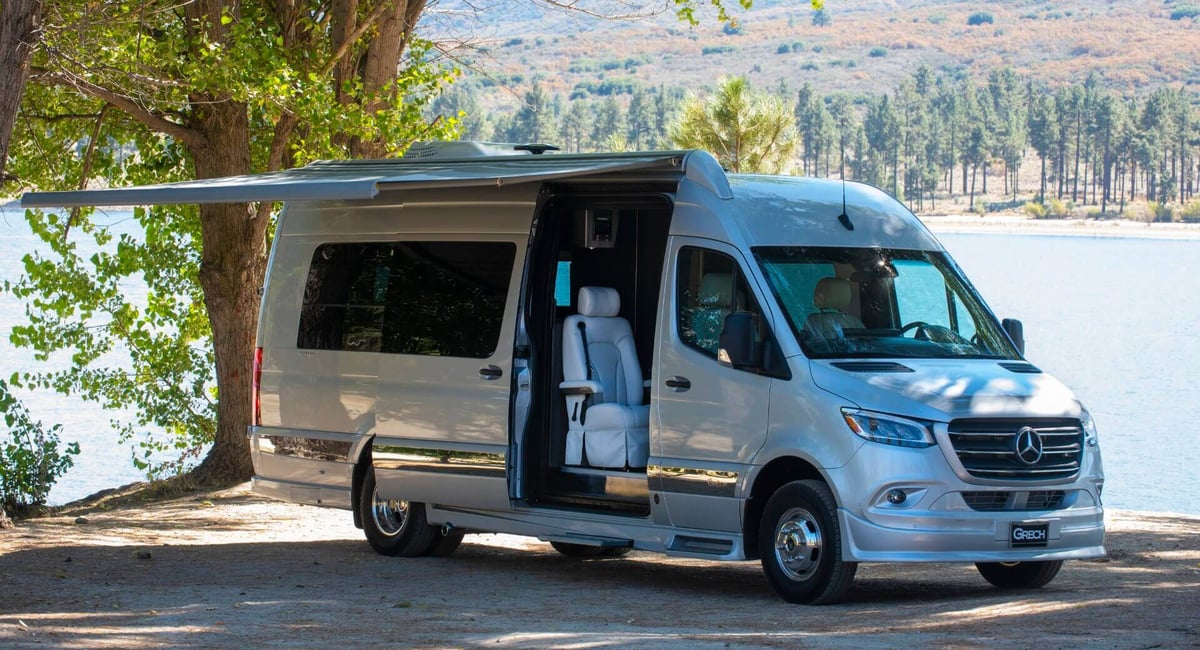 The Grech Strada-ion is a luxury Class B motorhome built on a Mercedes Benz Chassis with a six cylinder diesel engine. The lithium-ion battery storage system provides clean and quiet energy to this RV.
It is 24-feet long and sleeps two campers. The two different floor plans provide different options such as additional storage space and extra seating. The galley kitchen has quartz countertops, birch hardwood cabinets with radius doors and a table with a mount system to enjoy meals, work remotely, play games and more.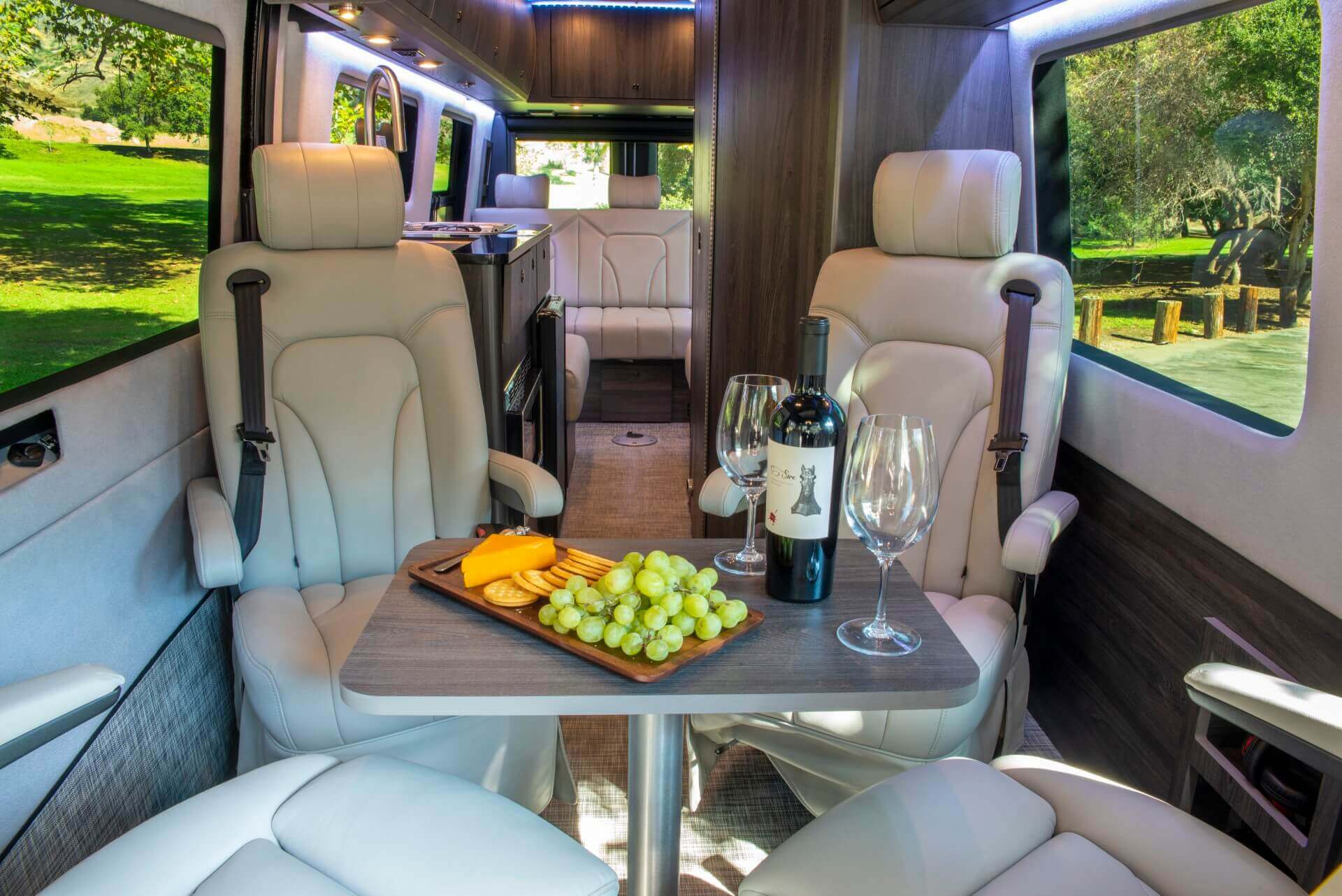 The Strada-ion provides campers a relaxing place to call home.
>> Shop available Strada-ion units here.
Terreno-ion
MSRP starts at $233,900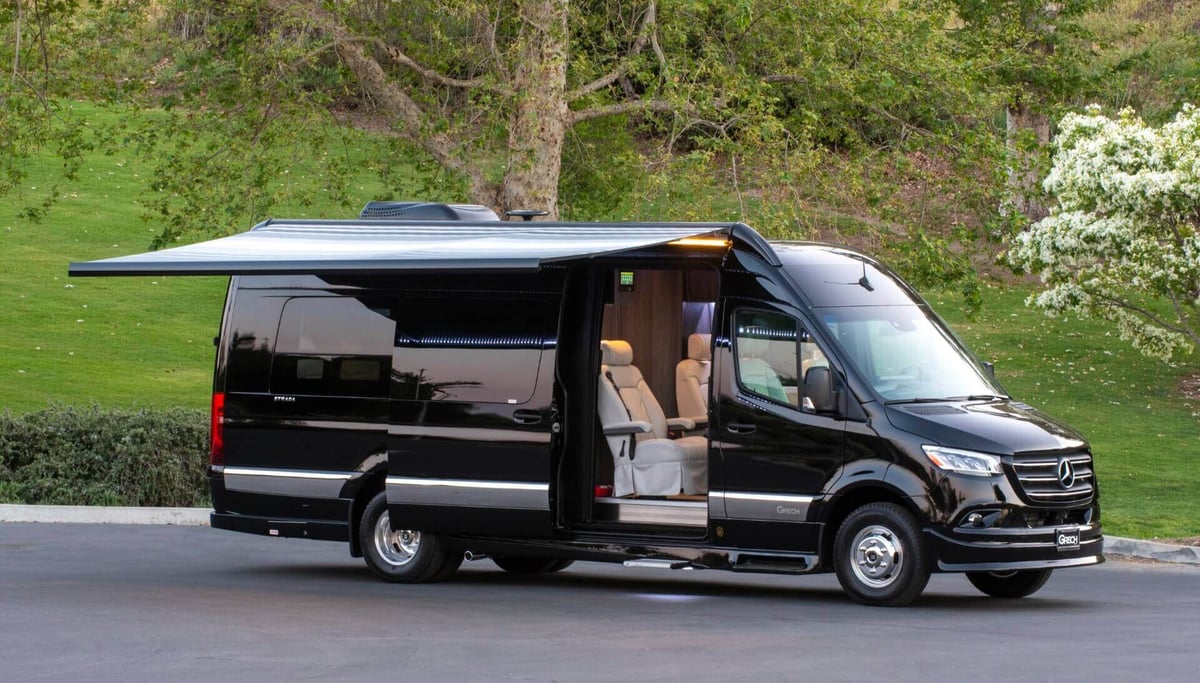 The Grech Terreno-ion interior comes with a zamp solar 300 watt solar power system with dual charger, memory foam power sofa bed and it is Apple and Android app capable.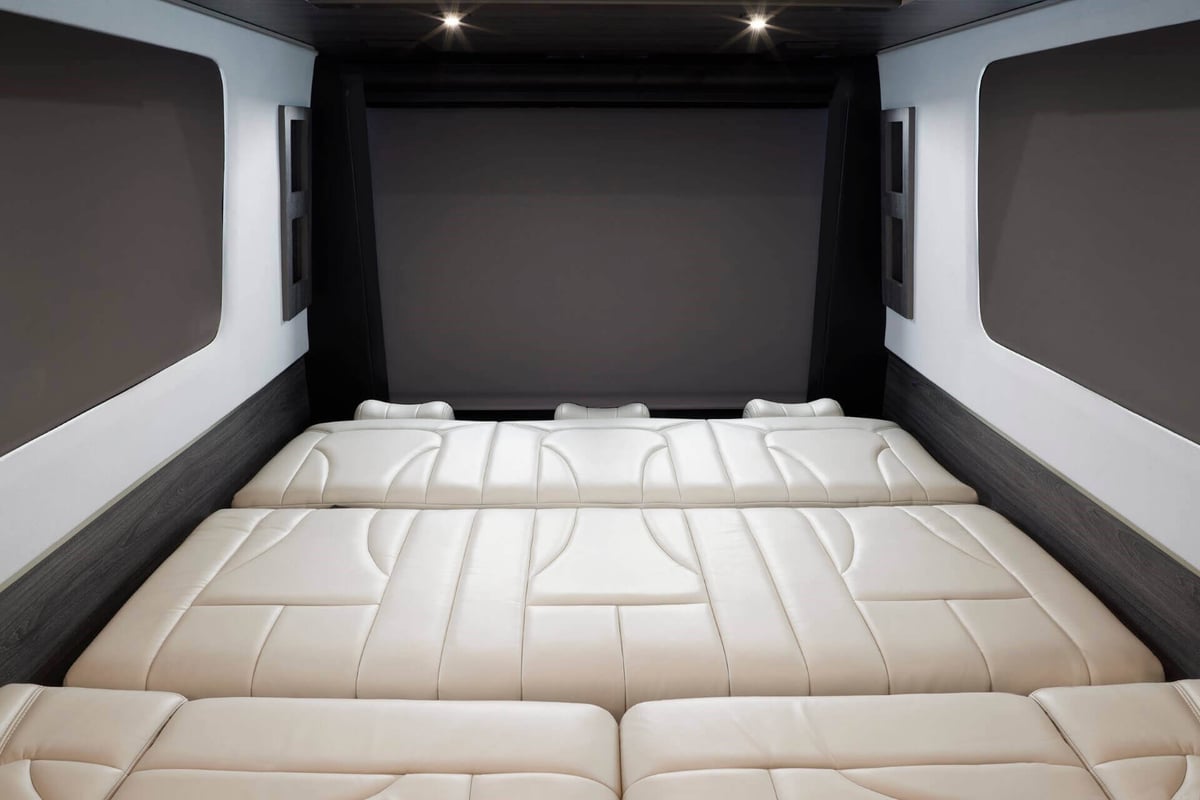 The exterior of the Terreno-ion offers a 110V/120V power outlet and a utility center with cable, 30 amp shore power and city water connection.
This Class B RV comes with many more features making every camping trip comfortable and easy to step up and take down.
>> Ready to find a Terreno-ion for you? Shop now!
Turismo-ion
MSRP starts at $209,900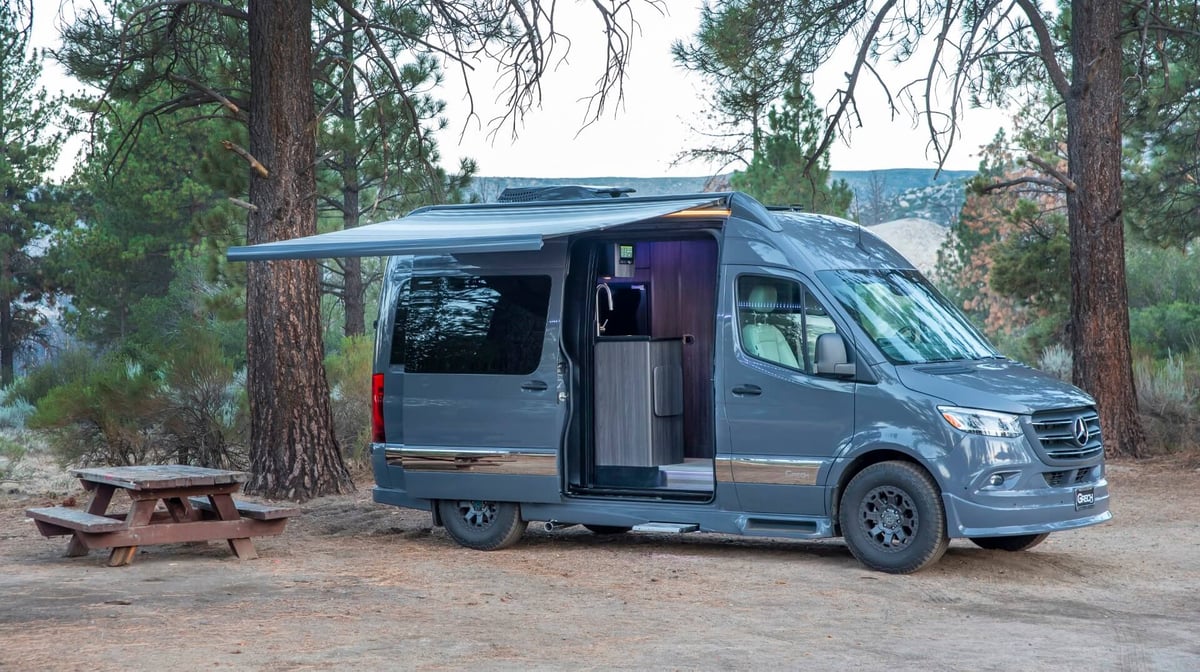 The Grech Turismo-ion is a compact Class B motorhome at 19-feet long and sleeps two campers.
It has chilewich vinyl woven flooring, automotion power window shades and a diesel powered Timberline system, which features a tankless hot water heater, furnace and heating. There is also a monitor that tracks fresh, black and gray water tank levels as well.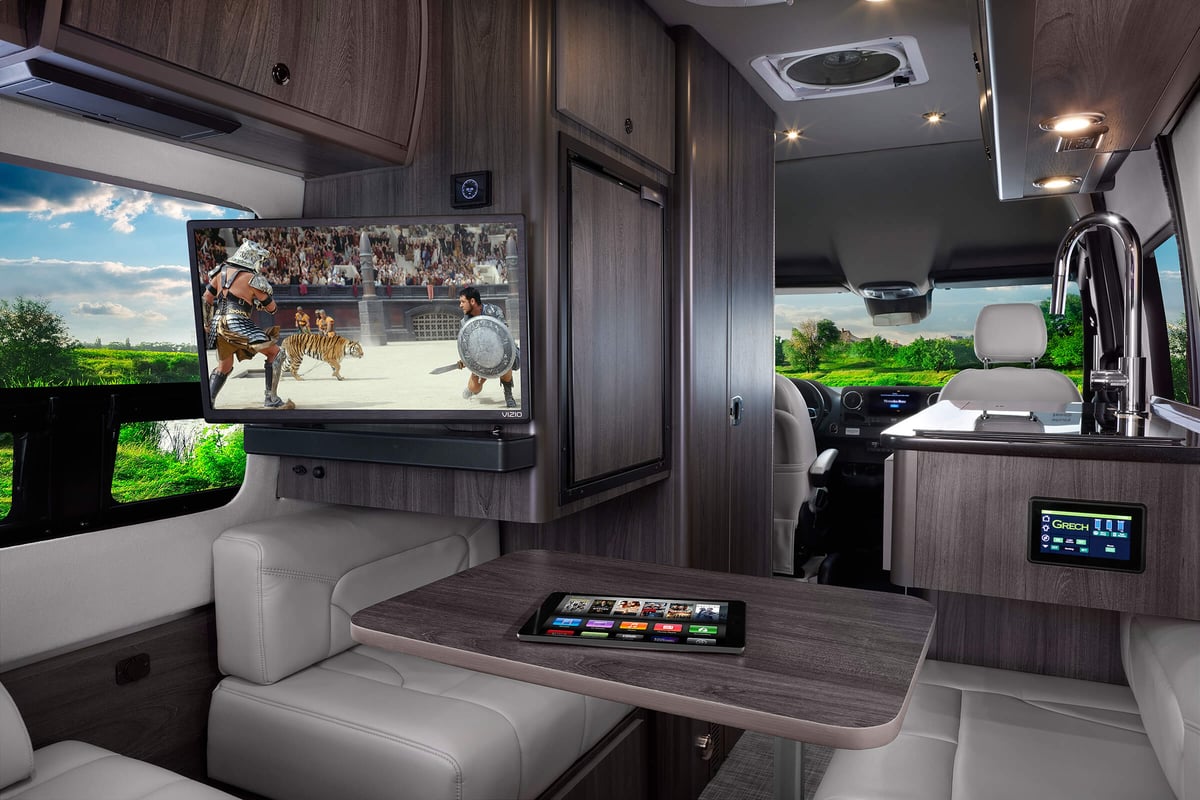 The Turismo-ion has a great entertainment system with a Bose soundbar, 24" LED smart TV, cable TV outlets and so much more. This RV offers the best of both worlds with the opportunity to explore your favorite parks while completely unwinding at the end of the day.
>> Browse available Turismo-ion units for sale here.
Grech RV offers a wide variety of luxury Class B motorhomes for all types of campers. The amenities and features that are included provide a comfortable and upscale camping experience across the nation.
Additional Resources:
Interested in learning more about luxury Mercedes Benz motorhomes? Check out our blog here.
Learn more about the Best Class Class B RVs.