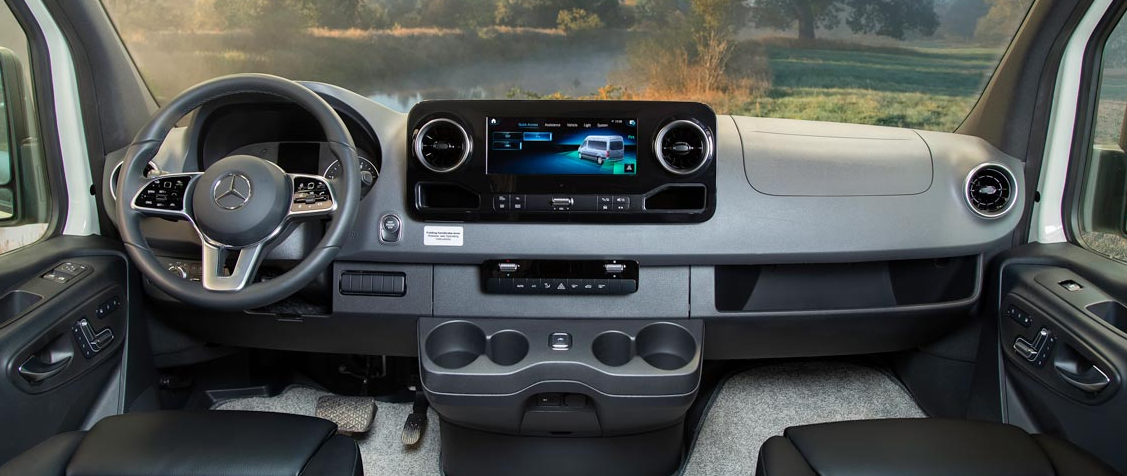 This blog post was updated January 2021 with new models
Class B and Class C Motorhomes built on a Mercedes Benz chassis offer the comfort and style of European luxury cars and the convenience of traveling in an RV.
RVs with Mercedes chassis come in two motorhome types: the van-like Class B and the larger, truck-like Class C. Class B camper vans offer great fuel economy and are easier to maneuver and park. Class Cs feature more interior space and amenities, while being recognized as easier to drive than the bus-like Class A.
Mercedes Benz motorhomes are built by a variety of RV brands and manufacturers in various model types to ensure there is a floorplan to fit every RVers' camping style, from weekend luxury trips to full-time off-road travelers.
In this blog, we'll discuss each type's top features and floorplan, to help you find the right RV when you start shopping.
Top 6 Mercedes Benz Motorhomes
Class B Motorhome RVs with Mercedes Benz Chassis
1. Winnebago Revel 44E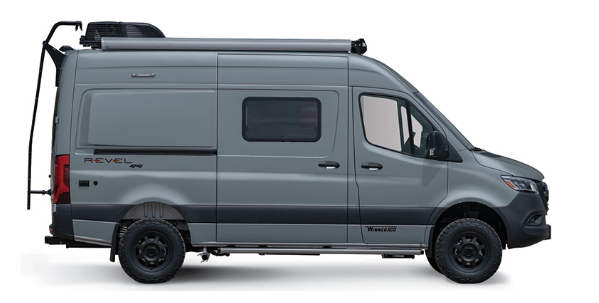 The Revel Class B motorhome is built on a Mercedes Benz sprinter chassis with a 3.0L 6-cylinder and a 188-HP turbo diesel engine. The floorplan features a bench seat with removable pedestal table and a mini kitchenette.
The kitchen is a great space to prepare and eat homemade meals on camping expeditions or long road trips. In the back of the van is a 49-inch x 79-inch power lift bed with a gear garage below to store extra equipment. Plus, with a wet bath, campers don't have to stop at a campground or rest stop to freshen up.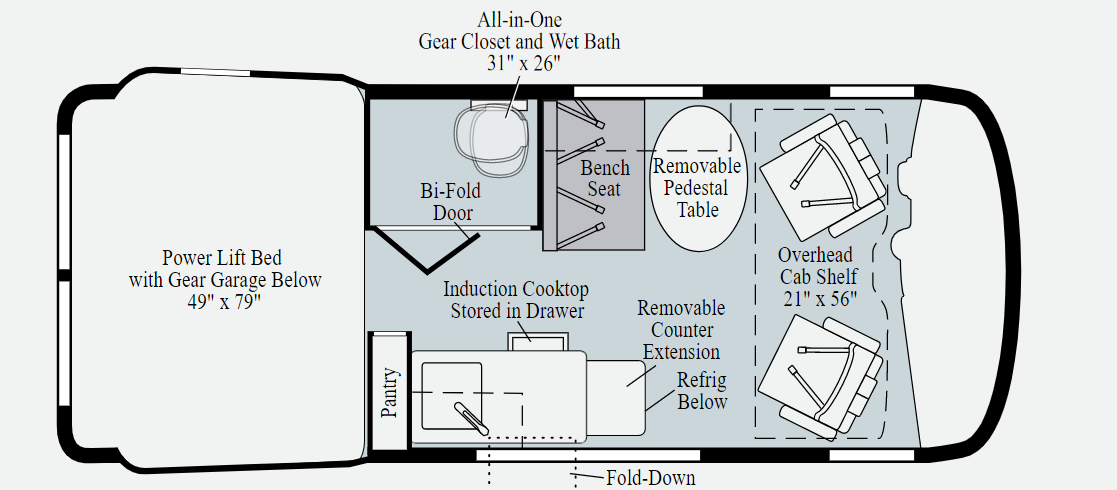 The Revel was constructed using heavy-duty vinyl flooring and running boards with ground effect lighting and rubber trim. The tinted dual-pane euro acrylic windows with cassette shade offer ample privacy when needed and help keep the interior cool by blocking the sun.
This Class B van is a great choice for campers who enjoy spending time outside exploring the country, while having a comfortable place to eat, sleep and call home at the end of every day.
2. Pleasure-Way Plateau TS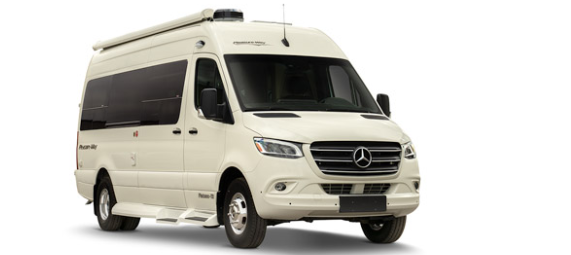 The diesel Plateau TS comes jam-packed with features that make every camping trip an enjoyable adventure. It's 22-feet, 9-inches long and has a 3.0L V6 BlueTech engine.

The floorplan includes a private wet bath with a vanity, mini kitchenette, memory foam sofa cushions and a 50-inch high x 22-inch wide x 20-inch deep wardrobe with hanging space.

The kitchen was made with the home chef in mind. It provides a 6-cubic-foot refrigerator, two-burner stove, microwave/convection oven, large under-mount stainless steel sink and more. The Corian solid surface countertop includes flip-up extensions for extra meal preparation space.
The Plateau TS is a perfect fit for campers who prioritize a cozy interior with the equipment to whip up all their favorite meals while camping.
3. Winnebago Era 70A
The Era is a sprinter-based Class B option on a Mercedes Benz chassis. It still has a fuel-efficient diesel engine with on- or off-road capabilities and luxury interior styling and comforts that will make any camping experience more than comfortable.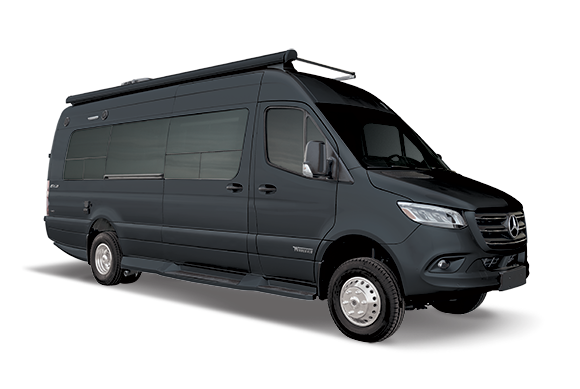 The technology package in the Era includes an interactive voice interface on its infotainment system and safety features such as active brake assist and blind spot monitoring. And it comes with a 4x4 option to make off-roading an easier feat to tackle.
This camper van also includes a full kitchen with a two-burner stainless-steel cooktop with a glass, a microwave, sink and a compressor-driven fridge. The Era sleeps up to three with flex bed and a sofa bed options depending on whether you are just a couple or a small family.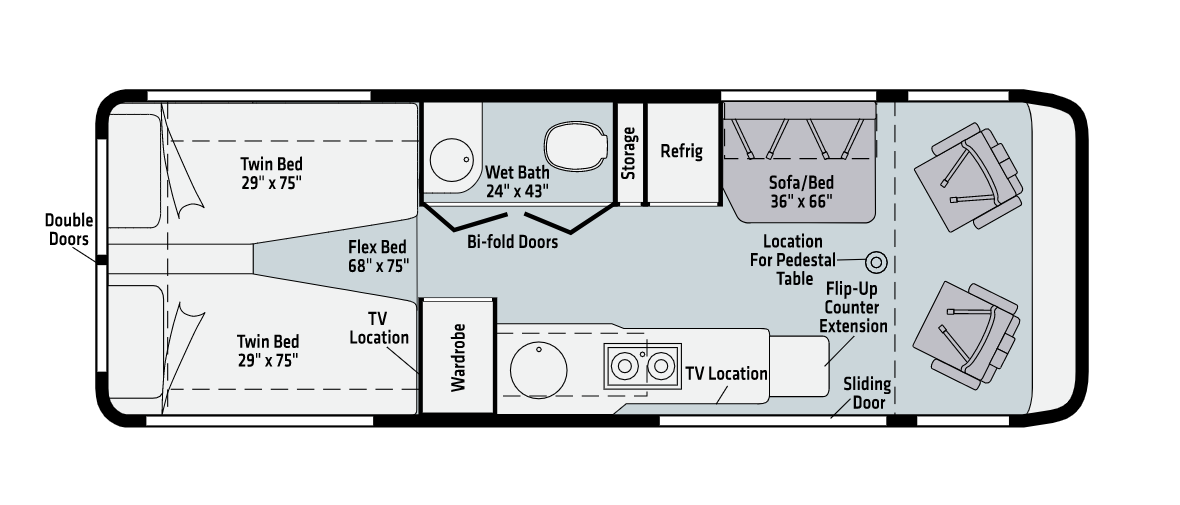 Luxury features include leather seating and an ultra-quiet A/C system. There is even the Precision Plex app for iOS and Android that allows campers to monitor and control functions such as lights, awning, generator, tank and battery levels.
This sporty sprinter van is a great option for those who are single or a small family of campers who want to take a leisurely road trip to their next destination whether it is on or off the beaten path!
Class C Motorhomes with Mercedes Benz Chassis
4. Forest River Sunseeker MBS 2400W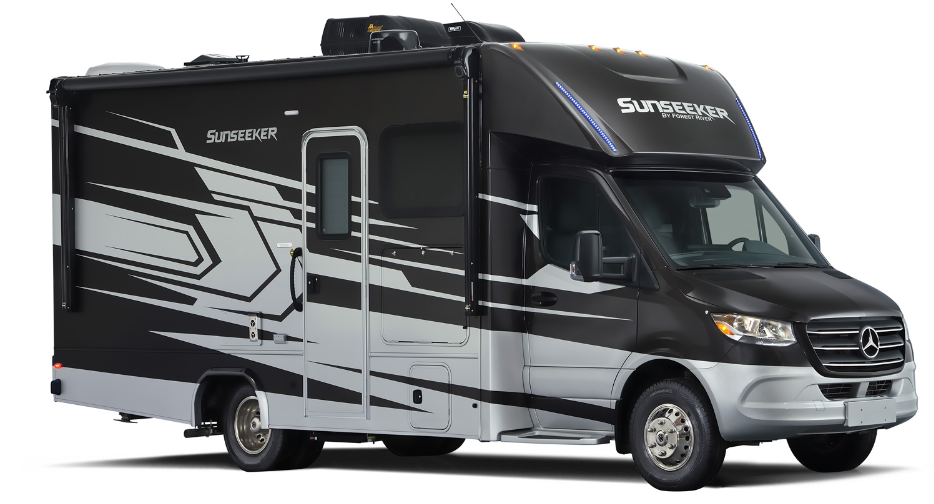 The Sunseeker Class C won RV Pro's Best of Show in 2020 and is Certified Green by TRA Certification. It's 24-feet, 11-inches in length and sleeps up to five people and runs on a diesel engine.
The floorplan opens to the common space with a u-shaped dinette, mini kitchenette, overhead cab bunk with an LED TV. The back of the RV features an upgraded memory foam queen mattress, a second LED TV and a full bathroom.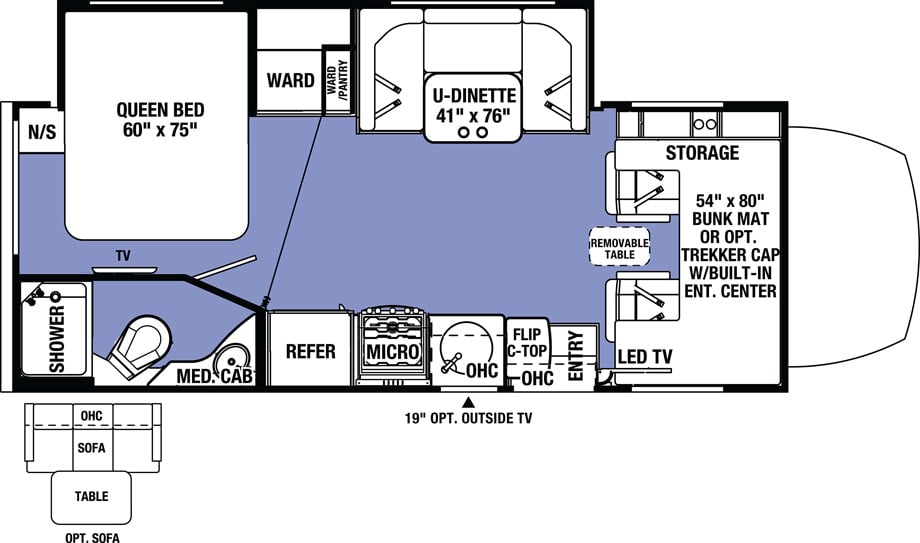 There are several storage spaces available throughout the RV with the nightstand and wardrobe in the bedroom, pantry space in the common area and overhead cabinets throughout the RV. This extra space gives campers plenty of room to bring the amenities of home along on camping trips.
The common living room space also features Maxx Air multi-speed power fan with cover, LED lighting throughout and 12-volt USB charging station. Campers will love the Sunseeker because of its size, luxury features and amenities.
5. Winnebago View 24D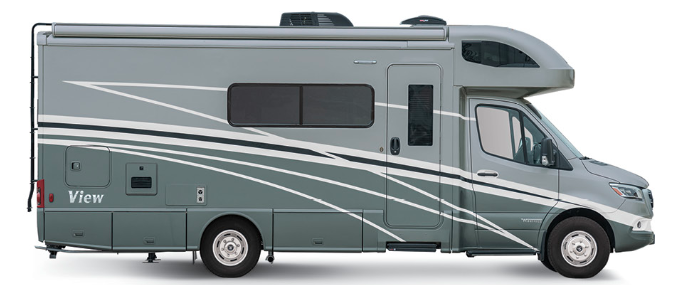 The View is built on a diesel-powered Mercedes chassis. It has advanced safety features you'd expect in a Mercedes Benz like active brake assist, lane keeping assist and the MBUX touchscreen infotainment system with voice interface and navigation, plus, the RV can act as a Wi-Fi hotspot.
For RVers who want to be off-the-grid campers, this RV might be the right fit. With industry-leading holding tanks, 200W solar, group 31 batteries and a 2,000W inverter, you can extend your escape into the great unknown, while still enjoying a luxury camping experience.
The inside of the RV has everything needed to make the camping experience comfortable. The front houses a U-shaped dinette and a kitchen area with a 32" HDTV. The back of the RV has a common living space with a sofa and table and a 60-inch x 75-inch fold out Murphy bed. There is an insulated sleep deck above the cab and a full bathroom with wardrobe space for extra storage.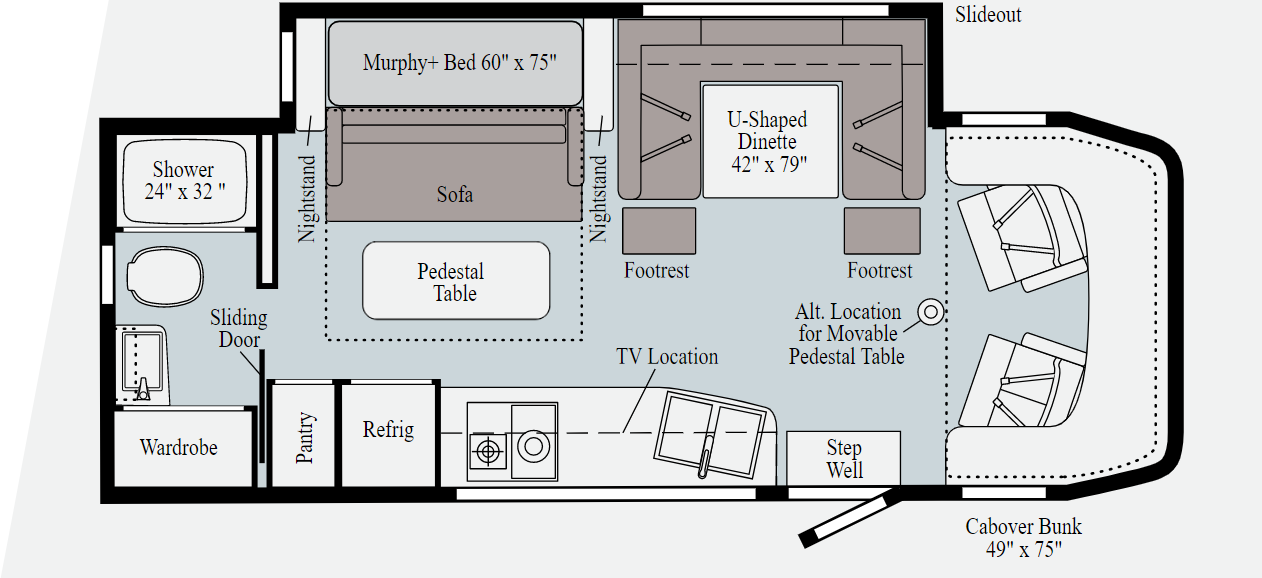 Plus with design touches that come standard such as LED lights and toe-kick lighting throughout, an amplified digital HDTV antenna, powered roof vent, blackout roller shades and a soft vinyl ceiling, curved cabinets, soft touch galley drawers and sprung-cushion seats in the dinette and sofa, you'll stay relaxed and comfortable through the entire camping experience.
6. Tiffin Wayfarer 25LW
The Tiffin Wayfarer is a Class C in a class of its own. You won't have to give up the luxury features and amenities well known to Tiffin just because you want a Class C motorhome. Owners will enjoy its spacious interior and the high-performance handling and drive technology that comes standard with the Mercedes Benz chassis.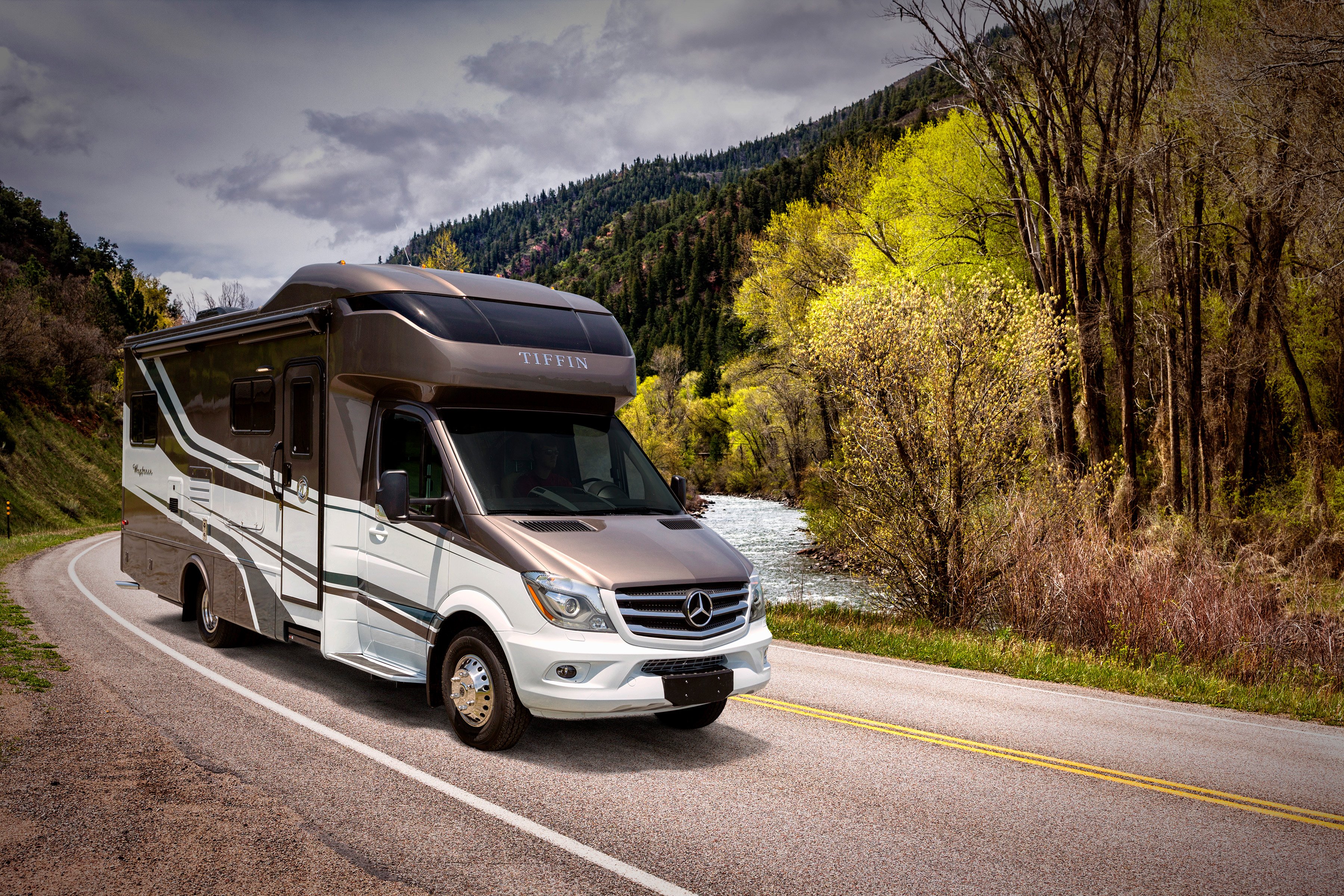 The engine is a 3.0 6-cylinder turbo diesel with 7-speed automatic tip shift speed transmission with 188HP/325lb torque.
One of the things that stands out about Tiffin is their superior paint jobs and the Wayfarer does not disappoint. With classic and stately color schemes and full body paint, this motorhome is sure to standout at the campground.
Inside is a bright and calm interior with muted colors sure to create a relaxing atmosphere when at the campground. Campers will find a highly capable fridge, sink, microwave and glass two-burner cooktop, all stainless-steel for a clean, modern look. The recently added countertop extension helps give families the space they need to whip up a delicious meal anytime of the day.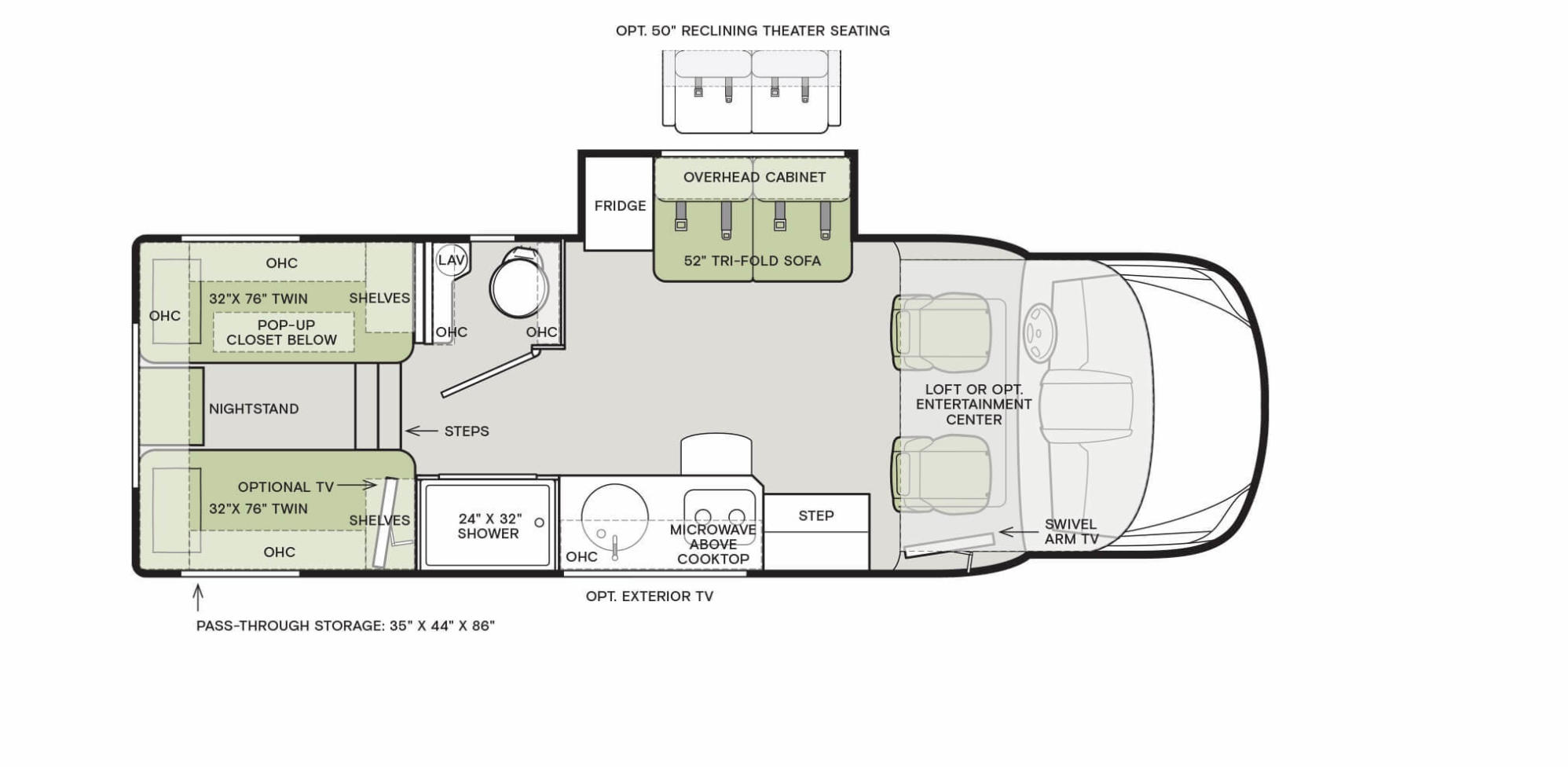 Handcrafted cabinets are sprinkled throughout the RV with leather furnishings and plenty of space to relax in comfort. A great coach for a couple or small family, the 25LW floorplan, has enough sleeping arrangements for four with two twin beds that covert into a large King bed, an over-the-cab loft and a tri-fold sofa that converts to a bed. It also includes a nice sized private bath and shower.
Looking for something easy to drive that will fit your family and be sure to impress at the campsite or in your driveaway? The Tiffin Wayfarer is the perfect RV to accomplish that goal.
Why Choose Mercedes Benz Chassis Motorhomes
Motorhomes built on a Mercedes Benz chassis offer luxury features both inside and out.
Many of these models feature the latest technology for driving, entertainment, power and fuel efficiency, ticking the boxes for many who are looking for a luxury camping experience.
They are thoughtfully designed with features that help protect passengers from the rugged outdoors or ensure ultimate comfort and convenience when on long road trips. If you are looking to up your family's road trip experience or interested in being a minimalist camper, these options will more than fulfill those needs and provide campers a sleeker modern look.
Suggested RV Resources
Interested in learning more about available Class B RVs, check out our blog, The Best-Sized Class B Motorhomes in North America.
Thinking a Class C RV is right for you? Learn more about other Class C brands that might be right for you with the Best Class C RVs Under 30 Feet.