Are you ready to embark on a journey where the road is your canvas, and your mode of transport is nothing short of a masterpiece? As the sun sets on 2023 and rises on 2024, the world of class A motorhomes is abuzz with excitement. The new year brings a fresh wave of innovation, design, and engineering to the road.

Class A Motorhomes are great for full-time RVers, adventurous families, remote workers, and many others.

In essence, Class A motorhomes are versatile, spacious, and well-equipped vehicles that cater to a wide range of travelers, making them an attractive option for anyone looking to combine the freedom of the open road with the comforts of home.

>>Ready to start shopping for your Class A Motorhome? Click here.
What is a Class A Motorhome?
One of the main differences that distinguish Class A, Class B and Class C motorhomes are the frames that the vehicles are built on. Class A motorhomes are some of the largest vehicles on the road. They are built on the same chassis- or frame- as buses and commercial semi-trucks and therefore are comparable in size. They are made to be heavy-duty, with a strong and reliable frame, similar to that of an 18-wheeler. They typically range anywhere from 25-45 feet in length, and most have a towing capacity of up to 5,000 pounds, with the exception of Diesel Class A's, which can tow up to 10,000 pounds.
Top 2024 Class A Motorhomes
Thor Motor Coach Vegas

Forest River FR3

Entegra Coach Emblem

Forest River Georgetown
Thor Motor Coach Vegas
MSRP starts at $169,350



The Vegas is often classified as a "Class A RUV" (Recreational Utility Vehicle) due to its smaller footprint compared to traditional Class A motorhomes. This makes it easier to maneuver and park while still offering the benefits of a Class A motorhome. It is also easier than ever to manage the Vegas without ever having to leave your bed with Rapid Camp+ multiplex wiring control system. This all-in-one control center allows you to monitor your power and tank levels, extend or retract your RV's slides, turn on lights, and so much more, all from the touchscreen panel. The Vegas is equipped with ample storage space in the lighted rotocast compartments, pack all your outdoor gear without the fear of leaving anything behind.



The Thor Motor Coach Vegas will have you prepared for a comfortable night's sleep with several sleeping options to choose from. Depending on your preference, you can opt for the Twin-to-King conversion bed, a Murphy bed, or a flip-up Queen-size bed. If you need extra space to get ready in the morning, lift the bed to find cushioned seating underneath. Also, with TVs in the living area and bedroom, you'll have the perfect set-up for your family movie nights.
The kitchen has a double-door refrigerator, two-burner gas cooktop, and convection microwave oven for versatile cooking options. And there is lots of meal prepping space for big family meals after a long day of outdoor adventures with easy clean up thanks to the large sink and pull-down sprayer.
Gather around the Dream Dinette® for a cozy family meal or snuggle up with your loved ones on the comfy sofa bed or Jack-knife sofa. When it's time to turn in for the night, each floor plan features a powered drop-down overhead bunk with a super comfortable Cotton Cloud™ mattress and bunk ladder. Plus, the easy-to-clean residential vinyl flooring is a dream for pet parents and outdoor adventurers.
>>Ready to start shopping for a Thor Motor Coach Vegas? Click here.
Forest River FR3
MSRP starts at $193,549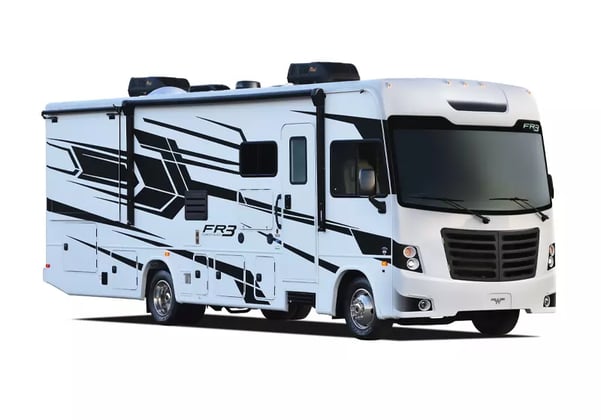 The Forest River FR3 is a gas Class A motorhome with three different floor plans and tons of options and features to choose from. It ranges from 31'11" to 35'11" in length with a gross vehicle weight rating for 20,500 pounds.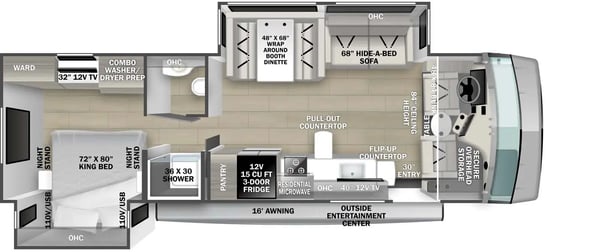 The FR3 32DS is a bunkhouse model that's fully equipped for your comfort. The rear main bedroom includes a king bed, LED TV, and dual nightstands. Just outside the bedroom is a full bathroom, jackknife sleeper sofa, and flip-down bunk that provides an additional sleep space. The cabover bunk offers a fun place for the grandkids—or provides you with additional storage space.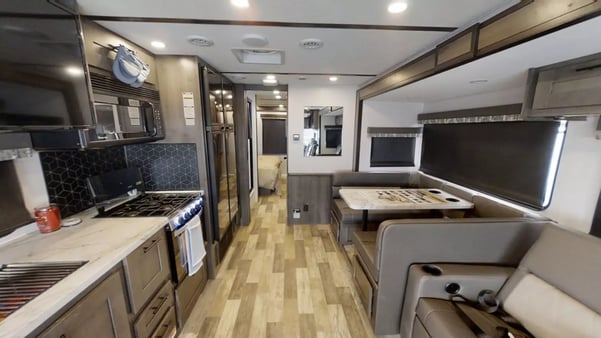 The living room and kitchen has a stainless-steel kitchen sink with a bamboo cutting board, 4-door refrigerator, oversized pantry, and a 3-burner cooktop oven. The back of the motorhome has a split bathroom that allows someone to take a shower while another freshens up in the sink and toilet room. This is a great space for kids to guests to join in on the fun. The Forest River FR3 is great for a family full of outdoor adventurers.
>>Ready to find your dream Forest River FR3? Shop here.
Entegra Coach Emblem
MSRP starts at $250,048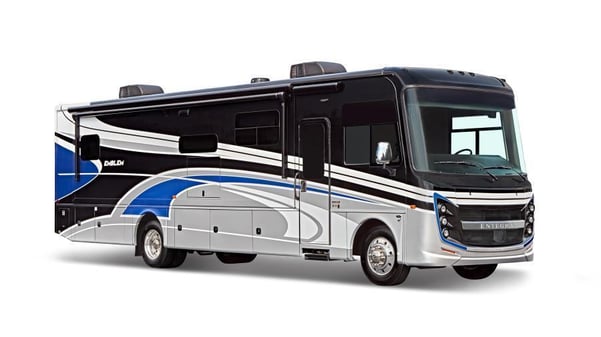 The Entegra Coach Emblem is a great RV for those luxury RVers who love to travel in style and have the fanciest RV in the campground. Driving has never been more enjoyable with six-way power and swivel driver/passenger seats and a soft-touch, vinyl-wrapped automotive dash. Some of the more advanced interior features include Pioneer® 8-inch infotainment center with Apple® CarPlay™ and Android Auto™, and a 120-inch panoramic windshield.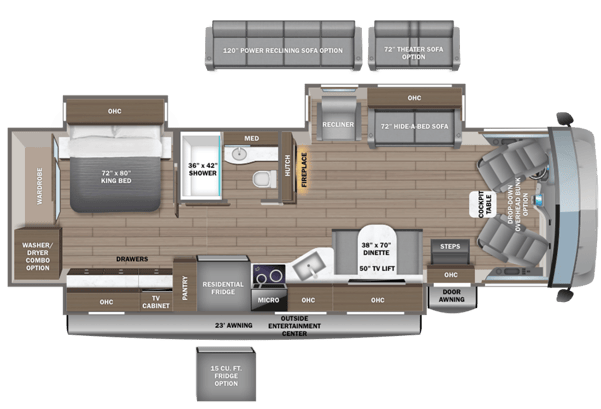 The 36H model is perfect for camping families because of all the extra sleeping space. There is a private main bedroom with a large closet, dresser and overhead cabinets so there is plenty of storage space for clothes and other necessities. There is also an overhead drop down bunk, and a hide-a-bed sofa option which is perfect for kids or guests. Plus, there is a washer/dryer combo option for those road warriors that don't have time for the laundromat.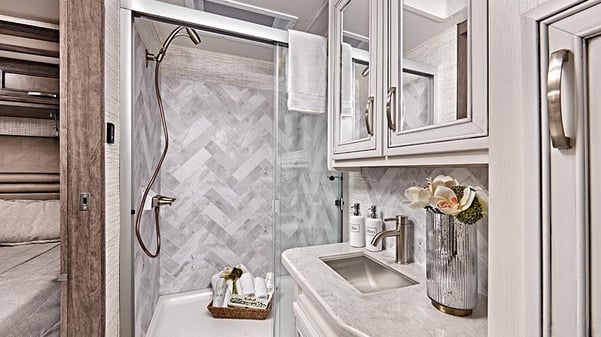 The living space has a residential size refrigerator, fireplace, large pantry, and a recliner or a hide-a-bed sofa.
>>The Emblem has all this and so much more included. Shop now to see all features it offers.
Forest River Georgetown
MSRP starts at $222,484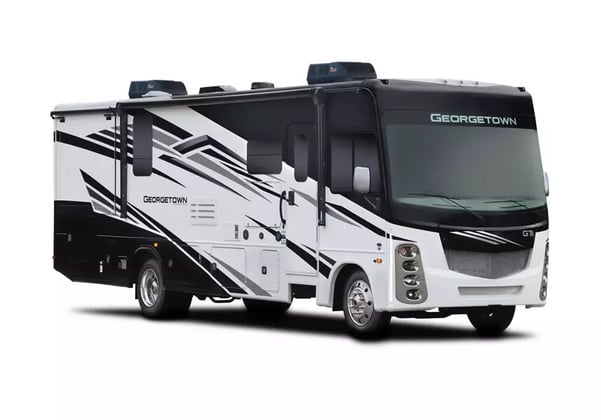 The Forest River Georgetown 5 Series has five different floor plans to choose from. These options run from 34'11" to 37'11" in length and weigh in at 22,000 pounds. The all-new floor plan, model 36F5, is still in the works on specifics but will definitely be worth the wait.

There is a private back bedroom with a king bed, TV prep, overhead cabinets and washer/dryer option. A 1/2 bathroom located directly across from a full shower placed right before the bedroom is the perfect way to accommodate multiple family members or guests before a long day out on the trails.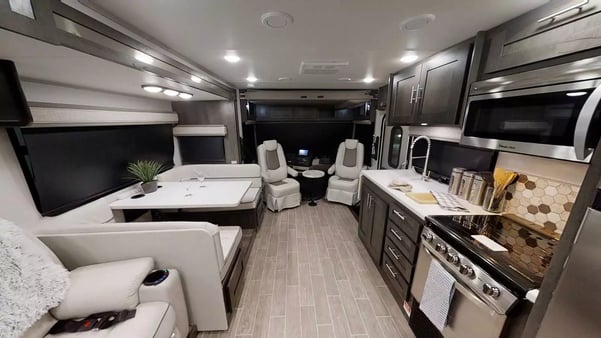 Common living area has four-person theater seating across from a fireplace & TV along with a large booth dinette. The kitchen offers a double sink, large cooktop, microwave, refrigerator & spacious pantry. The cab provides swivel captain seats, removable table, & power front overhead bunk.
>> Ready to start shopping? Find a variety of Forest River Georgetown RVs here.
Don't Forget the Free Maintenance
With the daunting RV buying process and all the minor details that go into it, you want to know that no matter what happens, you're taken care of by a dedicated service team. At Campers Inn RV, we got you covered. Check out some features of our best-in-class maintenance packages here, these services are all included with the purchase of a new 2024 RV.
Conclusion
Class A motorhomes can run on the pricier side compared to other types of campers, but you get a top-rate, luxurious home away from home in return for what you pay. If a classy, comfortable living space for you and your family is your main priority while camping, a Class A motorhome is the way to go. Class A motorhomes vary in their specs and abilities. With so many unique types out there, all with different budgets, features, and functions, there is truly something to fit everyone's needs.
Additional Resources
Interested in reading even more about Class A Motorhomes? Check out the links below to learn more!
Affordable Class A Motorhomes and RV Roadside Assistance
Download our free Essential RV Parts and Accessories Starter Kit guide to help you find what's needed to have a smooth transition into your new Class A Motorhome!
Already in the holiday mood? Check out this article for some decorating ideas/tips: 9 Tips for Decorating Your RV