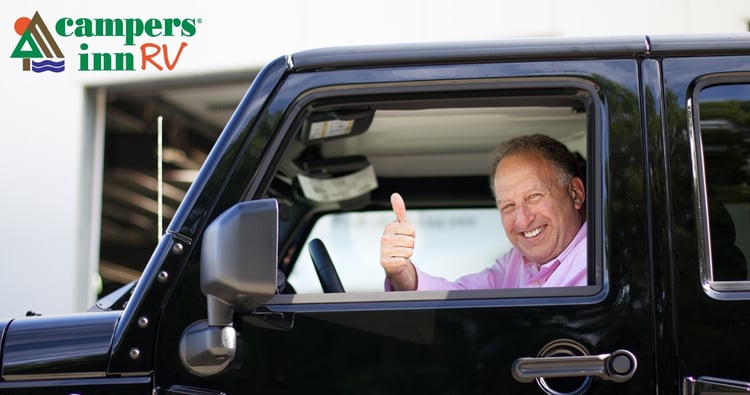 Campers Inn RV's 50th Anniversary is just around the corner. In anticipation of this milestone, Campers Inn RV President Jeff Hirsch and his family round off the 49th year of business with an epic RV adventure across the United States.
The Hirsch family began their journey on Friday, August 7 in their black 2016 Jeep Wrangler and will travel down to Alabama to pick up their brand new, custom-ordered Tiffin Phaeton QKH Class A motorhome. From the Tiffin factory in Alabama, the Hirsches will begin the RV adventure of a lifetime!
The Hirsches' cross-country road trip will last the entire month of August. They're following a loose plan to visit a number of noteworthy destinations including the Pacific Coast, The Wave in Arizona, Grand Canyon National Park and many other beautiful locations.
However, only a few days into their adventure, the trip was off to a bumpy start. Here's a report from Jeff and the family:
"We got a late start to our trip on Friday at 5 o'clock, but we were full of anticipation and excited for our journey," said Jeff. "We departed from Kingston, NH and got as far as Milford, PA last night, when we quickly realized the Jeep doesn't allow for night driving comfort. The girls tried every configuration known to man to find sleeping comfort, and I soon realized it was time to pull over—let me correct that: Deb (Jeff's wife) decided we should pull over. Unfortunately, our room's air conditioner didn't work, and we had a tired family. We've all concluded we can't wait to get to the comfort of our new Tiffin."
Here are the destinations the Hirsches have visited so far on their way to Alabama:
8/8 — Shenandoah National Park and Luray Caverns in VA
8/9 — Nashville, TN
Photo gallery:
Stay tuned to the Campers Inn RV blog over the course of the next month for updates on the Hirsches' epic road trip. We will be posting their locations, photos and travel stories.
If you have suggestions for awesome destinations the Hirsches can visit during their journey, write to us in the comments! They would truly appreciate any recommendations!