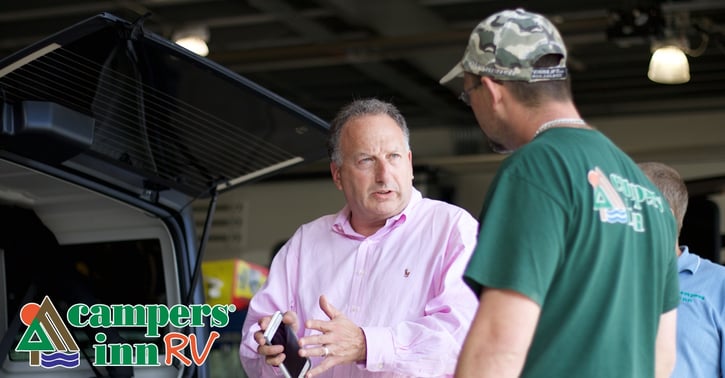 This week, Campers Inn RV President Jeff Hirsch arrived back home in New Hampshire after an epic three week RV adventure out west with his family. Read more to view the 8 important things Jeff learned about RV travel.
Here's an update on the Hirsches' last leg of their RV adventure:
After Sunset Crater Volcano, the Hirsches left Arizona and stopped at Lake Medina RV Resort in Pipe Creek, Texas. Then they went to New Birmingham, Texas to visit some old friends. Jeff's wife and daughter stayed in New Birmingham for a few extra days, and Jeff and his other daughter headed back home with the motorhome. On the way, they stopped at Bushkill Falls in Pennsylvania, which is a tourist attraction that is known as the Niagara Falls of Pennsylvania.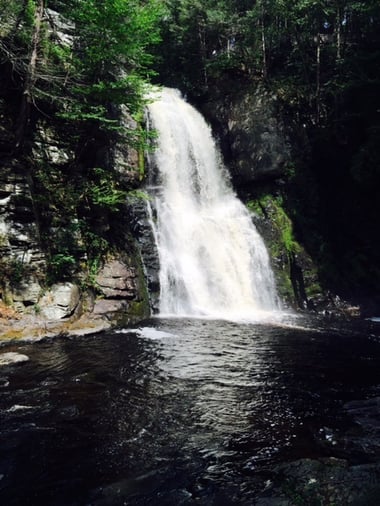 Jeff was thrilled to talk about what he learned during his RV adventure:
1. Buy an RV friendly GPS
"One thing I learned was how great an RV friendly GPS is. I would strongly recommend that RVers think about purchasing an RV friendly GPS because Siri and cell phone GPS can get you into trouble. The RV GPS will keep you away from low bridges and treacherous roads that aren't suitable for your rig. The GPS helped us find the safest exit leaving Sunset Crater Volcano at dusk."
2. Try to get to a campground before it gets dark
"The whole trip, we always tried to get to the campgrounds before it got dark. I'm always concerned about a stone I don't see or a low branch. When you are driving something as nice as our Tiffin Motorhome, you don't want to have any mishaps."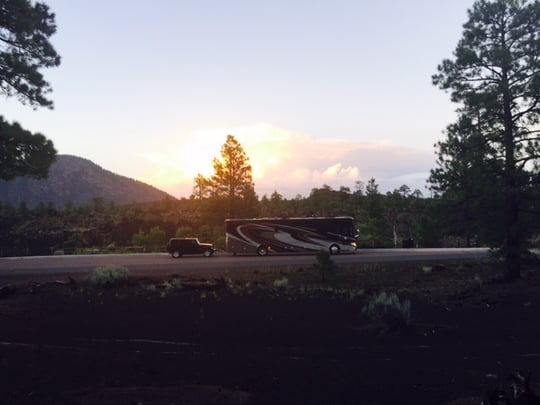 3. Don't make too many stops during your RV adventure
"The trip was a little over three weeks, and I think we really made the right amount of stops without burning everyone out. I learned that it's very important to not plan too many destinations to visit. My family and I really enjoyed going where the road took us. I think doing this made our trip more special. It was nice not feeling like we were in a rush to see a handful of destinations."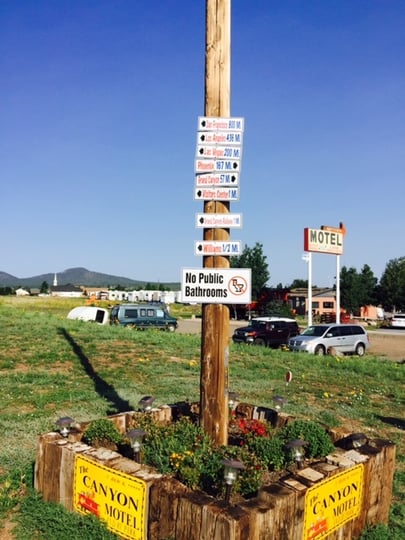 4. RV travel will make you see the world in a different light
"With the extended time we had in an RV, I really developed a better appreciation for RV travel. Now, that's easy to say when we sell RVs, but my wife and I can't wait when we have a little more time to spend at some of the areas we visited. If we could spend a couple weeks in Sedona or San Antonio, for example, we could really understand the culture and the regional interests. We're looking forward to doing that. We think that's going to be a great lifestyle. There are so many amazing places to see, and we just got a taste of it."
5. Tips for RVers with a diesel pusher
"We were running on a diesel, and we pulled into a truck stop because of the convenience. We fueled up where the semis fuel up. But when I went into pay for the fuel, the cashier said, 'Do you realize if you go to the automotive diesel pump, you will save the trucker's tax?' At the fuel stop for the truckers, they end up paying a federal tax because they're always out on the road. So, if you go down the road and see the signs that say, "$2.29 a gallon," it could be $2.44 or 2.45 at the truck pumps."
"I also learned that, especially in a diesel vehicle, you always should have a couple gallons of windshield washer fluid. The sprayers on the big panoramic windshields use a lot of fluid, and you don't want to be without windshield washer fluid—especially at night when all the bugs are out. Furthermore on the diesel, they have an additive that will help with the emissions. It's called DEF. You can buy it at Walmart or an auto parts store. However, if you go to a truck stop, you don't have to pour it in by gallons. They actually have a nozzle right near the gas pump to add the additive."
6. Now is the best time for RV travel because gas prices are affordable
"Speaking of diesel fuel, what an affordable trip. We just weren't spending a lot of money every time we had to fill up. That was really nice. It kind of felt like we were getting a bargain."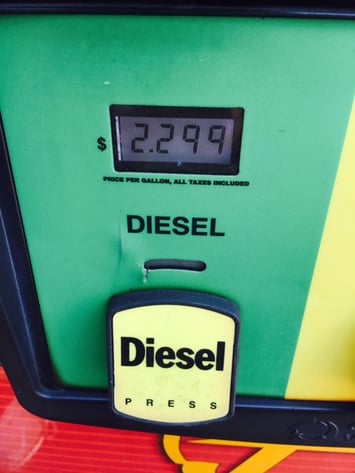 7. Never wax your RV's slide boxes and more tips from Tiffin Factory staff
"For those of you who have slides on your RVs, I learned that you never ever wax the slide box ends. When I went to pick up our motorhome at the Tiffin factory, they told me that when people get their new rigs, the first thing they want to do is wax their coach. Well, if you wax the side boxes, the seals don't fold right. They almost need a texture to fold right so it keeps the water out."
"Another tip Tiffin mentioned was that you have to be careful with what you use to wash your RV. The best thing to wash your coach with is Johnson's Baby Shampoo and a couple tablespoons of white vinegar. They also said you want to be careful when you wash a freshly painted coach. You need to get rid of the water spots because the water spots will magnify the heat differently and can eventually blotch your paint. With the amount of paint that goes on RVs today, you know you want it to look the way it appeared when you first bought it. Another thing they said was to never power wash your RV's roof. Obviously you want to keep your roof clean, and you want to keep sealants clean, but you don't want to put any type of pressure up there that could lift solvents."
8. RV travel is all about spending time with your family
"When I look back at the trip, I think I have a stronger affinity towards the RV lifestyle because of what does it for families. We experienced it all together, and we saw a lot together. Our customers know this, and I think that they got it right."
"The recreational vehicle is something that truly contributes to society. I feel honored to be apart of that. I feel special that I can contribute in such a significant way to the family, to the traveler. When I look at the word recreation, I think recreation vehicle. If you break it down, it's recreate. You're recreating that family togetherness. I think that's really cool."
Jeff's final thoughts about being back at Campers Inn RV:
"As far as work is concerned, you're talking to someone who's addicted to Campers Inn RV. I glad to be back at work. It's what I love. It's what I enjoy. But I'll also make sure there is more RV travel in the future. Campers Inn RV is going to make RV travel more convenient. I have some plans as a result of this trip that will influence some of the future dealerships that we build."