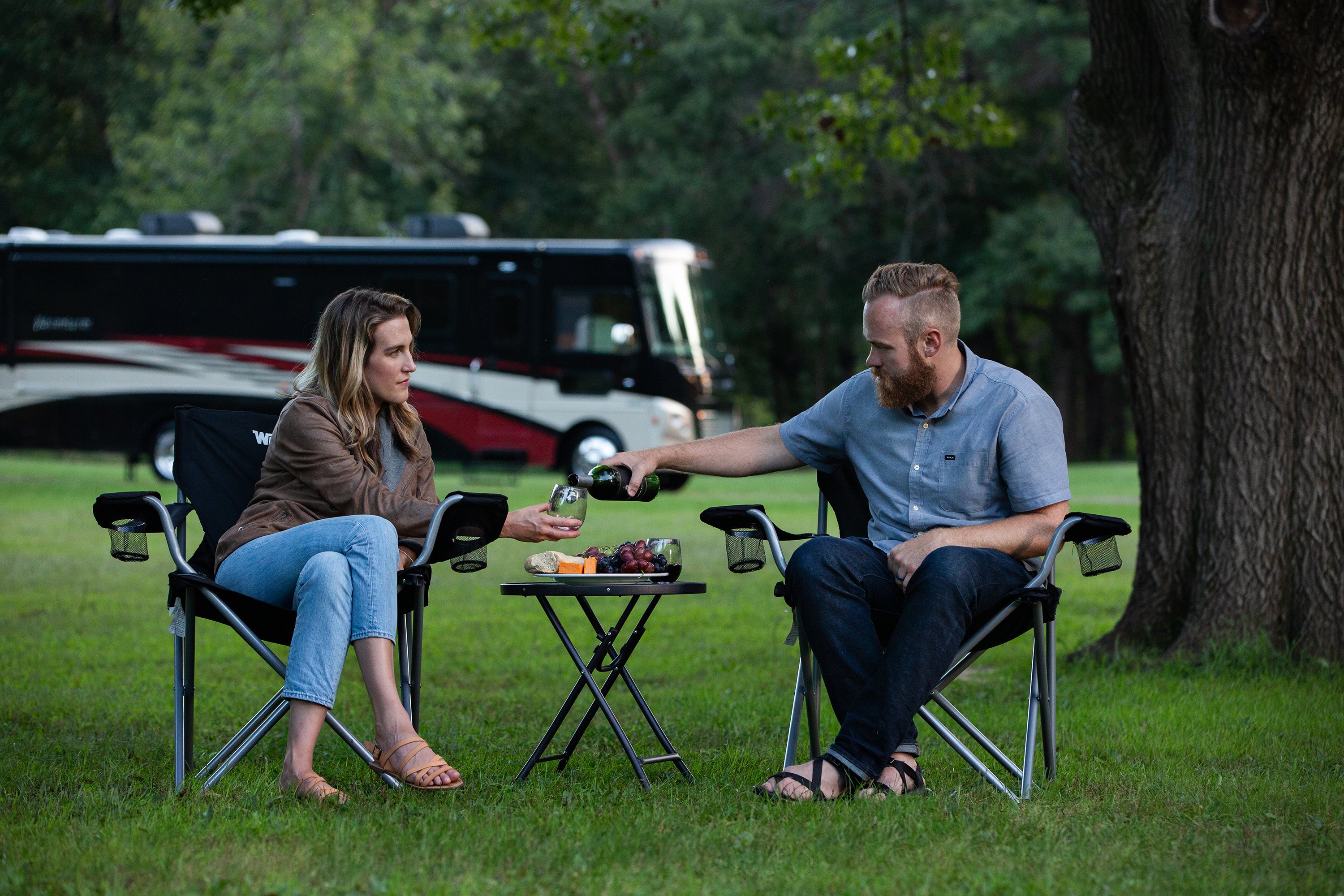 The first decision to make when shopping for a new RV is to decide, motorhome or towable? If you choose a motorhome, there are many things to consider when shopping. You need to look at the different types, sizes and features the motorhome offers and decide what your wants and needs are in an RV.
There are many different manufacturers with several floorplan options you can choose from. In this blog, we'll discuss some of the different types of motorhomes and features they include.
Why Should You Choose a Motorhome?
Campers love motorhomes for many reasons. Some people love that there is more space. While on the road, you can let your pets roam free throughout the RV and have a little more freedom than in a cramped car. Another great reason to pick a motorhome is that you can make fewer stops while driving because there is a kitchen on board for easy access to snacks while driving to your next camp spot.
Class A Motorhome Features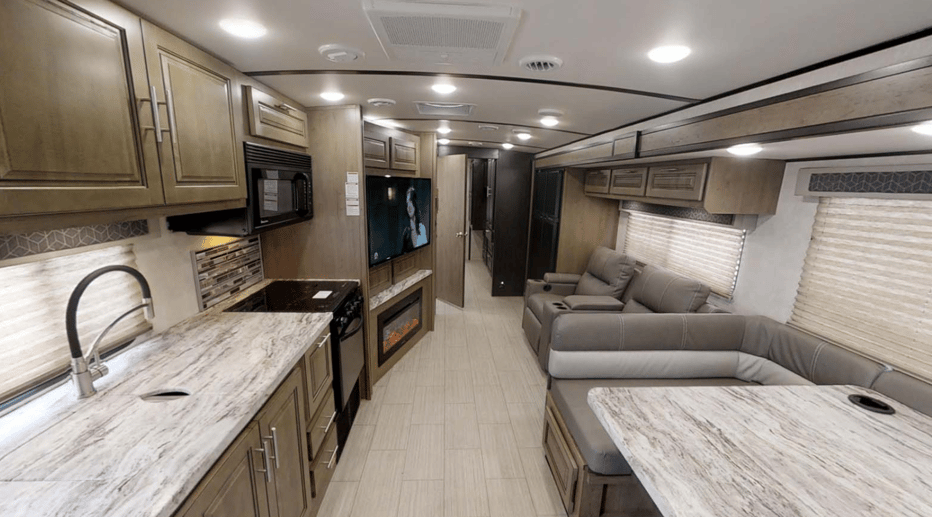 Class A motorhomes are known for their large size and how many options and features they offer. Some Class A models can come as big as 50-feet-long. They have a lot of living and storage space and several models come with slideouts that offer additional space in the coach while it is set up at a campsite. And because of their large size, they can sleep up to a dozen people comfortably.
These massive coaches are rich with options and features to fit your needs and lifestyle. Class A motorhome's size gives them the freedom to offer many things that other RVs can't such as full entertainment systems and full bathrooms. They offer the most space and storage and can easily fit into any family's life.
Forest River FR3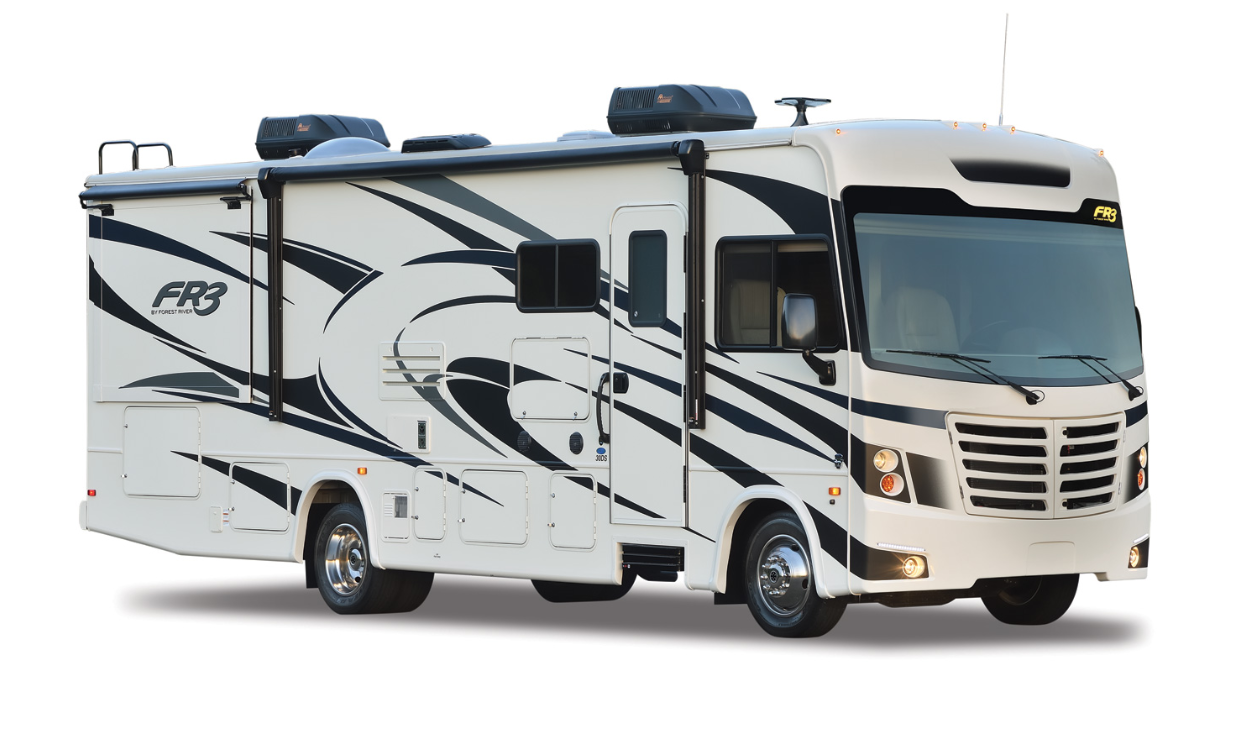 The Forest River FR3 is a Class A motorhome that has a gross vehicle weight rating up to 20,500 pounds and length up to 35'11". It comes with a 52-gallon capacity for the fresh, gray and black water tank. The FR3 also includes a 40" LED TV and a king-jack digital TV antenna with a built-in signal meter in the common area so you never have to miss an episode of your favorite show while you are on camping trips.
It is considered a crossover motorhome, so it has the driveability of a Class C motorhome, but with more room. This Class A motorhome has models that include pull out sofa bunkbeds and a bunk over the front cab, so there are plenty of places to sleep for large families.
The exterior of the FR3 has an electric entrance step with rubber tread to safely get in and out of the motorhome. And starting at $85,995, for smaller models, this family-friendly Class A motorhome is an affordable option with great features.

Newmar Bay Star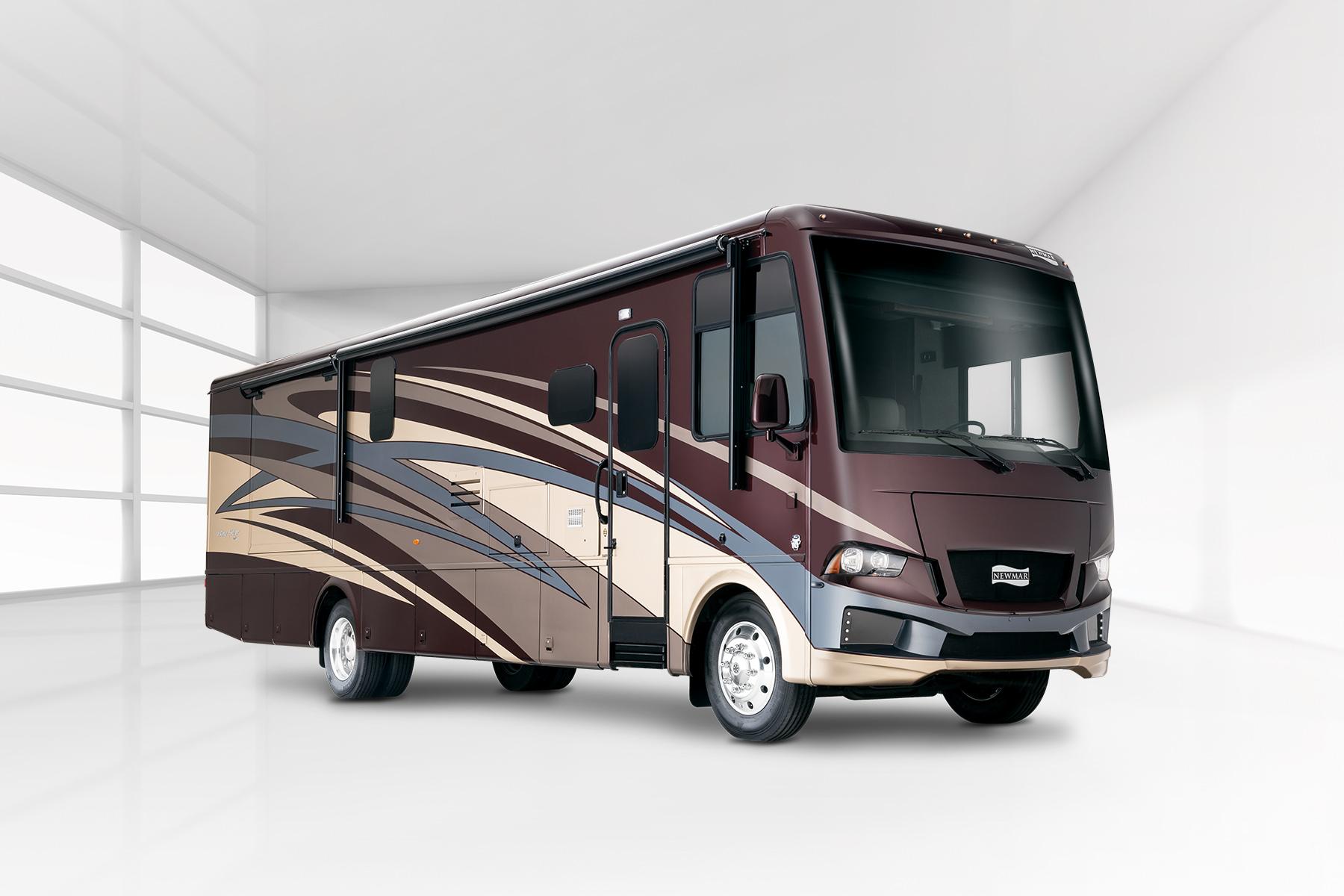 When looking at the exterior of a Newmar Bay Star Class A motorhome, you can see how big and luxurious it is. It has masterpiece full painted graphics with a clearcoat finish to keep the paint looking shiny and new for years to come. It also has lit exterior storage compartments to make setting up or breaking down your campsite easy at any time of day or night. The largest of the Bay Star models are 36'11" in length.
The interior kitchen features a 10-cubic-foot fridge, a recessed three-burner range with an oven and a 30" over-the-range stainless steel microwave so cooking full meals is just like cooking at home.

Class B Motorhome Features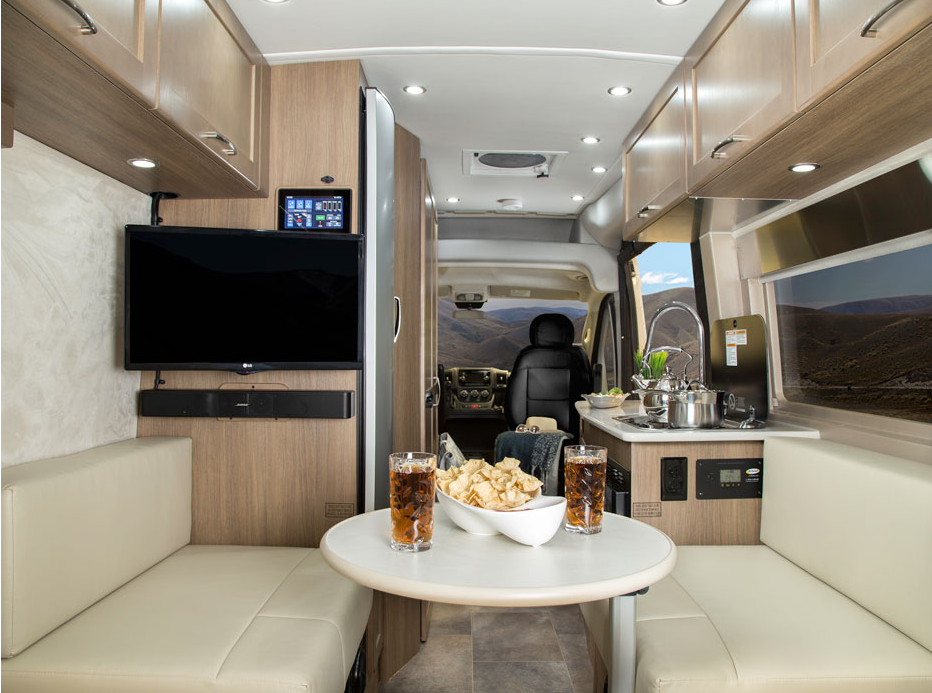 Class B motorhomes, even though smaller than its counterparts, it still has several benefits. The small van-like size gives campers easier maneuverability and they can go just about anywhere a standard vehicle can because of its smaller size.
Although these motorhomes can be more expensive, they are much cheaper on gas because they are smaller and lighter and have a much better fuel economy than other motorhomes. Built on Ford, Dodge and Mercedes chassis, RVers can opt for either gas or diesel depending on what they want.
Class B vans are a great option for couples, single campers or families that travel long distances for events or to visit family.
Pleasure-Way Lexor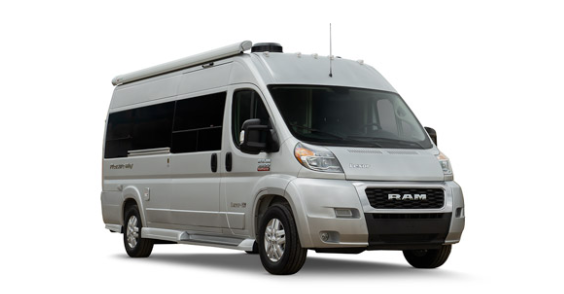 The Pleasure-Way Lexor is a Class B motorhome that will take your camping trips to the next level. With a 24" smart LED TV on a swing-out mount, soundbar, blu ray player and a cable TV hookup, you have everything you need to have the most memorable movie nights. Spending time outside the campervan means relaxing under the power awning with LED lights.
There is also an exterior shower making it easy to clean up and prevent tracking dirt into the RV. The Lexor is 20'11" in length so it can squeeze into tight campsites and is easier to drive. It was built to deliver quality and reliability for its campers.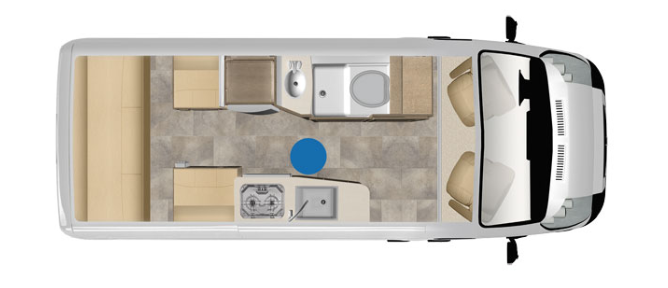 Winnebago Travato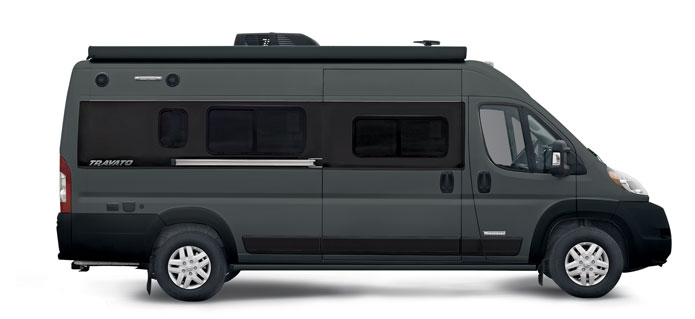 The Winnebago Travato is designed to make traveling to your next adventure simple and convenient. The Travato comes equipped with a GPS navigation to help you find every place on your bucket list. It also comes with a rearview monitor system that makes it easy to back up and park into every campsite or parking spot. The Travato is 21-feet in length and has a gross vehicle weight rating of 9,350 pounds.
The interior of the camper features tinted coach windows and blackout cassette shades to keep the interior cooler in the summer or to allow you to sleep in without being woken up by bright sunlight.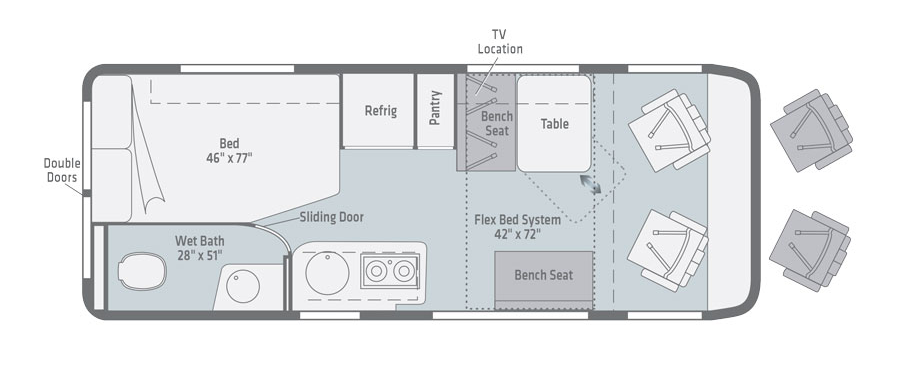 Class C Motorhome Features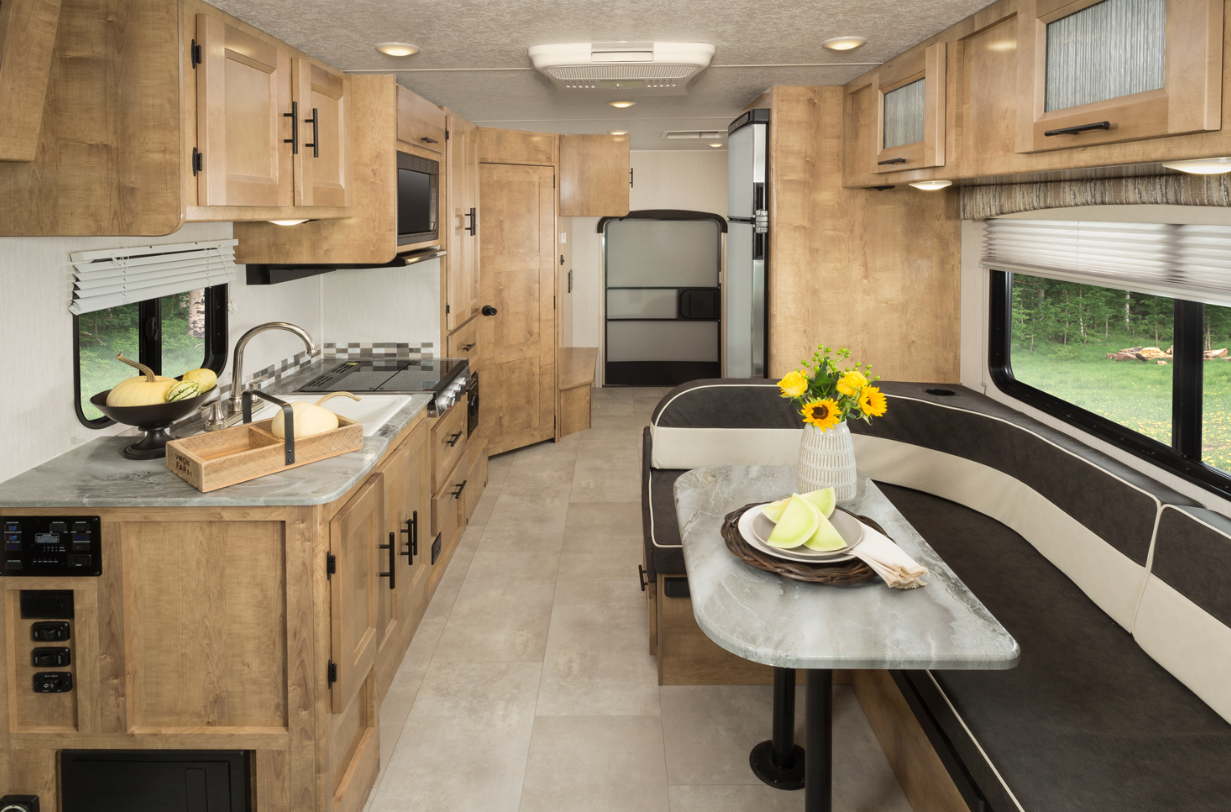 The Class C motorhome is a great RV for small families and couples. It offers more space than the Class B but isn't as big as the Class A models. Class Cs typically come with a queen-size bed, a large kitchen and a small living space.
They can come with many different features and options that can fit your lifestyle perfectly. They are much more fuel-efficient vehicles than Class As so they can save you money at the pump. They are generally built on a Ford or Mercedes Benz chassis providing RVers with gas or diesel options.
Coachmen Leprechaun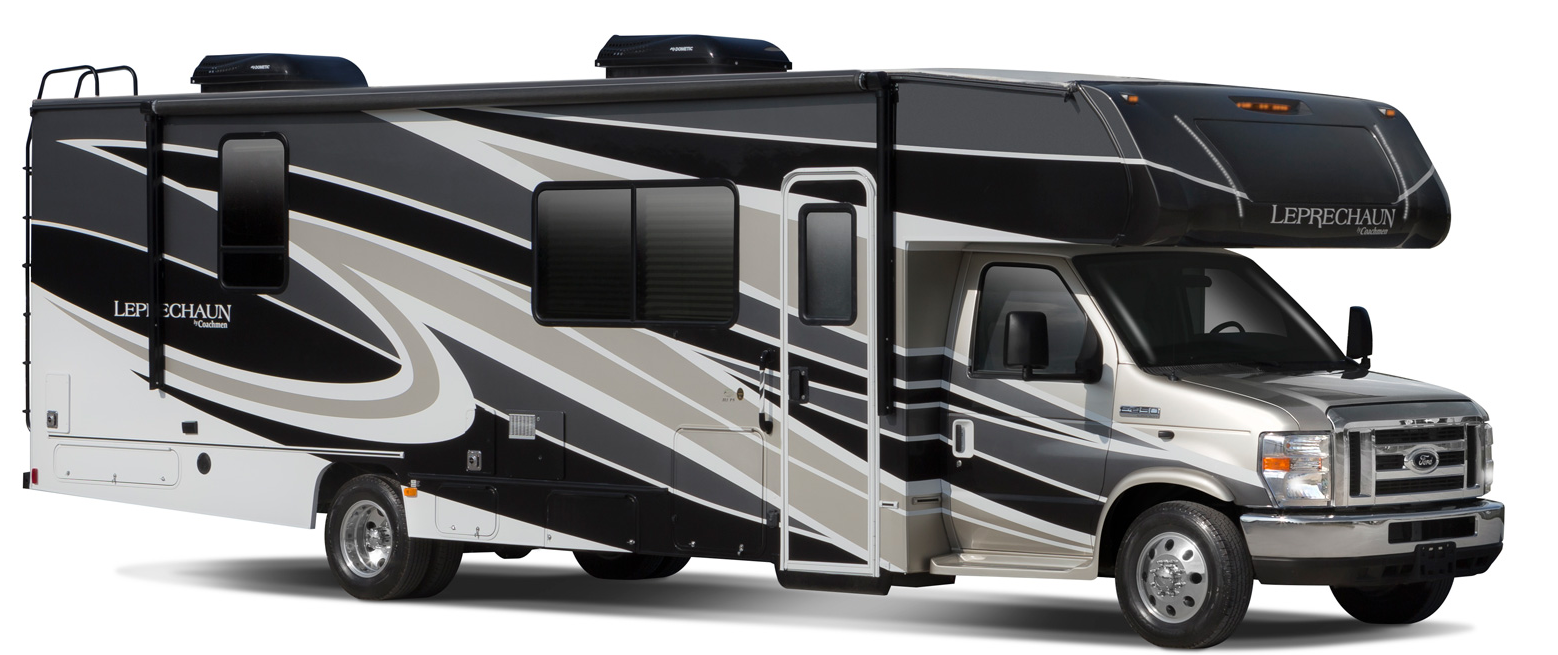 There is plenty of sleeping space in the Coachmen Leprechaun with a queen bed in the private bedroom and a cab-over bunk. It makes camping a great opportunity to have a couple's getaway. Depending on the model, the Leprechaun can come up to 32'11" in length and can have a gross vehicle weight rating of up to 14,500 pounds. It has a 30-amp power cord and a 55-amp electronic converter.
The Leprechaun comes with a wall-mounted digital thermostat to keep control of the temperature and airflow throughout the RV. It is dedicated to being safe with the durability of the aluminum framed floors and the 2-inch sidewalls that are built with Azdel Superlite.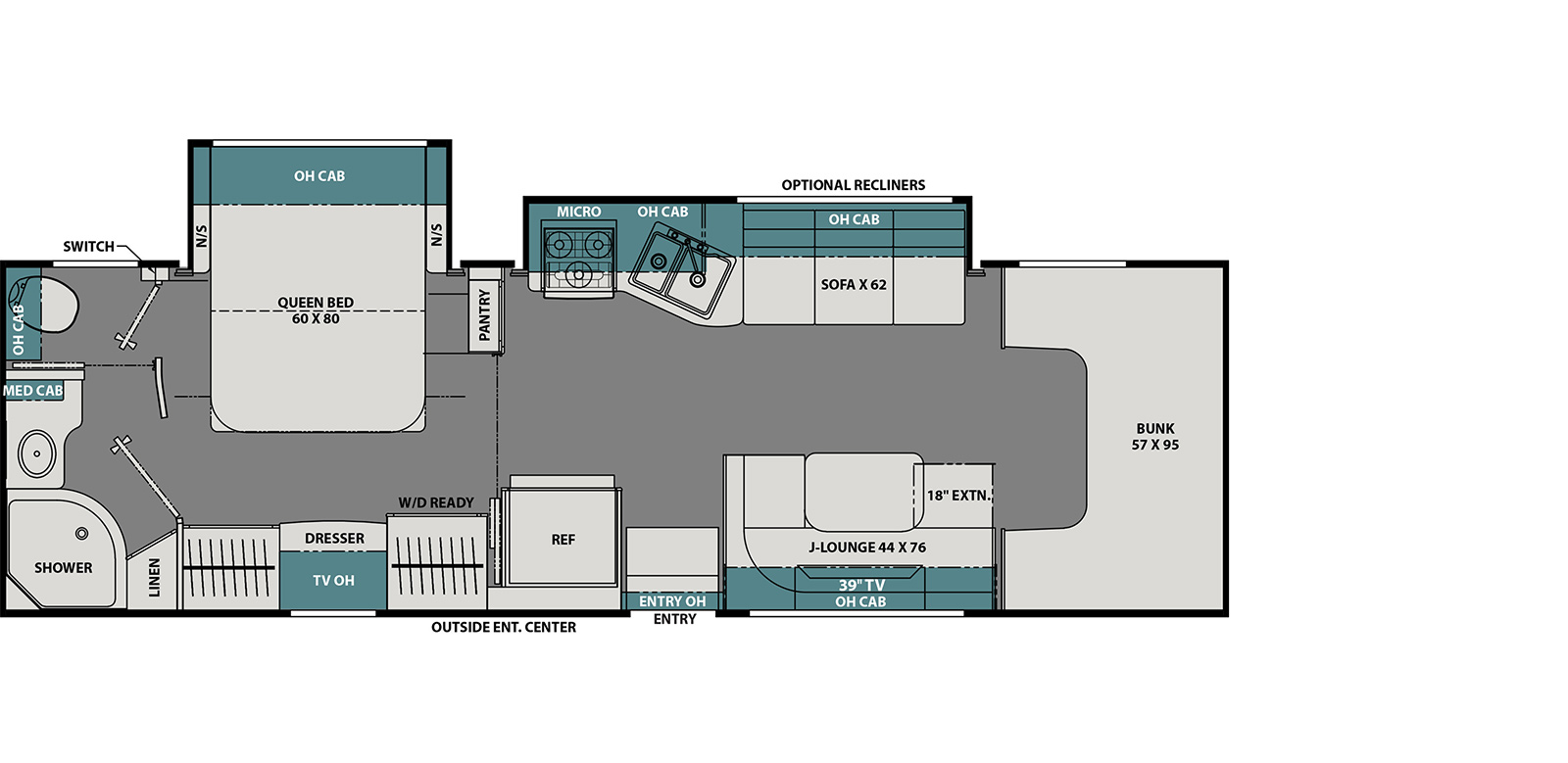 Forest River Sunseeker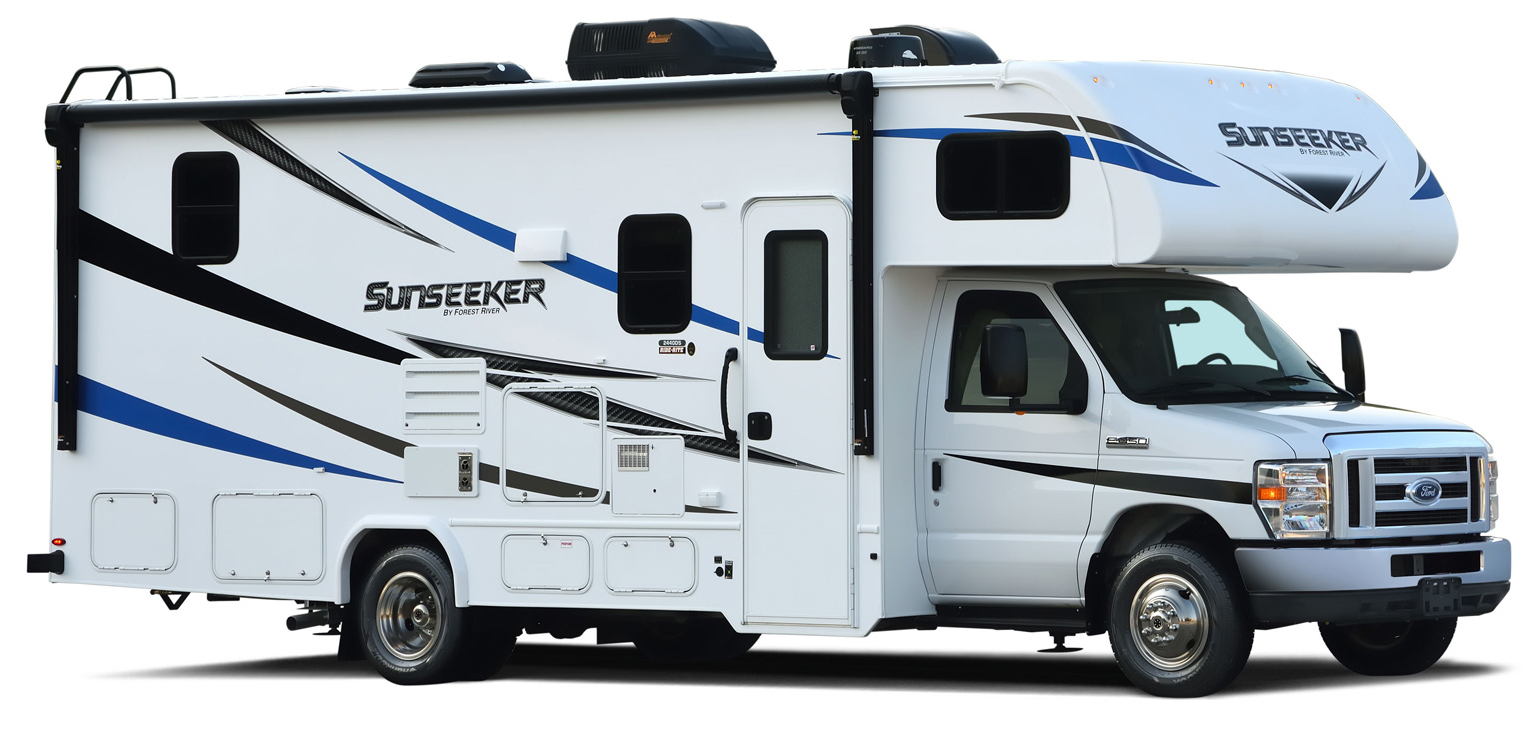 The Forest River Sunseeker has a ton of features that make it unique. The bathroom has a motion sensor light and an electric roof fan. The showerhead comes with a flexible extension to move it in the perfect position to easily get all the hard to reach places.
The bedroom of the Sunseeker has an upgraded memory foam mattress to make every night a great night's sleep. The Sunseeker can be as long as 32'3" and have a gross vehicle weight rating up to 14,500 pounds.

Class B+ Motorhome Features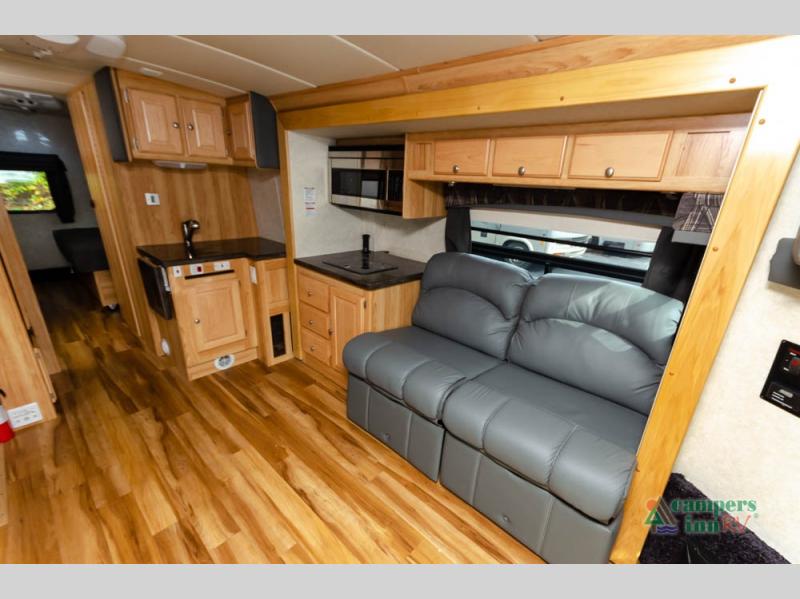 Class B+ motorhomes are a middle road between Class B and Class C models. They are larger than Class B's which provide more storage space and room to move around. There is more sleeping space in the Class B+ with either a pull-out bed or an over cab bunk.
They are a good alternative for campers who want more space than a traditional Class B van but aren't ready for a larger model such as a Class A.
Phoenix Cruiser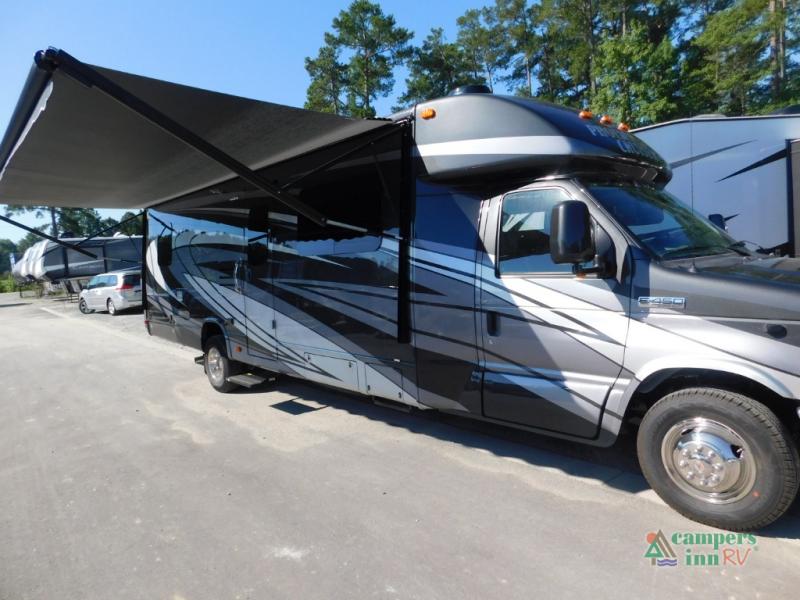 The Phoenix Cruiser is a Class B+ motorhome that is 30'10" in length with a gross vehicle weight rating of 14,500 pounds. It has a separate bedroom area that is a great place to end every day while on the road with a queen-sized bed and a lot of overhead storage.
The exterior features a pop-up awning with exterior LED lights. Because the size of this RV is larger than a Class B it has more space overall for storage, sleeping, cooking and playing.

Deciding on what type of motorhome you want is just the first step in the process of shopping for your new motorhome. If you are looking for something lavish, check out the Top 4 Affordable Luxury Class A motorhomes. If you are still figuring out your budget, we discuss all the costs that go into owning an RV.