What is the Winnebago Travato?
The Travato is an energy- and fuel-efficient Class B motorhome. The 21-foot-long camper vans have a V6 gas engine, aluminum wheels and features two entry/exit doors all on a Dodge Ram Promaster chassis. Made to take the minimalist traveler lifestyle to the next level, the features and layout ensures that even the boldest of boondockers will have everything they need to take their adventures off road. In this blog we talk about the 59K and the 59KL floorplans.
What is a Class B motorhome?
Class B motorhomes, also known as camper vans, are the smallest of the three motorhome classes. They are built on a van chassis from brands such as Mercedes Benz, Ford Transit or Dodge Ram Promaster. They do offer less amenities compared to a Class A or Class C, but they have the necessities campers need to take care of themselves on the road and often include a few special characteristics that make them stand out.
Many Class B RVs come with solar panels, decent sleeping spaces, wet baths, two-burner cooktops, generators, inverters and more. This type of RV can be gas or diesel depending on the chassis.
Reasons to Choose a Class B Motorhome
Class B RVs have better gas mileage and are easier to drive than their counterparts Class A and Class C motorhomes. They are also easier to park in small spaces and easier for pick-up-and-go off-the-beaten-path road trips. Often a great choice for couples or singles looking to travel with minimal footprint.
It will be easier to navigate rush hour, merge onto highways and pull into your campsite. Since these motorhomes are compact, it is also easier to set up camp and breakdown when it's time to go. Also, as camper vans become more popular, there are more affordable price ranges and options to fit the various lifestyles of people looking to join the #vanlife movement.
About Winnebago Industries
Incorporated in 1958, Winnebago is one of the top manufacturers of recreation vehicles. They make a variety of RVs, such as motorhomes, travel trailers, fifth wheels and boats all within a large range of prices. Located in Forest City, Iowa, this company serves RVers around the country by providing units wherever they are desired.
The company started out during an economic downturn when the founders went to another business called Modernistic Industries in attempt to start an RV company and try to boost the economy. By pricing their products at half of what their competitors charged, Winnebago boosted their sales and became a leader in the RV industry. In fact, they became so popular that the term "Winnebago" became interchangeable for "motorhome." They are now one of the most popular RV brands known to date.
Popular Winnebago Travato Floorplans
Winnebago Travato 59K ($126,445 MSRP)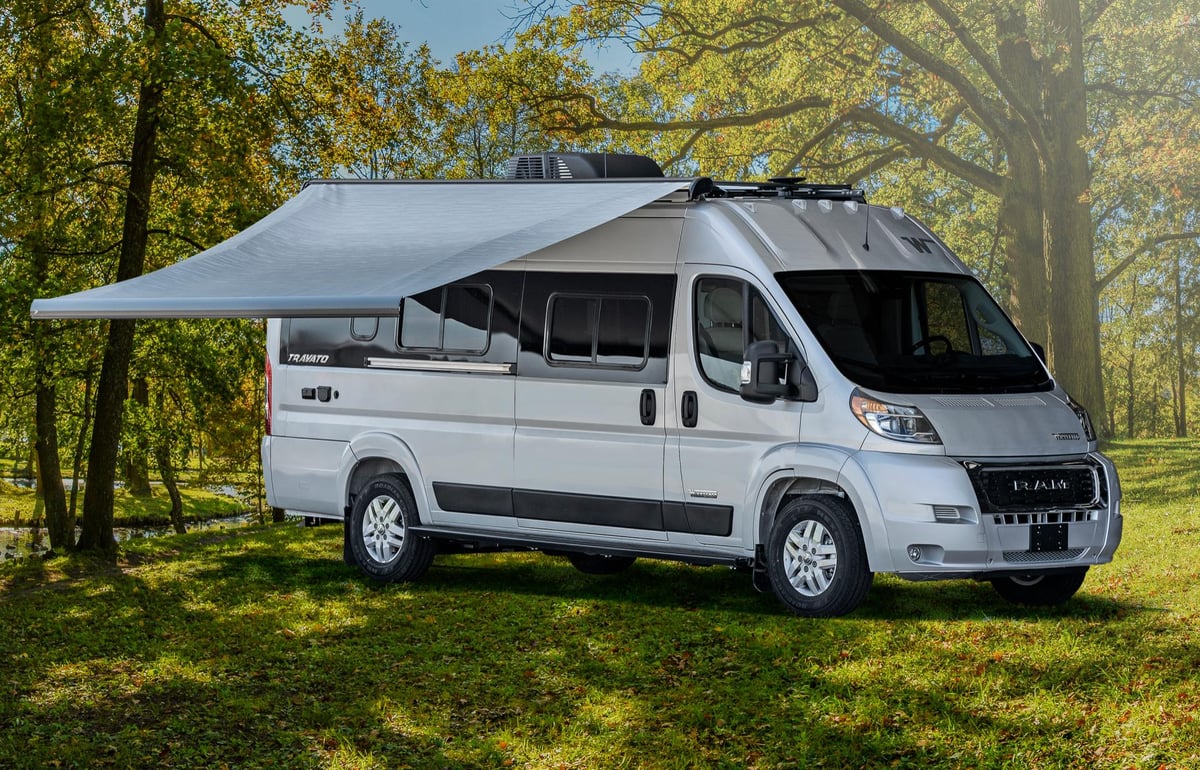 Travato 59K Specs
Tow hitch weight is 3500 pounds with gross weight of 9350 pounds
Water tank capacities

Fresh water is 25 gallons
Grey water is 13 gallons
Black water is 13 gallons

Fuel capacity is 24 gallons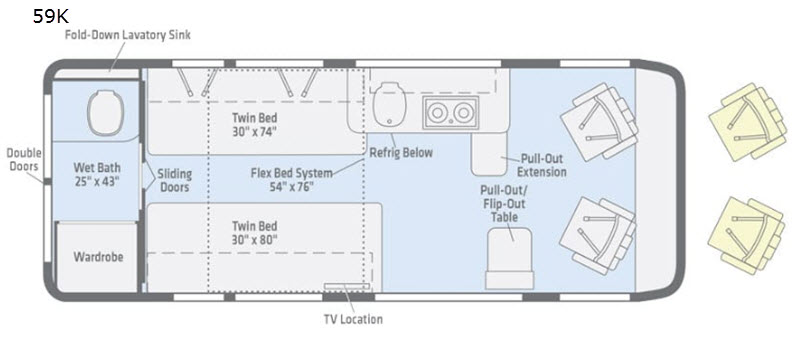 Winnebago Travato 59KL (MSRP:$158,729)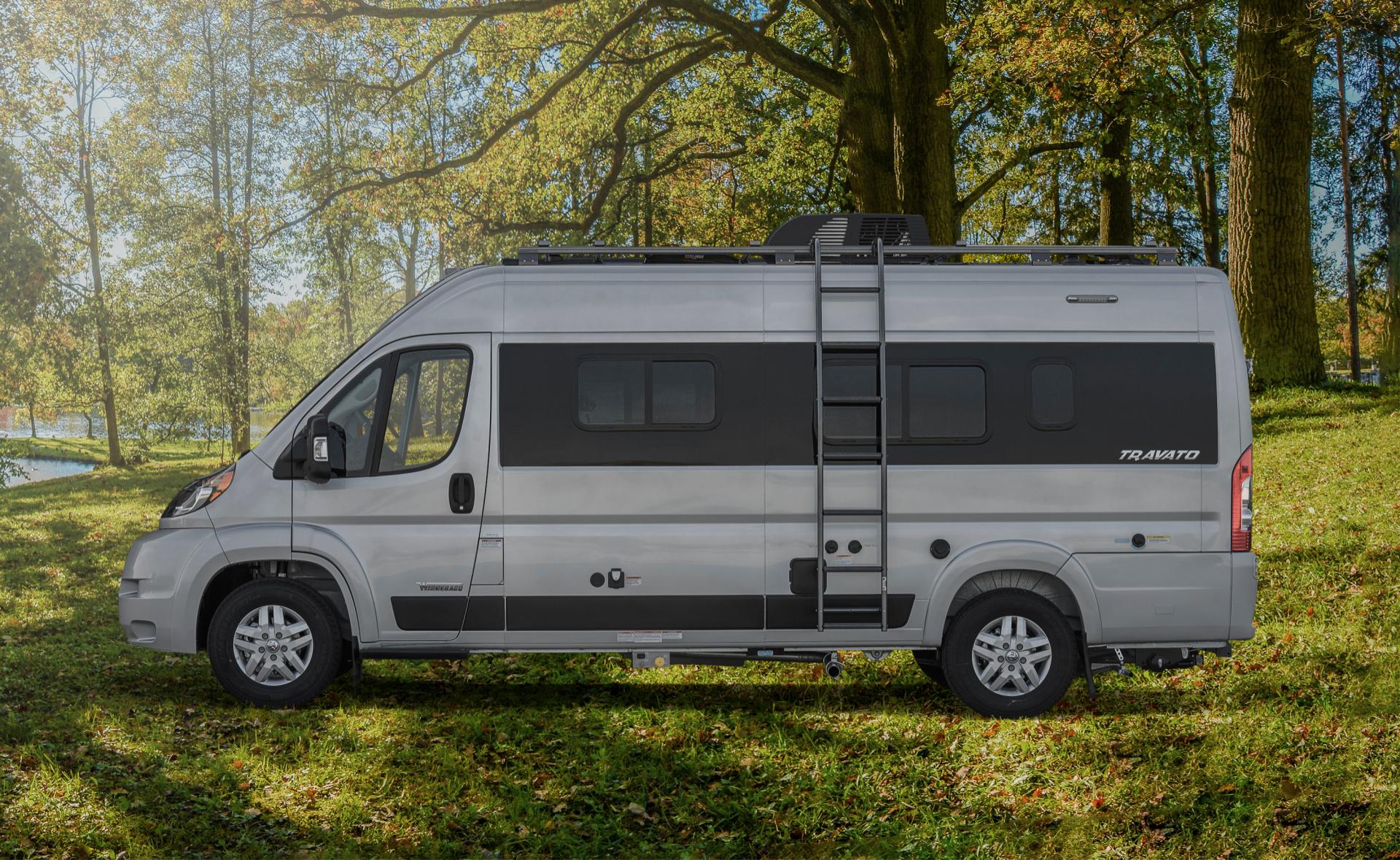 Travato 59KL Specs
Tow hitch weight is 3500 pounds with gross weight of 9350 pounds
Water tank capacities

Fresh water is 18 gallons
Grey water is 13 gallons
Black water is 12 gallons

Fuel capacity is 24 gallons
48V automotive-grade lithium energy system
Pure3 Advanced Energy System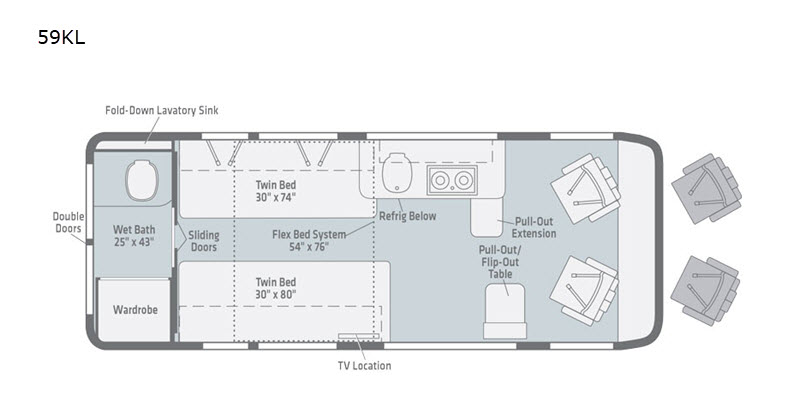 Travato Features
Both the 59K and 59KL come fully equipped with everything you would want and need to live the minimalist travel lifestyle but still be comfortable.
Storage
This RV may look small from the outside, but it sure packs in a lot with the large amount of storage space it provides. The Travato is equipped with a large area under the fold-down dual twin beds, built in floor storage that can be locked, kitchen cabinets and overhead cabinet space along the ceiling.
Comfort and Travel
Made for the comfort of the passengers in mind for long drives, these camper vans include cab seats with armrests, adjustable lumbar support and headrest plus a slide swivel recline. Also included to make traveling a breeze is GPS navigation, rearview monitor system, 5 LCD color touch screen, steering wheel controls and a color rear camera
Sleeping Arrangements
The Travato can comfortably sleep up to two people in fold-down dual twin beds that can be combined into a 54-in x 76-in Flexbed system to create a more sleeping space.
The wet bath features a shower, toilet, small storage closet and a fold-down lavatory sink.
Kitchen and Dining
The kitchen in this B van is spacious, considering its size, and includes a sink, Corian countertops, two-burner range top with glass cover, stainless-steel sink, microwave/convection oven and refrigerator.
For dining, the 59K and 59KL both come with a center table and bench seating for up to six. You could also take advantage of any amazing weather during camping season by dining or relaxing under the 13-foot awning with LED lighting and Bluetooth, perfect for streaming music, game day coverage or your favorite podcast.
Energy and Electric Systems
The Pure3 Advanced Energy System encompassed in the 59KL will provide all the power you need and fast. With the lithium ion technology storage pack, you can pull off anywhere and have power without needing to hook-up or have a generator. To make this RV even better, it comes with built in solar panels that provide 200W standard solar power that serves as an added source of energy to the storage pack.
Learn More
Now that you know more about what the Winnebago Travato has to offer, start shopping for your perfect floorplan here.
Like camper vans, but want more options to consider? We pulled together the best-sized Class B RVs on the market to consider. Click here to find out more about camper vans!
Not sure what Class of motorhome best suits your lifestyle? Take our quiz to find out!