When planning a road trip, it is important to be prepared with a set plan on where to go and how to get there. It's always a good idea to have alternate routes available in case there is an accident or a traffic jam. Toll roads are a great way to avoid major highways and lots of traffic.
What is a Toll Road?
A toll road is a road that costs a fee to use. The toll rates vary from the different stretches of the road the toll plaza is on and vehicle weight, type or number of axles. Larger trucks and RVs will pay a higher price to drive on the toll road than a car would.
Throughout much of the East Coast of the United States, E-ZPass is accepted on most toll roads. This makes payments convenient as you don't have to stop to make payments with cash at the toll booths. Toll-by-mail payments use automatic plate recognition technology to collect payments.
In this blog, we discuss six of the longest toll roads on the East Coast.
6 Large Toll Roads on the East Coast
New York State Thruway
Pennsylvania Turnpike
Florida Turnpike
Garden State Parkway
Massachusetts Turnpike
New Jersey Turnpike
New York State Thruway - 496 miles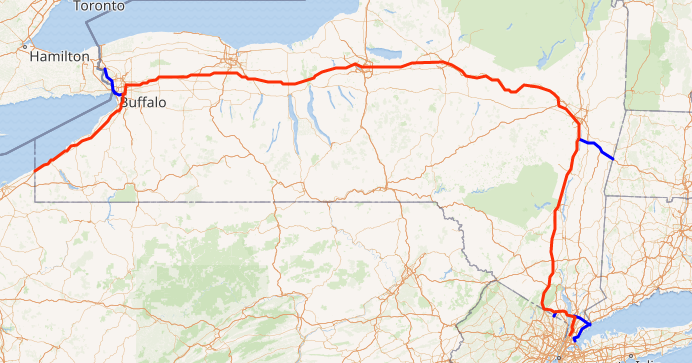 The toll road is the mainline of the New York State Thruway. It begins at the New York City line and reaches through the state to the Pennsylvania state line in Ripley, New York.
It uses both an all-electronic open road tolling system and a closed ticket-based tolling system for collecting payments. The different payment methods are depending on the stretch of the highway. From the New York city line to the NY 17 exit, it uses all electronic collections by E-ZPass or tolls-by-mail. From there on, payments are made by using a toll booth. The toll rates vary from 85 cents to $3.15, depending on the exit and type of vehicle.
Pennsylvania Turnpike - 360.09 miles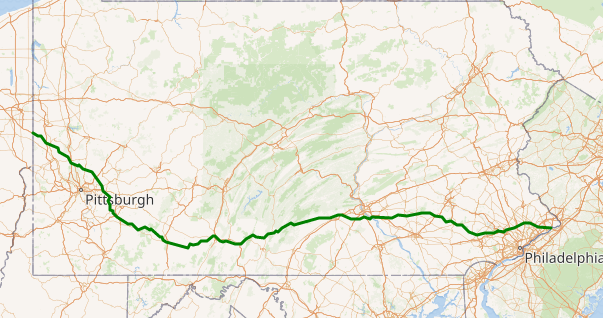 This toll highway runs through the state of Pennsylvania from east to west. There are 15 service booths with food and gas for travelers along the highway. These service plazas include amenities like ATMs, restrooms, tourist information, phone charging stations and picnic areas to rest and eat during long road trips and more.
The cash toll plazas were phased out and now only accepts payments from an electronic toll collection with the E-ZPass or automatic license plate recognition. The cost of the toll is different throughout the turnpike, and it is more expensive to use cash instead of the E-ZPass.
Florida Turnpike - 264.66 miles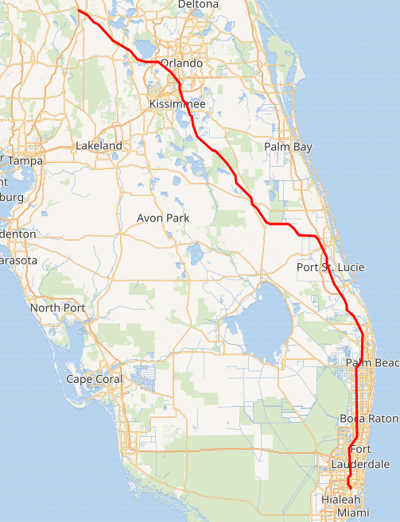 The Florida Turnpike is a long stretch of highway from South Florida near Miami to up past Orlando and is closer to the West Coast of Florida.
There are eight 24/7 service plazas throughout the turnpike, and they are spaced out about 45 miles apart. The service plazas offer fuel, Internet access, tourism information, restrooms and picnic areas. These plazas are a convenient, one-stop place while on the road.
The tolls are collected through a ticket system or a coin system, as well as a cashless toll system. Using SunPass gives drivers, on average, a 25 percent discount on toll rates, as well as access to SunPass only exit ramps.
Garden State Parkway - 172.40 miles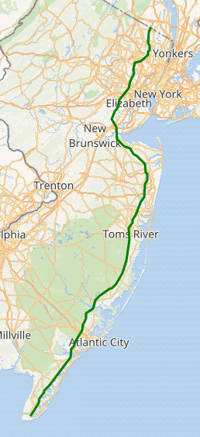 The toll rate for the entire length of the Garden State Parkway is $8.25 for a car. Prices can vary depending on the type and size of your vehicle. The tolls are collected by exact change, cash payment or using the E-ZPass system.
There are rest areas throughout the parkway offering restrooms, fuel, food or tourist information. Some service or rest areas offer more amenities than others. The start of the Garden State Parkway begins in Cape May County and turns north along the Jersey shore. The parkway goes through New Jersey until it enters New York and becomes the Garden State Parkway Connector.
Massachusetts Turnpike - 138.10 miles

The Massachusetts Turnpike stretches from the New York state line across the state to the Boston area. In 2014, the turnpike was converted to all-electronic open road tolling. This means that drivers would pay using an E-ZPass transponder and drivers without the transponder would be charged by pay-by-plate. Pay-by-plate is charged by the license plate being photographed and the bill being sent to the registered owner of the vehicle.
Between exits 4 and 7 and 10 and 11, there are no charges, so it is free to travel between those exits. Toll rates are higher for out of state residents without an E-ZPassMA and travelers without a transponder of any kind also receive higher charges.
New Jersey Turnpike - 117.20 miles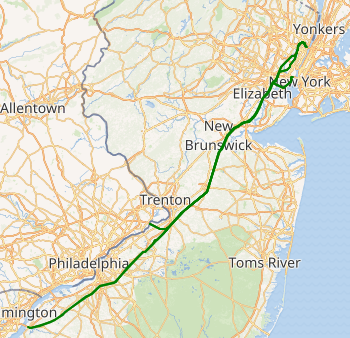 The New Jersey Turnpike is a closed system toll road. The driver will receive a ticket once they enter the highway and must surrender the ticket when exiting. The turnpike first introduced the E-ZPass toll collection in 2000 and New Jersey account holders with an E-ZPass receive a discount when traveling on the turnpike.
The New Jersey Turnpike provides access to several locations in New Jersey, Delaware, Pennsylvania and New York. It reaches across the state of New Jersey from the southwest part of the state up to paralleling New York City.
RV Trip Planning
Discovering alternative routes to take on a road trip is not the only thing that goes into RV trip planning. You also want to ensure you have entertainment, places to stay and RV parks.
There are several apps that can be useful while planning your trip as well as to use while on your trip. We discuss the best Apps for RV Trip Planning here.
RV travel has become increasingly popular because it allows you to travel and go out on adventures as if it is in comfort of your own home. You can socially distance yourself from others and keep you and your family safe while not sacrificing adventure. Here are Five More Reasons Why RV Travel Beats Flying.
It's also important to keep yourself entertained on long road trips so here are Five Road Trip Games to Play on Your Next Expedition.