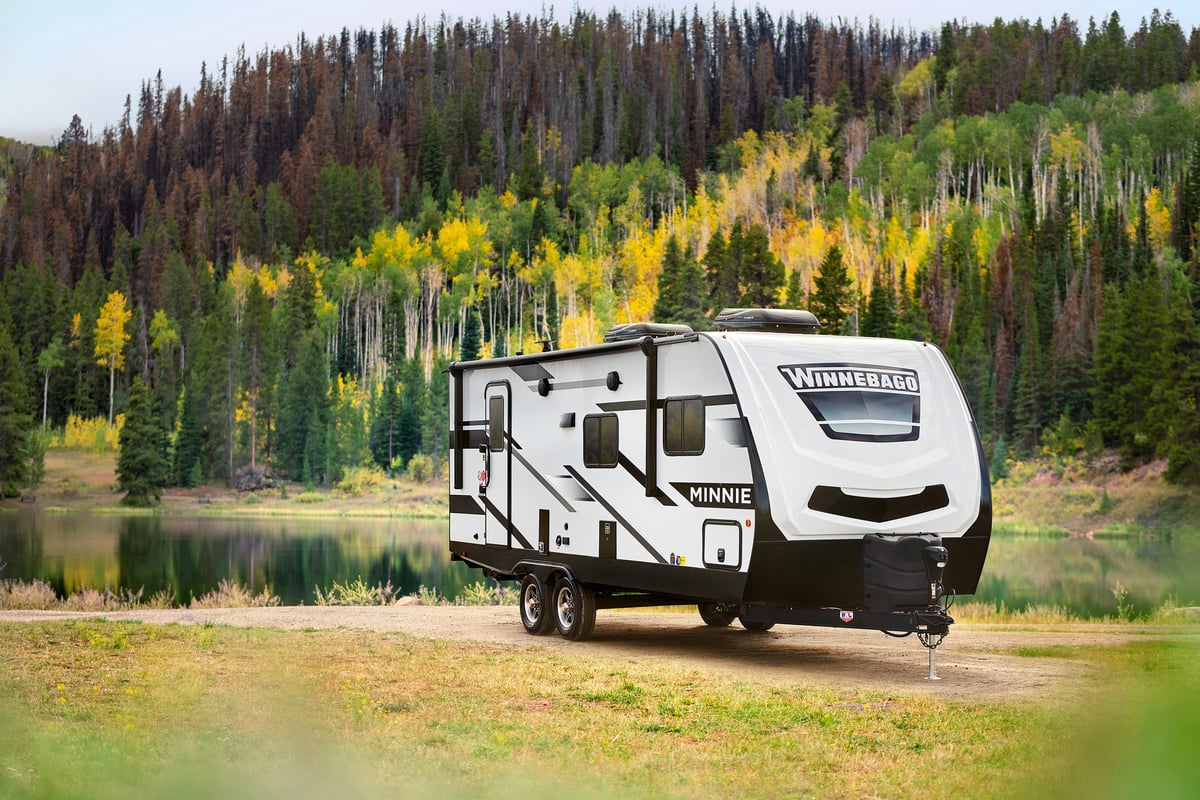 Are you looking for the perfect travel trailer to join the RV lifestyle? The Winnebago Minnie Travel Trailer is a popular choice among new and experienced campers. The Minnie comes in five different floor plans, each offering something unique for RVers.
This RV also has several optional features you can add on to create the perfect RV for you.
Learn More About Winnebago Industries
Winnebago Industries was founded in 1958 and since then, they have become the leading U.S. manufacturer of outdoor lifestyle products and one of the most recognizable names in the industry. Winnebago builds motorhomes, travel trailers, fifth wheels and boats.
Their purpose is to help their customers explore the outdoor lifestyle. Winnebago Industries have built their brand on their six main values. They are customer-centric, results-driven, innovative, quality-focused, collaborative and trusted.
>> Read more about Winnebago Industries.
What is a Travel Trailer?
A travel trailer is an RV that is towed by a standard ball hitch. There are many different types of travel trailers such as lightweight, pop-up, toy hauler and more. Depending on the size of the camper, travel trailers can be towed by trucks, SUVs and even minivans.
RVers love the flexibility travel trailers offer because they are able to unhitch the RV when set up at the campsite. This makes it easy to explore locally and without the extra weight for the RV.
Travel trailers come in a wide variety of sizes, brands and floor plans so there is a perfect travel trailer for every type of camper.
Minnie vs. Micro Minnie
Two popular small Winnebago campers are the Minnie and the Micro Minnie. While they are both travel trailers, they offer different features. The biggest difference between the two campers is the size.
The Micro Minnie is just 7-feet wide and ranges from 19'5" to 25'5" in length and has a gross vehicle weight rating up to 6,000 pounds. The Minnie's length can be up to 32'5" while the gross vehicle weight rating is 8,800 pounds.
The Micro Minnie is the perfect choice for campers that prefer a smaller RV with a lighter tow weight.
>>Shop available Micro Minnie travel trailers here.
Popular Winnebago Minnie Floor Plans & Specs
Winnebago Minnie 2529RG
Winnebago Minnie 2801BHS
Winnebago Minnie 2301BHS
Winnebago Minnie 2327TB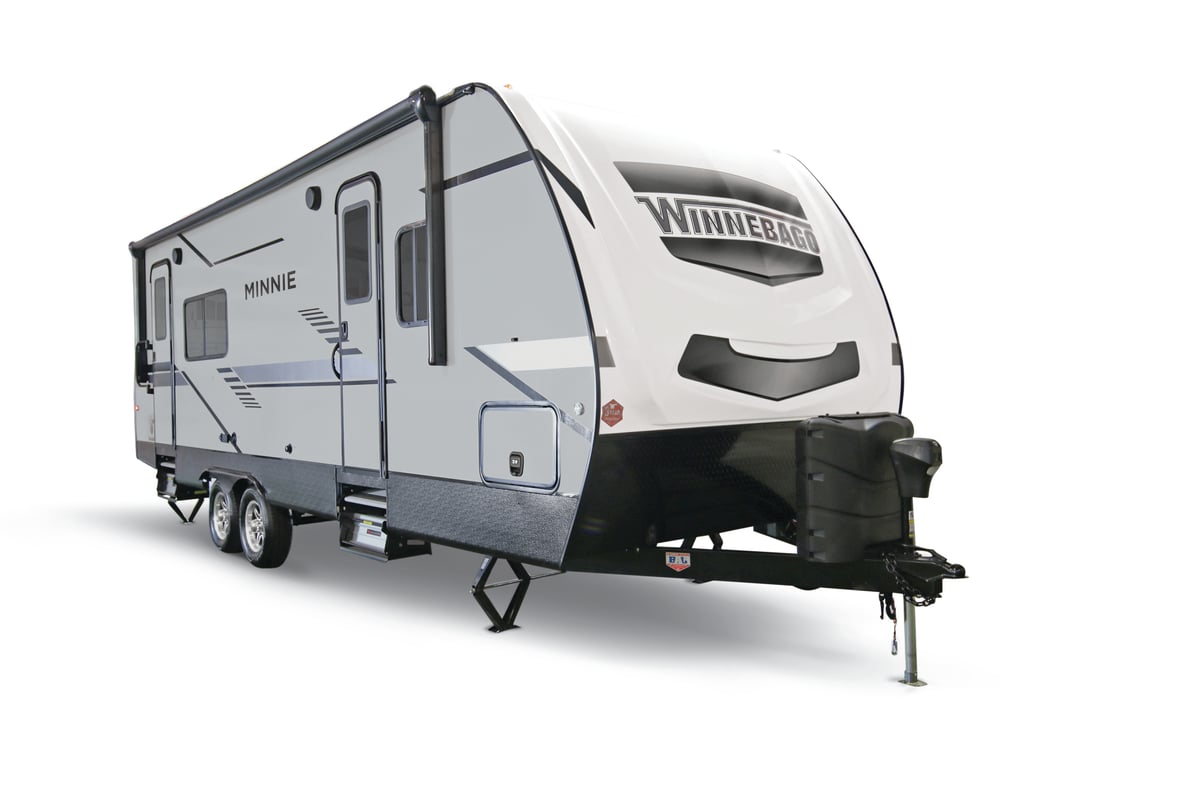 Winnebago Minnie 2529RG
MSRP starting at $53,570
The Minnie 2529RG is an easy-to-pull, lightweight camper. This model is 29'6" in length and has a gross vehicle weight rating of 8,800 pounds. The interior of the camper is packed with features such as the USB charging ports, TV antenna, LED TV, wireless cell phone charger and more.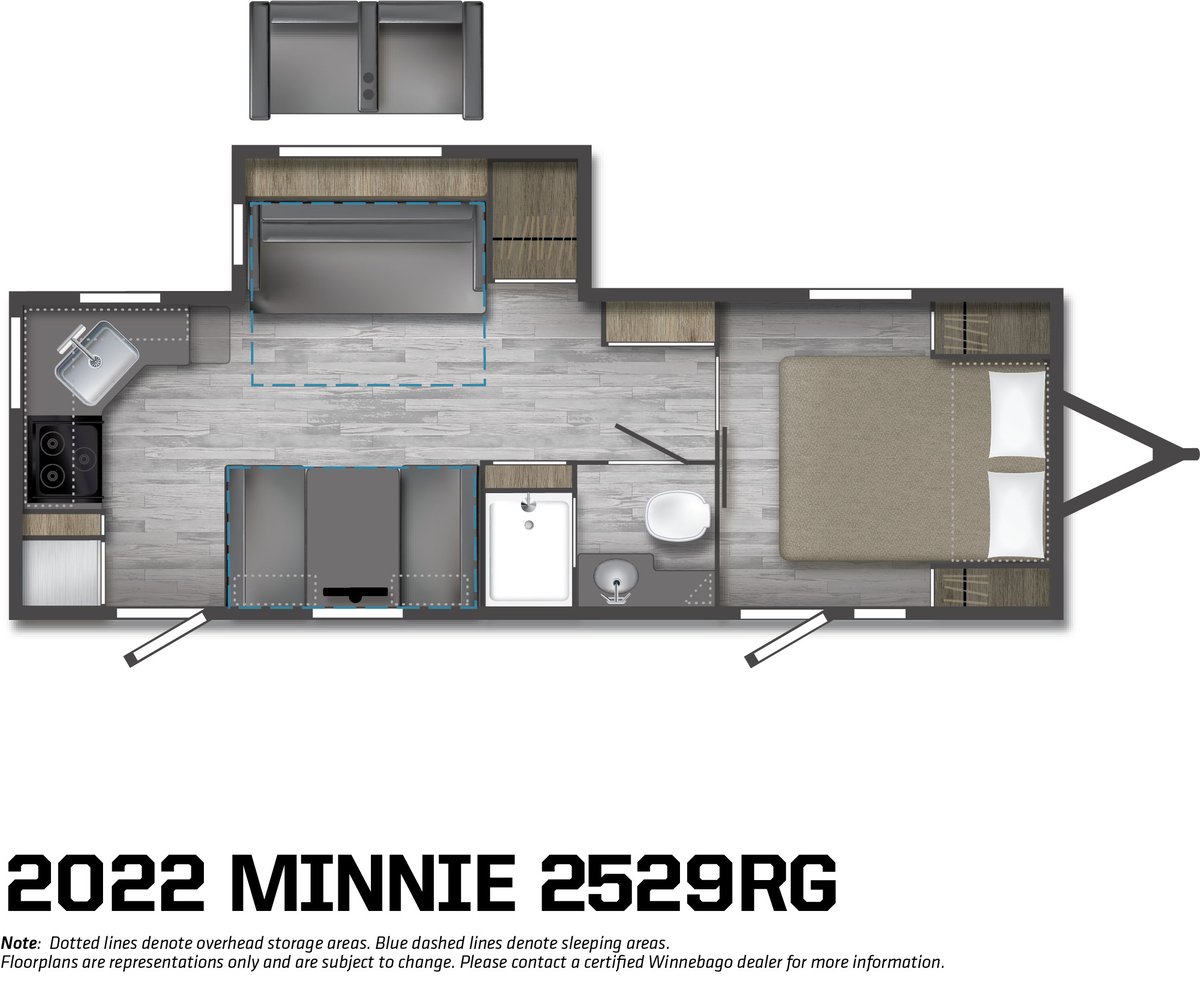 There are two entrances, one in the front and one in the back. The front entrance leads straight into the private bedroom with a queen bed and hanging wardrobe space on either side of the bed. The back entrance is by the galley kitchen with fridge, pantry and booth dinette. There is a tri-fold sofa, two more wardrobe storage spaces and a linen closet. The full bathroom features a stand-up shower and extra countertop space to hold extra products and tools for getting ready each day.
Winnebago Minnie 2801BHS
MSRP starting at $57,958
The Minnie 2801BHS is a compact camper filled with plenty of features to make every camping experience a relaxing one. There is room for up to eight people to sleep comfortably, making it a great choice for large groups traveling together. There are double over double bunks in the back of the camper as well as a full bathroom.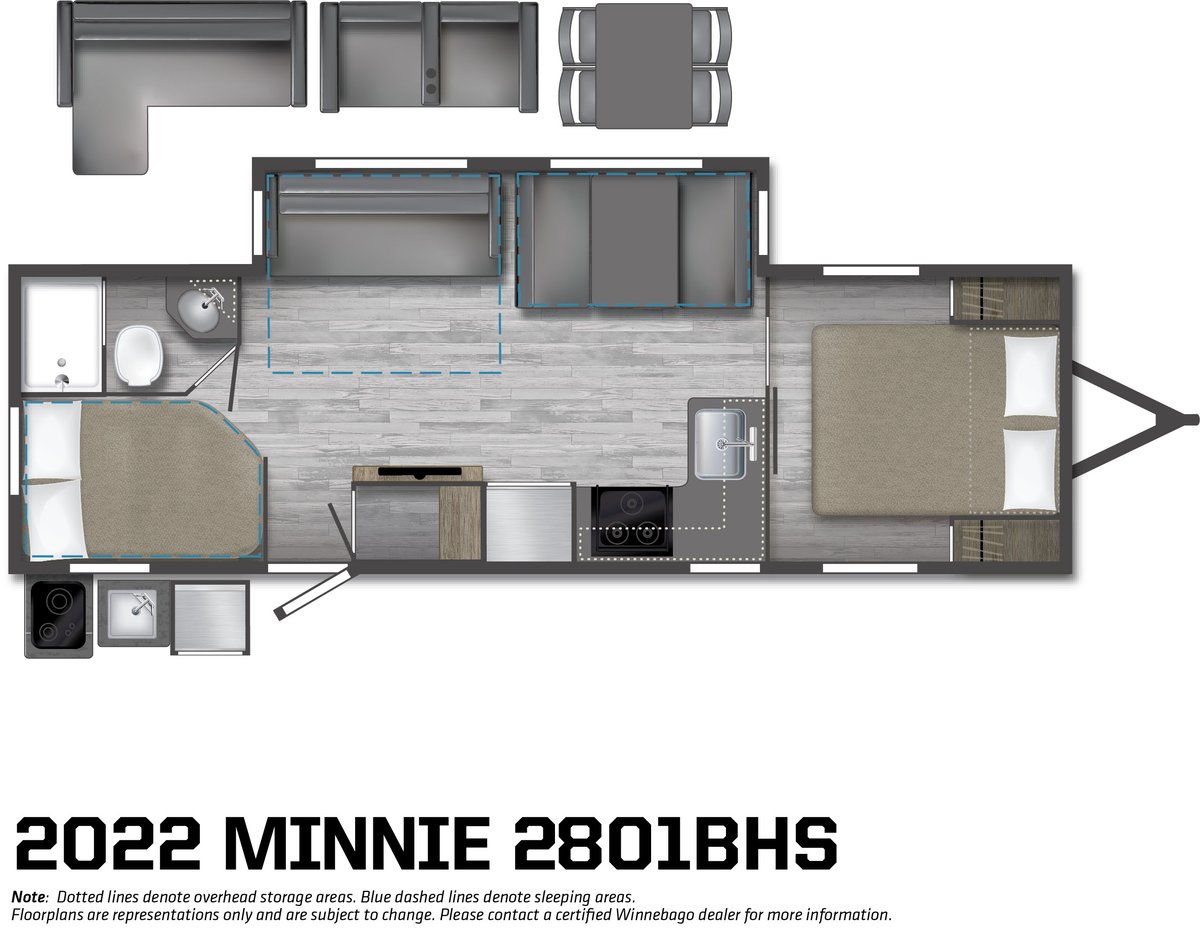 The common living space has a TV, walk-in pantry and lots of overhead cabinet space. The private bedroom is in the font of the RV and features a queen bed and additional storage space. This model is 32'5" long and has a gross vehicle weight rating of 8,800 pounds.
>> Interested in this model? Start shopping now.
Winnebago Minnie 2301BHS
MSRP starting at $54,285
The Minnie 2301BHS was built for lots of adventure. It is 29'9" in length and has a gross vehicle weight rating of 8,800 pounds. With the different sleeping and seating configurations, this RV can sleep up to seven people comfortably.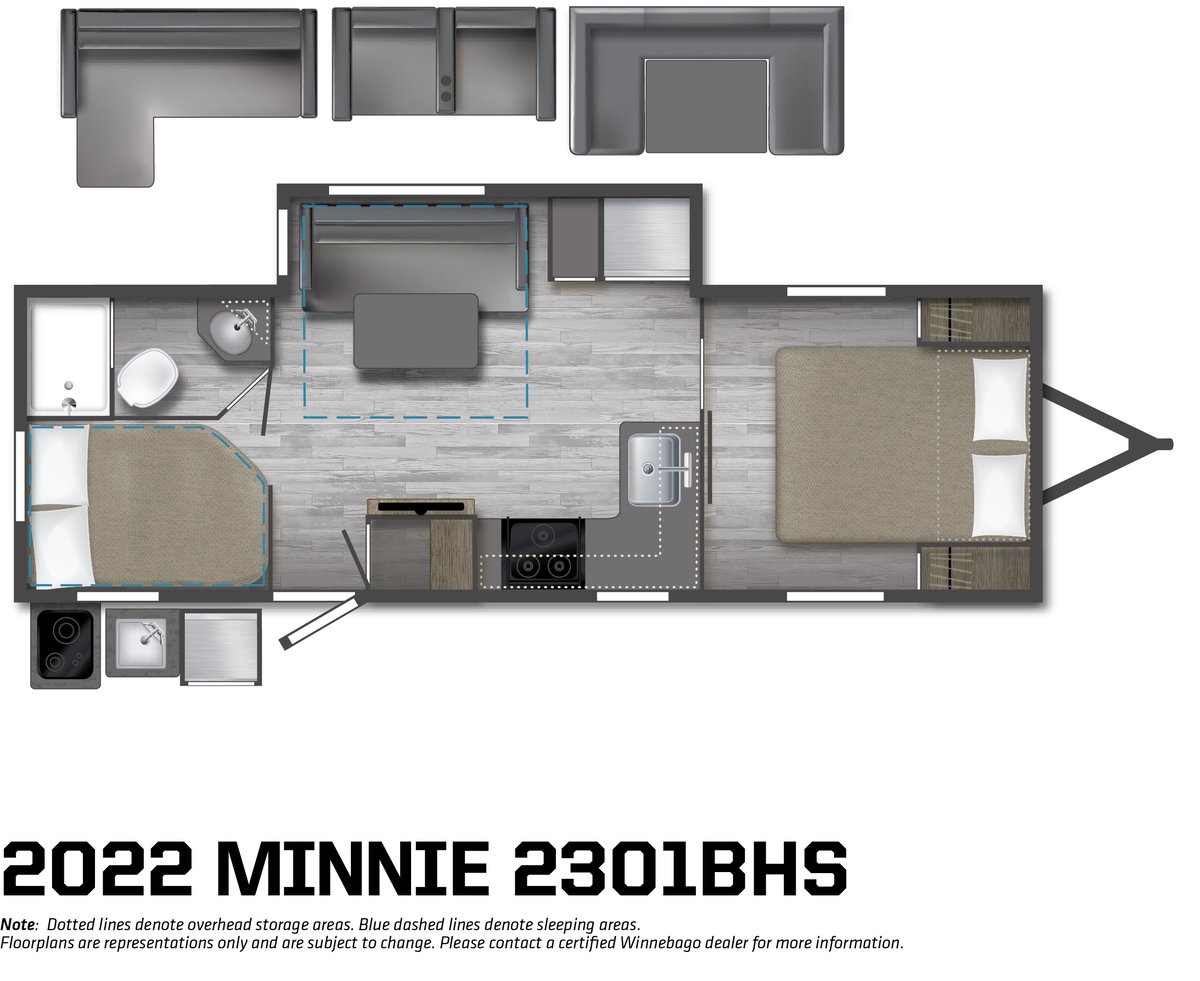 There is lots of storage throughout the camper with the two pantries, overhead cabinets and other wardrobe spaces. There is a private bedroom with a queen bed and double bunks in the back of the RV. The common area has a tri-fold sofa with a sofa table or an optional large u-shaped dinette.
>> Ready to find your dream RV?
Winnebago Minnie 2327TB
MSRP starting at $52,343
The Minnie 2327TB is a wonderful camper for couples, solo travelers and friends. It has a large full bathroom in the back of the RV that includes a linen closet for extra storage. The common area also has lots of storage as well as a sofa with a sofa table and ends tables, TV cabinet, 10 cubic foot fridge and more. The private bedroom at the front of the camper has two twin beds with a nightstand between them or the optional king bed if preferred.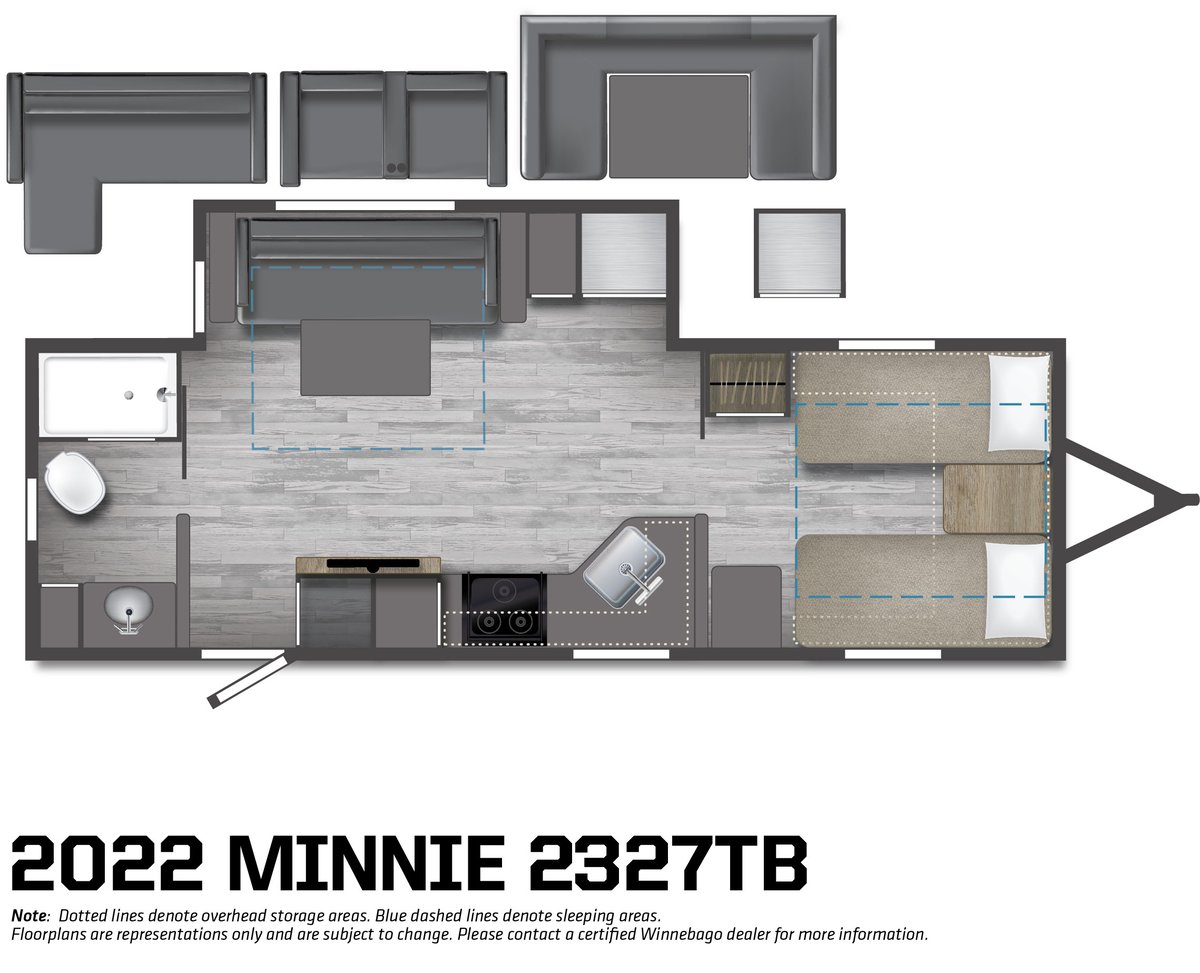 This unit is 27'1" in length and has a gross vehicle weight rating of 8,800 pounds. It has so many other features and options that make it unique to each camper.
>> Shop available units on our site.
Each of these models have something different that different campers might want in their dream RV. There is something for every type of RVer, from weekend warriors to full-time campers. The Winnebago Minnie is an awesome travel trailer because of the floor plan options and features that are included, creating a luxury camping experience.
Additional Resources:
Want to read more about Winnebago? Learn All About Winnebago RVs.
Interested in a motorhome instead? Check out the Best Winnebago Motorhomes.