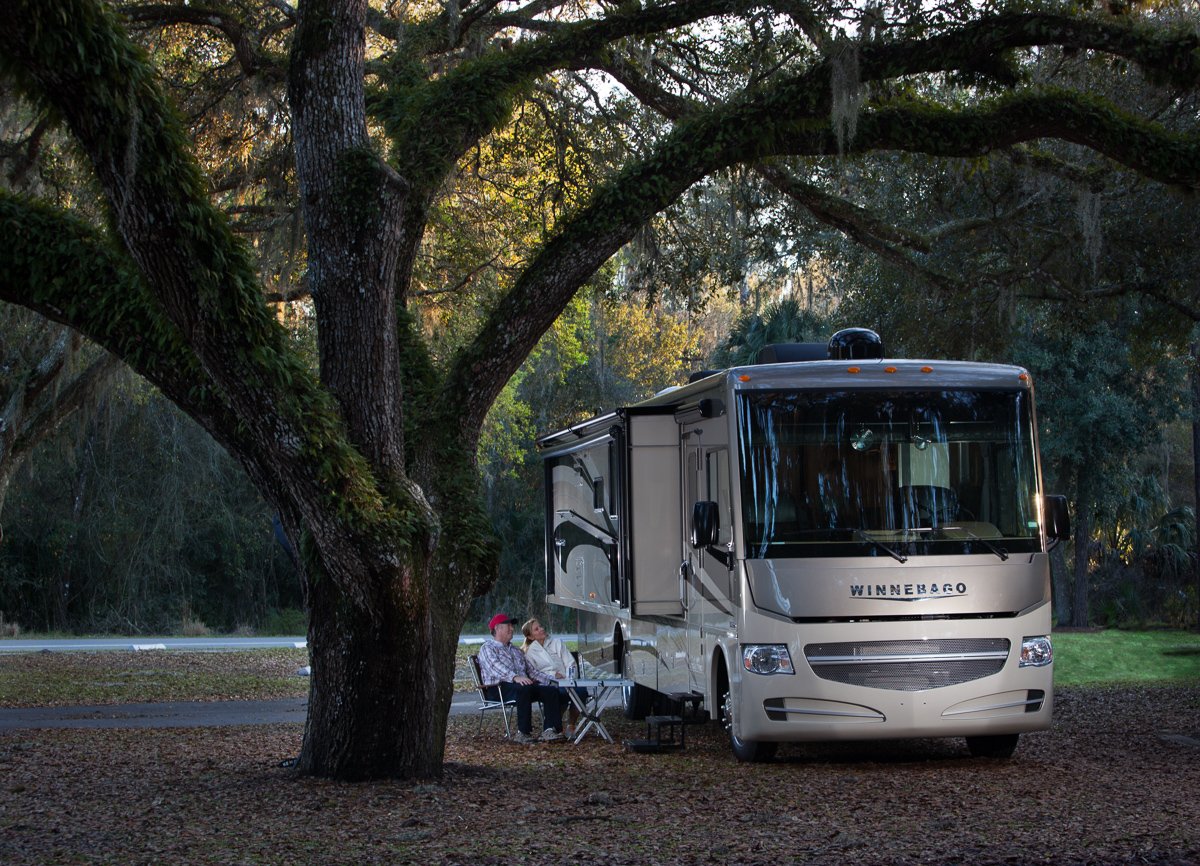 Winnebago Industries has been in business for over 50 years. They have sold over 400,000 RVs and are on track to reach 500,000.
Winnebago was founded in 1958 in Forest City, Iowa, as primarily a travel trailer manufacturer. In 1968, they added motorhomes with luxury features, such as wall-to-wall carpet, his and her wardrobes, private entrance and rear twin bedrooms. By the end of the 1960s, Winnebago's family of products included five motorhome types, 11 truck campers and seven types of travel trailers.
In 1977, Winnebago rolled out its 100,000th motorhome. And in the 80s, Winnebago developed licensing agreements with apparel and camping products, making the RV brand a household name.
Currently, the fastest selling Winnebago Class B motorhome is the Travato, which was introduced in 2013. All their RVs have received major upgrades since Winnebago's early days and as it's the company's goal to remain modern and in-style.
In the 2000s, Winnebago has continued to launch new luxury motorhomes with the latest brand being the Horizon, a half-million-dollar diesel pusher with state-of-the-art features and an elegant and modern interior. In addition, they recently purchased RV manufacturers Grand Design RV and Indiana-based luxury motorhome brand Newmar as they continue to grow and provide new and innovative offerings to RVers.
Winnebago Class A Motorhomes
Winnebago Intent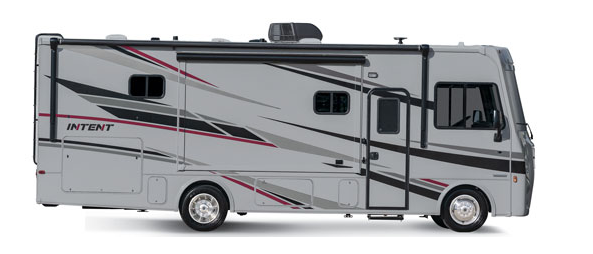 The Intent is a Class A motorhome for those who want a sleek and luxurious RV within their budget. The motorhome's length varies up to 31'10" with a gross vehicle weight rating of 18,000 pounds and a freshwater capacity up to 51 gallons.
The common areas of this motorhome feature tinted windows, LED lighting, USB chargers and vinyl flooring throughout. There are plenty of features in this RV to make the kitchen feel roomy and functional including a pantry, dinette with hi-lo table and storage, a microwave oven with touch controls and a double sink.
The master bedroom provides plenty of comfort to rest and relax at the end of every day. With a foam queen mattress, there is also tons of storage space with the under-bed storage and wardrobe. Unique features include a pet palace that can be used for pet access or storage when not in use.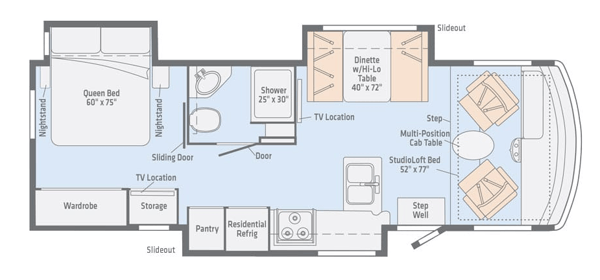 Winnebago Adventurer

The Adventurer goes up to 26'10" in length with a gross vehicle weight rating up to 22,000 pounds and has several user-friendly features. There are six floorplans to choose from in order for families to find a unit that fits all their needs.
The exterior comes with automatic entry steps, porch light, powered awning with LED lighting and a premium high-gloss fiberglass skin. Throughout the interior, there are MCD solar/blackout shades, tinted, dual-pane windows and LED lighting. There is a flexible shower head for an easy clean-up, as well as a textured shower door. There is a room divider to provide a private bedroom area with a queen-size foam mattress with extra storage below.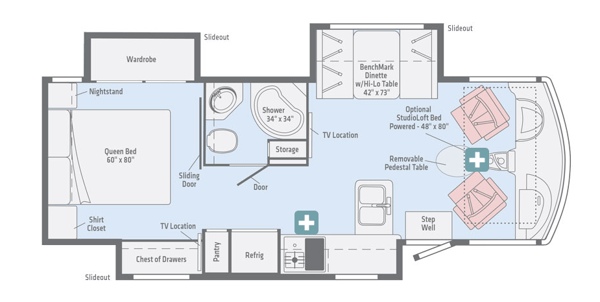 Winnebago Forza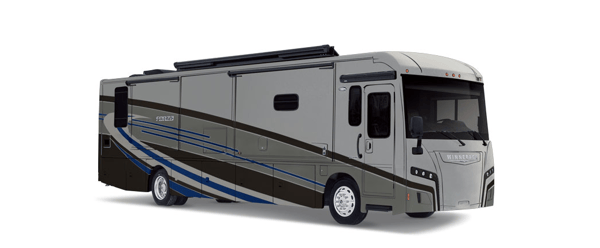 The Forza is up to 40 feet in length with a gross vehicle weight rating up to 29,410 pounds. It comes in five different floorplans and is ideal for those that want to upgrade to the diesel pusher lifestyle.
The kitchen in this motorhome features Corian countertops and sink covers and a glass bi-fold range cover. The appliances that come standard in the Forza make it a great kitchen to cook all your favorite recipes. There is a two-door residential refrigerator and freezer with an ice maker, three-burner range top and a microwave convection oven with range fan.
This motorhome is perfect for movie lovers with a 50" HDTV, Blu-ray disc player and a home theater soundbar system. The exterior of this RV offers two powered awnings with LED lighting and lit storage compartments to easily find all the gear you need, day or night. It also offers a KeyOne lock system, so you only need one key for all storage compartments.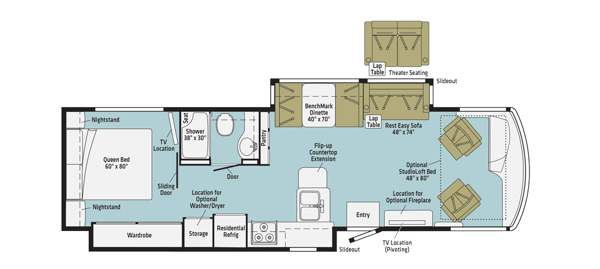 Winnebago Class B Motorhomes
Winnebago Revel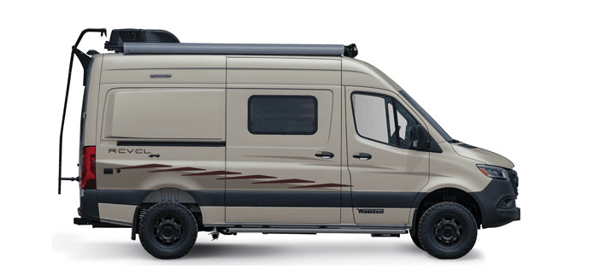 The Revel camper van is an ideal motorhome for active outdoor enthusiasts who love adventure. It goes up to 19'7" in length with a gross vehicle weight rating of 9,050 pounds. Throughout the interior, there is LED ceiling lighting with a dimmer switch, a system monitor panel and USB chargers.
The bedroom area of this Class B motorhome as a power lift bed and 140-cubic-feet of storage space under the bed with six removable cargo tie-downs. The kitchen and common area are all about saving space and extra storage. There is a flip-up countertop extension, full extension drawers, pull-up dinette table and a pantry.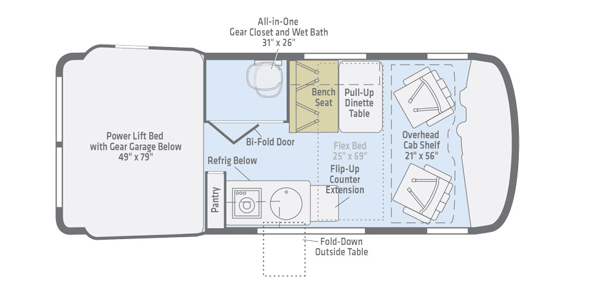 Winnebago Travato

The Travato Class B motorhome offers all the comforts of home in one compact and efficient package. It is up to 21 feet long with an awning length of 13 feet and a gross vehicle weight rating of 9,350 pounds.
Features include an exterior speaker system, side and rear screen door and aluminum running boards. The power awning has LED lighting and Bluetooth control. The kitchen area offers Corian countertops, a two-burner range top with a glass cover and heat shield, cold water filtration and a spice rack. The bathroom has a medicine cabinet as extra storage space for toiletries or smaller items.

Winnebago Class C Motorhomes
Winnebago Minnie Winnie

The Minnie Winnie is up to 32'9" long with a 20-foot awning and a gross vehicle weight rating up to 14,500 pounds.
Every floorplan option for the Minnie Winnie Class C motorhome features a bedroom and a cab-over bunk. This motorhome includes a 32" HDTV with DVD player, LED lighting and USB chargers in the dinette and bedroom. To help keep the interior cool during the day, there are pleated shades and a front wraparound curtain to keep the sun out. The bedroom is in the rear of the RV to provide a private space to retreat to at the end of every day.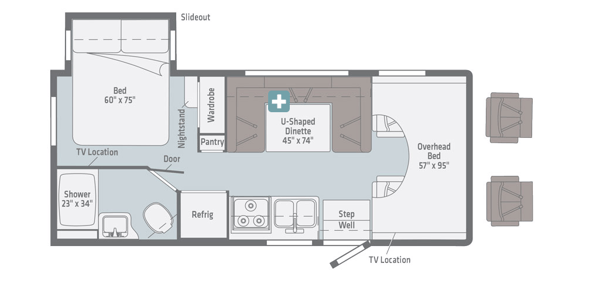 Winnebago View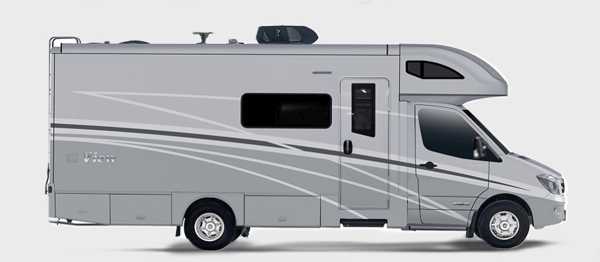 The View Class C has upscale details throughout the coach to give you a luxurious camping experience. This motorhome can come up to 25'5" in length with a gross vehicle weight rating up to 11,030 pounds.
On the exterior, there is a 16-foot powered patio awning with LED lights and an automatic entrance doorstep. Throughout the interior of the RV, there are tinted coach windows, vinyl flooring and LED lights. The kitchen features laminate countertops, cabinets with accent lighting, soft close drawers and a double stainless-steel sink. The appliances that come in the View are a two-burner induction and LP range cooktop, microwave/convection oven with touch control and a double-door refrigerator. The View makes camping fun, easy, convenient and glamorous.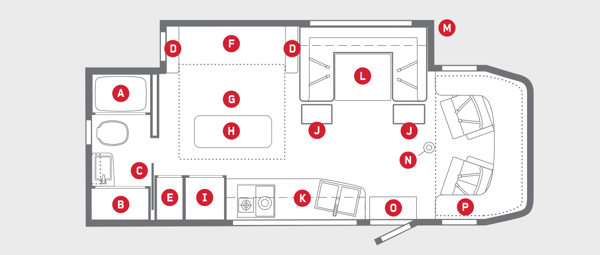 Winnebago Travel Trailers
Winnebago Micro Minnie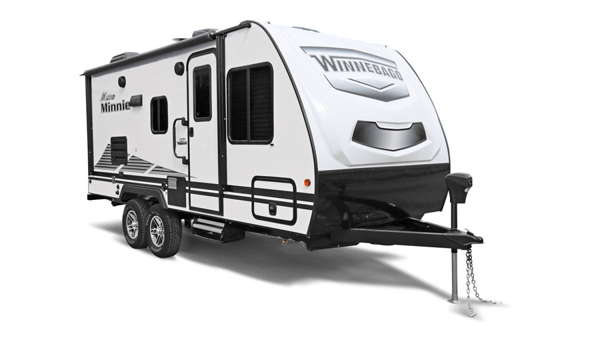 The Micro Minnie travel trailer is a compact camper that offers big features. It is up to 25'5" in length with a gross vehicle weight rating up to 7,000 pounds. The freshwater capacity is 31 gallons and the black and gray tank capacity is 25 gallons.
The Micro Minnie is made for tech-savvy campers. It comes with an LED TV, cable TV hook up and an AV system with AM/FM, CD/DVD and USB/Bluetooth. When you go outside, you can enjoy a party under the patio awning with LED lighting and speakers. It also comes with a refrigerator and microwave in the kitchen area and even has a private bedroom.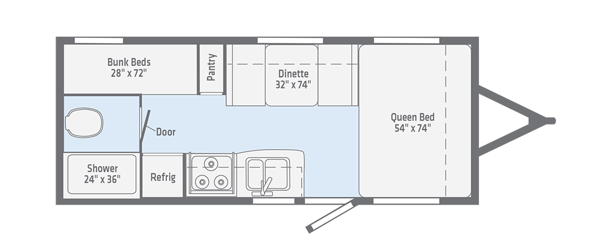 Winnebago Minnie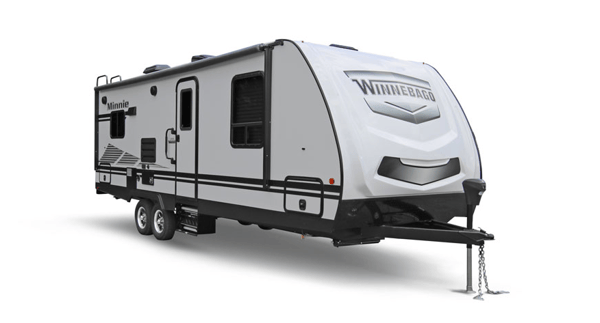 Experience big adventures in this compact, lightweight travel trailer. The Minnie is 32 feet long with a gross vehicle weight rating of 8,800 pounds. There is a freshwater capacity of 43 gallons, a black tank capacity of 28 gallons and a gray tank capacity up to 82 gallons.
The kitchen also offers a double fridge and full extension drawer guides so you can get the most out of all your storage space. Whip up your favorite meals using the three-burner cooktop with an oven or the microwave. There is a carbon monoxide detector, LP gas detector and smoke alarm so you can have peace of mind while camping.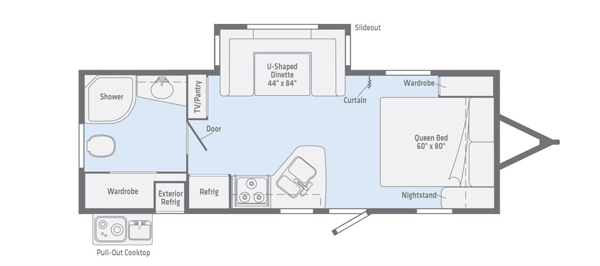 Winnebago wants to give their customers the best camping experience possible, which is why they offer several different floorplans in a wide range of price points so every camper can find the best RV for their lifestyle. Ready to start shopping for your next Winnebago? Check out our inventory of Winnebago RVs.
Learn more about all the costs that go into owning an RV or find the right motorhome floorplan for you.