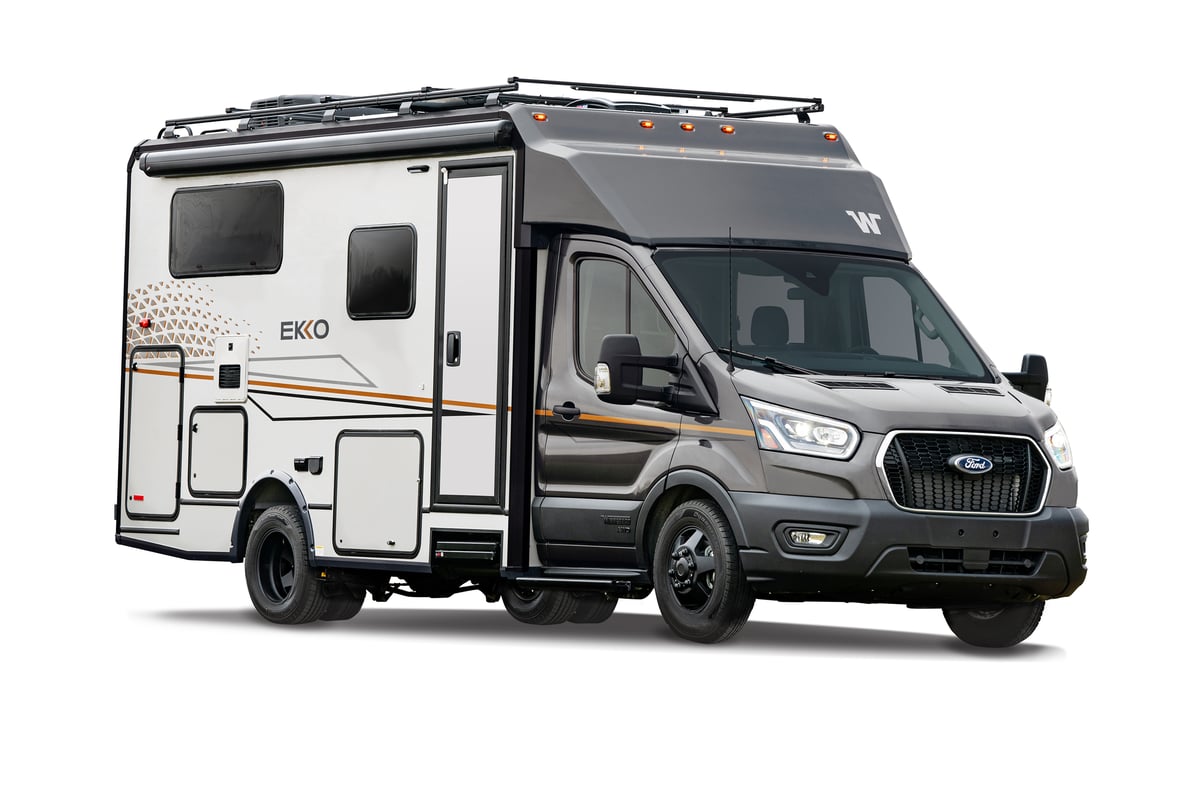 Motorhomes are motorized recreational vehicles that include the cab and living space all in one. And Winnebago is one of the more well-known brands when it comes to being a household name for motorhomes.
Winnebago builds Class A, Class B and Class C motorhomes. Their motorhomes are designed with luxury features that come standard in each brand. And when it comes to floorplans, they provide several options for all types of RVers, such as full-time campers, short-term travelers and family RVers.
In this blog, we review the options and features of the best Class A, Class B and Class C motorhomes from Winnebago Industries available at Campers Inn RV and what they'll provide you as a new or seasoned RVer.
Who is Winnebago Industries?
Winnebago Industries strives to help campers explore the outdoor lifestyle. As a leading U.S. manufacturer of outdoor lifestyle products, Winnebago Industries builds motorhomes, travel trailers, fifth wheels and boats.
Winnebago Industries consider their values to be customer-centric, results-driven, innovative, quality-focused, collaborative and trusted. Learn more about Winnebago industries here.
Best Winnebago Motorhomes
Class A:
Forza

Vista

Adventurer
Class B:
Solis

Travato

Revel
Class C:
View

Minnie Winnie

Ekko
Class A
Class A RVs are the biggest of the motorhomes, ranging from 21 feet to 45 feet in length. They are a popular choice for campers because of the wide variety of floor plans and options for amenities it comes with. They often include washer and dryers, larger interior spaces, king-sized beds and more.
These large, bus-like motorhomes often feature luxury amenities and designs, making them a great choice for glampers.
Shop available Winnebago Class A motorhomes near you.
Forza – Starts at $239,995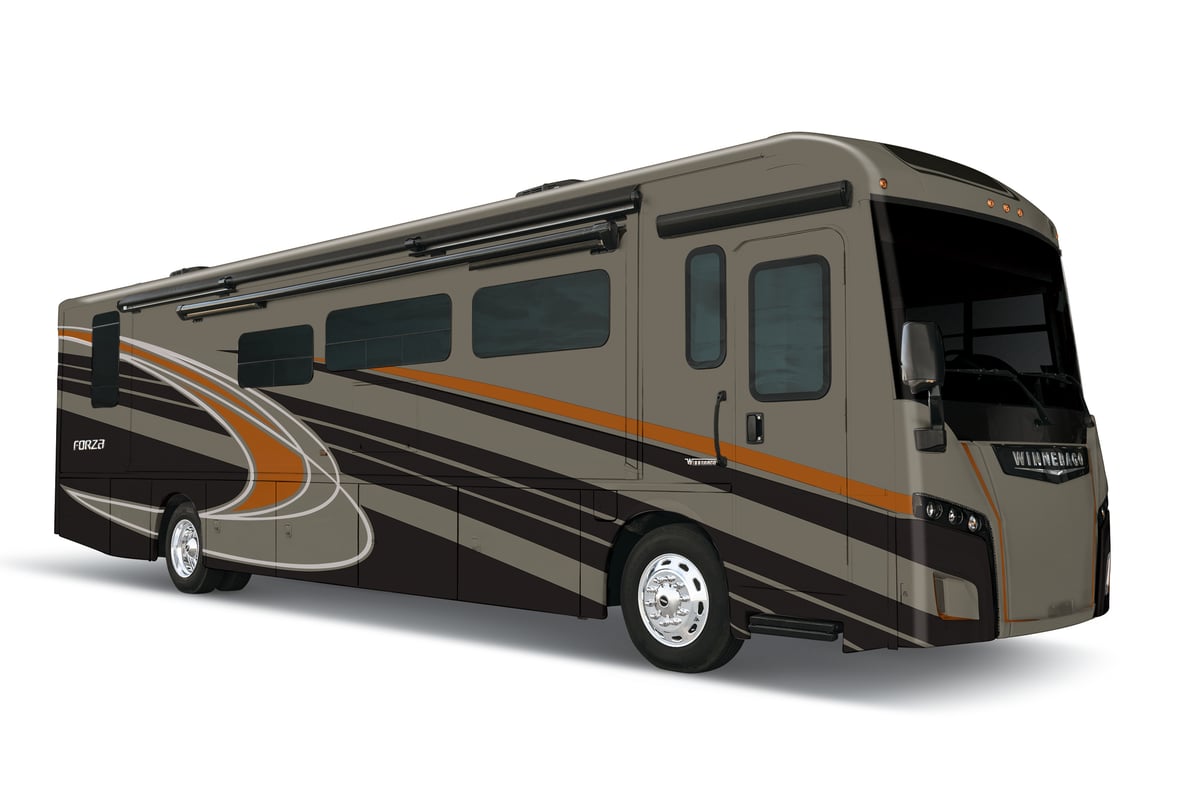 The Winnebago Forza offers all the comforts of home while on the open road. There are five different floorplan options ranging in sizes from 35'6" to 39'10" and can sleep five to eight people. Popular features of the Forza include the 50-inch HDTV, home theater soundbar system, digital TV amplified antenna system and a Blu-ray disc player making for the ultimate movie nights no matter how far away from home.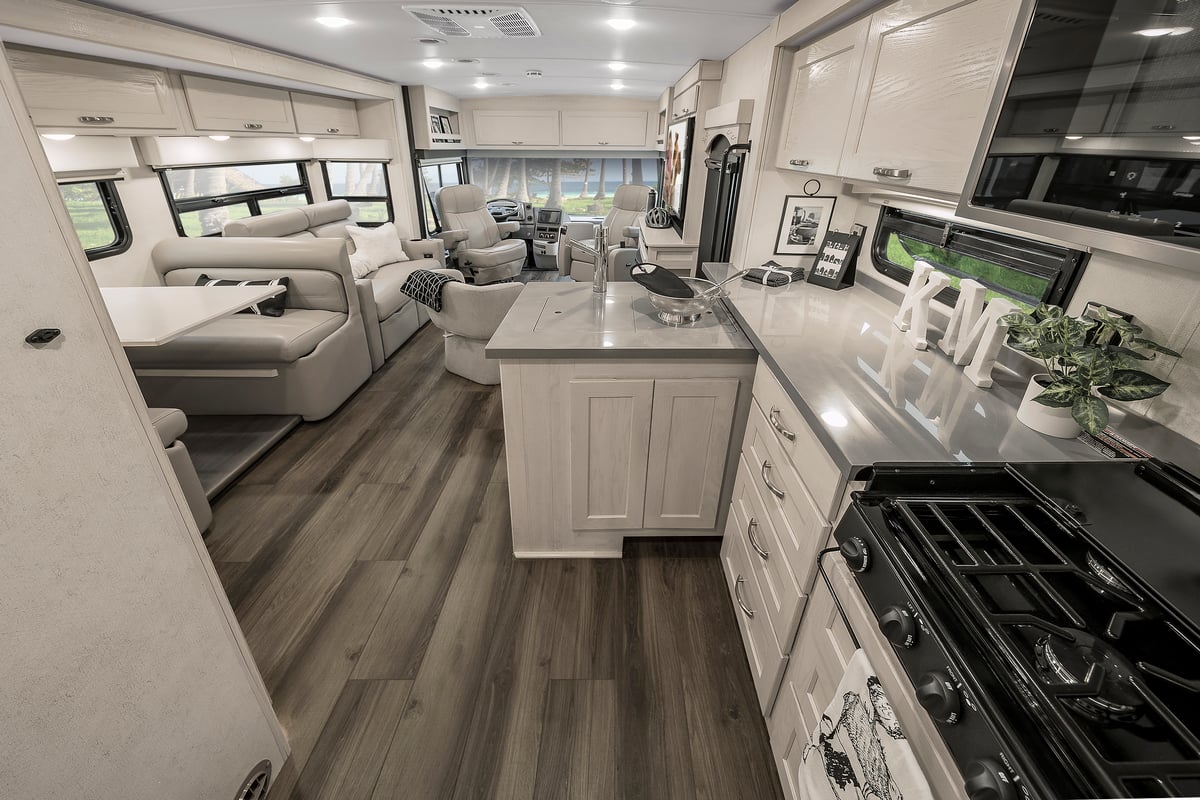 The private bedroom has an HDTV as well as a queen bed with an innerspring mattress and storage below, wardrobe storage space and induction chargers in each nightstand.
The Forza offers versatile floor plans and options so every camper can find the perfect fit.
Shop different models of the Forza here.
Vista – Starts at $124,999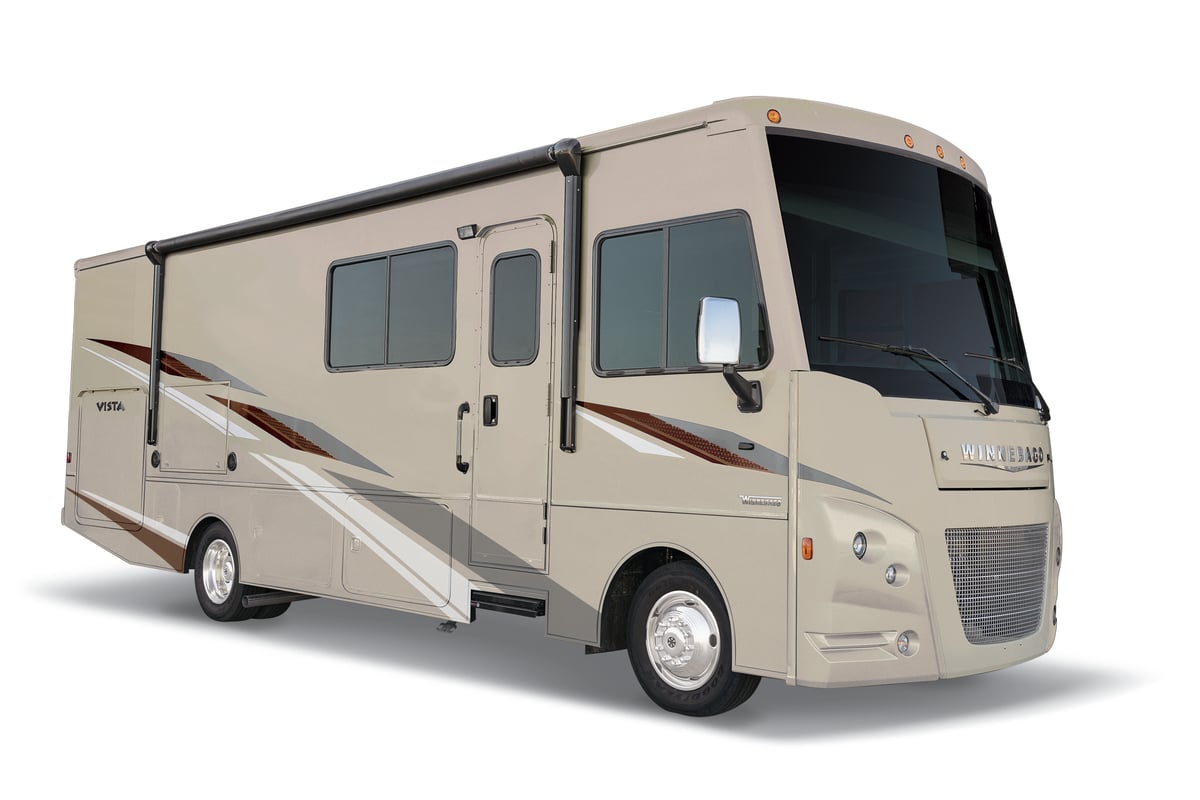 The Winnebago Vista offers innovative floor plans and features that many campers love to have. Depending on the floor plan it can sleep five to seven people, so it is great for families.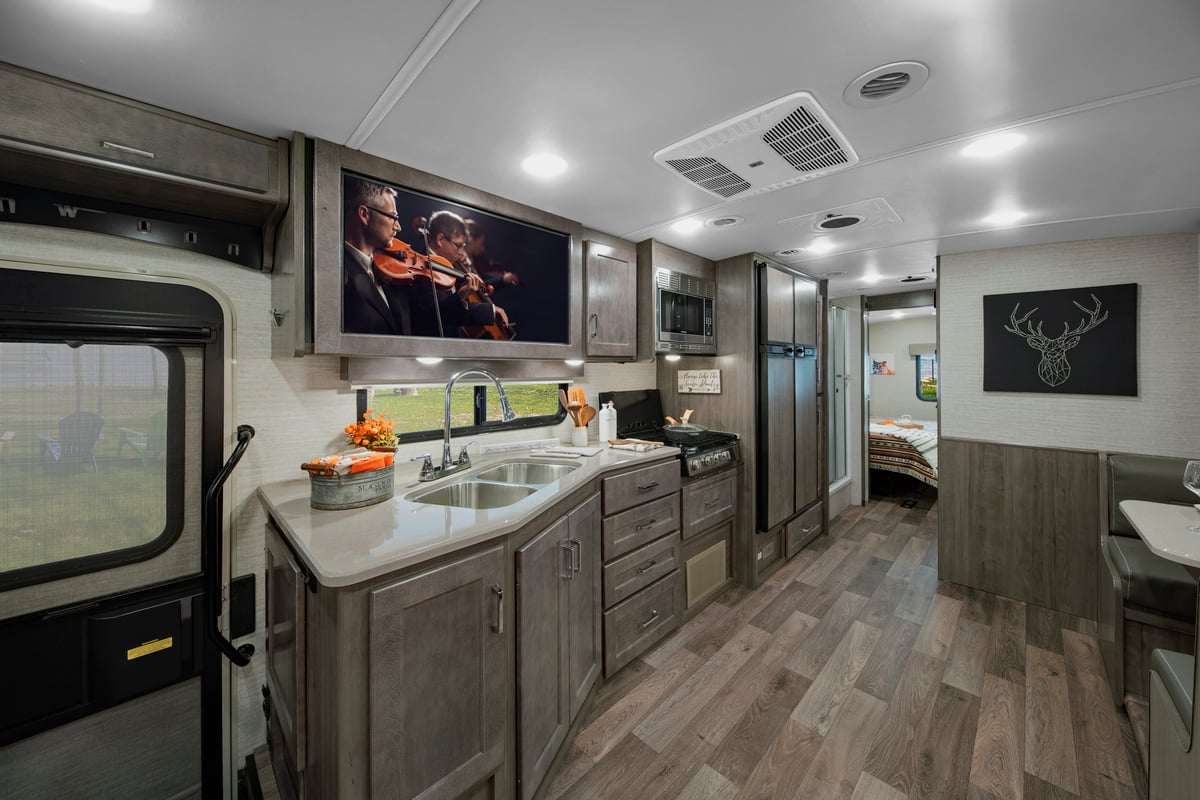 The Vista is built on a Ford f53 chassis and has a 7.3 PFI V8 engine, TorqShift 6-speed automatic transmission with tow/haul and a 210-amp alternator. It is a powerful RV while also including safety features to make sure each camping trip is safe. There is a child seat tether anchor on the forward-facing dinette seat, ground fault interrupter, high-mount brake lamp as well as LP, smoke and carbon monoxide detectors.
Ranging in sizes from 28'5" to 35' in length, there is a floor plan to fit every type of camper.
Click here to find your perfect Vista today.
Adventurer – Starts at $134,995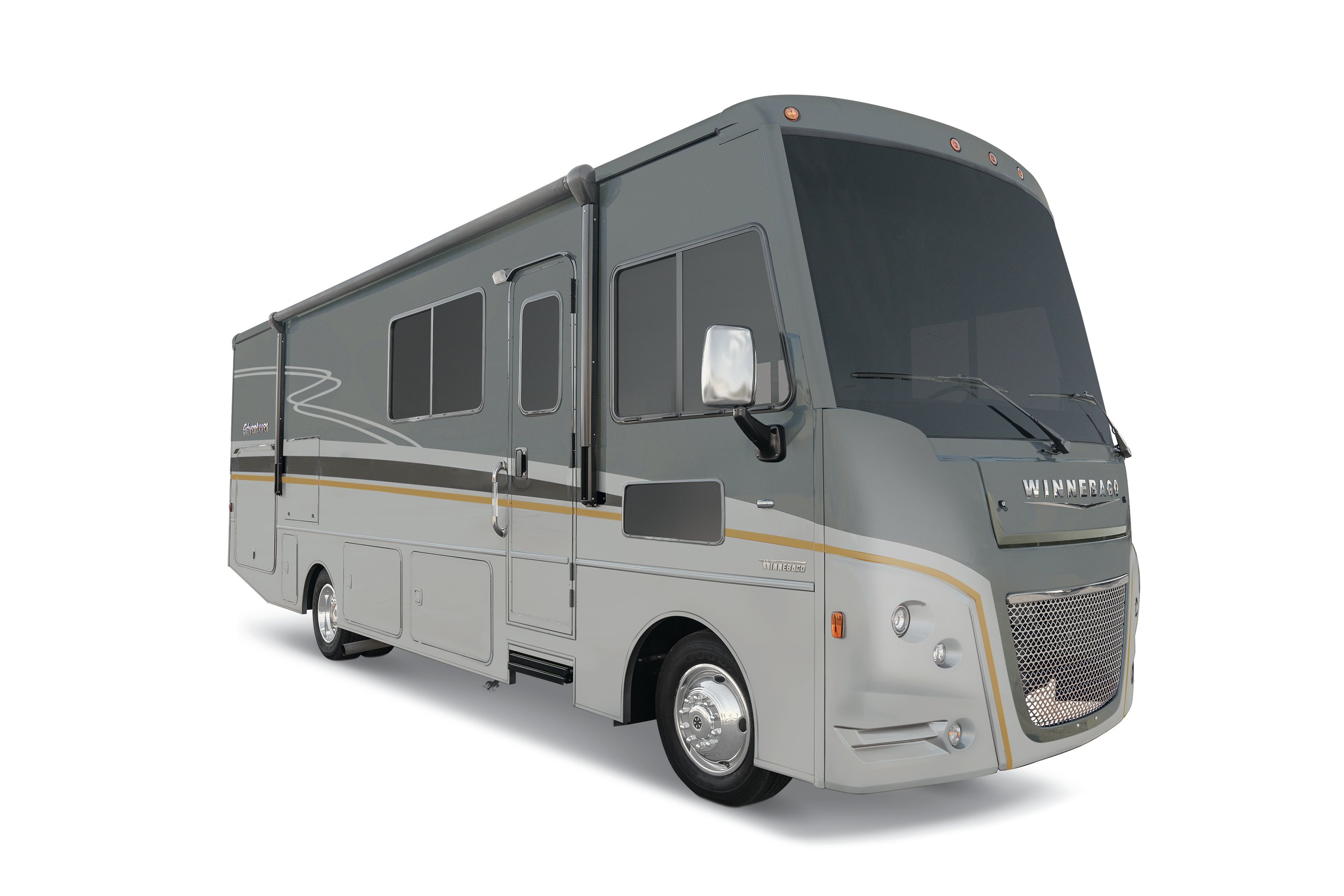 The family-friendly Winnebago Adventurer offers easy-to-use features and plenty of storage and living space. It comes 28'5 to 36'11 in length and can sleep four to six people comfortably, depending on the floor plan.
The bathroom feels like a luxury spa with its large stand-up shower with flexible shower head, textured glass shower door and skylight. It offers storage space for toiletries and more.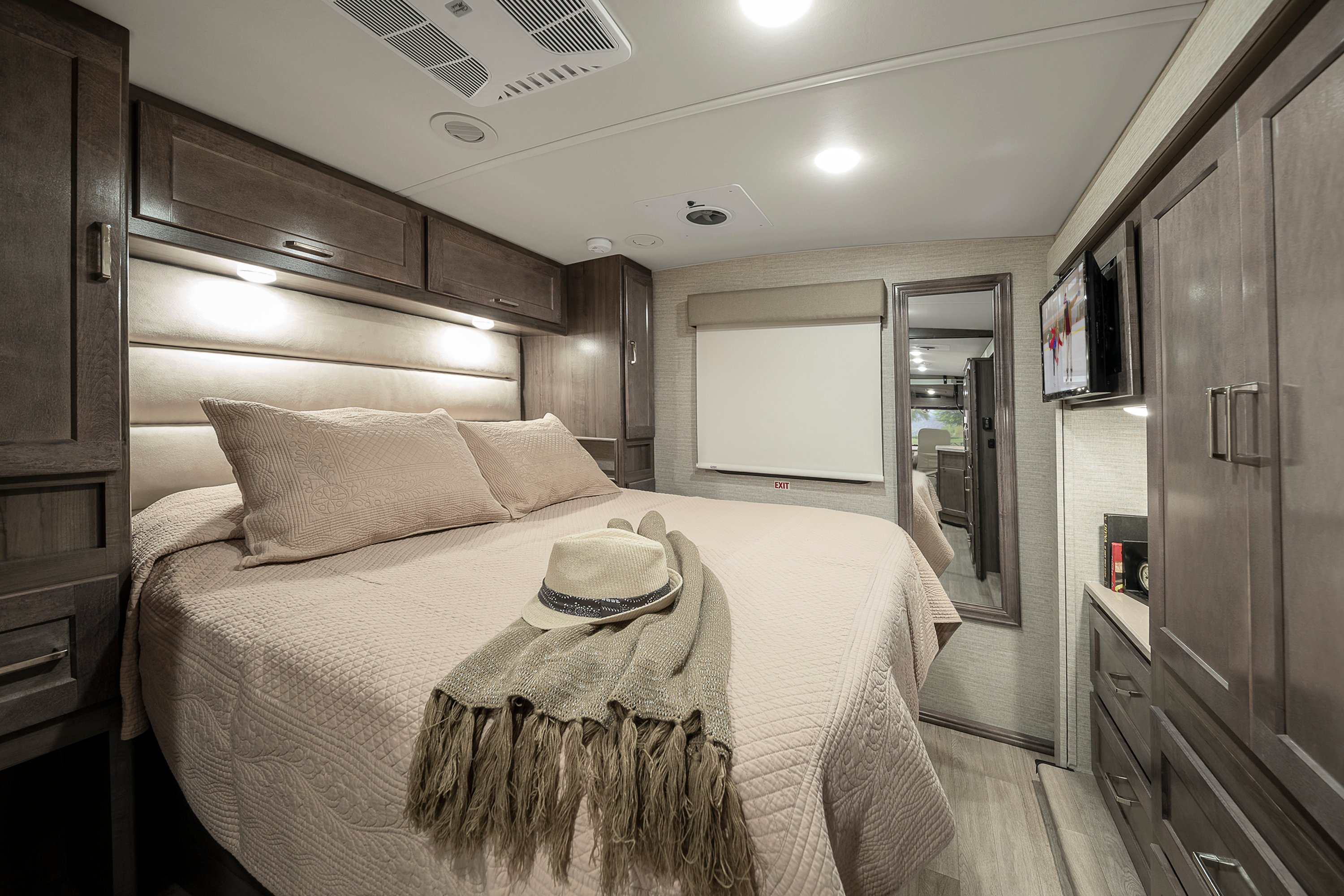 The front cab area also comes with incredible standard features such as swivel seats, touch screen system with Bluetooth, map lights, power mirrors with defrost and more. These features make long drives more comfortable, convenient and safe.
Start shopping for an Adventurer here.
Class B
The Class B motorhomes are small campervans. Because of their size, they are more fuel-efficient and easier to drive and maneuver. They are small enough to fit into regular-sized parking spots and make exploring new locations easy.
Campervans are typically used for solo campers or couples traveling. They come with a small galley kitchen, wet bath and the back area is a bed and can sometimes double as a dining area.
Find the perfect Winnebago Class B for you here.
Solis – Starts at $110,162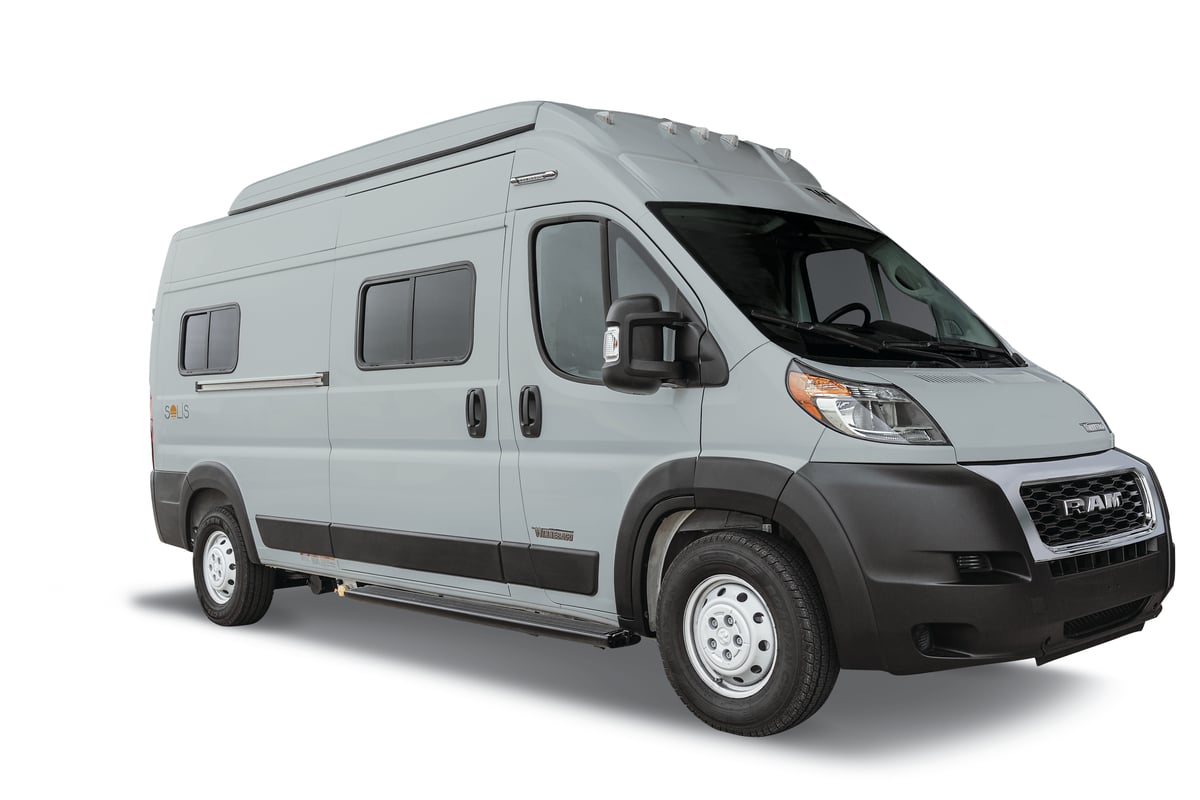 The Winnebago Solis was designed for adventurous campers. Its size allows for convenient camping at hard-to-reach places. The Solis has the options of either a sofa bed in the back to double as a living and sleeping space or two couches on either side with a moveable table in the middle that can be used as a dining space during the day and the murphy bed comes down during the night.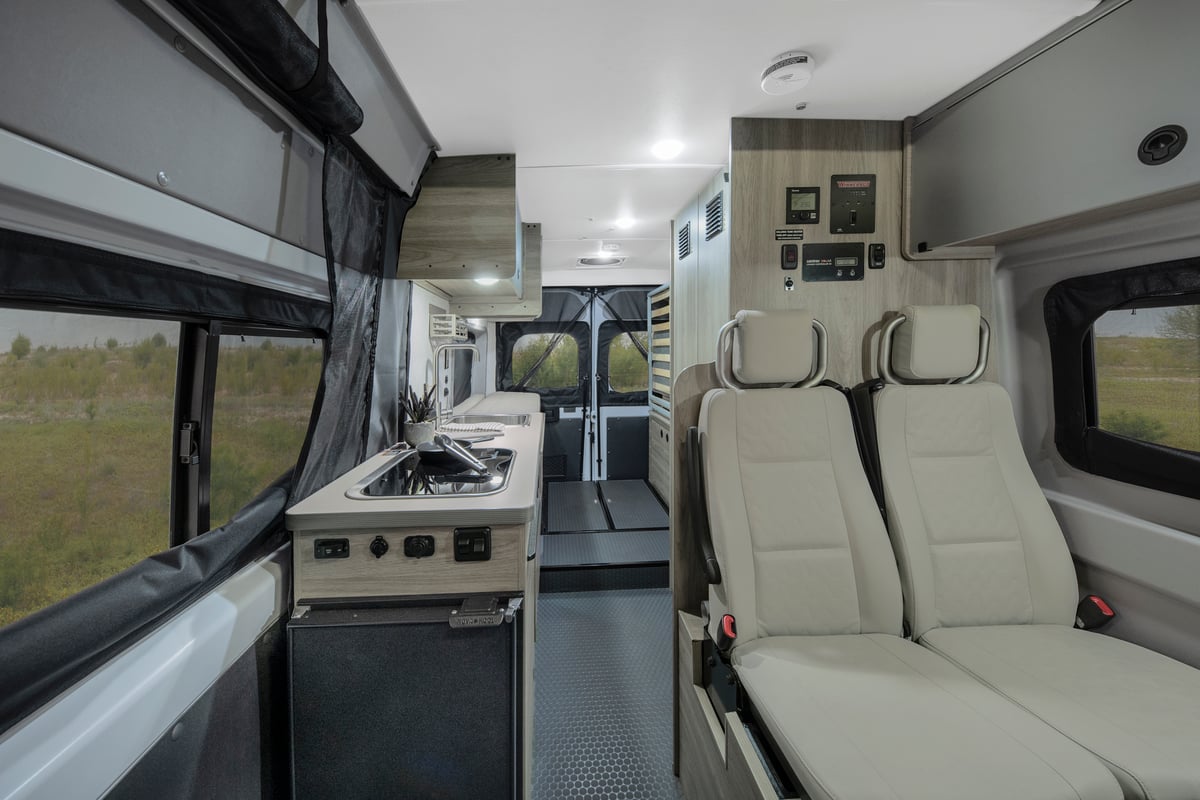 The floor plans offer a variety of options so every RVer can make it work and use it how they best see fits their lifestyle. The Solis comes in two floor plans, either 19'9" in length or 21' in length and the gross vehicle weight rating is 8,900 to 9350 pounds. It can sleep a total of four people so it's great for smaller groups.
Start shopping available Solis campervans here.
Travato – Starts at $124,999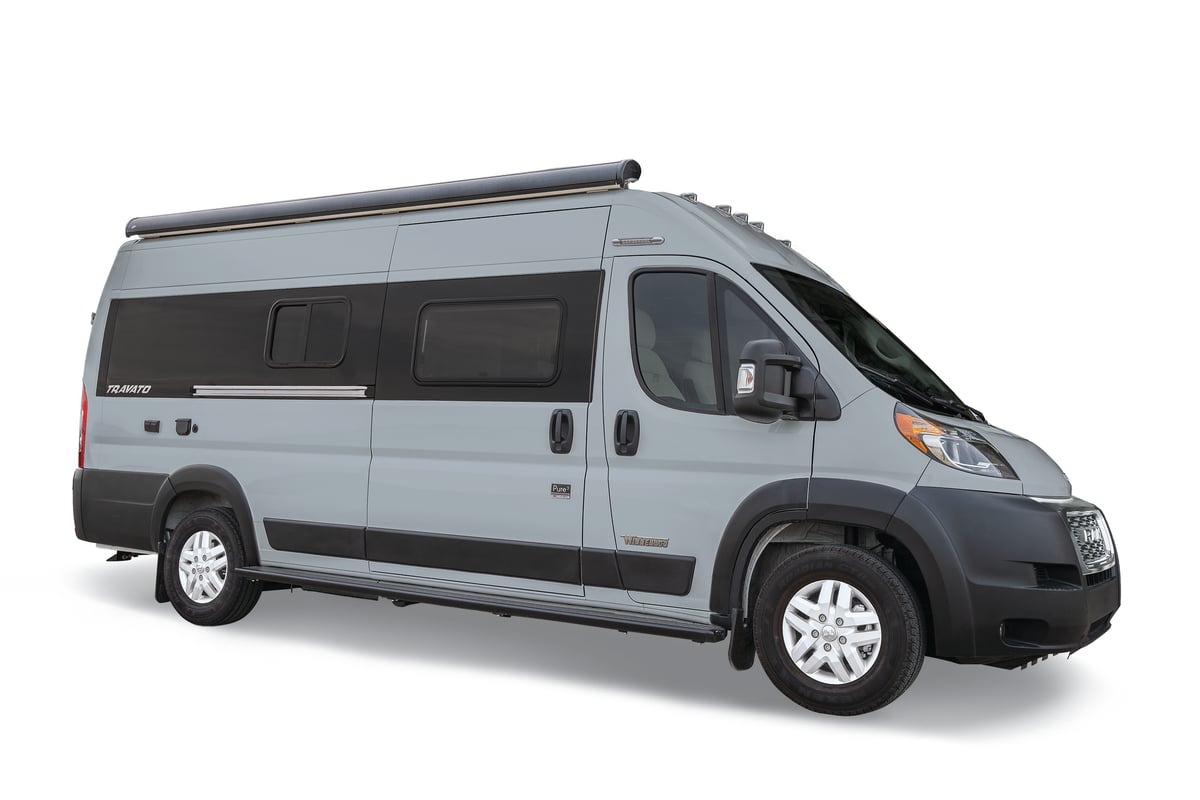 The Winnebago Travato is the top-selling campervan in North America. It is 21' in length and sleeps two people so it is ideal for couples or solo travelers. There is a double bed in the back or two twin beds for the sleeping space. There is a small wet bath, galley kitchen and two seats in the front with a removable table that can be used as a dining space, workspace or whatever else the camper might need it for.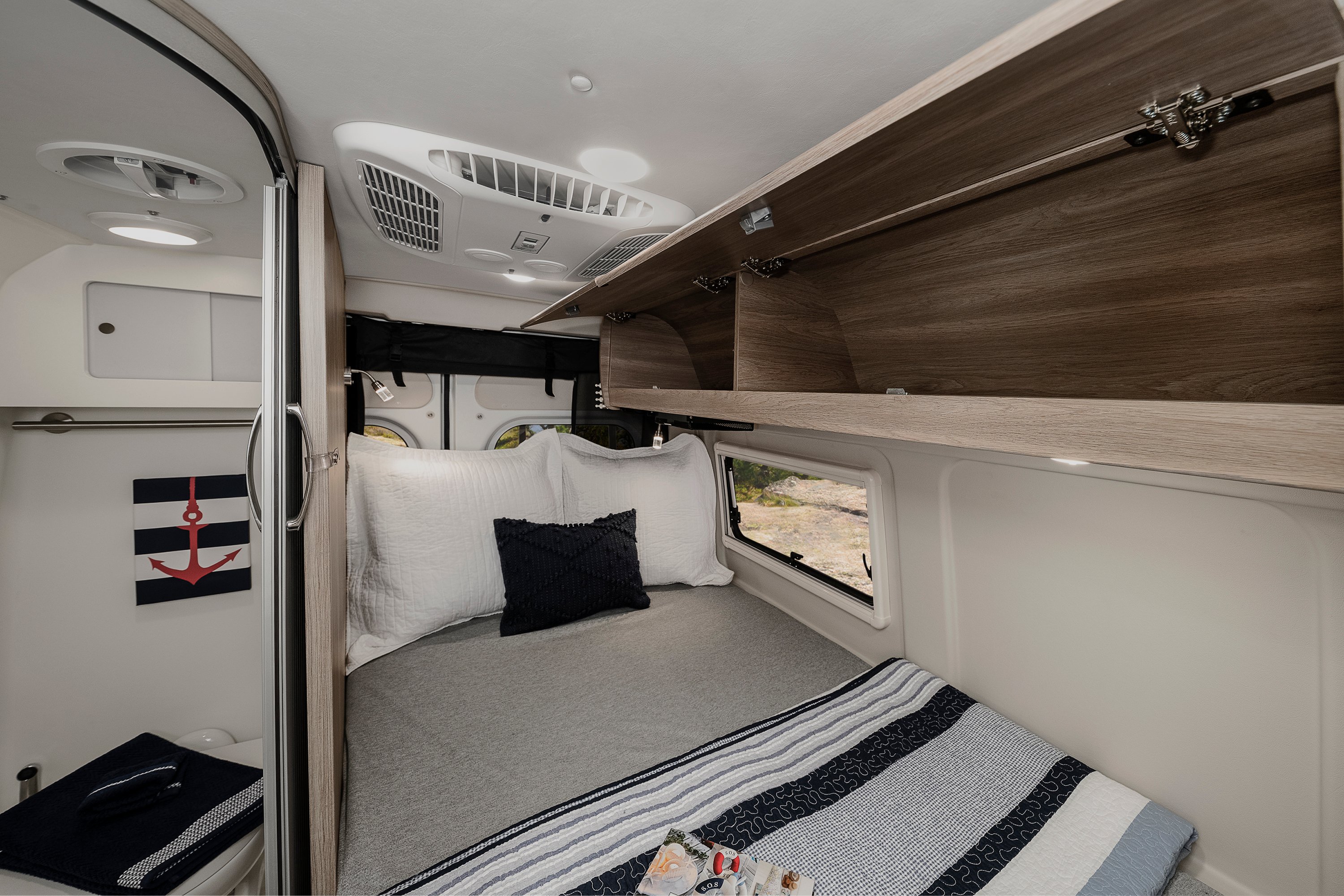 The kitchen features a Corian countertop, stainless steel sink and a spice rack. Depending on the floor plan of the Travato, it can also come with a flip-up countertop extension for extra prep space, two burner range LP cooktop with a glass cover and heat shield, microwave/convection oven with touch controls and more.
Find an available Travato for you here.
Revel – Starts at $179,215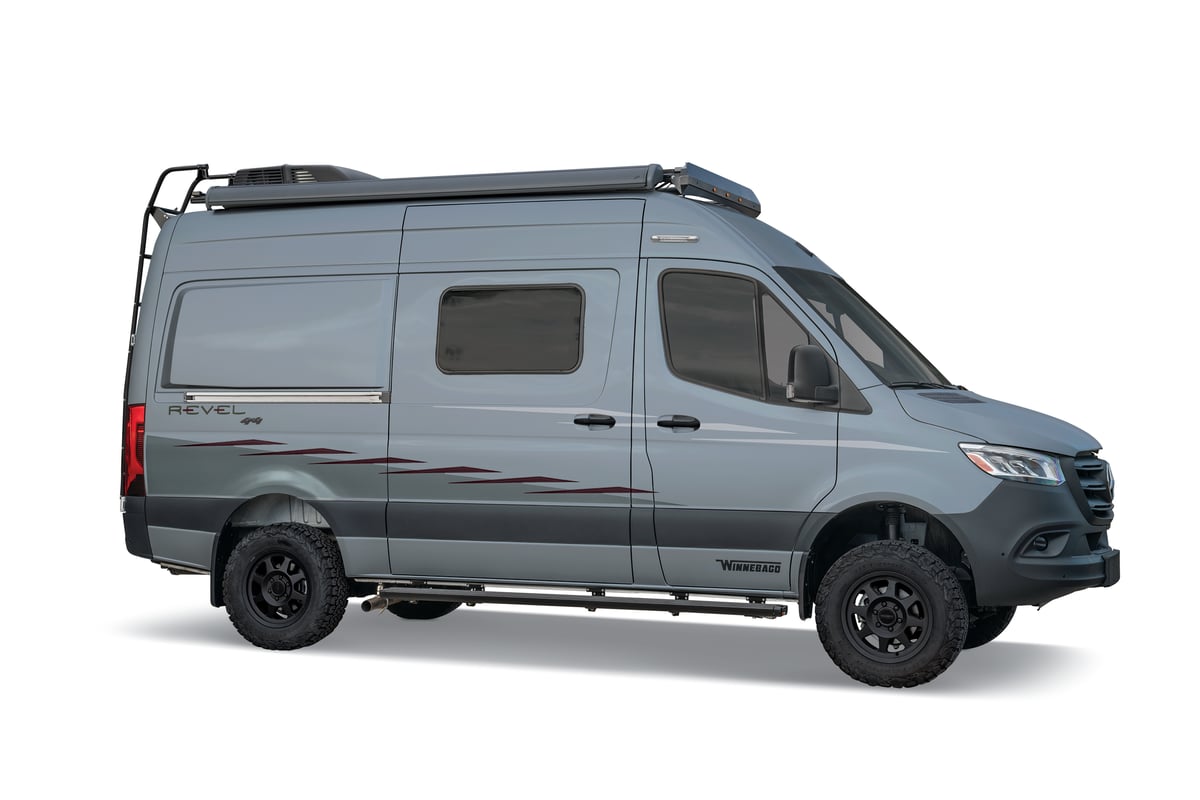 The Winnebago Revel gives RVers the option to easily drive off-road to faraway places with four-wheel drive. It is 19'7" in length and sleeps two people. It might be small, but this RV is jam-packed with features and plenty of storage space to hold all your camping gear.
In the back of the campervan, there is a 49 x 79-inch power lift bed with a gear garage below. This makes for a lot of storage space compared to other Class B motorhomes.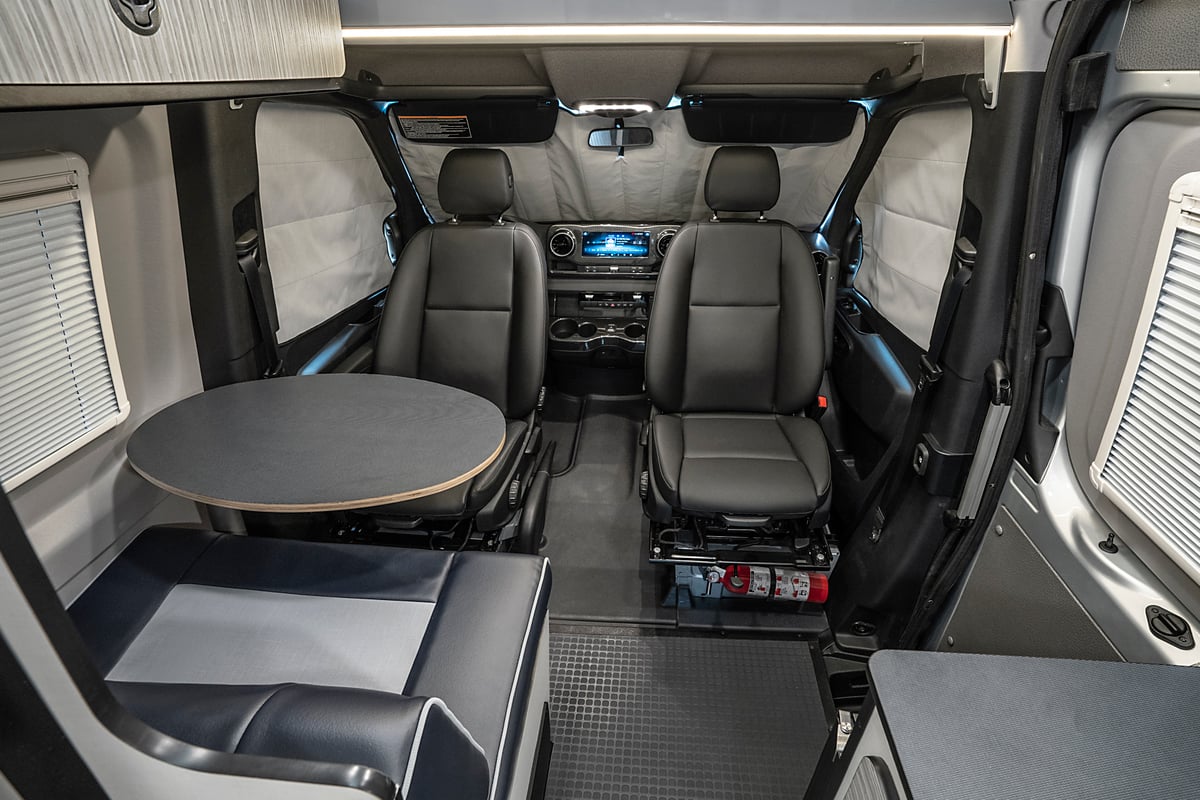 The exterior has a fold-down table for meals outside as well as a power patio awning with LED lighting and Bluetooth control. This makes relaxing outside comfortable and convenient. There are also screen doors on the side and RV of the camper allowing for a cross breeze and cool days.
Find your dream Revel here.
Class C
The Class C RV is the perfect middle ground between Class A and Class B. It has a decent size interior offering more space for storage and beds so it can be a great match for small groups or families, but the size is also small enough to offer more efficiency and mobility than the Class A motorhome.
They are easy to recognize with the distinct over-cab bunk which can be used as sleeping space or storage, depending on what is needed. Class C has designated living areas such as a bedroom or sleeping area, kitchen, dining room and bathroom.
Shop available Winnebago Class C motorhomes here.
View – Starts at $89,995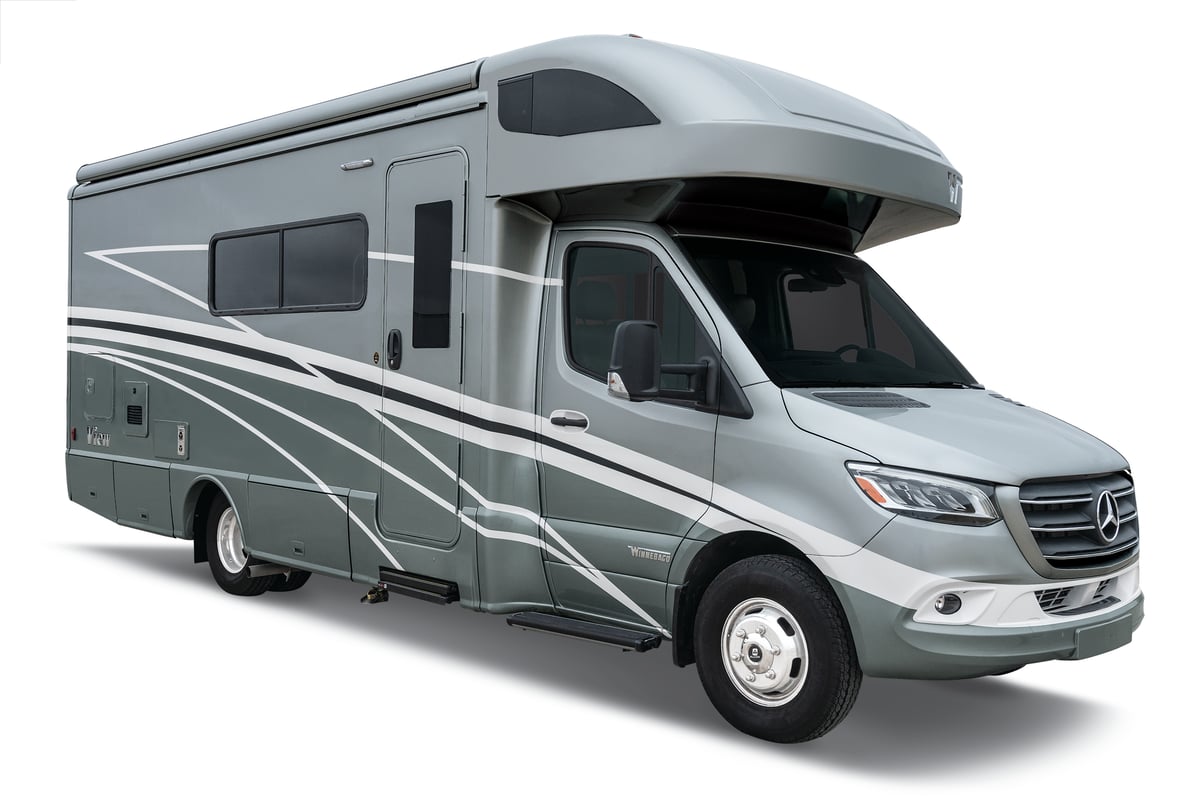 The Winnebago View gives campers the freedom to explore new places in comfort. It is a 25'6" long Class C motorhome that can sleep up to four people. It has a double bed or twin beds and a large u-shaped dinette or a TrueComfort+ sofa.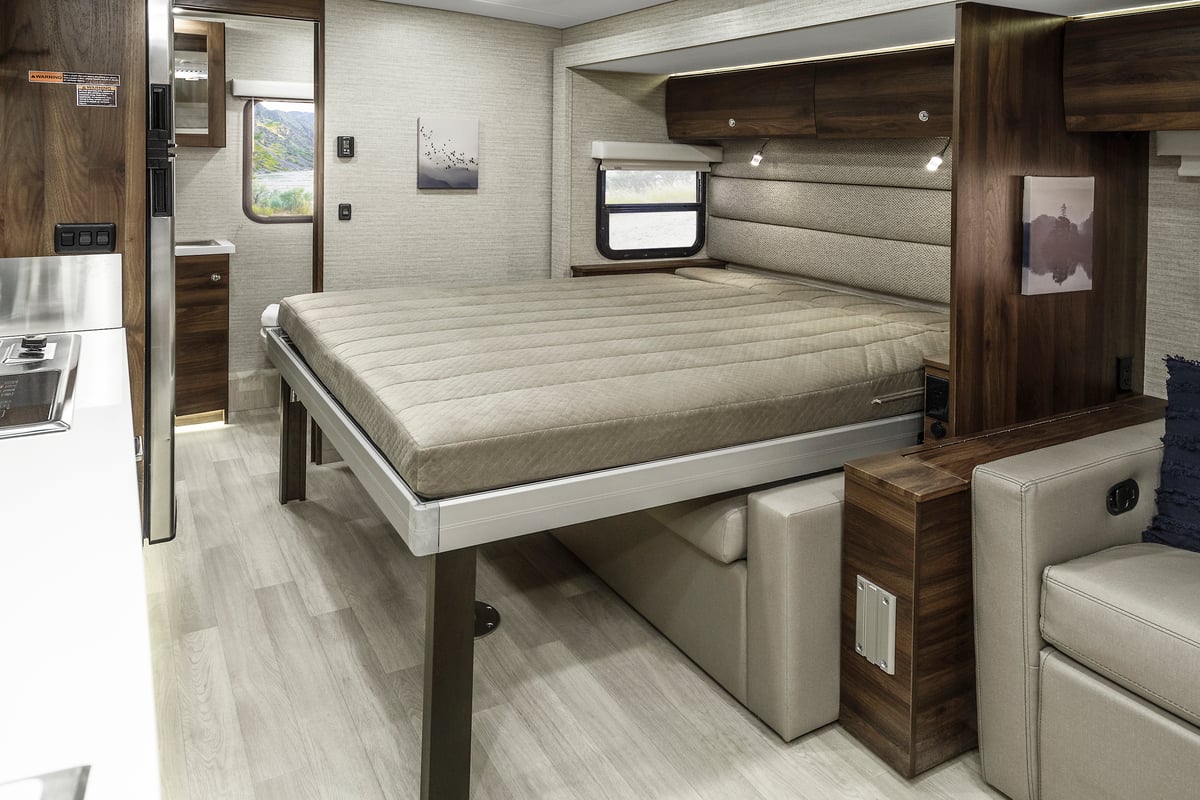 The interior of the View has LED lights throughout, satellite ready system, amplified digital HDTV antenna, vinyl flooring, toe-kick lighting and more. These features make for a comfortable atmosphere that feels like a home on wheels.
Shop the Winnebago View today.
Minnie Winnie – Starts at $116,612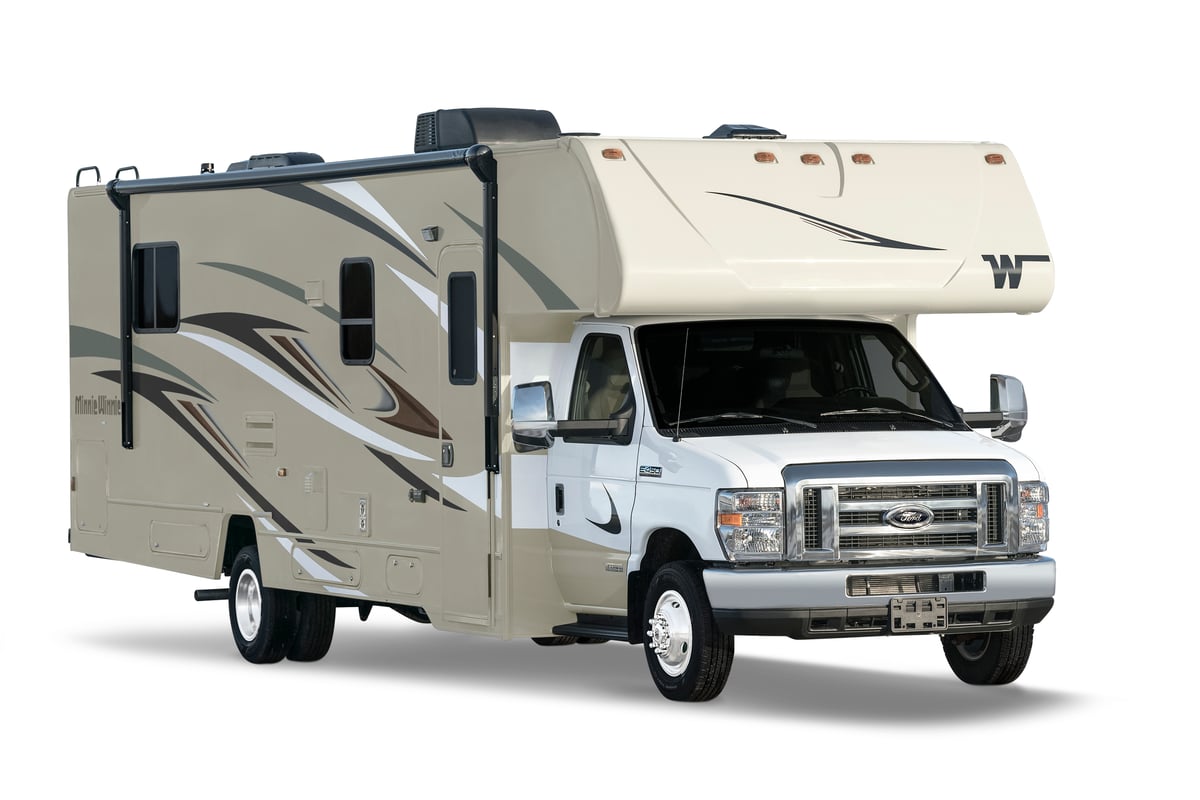 Create lifelong memories in the Winnebago Minnie Winnie Class C motorhome. It is 23'10" to 32'9" in length and can sleep five to eight people.
It comes with a 20,000 or 30,000 BTU furnace, depending on the model, and a 15,000 BTU air conditioner. The plumbing systems include a pressurized city water hook with tank fill, on-demand water pump, heated drainage system and more. It also has a 30-amp power cord, auxiliary start circuit and automatic dual-battery charge control.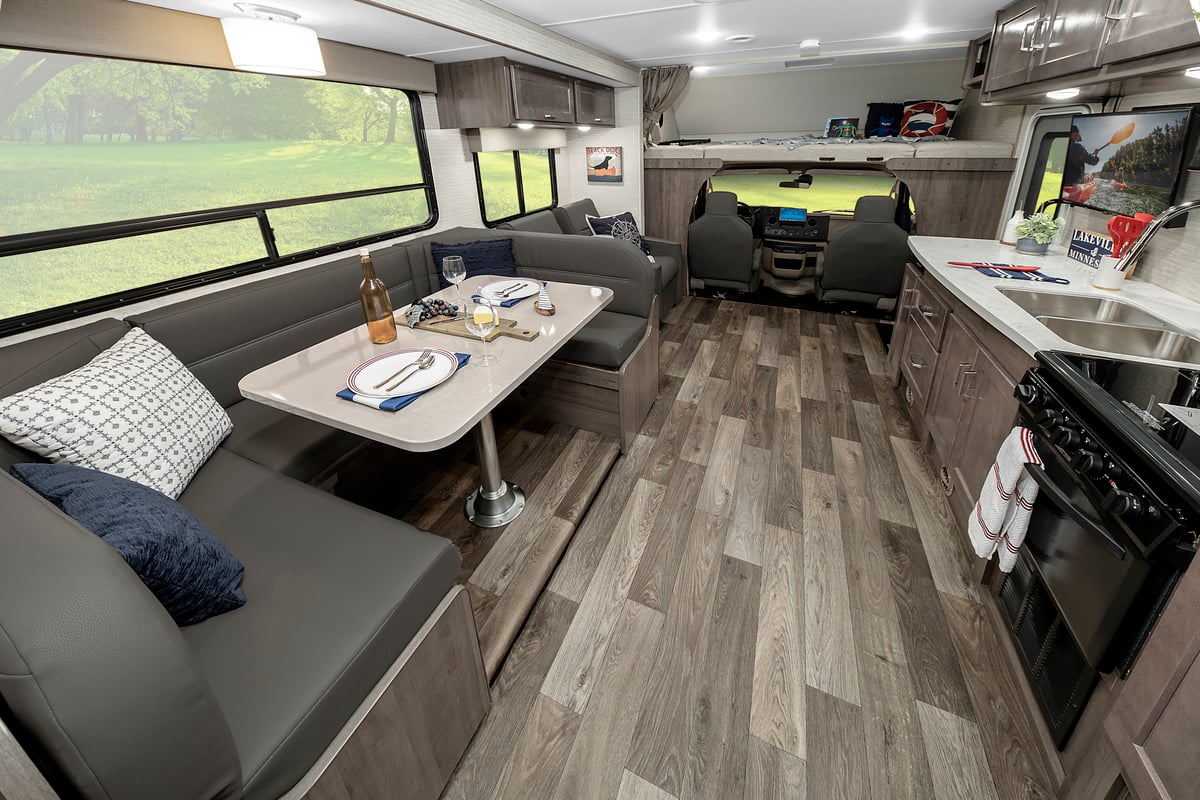 The Minnie Winnie is built on a Ford E350 chassis with premium high-gloss fiberglass skin and a molded front cap.
Start shopping for a Minnie Winnie here.
Ekko – Starts at $168,415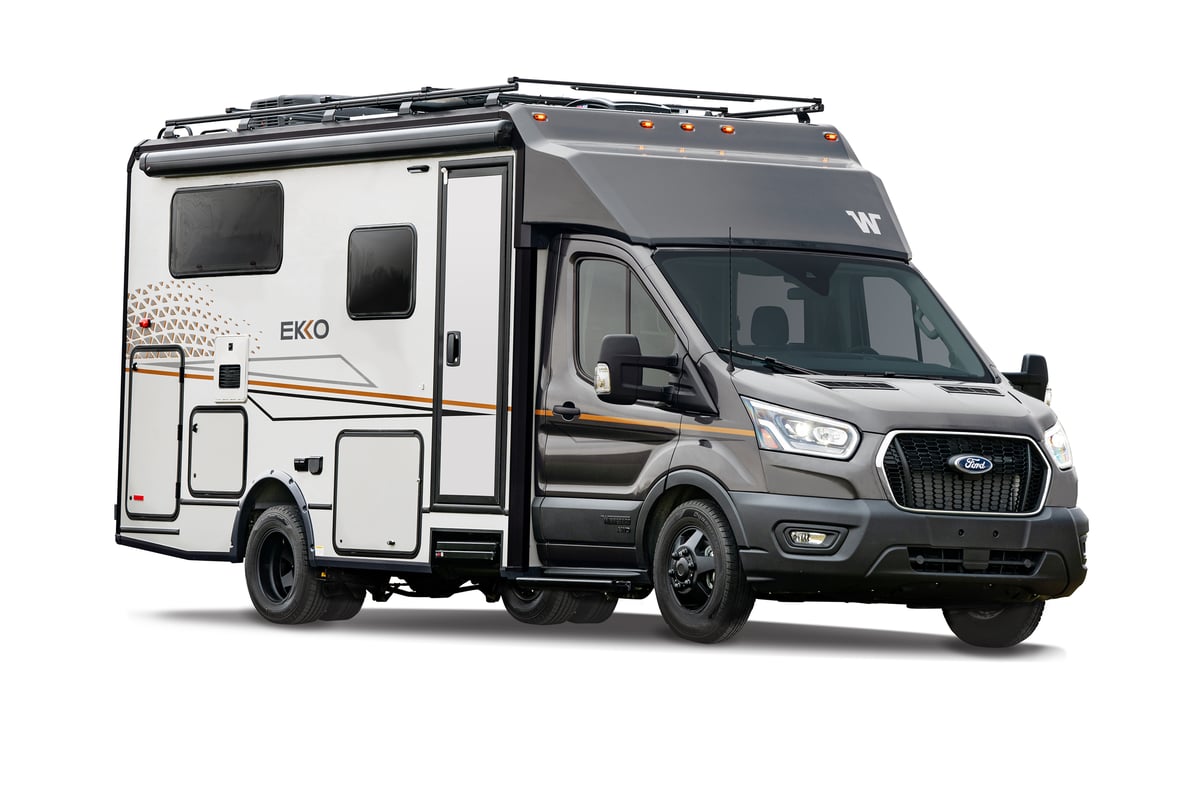 The Winnebago Ekko offers RVers an amazing camping experience with its luxury interior and efficiency. The Ekko is Winnebago's newest motorhome offering luxury features and innovative amenities. The pivoting lavatory wall in the wet bath gives more space while the shower is in use. When it is not, the sink table can move back, and it offers a more spacious bathroom space.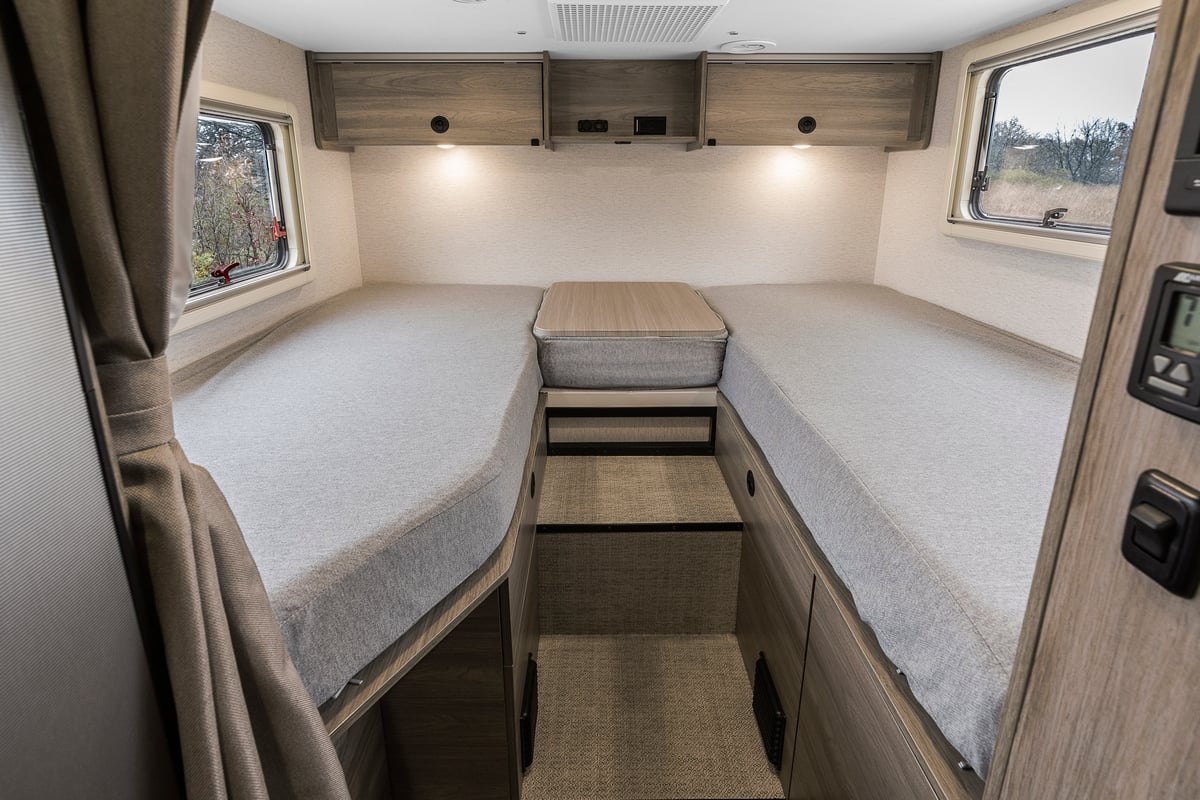 It is off-grid ready and prepared for any adventure. It has three solar panels that pump out 455 watts making it a great choice for campers who love to boondock or escape crowded campsites. The Ekko is also all-weather prepped with extensive all-season insulation, so camping season doesn't have to end in the fall .
This RV is 32'2" in length and can sleep four people at a time.
Start shopping available Winnebago Ekko Class C motorhomes here.
In conclusion
Winnebago motorhomes offer a variety of floorplans and amenities. The different classes of motorhomes appeal to different types of campers, depending on their lifestyles, budgets, and wants and needs.
There are plenty of different models making it easy to find a Winnebago motorhome that will fit what you are looking for on your next road trip, so make sure next time you are at a dealership to take a look at Winnebago motorhomes before making a final decision.
Additional RV Resources:
Interested in learning more about Winnebago RVs? Click here.
If you're still deciding on which motorhome is best for you, learn more here.