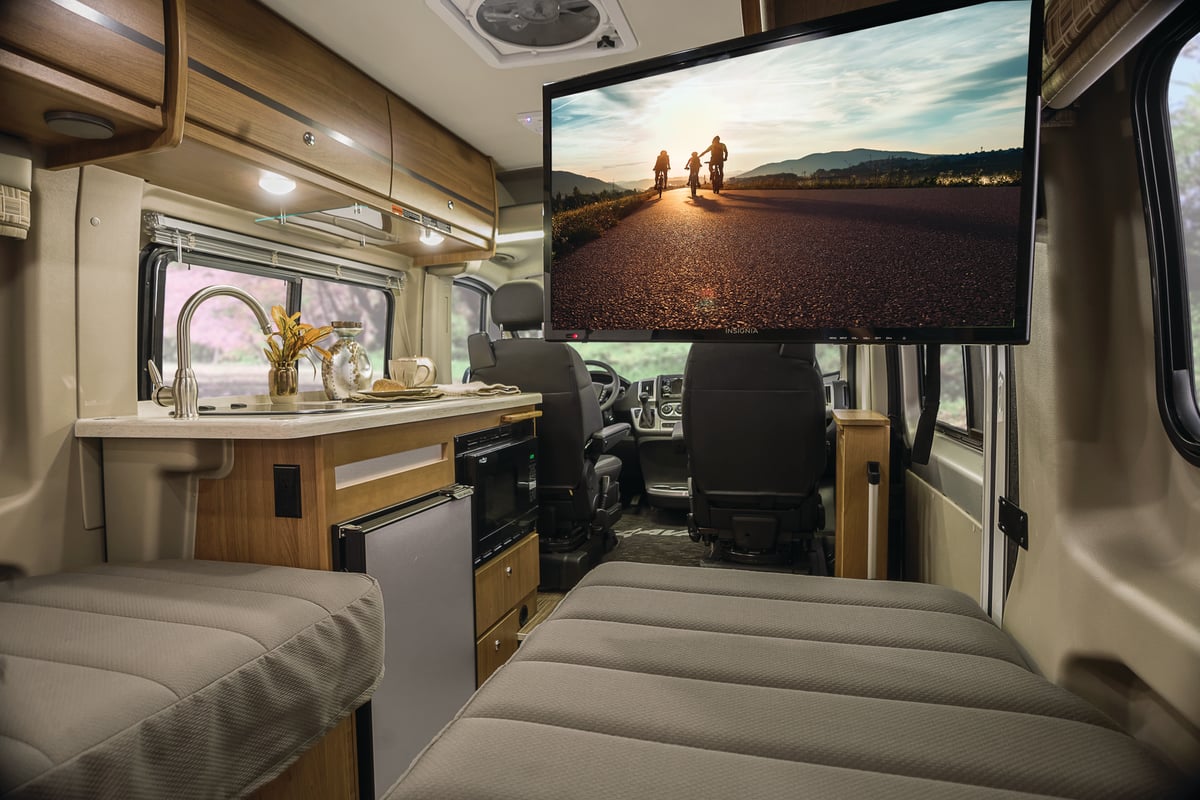 Have you ever wondered what it's really like to travel and live in a Class B motorhome? We spoke with Joe and Emily from The Vantastic Life who have been traveling in their campervan for over a year.
They share how they got into the van life, their favorite place they have traveled to and the biggest challenges they face while on the road.
The Van Life Journey
Joe and Emily began their van life journey from Seattle on May 20, 2018. After a road trip visiting a handful of national parks, they decided maybe they could visit all the parks in one trip. Emily and Joe were lucky enough to be able to keep their jobs and work remotely. They both decided that finding a vehicle they could live in full-time would be perfect for them. "We started looking into camper units, travel trailers and vans. After a ton of research and an appearance on the TV show "Carmatchmaker," where we got to drive a 144 Sprinter converted by Sportsmobile, we knew a Sprinter Van conversion was the way we wanted to go."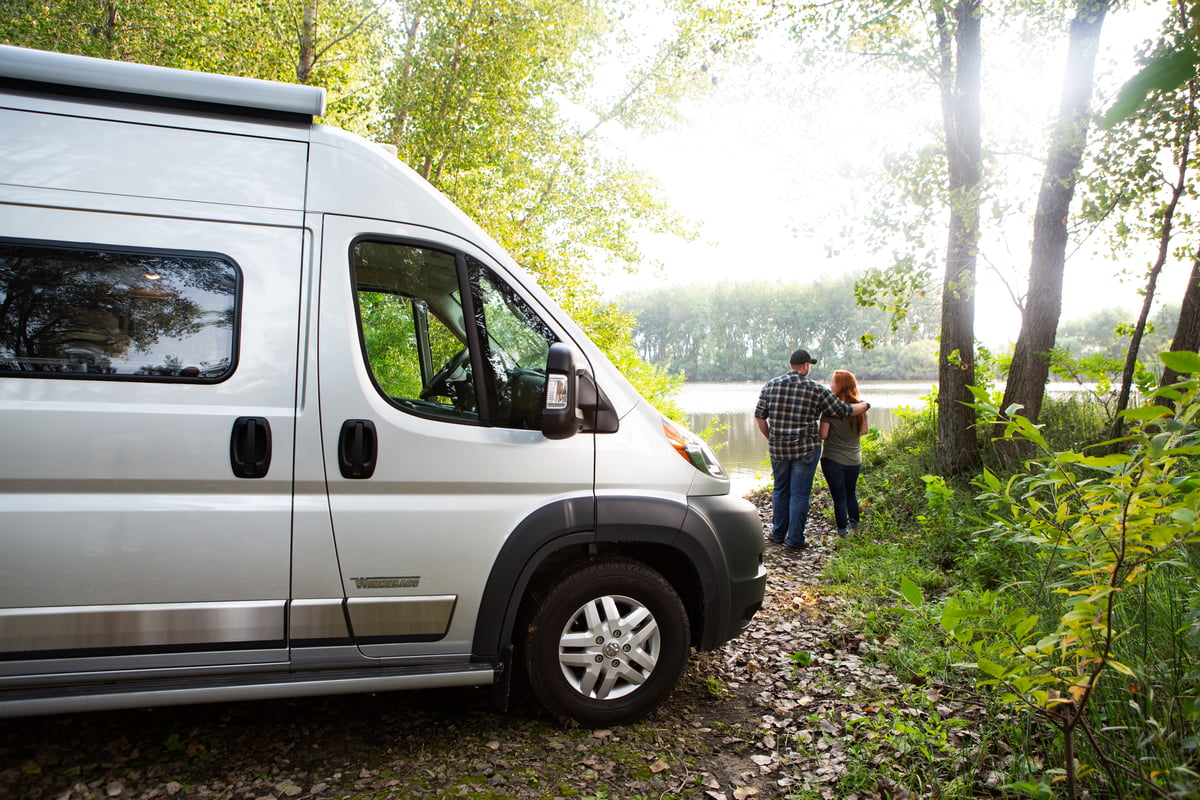 Emily and Joe's favorite part about traveling in a camper van is the freedom it allows. They love that they can visit so many places and don't have to worry about parking restrictions and vehicle size because of the camper van's compact size. "Our van is four-wheel drive, so we can get to some pretty remote (awesome) and hard-to-access places." The biggest surprise for them traveling in a camper van is how little down time they have. They say there is always so many things to see and do and they often cram their days with work and exploring.
Best Places to Visit in a Class B Camper
Big Bend National Park is Joe and Emily's favorite destination. For them, Big Bend is very a very remote place and has, "…a few really cool camping spots including a back-country spot in the park."The weather was perfect, which allowed for spectacular trail runs and even an overnight canoe trip into Santa Elena Canyon. Joe and Emily's favorite memories while on the road have been the times when friends and family visit. Emily's parents stopped by in the Grand Tetons and hiked Solitude Lake, which was one of the best hikes they experienced. Another favorite memory was when their friend Ali visited while they were in Maine and they wandered through the fall foliage. Joe and Emily's friends Stacy and Jacky also visited them at Glacier National Park for hiking and swimming.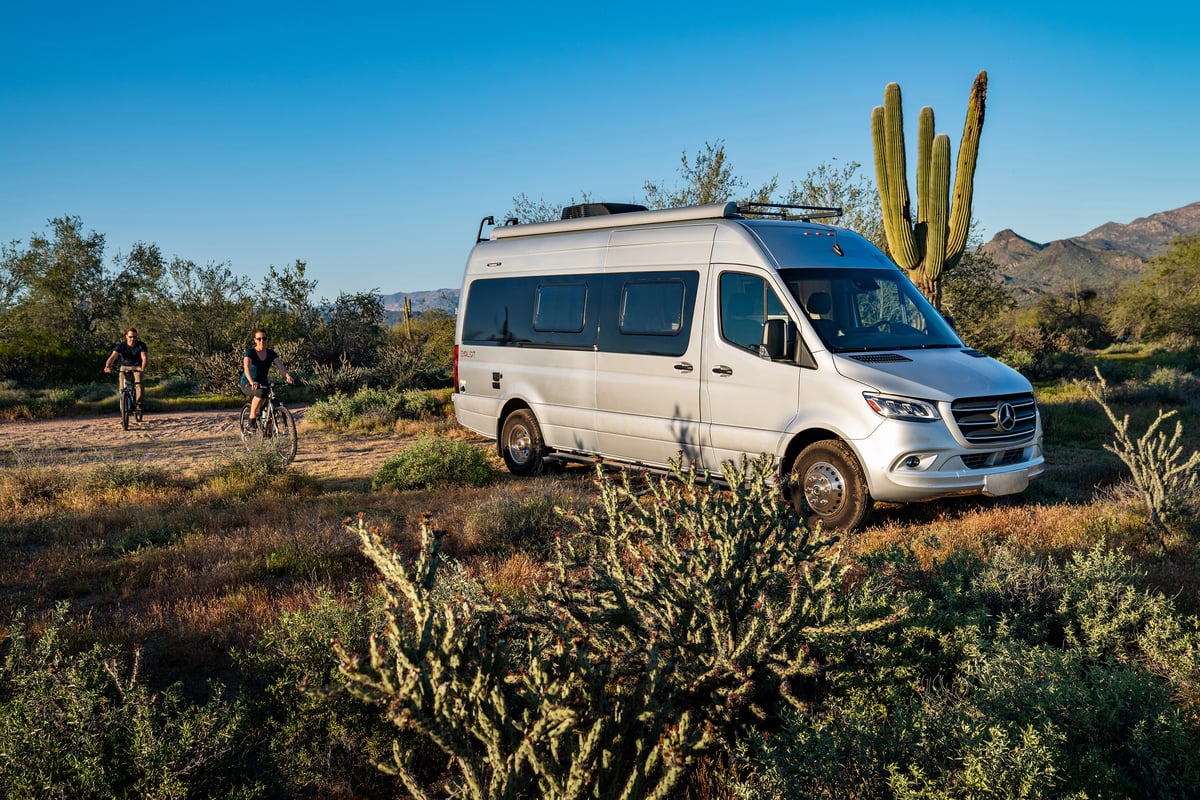 Best Class B Campervan Features
Emily and Joe's favorite space saving feature in their camper van is their pop top. Emily said, "We decided on the pop top for a few reasons, but one of the main ones was having the ability to keep our bed and living area separate. That way when we aren't using the bed, it just stays up out of they way and we have a ton of space! The windows also let in a lot of natural light and it makes the space feel bigger!"
Pros and Cons on Campervan Living
"…Every time we need to drive somewhere, we have to pack up the house before we can head out." Having their house also be their car is the biggest challenge Joe and Emily face when traveling full-time in a camper van.
Joe and Emily have a lot of experience and know first-hand the biggest pros and cons to traveling and living in a campervan. The biggest pro is traveling, "We feel so lucky to be able to access all these amazing spots and see so much of the country from our van!" Finding consistent and fast Internet is the biggest challenge they face while on the road. Since both Emily and Joe still work full-time jobs, Internet access is a necessity. Sometimes they use their cell phones as hot spots but not every area has reliable cell service. They have overcome this challenge by planning ahead and finishing their work before they head out to a location without any service. "Pro-tip: if you need blazing fast Internet, Whole Foods is the Way to go!"
Traveling and living in a Class B motorhome can face several challenges but being able to travel and see all the wonderful parks makes it worth it.
Check out Joe and Emily's blog here! You can also follow them on Instagram @thevantasticlife
Shop now if you are interested in purchasing a camper van to begin your own adventures.