We hope you had a great week and are gearing up for another fantastic weekend of camping! Last week we gave you some tips and tricks on camping with your kids, this week we are going to give you tips on RVing with another important member of your family...your pet.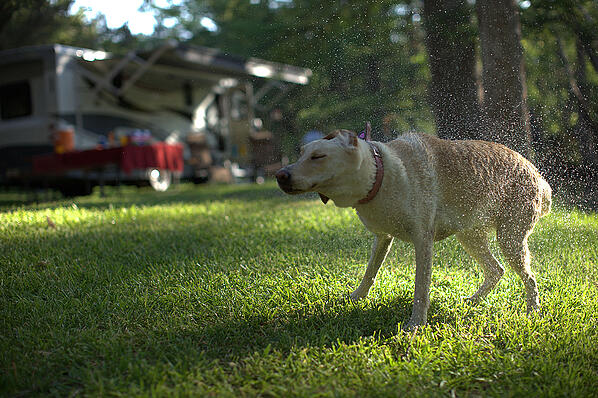 1.) Pack all necessary items:
Pets make great companions during your RV trip as long as you are prepared for them so before your trip make a list of all necessary items your pet may need. For example, a create, leash, blows, food, waste pick up bags, toys and any medications they may take. Also when camping in a campground make sure to call a head and check that pets are actually allowed and learn about the campgrounds leash rule and restricted breeds. I also recommend investing in a screw in pet stake so your pet can enjoy the outdoors with you without you having to hold a leash. However never leave your pet outside on a lead unattended at the campground its unsafe for both your pet and the other campers.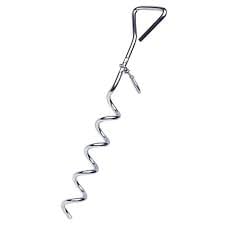 2.) Make sure your pet is up to date:
Before your camping trip make sure they have had all their proper vaccinations and have been treated with a flea and tick repellent, just like humans your pet may pick up an unwelcome traveler while tromping through the wilderness. Also make sure your pets tags are up to date with your contact information in case your pet gets separated from you.
3.) When leaving your pet in your RV:
First its good to know how your RV reacts to heat and cold and plan accordingly for your pet. If it's going to be a warm day make sure to leave the AC on for your pet and that they have plenty of water. Also make sure to tucker them out before you leave with a nice walk so that you don't come back to a torn up RV or a mess. If you have a neighbor at the campground that you trust have them check on your pet while you are gone to make sure all is well.
4.) Be courteous to other RV'ers:
You may be RVing at a pet friendly campground but that doesn't mean all the other campers enjoy your pet as much as you do. Clean up after your furry friend when they do their business, never leave your pet unattended outside and always leash your pet when you are outside. It's a good idea to stop and think how your pet will handle RVing before your trip. Does your pet often feel anxious around new people and settings? Do they tend to bark frequently when strangers pass by? Do they not get along with other pets? If you answered yes to these questions it might be a good idea to board or have a pet sitter watch your pet during your trip. It will make your's and your pet's life much less stressful. If not then bring them along and have a great time enjoying the great outdoors with your furry friend!
Still hunting for your perfect RV?