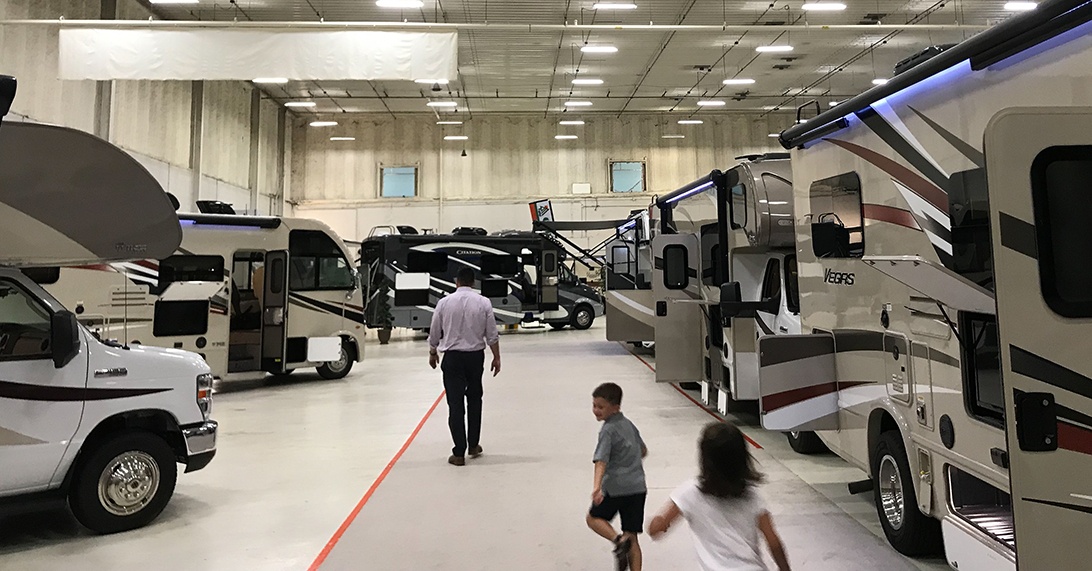 Ben Hirsch, Chief Operations Officer, and Laurie Hirsch, Human Resource Manager, the husband and wife team from Campers Inn RV, are on a four-week road trip in a Grand Design Reflection Travel Trailer. Along for the adventure are their three children Avery (10), Ellie (8) and Nick (6). Their goal is to visit 17 of the 19 Campers Inn RV locations.
In their last post, we learned about their adventures to Campers Inn RV of Macon-Byron and Stone Mountain Park. This week, the Hirsch family visits stores in Atlanta and Louisville, Ky.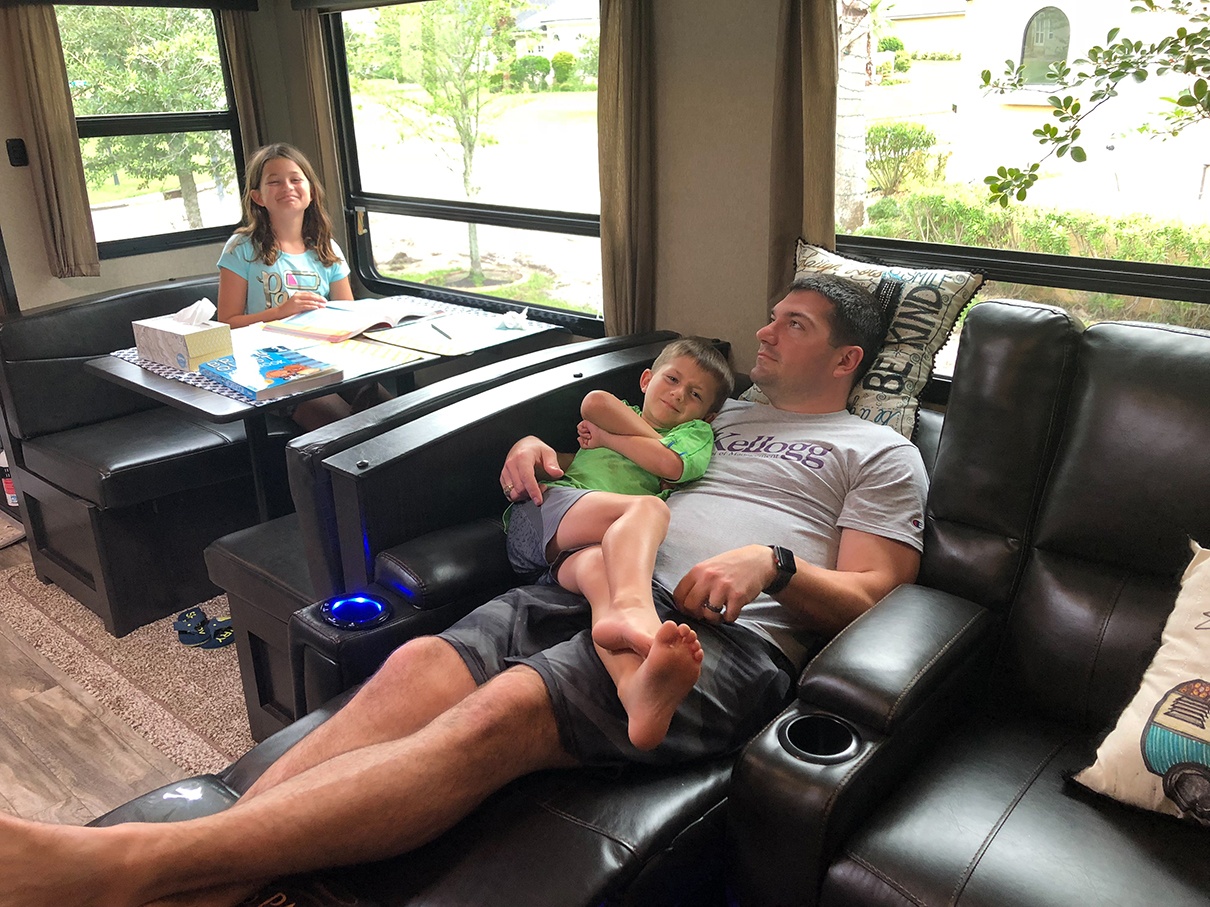 Campers Inn RV of Tucker
Ben:
After enjoying Stone Mountain Park, we got up early to visit Campers Inn RV of Tucker, Ga.
The accessories we purchased made packing up easy and efficient. Camco's Tastepure Premium Drinking Water Hose was easy to coil and uncoil, and there were few kinks in the line. Combined with the Camco Tastepure water filter, we always had clean, drinkable water for our family (remember to bring your water pressure regulator!).
We also had a Camco Sidewinder sewer hose ladder and a Rhino sewer hose, which made the 'dirty job' clean and quick. The Rhino drop-in tabs did a great job of eliminating any bad orders in the tanks while we were traveling.
Our Tucker store was only a 10-minute drive from Stone Mountain Campground. The remodeled parts and service areas looked amazing. I'm excited about updating our sales area next!
I sat in on the sales team's morning training meeting, and we discussed how to make sure we were meeting our customers' budgets when finding them the perfect RV. I also talked about the importance of making sure the store and the RVs were ready for customers every day. We hold trainings like this at all of our stores every day, and it helps us offer the best customer experience in the industry.
The store's managers and I surveyed the progress of our service renovations. We agreed our team is really pulling together to improve the dealership for our customers.
Afterwards, my kids and I took a "lot walk," which is a random check of the RVs we have in stock. They loved riding around on the golf cart, and they were quick to point out anything that was not in the right place. Avery was my bed maker, and Ellie and Nick checked the floors. It was a great team effort to make sure we are always putting our best foot forward every day.
Laurie:
I was thrilled to finally meet some staff face-to-face. Sharon, the location admin, was busy keeping the store humming as usual, and I talked with our parts team about how we can use new technologies to improve our service. The building renovations looked great, and we discussed even more plans to upgrade our customer area and furniture.
Campers Inn RV of Acworth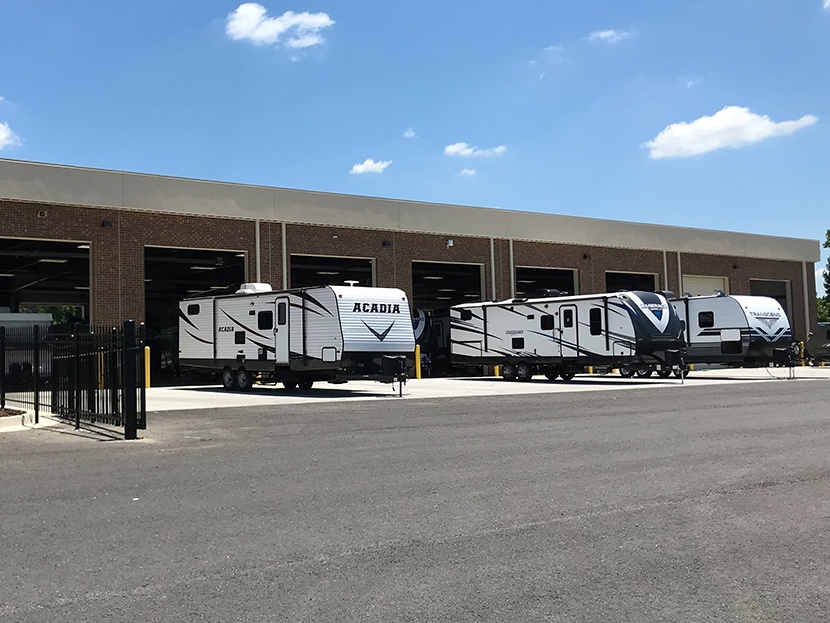 Ben:
In the afternoon, we headed over to our newest store, Campers Inn RV of Acworth, Ga. The store opened just a few months ago, and I was pumped to tour it. It is the largest purpose-built RV dealership in the Atlanta market, and we have a great team in the making.
I walked into the shop to check on our new service-improvement project, which is being tested in five of Campers Inn RV's stores. This project is intended to improve the efficiency and quality of our customer experience. We have already made several strides in Acworth, including an Efficiency Status Tracker that helps the shop track how efficient the techs are working to complete work on customer's RV in a streamlined manner.
I spent the rest of the afternoon meeting with our team and walking the lot with my kids. It was a good visit, and the energy in this new store is palpable.
Laurie:
Acworth has one of the most robust customer areas in the company. It has a coloring space for kids, hot or cold drinks available and a comfortable place to relax. The high-top area features plug outlets, so our customers can get work done on their laptops or devices while they wait.
The service area blew me away, too! The design looks amazing and is functional. And, of course, the selection of inventory was incredible, with beautiful RVs from Forest River, Grand Design, Tiffin Motorhomes and more.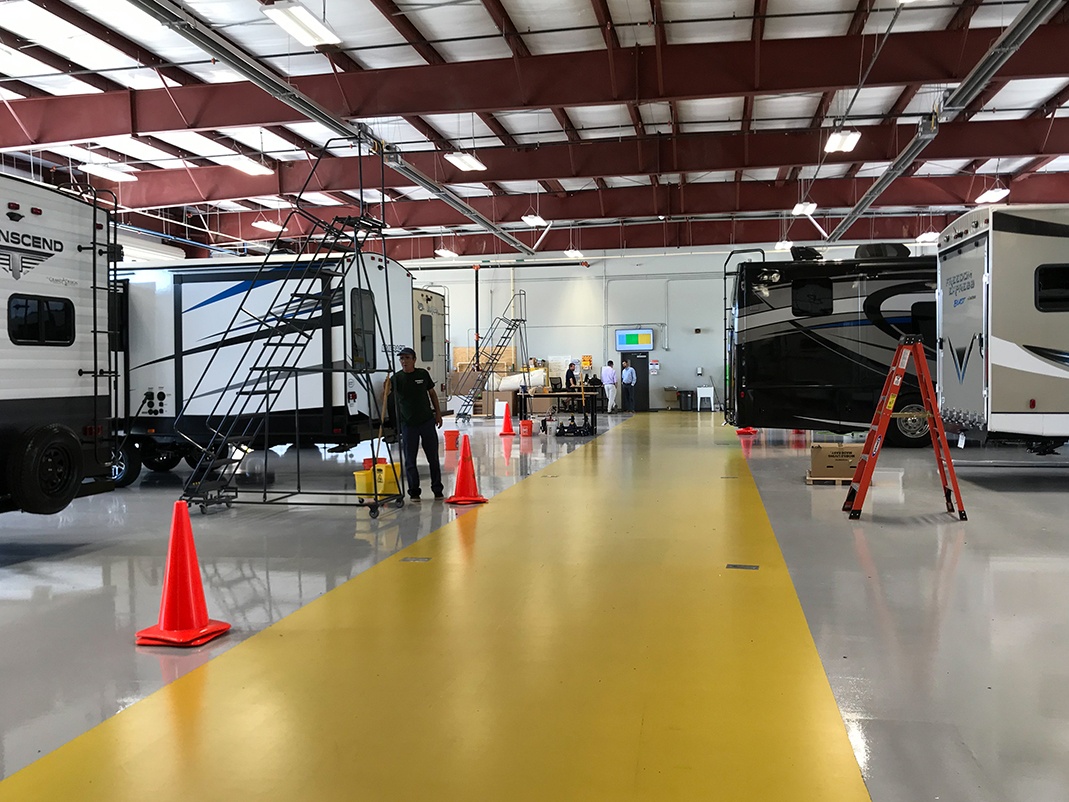 Ben:
That evening we made our way to Chattanooga, Tenn., before setting up at the Holiday Travel Park right over the Georgia/Tennessee border. The campground had an easy after-hours check-in, and the sites were super easy pull-throughs with full hookups. I would definitely spend the night here again.
Laurie:
We used two phone apps to find sites on our strip: Campendium and Park Advisor. I found them both easy to use and very helpful. We could search for sites based on criteria like cost, night check-in availability, hookup style and pull-through access to find exactly what we needed.
Tom Stinnett's Campers Inn RV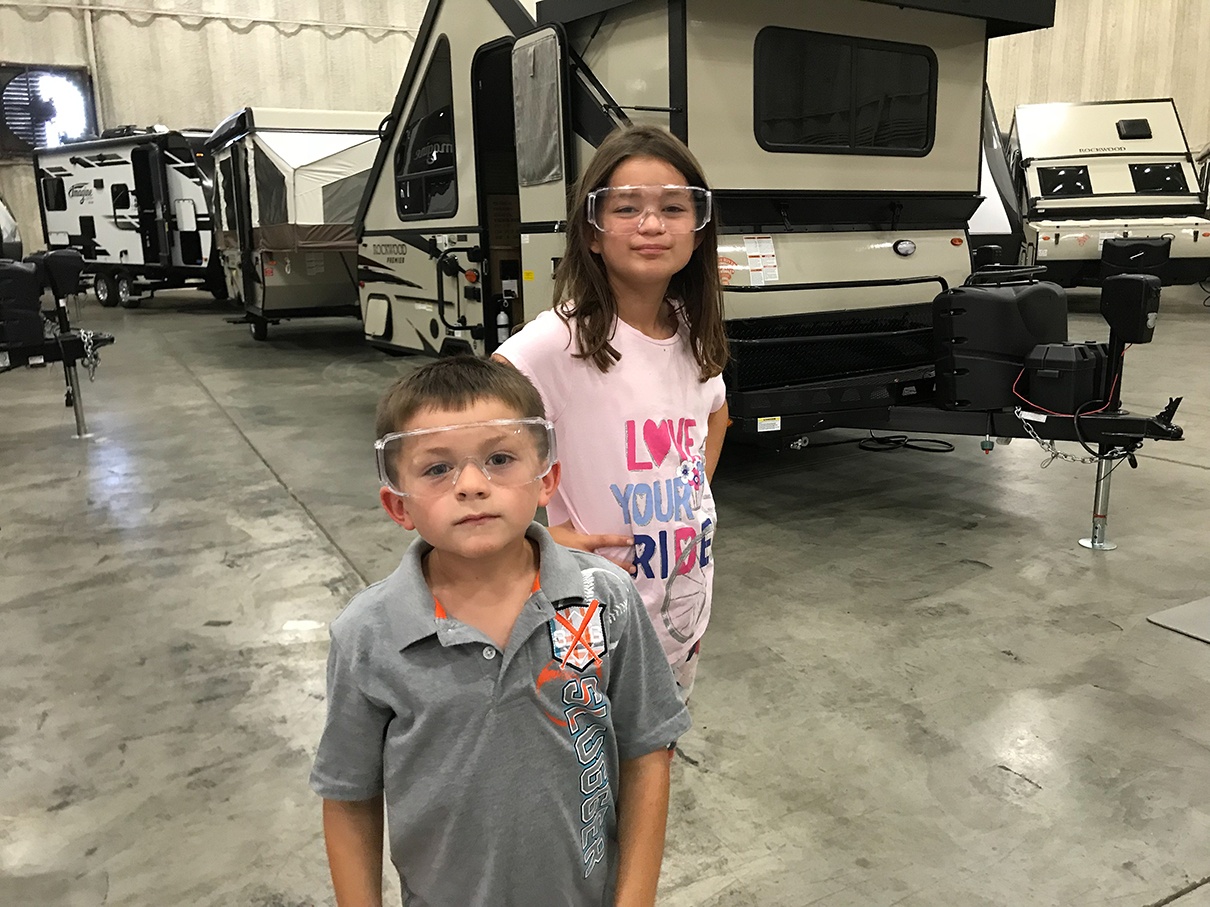 Ben:
The next morning, we headed to our store in Louisville, Ky., Tom Stinnett's Campers Inn RV. The more we traveled, the more we realized how easy it was to work on the road. Our truck has a 120-volt plug, and whoever is in the passenger seat can set up their computer on the lap desk and connect to the internet through a smartphone hotspot.
The kids kept busy on their iPad, Nintendo Switch (which is great for multi-player Donkey Kong Country or Mario Kart) and summertime homework books.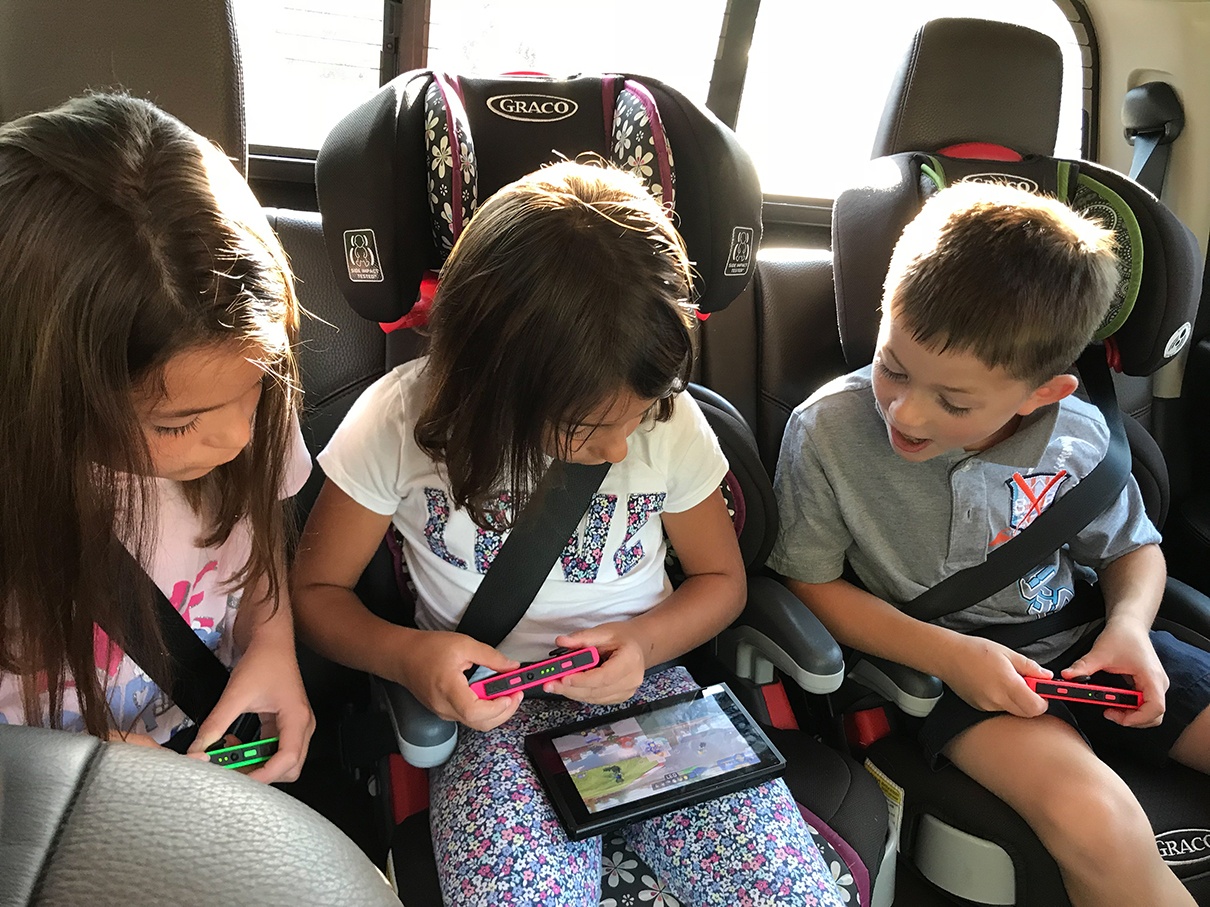 We arrived at the Louisville store just before 2 p.m. It is our largest store with over 100,000 square feet of space. It features two indoor showrooms, our largest accessories store and a huge service facility.
I spent some time talking with the team to see how things were going and where we could improve. Our company's most important belief is that we can always improve our culture, skills, processes and overall strategy. I am proud that our Louisville store has been on a great trajectory since opening in early 2017. We even took on a new premier motorhome line, Newmar. With an expanding inventory, dedicated team and experienced leadership, our Louisville store is a great place for customers to get an excellent experience.
Laurie:
The Louisville store was amazing to see in person. I loved the new renovations to our parts and accessories area, as well as the new conference room for training and development. Our sales team provided amazing feedback on how we can use technology to make our team more efficient.
Next post: Ben and Laurie travel east to visit our stores in Pittsburgh and Connecticut. They will also have some great restaurant recommendations and tips for staying patient when your RV needs repairs.
Learn more about Campers Inn RV:
Are you considering purchasing a new RV? Download our RV Buyer's Guide and FAQ, so you can be an expert when you visit the dealership.