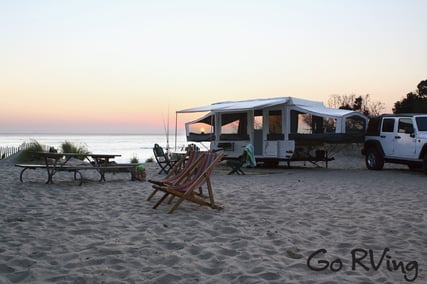 MYRTLE BEACH, SC — Campers Inn RV, the nation's largest family-operated RV dealership, and Camping Connection, an RV parts and service center, will celebrate the grand opening of their newest stores in Myrtle Beach, SC from June 1st to June 5th. The joint event will feature special pricing, prizes, music, food, and activities for the family. On June 29th, the stores will welcome the Myrtle Beach Chamber of Commerce for an official ribbon cutting ceremony.
"We are thrilled to start the summer by launching our newest store in beautiful Myrtle Beach, SC," said Alan Good, Campers Inn RV Regional Sales Director. "This is one of America's premier tourist destinations, and it draws RVers from all across the country. It's an honor to join this community, and we are excited to become the trusted RV resource for locals and visitors alike."
"We are extremely proud of the service reputation that store manager Roger Cunningham and our dedicated team has created here in Myrtle Beach." said Rob Cochran, owner of Camping Connection. "Teaming up with two other first-class operations like Campers Inn and Lakewood Camping Resort was an opportunity we couldn't pass up. We are excited about creating an atmosphere where our customers can benefit from 3 family-owned companies that are committed to providing you an outstanding RV experience." Campers Inn RV and Camping Connection will share the Myrtle Beach facilities, and Campers Inn RV will offer RV sales and Camping Connection will offer RV service and parts. The location is the 14th store operated by Campers Inn RV and the 2nd store operated by Camping Connection. To celebrate the event, the Grand Opening will feature the following activities:
Special Grand Opening Pricing, June 1, 2016 through June 5, 2016. Amazing deals on motorhomes, travel trailers, fifth wheels, and RV parts and accessories.
Door prizes, June 1, 2016 through June 5, 2016. Every hour from 12pm to 3pm.
Lunch, June 1, 2016 through June 5, 2016. Hotdogs from 12pm to 2pm
Tim "The Balloon Man," Friday, June 3 and Saturday, June 4, 2016: Balloon animals and more from 12pm to 3pm.
Cecil Chandler – Live DJ, Saturday, June 4 and Sunday, June 5, 2016: 12pm to 3pm.
James from the Gator 107.9 morning show, Saturday June 4: 2pm to 4pm, live Remote with giveaway to Carolina Country Music Fest June 10-12th the top talent including Keith Urban, Tim McGraw and more!
Grand Prize Giveaways:

Saturday, June 4: Tickets to Country Music Festival in Myrtle Beach, 4pm
Sunday, June 5, 2016: "Campfire Package" valued at $272.00, 2:30pm. Package includes 2 green directors' chairs, Tipsy Stix drink holder, small aluminum side table, 6' x 9' green mat, and portable propane campfire.

Ribbon cutting with Chamber of Commerce, June 29, 2016
Campers Inn RV operates 15 RV dealerships throughout the eastern United States. The company was recently selected as one of RVBusiness Magazine's Top 50 Dealers in North America and honored as the winner of the 2014 Innovation Award. For more information about Campers Inn RV, visit www.CampersInn.com, like Campers Inn RV on Facebook or follow @CampersInnRV on Twitter.
Camping Connection is a RV service parts and accessory company that operates mobile and in-shop RV service from its destination locations in Myrtle Beach, SC and Kissimmee, FL. They have been recognized as one of the nation's premier RV service companies since 1996 and are a certified service and warranty center for most RV accessory, component and appliance manufacturers. They own and operate CampingConnection.com, offering over 35,000 items at exceptional prices and an experienced technical team to assist with proper product selection and installation support. For more information about Camping Connection, call 866-566-8171, visit www.campingconnection.com/or email inquiries to service@campingconnection.com.
###