When RVer, Freeway Gypsy, Kayla, and her family decided to start RVing full-time they quickly realized that their home on wheels needed a few vital upgrades for their comfort and safety. Kayla discussed some of their top upgrades and modifications since beginning their journey over two years ago with us. You can read more below or watch her video above.
1. Ride Steps
The factory set of RV steps aren't always the most stable, especially as you get older. When you live in your RV and move frequently, you'll come across multiple different elevations and terrains that can cause climbing up and down stairs to be less than ideal.
Kayla and her family purchased steps which fold into the RV and are adjustable. They're lightweight, removable and come in multiple sizes for all RV types. Stairs that are stable and don't wobble are ideal for families that have pets and children.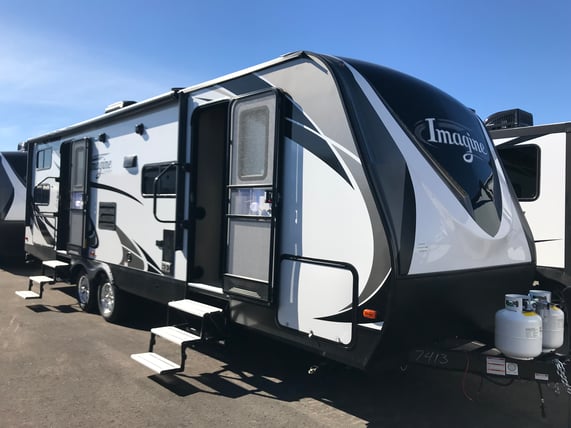 Kayla has a tire pressure monitor on all of her fifth wheel's tires along with their truck. The monitors connect to a screen they have in the truck's cabin so you can monitor the heat on the tires along with the pressure.
She identifies this product as a "must have" simply because on long road trips, she can tell when the tires are overheating and need a break. And by knowing if your tires are low on pressure, you can avoid having a serious accident that can cost a lot of time and money.
3. Furrion Rear Observation Camera
Kayla's family decided they wanted not just a backup camera, but a camera they can use to see any blind spots they may have.
The rear observation camera that Kayla uses is the Furrion. The camera is extremely helpful not only when they're backing in somewhere, but also on the highway when they are trying to change lanes or when they need to see what is going on behind them.
4. Upgraded appliances (Toilets, Shower Heads, Sink Faucets)
Freeway Gypsy also decided to upgrade some appliances to make their life on the road more enjoyable. They installed Dometic Permanent Toilets. These toilets are generally more comfortable and sturdier for those who are going on long road trips or are living out of their RV.
Additionally, they upgraded shower heads to increase water pressure while they are showering. New sink faucets are also important when you are utilizing your RV on a daily basis. Kayla recommends upgrading anything you frequently use for maximum comfort.
5. Two Electric Fireplaces
Kayla and her family prefer to not use propane, so to combat the need for them to purchase propane frequently, they added a second electronic fireplace to their RV.
The first fireplace came stock in their RV, but they decided to add another in the bunk room. It was extremely cost friendly and quickly paid for itself in comparison to using propane. Most campsites don't ask for you to pay for electricity, unless you're staying at a monthly site, so it keeps away an additional expense.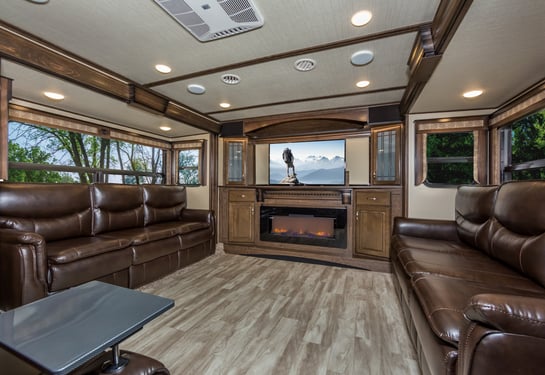 6. Winegard Connect, WeBoost 4GX RV
When you work full time from your RV, you need to make sure you have data/Wi-Fi consistently so you can be in contact with clients at all times. With the Winegard Connect, Kayla was able to place the Sim card from their cell phones into the Winegard on the roof of the RV, which then spreads their Wi-Fi signal and makes it accessible from even multiple sites down from their RV.
Another accessory tKayla has purchased is the WeBoost 4GX RV that can boost the service you currently have on your phone. The WeBoost doesn't help without service but will boost what little service you have into something you can use.
7. Water Softener/Water Filter
Most campgrounds have hard water, so Kayla recommends a water softener and a water filter on your water hose so you can drink water provided for you at the campground.
Having a water filter and water softener will also keep you from needing to purchase plastic water bottles, which is better for the environment and will save you money.
As previously mentioned, Freeway Gypsy prefers to not use propane, so instead of cooking with gas they invested in a convection oven that they can cook and bake in, similar to a regular oven. Convection ovens cook faster and can create food that is more evenly cooked than a regular oven.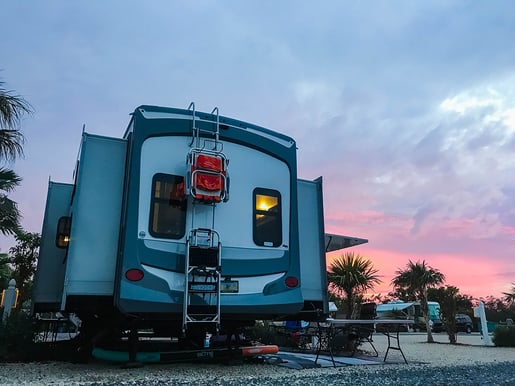 If you'd like to hear more from Kayla and her adventures across the United States, you can follow her on Instagram or check out her blog below. You can check out her original favorite RV upgrades video here.
Follow Kayla and her family on her adventures:
Instagram: @freewaygypsy
Blog and website: http://freewaygypsy.com/
More Tips On RVing:
Looking for new places to take your RV? We can help with some awesome destinations to vacation.
When you begin RVing full time, you may want to watch out for these rookie mistakes!