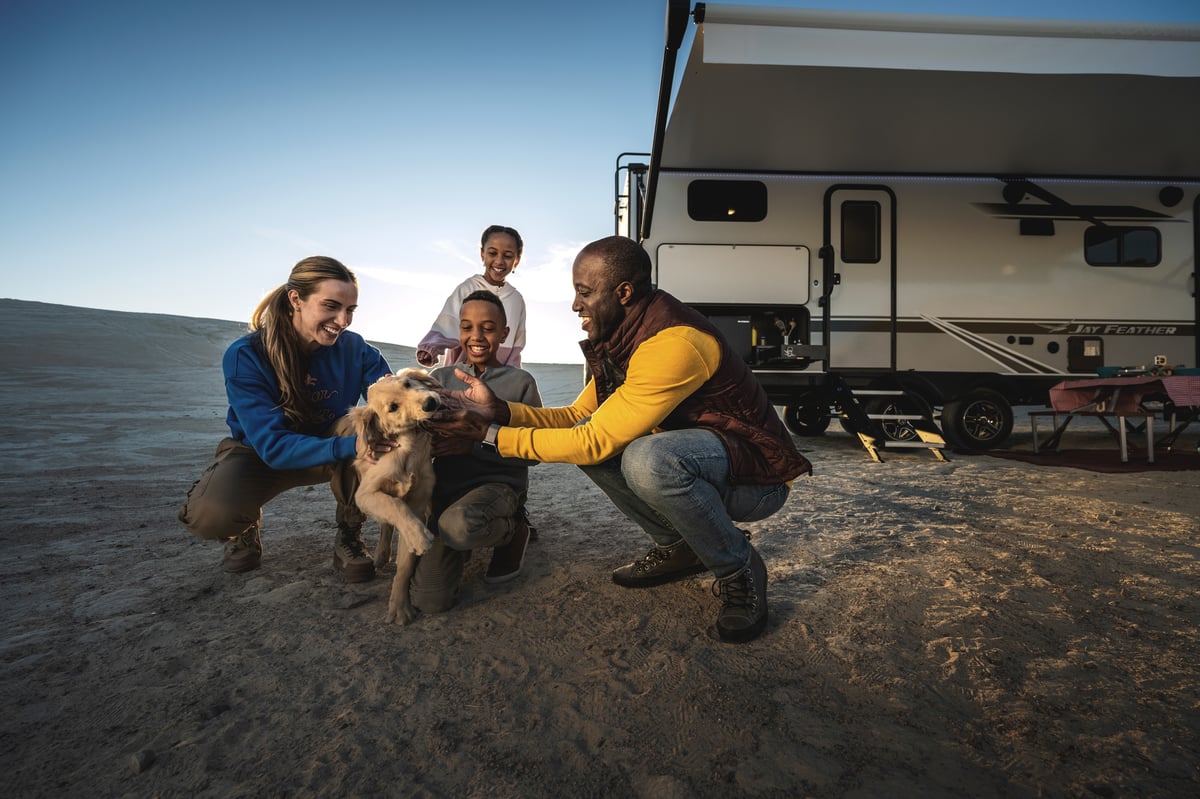 Can't decide between a relaxing beach vacation or an exciting camping adventure? Beachfront campsites allow you to experience both! Spend your days exploring nearby parks and your evenings unwinding by a beach bonfire.
Beach camping is a great choice for your next vacation because it offers tons of different activities and amenities making it fun for the whole family! We found the six best beachfront campgrounds to help you start planning.
Top 6 Beachfront Campgrounds:
North Beach Camp Resort
Hunting Island State Park
Libby's Oceanside Camp
Homer Spit Campground
Key Largo Kampground
Sea & Sand RV Park
North Beach Camp Resort - St. Augustine, Florida
The North Beach Camp Resort is located just 4.5 miles north of historic downtown St Augustine. It is a heavily shaded resort offering privacy and a break from the sun. Being on the ocean makes for amazing sunrises over the water every morning.
North Beach Camp Resort offers outdoor activities like surfing, swimming and surf fishing. There are two delicious restaurants to try while staying here serving local seafood. For campers who don't own an RV, the campground has cabins to rent offering a full camping experience.
Camping rates vary on RV site type or cabin type. Tent sites start at $55.25 a night while a river view, full hookup RV campsite is $114.92 a night. Renting a small cabin has a nightly rate of $165.75 while the large cabin is $209.95 a night.
Hunting Island State Park - Hunting Island, South Carolina
Hunting Island is a State Park right on the beach in South Carolina. It accommodates 102 RVs with water and electricity as well as tent sites. Being right on a state park, it is jam-packed with fun activities and things to do around the area.
Get an in-depth look at Hunting Island State Park with the eight miles of nature trails that is available for both hiking and biking. There are tons of water activities to take advantage of such as fishing, boating, paddling and more.
RV campsite prices range from $60 - $65 a night. This is an affordable spot to explore nature, relax by the beach and get tons of sun with the outdoor activities.
Libby's Oceanside Camp - York Harbor, Maine
If your road trip leads you to Maine, be sure to stop by Libby's Oceanside Camp for RV sites right on the water for amazing views of the Atlantic Ocean. Oceanfront sites are $118 a night with pull-through and pop-up sites at $103 and $65 a night. All RV sites include water, sewer 30 or 50 amp electric and cable TV.
Walk the sandy beaches at the campground or explore other attractions in the area like shopping, boating, fishing and other entertainment. It is located near York Beach which is a scenic village that is packed with unique shops and restaurants, lighthouses and more.
The beaches are the main attraction at Libby's Oceanside Camp which brings in visitors who love waking up and walking out of their RV right to the ocean.
Homer Spit Campground - Homer, Alaska
Homer Spit Campground is a beachside resort based in Homer, Alaska. Alaska isn't typically a place people first think of when they think of a beach vacation, but this resort offers beautiful views with beachfront camping. Amenities include laundry facilities, restrooms, hot showers and a gift shop on site.
There are restaurants, galleries and more within walking distance from the campground and even more to explore around the area. There are breweries, bars and a winery to try something new. There are also wildlife tours around the area giving you insight into the nature and animals in Homer.
There are beachfront, beach view and interior spaces available. Prices vary from $30 to $50 a night, depending on the type of campsite and hookup options.
Key Largo Kampground - Key Largo, Florida
The Key Largo Campground, located along the Florida Keys, is a both a tropical paradise and campground. With waterfront, full hookup 30/50/20-amp sites, these campsites feel like a luxury resort. A full hook-up site is $100 a night and $650 a week. A waterfront full hookup campsite with a boat slip is $130 a night and $870 a week.
There are plenty of activities on-site to keep campers entertained with even more to do in the area. The campground is near the warm waters of the Gulf of Mexico making water activities a big hit at the campground. There is also a heated swimming pool, volleyball court and a clubhouse with activities such as bingo, square dancing, potluck dinners and holiday parties.
If you are looking for things to do around the area there is so much to choose from including state parks, sky diving, golf courses and more. There are also several restaurant options near the campground. Key Largo Kampground is the perfect mix of beach vacation and camping adventure.
Sea & Sand RV Park - Depoe Bay, Oregon
The Sea & Sand RV Park is on the Oregon Coast with seven miles of amazing beach views from the beachfront RV sites and easy access to the beach from forested campground sites. All sites include water, electric, city sewer, cable TV and free WiFi. The nightly rates vary from $44 - $82 a night depending on site type and time of year.
Sea & Sand is nearby tons of different types of activities and excursions making it fun for the whole family. There is whale watching, deep-sea fishing, 18-hole golf course, aquariums, shopping and more. with beautiful views and fun activities, Sea & Sand RV park is the perfect place to getaway.
These campgrounds are located on beautiful beaches and feature tons of activities and ways to explore the environment around the campground or to just sit back and relax by the ocean. Beachfront campgrounds are the perfect place to get the best of both worlds with the excitement of a camping vacation as well as the ability to unwind and enjoy gorgeous views by the water.
Additional Resources:
Still searching for the perfect campground? Learn How to Find the Perfect Campground for you.
Find more of the Best Campgrounds in the U.S.