Looking for a recreational vehicle that is towable, livable and can store your off-road toys? A toy hauler might be the perfect RV for you. We pulled the top 5 toy hauler travel trailers and fifth wheels with outdoor kitchens that are a must see. Read on to hear about these great RVs and how they would work for you!
What is a Toy-Hauler?
A toy-hauler is a type of towable RV that is made for living in and hauling a large amount of cargo or outdoor toys. It has a door and ramp in the back for the area dedicated as storage space, with a large living space that often contains a bedroom, bathroom and kitchen.
What is a Toy-Hauler Travel Trailer?
A toy-hauler travel trailer is a type of toy-hauler that you attach to your vehicle by a trailer hitch. With this kind of unit, you have the option to disconnect it from your vehicle once you are parked. They are the most cost effective if you are looking for a basic mobile living space. The best part of this type of RV is that on top of all these great perks, you also have a built-in garage.
Toy-Hauler Travel Trailers
2020 Forest River Cherokee Grey Wolf 26MBRR (Starting at $33,115 MSRP)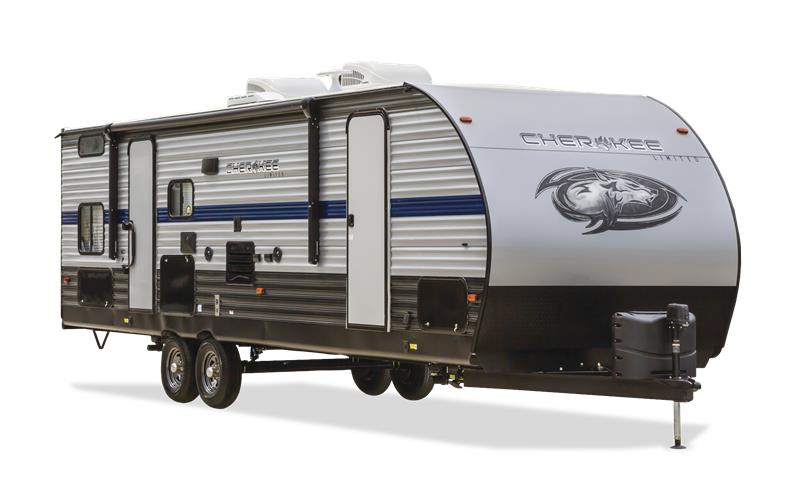 Features:
Walk-through bath
14-foot, 4-inch Garage
Private master bedroom
Two sofas
Stone front fireplace
This Gray Wolf has a UVW of 5,393 pounds and is 33-feet, 4-inches long. It sleeps up to four people in the queen-size bed and two fold-down sofas.
It has private master bedroom attached to a two-entrance bathroom for easy access from the bedroom and living room. The bedroom has storage above and on the sides of the bed to hold clothing and other essentials. The kitchen includes a stove top, an oven, a microwave, a fridge and a stainless-steel sink with a cover to provide even more counterspace. The living room area has a booth dinette with overhead storage, an electric fireplace and a TV wall mount with hookups.
On the outside, there is an outdoor kitchen, which consists of a minifridge and a two-burner stove top great for cooking up burgers and such to share with friends and family in the outdoors.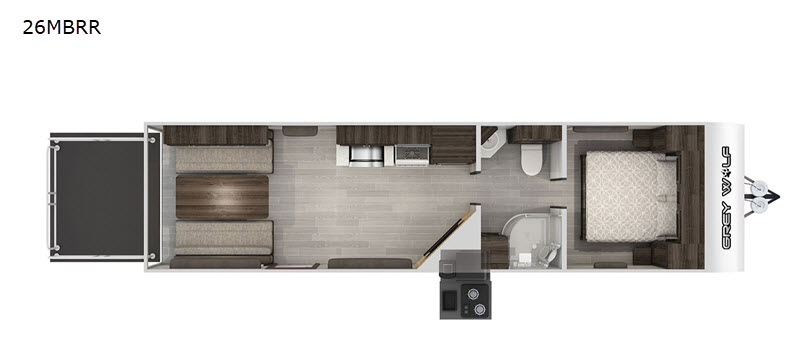 *Actual exterior of unit may differ from manufacturer photos
2021 Forest River RV Cherokee Grey Wolf 27RR (Starting at $35,347 MSRP)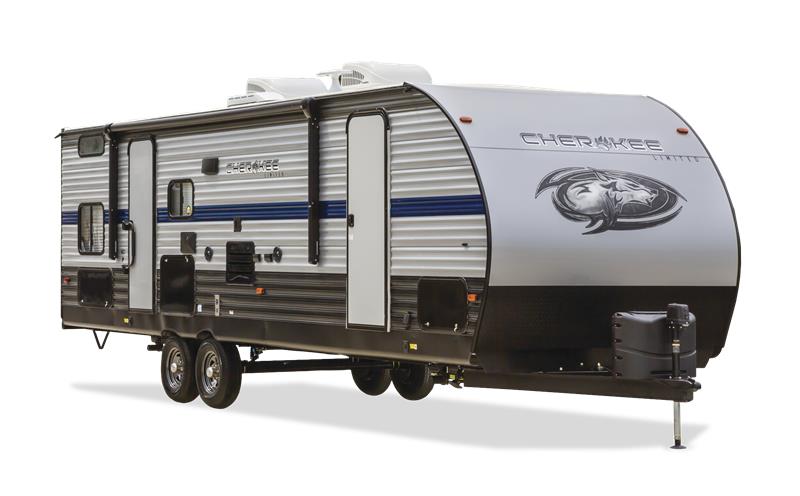 Features:
Walk-through Bath
U-shaped dinette
Dual entry
Outdoor kitchen
Large garage
This toy hauler weighs in at 7,934 pounds and is 33-feet, 4-inches long. Inside this large toy hauler is an 11-foot garage space with a booth dinette that easily transforms into two twin beds. Other sleeping arrangements include a master bedroom that has a queen bed.
The kitchen includes a black stainless-steel sink with a cover for more counter space, a microwave, an oven and stove top. For dining space this RV has a U-shaped dinette with storage drawers built into the seats to hold place settings, extra dishes and more.
The outside of the RV is just as convenient as the inside with a rear ramp that converts into a patio to host family or guests. It is the perfect counterpart for the outdoor kitchen that includes a two-burner stove top, a fridge and a sink as it can be used as another dining area.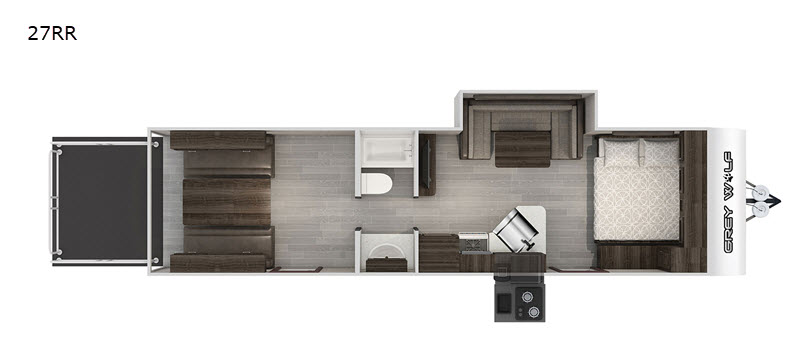 *Actual exterior of unit may differ from manufacturer photos
2021 Grand Design Momentum G-Class 29GO (Starting at $60,022 MSRP)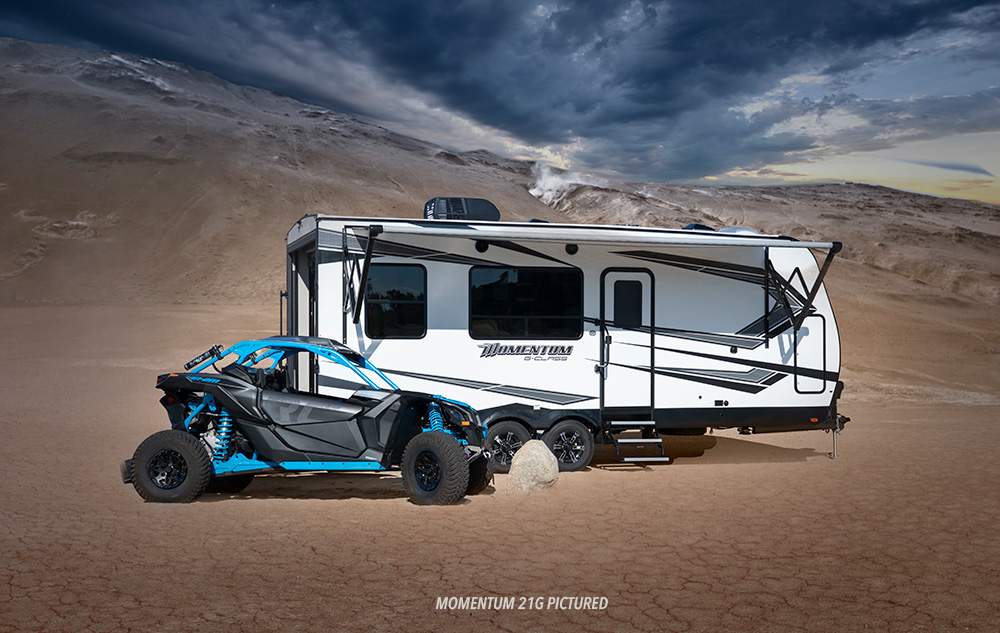 Bunk beds

Fold-down sofa bed

Dual entry

Exterior storage



The 29GO is a 4-person toy-hauler that is 34-feet, 11-inches long and has gross weight of 12,000 pounds.
The master bedroom of this RV is a little different than ones we have shown you so far. It is a private bedroom that is separated by a privacy curtain. It consists of bunkbeds, a closet and a connected full bathroom. The kitchen area includes beautiful granite counter tops with a tile backsplash, oven, microwave, stovetop, fridge and a deep stainless-steel sink. There are cabinets overhead and below the counter along with multiple drawers. The living room has a pull-out couch that extends into a queen bed, mobile reclining chairs, an entertainment center with an LED TV and an electric fireplace
The outdoor kitchen is attached to the back side of the RV inside the garage and it consists of a stove, sink, fridge, TV and speakers. This way you can cook and hang out with friends and family on the open 11-foot garage that doubles as a patio.

*Actual exterior of unit may differ from manufacturer photos
What is a Toy-Hauler Fifth Wheel?
A toy hauler fifth wheel is a type of toy-hauler that is similar to a fifth wheel in the fact of size and operation, but it takes a special kind of hitch that you implement into the bed of a truck. They are large like motorhomes and have the same utilities and features such as a bathroom, common area/kitchen, sleeping space, but they also have a garage built in.
Toy-Hauler Fifth Wheels
2019 Heartland Road Warrior 430 (Starting at $108,243 MSRP)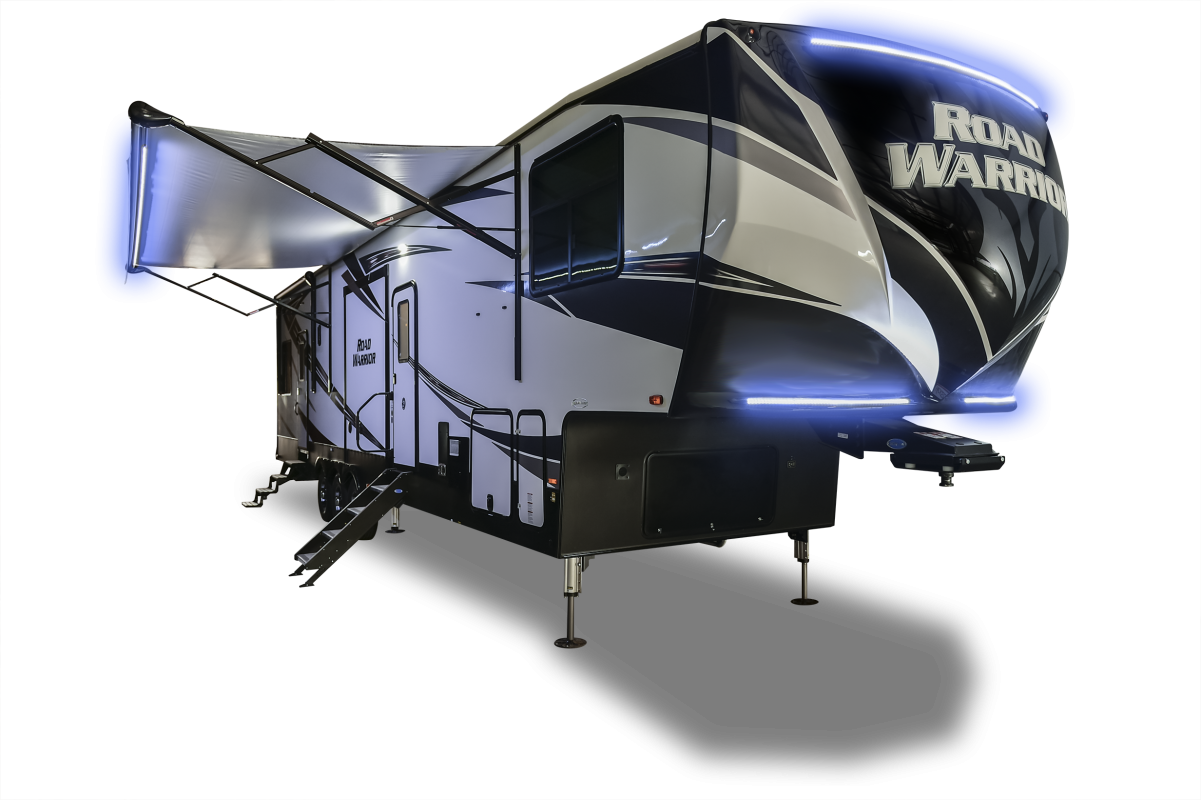 Bath and a half
Two sofas
Loft
Outdoor kitchen
The 430 has a dry weight of 15,027 pounds and is 43-feet, 10-inches long. And with front bedroom floorplan with an electric queen bed/ split bench in the garage, this RV sleeps up to 6-8 people.
In the private front master bedroom, there is also ample storage with cabinets overhead, a closet and a dresser. In the kitchen, there is a large fridge, oven, stove top, microwave and a deep stainless-steel sink. This toy hauler has a living room that includes two sofas and an entertainment center with a TV and fireplace below.
One of the great things about this RV is that it has two entry doors, one of which are connected right to the garage/second bedroom that also includes a bathroom. This easy access keeps campers from tracking in dirt after a long day of fun mudding, canoeing, riding dirt bikes or whatever is fun for your family. Plus, with a loft above the garage is great for storage or as an extra sleeping space making big family camping trips a reality.
The 13-foot garage is so large it can even hold a 4-passenger car. It has an attached bathroom, overhead loft area, overhead cabinets and a queen bed. The outdoor kitchen offers a sink, stove and an open cabinet to hold anything needed for cooking.

*Actual exterior of unit may differ from manufacturer photos
2020 Grand Design Momentum 376THS (Starting at $120,557 MSPR)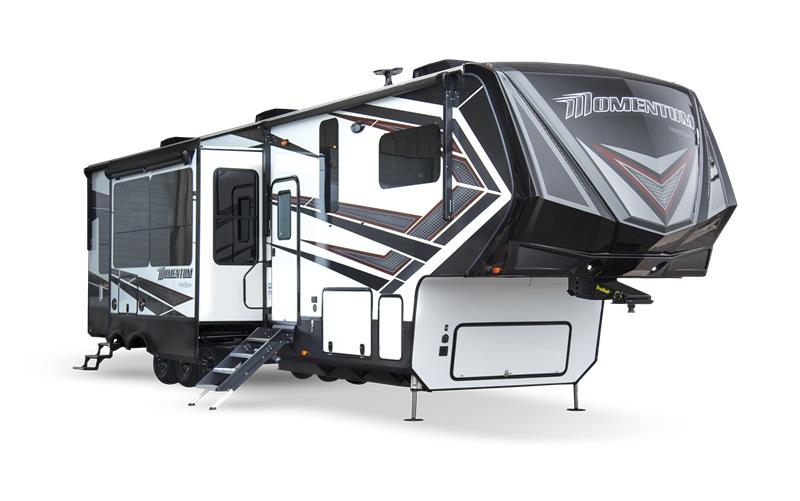 Features:
Kitchen island and hutch

Pass-through storage

49" telescoping TV and fireplace

Enclosed fuel station

Below floor garage




In this 41- foot 3- inch long Momentum RV you will find a queen bed and two tri-fold sofas that allows campers to sleep/host up to six people. The gross weight of this lengthy toy hauler is just 20,000 pounds.
The rear master bedroom includes overhead storage and has cabinet and drawers on the side of the room for clothing storage. The bathroom has two entrances, one from the bedroom and one from the kitchen area.
The kitchen is spacious and has luxurious amenities such as an island with sink, an 18-cubic foot fridge and a freestanding dinette with chairs to dine at. The living room is great for relaxing with its two tri-fold sofas, theater seating and entertainment center with a telescoping TV and an electric fireplace. Plus, remote work just got easier on the road with a desk and hutch combo perfect for keeping your work life organized.
With the unique Below Floor Garage, you don't have to worry about giving up living space, you get the best of both worlds. Cook meals inside with the stove and oven or outside with the outdoor kitchen. On cold nights, spend time inside cozying up by the fireplace watching movies with friends and family.
The outdoor kitchen has a two-burner stove top great for cooking most campsite meals. After cooking up a gourmet camp meal, dine outside in the nature around you or turn on the outdoor TV and watch favorite shows or movies. Either way, the outdoor amenities will provide a luxurious experience no matter what your lifestyle is.

*Actual exterior of unit may differ from manufacturer photos
If cooking big meals for entertaining friends and family is important to you and you like to bring big toys on your adventures, then a fifth-wheel toy hauler or travel trailer may be just what you are looking for. Want to see more of these RVs? Click here. (Insert link to these two types of RVs)
Have an RV but looking for a new one? Check out our blog on consigning versus private sale here.
Looking for something a little different? Take a look at our blog on Top 5 Best Bunkhouse Travel Trailers.