This blog post was updated March 2021 with additional information.
Spring is right around the corner meaning warm weather, sunshine and fresh flowers blooming. This time of year is perfect for pop-up campers as they are lightweight and offer great views of the spring season in all its glory. Read along to find the top four pop-ups for this coming year.
1. Forest River RV Rockwood Freedom
Pricing: Starting at $8,572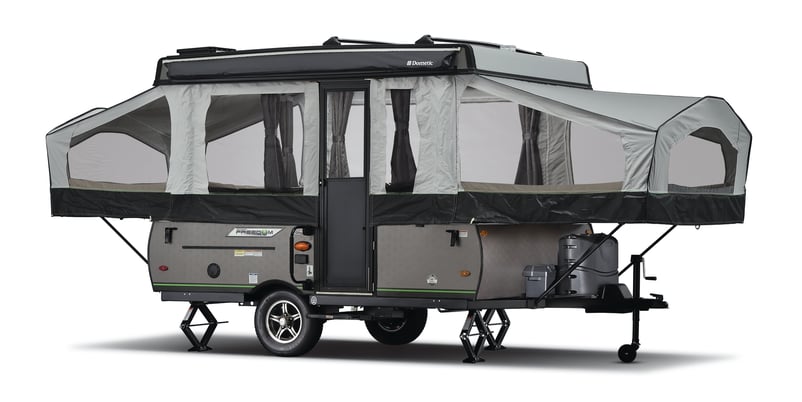 The Forest River RV Rockwood Freedom is a lightweight pop-up camper that is packed with the amenities of a large towable. The Rockwood comes with slate wood interior, wood-look flooring and "leather appearance" seating to make your pop-up look and feel like home.
The Rockwood Freedom sleeps four to seven people, depending on the model. This series has multiple floorplan options that can even include a bathroom and a shower.
With the wide variety of floor plans, you have the flexibility to choose what is right for you and your family. The Rockwood Freedom starts out around $8,500 and grows in price as you add features.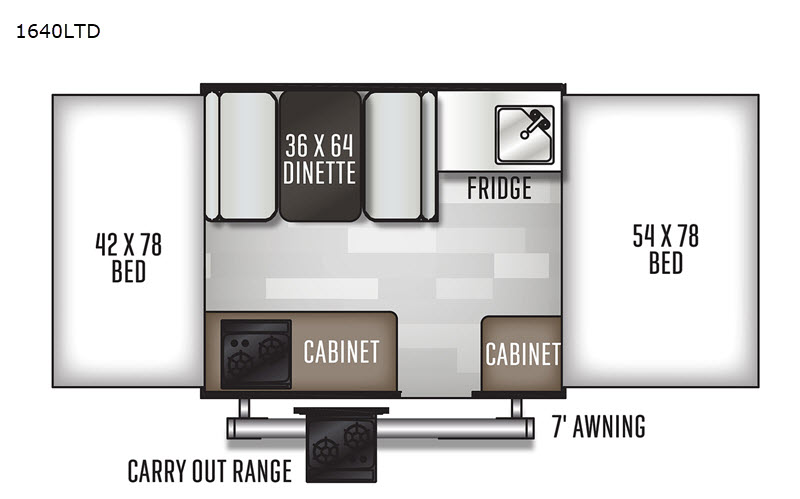 2. Forest River RV Rockwood Roo
Pricing: Starting at: $24,995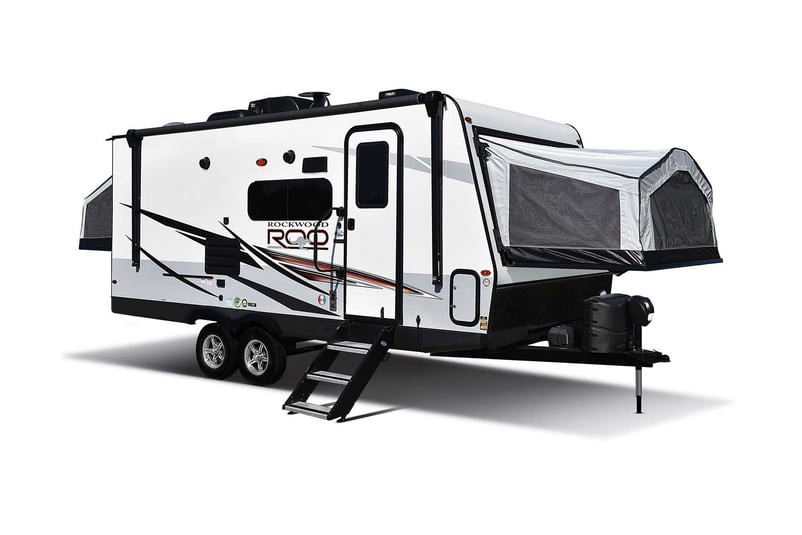 The Forest River Rockwood Roo is an extremely lightweight pop-up camper with an unloaded vehicle weight starting at 4,137 pounds. It has square bunk ends with permanently attached tents and a heated mattress to keep campers warm on cooler evenings. The bed ends have aircraft grade cable supports and each bed has a bunk fan/light combo.
The common space includes a dinette, small galley kitchen, full bathroom with linen storage space and a stand-up shower and plenty of extra storage space.
Although they are small RVs, they can sleep up two six people, making it possible for groups of friends or large families to travel, camp and make memories together.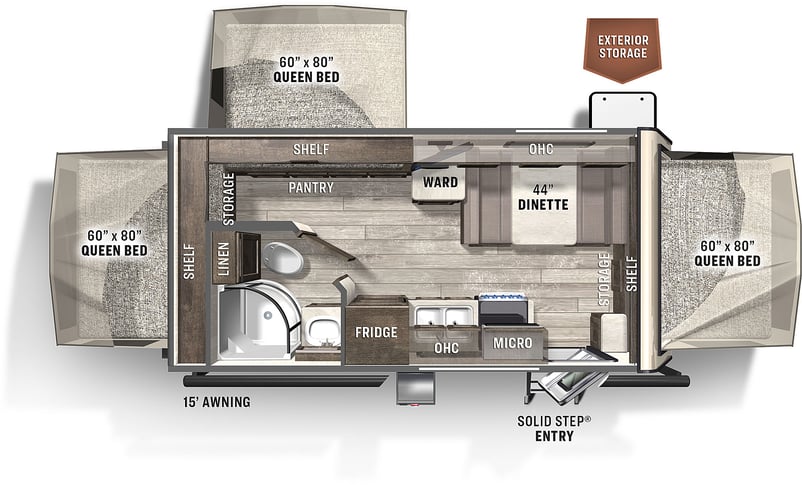 Starting at: $24,000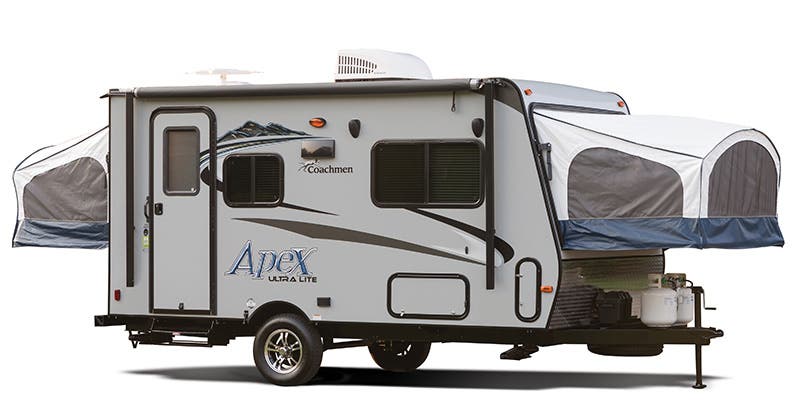 The Coachmen RV Apex Nano 15X is an expandable camper that is lightweight and can be towed with any half-ton truck, SUV or minivan. This towable has a crowned roof for additional head room along with pass-through storage and Aluma-cage construction that is built to last.
The Apex Nano 15X sleeps six people and comes with Bluetooth, outside speakers and an Evergreen sleep mattress. The Nano is perfect for quick weekend getaways with your significant other or your family.
This expandable also has a shower and bathroom to give you all the amenities you need to enjoy the great outdoors. The Apex Nano 15X retails for $24,000.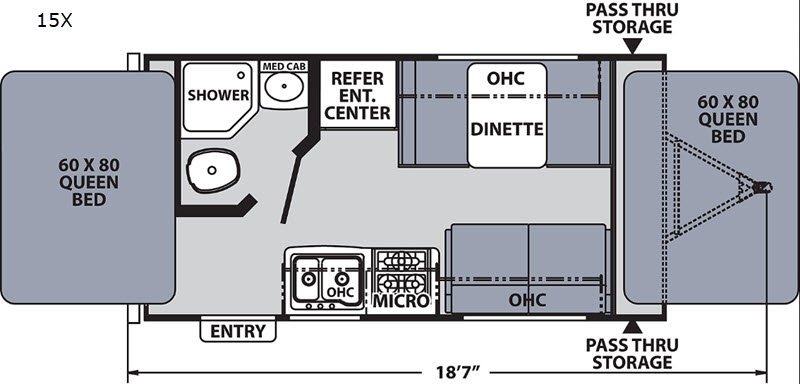 4. Forest River RV Flagstaff SE
Starting at: $14,995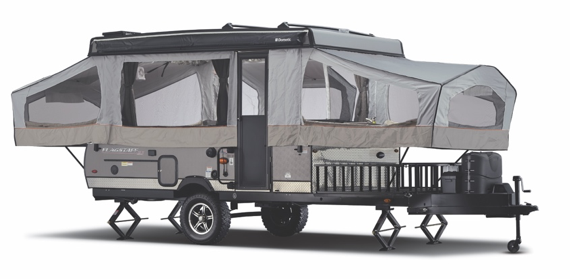 The Forest River RV Flagstaff sports enthusiast package is perfect for active couples and families. These pop-ups are designed to help bring along your favorite equipment. Whether you enjoy paddle boarding, mountain biking, or surfing, there is space to pack it all.
The Forest River SE sleeps three to six people depending on the floorplan. It also has USB charging ports throughout, cable/satellite hookup and a Bluetooth speaker.
Some models offer a bathroom and shower so you can have all the convivences of a full towable RV, while being lightweight.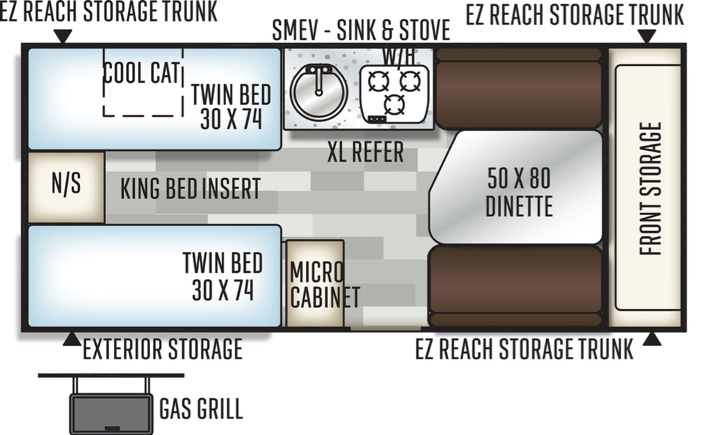 The pop-up lifestyle is perfect for adventurers that love being close to the outdoors. If you are looking for an experience that is similar to sleeping in a tent, a pop-up or expandable camper may be the right choice for you. Check out our full selection of pop-ups and expandables on our Campers Inn RV site. Contact a location near you with any questions.
Learn more about Forest River Rockwood RVs or the Top 10 Most Asked Questions About RVs.