Take a step inside the Tiffin Phaeton Class A motorhome and take a virtual walkthrough of this luxury motorhome to discover what makes the Tiffin Phaeton one of the best-selling Class A motorhomes in the industry.
What Makes Tiffin Motorhomes Different?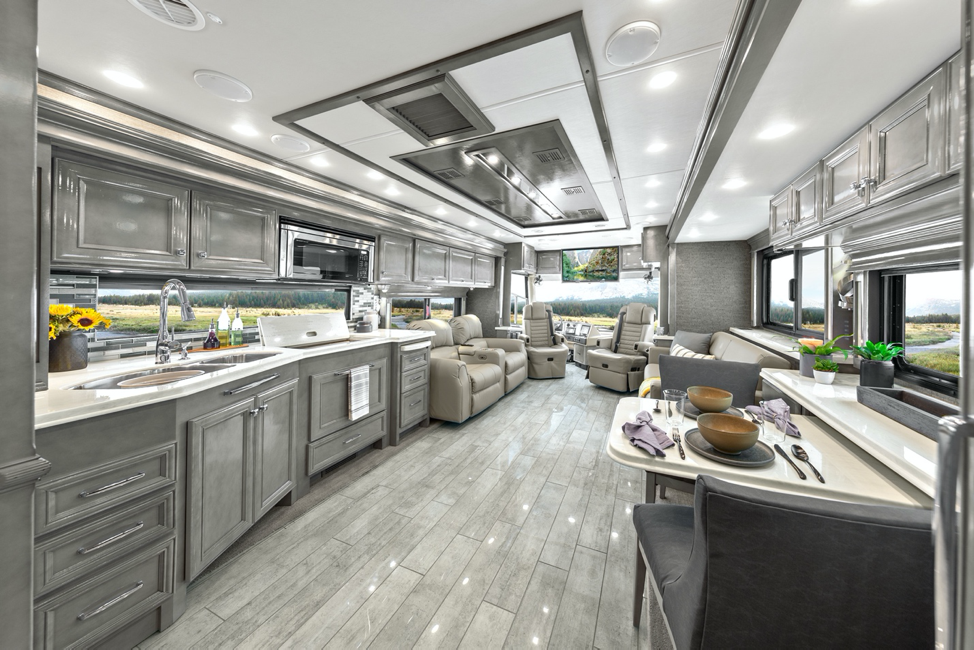 Tiffin Motorhomes creates luxury Class A and C motorhomes at competitive prices. Whether you are looking to travel for just the weekend or year-round, Tiffin has RVs that are great for either lifestyle.
Tiffin Motorhomes began manufacturing RVs in 1972 out of a small town in Alabama. The Tiffin family has worked tirelessly to become one of the largest family-owned RV manufacturers in the nation.
Phaeton Exterior
One of the most identifiable features of the Phaeton is the full-body paint job. With their state-of-the-art paint facility, Tiffin uses BASF paint to create a lasting shine.
The process begins with three layers of basecoat. The coach is then stenciled and painted over to create the long lines that are common for Tiffins. After the stencil lines have been smoothed and perfected, three layers of clear coat is added and smoothed out. "Super Clear" is then used to give the coach its long-lasting shine.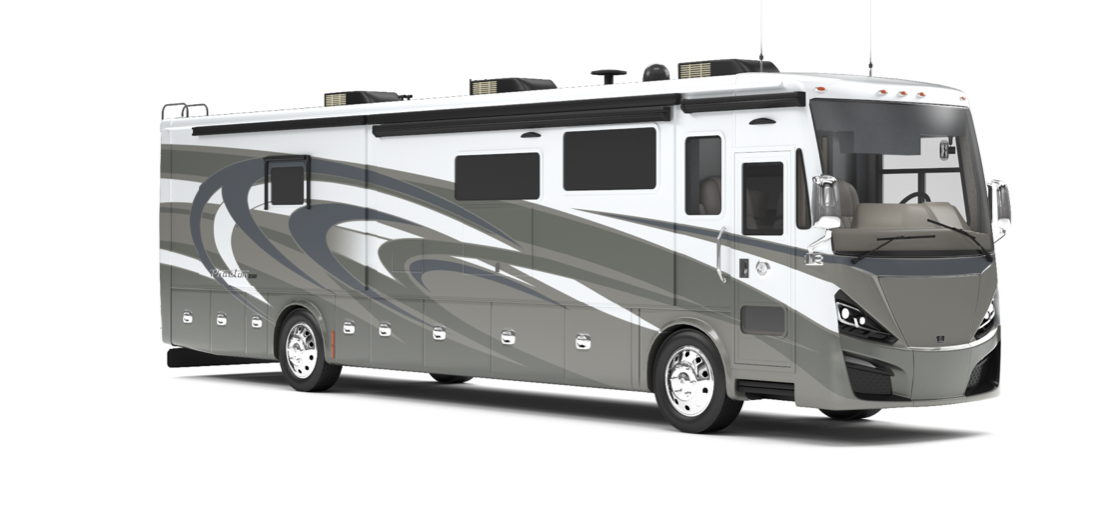 The Tiffin Phaeton has frameless windows that open like a traditional window so you can maximize airflow throughout your RV. Tucked into a storage compartment, you will find a 40-inch exterior TV that is easily accessible from the outside of the unit.
From the exterior, you can also access the chassis batteries from one of the storage doors. There is a self-winding 50 AMP cable with surge guard and a transfer switch, so you can go to generator power when needed. There is also one convenient location for the in-line water filter, water hose, water pump, tank fill, tank flush, aqua hot system and city water connection.
The 10,000-Watt diesel generator is quiet, efficient and can power everything in the coach. All wires and hoses near the generator are sleeved front to back for no friction or aging on the equipment. There is even a blast shield to protect from catastrophic damage that could happen to the cockpit. Sound-deadening insulation comes standard to keep the inside of your coach calm and quiet.
Phaeton Driving Features
The Tiffin Phaeton offers hydraulic automatic leveling jacks and transmission control right from the comfort of your cockpit. You can also expect high quality reverse and side view cameras, so you can see from all angles when backing up. Navigation and crash avoidance systems come standard in Phaetons.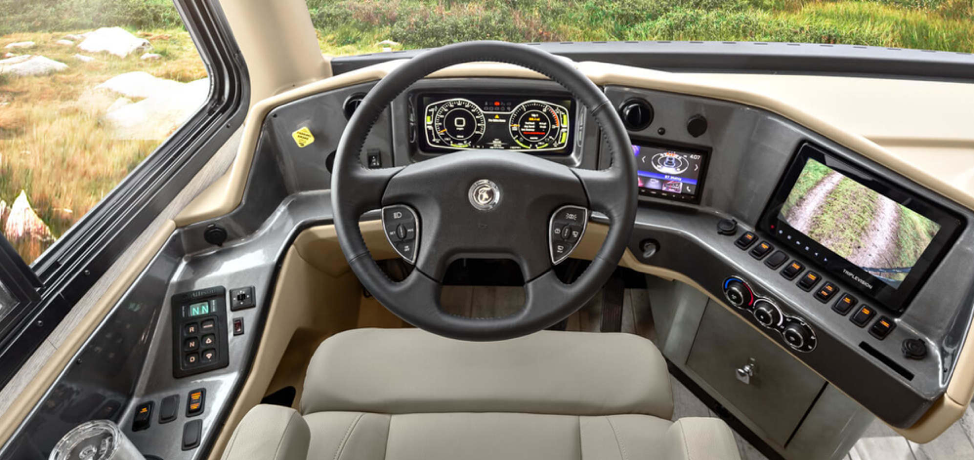 Tiffin Phaeton Interior Features
The Tiffin Phaeton interior is also fully loaded with luxury features such as handcrafted wood cabinetry, hard surface countertops, tile backsplash and an induction cooktop so the ability to create culinary masterpieces is readily available wherever your next adventure takes you. In addition, the kitchen includes a dish washer, stainless steel sink and residential style double door refrigerator.
With an adjustable, pull-out pantry you have the ability to store products of all different sizes. The pantry automatically locks when the ignition starts so it doesn't slide out while the vehicle is headed to its next destination.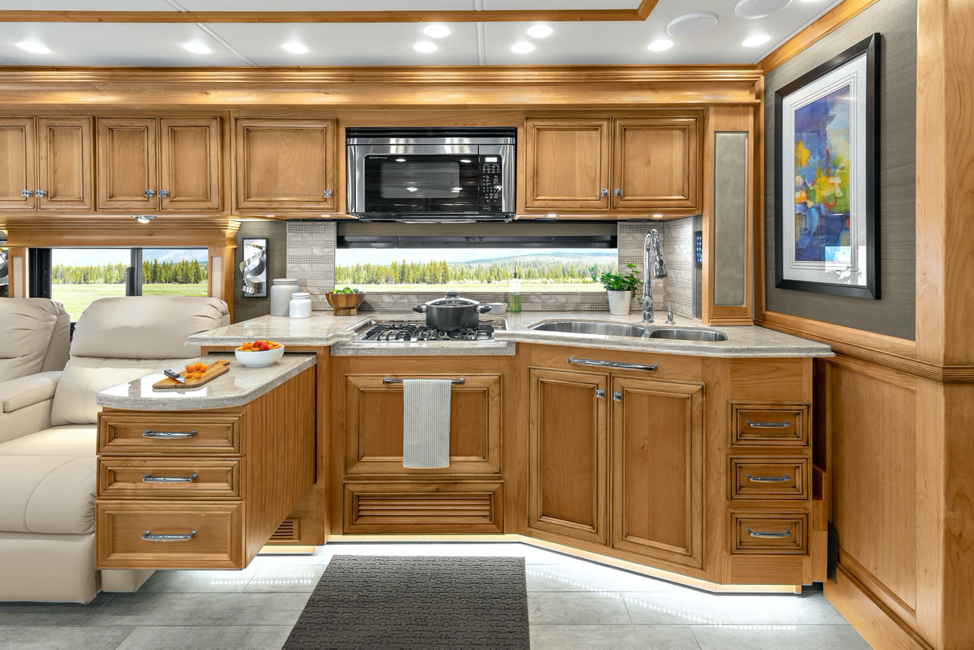 All Phaetons include durable ultra-leather seating designed to handle pets and children for years to come. The sleep sofa has an air coiled mattress so you can fill your pillow top with air for a smooth and comfortable mattress. The jack-knife sofa has a television built into the cabinet above so you can hide it when not in use. There is also a half-bath midway through the unit for any visitors.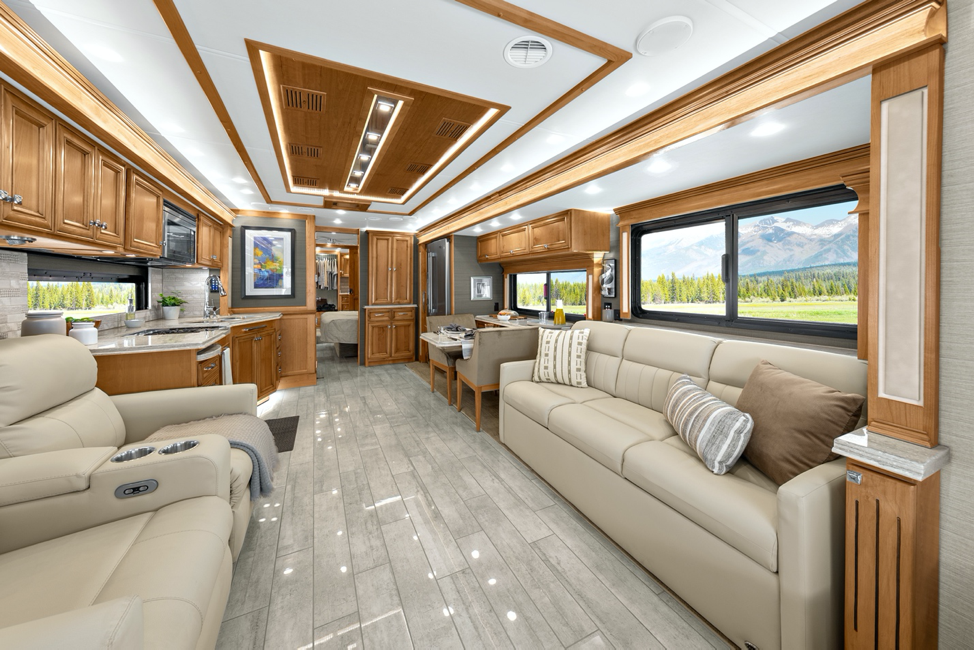 The Tiffin Phaeton has a master bathroom with a porcelain toilet, sit down shower, large vanity and a full washer/dryer unit inside taking some of your favorite conveniences of home with you on the road.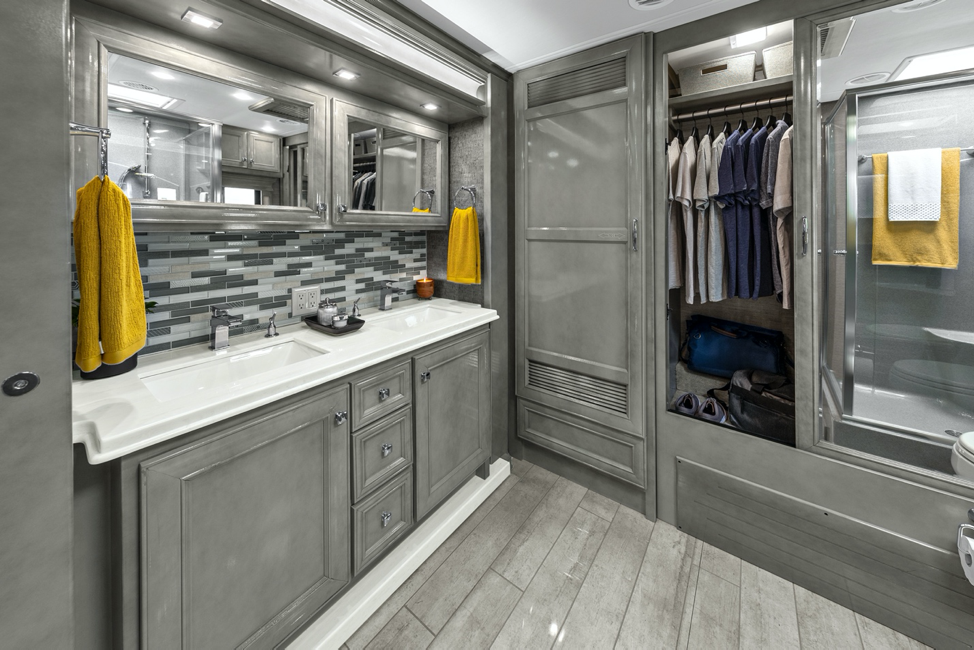 Inside the master bedroom, there is a king bed along with large, hanging closets. Additionally, there is a laundry chute built in and drawers beneath the closets. You can also find a flat-screen television with a sound system so you can relax in your bedroom after a long day of outdoor adventures.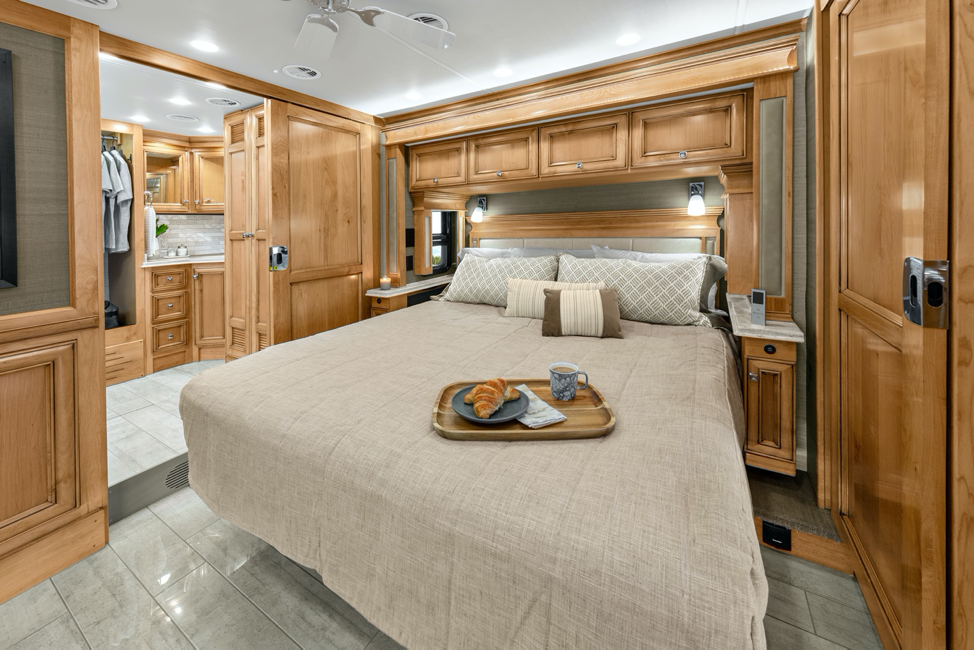 Technology Features
The Tiffin Phaeton offers plenty of new and upcoming technology. The multiplex panel in the living area offers the ability to control lighting and temperature along with easy to read details concerning the propane tank along with black and grey tank levels.
You can also see the house and chassis batteries and start the generator from one panel as well as control the multi-zone floor heat system, which comes standard in the Tiffin Phaeton 37BH.
Floorplans
Campers Inn RV currently offers four Tiffin Phaeton floorplans across our many locations. To see if a location near you has the Tiffin Phaeton for you stop by or contact us for more information.
Phaeton 37BH
Starting at $339,141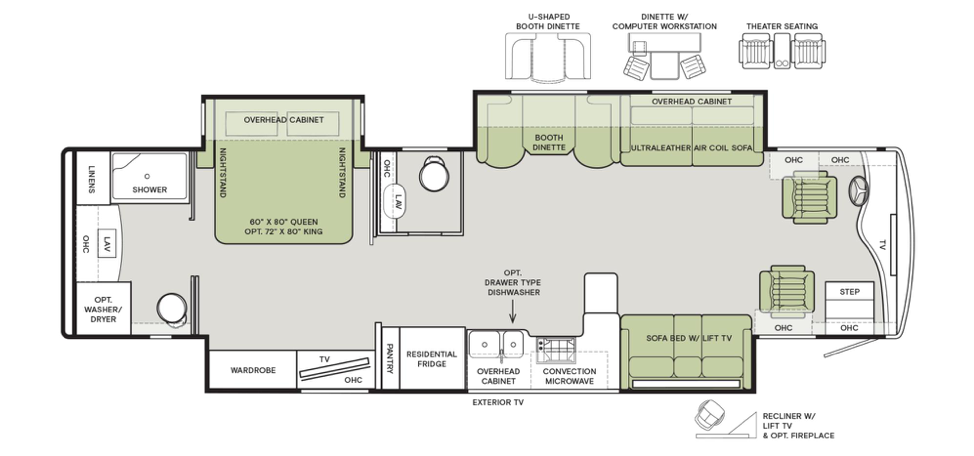 The Tiffin Phaeton 37BH is over 38-feet-long and sleeps seven people. This floorplan is the least expensive option if you decide that the Phaeton is the right fit for you.
The three slides allow for maximum space and comfort in the unit. There is also a bath and a half to make camping with large groups easy.
Phaeton 40IH
Starting at $361,181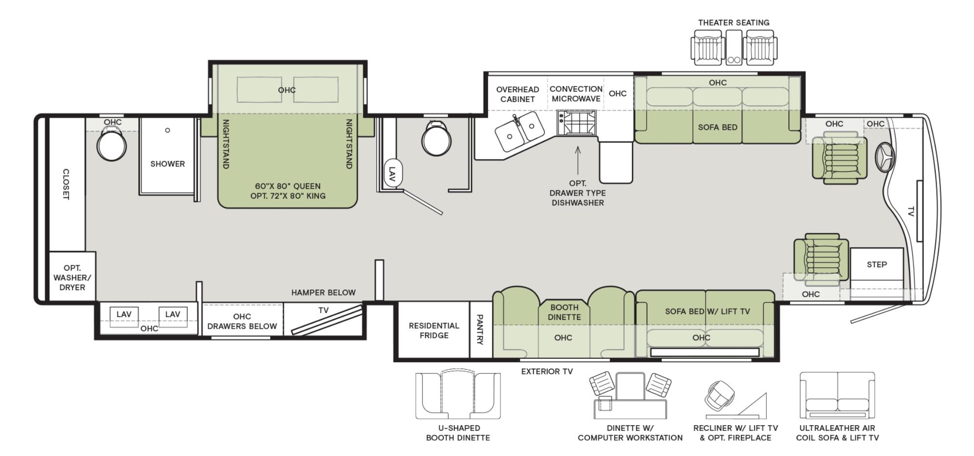 This Tiffin Phaeton 40IH is almost 42-feet-long and sleeps seven people.
This floorplan has four slides and a dual sink vanity for ultimate convenience and space for couples or families. It also comes with a home theater sound system and a central vacuum cleaner.
Phaeton 40QBH
Starting at $339,098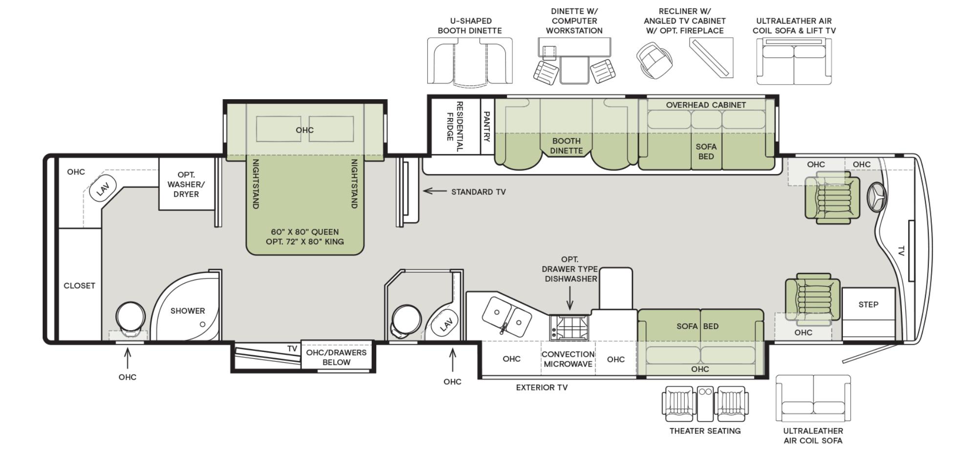 The Tiffin Phaeton 40QBH is a little over 41-feet-long and sleeps seven.
With four slides, space is readily available for you and all of your guests. The seven-foot-tall ceilings and ultra-leather seating allow comfort and space when traveling.
Phaeton 44OH
Starting at $408,720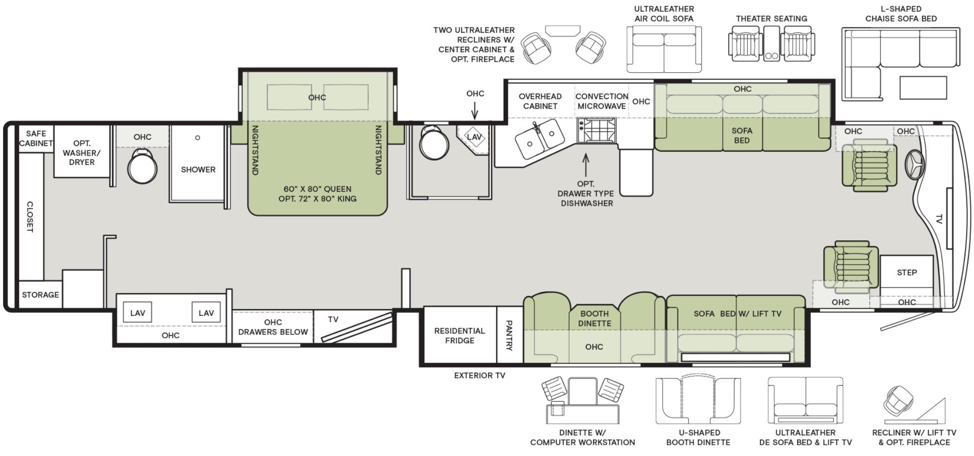 The Tiffin Phaeton 44OH is the longest Phaeton floorplan offered at a length of 45-feet and easily sleeps seven people. This floorplan is the most expensive offered and is packed full of amenities.
Built on a PowerGlide chassis, this motorhome is ready to drive you to your next adventure.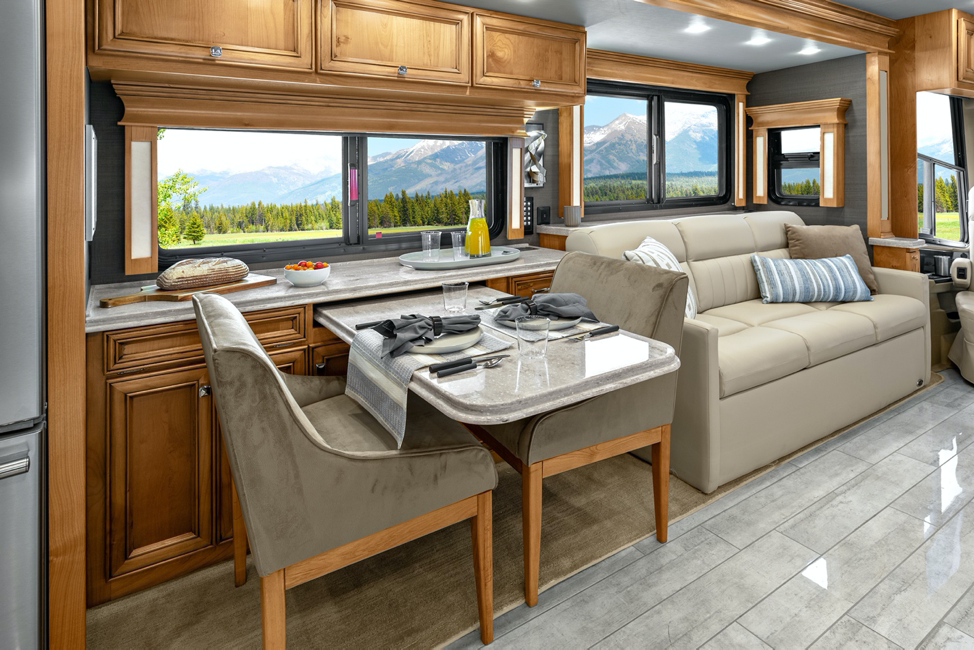 The Tiffin Phaeton is luxury on the road. With an ability to sleep seven people you'll be able to rest easy knowing you and your family are comfortable. Ready to learn more? Reach out to a Campers Inn RV near you to check out our full selection of Tiffin Phaeton's.
More RV Resources:
Not sure if the Tiffin Phaeton is your dream Class A motorhome? Learn more about the Top 4 Affordable Luxury Class A Motorhomes.
Want a motorhome but stuck between the many types and floorplans? Check out our Motorhome Floorplan Guide to discover which one is right for you!