We hope you are having a great week, as you read in last weeks "Getting To Know Tiffin Motor Homes" post we are going to be featuring an RV manufacturer every week in our blog to aid in your research process. So today we bring you...
Get to Know Coachmen RV
Coachmen RV was founded over 50 years ago in 1964 by Tom, Keith and Claude Corson in Middlebury, Indiana. During their first year of production they produced only 12 trailers, a truck camper and 80 truck caps. Since then they have grown to produce a full line of Motor Homes, Travel Trailers, Fifth Wheels, Toy Haulers and Pop Up's totaling over 600,000 recreational vehicles.
Coachmen was purchased in 2008 by Forest River Inc., a Berkshire Hathaway Company and has operated as a division of Forest River since. Head quartered in Middlebury, Indiana (just outside of Elkhart the RV Capital of the world), Coachman features a 120 acre complex with 11 acres of manufacturing facilities.
Coachmen has a great line up of premier RV brands, everything from diesel pushers to pop up campers and Campers Inn features many of them!
Learn Which Coachmen RV Brands Are Carried At Campers Inn:
Coachmen Class A's: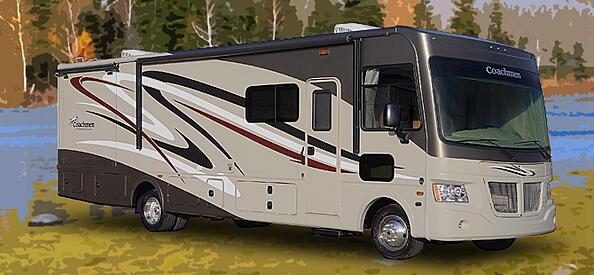 Coachmen Mirada: "Whether you are a "first time" motor home buyer or an experienced "motor home enthusiast," the Mirada is designed to delight you with practical and usable floorplan designs, great eye appeal and the practical innovations and features that any experienced motor home user appreciates.

You will be proud to own the all new Mirada with a long standard feature list that includes item such as; Corian kitchen countertops, Corian sink covers, best in class 30" OTR Microwave, hard wood cabinet doors with raised panel inserts, automatic leveling jacks, two 13,500 BTU air conditioners, 50 amp service, 32" TV in living room and a bedroom TV, plus ample pass through exterior storage. Not only is Coachmen trying to impress you, but they want to impress your friends and family as well. "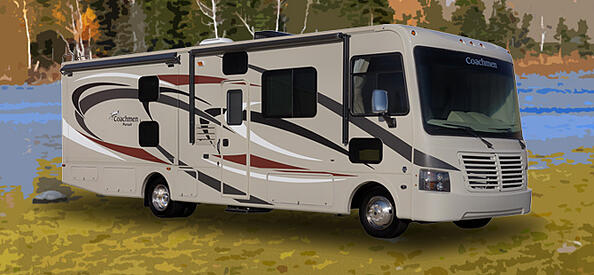 Coachmen Pursuit: "The all new Pursuit Motor home by Coachmen offers an abundance of counter and storage space along with stunning interiors to give you a home away from home. Step into this spacious coach and take in all that it has to offer from the standard electric front drop-down bunk to the mud room and hidden storage behind the swing-out TV you are sure to fall in love."
Coachmen Class C's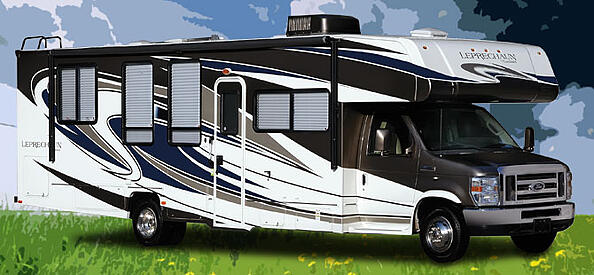 Coachmen Leprechaun: "Since 1973 the Leprechaun motor home has provided Better construction, Better interior appointments, and a long list of Better safety and convenience features that have won the confidence of generations of Leprechaun Class C owners.

Owning something "Better" is a reflection of you everyone will appreciate. Your family will appreciate the expansive list of standard equipment like back-up camera, power awning, slideroom awning(s) and 50 gallons of fresh water. "Better" includes the safety and durability of steel framed floors, and 2" sidewalls built with Azdel Superlite that can be customized with your choice of available graphics-standard graphics, caramel colored fiberglass or rich full body paint. Inside your Leprechaun your family and friends will enjoy the long list of rich appointments including Raised Panel cabinetry, Night Shades, Upgraded flooring and Upgraded Furniture."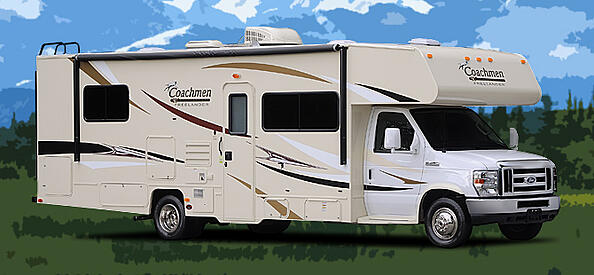 Coachmen Freelander: "The Coachmen Freelander offers you all the "Good Stuff" novice RVers quickly appreciate and experienced RVers demand.

The Freelander mantra is to provide more factory installed features than anyone else, unparalleled value and reliable design and quality at an affordable price. The Freelander will win you over with its right balance of beauty, function, and value in a quality product that has lead the industry in sales for over a decade."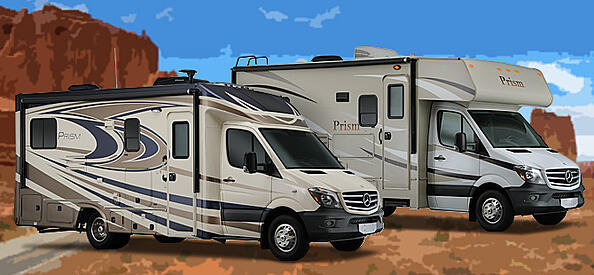 Coachmen Prism:"Whether exploring the countryside on a weekend getaway or transporting the soccer team, Prism gets you there in style. It's the perfect marriage between experience, dependability and value from the Industry's premier Class C maker with the economy and prestige of the Mercedes diesel chassis. The Prism is a luxurious, easy to drive, multi-use touring vehicle that provides unique styling and amenities. From the interior's solid surface countertops, soft touch ceiling, residential flooring and versatile interior storage to the exterior's industry leading warehouse storage space, LED running lights, tinted windows and aerodynamic, stylish full fiberglass cap, Prism is ideal for short or long trips."
Coachmen Fifth Wheels:

Chaparral: "Chaparral Mid-Profile Fifth Wheels have been the flagship fifth wheel at Coachmen RV for over a decade. Chaparral's are designed from the inside out for easy and adventurous travel. Roomy bedroom suites, enormous storage space and exciting aerodynamics and weights will make weekend or month long camping trips leaving you wanting for more!"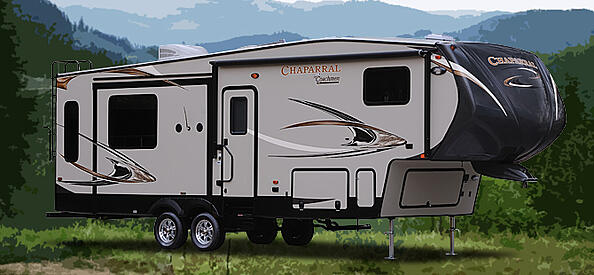 Mid-Profile: "Chaparral Mid-Profiles come well equipped with residential features and elegant interiors that surround you with a home-like feel."
Chaparral Lite: "Chaparral Lite Fifth Wheels are designed with great aerodynamics and lightweight materials to provide half-ton pickup truck owners an RV that pulls incredibly light but lives exceptionally big! We believe that a natural towing experience – one in which you can forget that you are actually pulling something – can be achieved through great aerodynamics and light weights. Their combination of Alumicage construction and Turn Tec Engineering has taken towability to a whole new level. Chaparral Lite Fifth Wheels are available in single, double and triple slide-out floorplans that have been designed to meet and exceed the needs of today's RV enthusiast."
Coachmen Travel Trailers: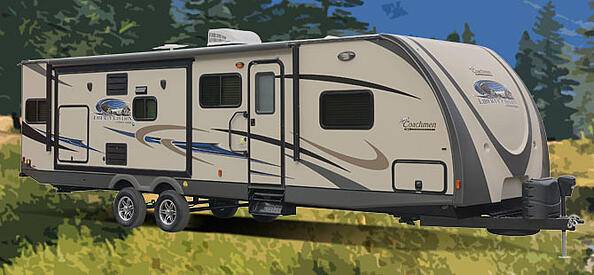 Coachmen Freedom Express: "Freedom Express Travel Trailers deliver ultra-lite luxury combined with top selling floorplans in an affordable, value packed travel trailer, designed to be towed by today's midsize SUVs and half-ton vehicles. Freedom Express conventional and hybrid travel trailers boast vacuum-bond laminated sidewalls with durable Lami-Lux 1000® fiberglass exteriors backed with Azdel. Available in models from 18' to 28', you are sure to find a model that suits your style, whether you are going it alone or taking the whole family."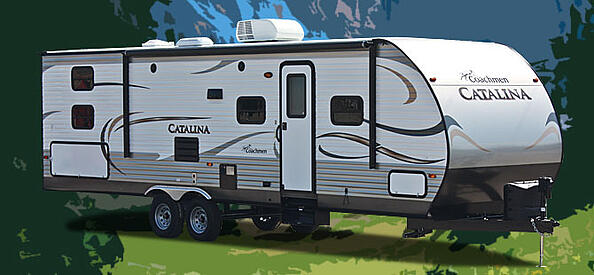 Coachmen Catalina: "The Coachmen Catalina is a trusted name that provides a VERSATILE line up of reliable and affordable travel trailers! The Catalina appeals to a broad breadth of RV lifestyles ranging from weekend use all the way to extended use and just about every use in between. With choices designed to fit almost any budget, the new Coachmen Catalina provides an abundance of value at one of the most aggressively priced travel trailers on the market. That means it's packed with Coachmen Quality, Value, Style, and Comfort!"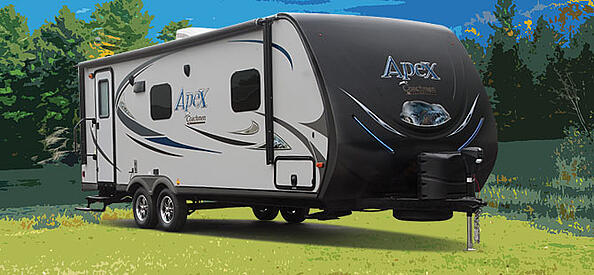 Coachmen Apex: "An Apex Travel Trailer does not just start off as a frame, walls and roofs… it begins with an idea! The Apex is not like other lightweight trailers… it is much smarter because they set new, higher standards for this innovative, truly lightweight trailer. What makes an Apex smarter? Quality – Lightweight – Innovation – Eco-friendly – Design. Each and every Apex model must achieve high scores in each of these standards in order to earn the Apex seal of approval. Our rating system is gathered and driven by the end user… you the customer… in order to produce a quality and most customer friendly lightweight trailer on the market!"
Coachmen Camping Trailers: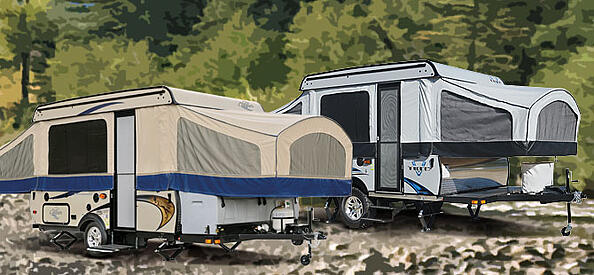 Coachmen Clipper: "The all new Coachmen Clipper Camping Trailer has been engineered around one simple word… EASY! Easy to set up, easy to store, easy to use and most importantly, easy to enjoy! The Coachmen Clipper provides a whole new dimension in camping trailers starting with the ease of towing created by our aerodynamic profiles and extending through ease of use and set up with our Patent Pending Glide-N-Lock bed system. The Clipper boasts stunning appeal and loads of features centered around convenience and practical comfort features that the most experienced camper appreciates."

Well folks that wraps it up for our post about Coachmen RV! For more information regarding Coachmen make sure to check out their website and you can always reach out to one of our knowledgeable sales staff. If you are interested in a Coachmen RV click below to view our inventory!
*All information, photos and research regarding Coachmen RV for this post was obtained via the Coachmen website and condensed. To read the entire Coachmen story please visit http://coachmenrv.com/