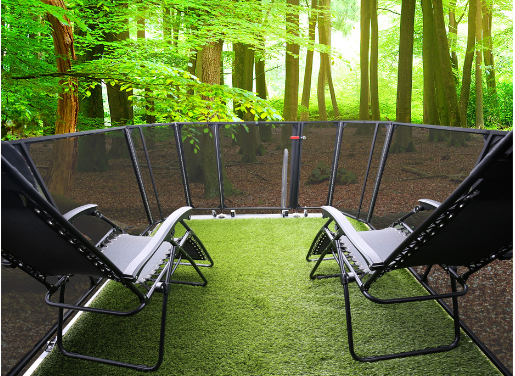 Fifth wheels are known to come featured-packed with spacious living quarters, which make them great for long-term campers and families. And a fifth wheel toy hauler offers even more space with versatile garage space in the back. If you and your family are outdoor adventurers who love off-roading, riding motorcycles or water sports, a fifth wheel toy hauler is the perfect RV for you.
The Top 4 Fifth Wheel Toy Haulers
Keystone Fuzion 373

Grand Design Momentum 376TH

Forest River XLR Nitro 351

Heartland Road Warrior 387
How is a Toy Hauler Fifth Wheel Different Than a Regular Fifth Wheel?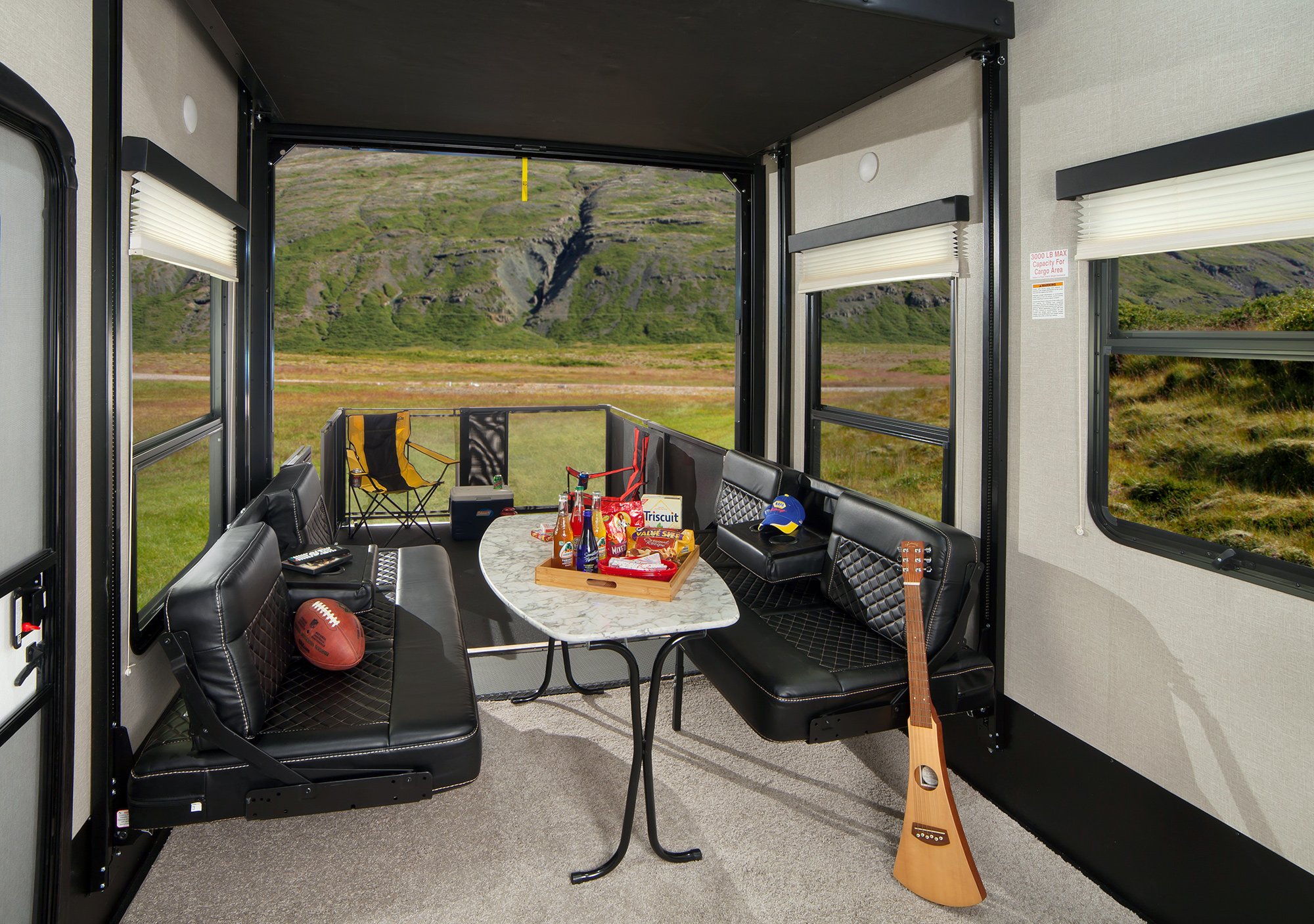 A toy hauler is an RV that offers extra garage space so you can bring along all your favorite outdoor toys and equipment and make the most out of every camping trip. The construction of a toy hauler is heavy duty and durable because it must be able to withstand the weight of heavy equipment such as four-wheelers, jet skis and more.
The garage space in the toy hauler doesn't have to just be a garage or big toy storage space. When not in use, it can be flipped into a dining area, living room or extra sleeping space. The beds or dining tables and seats usually fold down and then can easily be put away when you need to store large items.
Many RVers use the space as sort of a "mud room" as well because there is no carpet on the floor -- just easy to clean rubber mat flooring.
In some toy haulers, there is even an option to use the ramp door for the garage as a porch, so, RVers can have a personal private outdoor space. And certain models come with screens so campers can enjoy the outdoors while keeping the bugs out!

Keystone Fuzion 373 - Starts at $97,990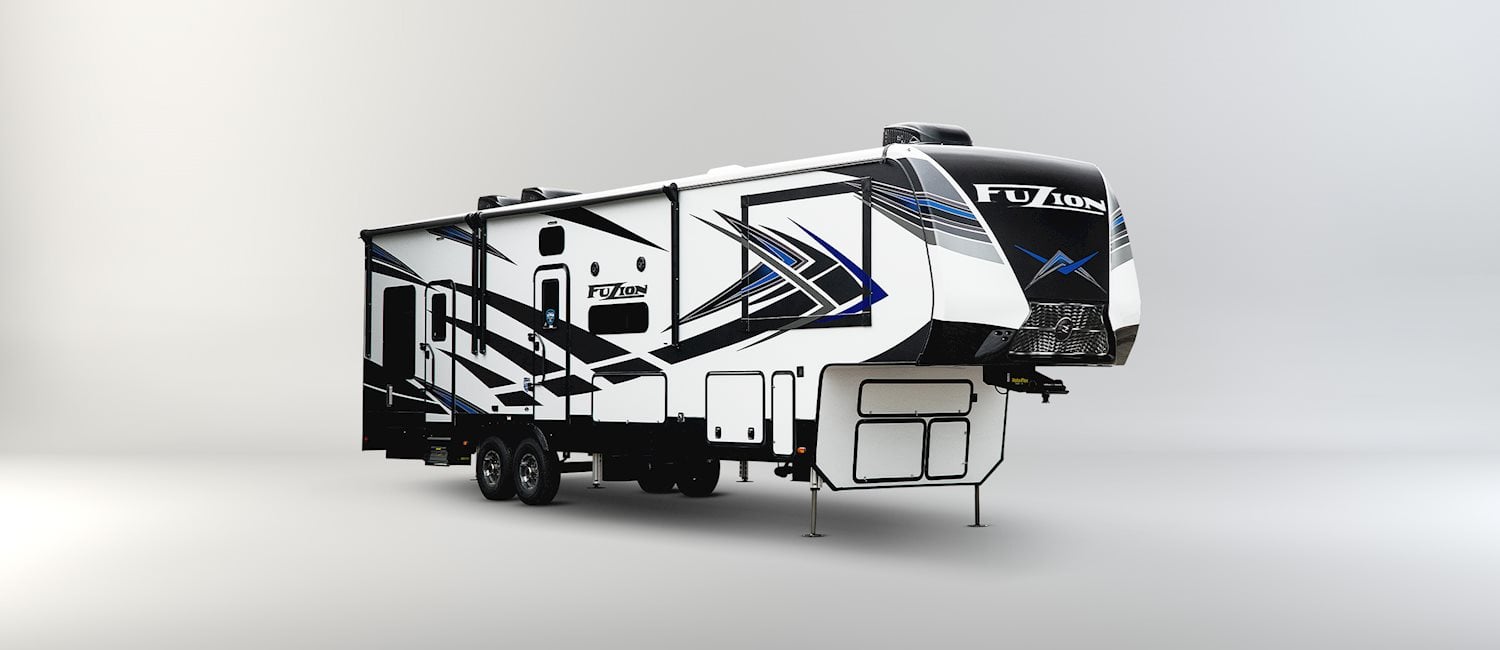 Make every camping adventure a memorable one with the Keystone Fuzion. It is a 14,195-pound fifth wheel toy hauler with a carrying capacity of 2,805 pounds. As a 39-foot-long trailer with an 11-foot garage space, it is large enough to bring everything a family or couple would need on their camping adventures. Plus, it comfortably sleeps up to eight people, making it a great fit for large families.
When walking into the Fuzion, campers will enter the common area made up of a kitchen and living room. The kitchen has a built-in table with four swing-out stools, which can easily be tucked away when not in use.

In the kitchen, there is plenty of pantry and extra cabinet space to store food and kitchen gadgets. And the living room features a large entertainment center with a fireplace and LED TV and a sofa.
The master bedroom is to the right when entering the RV. The private bedroom has a queen-sized bed with plenty of under bed storage, master closet and dresser. There is also a washer and dryer prep space so campers can save the trip to the laundromat on longer vacations.
The spacious garage houses a loft bed, LED TV and dual opposing sofas with a queen bed on top. And with plenty of overhead storage cabinets, travelers are well-provided spaces to hide away smaller items such as gloves, helmets and more.

Grand Design Momentum 376TH - Starts at $113,747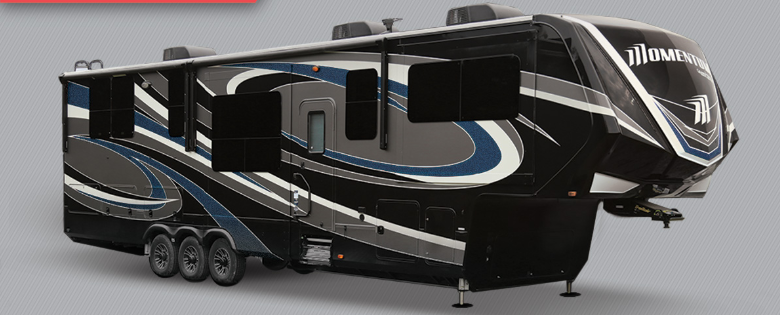 The Grand Design Momentum offers lots of great features packed into one RV. This floorplan has a large common area and a shared space for the bedroom and garage.
There is a free-standing dinette and the kitchen features an island counter, as well as a large pantry for extra storage and meal prep space, plus, several overhead cabinets throughout the RV.
The living area has theatre seating and a tri-fold sofa and an entertainment center with a fireplace, TV with cabinets and shelves for storage. The Momentum also offers a washer and dryer prep space if campers were interested in adding the units.

The bedroom and garage area offer a full bath and extra cabinet space near the sink to store toiletries, first aid kit or medications. The queen-sized bed has a lift that extends up to the garage height, so it can be used as a garage during travel days. There is an LED TV in the bedroom, as well as bedside tables, dresser drawers and overhead cabinets.
The Momentum is a 41-foot-long, 15,900-pound fifth wheel with a carrying capacity of 4,100 pounds. It is a pretty sizable fifth wheel toy hauler that offers all the amenities of home. The exterior also has a 14-foot awning, kitchen and entertainment center. This RV is feature-packed with everything an RVer would need to keep their guest happy inside or out during tailgating or family get-togethers.

Forest River XLR Nitro 351 - Starts at $89,912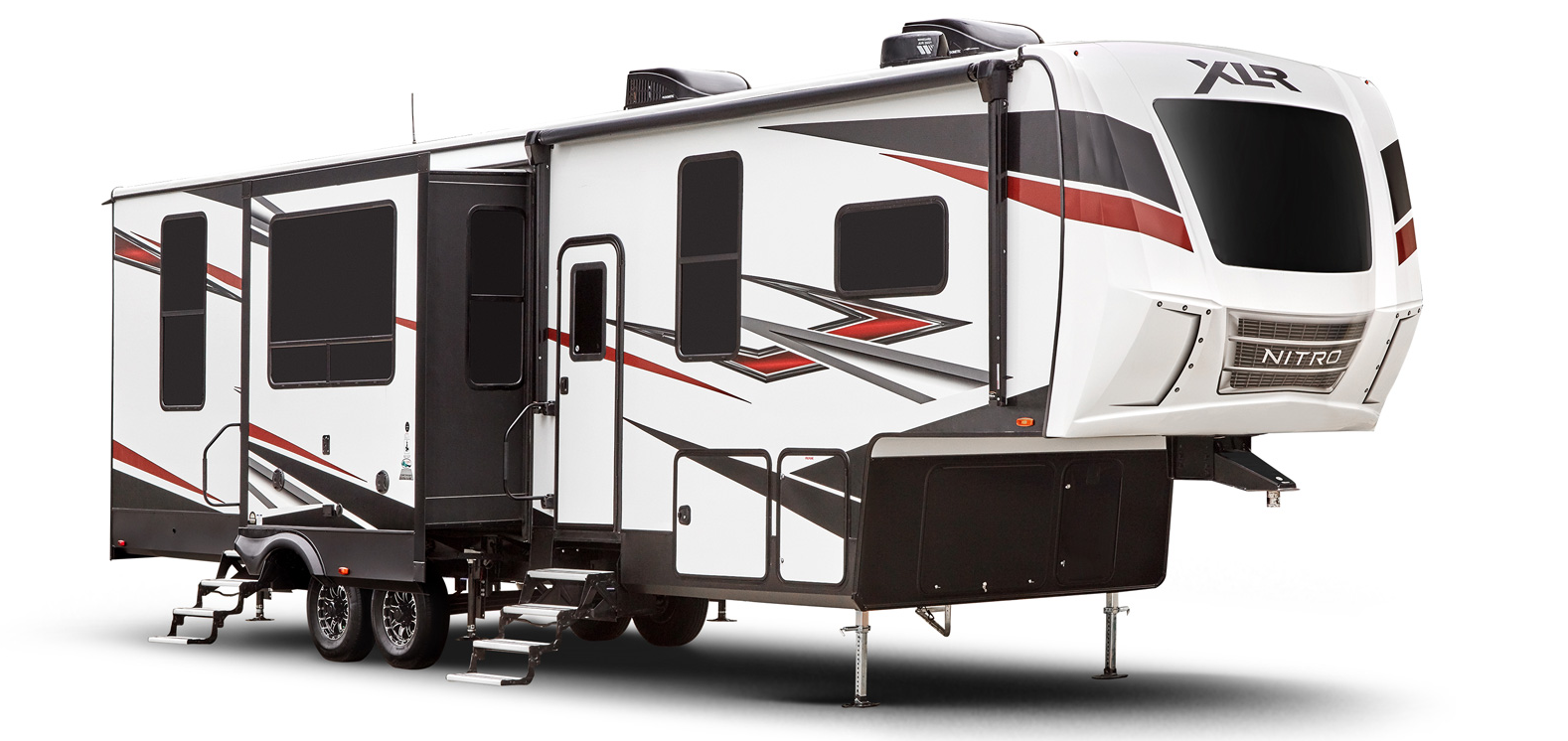 Feel like you're at home in the Forest River XLR Nitro. The XLR Nitro is 39-feet 11-inches in length and has an unloaded vehicle weight of 12,849 pounds and cargo-carrying capacity of 4,146 pounds. There is an 18-foot-long awning on the exterior to provide a large shaded space to protect travelers from the elements.
The entrance of the XLR Nitro opens up to the living area with comfortable theater seating, an electric fireplace and TV, making it the perfect place to unwind after a long day outdoors. The private bedroom comes with a king-sized bed as well as tons of storage space with cabinets and drawers throughout the room.

The large 14-foot garage is outfitted for opportunity. There is a spring assist ramp door to make rolling your gear in and out of the RV easy. The ramp door and floors of the garage area are insulated so it can be used as extra dining or sleeping space. There is a loft bed and a single electric queen bed, plus a sofa and dinette.
The garage space also has washer and dryer hookups for added convenience on the road. There is also a retractable panoramic screen, so RVers have the option to sit back and relax on your private screened-in porch.

Heartland Road Warrior 387 - Starts at $91,712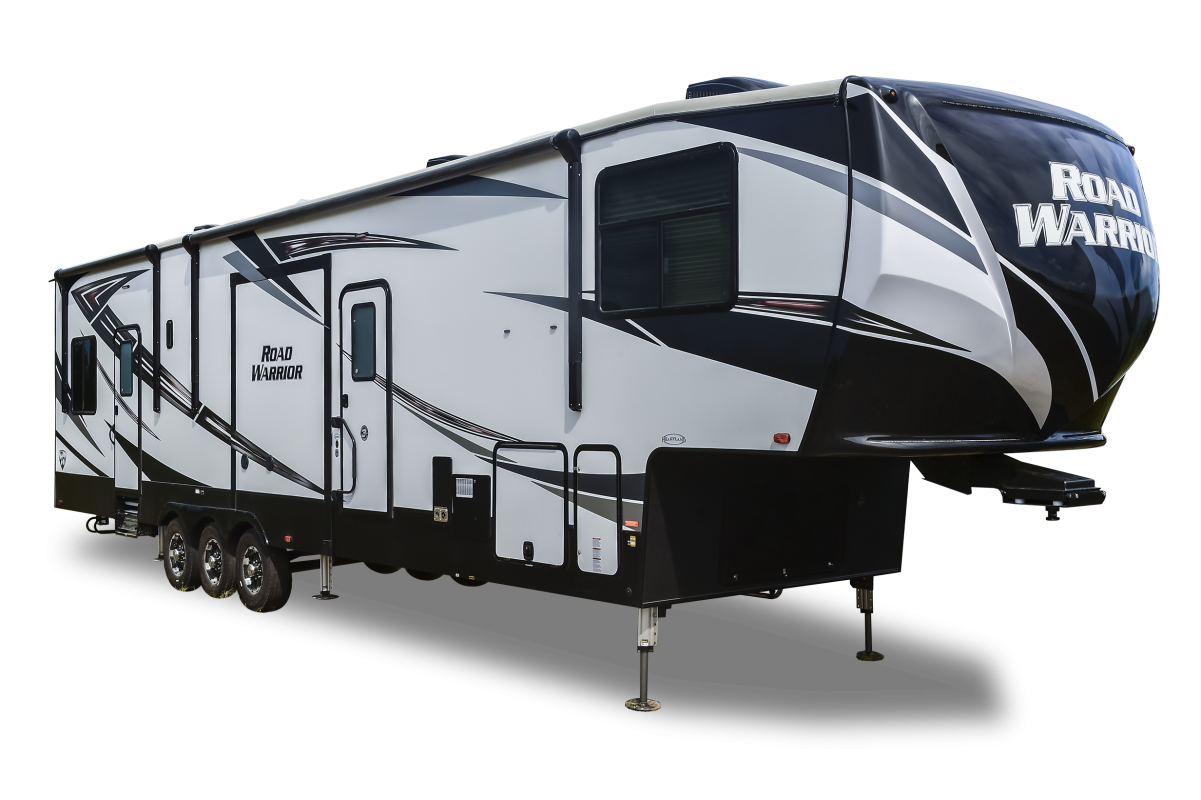 The spacious Heartland Road Warrior makes every camping trip a luxurious vacation. When first entering the camper, RVer's will walk into a common room that includes the kitchen, dining and living area. There is a bar/counter with swivel stools that can be easily put away when not in use. The living room includes an entertainment center with a fireplace, which creates a great space for movie nights with family.
The Road Warrior is a great family-focused unit and features a one and a half bath to ensure extra privacy when camping with the whole family. When you go to the bedroom in the Road Warrior there is a queen bed with two night stands that provide extra storage for your small items that are part of your nighttime routine.

The garage area of the Road Warrior can be used as several different spaces. The 13-foot garage has overhead storage as well as a large space for larger outdoor toys. When it's not being used as storage, it can be used as an extra bedroom with an overhead loft area and an electric queen bed or split bench seat. This provides more room to bring your friends along with you on your camping trips.
The Heartland Road Warrior is a 41-foot fifth wheel toy hauler and has a dry weight of 15,070 pounds and carrying capacity is 1,882 pounds. It can sleep five to six people, making family camping trips easy and comfortable.
Now that we have recapped the benefits of fifth wheel toy haulers, we think campers can agree they are great RVs for active campers who have large families or like to entertain while on trips. Plus, with the amenities and outdoor porch, RVers will be able to get even more of that homey feel while on the road.
If you're interested in selling your RV to upgrade to a new toy hauler fifth wheel learn what you're RV is worth.

Ready to start shopping for a new toy hauler fifth wheel? Start shopping now!