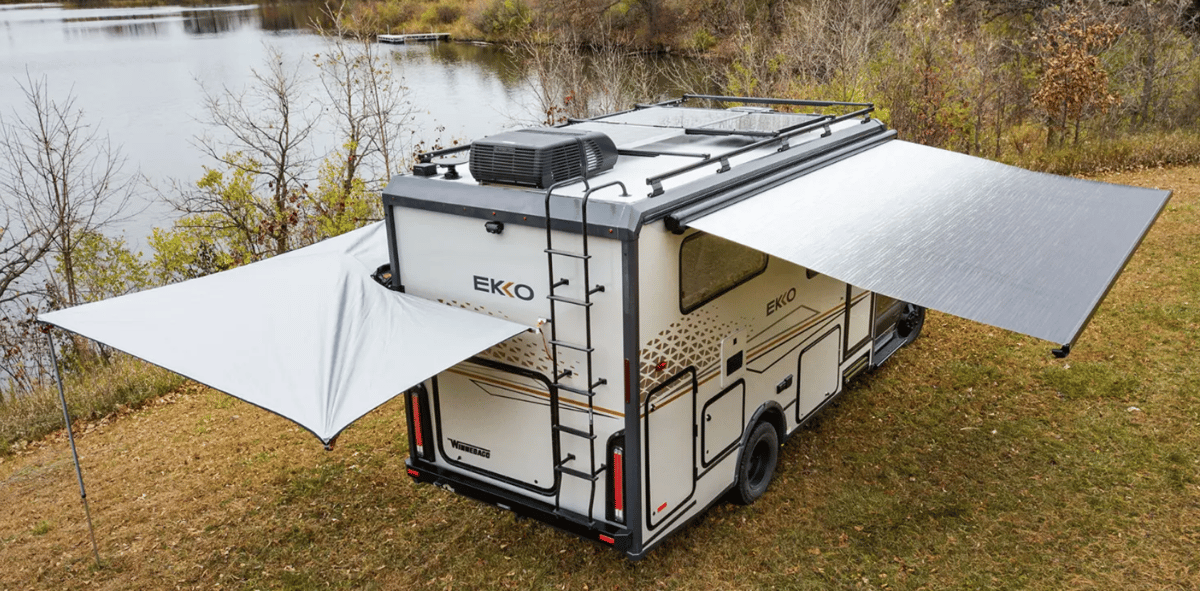 The brand-new Winnebago Ekko hitting the market for the 2021-2022 year is an exciting addition to the brand's Class C offerings. Boasting the capacity of a Class C motorhome but the efficiency of a Class B, it also includes all-wheel drive, creating a whole new type of RV.
The Ekko seamlessly combines luxury and efficient off-road features of a camper van, making it a great fit for campers who like to take the road less traveled but have a little more space.
What is a Class C Motorhome?
A Class C RV is a class between A and B motorhomes. They are larger than the Class B, offering more interior living and storage space, but are smaller than the bus-like Class A, making them easier to park and maneuver.
Class Cs are easy to identify because of the over cab bunk. This space can be used for sleeping or storage when needed. The interior of a Class C typically offers a kitchen, designated dining and living areas, private bedroom and bathroom.
The Winnebago Ekko Class C motorhome– Starts at $163,662
There are two models of the Winnebago Ekko, the 22A and 24C. Its size ranges from 23'2" to 25' in length and has a gross vehicle weight rating of 11,000 pounds. The interior is 6'8" tall, giving it an overall feel of spaciousness needed for longer-term camping trips.
The Ekko can sleep two to four people comfortably, making it a great option for couples or small families to enjoy on their next camping adventure.
It has a 50-gallon freshwater tank, black water holding tank capacity of 31-gallons and a gray water holding tank capacity up to 51-gallons. The Ekko also has a 31-gallon fuel tank, making it ideal for longer camping trips or stepping off the beaten path for boondocking adventures.
The Ekko Floor Plan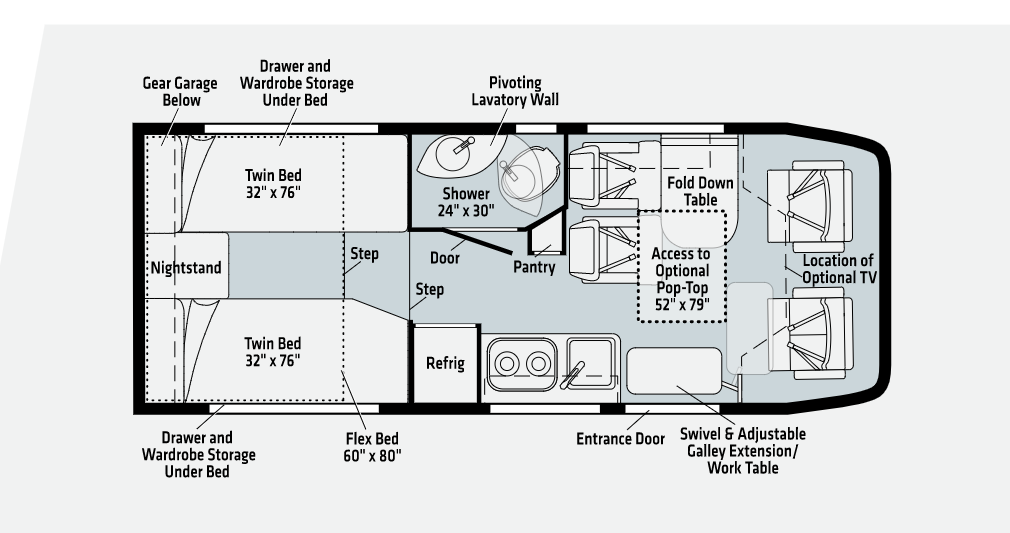 When you first step into the Ekko, you are greeted by two chairs and a fold-down table that can be used to eat or do work. At the front is the cab of the motorhome with an additional two chairs for travel. There is a galley kitchen, pantry and wet bath.
The back of the campervan features two twin beds and a nightstand that can be used as a flex space for sitting and relaxing during the day and sleeping at night.
Construction and Safety Features
The Winnebago Ekko is built on an all-wheel drive Ford transit chassis with a 3.5-liter EcoBoost V6 gas engine and a 10-speed automatic select shift transmission with overdrive. The trailer hitch has a 5000-pound drawbar and 500-pound maximum vertical tongue weight to tow smaller vehicles. The entryway door is fully insulated keeping the interior temperature regulated.
Safety comes first in this motorhome with an LP leak, smoke and carbon monoxide detectors. There is also a fire extinguisher in case of emergencies. Other safety features include ground fault interrupter, fog lamps, high mount brake lamps and upper and lower child seat tether anchors at the dinette seating area.
There is plenty of storage in this RV with a pass-through , insulated storage space large enough to fit two bicycles, skis or fishing poles.
The construction of the Ekko were built with the safety of campers in mind.
Cab Conveniences
The Winnebago Ekko's cab offers conveniences to make the journey as smooth and comfortable as possible. The cab seats have an armrest, fixed lumbar support headrest, recline , slide and swivel options to offer ultimate comfort on long rides and the swivel function makes it possible to use as extra seating when it is parked.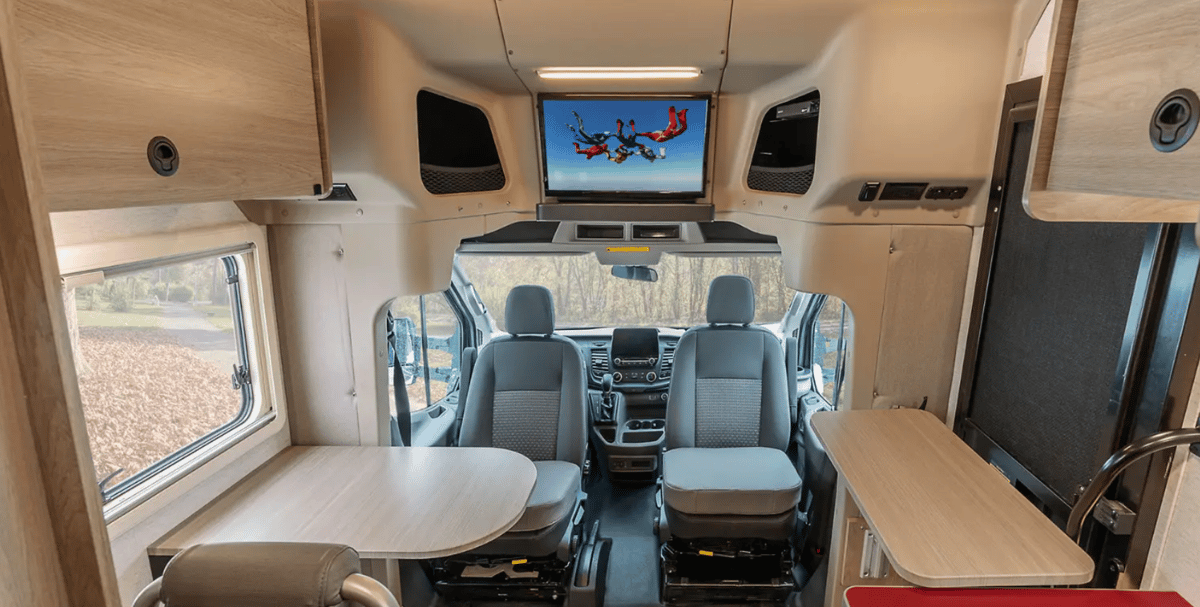 Other extras included are the terminal cab divider wall panel and front wraparound curtain, blind-spot monitoring, auto headlamps with head beam control, automatic rain-sensing wipers, lane-keeping assist and more.
Galley Kitchen
The kitchen has a single basin stainless steel sink with cover, laminate countertops and an adjustable table/counter extension which allows extra prep space when cooking or to be used as a workstation. It comes with standard kitchen appliances such as a two-burner LP range cooktop with cover, microwave oven with touch control and a 5.3 cubic foot single door refrigerator.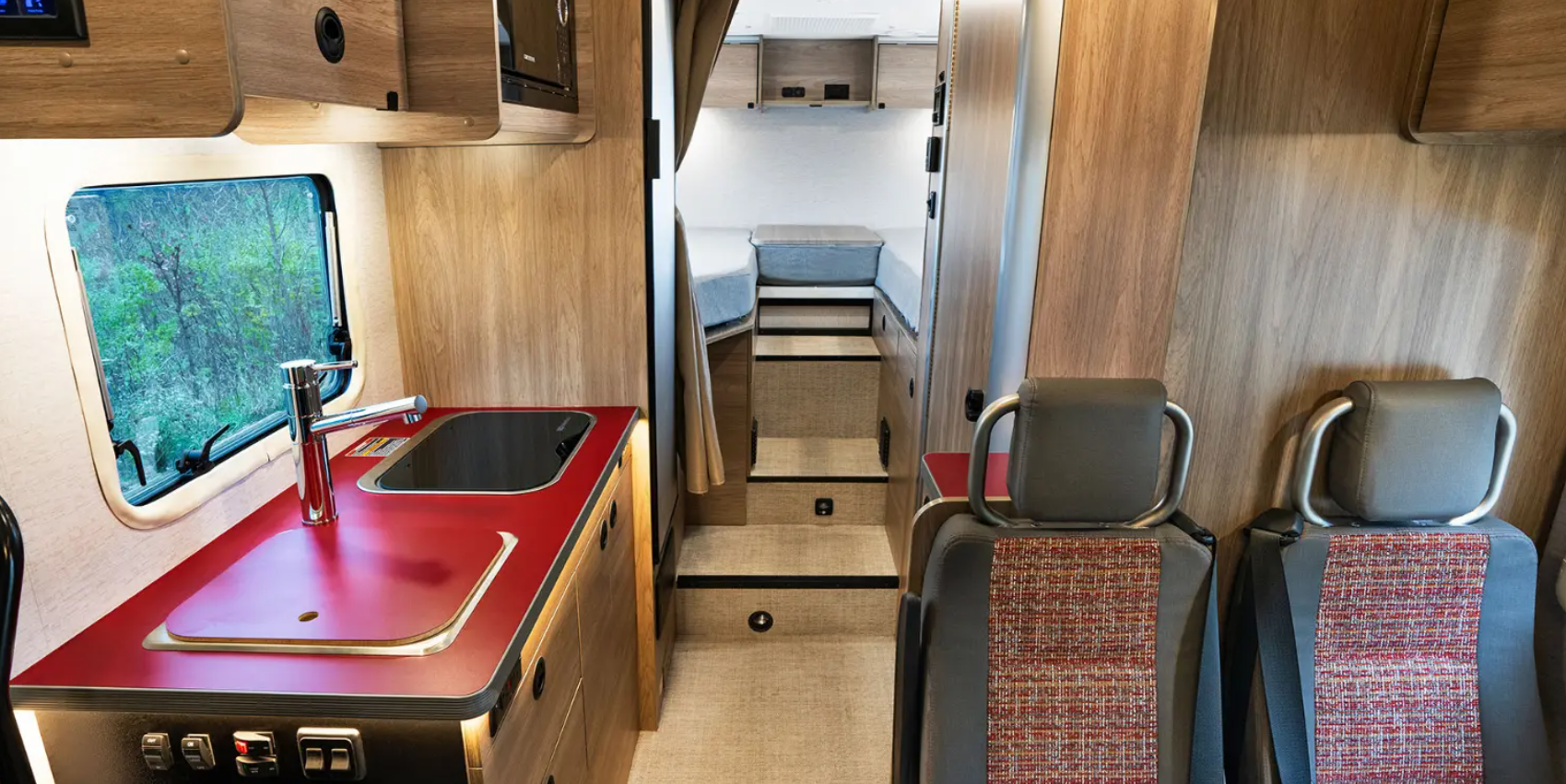 The pantry space offers extra food storage and the 24C model even comes with a spice rack. These features in the kitchen make it fully functional to prepare home-cooked meals while camping.
Bathroom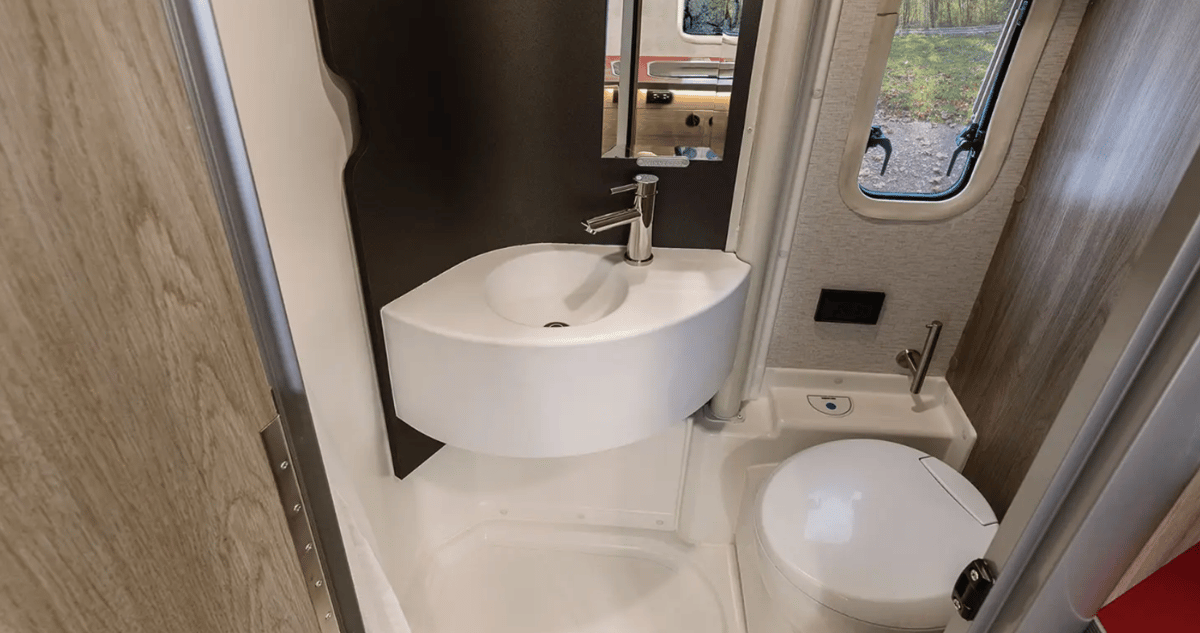 The wet bath in the Ekko is a small, but efficient space. There is a pivoting lavatory sink allowing more space when the shower is in use. There is a medicine cabinet and tissue holder as well. An Oxygenics shower head come standard in the Ekko, bringing great water pressure while saving water at the same time.
Bedroom
The bedroom at the back of the RV offers the perfect place to unwind at the end of the day. There is a flex bed kit and wardrobe storage under the beds. There is a metal clothes rod to hang big coats or other clothing items. The bed can be kept as two twin beds with a nightstand in the middle or it can flip around providing a larger bed space.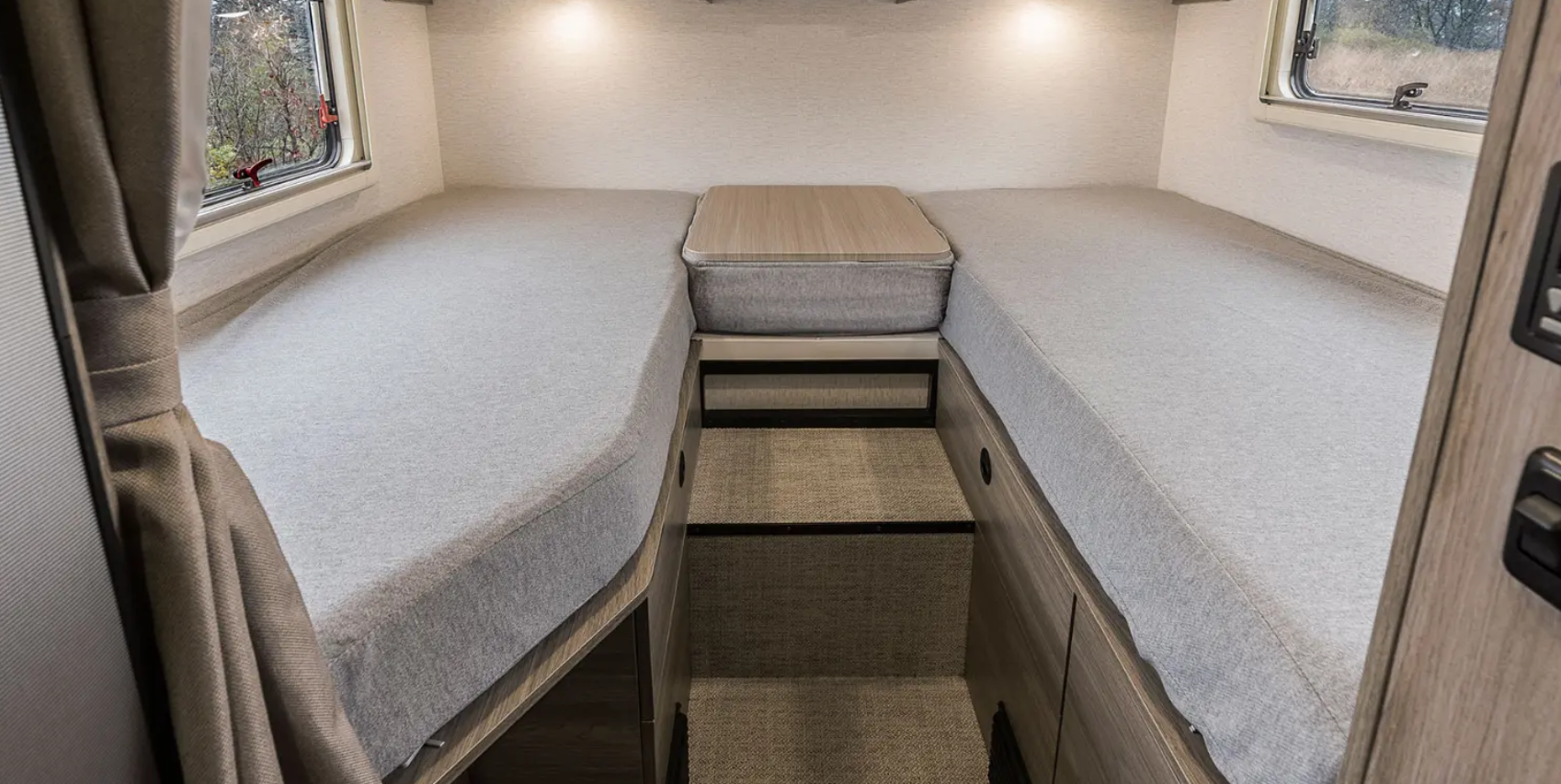 There is also a room divider curtain to provide more privacy in the evenings. The bedroom area also has reading lights and USB charging ports so you can keep your electronics close by at night.
Electrical, Plumbing and More
The Winnebago Ekko comes standard with an exterior TV jack and AC duplex receptacle. It has a 30-amp power cord and a 2000-watt pure sine wave DC/AC inverter. It also has a Truma AquaGo tankless comfort plus water heater with recirculation pump and an insulated water service center that houses the water center control panel, hooks, cable tv input, freshwater drain and portable satellite dish hook up.
To keep the interior temperature regulated, there is a 13,500 BTU air conditioner and a Truma VarioHeat control.
The Ekko is ready to camp in almost any location with three solar panels that pump out 455 watts. The standard lithium ion batteries will help provide more energy independence.
The Winnebago Ekko provides all the comforts at home with energy-efficient appliances, dinette seating and more. This RV is all-weather prepped with tanks and water lines inside the coach above the floor, extensive all-season insulation in the roof, walls and floor, dual pane acrylic windows and more, so the camping season never has to end no matter the time of year.
This Class C motorhome has unique and luxurious features making the Winnebago Ekko an awesome choice for campers.
More RV Resources for You
Find out if a Class C motorhome is perfect for you.
Discover other Class C motorhome brands.