Larry Fleet, born and raised in White Bluff, Tennessee, is one of Nashville's latest up-and-coming country stars. His hit single Where I Find God can be currently heard on country music radio stations across the nation and has exceeded 7 million views on YouTube and over 13 million total streams. Fleet's current album "Workin' Hard" has received critical acclaim from publications such as Billboard, American Songwriter and Rolling Stone. He was signed to Big Loud Records last year.
Early Years
Larry Fleet got started in music at 6 years old playing gospel and bluegrass on the guitar in his family's band. He began writing music when he was in high school because he wanted to be able to tell his own story.
Fleet was first discovered by country musician Jake Owen in 2017 after performing a few original songs and country classics at a party. Owen enjoyed Fleet's performance so much he introduced himself after. A few weeks later, Owen offered Fleet a spot on his Down to the Tiki Tonk Tour.
Before the chance meeting with Owen, Fleet was working in a difficult and highly skilled field of masonry and had found success working for an engineering firm in the Chattanooga area. He had been working and making a living with both music and construction before meeting Owen for over 10 years.
On that tour, Owen told Fleet, "Don't chase the dollar and stay true to who you are and to making great music." Fleet has carried that bit of advice with him to this day and has continued to land breakthrough opportunities with his music heroes.
After touring with Owen, Fleet was offered a spot opening multiple shows for Willie Nelson on tour. Nelson, impressed with Fleet's performance, pulled him on stage during his own set to perform a couple of songs together. Fleet, being a lifelong Willie Nelson fan, felt like this opportunity was a dream come true, inspiring him to continue writing music.
After that, Larry Fleet made his mark in the Nashville songwriting community co-writing with prolific tunesmiths such as Brett James, who has 26 No. 1 hits and writes for the likes of Rascal Flatts, Tim McGraw and Sara Evens; and Kendell Marvel, who has written over 60 songs including Chris Stapleton's Grammy winning track Either Way.
Musical Influences
Fleet has a wide variety of musical influences and is a fan of many types of music. He credits this to his parents love of music. His list includes such icons as Waylon Jennings, Willie Nelson, Otis Redding and Ozzy Osbourne. In the future he'd love to collaborate with singer/songwriter Norah Jones, citing "she is awesome."
But his first love is country music and if he could choose a next country star to collaborate with, it would be Miranda Lambert.
"Country music is unlike any other genre of music when it comes to storytelling and making you feel like the song was written about or for you," says Fleet.
When writing new music, Fleet is inspired by real life experiences. He loves to tell stories about his family, faith and working hard through his music. When asked about his song writing process he said, "I don't really have a set process. Sometimes I write some words down first and sometimes I write the music first. Every song is different and needs different approaches to writing it and I think that's the glory of writing songs."
RV Lifestyle
Larry Fleet has recently joined the RV lifestyle in a Class A Winnebago Forza motorhome. He uses it for tour trips with his band and to spend time camping with his wife Phebe and son Waylon.
One of his favorite things about the Forza is the technology. Fleet enjoys the fact that he can control everything from lights and A/C to the generator and more with an app on his phone. Plus, two full bathrooms, extra TVs and plenty of beds makes it comfortable for his family or band members when traveling. And even though the unit is 40-feet-long, the ease of drivability makes long road trips easier.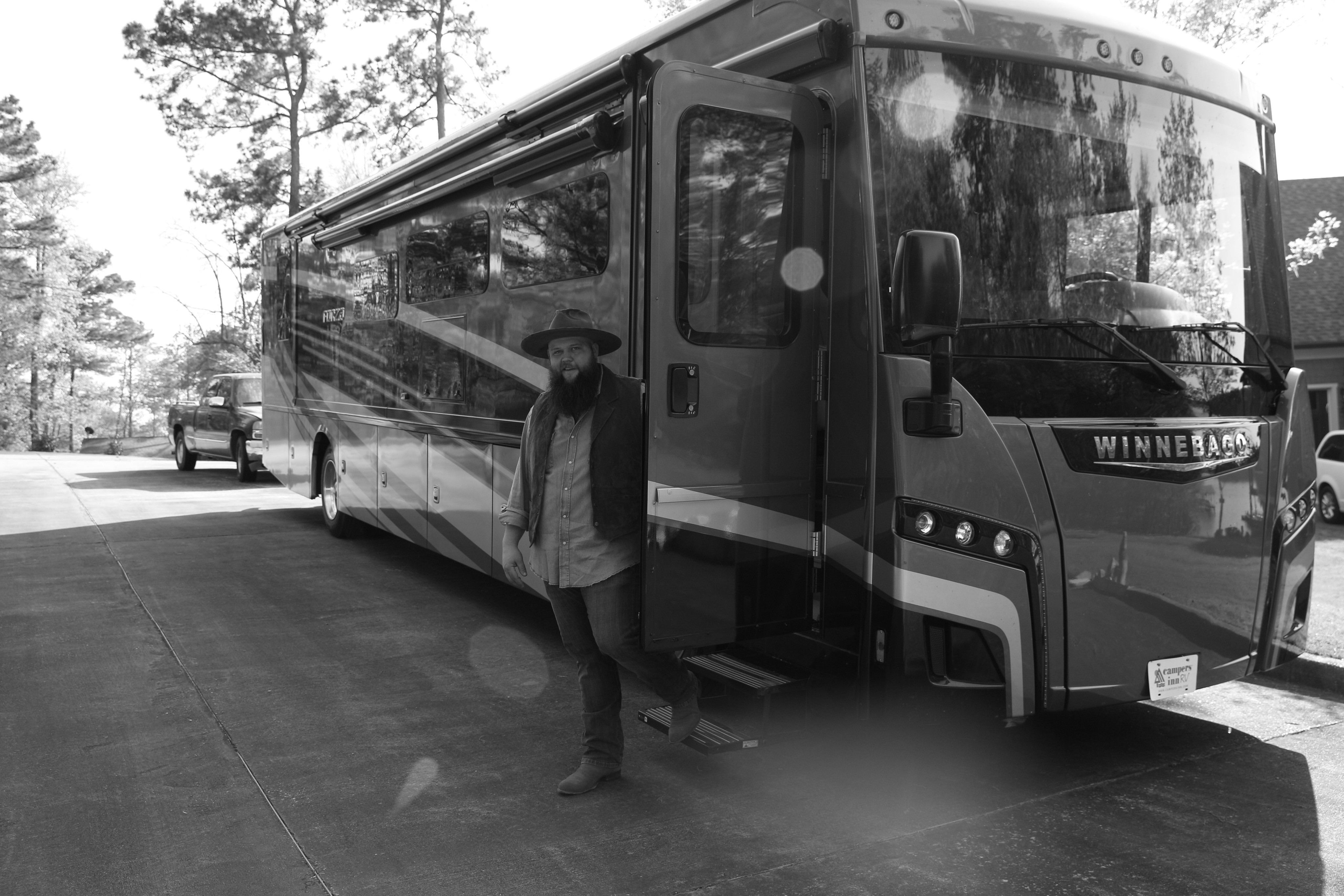 "I love my RV. It's fun to drive and my band loves it because we all have room to spread out," Fleet said. "I love being able to literally pull off the road anywhere and have a cool place to stay and hangout."
Going on tour with his band is much easier now for Fleet. They don't have to cram into a pickup truck and ride countless hours to the next gig. It has allowed him and his band members to collaborate better on the road. Fleet is also enjoying meeting fellow RVers and being a part of the RV community.
"It's been pretty life changing for me and the band. When we're not on the road, my family and I like to go to places and have a little family trip out to the lake and that's fun," said Fleet. "The RVing community is filled with great people who are fun to hang out with and will help you any way they can."
Interested in checking out the Winnebago Forza Class A motorhome yourself? Take virtual tours and shop different floorplans here.
Current Work
Fleets debut album "Workin' Hard" came out November 8, 2019, and features eight songs, six of which are written by Fleet. He also brought in the help of songwriters Will Bundy, Brett James and Rhett Akins as co-writers on a couple of songs featured on the album.
The album features hit songs like Mix 'Em With Whisky, Lied About Love, Best That I Got and the title track Workin' Hard.
His newest single, Where I Find God, released earlier this year, is a hit with over 7.5 million views on YouTube and over 13 million total streams. And its Fleet's favorite song. "I love it and it's my favorite because it touches so many people," he said. "It's relatable and it's helping people, and I think that's what music is supposed to do."
Learn More About Fleet
You can find Larry Fleet's music on Apple Music, Spotify, YouTube, Amazon and Pandora and follow him on Facebook, Twitter and Instagram @LarryFleet.
Or you can check out his next live performance on November 13, 2020, in Chattanooga, Tennessee, at The Signal! The show will follow social distancing guidelines and strict protocols with a reduced capacity crowd. Find out more at larryfleet.com.