Discover why the Coachmen Leprechaun Class C won the confidence of generations of campers with this RV walkthrough. From its construction to the convenience features, this Class C motorhome includes many amenities that will make every camping trip a memorable one.
In this blog, we discuss the specific features that make the Leprechaun 260DS a great option for campers who love functional features.
The starting price range for this model is $97,886. It has a gas engine built on a 4500 Ford chassis. And there is enough sleeping space for up to eight people.
Who is Coachmen RV?
Coachmen RV is now a version of Forest River, Inc., but they have been producing RVs for more than 56 years, when the small RV manufacturer was launched in 1964 by three brothers, Tom, Keith and Claude Corson.
In their first year, only 12 units were produced. Fast forward 55 years, Coachmen has now reproduced and sold over a quarter of a million units of all types to include motorhomes, toy haulers, fifth wheels, travel trailers, destination trailers and small camping trailers.
With over five decades of experience building RVs, Coachmen RV's focus is to offer simple and functional designs that look and feel like a home on wheels.
Coachmen also prides itself on providing owner support after purchase with dedicated warranty and customer service call centers. The call in support line is available to customers for answering any questions and to provide troubleshooting help for issues on the road. Plus, all new Coachmen owners receive roadside assistance for the first year of ownership on most new models.
What is a Class C Motorhome?
A Class C is a midsize motorhome between the Class A and Class B. It is larger and offers more space than a Class B, but is easier to maneuver and has better fuel economy than a Class A motorhome. Class Cs are easy to identify as they are built on a truck or van chassis and have the over-cab sleeping space.
These motorhomes vary in size from 20-33 feet. The larger models typically have a private bedroom while the smaller models usually include a sleeping alcove area with a Murphy bed. The couch and over cab bunk also provide extra sleeping space, so many of the Leprechaun floor plans sleep up to eight people.
Different Coachmen Leprechaun Floor Plans
The Coachmen Leprechaun motorhome comes in a wide range of styles and floorplan options depending on the model.
If you are looking for a smaller Class C than the 26DS, the Leprechaun 210RS is 24'9" in length and features a small kitchenette, bedroom, full bathroom and dining area. The bedroom houses a queen bed with a nightstand on either side along with duel closest space. The dining area has a J-lounge dinette and there are overhead cabinets throughout the interior for plenty of storage space.
If you are interested in a larger version of this RV, the 298KB model is a great choice. It is 30'5" long and features a private bedroom with a king bed, large closet, optional washer and dryer and a full bathroom. The common area has a J-lounge dinette, sofa and kitchen.
Exterior of the Leprechaun 26DS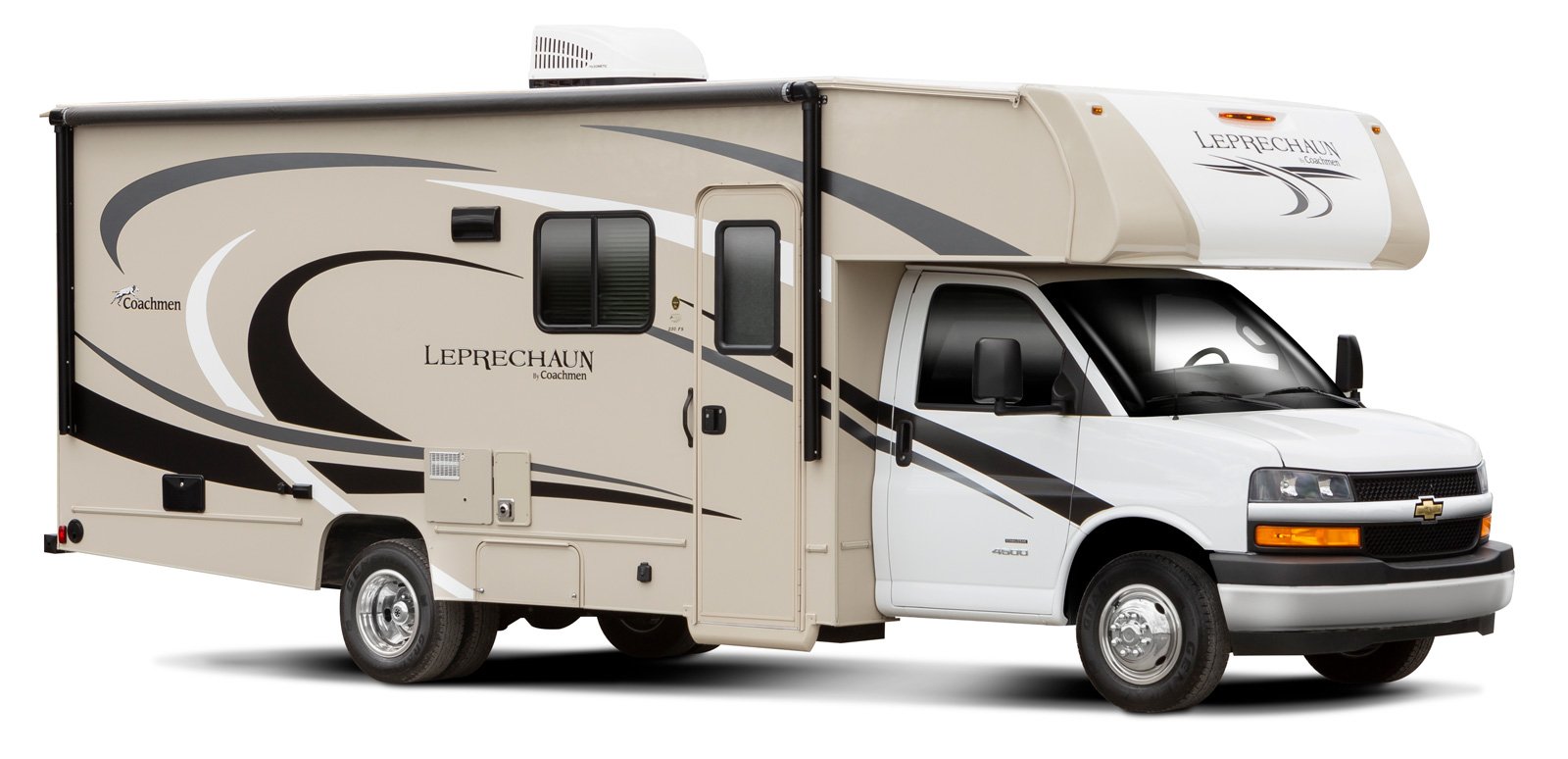 The exterior walls of the Coachmen Leprechaun 260DS are fiberglass. There is no wood in the walls of these RVs. They are made of Azdel composite sidewall substrate, which is lighter and stronger than wood. It is water-resistant and won't allow mold or mildew to grow. The Leprechaun is also made with a durable PVC roof and has a roof ladder to help owners keep up with regular roof maintenance and cleaning.
Exterior storage is located under the living space for larger items such as folding chairs, tables, travel grills and anything else that is too big to fit inside.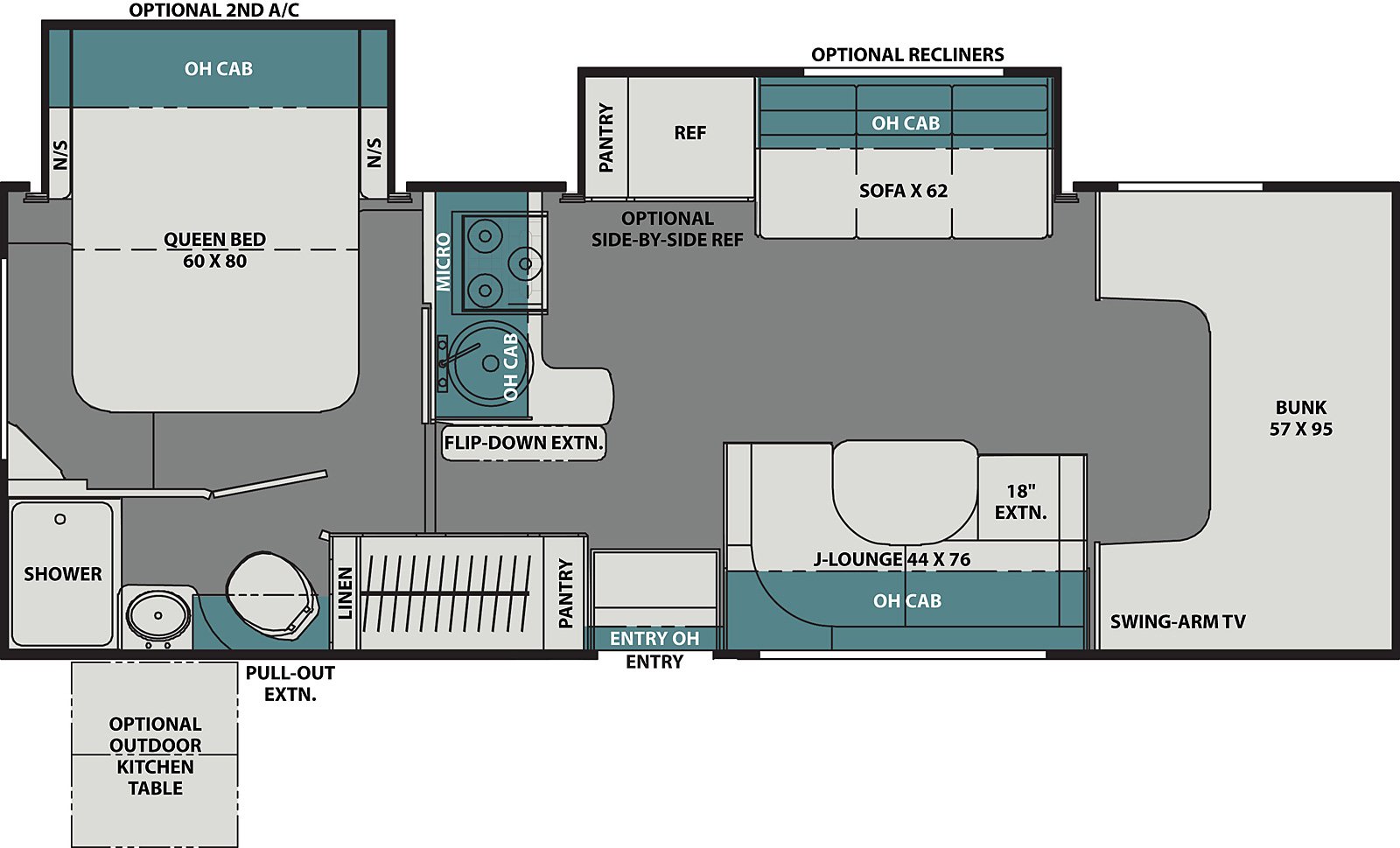 The Leprechaun also features an exterior entertainment center and a built-in picnic table bringing the comforts of home, outdoors.
These Class Cs also come with propane quick connect to easily attach a grill for outdoor gatherings and an exterior shower to make rinsing off from the beach or giving the dog a bath easy while keeping the interior clean.
Leprechaun Motorhome Cab Area
The entrance door has a safety grab handle to safely get in and out of the RV and a magazine rack about the door with an HDMI port and USB charging station. There is an over cab bunk that can fit two adults and has a cargo net if the space is being used instead for storage.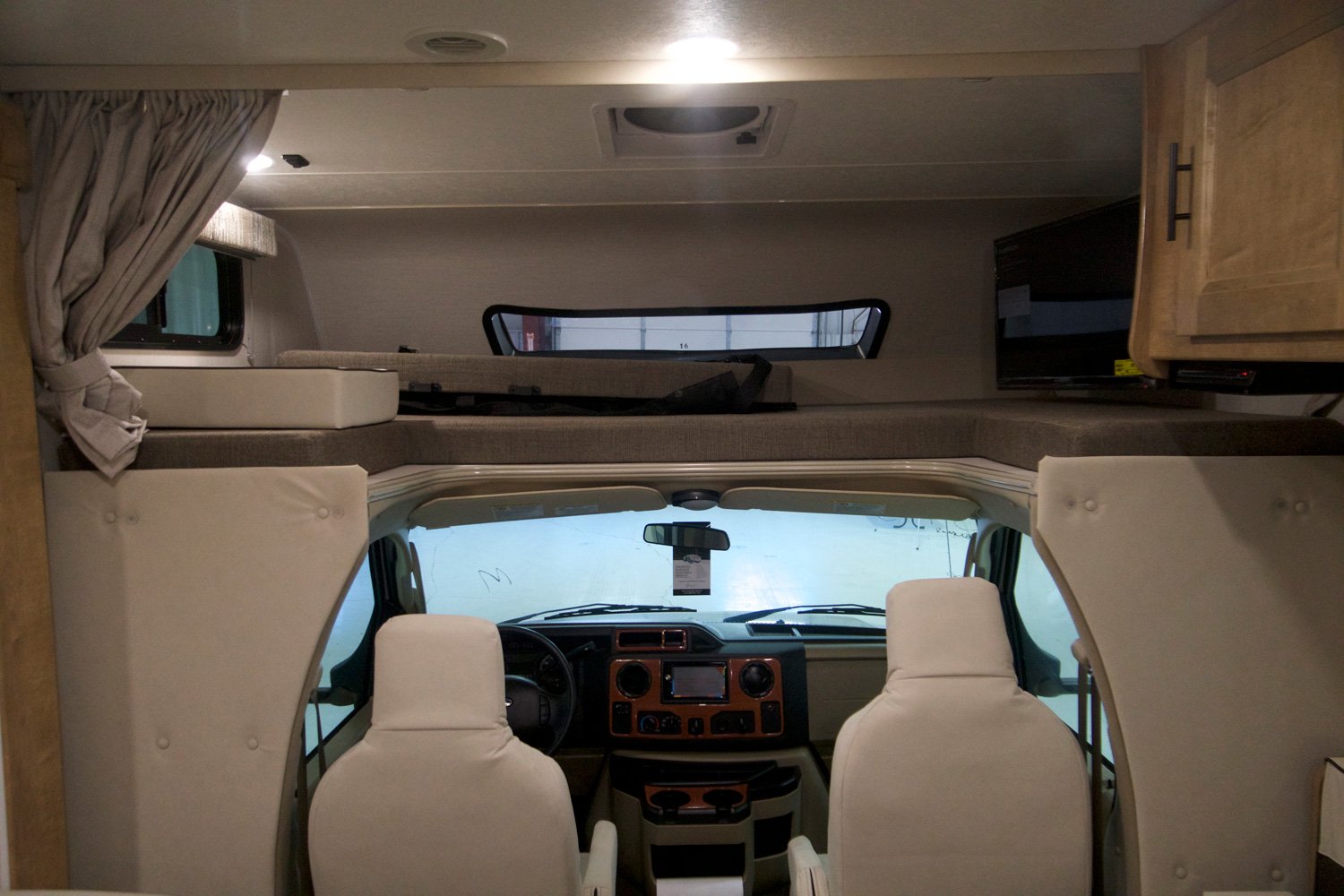 The driving cab area has two pivot front cab seats, which allows them to become extra seating when the RV is parked. The Leprechaun has a backup camera for parking and backing up and side view cameras for switching lanes when driving. The front cab has the touch screen dash radio and screen to monitor when driving. All these features make for a more convenient and safer experience.
Leprechaun Motorhome Living Space
The common area of most Leprechaun Class Cs have a jack knife sofa that can easily be pulled down to be used as a bed. It also contains three seat belts for travel days. Or it can have two recliner seats instead.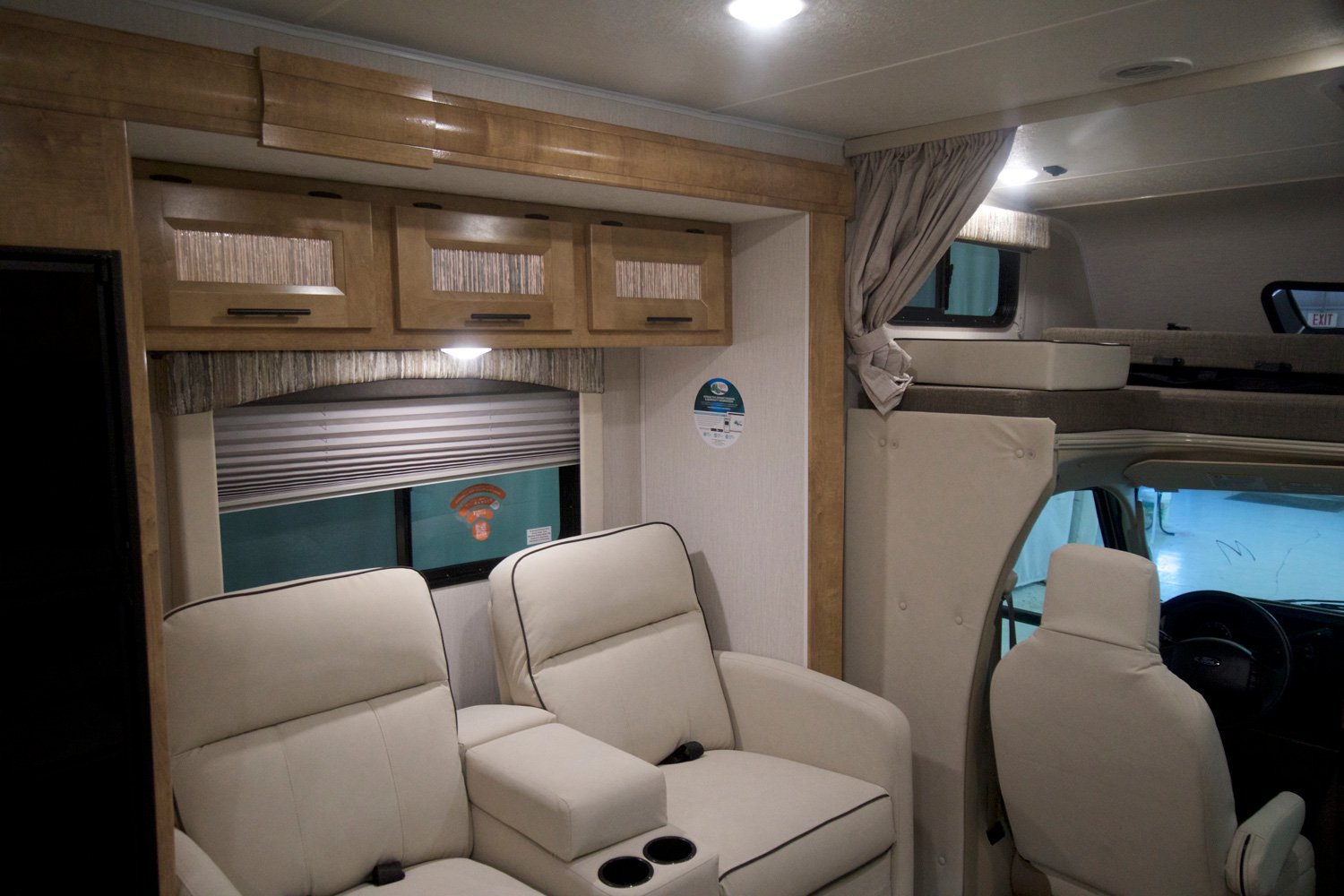 There are sliding windows throughout the RV, so campers can enjoy the breeze on nice days and a large quantity of overhead storage throughout, as well and along the hallway's walls.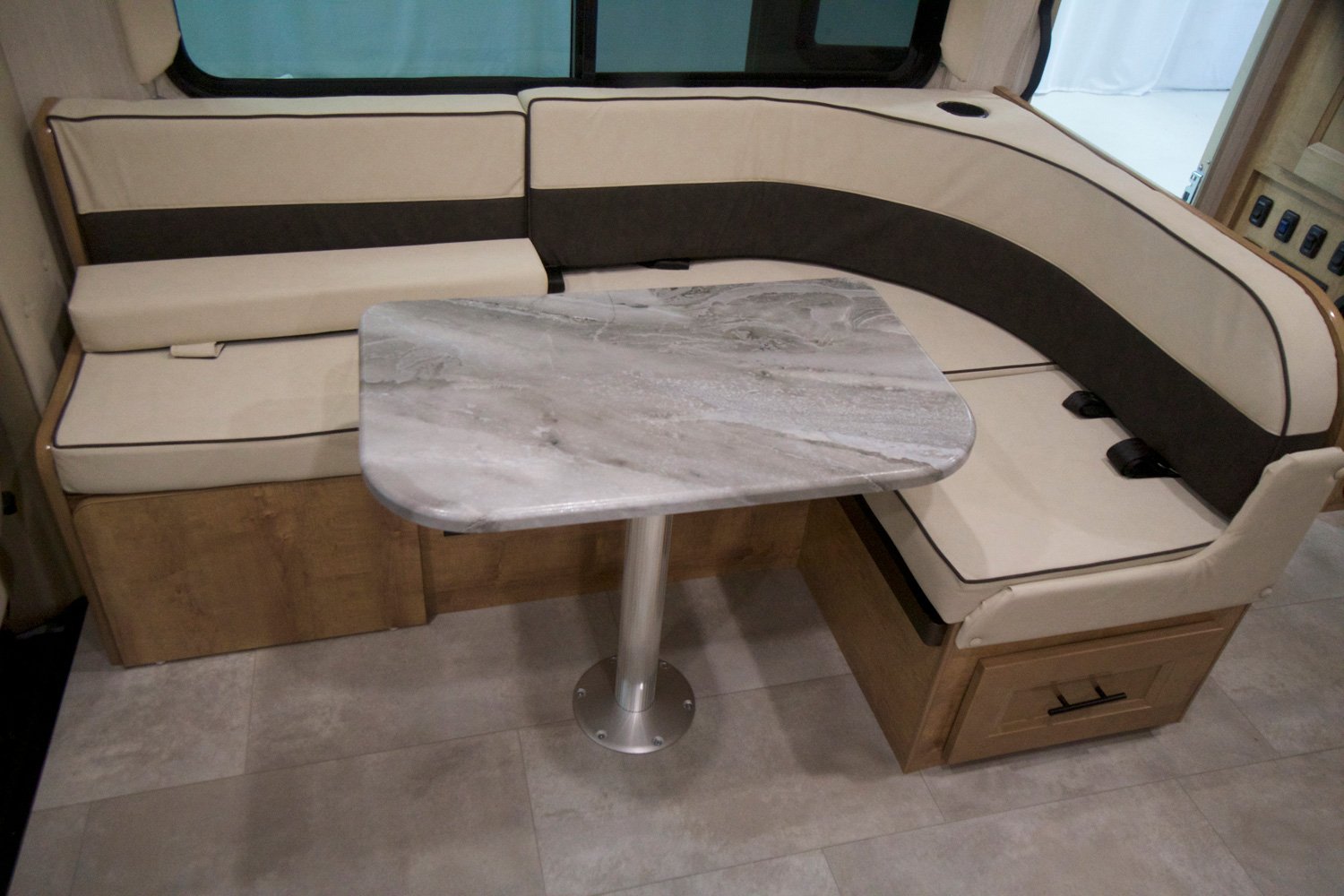 Entertainment is easy to view from most locations in the motorhome with a TV on a swing-out bracket. And entertaining extra guests is easy with the J-lounge dinette seating that has an 18" extension. Controlling tank levels on camping trips is easy with a central interior a control panel that reads tanks and levels.
Leprechaun Kitchen Features
The kitchen in the Coachmen Leprechaun is a corner style. It has everything you need to make amazing home-cooked meals with a microwave, three-burner gas cooktop with glass cover, oven and a six-cubic-foot fridge.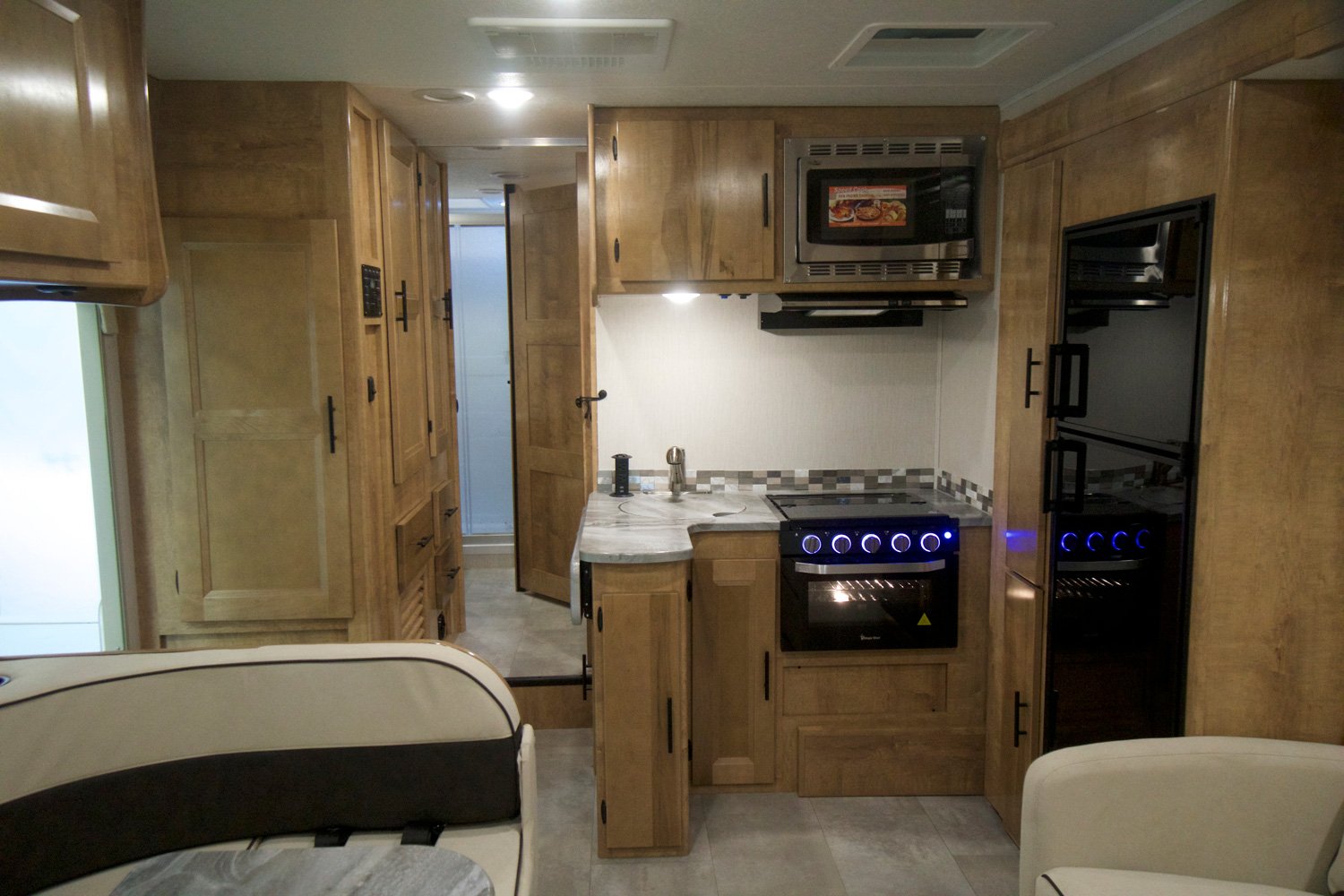 Storage space is also an important feature in every kitchen and the Leprechaun comes with plenty of pantry space and extra drawers. There is a flip-up countertop extension providing more prep space when needed, which can easily be folded down when not in use. The deep basin sink and a pull-down sprayer faucet makes cleaning up afterward a breeze.
Bedroom and Bathroom of a Leprechaun Class C
The private bedroom is available in most Leprechauns and is a great place to escape at the end of each day. The 80-inch queen bed provides a comfortable space to rest and relax before another day of adventures. And there are small nightstands on each side of the bed to rest your nighttime essentials and a TV for movies in bed.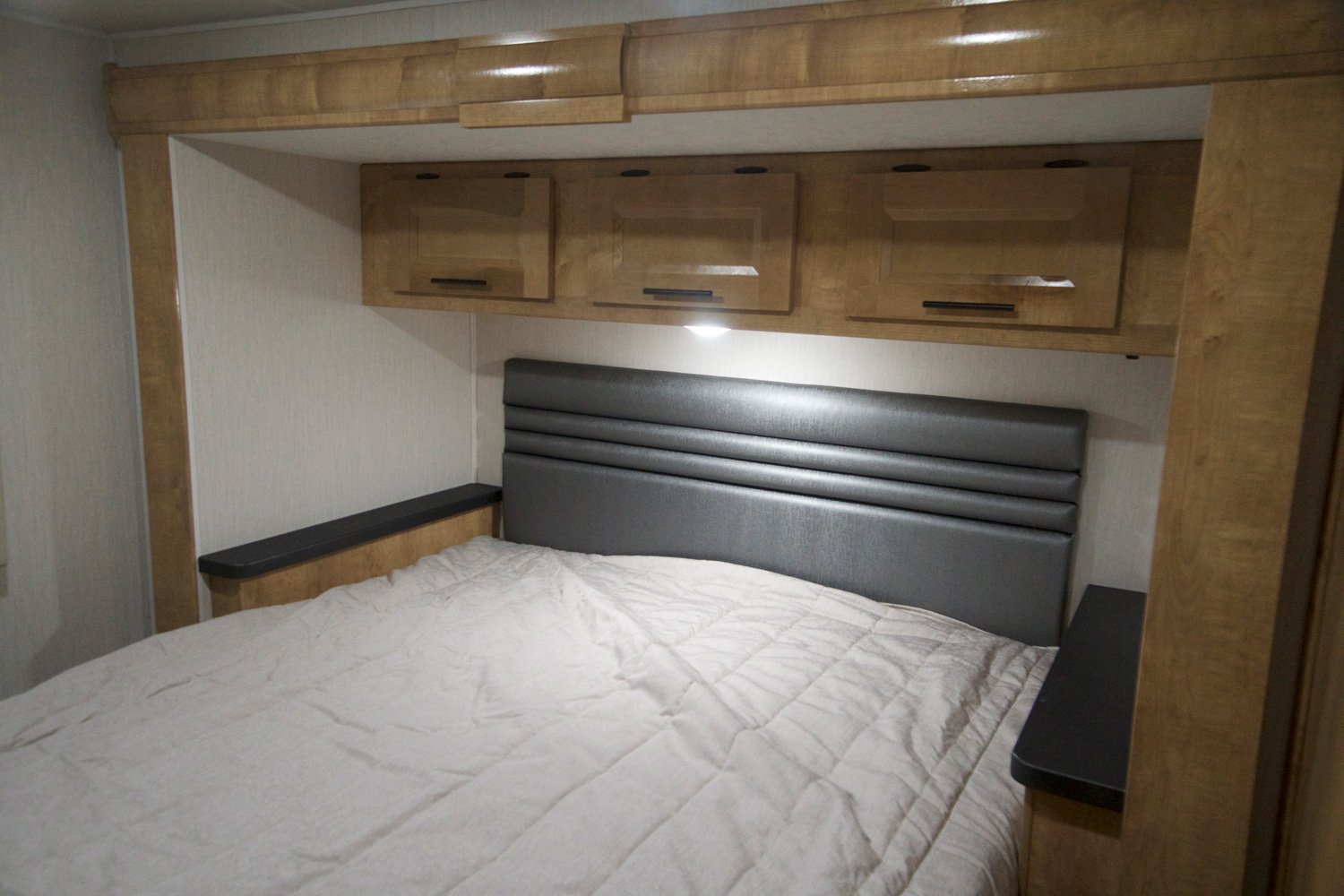 The bathroom has a shower with a glass door and additional storage space. A great feature that is included in this model is the extendable bathroom counter, adding extra length to the counter space when campers are getting ready for their day.
Leprechaun 260DS Motorhome Construction
The Leprechaun 260DS is 27'11" in length and has a gross vehicle weight rating of 14,200 pounds. The fuel capacity is 57 gallons and the freshwater capacity of the RV is 50 gallons while the gray and black water capacity is 31 gallons each.
It has a 30,000 BTU ducted furnace and 13,500 BTU ducted roof A/C. There is an exterior solar panel connection port for those who wish to purchase a solar panel package for boondocking or other unique camping experiences.
The side and rear walls and floor of the Leprechaun have vacu-bond laminated two-inch aluminum frames. And the exterior walls are color-infused Lamilux 4000 series hi-gloss exterior fiberglass. This RV was built to withstand years of normal wear and tear.
Coachmen Leprechaun Class C provides a variety of floorplan options and amenities so it's easy to find the perfect floor plan for your camping style. From avid camping couples to weekend camping families this motorhome allows campers to explore new locations and visit old favorites.
Additional Resources:
Find out if a Class C motorhome is right for you here.
Start planning your next camping trip with the Best State Park Destinations for RVing on a Budget.