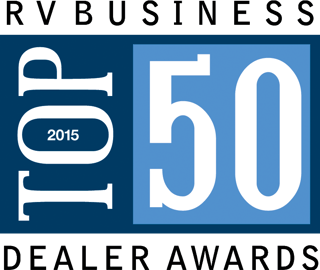 KINGSTON, NH — Campers Inn RV, the nation's largest family-owned RV dealership, today announced it has received RV Business' 2015 Top 50 Dealer Award, which recognizes RV dealers in the United States for excellence, professionalism and business acumen. Campers Inn RV has received the award four times in the five years it has been presented. Campers Inn RV president Jeff Hirsch also received the RVDA Chairman's Service Award, which is presented to those who make a significant contribution to the RVDA and the industry.

"We are honored to be selected as one of the Top 50 RV dealers in the country, and we thank RVBusiness and the RVDA for their support," said Jeff Hirsch, president of Campers Inn RV. "We owe this award to our dedicated employees who commit themselves to giving our customers an incredible experience and helping them realize the dream of the RV lifestyle."
Launched in 2008, the Top 50 Dealer Award is chosen by industry experts from a pool of 300 nominations. RV manufacturers of the US and Canada submitted nominations based on which dealerships they believe most exemplify excellence in their field. Nominees were invited to fill out comprehensive applications based on long-standing guidelines covering all aspects of their businesses, such as customer service and satisfaction, employee training and education, sound planning and property management. An independent panel of veteran industry experts convened for judging at the RV/MH Hall of Fame in Elkhart, Ind., the unofficial "RV Capital of the World," to select the Top 50 award recipients.
"The applications we received this year were, by and large, the most thought-out and thorough that we've seen in the five years we've done this. And that's a direct reflection of the quality of the applicants themselves," stated Sherman Goldenberg, publisher of RVBusiness magazine and founder of the Top 50 program. "More and more top-notch RV dealers have really set their sights on getting this award and are working harder to earn it – this year's competition was the toughest it's ever been. Our 2015 winners should be especially proud of their achievement, and we sure are proud to have them."
RVBusiness presented this year's Top 50 awards during the Recreational Vehicle Dealers Association International Convention Award Reception in Las Vegas on November 4, 2015. Campers Inn RV received the award in 2008, 2010, 2014 and 2015 (no award was presented from 2011 to 2013). In 2010, the company was honored as a "Blue Ribbon Dealer" for being among the top 5 dealers in that year's class. In 2014, the dealership received the Innovation Award, sponsored by Lippert Components, for its customer service initiatives and digital marketing content strategy.
Campers Inn RV operates 13 RV dealerships throughout the eastern United States, and it is celebrating its 50th year in business in 2016. The company is continuing to expand its footprint, and it has opened four new stores in 2015 in Pennsylvania, Virginia, and Georgia. It also celebrated the ribbon cutting of a location in Union, CT.
"As we grow and add new locations, maintaining our core values and a close connection to our customer and employees becomes ever more important," Hirsch said. "This award will serve as a reminder of the standard of excellence that we strive to achieve across the company, and its principles will guide our future expansion plans."
For more information about Campers Inn RV, visit www.CampersInn.com, like Campers Inn RV on Facebook or follow @CampersInnRV on Twitter.