Fifth wheels are a great RV choice for die-hard weekend campers, long-term campers or large families who love to get out and make memories around the campfire.

This RV type is a spacious option for those who want the full RV camping experience and often include luxurious amenities many might think can only be found at home. From bunk beds and island countertops to residential refrigerators and outdoor kitchens, there is something for everyone in a fifth wheel.

With several brands to choose from, all with different lifestyle goals in mind, it can be quite time consuming to find the right fit for you. So, we've pulled together six of some of the top brands in this category for a variety of budgets to help you better understand the offerings available before starting on your own shopping adventure.

Top 5 Fifth Wheel Brands for RVers

Ready to start shopping now? Get a look at these brands' models and floorplans here.

What is a Fifth Wheel?

A fifth wheel, simply put, is a towable RV. They are much larger than a travel trailer or pop-up camper and require a gooseneck hitch that is installed into the bed of a truck.

Fifth wheels also require a much larger tow vehicle than a typical travel trailer and that is a consideration to make if upgrading from a travel trailer or if you currently do not have a heavy duty tow vehicle.

Though fifth wheels are similar to Class A motorhomes in many of the luxury utilities and features, such as a large master bathrooms, residential appliances, washer/dryer hookups and large closets, they have the ability generally to sleep more people and more spacious layouts for the living room and kitchens. And when parked at the campsite, the tow vehicle can be unhooked and used for errands and day trips.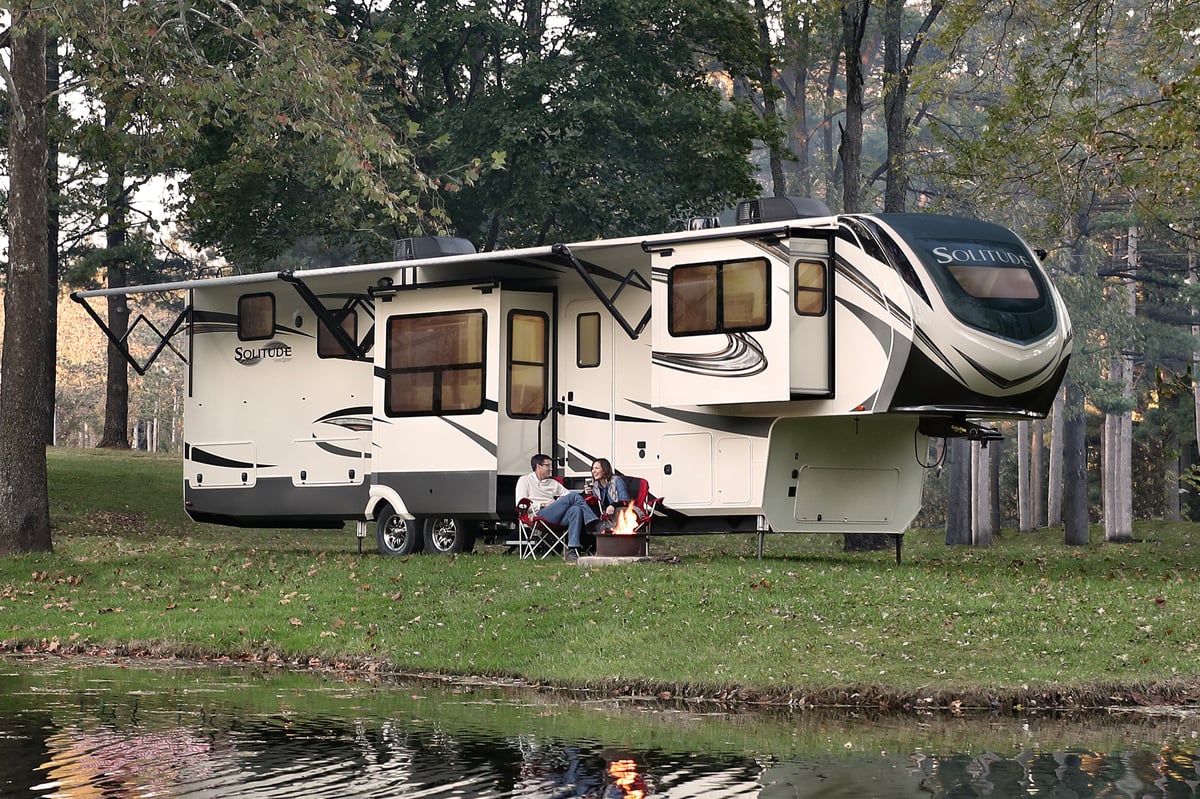 The Solitude, made by Grand Design, has over 10 floorplan options. The manufacturer prides themselves on creating affordable towable luxury extended-stay vehicles.The MSRP for a Solitude starts approximately at $76,648, depending on floorplan and size.
These trailers come in a couple different lengths from 34-feet, 4-inches to 41-feet, 5-inches. The gross weight of these models range between 15,000-16,800-pounds.
The Solitude desires to be the most spacious extended stay fifth wheel and provides that with higher ceilings, 80-inch tall slideouts, large scenic window areas and deeper cabinets than most fifth wheels.
It also offers high-end touches such as hardwood window treatments and pantry door, ceramic tile backsplashes, porcelain toilets and bathroom sinks, as well as decorative glass in cabinets and interior doors.
This fifth wheel come standard with a queen bed in the master bedroom, theater seating and tri-fold sofas throughout the living area that turn into a sleeping space. With this spacious fifth wheel, campers get the bonus of residential appliances. Plus, there is a good amount of storage space in the Solitude. All models include pass-through storage, walk-in master closet and overhead cabinets inside the living and kitchen spaces.
The Weather-Tek construction includes a triple insulated main floor and rigid foam insulation in fully laminated walls. Plus, with a heated underbelly, insulated storage doors and gooseneck, it is easy to keep this RV cool in the summer and warm in the fall.
The Grand Design Solitude packs quite a punch of luxury and common-sense modern construction into its floorplans, making it a great towable for those long-term couple campers who like to have guests and family drop by on the weekends.
Looking for understated luxury for your next vacation? Start shopping for a new Grand Design Solitude here.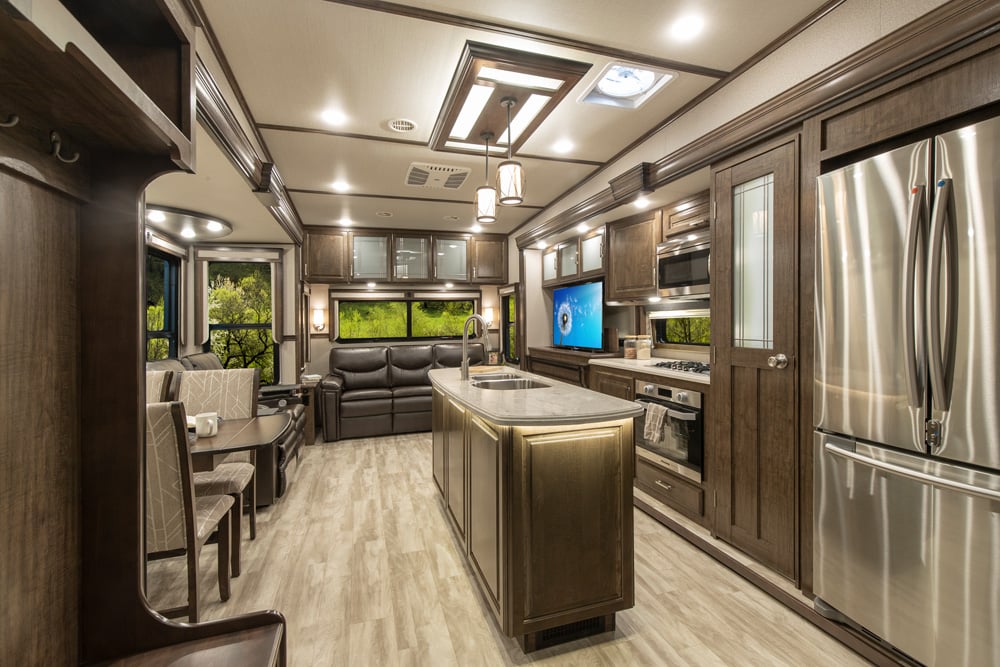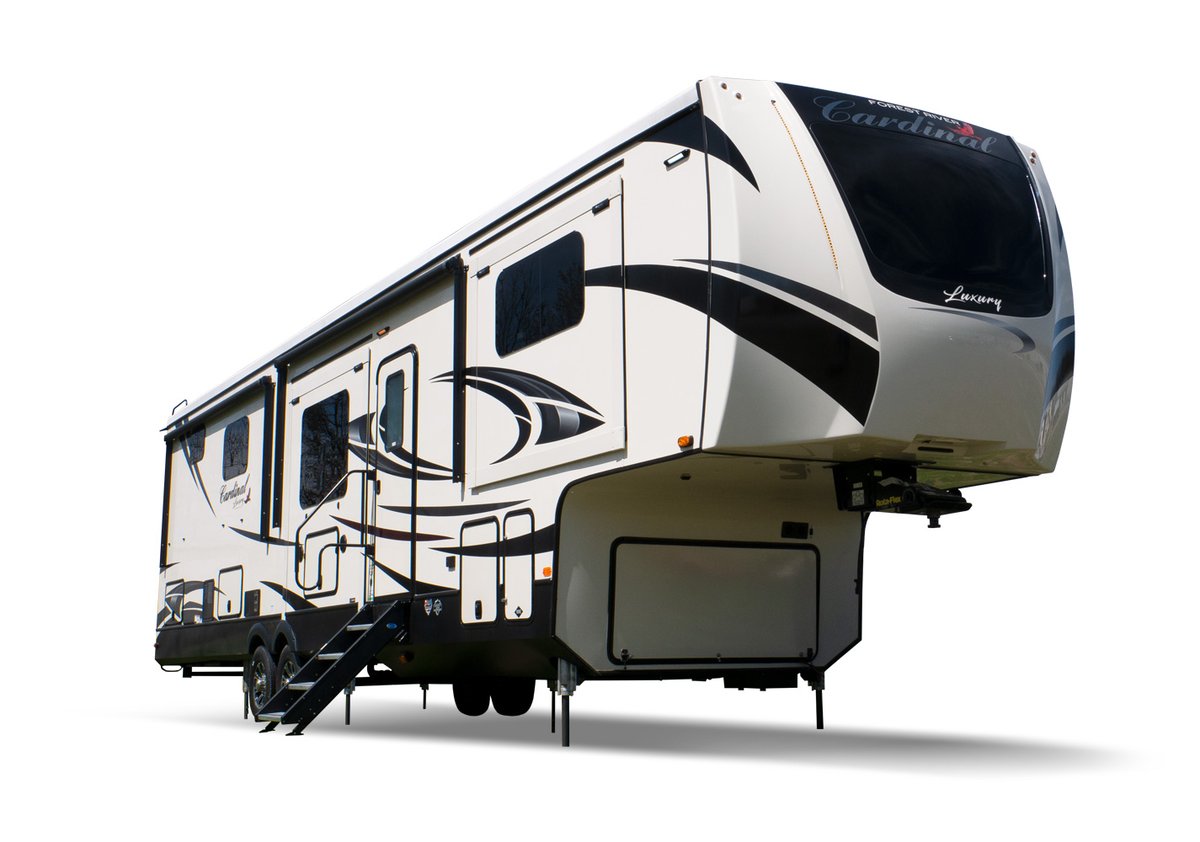 Cardinal Luxury fifth wheel was voted RVPro Best of Show in 2019. According to the manufacturer, they are one of the longest standing fifth wheel brands in the country. This brand has over 15 floorplans to choose from, so campers can easily find the RV that best suits their needs.
The MSRP starts at $79,940 for this luxury fifth wheel. The body lengths range from 34-feet, 11 inches all the way to 41-feet, 8-inches. And gross vehicle weight ranges from 15,500 to 16,780-pounds.
On the inside, there are features like solid surface kitchen and bathroom countertops, a residential shower surround with fiberglass pan and a folding seat inside, upgraded lithium flooring and day/night roller shades.
Some other features the Cardinal offers, includes tongue and groove plywood flooring, crown molding cabinet accents and ceiling trim, solid Baltic Birch wood drawer boxes, a coat closet and Mor/Ryde strut assist entry steps.
This brand offers spacious sleeping areas to include 72x80-inch Serta mattress bed, hide-a-bed sofas, powered theater seating and trifold sofas. The master bedroom has upscale touches such as outlets in the bed, USB ports and nightstands on both sides. Plus, there is privacy wall between the kitchen and the living room, helping reduce noise and provide a more private sleeping area for guests and family on the hide-a-bed sofas.
And don't worry about keeping friends and family entertained, with a 50-inch TV inside and an exterior entertainment center outside, game day just got more fun.
Storage space is not an issue in the Forest River Cardinal. With overhead cabinets, walk-in pantry with drawers, pass-thru storage, wardrobes and closet, campers can confidently bring what they need to be comfortable on the road.
The exterior of this RV is just as great as the interior with a bike hitch, outdoor entertainment center and outside shower.
The Cardinal is constructed with high-gloss colored fiberglass, molded high-gloss gel coat fiberglass, 45-degree enclosed wrap skirting and slam-latch insulated doors with high-gloss fiberglass, giving it is shiny, high-gloss appearance any camper would be proud to display at the campground.
The Forest River Cardinal has many great features and with their wide selection of floorplans, there will not be a problem finding the right one for you.
Looking for a luxe fifth wheel to travel the country in? Start shopping for Cardinal fifth wheels here.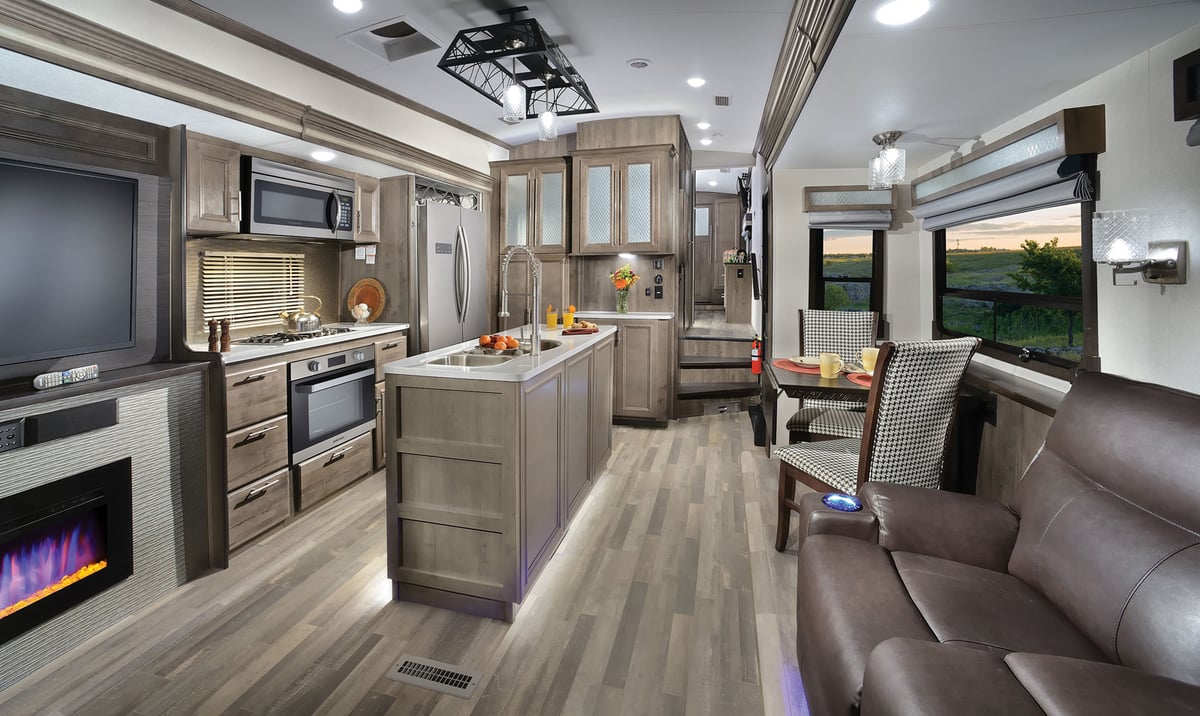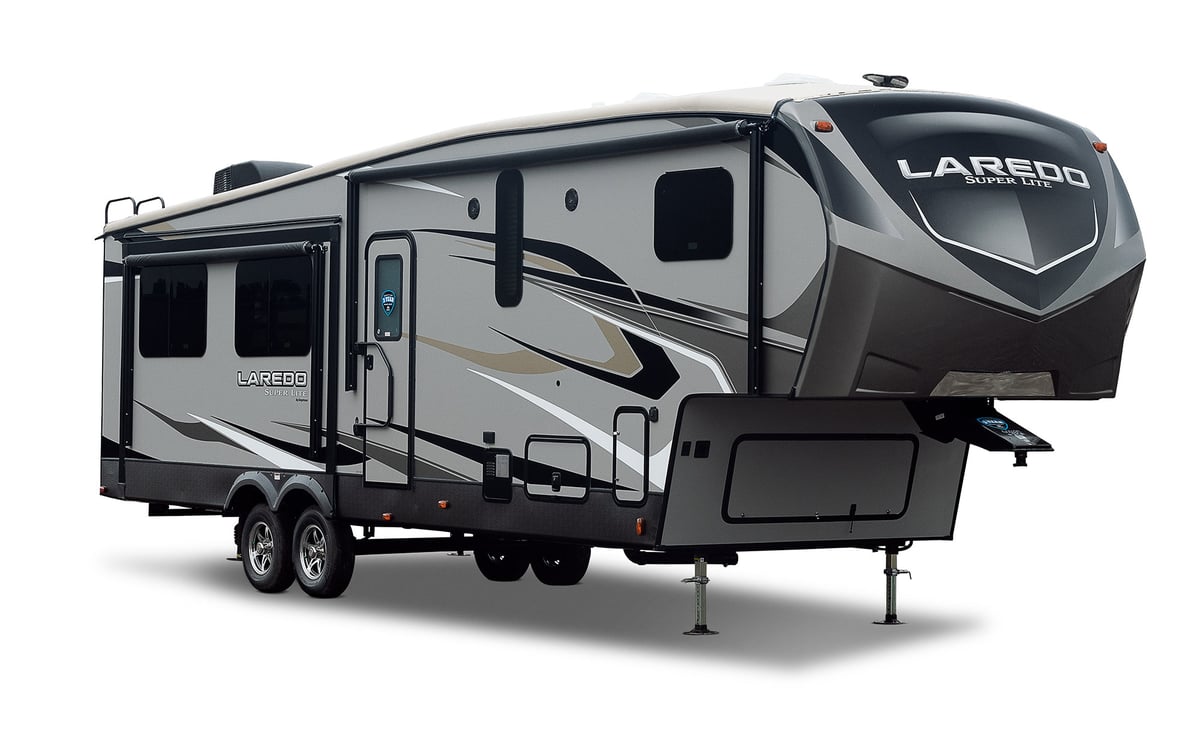 With 14 floorplans to choose from, the Keystone Laredo is a mid-luxury fifth wheel with a wide selection of affordable models in a multitude of lengths and weights, whether you are a newlywed, family of teenagers or empty nesters.
From 27-feet all the way to 42-feet, there is a model available that fulfills most RVers' camping goals. The Laredo MSRP starts at around $43,000.
A few of the interior features include solid wood mortise and tenon cabinets, a modern electric fireplace and trifold sleeper sofas. The kitchens have Furrion appliances, solid surface countertops, stainless-steel sink with cover and water-resistant HyperDeck vinyl flooring that resists soft spots and is exclusive to Keystone.
Other deluxe features include arched ceilings for added height, large residential-sized showers, foot flush porcelain toilet and LED interior lights.
With a master king bed in larger models, some floorplans also include bunkbeds or tri-fold sofa to comfortably sleep up to 10 people. All the floorplans include a private master bedroom with the bathroom in the middle of the RV for easy access for all.
Storage space is never lacking in the Keystone. All models include lighted pass-through storage, overhead storage cabinets, pantry with drawers and wardrobe closets in the master.
The outside of the Laredo has a lot to offer, as well. It has adjustable extended hitch pins, back-up camera prep, solar panel prep, sleek frameless windows, exterior shower, with cold and hot water, and other great features. There is also an outdoor kitchen that is equipped with a fridge, stovetop and 32-inch television.
The Keystone Laredo is great for long-term or short-term campers and has great options for variety of budgets and lifestyles to get campers on the road.
With a range of options for your next road trip, start shopping for the perfect Keystone Laredo here.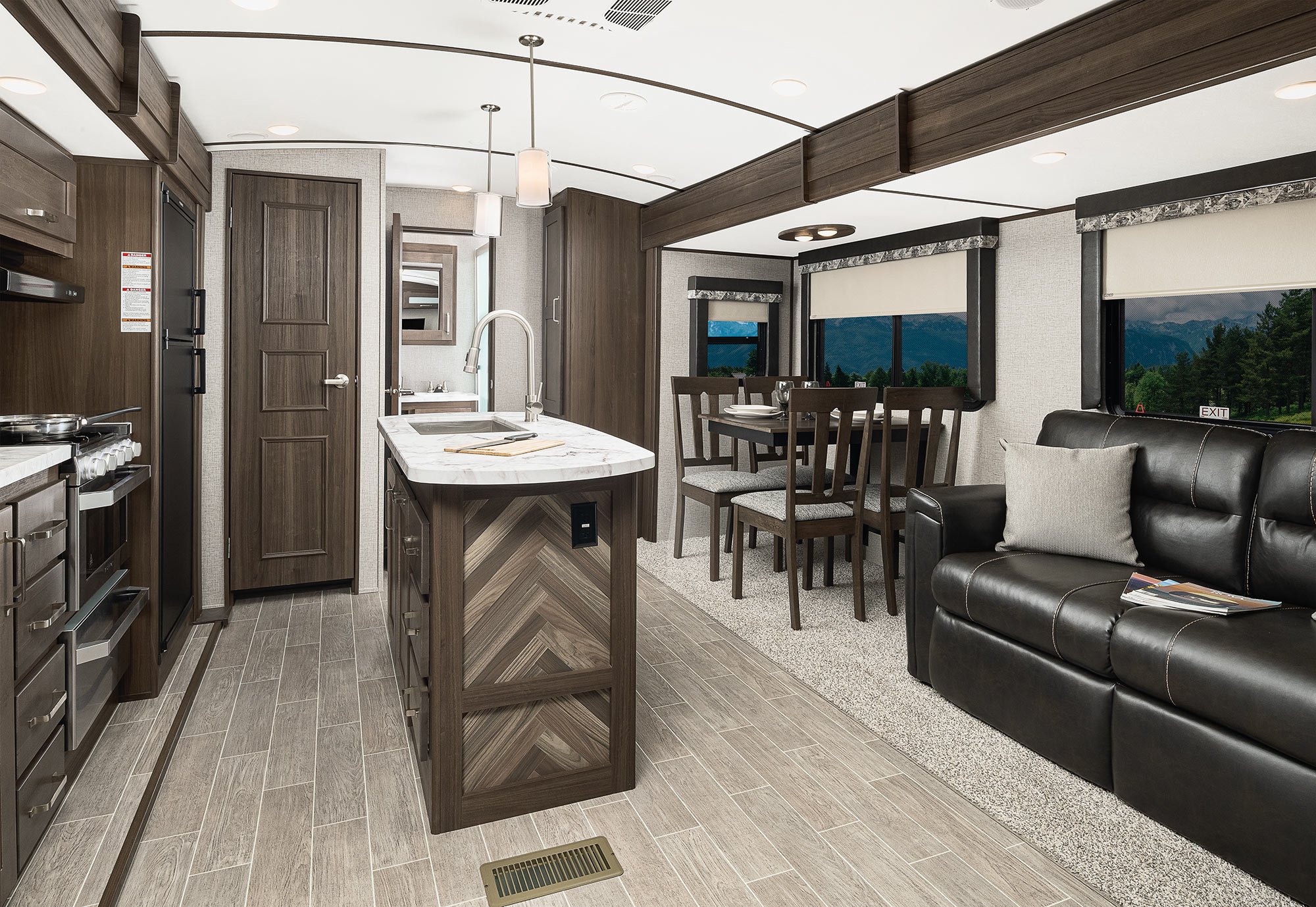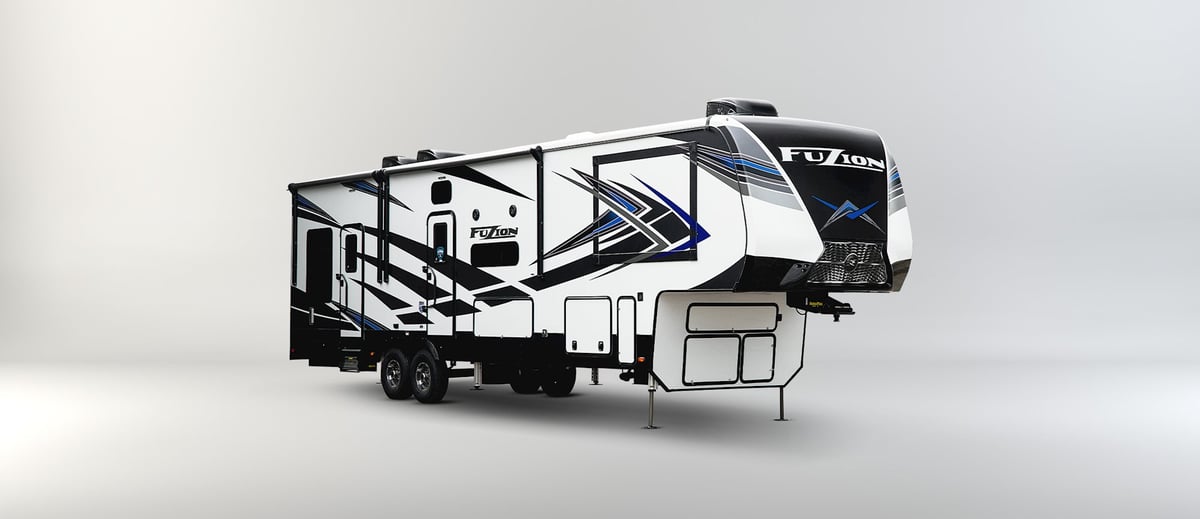 Fuzion Fifth Wheel Toy Haulers is a thrill-seeker's dream RV.
Fuzion's focused design includes such items as OmniChill, Glide-A-Beds and Super Storage. And with several floorplan options to provide sleeping capacities rang anywhere from two to eight people.
These toy haulers have a starting MSRP of $97,209. The gross weight ranges from 13,646 to 16177-pounds. The length ranges from 39-feet to 44-feet.
Some of the premier features include residential cabinet hardware, premium Jensen Bluetooth compatible stereo with CD/DVD player, meaning all electronic components are tested to endure vibrations, UV exposure and humidity and temperature fluctuations that can occur when camping in different geographical regions.
And the 2020 interior has more modern design. With farmhouse cabinets, flooring and lighter color accents, it's easy to make the Fuzion feel just like home. An added bonus of this RV is no carpet within the living space of the RV, making it easier to keep the dirt outside where it belongs.
In the garage, low-rise aluminum garage entrance makes loading outdoor toys easier and a spring-assisted garage door opens and closes weightlessly. The flexible garage space also doubles as a porch with a side entrance and a bunkroom when toys are unloaded at the campsite.
The Fuzion's construction features include such as attic vents, crush-resistant insulated A/C ductwork with OmniChill units to reduce air leaks and boost cooling efficiency, so RVers' have better control over the temperature inside during the warmer months. For colder months, in-floor heating ducts have been installed to evenly distribute the heat. These construction features will make keeping the temperature just right a non-issue during any season of the year.
The storage in a toy hauler is always spectacular with the additional garage space, but the Fuzion steps it up a notch to include overhead storage above and under the bed thanks to the GILDE-A-BED system, which allows the bed to glide to the center of the room for walk-around access, cabinetry along the living room and the garage storage. There are also three pantries, so bring all the family's favorite snacks and always have what you need to whip up a meal at the campsite.
Outside of the Fuzion, unique elements include a hook up convenience center with easy-to-read instructions, which take the guesswork out of the first-time camping experience for connecting to water/sewer or hunkering down with dry camping. The center even makes prepping your RV's plumbing for winter storage easier. Plus, with the Fuzion's added utility storage, specially designed for storing maintenance items, chemicals, liquids with a workstation to include 110V outlets, maintaining the RV or powersport toys just got easier.
The exterior features include aerodynamic painted front cap with key-shield, suspension to ensure a smoother more stable towing experience, frameless tinted windows, collapsible roof ladder, entry door folding assist handles with padding and a dual power awning with LED lighting.
With all these great amenities and floorplan options, it is safe to say the Keystone Fuzion is a great choice for thrill seekers who are looking for adventure.
With options galore, the Fuzion is an attractive fifth wheel. To start shopping for a Fuzion today, click here!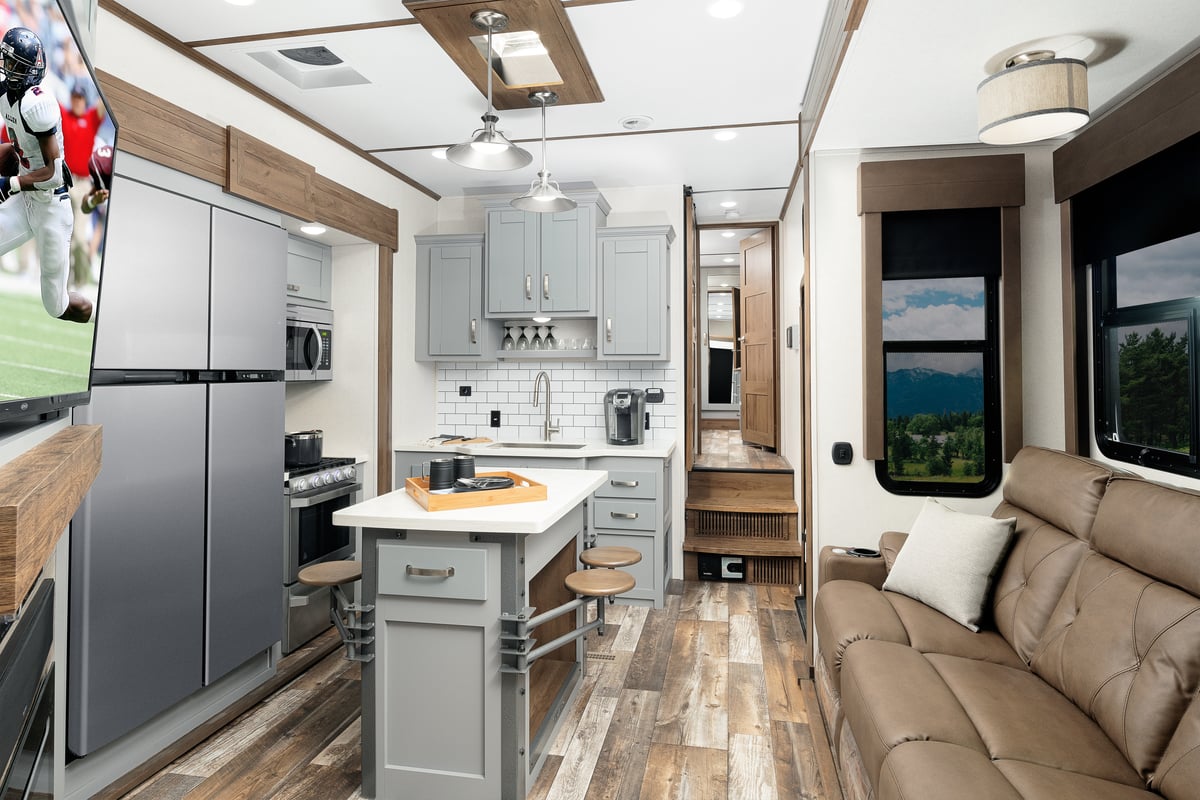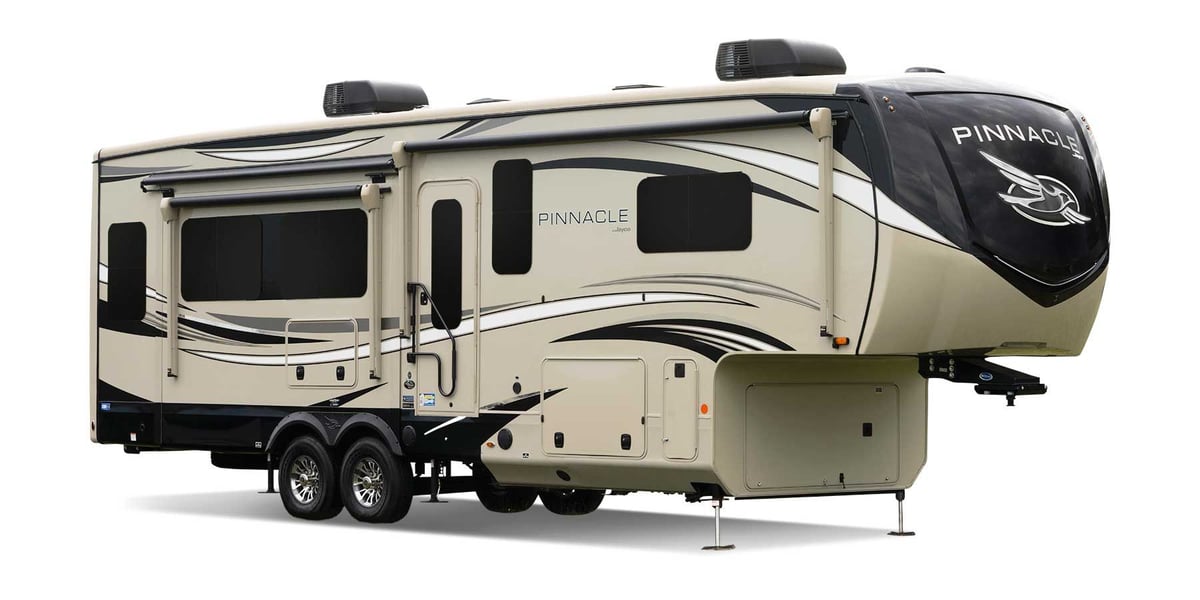 The Pinnacle is one of Jayco's top fifth wheel brands. There are six floorplans with gross weights from12,585 to 14,330-pounds and lengths starting at 36-feet, 6-inches all the way to 41-feet, 9-inches. The MSRP starts at $97,983.
The sleeping capacity ranges from 3-8 people depending on the floorplan. Each Pinnacle includes the Jayco-exclusive 5-Star Handling Package smoother tow and maximum safety on the road and a MORryde rubberized suspension system to better absorb and isolate road shock
Luxurious details within the interior upgrades of Pinnacle for its opulent includes 21-cubic-foot residential refrigerator, a gas-strutted under-bed storage, crown molding with LED lighting, soft-close drawers that bear up to 75-pounds and exterior marine-grade speakers.
The exterior of this RV is decked out with Stronghold VBL aluminum framed ad vacuum bond laminated gel-coated fiberglass exterior walls, Jayco's exclusive construction that bonds walls together under 16 minutes of 144-tons of pressure. And with Climate shield, Pinnacle fifth wheels help protect campers in extreme weather conditions and make it easier to regulate the temperature in high heat and freezing temps.
Jayco is known for its 2+3 warranty. Two-year limited warranty covers two camping seasons and the 3-year structural warranty covers three camping seasons.
From its interior to its exterior, Pinnacle fifth wheels provides features that are not only convenient, but also luxurious.
Ready to find a Pinnacle fifth wheel model right for your next adventure? To start shopping today, click here.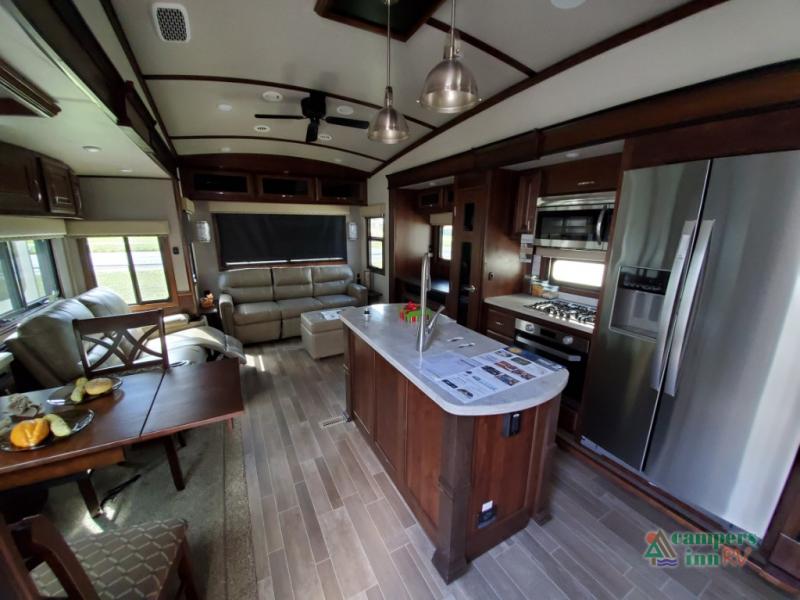 In Conclusion
Fifth wheels offer a lot of flexibility, space and luxury for families looking to spend weekends and summers on the road. A few things to remember is these fifth wheels come in longer lengths and heavier tow options that will require the right tow vehicle and may limit some campground options that have length requirements, but the investment can reap benefits when it comes to comfort and amenities to take your camping adventures to the next level.
Ready to start shopping now? Start browsing top Fifth Wheel RVs here.
More RVer Resources
Are you new to the camping life? Check our blog on packing as a first-time campers. We made a list of everything you need to be ready. Click here to read more.
Looking for a fifth wheel with front living rooms? Check out this blog.