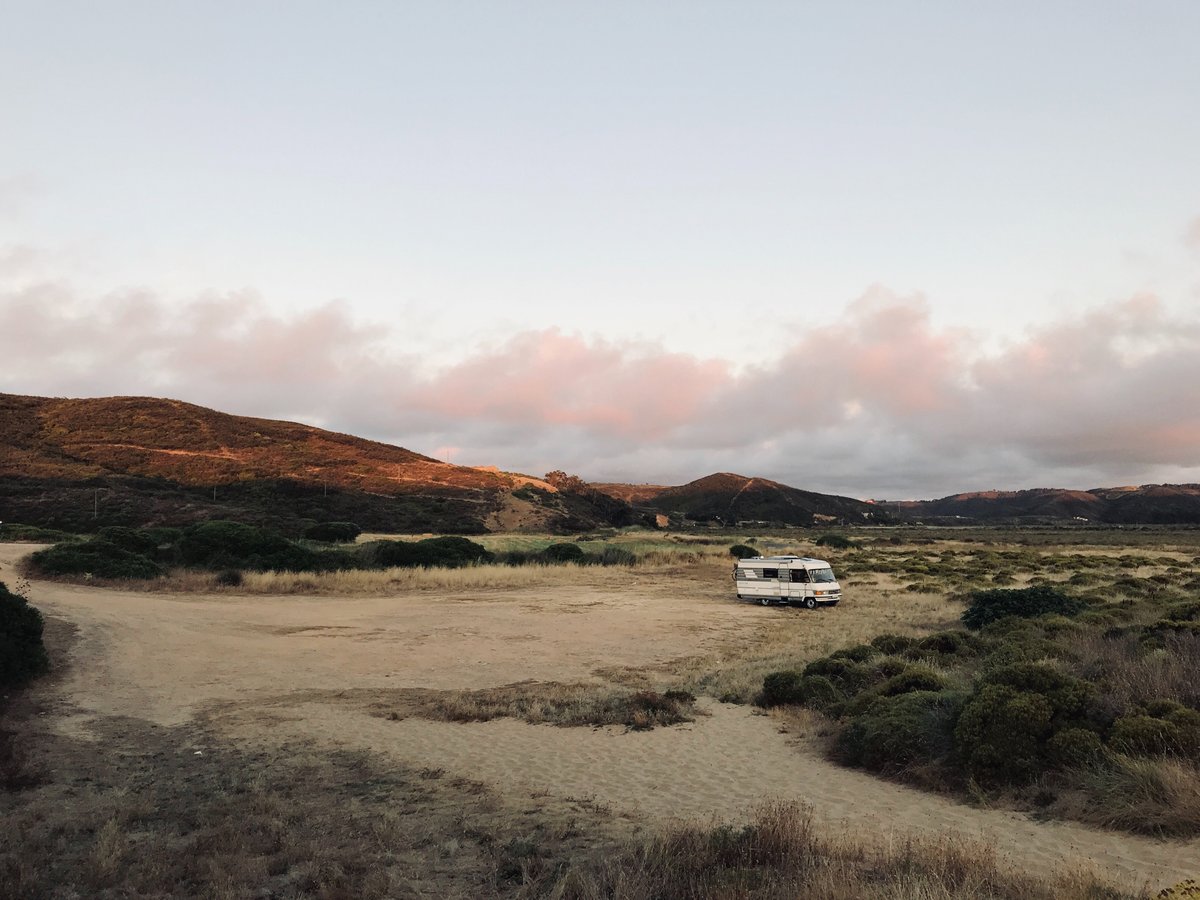 The holidays are busy times filled with family, friends and traveling. With the season winding down, you may have felt excitement wear off and the post-holiday stress begin to set in. You may even be thinking about your next vacation, some alone time for pure relaxation. If you have already started planning your getaway- there is no better way than with a Class A motorhome.
What is a Class A Motorhome?
One of the main differences that distinguish Class A, Class B and Class C motorhomes are the frames that the vehicles are built on. Class A motorhomes are some of the largest vehicles on the road. They are built on the same chassis- or frame- as buses and commercial semi-trucks and therefore are comparable in size. They are made to be heavy-duty, with a strong and reliable frame, similar to that of an 18-wheeler. They typically range anywhere from 25-45ft in length, and most have a towing capacity of up to 5,000 pounds, with the exception of Diesel Class A's, which can tow up to 10,000 pounds.
Class A Motorhome Interior
When it comes to the interior, they are packed with amenities to make it feel like home. The drivers' seats are at the front and as with most vehicles, there is a seat for a driver and a passenger. Unlike other vehicles, however, the back of a Class A motorhome is incredibly spacious, with a lot of room for passengers to stretch out. They will often include some form of a kitchen, bathrooms and sleeping arrangements. This could look like a bed within a bedroom, with other pull-out overhead sleepers. There will also be other seating options like more car seats, a couch, and a small area for dining inside. With so much power and so much space, Class A motorhomes can run on the pricier side compared to other types of campers, but you get a top-rate, luxurious home away from home in return for what you pay. If a classy, comfortable living space for you and your family is your main priority while camping, a Class A motorhome is the way to go.
Class A motorhomes vary in their specs and abilities. With so many unique types out there, all with different budgets, features, and functions, there is truly something to fit everyone's needs.
A great all-around luxury Class A motorhome to consider if you are concerned with comfort is the Newmar Bay Star. This model is jam packed full of amenities like leather swiveling chairs for the driver and passenger, a rear private bedroom with queen bed slide-out, stainless steel kitchen appliances including a recessed 3 burner cooktop and microwave, and a 3-seat couch to name a few. You won't even have to miss your favorite shows on the road, because the Bay Star comes with Samsung LED TVs in the living room area and bedroom. This model sleeps up to 5 and delivers a smooth ride with the 7.3-liter V8 engine with 450 HP. It has a fuel capacity of up to 80 gallons. With tons of customizable options to further your luxury experience, such as the addition of a Whirlpool refrigerator, the Newmar Bay Star is a fantastic option to create your own personal home on the road.
Shop available Newmar Bay Star RVs here.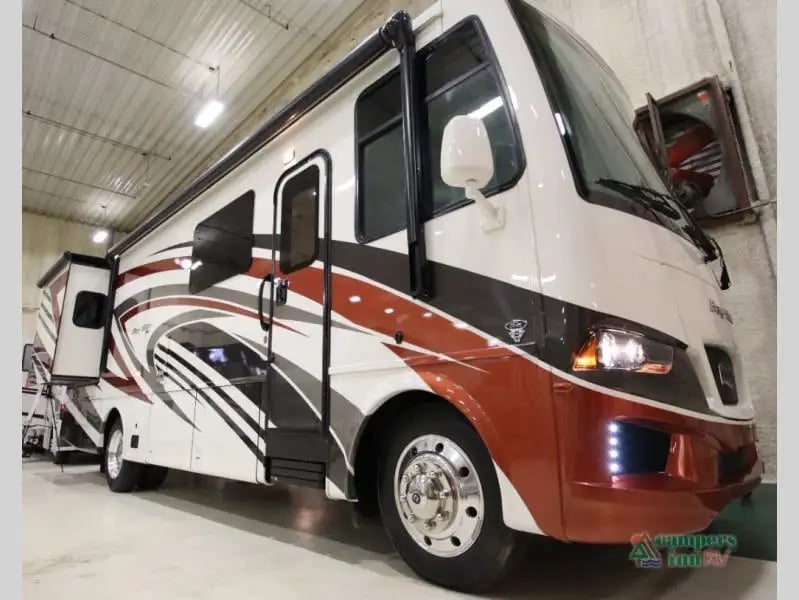 Based on Stock #75845
Another top pick if you are looking for a Diesel Class A motorhome and traveling with a larger group is the Coachmen Sportscoach. The Coachmen Sportscoach is a slightly larger model to the Bay Star, with the ability to sleep up to 7. It can hold up to 90 gallons of fuel and holds a 340 HP ISB Cummins Rear Diesel Engine. This powerhouse is going to offer a better towing capacity than a typical Gas Class A motorhome, and it is still a great option for a smooth ride, as it provides chassis air suspension and air brakes. There is no lack of luxury on the road in the interior, either. The Sportscoach includes a master suite with a king bed slide out, full bathroom, hamper and linen storage. Other sleeping arrangements include a sofa bed and drop-down overhead bunk, with a half bath for the guests. An interesting facet of this model is exterior entertainment as well, with an exterior power awning and TV to help you camp out in style.
Shop available Coachmen Sportscoach RVs here.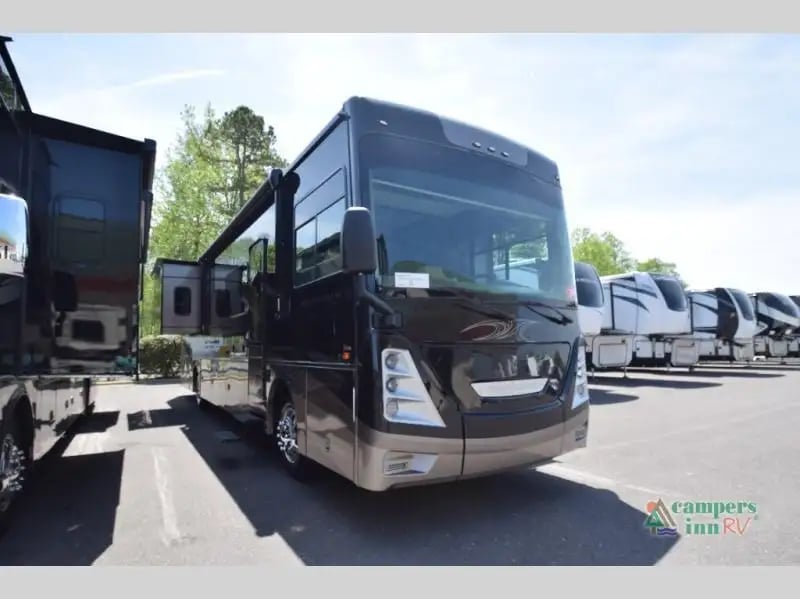 Based on Stock #57552
If you are in the market for something with a similar fuel economy but potentially less maintenance, look no further than the Forest River RV FR3! The FR3 sleeps 5, but also features a master suite with a king bed similar to the Sportscoach. A Gas Class A motorhome really shines in terms of maintenance and repairs. It's a better option for campers who like to "DIY", as most fixes with a Diesel Class A will require the help of an experienced diesel mechanic. This option will get similar fuel efficiency to the other Class A's, with a fuel capacity of 80 gallons. The FR3 also offers a ton of storage, with an exterior pass-through cargo compartment in the rear for all of your camping gear! The interior still offers comfort and style, with a full and half bath, kitchen, and theater seats for relaxing while watching the LED TV.
Shop available Forest River FR3 units here.

Based on Stock #59301
Last but definitely not least, if you are looking for something with more hauling capacity for all your outdoor accessories, like bikes, kayaks and ATVs- check out the Thor Motor Coach Outlaw Class A Toy Hauler! As the name implies, this model is built with a separate outdoor garage to haul all of your favorite outdoor recreation equipment along with you, so you don't have to worry about another extra rack or taking up space in the main coach! The extra storage doesn't come in exchange for luxury though, with the inclining king bed in a private bedroom, 72" dinette, and dreamy reclining/swiveling captain's chairs, you will still be able to enjoy comfort on the road!
Shop available Thor Motor Coach Outlaw units here.

Based on Stock #77285
No matter what you are looking for in your camper, there is a Class A out there designed for everyone. When you are ready to take the leap and purchase one of the most comfortable camping vehicles on the road, Campers Inn has got you covered! For the month of January, receive a $1,500 fuel and 0% down when you purchase select new Class A motorhomes.
*Offer may vary by location. Cannot be combined with any other incentive. Subject to vehicle availability. Please see dealer for complete details. Offer valid through 01/31/2023.
More like this:
Explore Coachmen Catalina Travel Trailer Floorplans