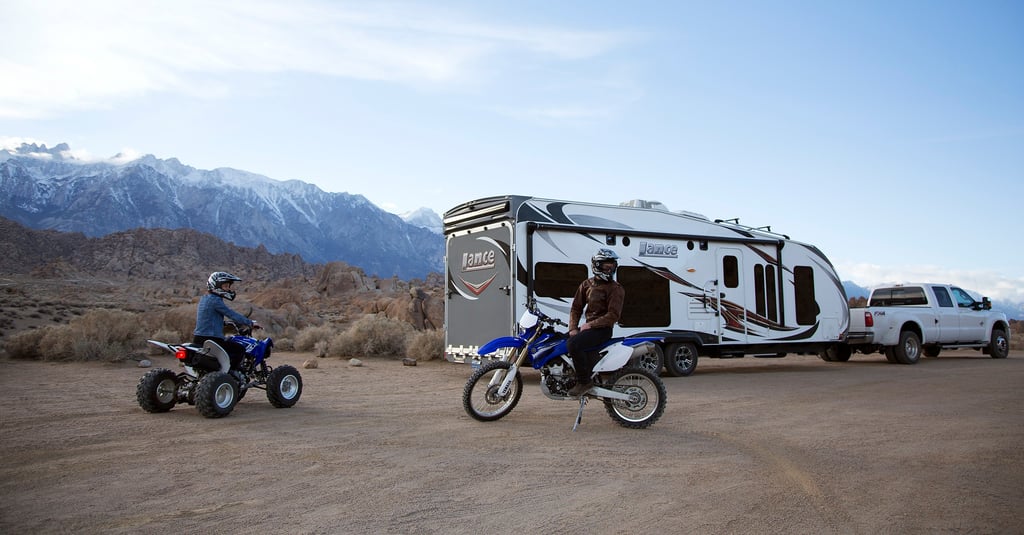 Every summer weekend, ATVers, motorcyclists, kayakers and other outdoor lovers head out to enjoy the mountains, lakes and trails of the countryside.
Yet, from loading unwieldy equipment racks to sitting in rush hour traffic, getting to their destinations can be a hassle. That's where toy haulers come in handy.
For adventure lovers, a toy hauler RV combines a mobile living space and an equipment hauler into a convenient, all-in-one package. It helps reduce the time spent loading items, and it provides a place to sleep, so travelers can beat the traffic and spend more time outdoors.
If you are looking to make the most of your weekend trips, keep reading to see if a toy hauler is right for you!
What are toy haulers?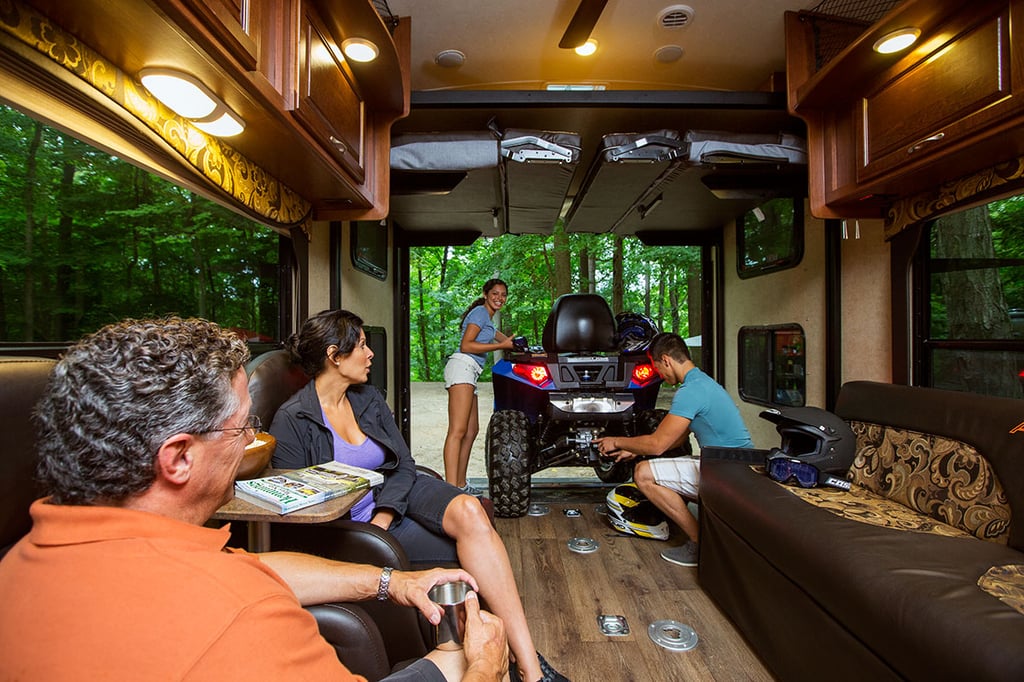 Toy haulers are RVs with a dedicated garage space for carrying outdoor recreation "toys," like dirt bikes, canoes, mountain bikes, kayaks and ATVs. They eliminate the need for an extra rack or trailer, and they make packing for an RV trip much more efficient.
Toy haulers come in all shapes and sizes, including Class A and Class C motorhomes, spacious fifth wheels and compact travel trailers.
Often, they will feature a main living area with a kitchen and a bed, as well as a garage space which converts into a sitting room with fold-down couches. Larger models can include a fixed living room with an additional storage space behind a door. Smaller models can opt for a flip-down bed in the garage instead of couches.
The back of a toy hauler opens up to serve as a ramp for loading your equipment, and, on some models, it can be raised up to make an open-air porch.
Who are they for?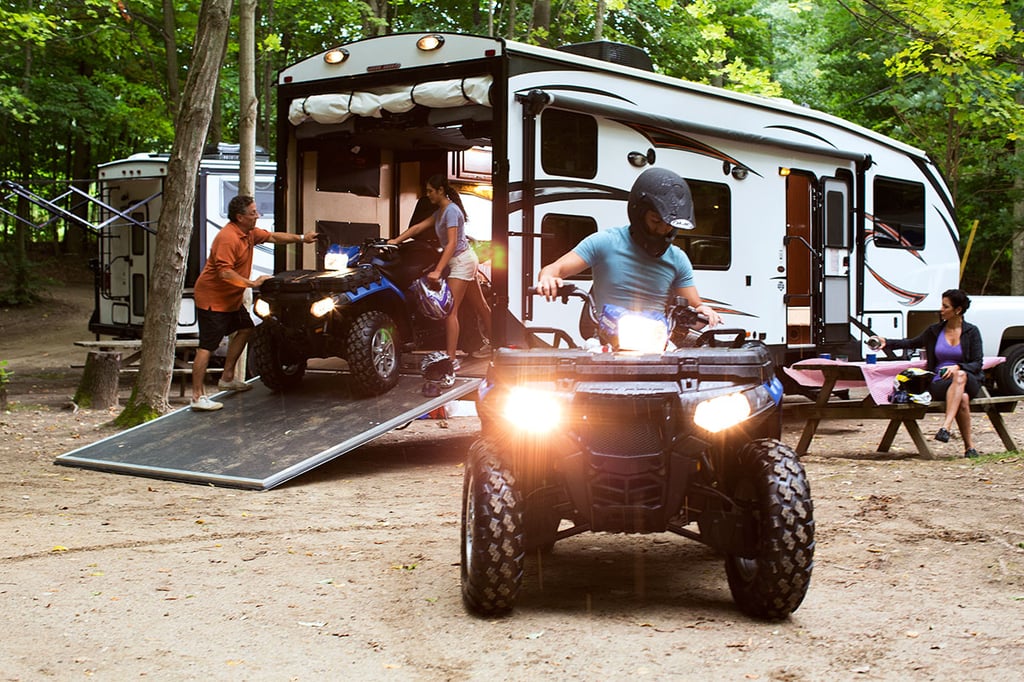 Outdoor recreation lovers: Whether you love to ride the trails on your ATV or fish on a quiet lake in your canoe, a toy hauler will help you make the most of your trip. With a bed and a kitchen, you'll be able to set up camp closer to your destination and spend more time enjoying your favorite activities.
Motorsports enthusiasts: For those who compete in motorsports, a toy hauler will give you a mobile base of operations for your meets. You'll be able to conveniently pack, store and transport your equipment, and you'll have a space to refresh, wash up and cook a meal after the competition.
Motorcyclists: A toy hauler will help motorcyclists take their beloved bikes with them on all of their adventures. Imagine zipping away from your campsite to explore the surrounding area with the wind at your face.
Tailgaters: Tailgaters can create the ultimate party headquarters with a toy hauler that features an open-air patio. The garage provides ample room to pack all your game day essentials, like your monster grill and all your homemade props. The patio will give you extra space to celebrate your team at the stadium.
Special considerations:
Securing your toys: Make sure to consult your dealer and owner's guide to learn how to properly load and tie down your toys for a safe trip.
Staying clean: While some toy haulers have a wall or door between the garage and the main living area, it is important to remember your toys will be getting muddy and wet, so make sure you have a good cleaning plan.
Towing your RV: For travel trailers and fifth wheels, make sure your vehicle has enough towing capacity for the toy hauler you want. If not, research a vehicle that would fit that requirement.
Are you interested in exploring other RV options? Download our free motorhome and towable RV guides today!
All photos courtesy of GoRVing.com.