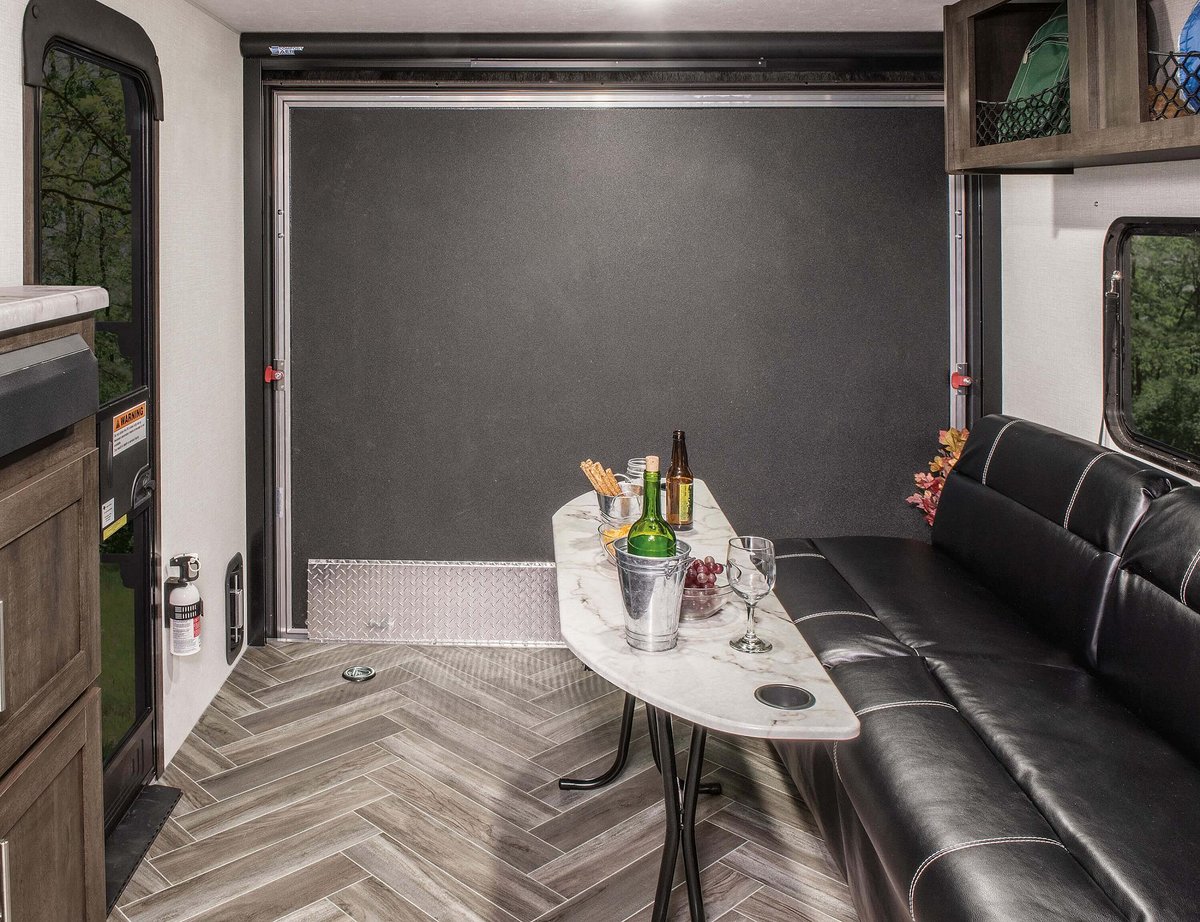 When you're a camper who loves to travel with equipment and toys to camping spots and parks, it's important to be able to bring it all with you. A lightweight toy hauler travel trailer is perfect for the job, as it can fit your biggest bits of gear inside, but is still light enough, so it can be easily towed to your next adventure.
Toy Hauler Travel Trailers vs. Regular Travel Trailer
You might be struggling to decide between a toy hauler travel trailer and a regular travel trailer and which one would fit your lifestyle better. They both offer different things so it's best to do your research on each type before deciding.
A toy hauler travel trailer gives you extra space like a garage to store and travel with your favorite sports equipment or toys. The space is flexible and can be used as an additional living or sleeping space when not being used as a garage, as toy haulers usually include a pull-down bed or fordable dinette feature.
A regular travel trailer will give RVers the option to have more interior space and features such as a bunkhouse, extra beds, larger kitchen or common area.
If you prefer to camp with more people, a regular travel trailer might be a better fit. If you are a camper more interested in hauling along your favorite toys, equipment and gear, a toy hauler might be the best choice.
The Four Best Toy Hauler Travel Trailers
Forest River XLR Hyperlite 19HFS
Coachmen Catalina Trail Blazer 26TH
KZ Sportsmen LE 270THLE
Forest River Cherokee Grey Wolf 22RR
1. Forest River XLR Hyperlite 19HFS - Starts at $45,459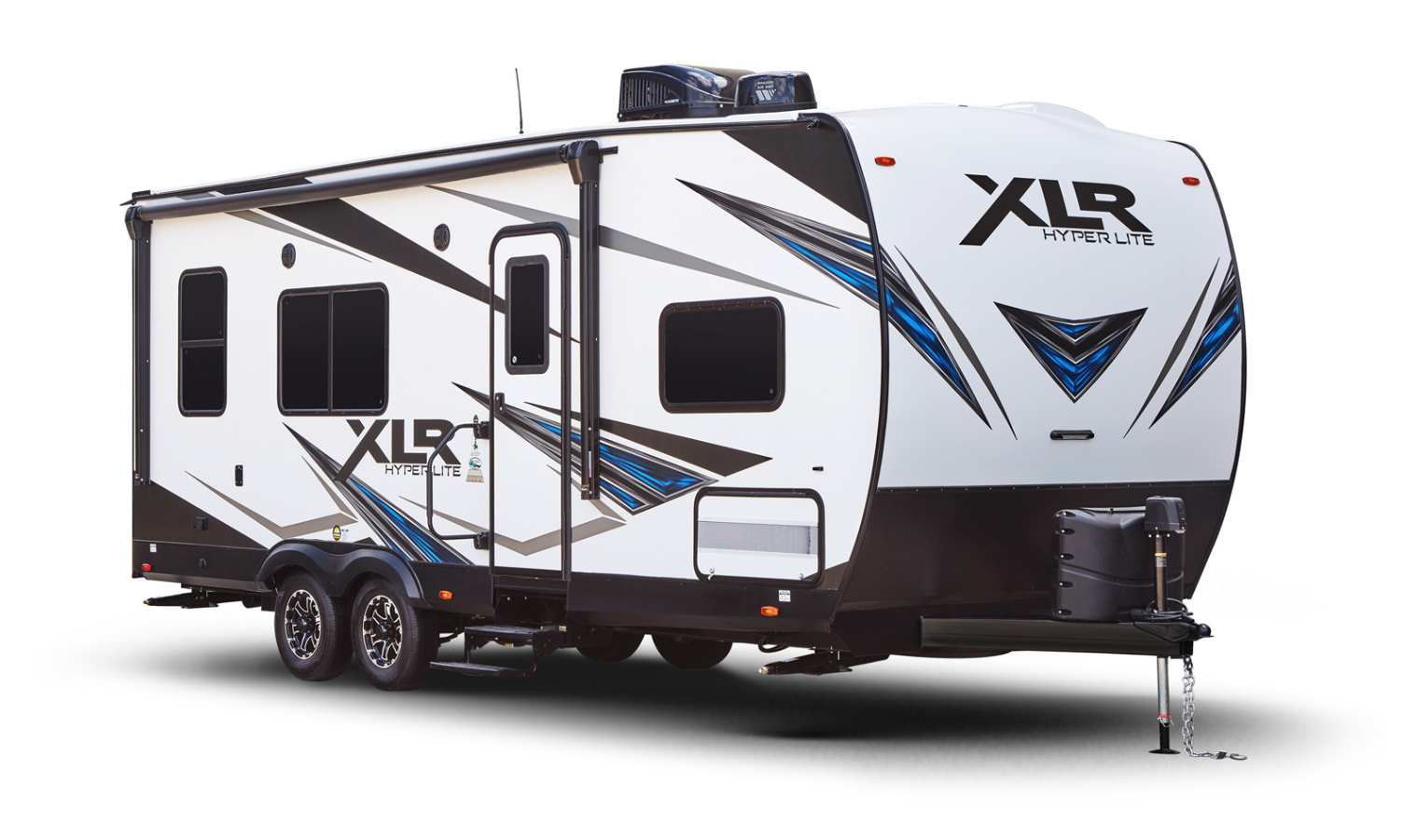 Your favorite outdoor toys and gear will be along for the ride on every camping trip with the Forest River XLR Hyperlite 19HFS. This toy hauler travel trailer is 28-feet in length with an unloaded vehicle weight of 5,272 pounds and cargo-carrying capacity of 2,528 pounds. Its features include the extra storage space, the versatility of the garage space and the construction of the RV.
The XLR Hyperlite has a 12-foot garage space that can hold big items such as jet skis, kayaks, four-wheelers and more. There is a spring assist ramp door that comes down easily to roll your gear in and out of the trailer. It can also hold extra little things you might need to pack such as helmets, fishing gear, or portable gas tanks.
The garage space doesn't have to be used as storage space if that is not currently in use. This is a very versatile space within the garage area. Because the floor and ramp door are insulated, it can be used as a bedroom for extra guests or large families or an indoor dining space. There is an electric bed or pass-thru dinette. The garage area also has TV and cable connections for convenient entertainment hook ups.
The construction of the RV allows for a safe camping trip with easy maintenance and upkeep. It has a fully walkable, singular roof membrane with a 12-year warranty. The freshwater tank holds 54 gallons and the gray and black water tanks each hold 32 gallons. To keep cool on hot summer days, there is a 15,000 BTU ducted AC distribution center.
The Forest River XLR Hyperlite allows for couples, families or friends to take the adventure of a lifetime with the opportunity to haul along their gear and equipment.

2. Coachmen Catalina Trail Blazer 26TH - Starts at $32,883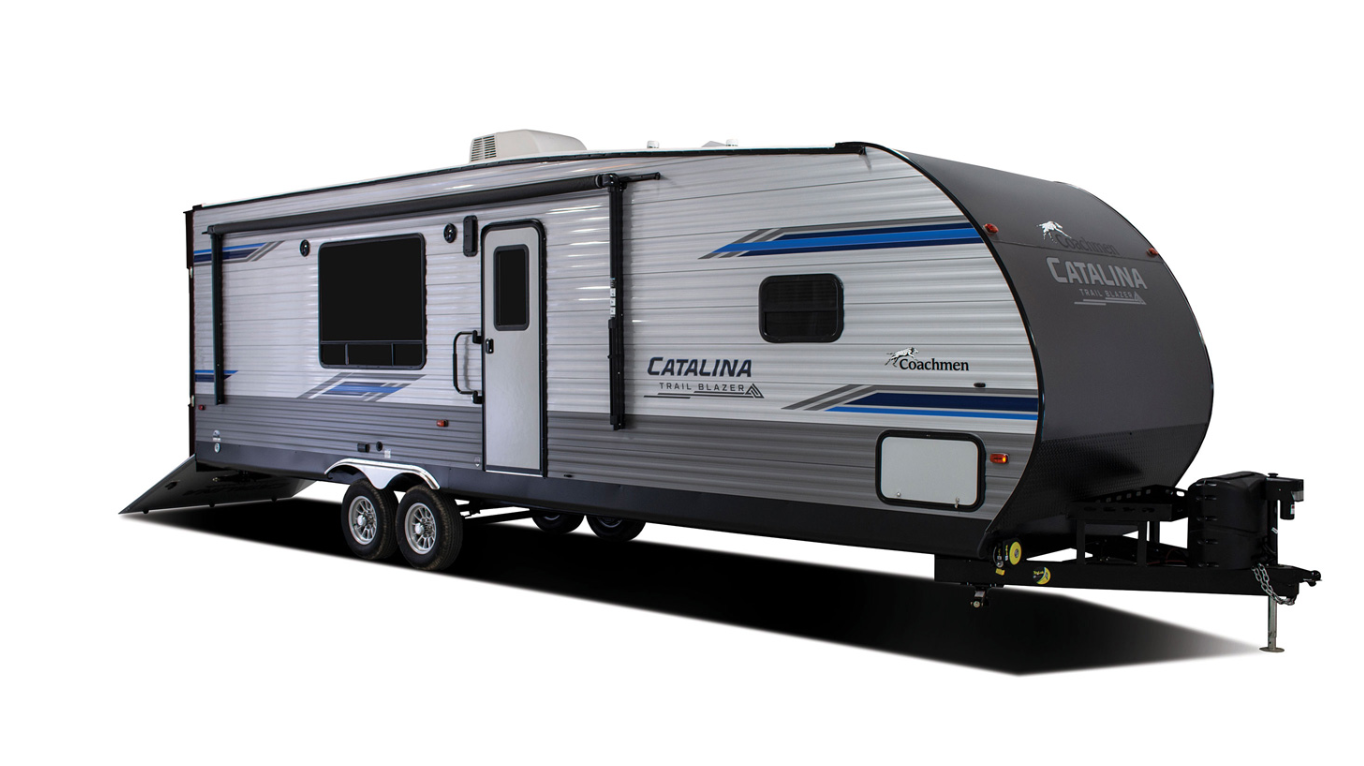 The Coachmen Catalina Trail Blazer 26TH is a great toy hauler travel trailer for campers who love to feel just like they are at home while camping at their favorite parks. This trailer has an unloaded vehicle weight rating of 5,486 pounds with a cargo-carrying capacity of 2,414 pounds. It is a 29-foot, 10-inch-long travel trailer with plenty of space to bring everything you need.
The Catalina Trail Blazer offers a ton of great features in the kitchen for campers who love to cook. The kitchen has a power tower with two USB ports, two 110 outlets and a 7-cubic-foot gas/electric fridge.
It also has a deep basin undermount farm-style sink and residential kitchen faucet with pull down sprayer to make washing large dishes easy. To help keep things organized, the kitchen also comes with a specific silverware drawer. The mosaic glass tile backsplash in the kitchen adds a nice touch to the décor.
The exterior of this toy hauler travel trailer has rain gutters with drip spouts and four stabilizer jacks to ensure a stable and secure camping experience. The freshwater capacity is 44 gallons, the gray water capacity is 40 gallons and the black water capacity is 30 gallons.
The Catalina Trail Blazer offers everything you need and so much more to make your vacations feel comfortable and safe every time.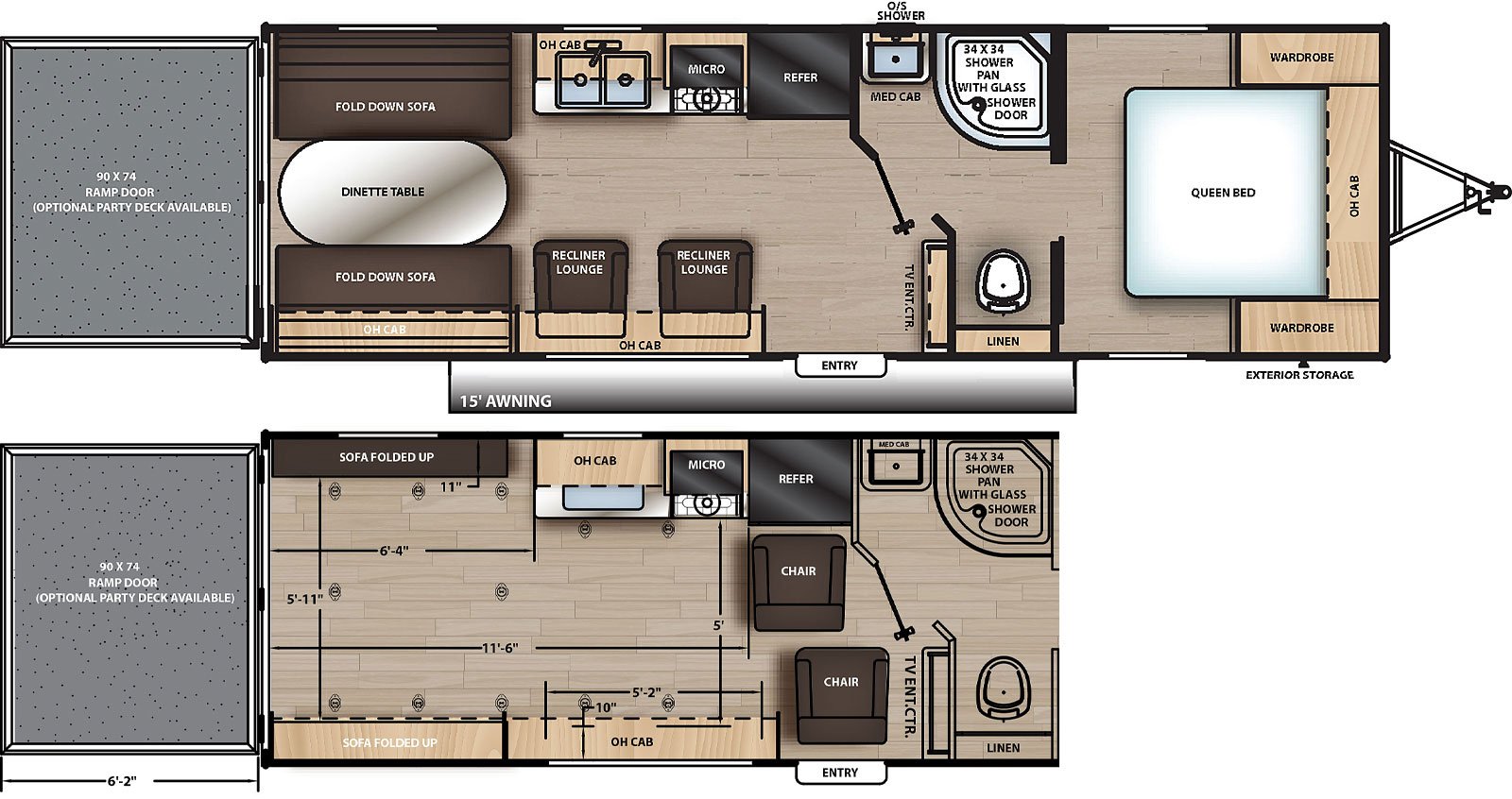 3. KZ Sportsmen LE 270THLE - Starts at $33,589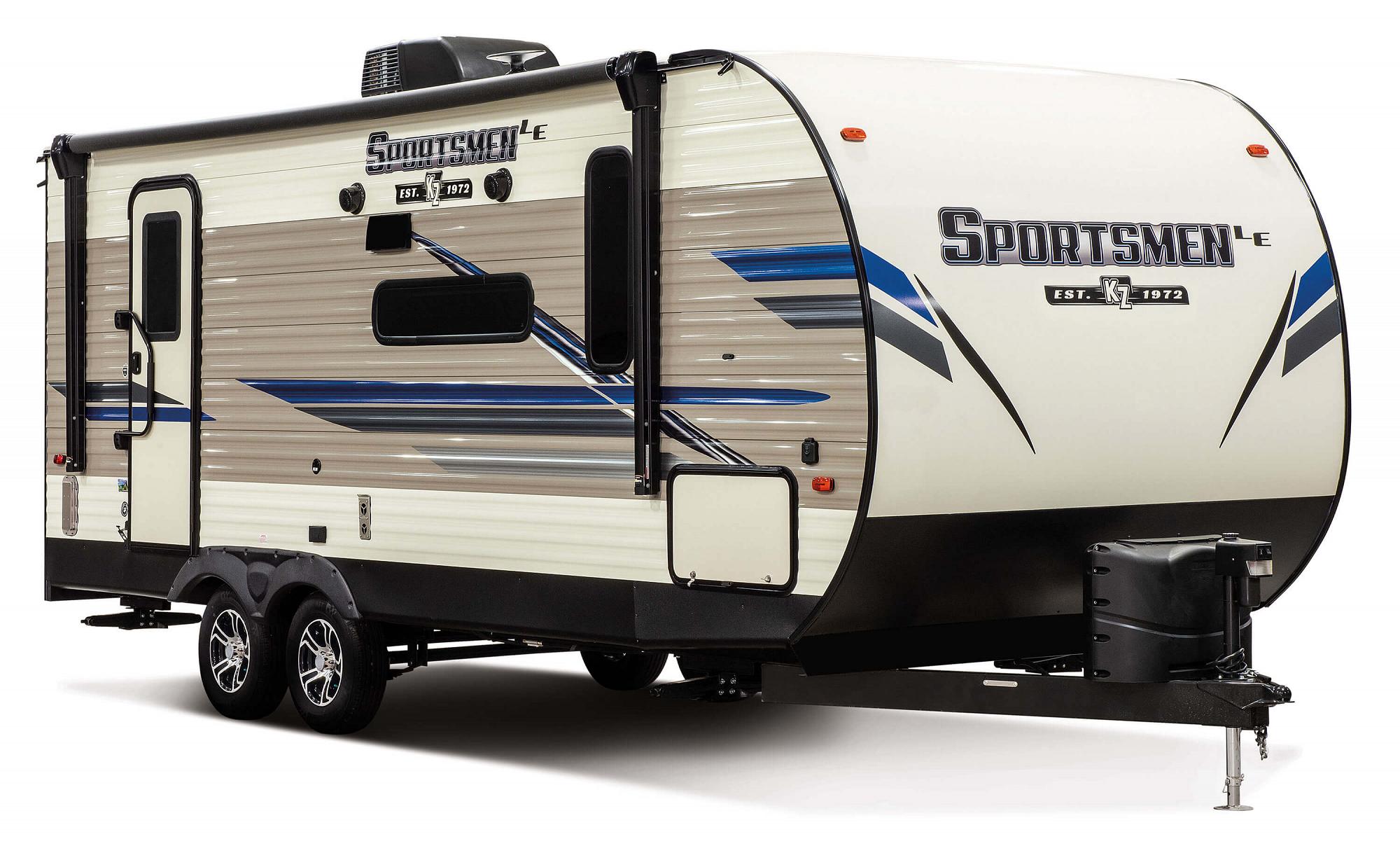 Take the vacation you always dreamed of with the KZ Sportsmen LE 270THLE toy hauler travel trailer. It might be lightweight, but it's packed with tons of features to make every trip feel like a luxury vacation.
The interior features a king bed in the master bedroom with USB ports for charging electronics. Interior speakers throughout the RV make it super easy to play your favorite music, podcasts or radio stations. The tinted windows give campers a sense of privacy at crowded campgrounds and help keep the interior cool by limiting the sunlight that shines through.
The unloaded vehicle weight is 5,490 pounds and it has a cargo-carrying capacity of 3,310 pounds. The Sportsmen LE is 30-foot, 8-inches in length offering tons of interior space and garage storage space. The freshwater capacity is 40 gallons while the gray and black water capacity is 32 gallons.
The KZ Sportsmen LE toy hauler travel trailer offers everything you need while on the road and the garage space makes it extra convenient for the adventurous and sporty campers.

4. Forest River Cherokee Grey Wolf 22RR - Starts at $28,848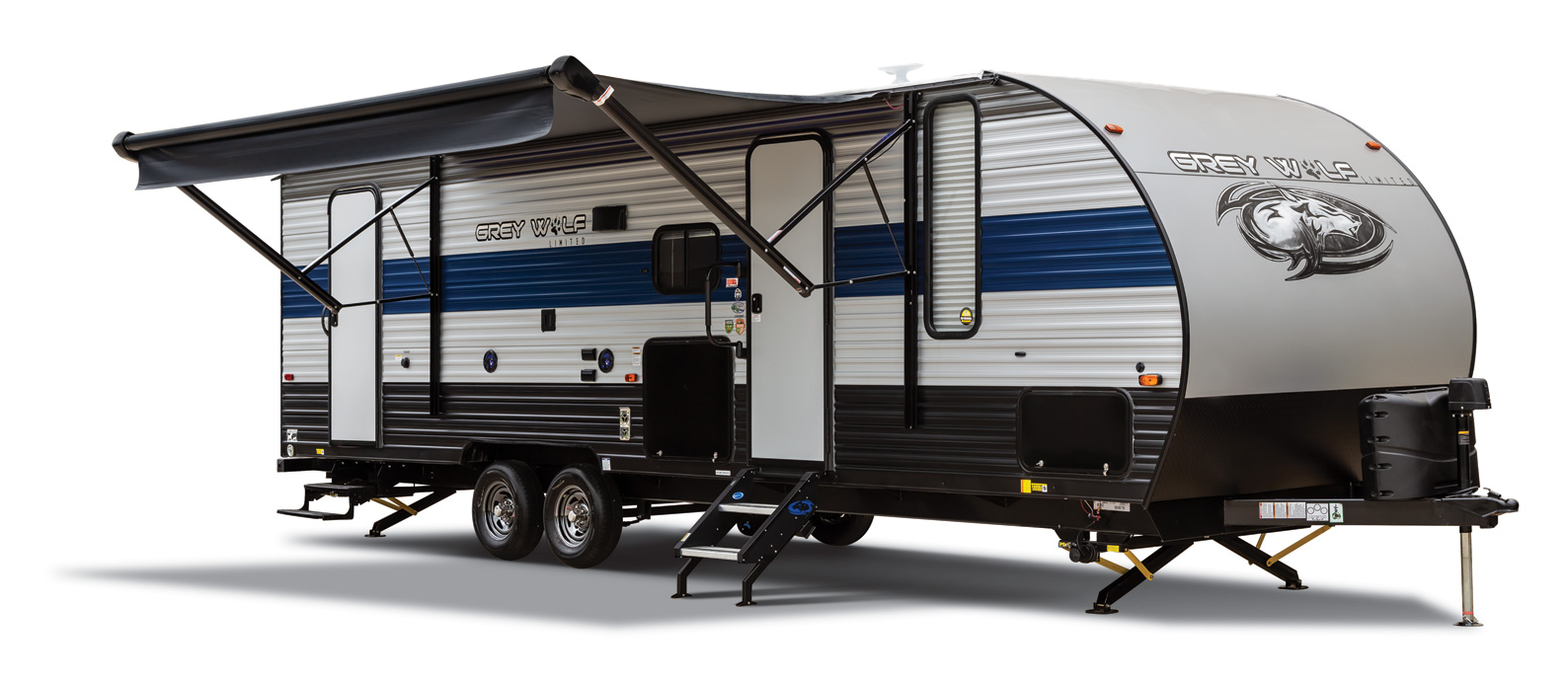 Sitting back, relaxing and enjoying the outdoors is always the plan in the Forest River Cherokee Grey Wolf 22RR. This toy hauler offers several great features that will elevate your camping experience.
There is a 15-foot power awning, which will provide plenty of shade to unwind. The exterior also boasts an outdoor shower with hot and cold water in order to rinse off the day's adventures before going inside or to wash larger items that won't fit in the kitchen sink. If you like to watch your favorite movie or catch the game while on the road, the Cherokee Grey Wolf offers an exterior TV bracket and hookups for an outdoor entertainment center. There is also an RV grill quick connect to make hotdogs, hamburgers, or your favorite camp side meal.
This travel trailer is 28 feet 10 inches long and has an unloaded vehicle weight of 4,871 pounds with a cargo-carrying capacity of 2,815 pounds. The freshwater tank holds up to 44 gallons, the gray water tank holds 38 gallons while the black water tank holds up to 28 gallons.
The Cherokee Grey Wolf gives sporty adventurers the perfect place to call home.

At the end of the day, campers just want to find what's best for their lifestyle, family and budget. When you find the perfect toy hauler travel trailer that you are ready to begin your adventures on, you can rest easy knowing that you picked the perfect RV for you.
If you would prefer a different model or can tow a bigger toy hauler travel trailer find your dream RV.