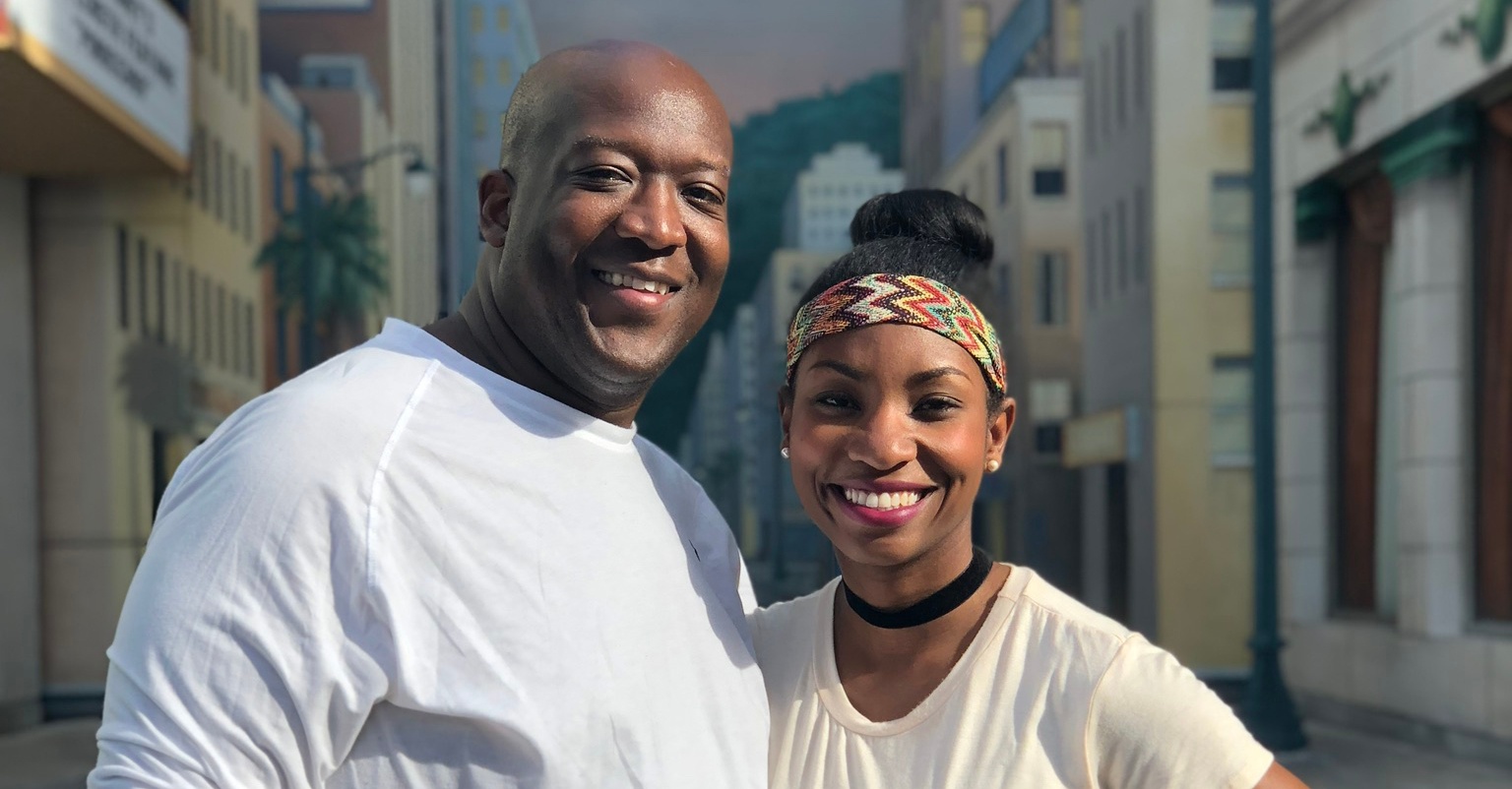 Finding a steady income is one of the biggest challenges facing full-time RVers. Many wait until they retire. Others are able to find remote work or string together freelance gigs to pay the bills. Office jobs are not usually part of the equation.
Yet, Britta and Will Brown, who blog under the name Browns Dope Little Adventures, have found a way to pursue their careers while enjoying the perks of living in an RV year-round.
Unlike many full-timers, the Browns are stationary: they stay in one campground long-term and commute to work every day. Currently, they live in Michigan, where Britta works as the Assistant Athletic Director for Development at a university and Will works as the Assistant Director of Video Operations for a professional football team.
When they are off the job, they relax at a large campsite in their Keystone Outback 330RL travel trailer. There, they can savor simple living, cooking outdoors and the ability to hitch up and go exploring whenever their schedule allows.
"We want to change the narrative of full-time RVing and show people you don't always have to live on the road," Britta said.
The Journey to Full-Time RVing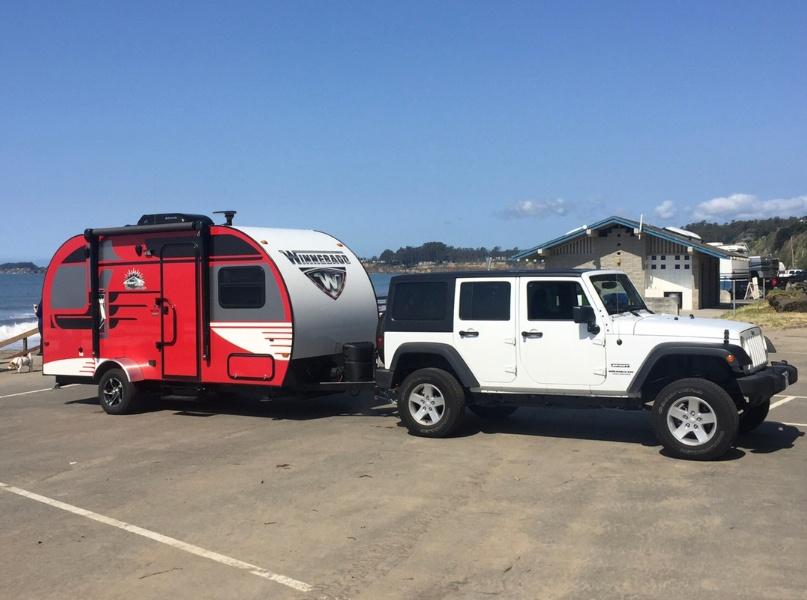 Britta and Will met in 2011 while working for a university athletic department. Four years later, they got married, built a house in Maryland and settled in. They wouldn't stay settled for long.
Just ten months after they built their house, Will accepted a job with a professional football team in California. During the offseason, they decided to explore their new state in an 18-foot Winnebago Winnie Drop. They fell in love with RVing, and they traveled every chance they could get.
Once the football season started back up, the Browns needed to make a choice. Their lease was up for renewal, and the rent, already set at sky-high Bay Area rates, was going to increase. Britta wondered, could they live in their RV? With their offseason adventures fresh in mind, they decided to go for it. After just a few months, they were hooked.
"We love how cost-efficient RV living is," Britta said. "We also get to enjoy time as if we were taking the RV camping. We can hang with the neighbors, sit by our fire pit, cook with our outdoor kitchen and really just enjoy outdoor living!"
Downsizing to Grow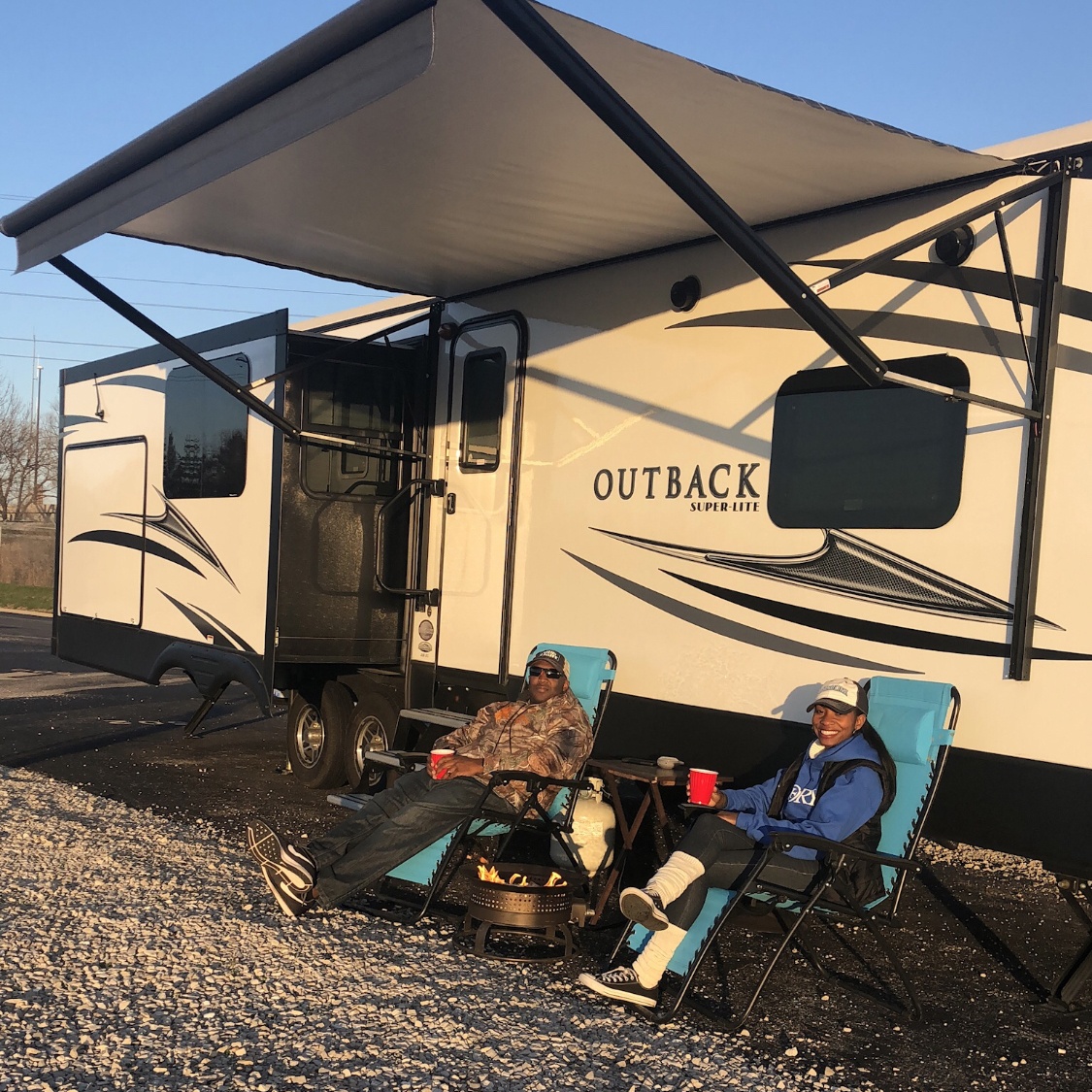 Once the Browns knew they would be full-timing on a long-term basis, they decided to upgrade their rig. They chose a Keystone Outback travel trailer because it offered more living space, better amenities and more storage.
Changing their lifestyle also meant downsizing their possessions. It was a difficult process, but as they moved from a house to an apartment to an RV, they were able to take stock of what they really needed and what they didn't.
"When you downsize, you realize that most of the stuff in your house is just taking up space and making things look pretty," Britta said. "With our RV, we only needed the furniture that came with it and our outdoor entertainment setup."
Downsizing also made it easy to travel and explore the country.
"We love not having to pack when we travel," Britta said. "We can just hook up and take our whole life with us."
Joining a New Community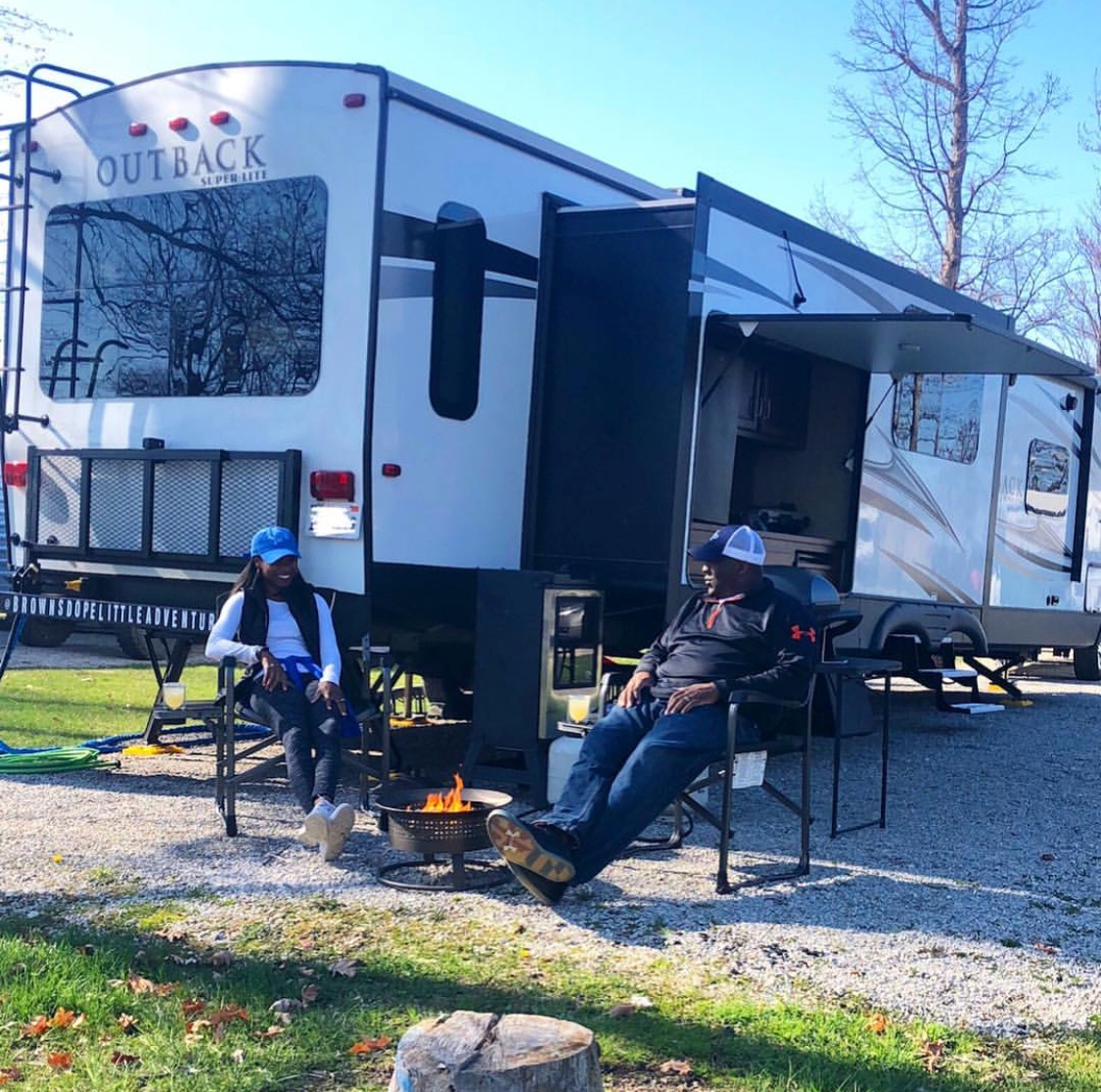 A few months after they upgraded, Will was offered a new job in Michigan. This move was much easier than the last: they just hitched up their house and drove east.
Once in Michigan, the Browns settled into a large campsite with an active community.
"We joke that we never knew any of our apartment neighbors, but the RV community really draws you in. We feel such a bond with our neighbors, and everyone looks out for each other. Our campground also does community events so everyone can get outside and embrace the beautiful place we get to call home."
While they work through the current football season, the Browns are dreaming of their next adventures. Already on the list: Canada, Michigan's Upper Peninsula and New Orleans.
"We love exploring new places and the freedom of the open road," Britta said. "Travel has become so much cooler because our lives come with us! You can learn something new around every turn and we don't ever want to stop."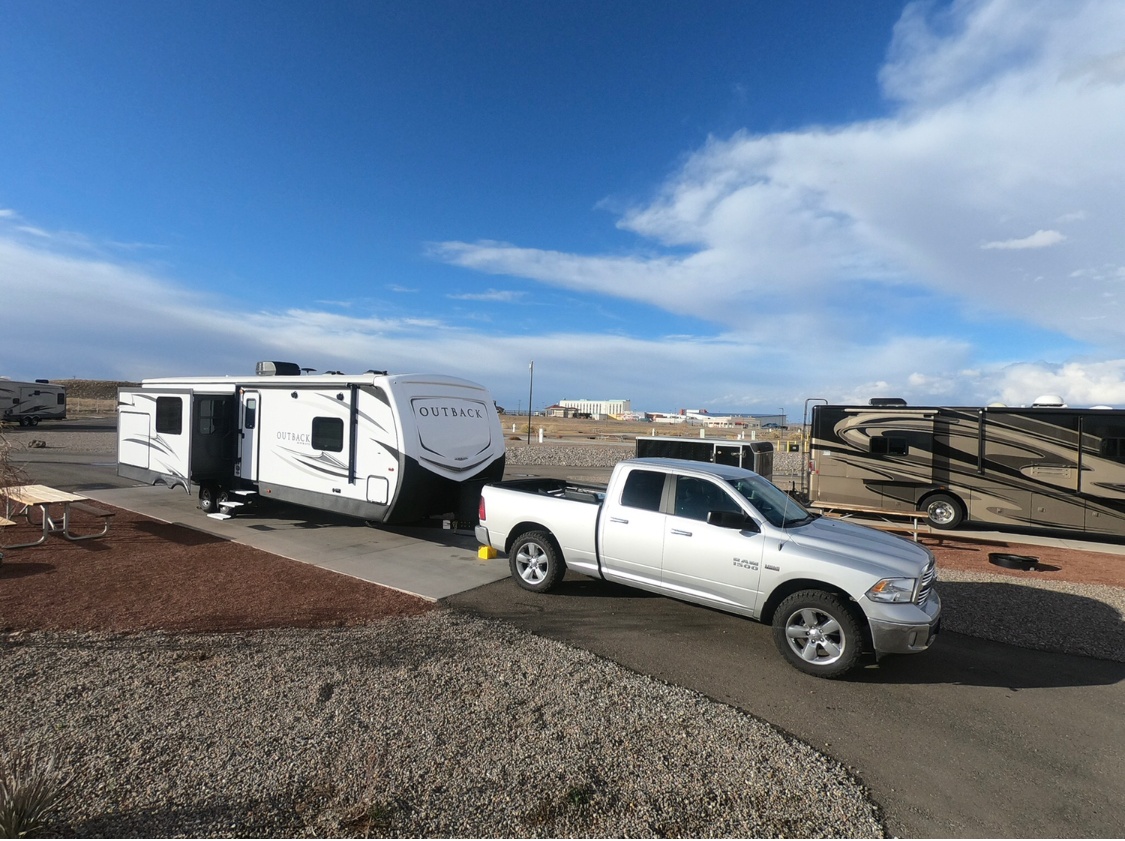 Follow the Browns Dope Little Adventures!
Instagram: @brownsdopelittleadventures
Website: https://brownsdopelittleadventures.com/
Facebook: https://www.facebook.com/brownsdopelittleadventures
Are you putting your RV away for the offseason? Download our free Winterization Guide today!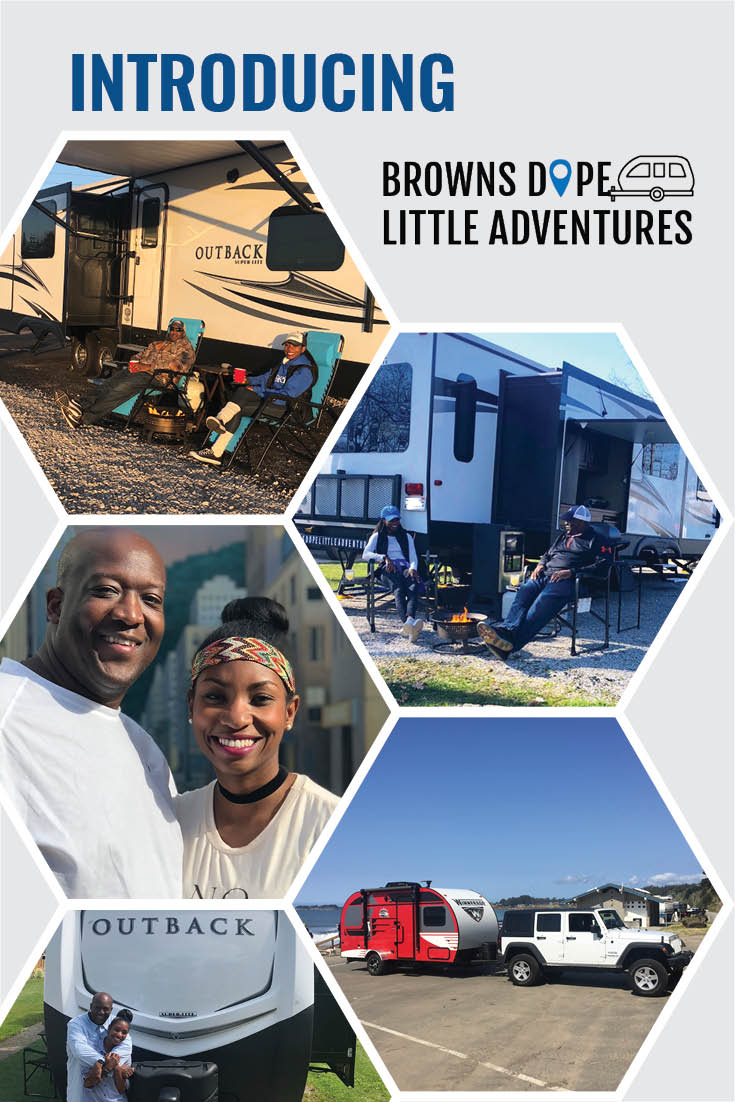 All photos copyright and courtesy Browns Dope Little Adventures.